If your agency does SEO for your clients, you need to track the results of all your hard work. 
Whether you're looking for a macro view of how many impressions a client's site gains each month or want to dig into the micro traffic patterns for a certain page over time, Google Search Console (formerly Google Webmaster Tools) is the tool for the job.
In this article, we'll do a deep dive into Google Search Console (GSC) from an agency perspective to make sure you have all the insights and SEO analytics you need to keep delivering the best results for your clients.
What is Google Search Console? 
GSC is a free service provided by Google that lets you see your clients' sites the way Google sees them. And there are numerous ways to use that perspective to optimize the organic performance of your client's websites. Your agency can do things like:
Measure search traffic 

Explore the queries driving that traffic

Optimize your client's content based on impressions, clicks, and position on Google

Manage issues like indexing errors and broken links, and 

Submit sitemaps and URLs for crawling and indexing.
Aside from validating all the hard work you're doing in terms of technical SEO, Google Search Console gives your agency useful insights to go back and reoptimize its efforts for even better results.  
While there are other options for measuring and monitoring a client's website performance, some of the best rank trackers like Semrush, SE Ranking, and Ahrefs don't have the same breadth of data. And that data isn't coming straight from the source.
These alternate tools not made by Google are very practical for researching and creating website content. But returning to that content once it's performing and reanalyzing it with a tool that is made by Google enables your team to try to figure out how the algorithm works and use it to your advantage.
How To Add Your Clients' Websites to Google Search Console
There's a lot your agency can do for a client in GSC, and we'll get into that more in a minute. But you can't do any of it without sufficient permissions. 
Full-user level access lets your agency see all the Search Console data it needs and use most of the platform's tools. But it leaves permission management safely in the hands of your client. If a client is already set up with a GSC account, request this level of permission so your team can work most effectively.
But what if a client doesn't have the service setup yet? Your agency can do it for them. It's free, and it doesn't take very long.
Remember you're working on behalf of your client's business—not yours—and they should retain full control of their account. Do your set up using a Google account they already use for their business. Perhaps it is already associated with Google Analytics. If they don't have one, create a new Google account for them that can be used for this sole purpose.
Once you're logged in to your client's Google account, head to the Google Search Console homepage. Google will walk you through the process of:
Adding a client's property (website) you want to track, and

Verifying property ownership
Adding a Client's Property and Verifying Property Ownership
Your first step is to select a property type to track data for, which can be an entire domain or a specific URL.
Domain property is the common choice for businesses that want to track a commercial website. This option tells Google to track all URLs across all subdomains of your client's website. You'll be asked to verify the property via DNS, which will require some assistance from your client's webmaster as you'll be verifying ownership for the entire domain. NOTE: Google provides resources (including a video tutorial) that will help you walk through this with your client.
URL prefix on the other hand tells Google only to track data for a single URL path, www.example.com/and-everything-else. This property type gives you a few more verification options. But you'll still need your client's webmaster to add either an HTML file or a meta tag to their site to verify ownership, unless they already have this set up with a pre-existing Google Analytics or Google Tag Manager account.
Once you've added your client's property and verified its ownership, you're ready to get started in GSC.
Configure Google Search Console to Your Client's Advantage
The next step for your agency is to make sure Google has as much information as possible about your client's website. Google is pretty clever when left to its own devices, but why leave it to make assumptions when you can just provide accurate details?
Here are a few things to do:
Connect your client's Google Search Console account to their Google Analytics account. This can easily be done through the Property Settings in Google Analytics, and taking this step will pull all kinds of useful data into your client's Google Analytics account. 

Adjust International Targeting to select which country where your client's website is based. Alternatively, select the country you'd like to target. For example, if your client is based in Canada but their ideal target customers are in the United States, you might want to select that. Adjust this at any time to view the site's data from different geographic perspectives. 

Submit a sitemap to Google Search Console. A sitemap lists your client's most important pages. This helps Google discover your client's website and improve page indexing. Find this feature under the Index section. Also, submit any new URLs that get created and that you want crawled for your client using the URL inspection search feature at the top.
Eliminate Security Issues Upfront
Check for Security Issues on your client's website when you're first getting started in their GSC account. Navigate to Security & Manual Actions and select Security Issues to see whether Google has detected anything. 
If there are issues, let your client know their webmaster should address these as quickly as possible. Why? Because Google doesn't want to rank websites and pages that have security issues.
When GSC evaluates a website, it reports on security issues such as:
Hacking: Some sort of content on your client's site that's there without their permission because of vulnerabilities in the site.

Malware and unwanted software: Software made to negatively affect a device or your client's website visitors.

Social engineering: Any content that tricks your client's website visitors into revealing confidential information or downloading harmful software.
One helpful thing about GSC is that any future website security issues the service identifies will trigger an email alert to your account. This helps you and your client stay on top of any potential performance barriers—and have peace of mind that you'll be alerted if any sort of nefarious activity is happening on their website.
Understanding Google Search Console's Dimensions and Metrics
Organic search traffic happens for your client when someone types something into Google—or another search engine—finds one of your client's URLs in their search results, and clicks to your client's website. But this process can be broken down further into dimensions and metrics.
We've already mentioned queries, impressions, clicks, and positions earlier in this article. And whether you're exploring the Overview of your client's property in GSC or digging into their Performance Report, you're going to come across these terms. But what do these SEO metrics actually mean from Google's perspective? Let's review.
Queries
The words, questions, and statements people have searched that resulted in your client's page(s) showing up in organic search results. 
Impressions
When any of your client's URLs appear in search results and are viewed by a user.
Clicks
When a user not only sees one of your client's URLs in their search results but also clicks that URL that leads to your client's property.  
CTR
The number of clicks per impression your client receives. For example, if a URL shows up in 10 searches and generates 5 clicks, the average CTR is 50%. 
Average Position
The average ranking of your client's URLs for a query or queries. For example, if you're looking at your client's total website performance, the average position will be the average of all queries ranking for your client's URLs. If you drill down into a specific query, it will be the average ranking position of all your client's URLs that rank for that specific query.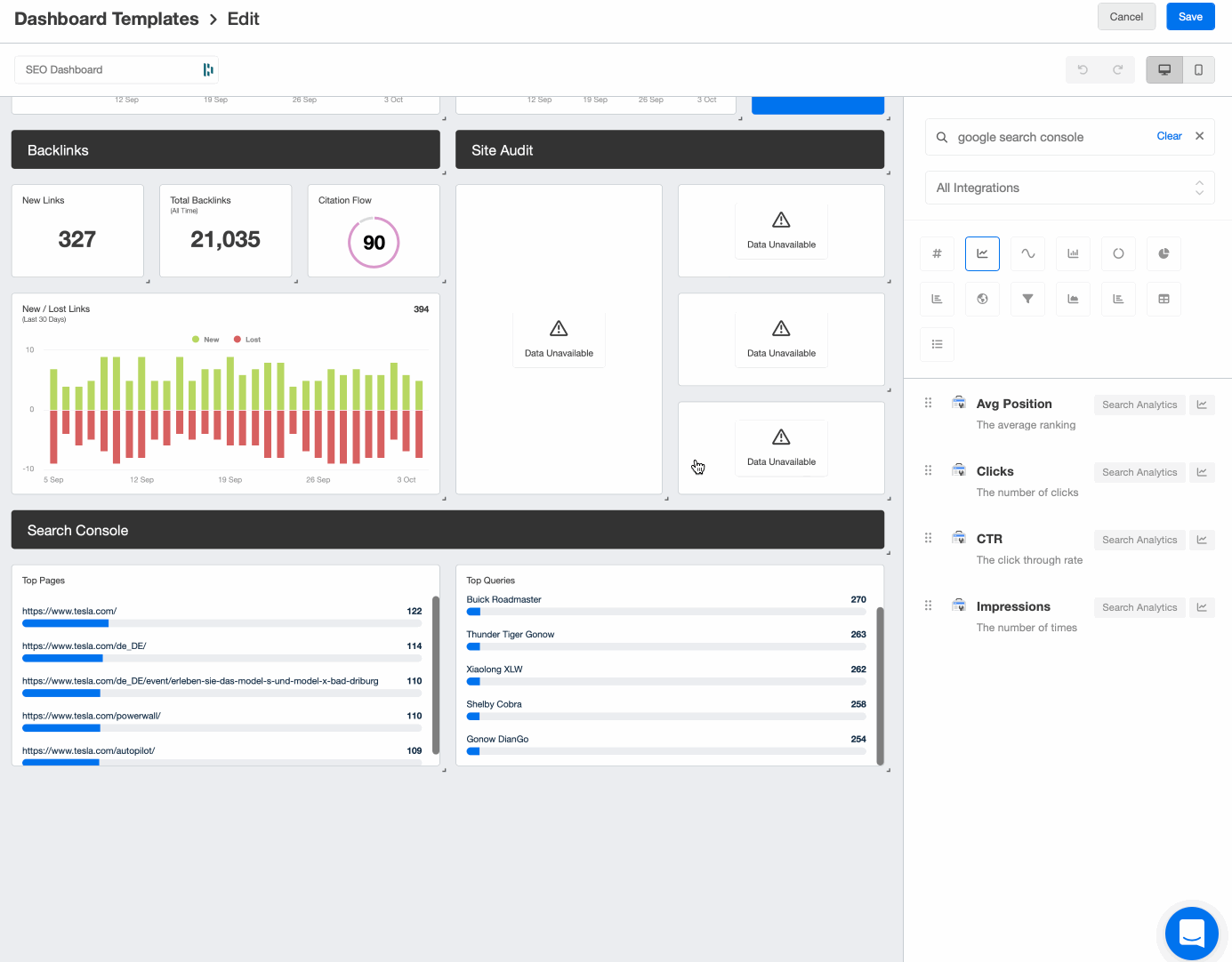 Easily drag and drop your GSC widgets in our SEO dashboard template and keep track of all your key metrics under one roof. New to AgencyAnalytics? Try it free for 14 days!
Now that we're clear on what GSC is measuring in terms of your client's website and how to understand what you're seeing when you dive into the data, let's get into some use cases and how-tos. These are various actions and activities your agency can regularly employ to further optimize your SEO efforts, boost your client's website performance, and take advantage of all of the long-term benefits of a well-executed SEO campaign.
Google Search Console How Tos and Use Cases
As we've discussed, whether you're looking for high-level website performance data or more in-depth analytics to drive your SEO and content strategy, there are loads of ways your agency can leverage GSC to benefit your clients. And chances are, once you get rolling with it, GSC will become a part of your agency's daily SEO workflow—if it isn't already. 
Monitor Core Web Vitals
Jumping into a client's Core Web Vitals shows you which URLs are impacted by factors that affect the page's user experience—both on mobile and desktop—and need some attention.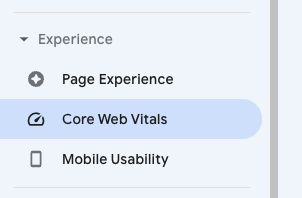 NOTE: While GSC provides core web vitals data, it can be slow to update. Your agency can get ahead of any issues in your clients' web vitals using another free Google tool called PageSpeed Insights.  
Mobile Usability
Nearly 60% of global website traffic comes from mobile devices. So it makes good sense to ensure your client's website offers visitors an excellent mobile experience. And let's be honest, their users expect it.
GSC provides a report on issues related to mobile usability, including issues like:
Text being too small to read

Clickable elements are positioned too closely together, and 

Content spanning wider than a mobile screen
Your agency and your client's engineering team can proactively address mobile usability issues like these before web pages ever go live. But if you miss anything, GSC will let you know so you can take action. 
Validate Your Strategy
This is perhaps the number one use case and the most important thing you should be doing with GSC. Your agency can put so much time and effort into a client's content and SEO strategies upfront. But good research, planning, and execution can only get you so far. At the end of the day, it's up to Google and its algorithm to decide what to make of that content.
Revisiting your strategy and re-optimizing your content based on the results you see—through the eyes of Google—has a huge impact on performance over time.
Link Analysis 
GSC provides a variety of datasets, including:
Top linked external and internal pages: pages on your client's property that are linked from an external property or the top internal linked pages, respectively

Top linking external sites: the external properties that have links to your client's property

Top linking external text: the anchor text external properties use to internal link to your client's property
Your agency can use these datasets to analyze and optimize your client's external and internal link-building strategies. 
Effectively managed external link building not only helps drive new traffic to your client's site, but also it helps improve the site's authority. Google recognizes that other properties writing about certain topics see your client's website as an authority on those subjects. 

Effectively managed internal link building helps Google understand the topic clusters your client's website has authority on, and how your client's content is interconnected. This helps Google understand which topic pages should be most important in terms of ranking. 
Monitor Average CTR and Average Position
The number of clicks per impression and the rank position your client's content gets on average are obviously numbers you want to see go up over time, as are total clicks and impressions. These data points are pretty high-level, but they can be a good macro way to show the progress your agency is making for your client over time.

Remember: for these metrics and many of the following metrics, adjust to the date range that interests you. And try clicking 'Compare" to analyze two date ranges simultaneously.
Queries With the Highest Click-through Rates
Select Search Results under the Performance tab in your client's GSC account to review all the queries that have driven impressions and clicks to their website.
Your team can dig into the queries with the highest click-through rates. By selecting the Pages tab after a specific query has been selected, you'll see the precise pages receiving those clicks. Getting an understanding of how these pages are titled and even written is a great way to optimize new content based on what's already working for your client.
Identify Highest (And Lowest) Ranking Pages
Exploring Pages under the Performance tab will show you how your client's pages are ranking—make sure Average Position is selected at the top. This is interesting data on its own, but leveraging a few additional tools can help you really make meaning of it all. 
Sheets for Marketers offers resources to help marketers learn how to automate their work in Google Sheets. Pull your GSC data as well as your CMS data into Google Sheets to blend your data and get a better understanding of why certain pages are ranking higher than others. For example, you might have a great article on your hands, but if you just published it a week ago, chances are it won't be ranking highly just yet.
Check out the Google Sheets Export Extension: The easiest way to get your marketing data from over 75 top marketing platforms, including Google Search Console, into Google Sheets for extra handling and analysis. Start your Free Trial today! An even easier way to start blending and analyzing data sets on a deeper level is to pull the data into a reporting platform like AgencyAnalytics. Analyze data, not just from GSC, but also all of your agency's other key marketing tools. But we'll touch more on this later.
This list of Google Search Console how-tos is a great starting point for your agency. But there will be plenty of other use cases you'll discover to enhance your content and SEO efforts the more you use the tool. 
Identify Highest Traffic Pages
This one is pretty self-explanatory. GSC shows you which pages on your client's website generate the highest traffic. And your agency can use this information to double down on what's working. 
Again, putting this data into the context of publication date is useful, and even conversion rate if you can pull in data from your client's Google Analytics. If you notice that certain pages generate high traffic, but you see those are low-converting pages, you have a great opportunity to work on optimizing those pages further. Once you know what's really driving traffic and resulting in revenue for your client, you'll know exactly what to do more of.
What about high-traffic pages that aren't ranking very well? Your agency might consider building more backlinks to these pages to drive even more traffic.
Address Index Errors
Navigate to Pages in your client's GSC account and you'll see a breakdown of how many pages on their website are indexed and not indexed. From there, dig into why certain pages aren't indexed.
Some will have errors that can definitely be addressed, such as Not found (404) or Blocked by robots.txt. Review all the pages with issues from the report and use the URL inspection tool to discover or test your URL and understand a bit more about what might be causing the issue.
Other pages will be more challenging to fix. For example, there isn't much you can do about pages that are Crawled - currently not indexed. And pages that are Discovered - currently not indexed might be low-quality content, but they could also be worth exploring for potential opportunities to reoptimize and resubmit. 
A more proactive approach is to use a site auditing tool that identifies any issues prior to seeing any warnings in the GSC reports. Why? It takes Googlebot time to crawl the site, identify any issues, go through indexing, and rank the site. If Googlebot detects any issues with the site, then it might not index or it could use up the crawl budget and create even more problems. 
Making sure to fix any technical issues upfront can let Googlebot roam freely and get all the site pages indexed and ranking more quickly.
If your agency is serving as your client's SEO expert, it's your job to perform ongoing site maintenance and make sure the client's site is crawler-friendly. Google Search Console can play a vital role in isolating technical SEO issues and helping you determine what Google likes. 
Get Proactive With Your Entire Approach
GSC releases a lot of new features and updates that can help your agency take proactive steps to service your client. For example, it might change its review or job posting schema, or remove a certain schema. But you'll get a warning and that's your chance to change how content is being created to better suit what Google wants to see.
Reporting on Your Client's Google Search Console Data
Your agency has everything it needs to leverage GSC as part of your ongoing SEO strategies for your clients. So what's next?
Not only do you need to keep validating internally that all the work your team is doing is having an impact, but also you need to be able to prove it to your clients, of course. They want to see the services they're paying your agency for are helping them achieve their goals. 
Manually creating reports from Google Search Console takes time and can confuse your clients with too much information, though. And chances are, GSC is just one of many solutions in your agency's toolkit helping your team accomplish that.
Simplify and automate the final step of consolidating and reporting all your marketing metrics across multiple marketing platforms with AgencyAnalytics. With more than 75 integrations and user-friendly drag & drop controls, your team builds beautiful, comprehensive dashboards and reports that show your clients the full value your agency is bringing to the table.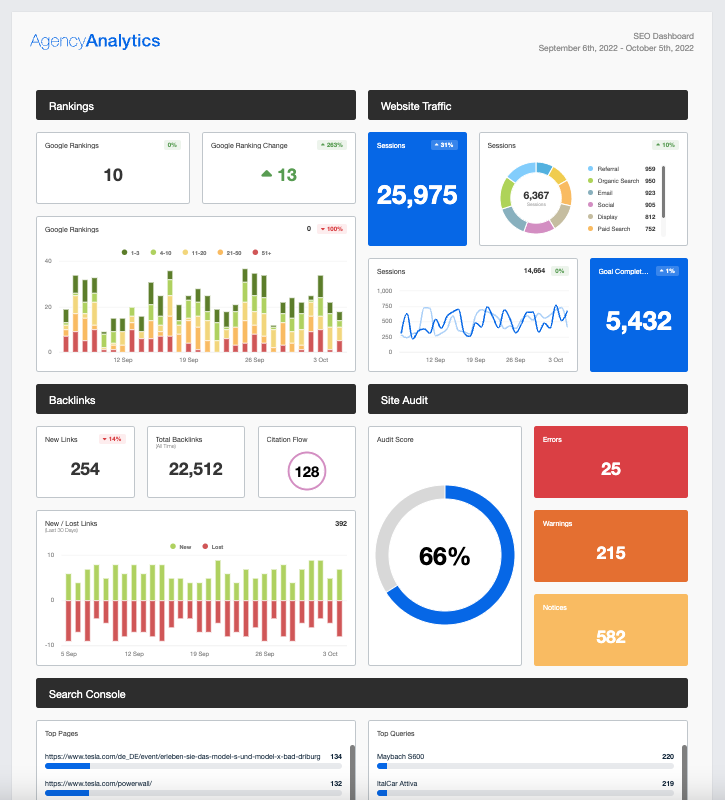 An example would be to show your clients an SEO dashboard or content marketing dashboard that showcases their organic growth from your content writing service.
In our SEO dashboard above, for example, the sections include: 
Even with a comprehensive Google Search Console dashboard, using only GSC to provide your client report is not enough. Integrations or pulling data from other sources tell a better story.
Pull your GSC metrics right into your client reporting—pull in all your marketing metrics across all the tools your agency uses for its clients—and save your team time and billable hours every single month. After all, less time spent reporting your marketing efforts means more time for the stuff that makes an impact.
Written by
Daniella Ingrao
Daniella is a product marketing manager with more than a decade of experience in strategic digital communication and story-telling. She specializes in helping B2B SaaS businesses grow and thrive.
Try AgencyAnalytics risk-free for 14 days. No credit card required.