Measuring your clients' marketing metrics is a vital aspect of any marketing agency's job, and SEO is no exception. However, due to its long-term nature and slow ROI, tracking SEO performance can be a challenge. Search Engine Optimization is a long-term marketing strategy focused on the process of getting your website ranked as high as possible in search engine results pages (SERPS). 
The keyword here is "process".
Without consistent monitoring and reporting, clients may underestimate the value of your services and your ability to deliver results. To avoid this, your agency must track SEO performance regularly to provide clients with tangible evidence of that progress.
But with so many SEO metrics to choose from, what exactly should you be tracking?
Fear not–we've outlined the sixteen most important SEO metrics agencies should monitor in a scalable way–and exactly how to set it up to easily onboard new clients! By keeping tabs of these metrics, you'll help clients meet their SEO goals, monitor progress over time, and prove your agency's worth along the way.
What SEO Metrics Should I Track?
The answer is: it depends. 
Instead of tracking individual SEO performance metrics (like backlinks or rankings), you need to define SEO success which will differ from client to client. That's why it's important to figure out your clients' goals beforehand.
For example, one client may want to increase their organic traffic, another wants credible backlinks from local directories, and a third could be targeting low-traffic but high converting niche searches.
With so many ranking factors, you'll need to find a way to connect each dot. To get started, ask your clients the following questions:
What are your long-term business objectives?

Do you have a timeline for achieving these goals?

What are your current challenges?

What does SEO success look like for you? (e.g., more foot traffic at a physical store location, increased online sales) 
Use these questions to come up with a plan of action and decide on applicable SEO analytics (which we'll outline soon). 
Have a Scalable System in Place to Track SEO Metrics
Regardless of which SEO metrics your agency decides on, you'll need to shift to a multi-metric tracking system to determine SEO success. It's the only way to avoid tracking individual SEO performance metrics (like backlinks or rankings) and scale in a more sustainable way. 
The solution? Invest in an SEO metrics tool to monitor and track data insights, which is key to identifying which strategies are working (and which aren't). Use a tool like AgencyAnalytics to easily replicate SEO reporting campaigns that span multiple marketing channels. It's especially handy if you decide on an SEO reporting structure that's similar across clients. 
Equip your agency with the right infrastructure beforehand, and you'll have a process in place to show long-term SEO progress and improvement. 
16 Most Important SEO Metrics to Track
Without further ado, here are the top sixteen SEO metrics to put on your radar (they're also included in our SEO dashboard template). 
1. Organic Traffic
All the SEO effort in the world is useless unless it actually brings your clients qualified organic traffic. Tracking organic sessions over time is one of the strongest indicators of SEO performance metrics. Seasonal fluctuations aside, a month-over-month increase in visitors from organic search shows that rankings are improving (even for keywords you weren't targeting).
While other SEO metrics might show trends, this metric gives quantifiable proof that your agency's efforts are bringing in more visitors, which should–all else being equal–convert to leads and customers. It's even better if your clients' organic traffic and conversion rates are growing at a faster rate than other channels!
The quality of the search traffic will depend on which keywords you're ranking for, the content that they are landing on, and how you define conversions (which we'll discuss in the next section).
How To Find Organic Traffic in Google Analytics
Tracking organic traffic is easy enough in Google Analytics, and there are a couple of ways to do this.  
The easiest way is through the Acquisition tab, which shows key stats for traffic by various channels. The Organic Search data in the Acquisition report shows metrics such as the number of sessions, the number of new users, the bounce rate, the average session duration for organic search traffic, and goal conversion rates. 
This data can be further segmented by various dimensions, such as the traffic source (think Google vs. Bing), or the landing pages that users arrive at. By analyzing the Organic Search data in the Acquisition report, SEO experts gain valuable insights into the effectiveness of their SEO strategies and identify areas for improvement.
If you want to dig deeper, another way to slice Google Analytics data is by creating a segment that only includes organic traffic. Here are the steps to follow. 
1. Log into your agency's or client's account and go to Audience > Overview > Add Segment.  
2. Next, choose 'Organic Traffic' on the next screen and hit 'Apply'. You'll then see organic traffic as a percentage of total traffic.
An Alternative: Track Organic Traffic With an AgencyAnalytics Dashboard
If you're looking for a more time-effective alternative, use a Google Analytics dashboard (or a web analytics dashboard) to monitor organic search traffic. Follow these steps to get started.
1. After successfully integrating Google Analytics, go to your dashboard (which is under the left-hand 'Analytics' menu).
2. On your Google Analytics dashboard, navigate to the 'Organic' tab and check out your traffic count under 'Sessions'. 
Track your clients' search performance and confidently report on their organic traffic numbers. Consolidate those data insights into a visual dashboard on AgencyAnalytics–it's free for 14 days.
And if you're looking for a way to capture a range of insights across multiple platforms, build an SEO report and customize it as you see fit.  
2. Keyword Clicks
If you're looking for information on the organic traffic driven by specific keywords, you're unlikely to find that in the Google Analytics reports without enabling the Google Search Console report.  GSC provides valuable insights into how individual keywords perform in Google search results.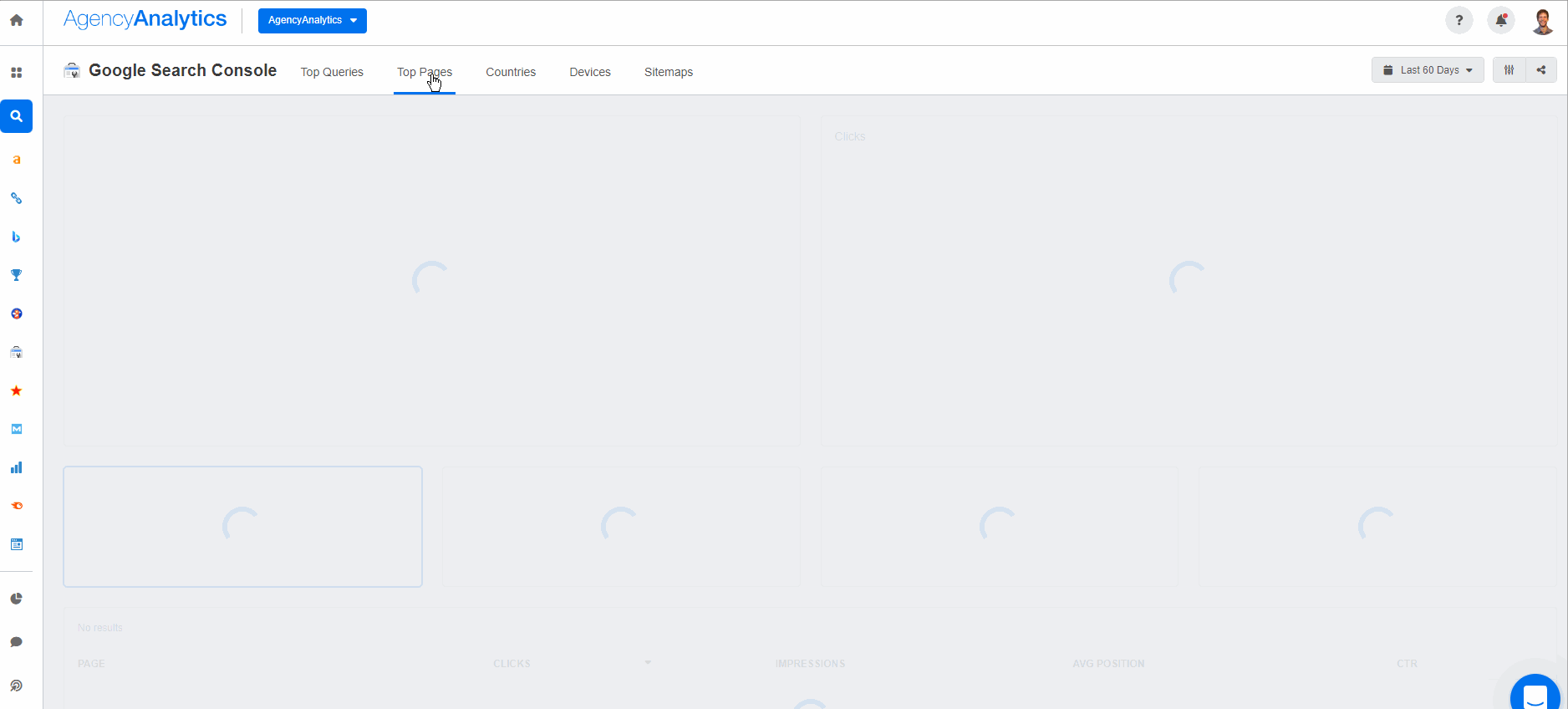 Get valuable insights into user intent and refine your clients' keyword strategies. Try the Google Search Console dashboard on AgencyAnalytics, free for 14 days.
The Query data available in the report shows the search queries that users typed into Google search, the average position for that keyword (and the site as a whole), and how many impressions and clicks the client's website received for each query. 
The main difference between this and keyword rank tracking (which we outline below) is that the query report identifies all of the keywords that generated impressions and clicks for a client's website, whereas a keyword rank report typically focuses on the priority keywords that will move the needle. 
3. Organic Conversions
Now that you see organic traffic coming in, the next question to ask yourself is: what is the quality of that traffic?
As you know, organic sessions alone aren't enough. A high volume of organic traffic is one thing, but it won't mean much if it never turns into a lead or sale. That's where organic conversion rates come in. 
How to Track Organic Conversions
In order to track organic conversions, you'll first need to set up your "Goal" or conversion events in Google Analytics. 
Examples of conversion goals include:
Making a purchase,

Free Trials for SaaS products, 

Email signups,

Phone calls, and

Form submissions.
Once you've defined your clients' goals, here's how to track them in Google Analytics:
1. First, add the 'Organic Sessions' segment to see these metrics specifically (which we've outlined in the previous section). Then, navigate to Conversions > Goals > Overview.
2. Alternatively, add an organic conversion rate widget to your SEO dashboard in AgencyAnalytics.
See exactly how website traffic translates to conversions. Monitor these data insights side-by-side on AgencyAnalytics, free for 14 days. 
4. Keyword Rankings
With Google's AI-based search algorithm and continuously changing search results, should you even bother tracking keyword rankings?
The answer is (unsurprisingly and resoundingly) yes!
Even though search results are seldom the same at the user level (thanks to personalization), keyword ranking reports tell you two things:
The general direction of your clients' SEO efforts: Better rankings for one keyword usually indicate improved rankings overall, especially for related long-tail keywords. Plus, tracking keywords shows you the effectiveness of your clients' SEO strategies.

Keyword selection: If your clients' other SEO metrics improve (such as domain ratings or organic traffic), but you don't see an improvement in target keyword rankings, it usually indicates poor keyword selection. In such a case, choose less competitive keywords and try to rank for them first.
How to Track Keyword Rankings
White label keyword rank tracking is a built-in feature in AgencyAnalytics. Here are steps to follow when adding keywords to your clients' campaigns.
1. After creating a new campaign, click the 'Add Keywords' button in the center of the Rank Tracker module. If you're adding keywords to an existing campaign, you'll find it in the upper right-hand corner of your Rank Tracker module. 
2. Next, add the list of keywords you'd like to track and click 'Continue'.
3. After you've added your keywords, choose the location and language to pair the keyword list with.
4. Finally, add a tag to these keywords (if needed) to stay organized.
5. Head to your Rank Tracker module and track those keyword insights with ease!
Access real-time keyword insights and capitalize on untapped opportunities. Make data-informed recommendations by using AgencyAnalytics–it's free for 14 days. 
Receive Agency Growth Tips, Delivered to Your Inbox
5. New Backlinks and Referring Domains
While on-page factors matter, backlinks and other off-page factors are still critical to SEO performance.
Between two pages with similar on-page metrics (bounce rate, time on site, content quality, etc.), the one with more backlinks from higher-quality domains will most likely win.
That's why your agency must track backlinks and referring domains from your clients' link-building campaigns. And while more backlinks might not immediately lead to better rankings, they will show that things are moving in a positive direction. 
How to Track Backlinks
To perform this exercise, be sure to use SEO software with a backlink monitoring tool. There are three things to look out for when choosing a backlink tracking tool:
Update frequency: Your tool should index new backlinks as they appear online. If the tool refreshes its index too slowly, new backlinks won't even show up for weeks.

Accuracy: Actual backlinks and follow/no-follow links should be shown separately. The ability to track anchor text and backlink source authority is a big plus as well.

Trends: Tracking the overall general trend is key, and your chosen tool should show whether you've lost or gained backlinks over time.
For free (although sometimes inconsistent) backlink tracking, head over to Google Search Console and put in your site name.
While there's no associated cost, keep in mind this list isn't frequently updated. It also won't show backlink acquisition trends. 
An Alternative: Use the Majestic SEO Integration on AgencyAnalytics
There's a much faster (and more accurate) way to monitor backlinks with AgencyAnalytics. To get started, use Majestic SEO to see a complete view of your clients' backlinks. This dashboard also includes other key SEO metrics, such as referring domains over time and commonly used anchor text. 
Don't let inaccurate data slow you down or skew your agency's recommendations. Get real-time backlink analysis on AgencyAnalytics–sign up for a free 14-day trial today. 
6. Authority Metrics: Domain Authority and Trust Flow 
Tracking the sheer number of backlinks on your clients' websites isn't enough. The quality of backlinks is also critical, and whether there's an increase in Domain Authority (DA). 
As you know, a higher domain authority score means higher trustworthiness (and SERP rankings). Majestic SEO measures domain authority of the links pointing to your client's website through a SEO metric called "Trust Flow", which is frequently updated and accurate. 
An upward tick in this metric means that your clients' SEO efforts are bearing fruit–hooray! That being said, keep an eye out for poor-quality backlinks (which could have dire consequences in the long run). 
How to Track Authority Metrics
Keeping an eye on your clients' authority SEO metrics is easy on AgencyAnalytics.
To get started, head to the Majestic SEO dashboard and check out the 'Trust Flow' score (which gives an overall measure of site trustworthiness based on the quality of the inbound links). 
Monitor changes to domain authority and whether website improvements are needed–it's free for 14 days on AgencyAnalytics. 
7. Local SEO Visibility
This SEO metric is especially important if you're managing local SEO campaigns (or if you're a niche agency with this specialization). 
To ensure that your clients' organic traffic is coming from the right audiences, monitor the following local SEO metrics:
Session Location: See the exact cities where web sessions are coming from. Use these insights to evaluate the amount of local traffic your clients' websites receive.

Google Maps Rankings: Use an automated rank tracker tool (like one from AgencyAnalytics) to track Google Maps rankings, and Google 3-Pack results for your clients' business locations.

Google Business Profile (GBP) Insights: Track how often your clients' GBP pages appear in search results, the number of calls, and directions.
Get the Free Google Business Profile Checklist
Keep these useful tips, insights, and ideas handy whenever you need them.
How to Track Local Visibility Metrics
Easily track Google Maps and Google 3-Pack rankings directly in AgencyAnalytics.
1. To get started, add your client's GBP page to the Rank Tracker settings, and enable 'Google Local' to track rankings in Google Maps.
2. Use a Google Business Profile dashboard (or a custom dashboard) to view the total number of search views, clicks, and calls.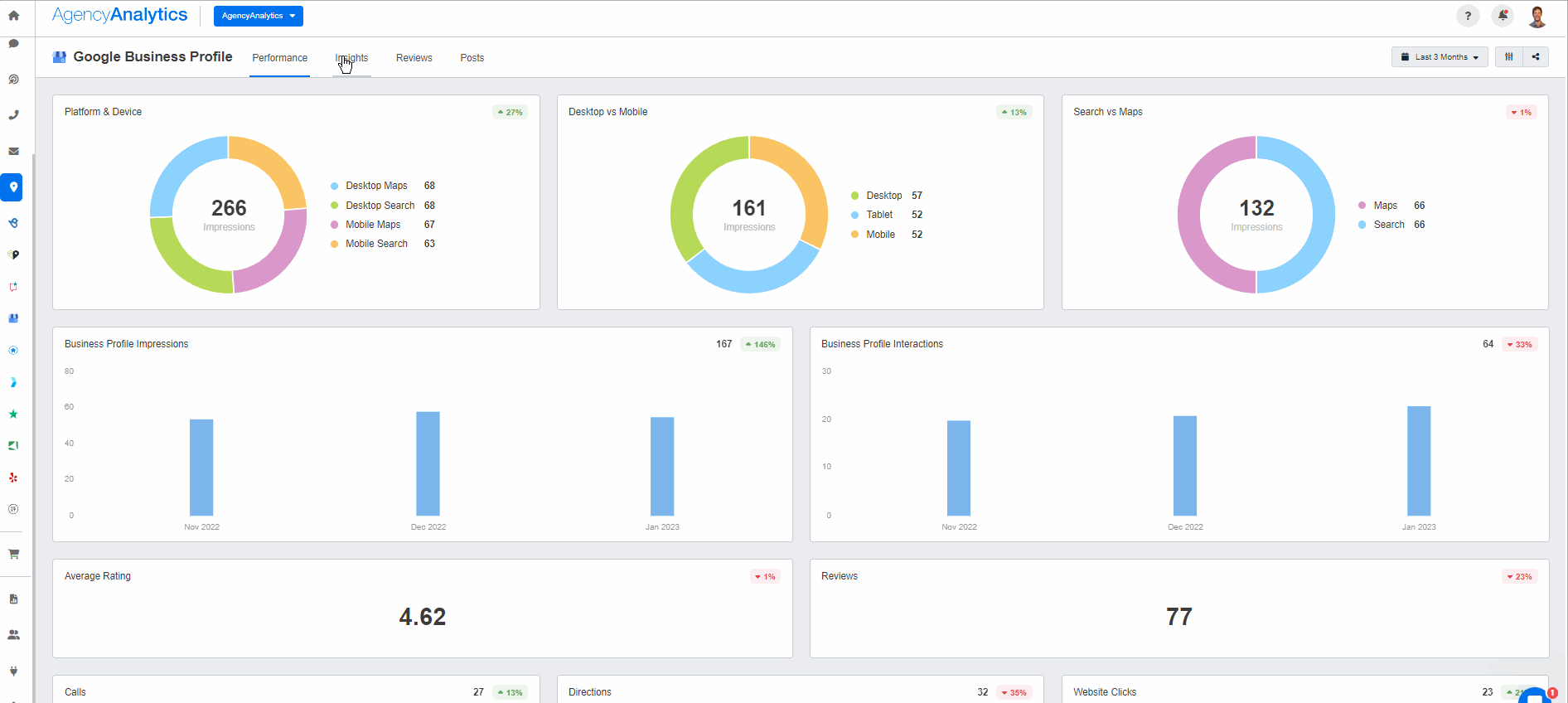 No need for second guesses. Use a local SEO dashboard to show what's happening on the ground–it's free for 14 days on AgencyAnalytics.
3. Lastly, measure top session locations in Google Analytics. Go to Audience > Geo > Location to get conversions, sessions, and other key SEO metrics by location. View at a country level, or drill down to the individual cities.

8. Organic Landing Page Metrics
To really understand your clients' SEO results, you need to have a clear understanding of how each page performs.
Organic landing page metrics provide insights into how your clients' web pages are ranking on search engine results pages (SERPs) and how much organic traffic is converting. It's especially important if you're working on backlink acquisition or improving specific landing pages. Keeping track of this SEO metric will also uncover your clients' most valuable web pages. 
For example, say you've found a web page that converts above average but has a dense page depth. It's an opportunity to make this page more visible, increase its ranking, and create similar content. 
Download Your 39-Point SEO Content Checklist
Everything you need to make sure your agency is publishing optimized content.
How To Find Landing Page Metrics in Google Analytics
In your Google Analytics account, head to Behavior > Site Content > Landing Pages.
Apply the organic segment to filter by organic sessions only. In the table, you'll be able to track sessions, goal completions, conversion rate, bounce rate, and more by landing page.
How to Track Landing Page Metrics
Alternatively, access your landing page report directly in your AgencyAnalytics dashboard under Analytics > Google Analytics > Pages.
See how your clients' web pages are performing and identify areas of opportunity. Track landing page metrics on AgencyAnalytics–get started with a free 14-day trial. 
9. Page Speed
As you know all too well, a long page loading time leads to a bad user experience. Therefore, it makes sense that Google uses this SEO metric to determine SERP rankings.
As a refresher, page speed can be described in two ways:
Page load time: The time it takes to display the full content on a page

Time to first byte: How long it takes for your browser to receive the first byte
There are other website performance metrics to consider but these are the two primary.
How to Track Page Speed
One of the best ways to track page speed is with Google's PageSpeed Insights. This tool gives each page a score and also suggests improvements.
Another handy tool to track page speed, overall SEO score, and load times is Google Lighthouse (which is available as an AgencyAnalytics integration). Google Lighthouse is a powerful tool for performing comprehensive performance audits on your client's web pages.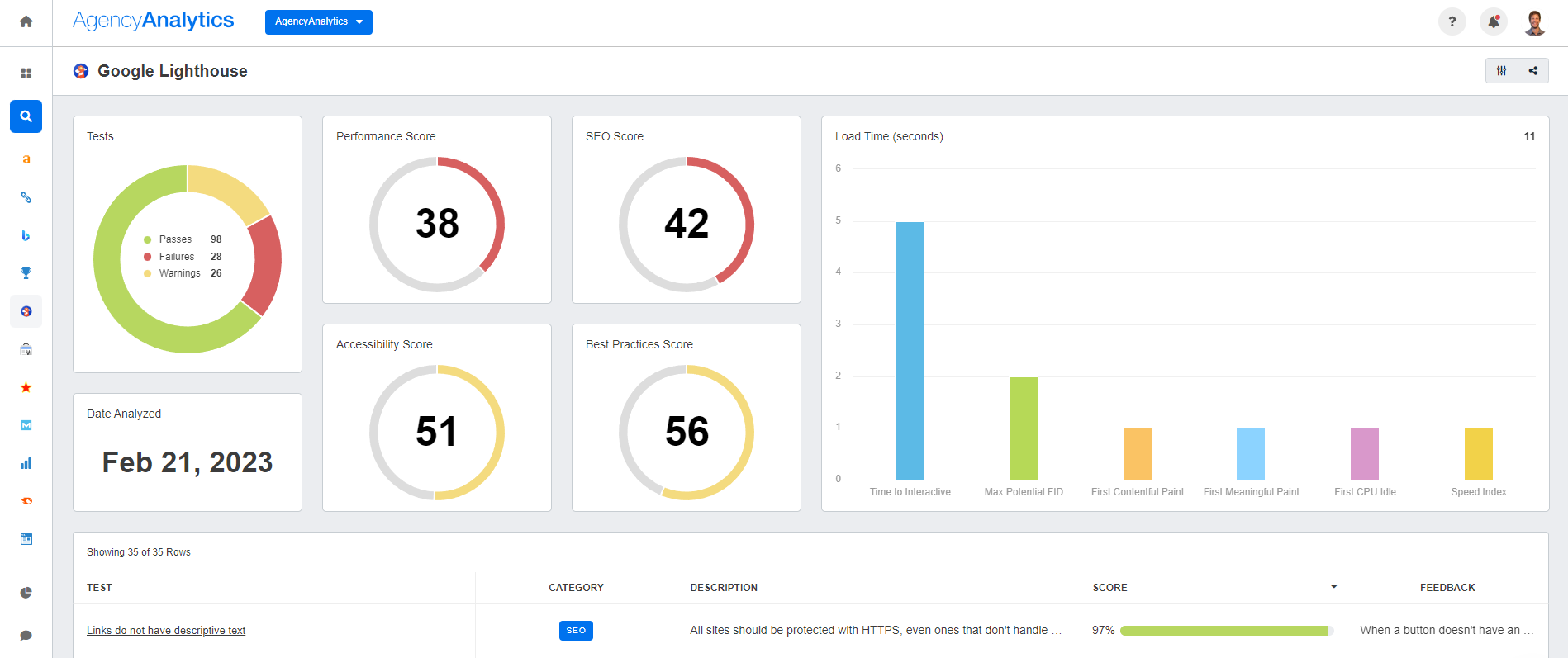 Maintain your clients' SEO health and monitor any significant website changes–it's free for 14 days on AgencyAnalytics. 
10. Top Exit Pages
Aside from knowing which individual pages are performing the best, a detailed website audit will also identify which pages aren't up to par. One way to do that is by tracking exit pages (i.e., the last page a user visited before exiting a client's website). 
If you've realized that many users exit after leaving a particular page, it could indicate that the content needs an overhaul or some other fix is required. 
How to Track Exit Pages in Google Analytics
To get started, head to your Google Analytics account. Then, go to Behavior > Site Content > All Pages. In this section, you'll see the "% Exit" for each individual page (as shown below). 
Monitoring Exit Rates on AgencyAnalytics
Access your clients' exit page metrics directly in your AgencyAnalytics dashboard under Google Analytics > Exit Pages. 
Identify exit trends and which of your clients' web pages need tweaking. Access these insights on AgencyAnalytics–sign up for a free 14-day trial today.
11. Mobile Traffic & Rankings
It's no secret that optimizing for mobile search is more important than ever (especially with Google's switch to mobile-first indexing). 
Keeping track of mobile traffic can indicate:
Mobile-friendliness issues: Google prefers mobile-friendly sites in its mobile search results. If mobile traffic remains static (even as your overall traffic increases), it might indicate issues with mobile friendliness.

Usage patterns: If you see more and more traffic coming through mobile, it may indicate shifting usage patterns in the target audience. Use this as an indicator of whether a client should invest more in mobile development (such as a mobile-first site or app).

Mobile-only search terms: Because users are on the go, they may use fewer words on a mobile search compared to a desktop search. Therefore, you must track mobile-only search terms and treat them differently from other searches. 
How to Track Mobile Performance
There are two key SEO metrics to track here: mobile traffic and mobile rankings. Here's how to do it on AgencyAnalytics:
1. To track mobile traffic, go to Analytics > Audience > Devices. This will show the total traffic from different devices as well as goal completions from mobile, desktops, and tablets. 
2. To see mobile rankings, go to SEO > Rankings, then click on 'Google Mobile Rankings' in the slide-out window.
And with the AgencyAnalytics Rank Tracker tool, there's no need to spend hours monitoring keyword rankings (especially for multiple clients). See for yourself with a free 14-day trial!
3. Finally, if you prefer to track mobile traffic in Google Analytics, go to Audience > Mobile > Overview. Scroll down to see mobile, desktop, and tablet traffic. 
12. Engagement Metrics 
As a quick recall, here are a few important engagement metrics to keep on your radar:
Bounce rate: The number of visitors who left a client's site without clicking any link (or hitting the 'back' button on the browser). This SEO metric is usually expressed as a percentage.

Time on site: The amount of time visitors spend on a client's site on average.
Pages per visit: The number of pages users visit on average before leaving a client's site.
Engagement metrics play an increasingly important role in determining SEO rankings. The more time users spend on a given site, the more likely they find value in the content. In turn, this is a good indicator of credibility which increases SERP rankings over time. 
How to Track Engagement Metrics
By default, Google Analytics shows engagement metrics on its opening page (which you're probably familiar with). This includes SEO metrics such as pages per session, average time per session, and bounce rate.
Alternatively, use AgencyAnalytics to consolidate these metrics to track (alongside other SEO metrics, if you choose). That way, you'll see the overall SEO picture more clearly. 
No need to get lost in a haystack of data. Use AgencyAnalytics to show Google Analytics metrics in a visually appealing format–sign up for a free 14-day trial today!
13. Organic CTR (Click-through Rate)
While the above SEO metrics measure the engagement of visitors once they're on your client's site, tracking organic CTR (click-through rate) is a measure of engagement while the user is still on the SERP.
This is directly tied to the keyword query clicks (#2 on our list) but looks deeper at the combination of impressions and clicks to provide insights into the click-through rate. 
In other words, this SEO metric shows whether a user is interested enough to even click on a website when it shows up. There's no engagement if users don't click on your clients' websites to begin with! 
If you're observing low CTRs, ask a few key questions like:
Is the page title not engaging enough?

Is the content relevant to the search terms?

Is there a keyword intent match between the content and the search term? 

Does the meta description entice users to learn more? 

What other pages show up for these searches?
Getting to the heart of the matter means making the necessary changes and improving CTR over time. 
How to Track Organic CTR
To monitor organic CTR, find it directly within the 'Performance' section of Google Search Console.
Alternatively, use an AgencyAnalytics dashboard to view CTR alongside other SEO-related metrics.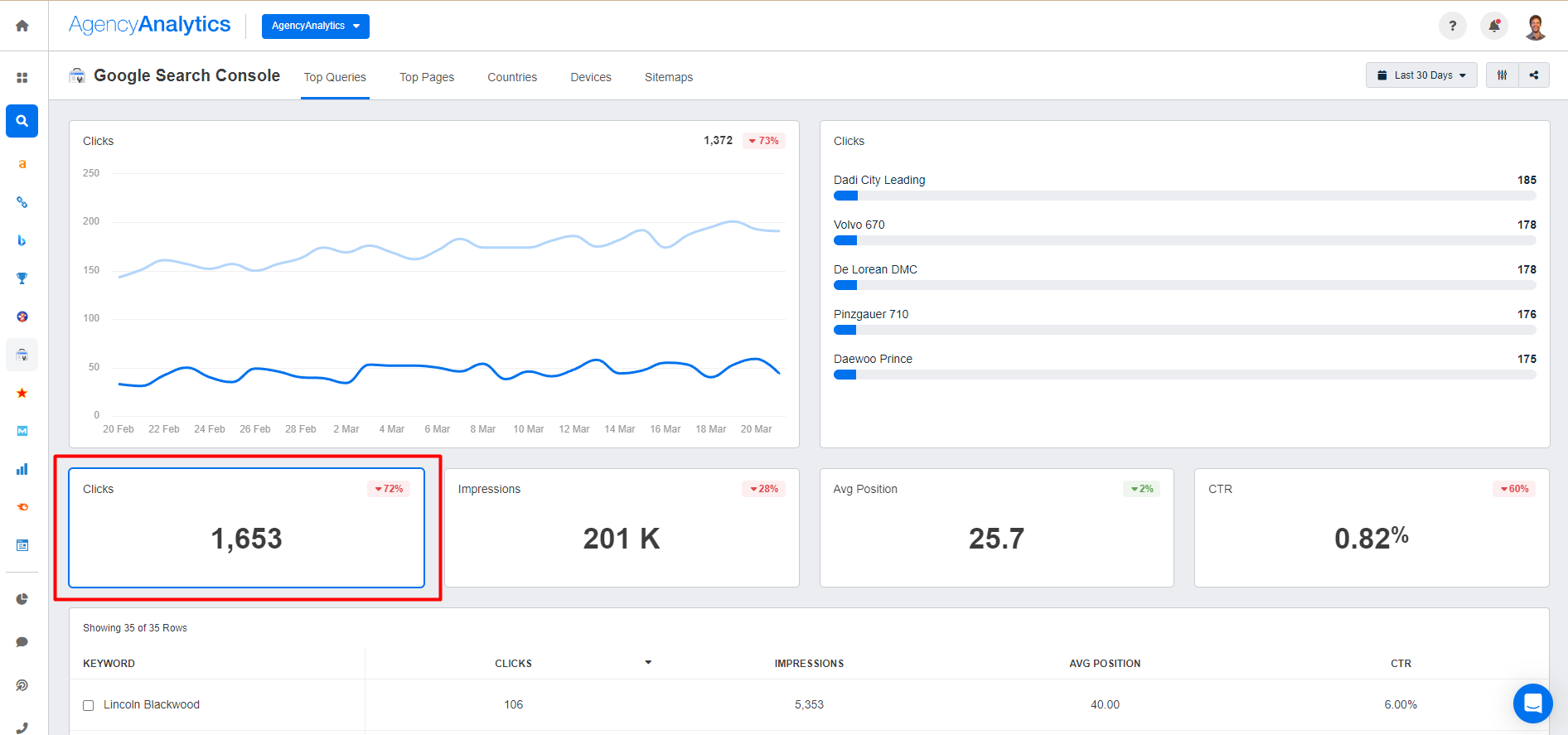 Analyze your clients' best-performing pages at the click of a button. Consolidate Google Search Console insights on AgencyAnalytics–it's available with a free 14-day trial. 
14. New vs. Returning Visitors
Directing users to your clients' websites is one thing. But getting them to return is another useful indicator–it means that you're targeting the right traffic and meeting their needs with insightful content.
Here's a useful tip from our guide on 6 Important Google Analytics Metrics on how new and returning visitors behave differently:
For instance, new users are more likely to bounce, so if you have a spike in first-time visitors, a sudden increase in your bounce rate doesn't necessarily signal a problem. Or if you have a lot of returning visitors but few conversions, you might want to pay special attention to your exit pages to see what's preventing people from making a purchase.
How to Track Returning Visitors 
1. In order to monitor returning visitors in Google Analytics, click on Audience > Behavior > New vs. Returning. 
2. On the other hand, use your AgencyAnalytics dashboard to view this insight. Head to Google Analytics > New vs Returning and look for the '% New Sessions' metric. 
Track returning user rates and come up with data-informed retargeting strategies. Use a pre-built Google Analytics dashboard on AgencyAnalytics, free for 14 days. 
15. Crawl Errors
For Google to rank a website, it has to be able to read it first.
A site with lots of technical SEO issues (such as broken links and missing pages) means that Google has difficulty crawling the site. If Google can't find your clients' pages, it can't rank them either.
Running an SEO site checker on regular basis will help your agency keep an eye on crawl errors and fix them as soon as possible. This will improve site readability and search rankings over time. As a best practice, set a regular cadence for running SEO audits (such as monthly). 
How to Monitor Crawl Errors
AgencyAnalytics' Site Audit Tool is a quick way to keep track of crawl errors.
Simply go to SEO > Site Audit to see a crawl summary and the number of unresolved issues over time. Note that the most critical issues are highlighted in red, followed by lower-priority issues in orange and yellow. 
Quickly identify, diagnose, and fix technical SEO issues. Run a comprehensive SEO site audit on AgencyAnalytics, free for 14 days. 
16. Competitor SEO Metrics
Tracking your clients' competitors is a sure way to stay a step ahead. Here are a few key benefits:
Identify New Opportunities: First, a competitor analysis will help your agency to uncover keyword opportunities that may have gone unnoticed

Compare Total Backlinks: After you've found keywords to target, prioritize them by identifying the total number of backlinks competitors have for each one. This will give you an idea of ranking difficulty

Upselling Opportunities: Finally, showing your clients exactly how they stack up against the competition is an opportunity to upsell additional services and get detailed insights 
How to Track the Competition on AgencyAnalytics
To see how your clients' competitors are performing, simply click on SEO > Competition. You'll then see useful SEO metrics for each one, including Trust Flow, Citation Flow, Indexed Pages, and more. 
See exactly what the competition is doing and uncover opportunities to stand out. Give your clients an extra edge by tracking data on AgencyAnalytics–it's free for 14 days.
Automate SEO Reporting To Save Time, Retain Clients, and Scale Your Agency
As SEO has become more and more complicated, measuring success has become harder as well. You can no longer rely on individual metrics to tell the story of your SEO efforts. Instead, you need to track multiple metrics covering everything from backlinks and rankings to engagement and conversions.
Everyone can say they provide SEO services. But to make your agency stand out from the competition, your agency needs a systematic, scalable approach to showcase the SEO metrics to track that matter most. 
With AgencyAnalytics, there's no need to copy and paste screenshots across multiple marketing platforms! Whether you're creating an SEO dashboard or a white-labeled SEO report, automate the data retrieval process and put hours back into your day.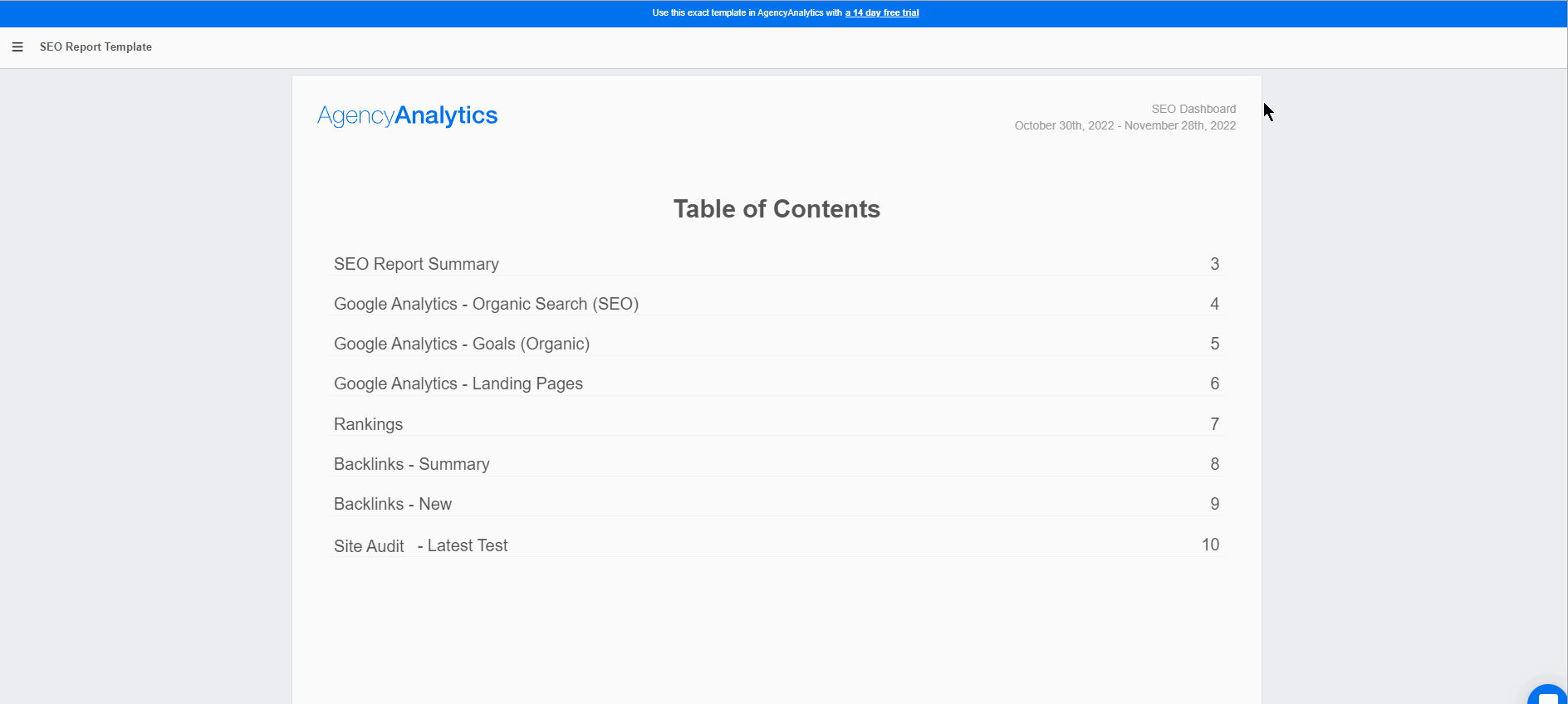 Access a range of time-saving features on AgencyAnalytics and impress your clients with easy-to-understand reporting. Sign up for a free 14-day trial today!
Joe started his career as a developer and since has created many internet businesses. He has now moved on to the position of CEO and has enjoyed all the challenges it has brought.
Read more posts by Joe Kindness ›
Try AgencyAnalytics risk-free for 14 days. No credit card required.