There's no question that search engines place a premium on an excellent click-through rate. This trend makes sense as in the PPC business model, the more people click, the more money search engines make.
For SEO, the click-through rate is one indication of how relevant a searcher finds your particular result. And Google loves it when its users find relevant information. Of course, with SEO, there is a bit of a chicken and egg situation, as the listings at the top of the Search Engine Results Pages (SERPs) tend to have a higher CTR based on placement alone. 
As a marketing agency, you know the importance of search marketing and how it impacts your client's bottom line. And click-through rates play an important role in nearly all online advertising initiatives, from YouTube to Facebook Ads to Email and more. That's why we've created this comprehensive guide to help you understand what constitutes a good click-through rate and how to improve it. 
With industry benchmarks and actionable tips, you'll be able to boost your clients' CTR, improve their website and landing page traffic, and, ultimately, drive more conversions. 
Read on to discover the secrets to achieving better CTR and taking your agency's PPC and SEO games to the next level.
Why Is Click-through Rate So Important? 
Click-through rate is arguably one of the most common metrics to optimize in online advertising and digital marketing campaigns, and for good reason! The average click-through rate tells you the number of people that clicked on your ad or organic listing relative to the total number of people that saw it.
Here are a few reasons why CTR is so important in SEO and PPC:
Click-through rate is a key factor in search engine rankings: Search engines like Google use CTR as a ranking factor because it indicates the relevance and usefulness of a website or ad to users. Websites and Google ads with higher CTR are more likely to show up higher in search results.

Click-through rate affects ad costs and ad rank: In PPC advertising, CTR is a critical factor that affects ad costs and ad rank. Google Ads with higher CTR typically have lower costs per click (CPC) and higher ad rank, which means they are more likely to appear at the top of search results.

Click-through rate is a measure of engagement: CTR measures how well a website, landing page, or online advertising is engaging with its target audience. A high CTR indicates that the website or ad is resonating with users and providing them with the information they are looking for.
Overall, click-through rate is an important metric for measuring the long-term effectiveness of your SEO and PPC campaigns. By understanding what constitutes a good click-through rate and how to improve it, you better optimize your client's website, SEO data, and Google Ads for better search engine rankings, lower costs, and higher engagement with your target audience.
Simply put, this metric gives a rough idea about the effectiveness of your Google ads and SEO metadata (since that's the part people will see before clicking), not only attracting attention but also influencing the audience to take action.
Obviously, no one works hard to be average. The majority of small businesses aim for an above-average CTR in order to maximize their digital marketing ad spend. As a result, click-through rate is the first step in the process of improving ad relevance and generating your desired actions.
Although CTR is only one of the marketing metrics that make up a well-optimized search marketing campaign, it is one of the earliest leading indicators of success. 
At a minimum, my clients want to understand what their click-through rate (CTR) and cost-per-click (CPC) look like, but many want to get far more granular. They want to know which of their various campaigns and ad groups are converting, i.e., are causing desired actions such as sales, inquiries, signing up for an e-newsletter, etc., and what a conversion costs them.

–Gail Snow Moraski, Principal, Results Communications & Research
How To Calculate Click-Through Rates
It's not a complicated formula, but understanding how to calculate the average click-through rate is essential since that knowledge helps an advertiser better interpret the overall engagement of their campaigns. 
CTR can also be used to assess how well keywords, SEO content, and PPC ads are performing.
Here's how to calculate average CTR:

Of course, what you are averaging can depend upon what your agency is trying to measure. Is it an average over a certain time span, by campaign, by ad group, by organic content type, or by channel?  
What Is a Good Average CTR
So, what's a good CTR? The answer to this question, as with a majority of aspects in search marketing, is "it depends." That said, a good click-through rate is often relative to:
The industry

Individual marketing campaigns within the PPC account

The keywords you are bidding on.
It isn't anything out of the ordinary to see a double-digit click-through rate on branded keywords when searchers are looking for brand names. Similarly, it shouldn't be a surprise to see average CTRs of less than 1% on non-branded keywords on certain platforms.
Here are a few industry benchmarks regarding what is considered a good click-through rate: 
Average CTR on Facebook Ads
Social Media Examiner's most recent report shows the average click-through rate on Facebook Ads coming in right around 1%, which is down slightly from the previous average of 1.32%.  
Different industries have different average CTRs, but It shouldn't be a surprise that some industries' ads perform better on highly visual channels like Facebook since they typically feature high-quality images.
One other interesting note is that ads within the Facebook Feed and Facebook Instream Video have the highest average click-through rates. 
Last but certainly not least, if you're trying to decide which Facebook ad format to use for your next client campaign, check out this table of ad formats with the highest click-through rates to see which one could be the best fit for your audience and goals!
| | |
| --- | --- |
| Facebook Ad Format | Average CTR |
| Native ads | 0.33% - 0.38% |
| Video ads | 0.50% - 0.73% |
| Carousel ads | 0.30% - 0.85% |
| Interactive ads | 1.25% - 1.33% |
Average CTR on Google Ads
According to a recent report from LocaliQ, the average CTR for search ranges from a low of 2.24% in the Apparel and Fashion industry all the way up to 16.29% for Google ads related to Arts and Entertainment. Across the entire Google Ads ecosystem, the average click-through rate is currently coming in at 3.17%, based on the most recent stats released in 2023. 
It wasn't that long ago (back in 2015) that the average CTR for search ads, including Google Ads, was around 1.35%, so you can see how that drive for improved click-through rates by marketers and agencies, as well as Google Ads targeting and algorithm improvements, have increased that average over time.  
The click-through rate for Google Display Ads is much lower than search ads, with the average CTR by industry typically falling below 1% and the average click-through rate rounding out to only 0.46%. 
On the display network, search engines display your ads on relevant sites but might not always get it right. As a result, you could get hundreds of impressions on your adverts but receive no clicks. Although–if the targeting is on point–the branding exposure can be beneficial, this greatly reduces the overall click-through rate, which is the main reason display ads don't perform quite as well.
Average CTR for Email
Of all email marketing benchmarks, click-through rate is arguably one of the most important email marketing metrics for understanding the health of all your email sends.
And according to industry benchmarks, the average click-through rate in the US is currently sitting at 2.2% (slightly lower than the overall average of 2.4%). This used to be much higher than what we would expect to see with other paid ads, but that picture has changed. 
| Region | Open Rate | Click-Through Rate | Click-to-Open Rate | Unsubscribe Rate |
| --- | --- | --- | --- | --- |
| Americas | 21% | 2.2% | 10.4% | 0.1% |
| UK | 22.9% | 2.4% | 10.6% | 0.1% |
| Europe | 22.1% | 2.2% | 10.7% | 0.2% |
| Asia Pacific | 22.4% | 3.0% | 13.4% | 0.3% |
Click-through rates also vary by industry, with Education having one of the highest CTRs (at 4.4%) and Retail having one of the lowest (at 0.7%).
| Industry | Open Rates | Click-Through Rates | Click-To-Open Rates | Unsubscribe Rates |
| --- | --- | --- | --- | --- |
| Advertising & Marketing | 20.50% | 1.80% | 9.00% | 0.20% |
| Agriculture, Forestry, Fishing, Hunting | 27.30% | 3.40% | 12.50% | 0.30% |
| Consumer Packaged Goods | 20% | 1.90% | 11.10% | 0.10% |
| Education | 28.50% | 4.40% | 15.70% | 0.20% |
| Financial Services | 27.10% | 2.40% | 10.10% | 0.20% |
| Restaurant, Food & Beverage | 18.50% | 2.00% | 10.50% | 0.10% |
| Government & Politics | 19.40% | 2.80% | 14.30% | 0.10% |
| Healthcare Services | 23.70% | 3.00% | 13.40% | 0.30% |
| IT/Tech/Software | 22.70% | 2.00% | 9.80% | 0.20% |
| Logistics & Wholesale | 23.40% | 2.00% | 11.70% | 0.30% |
| Media, Entertainment, Publishing | 23.90% | 2.90% | 12.40% | 0.10% |
| Nonprofit | 26.60% | 2.70% | 10.20% | 0.20% |
| Other | 19.90% | 2.60% | 13.20% | 0.30% |
| Professional Services | 19.30% | 2.10% | 11.10% | 0.20% |
| Real Estate, Design, Construction | 21.70% | 3.60% | 17.20% | 0.20% |
| Retail | 17.10% | 0.70% | 5.80% | 0.10% |
| Travel, Hospitality, Leisure | 20.20% | 1.40% | 8.70% | 0.20% |
| Wellness & Fitness | 19.20% | 1.20% | 6.00% | 0.40% |
| Average Totals | 21.5% | 2.3% | 10.5% | 0.1% |
Average CTR for Organic Search
The click-through rate (CTR) metric for organic search results can vary depending on several factors, such as the search query, the ranking position, and the industry. Because there are so many results (sometimes millions) for a single search query, calculating an average across everything SEO is pretty much impossible. 
Instead, digital marketing professionals typically look at the average SEO click-through rate based on the ranking position. Not only is this easier to calculate, but it also gives us something to aim for.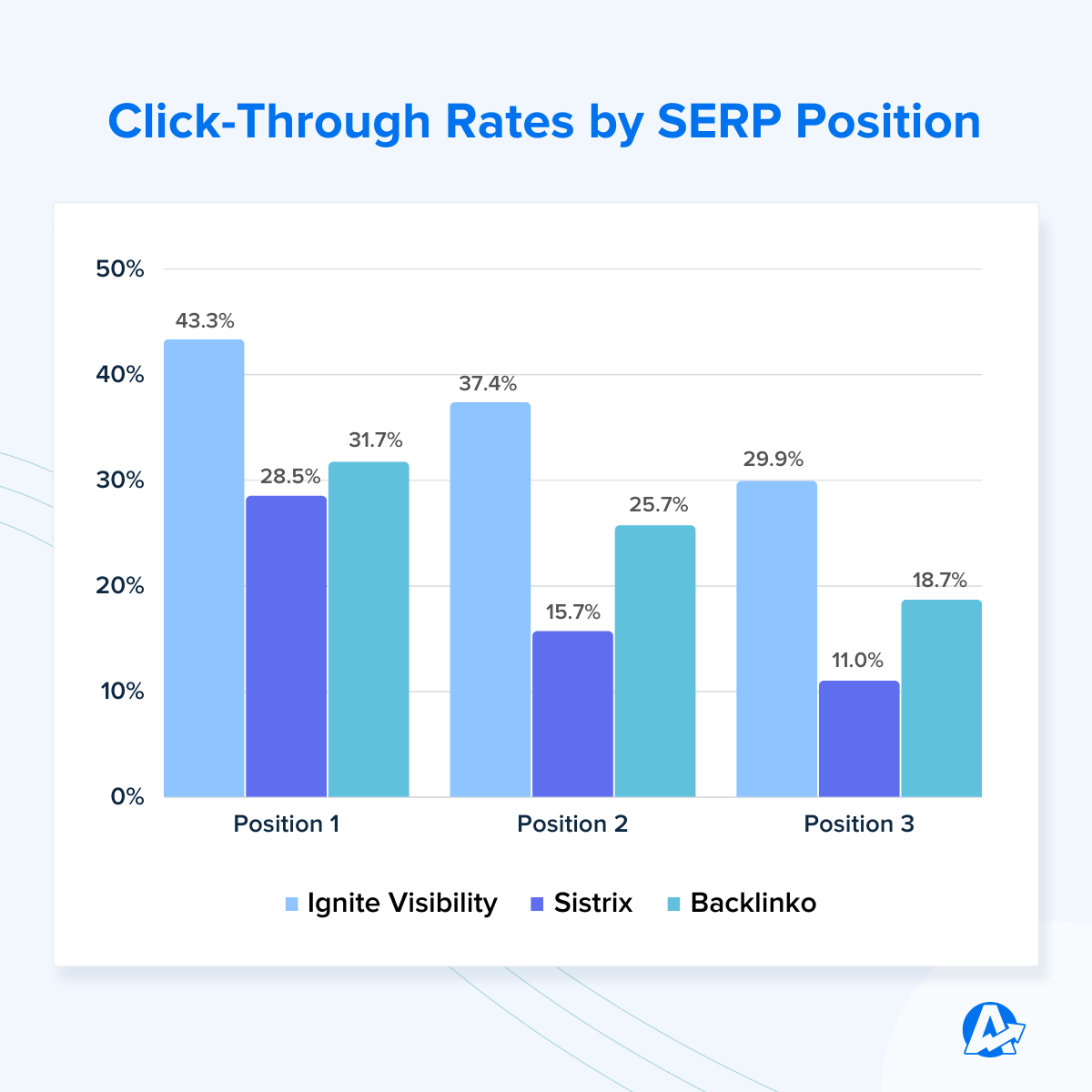 Based on various studies, the average SEO click-through rate for position #1 can range from 28.5% to 43.3%, which drops dramatically by position until it reaches around 2.4% for position #10. This is why using everything in your agency's toolbox to shimmy up the rankings can have such a positive impact on client results. 
The most important success metric is, of course, sales.  This begins with keywords that have proven to convert into leads, not just traffic.  Once established the focus of our SEO are to rank in the top three positions for as many of these keywords / phrases as possible.

–David Rooks, Agency Owner, Rooks Advertising
Studies have also shown that the click-through rate for organic search results on mobile devices is slightly lower but that it doesn't decline quite as dramatically from position to position, according to a report by WebFX.
But why would the click-through rate patterns on mobile be different than what you would typically see on Desktop?
It's mainly because the way users interact with search results on mobile devices differs from that of desktop computers due to several factors. 
Firstly, mobile screens are smaller and vertical in orientation, which means that the search results occupy much less space on the screen than on a desktop computer. Moreover, Google displays search results differently on mobile devices, often including more visuals and taking up more space on the screen. 
Consequently, users on mobile devices are typically presented with one or two results at a time, compared to the multiple results displayed on a desktop computer. Fewer results to click on can easily lead to an increased click-through rate for the lucky few.
Additionally, mobile devices often display more search features, and their appearance can vary. For instance, knowledge panels that are typically located on the right side of the screen on desktop computers are placed at the top of the page on mobile devices. 
Plus, of course, there's the "tap to click" factor, which can often lead to accidental click-throughs on a listing because the user simply touched the screen in the wrong spot.
What Factors Affect Your Average SEO CTR?
Achieving a high click-through rate can be challenging as it depends on various factors, including how well the content is structured and how competitive the keyword is. However, focusing on some of the key elements can help drive positive growth in the organic search space by increasing your client's average SEO CTR.
Search Intent Match
The keyword search intent of users is a crucial factor in determining the click-through rate of organic results. Users search for different reasons, such as informational, navigational, or transactional purposes. For instance, if a user is searching for information, they are more likely to click on a website or landing page that provides relevant and comprehensive information, which is often indicated by the wording used on the search result. 
What was the purpose of the content and did it fulfill the need of the user. Check meta data, check section titles, build in relevant schema. Check ADA compliance. Always spell check and grammar check with multiple team members. 

–Kristen Ewen, Director of SEO, Property Manager Websites
For example, "How to" or "Guide to" indicates that the content is more on the informational side, whereas "Shop for" would definitely lean toward transactional.   
Hence, understanding the search intent of your target audience is crucial in optimizing the website or landing page for a higher click-through rate.
Meta Tags
Meta tags are an essential element of on-page SEO that includes the title tag and meta description. The title tag appears as the blue link in search engine results, while the meta description provides a brief summary of the webpage's content. All too often ignored, these tags are critical for improving the click-through rate.
We care most about link clicks. Quite often, we are sharing website content or news articles that we want people to engage with, so we can boost a client's website traffic. Link clicks indicate that someone has been interested enough in the content to click through.

–Ellen Hedley, Co-Founder, Vida Creative
Optimizing these tags to include relevant keywords and a compelling description can increase the chances of users clicking to the website or landing page.
Plus, they are the easiest way to include those trigger keywords that will help a user identify the intent of the content being created. 
Ranking Position
As we mentioned earlier, the ranking position is a crucial factor that can significantly affect a website's CTR. Websites that appear in the top three positions of SERPs receive the majority of clicks, with the first position receiving the highest CTR. Hence, improving the website's ranking position can increase your click-through rate.
Keyword ranking is usually the most impactful and clients want to see this number continually moving up, or remaining steady in a high position. 

–Bec Moloney, Senior, Account Manager, Redsteps Consulting
But it's a bit of a Catch-22 because CTR is also considered to be a ranking factor, so the better the CTR rate, the higher your client's listing will appear. The higher your client's listing appears, the better the click-through rate. And vice-versa. 
Rich Snippets
Rich snippets are additional pieces of information that appear in search engine results, such as star ratings, images, and reviews. Including rich snippets on a website or landing page can increase its visibility–not only because they take up more real estate on the SERPs but also because they can provide a more relevant match to what the searcher is looking for. Better relevance match = higher click-through rate.
One of the best ways to get your name out there is to get yourself a Featured Snippet for a popular search term. Also known as "Position 0" on the Search Engine Results Page (or SERP) a Featured Snippet or Rich Result can get thousands upon thousands of eyes on your content! Featured Snippets are powerful, but you need to be very careful with how you go about getting them. You need informative content that is well structured, has proper schema attributed to it, and has all the proper keywords to answer a user's question in a concise way that Google sees as important.

–Rachel Jackson, Lead SEO Specialist, Wit Digital
Higher relevancy and more real estate often equate to more clicks.
Competition
Competition is a significant factor that can affect a website's click-through rate. If your competitors have more compelling titles and descriptions, users are more likely to scroll past your client's listing and click on their websites. 
Evaluate what the competition is doing, including their estimated efforts and investments. Competitor research helps our clients understand what is required in order to compete.

–Andrew Thomas, Technical Director, HookedOnMedia
Analyzing your competitors' SEO strategies and creating a unique value proposition that resonates with your client's target audience helps increase the organic CTR.
Brand Awareness
Brand awareness can also affect a website's click-through rate. Websites that have a strong brand image and recognition are more likely to receive clicks from users. 
After all, if you're looking for important information on SEO best practices, are you more likely to read the answer from a well-known brand like AgencyAnalytics, or some guy named Bob in Wisconsin? 
Building brand awareness through content marketing, social media, and other digital marketing strategies can increase a website's visibility and improve the click-through rate.
With Google placing a heavier focus on expert content and authoritative material for ranking websites, the best place to showcase that our clients are experts in their field, in any given location, is to provide proof through our websites, blog posts, and project pages.

–Bec Moloney, Senior Account Manager, Redsteps Consulting
What Factors Affect Your Average PPC CTR?
Numerous factors can affect the click-through rate that shows up in your Google Ads metrics. From the headline, the ad copy, and other trust factors. Getting all these right can result in a significant increase in leads, so let's dig deep into each of these factors further.
The Headline
Your main headline is a crucial aspect of PPC ads on the Google Ads network. The headline is usually 60 characters long and divided into two parts that are separated by a dash.
Since this is the first interaction with your target audience, you'll want to ensure it stands out and is straight to the point. A dull headline can negatively affect your average CTR since a majority of visitors will read it and simply move on to the next search result. Altering your headline to something compelling and gripping can have a major impact on increasing your click-through rate.
But make sure it is aligned with the client's brand and end goals.
Any metric can be gamed for perceived improvement, and if you just want a higher click rate, you can sensationalize or create clickbait headlines, but if that's not aligned with your brand and its objectives, then what's the point?

–James Middleditch, Director, Digital Group Media
Ad Copy
Just below an ad's main headline is the ad copy, also referred to as the description. In this section, an advertiser has only 80 characters to persuade visitors to click on their advertisement. Usually, Google Ads copy follows the theme of the headline while also expanding several benefits and finishing with a call-to-action (CTA).
Review your competitor's ads analyzing their offer and ad copy. Use this to your advantage.  The best ad with the best offer typically wins. In a digital world with full transparency, you know exactly what your competitors are doing.  The key is, that you have to do it better.

–Brian Ferritto, Digital Marketing Strategist, 42connect, Inc.
In the ad copy section, it is essential that you give more details about the service/product you're promoting and why you're the best option. General information about your company won't compel users to click your ad. Rather, you must offer solid reasons why they choose to learn more about your service if you want to see an improved click-through rate.
Ad Rank
An often ignored click-through rate factor in Google Ads is the position of your ad on the search engine results page. Obviously, Google Ads and Bing Ads won't fit everyone's advertisement on the first page, so an auction system is used to determine the ad that shows at the top.
And as you can imagine, the first ad typically receives the highest CTR, which is why people will pay more to remain at the top of search engine results. By optimizing both your ad copy and headline, you can also increase your ad ranking in SERPs without increasing your bids.
The Ad Creative
If you use the Google Ads display network or Facebook to help engage users where they are browsing, your ad creative will likely take different formats compared to the regular search results. The display network ads use an image format, otherwise known as the creative.
Images are the first thing a potential prospect sees when scrolling past your ad. A good image will grab their attention long enough for them to read more or click-through, a bad image will not even be noticed and scrolled past.

–Tyron Zeelie, Sprocket Digital
Contrary to organic search ads, ad creative is more like a virtual billboard.  On Facebook Ads, as another example, a typical image ad uses a static or dynamic set of images to promote a product or service on the platform.
This means that the advertiser has more control over what exactly is displayed to searchers and browsers. It also means that click-through rate is a critical early-stage metric for ad engagement.
The Keywords Used
This also may sound quite obvious, but if your ads do not include keywords you're bidding on within the ad copy, then you'll likely see a negative impact on the click-through rate, which will often lead to an increase in CPC. 
Another way that this helps increase the average click-through rate is that the keywords in the Google Ads text that match the search query will show up in bold, helping to dry the searcher's eye to your ad.
Be sure to include your target keyword in the main headline, within the ad copy, and within the display URL (whenever possible).
Ad Extensions
There are numerous ad extensions you could use to make your advert stand out. Google Ads extensions increase the size of your ads while increasing their relevance, ultimately improving CTR. Here are a few ad extensions to check out:
Sitelink ad extensions. This extension is just an additional line of text which displays when an ad appears in the top three positions. Up to 4 sitelinks can display below your ads, but you could create more, and Google Ads will choose which ones to display. Adding a sitelink description or ad group lets you add two more lines of text below every sitelink heading. This feature increases click-through rates by making your adverts stand out and pushing down others in search results.

Location extensions. These extensions encourage searchers to come to your physical location by showing its location on Google Maps. This feature is best suited for physical store locations looking to drive more local traffic.

Call extensions. Adding call extensions makes it a breeze for people to reach out, especially for businesses where customer calls are mandatory in the sales process. People can choose to call using their phones or by software like Skype.

Structured snippet extensions. These could be created to display product data under the advert description lines. Snippets could be created for Brands, Amenities, or Neighborhoods, etc., and you could add up to 10 values per snippet.
The Device
Click-through rate also varies depending on the device, and it's not unusual to see that the mobile click-through rate on Google Ads is higher than what's attained on desktops.
In fact, a report from Web Marketing Pros showed that mobile devices tend to have higher click-through rates (CTRs) than desktops. This presents an opportunity for marketing agencies to optimize their ad targeting and potentially increase their chances of success, especially when working with a tight budget. 
By filtering their ads to reach specific devices, agencies can make the most of their ad spend and improve their overall ROI.
However, it's important to remember that this isn't always the case, and limiting ad targeting by device could result in missed opportunities. Factors such as user behavior, intent, and demographics can all impact how users interact with ads on different devices. 
And why is that? Do a Google search on your mobile device, and you'll quickly see why. Typically, they have smaller screens, and users interact with them in a vertical orientation. As a result, PPC ads on mobile devices have limited real estate available and are often displayed above the fold, making them more visible to users. 
Conversely, on desktop devices, ads are typically displayed on the right-hand side or below the organic search results, which may not be as noticeable to users.
Your Call-to-Action (CTA)
Your call-to-action is often the difference between getting users to click through or ignore your ad. The nature of your CTA will often determine the click-through rate and therefore the number of clicks you receive for any ad campaign. For example, it is always advisable that you steer away from demanding and generic CTAs like "click here." Instead, you should focus on mentioning the benefits customers will get once they click the link.
Images
The mightly Google itself has stated that advertisers can expect to see upwards of a 10% increase in click-through rate when the ad includes an image asset. And the reason behind this is pretty straightforward; images can be incredibly powerful at engaging and enticing users. The quality of your campaign won't improve by throwing a bunch of pictures in your ads. Instead, you'll need to choose images that not only fit your message but also appeal to your readers.
And, of course, competitors will play a factor in how all of the above is crafted.
Doing competitive research will give you a complete picture of your prospects' options and how the competitors are communicating in their landing pages, keywords, and ad copy. From there, highlight your competitive advantages and make sure that you're the best choice for that person based on your capabilities. Without knowing what your competitors are promising, you will be blind in trying to communicate your competitive advantage.

- Warren Thompson, Co-Founder & Managing Director, Ollo Metrics
What Factors Affect Your Average Email CTR?
Several factors can affect your average email click-through rate (CTR). Understanding and optimizing these factors helps your team improve email marketing campaigns. Some key factors include:
Subject Line 
The email subject line plays a crucial role in increasing email click-through rates because it serves as the first point of contact between the sender and the recipient. After all, if the recipient doesn't open the email, they are not at all likely to click on it. 
An engaging and relevant subject line captures the attention of your subscribers, enticing them to open the email and explore its content. If the subject line is unappealing or unclear, recipients may disregard the email or, worse, mark it as spam. 
A well-crafted subject line sets the tone for the email, creates a sense of urgency or curiosity, and ultimately drives higher open rates, which–in turn–leads to increased click-through rates.
Email Content & Design
Email content and design are essential for increasing click-through rates as they directly impact the recipient's experience and engagement with the email. High-quality, relevant content demonstrates value and addresses the needs and interests of the subscriber, making them more likely to click on the links within the email. 
Similarly, a visually appealing and well-structured design ensures that the email is easy to read, navigate, and interact with, regardless of the device being used. 
By combining informative content with a user-friendly design, marketers can effectively guide recipients toward their desired call-to-action, ultimately driving higher click-through rates and improving the overall success of their email campaigns.
Segmentation and Personalization
Segmentation and personalization are vital for increasing email click-through rate because they allow marketers to deliver targeted and relevant content to their subscribers. 
By segmenting their email list based on factors such as demographics, location, or past behavior, marketers can tailor their messaging to suit the unique interests and needs of each group, making the content more appealing and valuable. 
Personalization, on the other hand, takes this approach a step further by addressing individual subscribers directly, using their names, or referring to their specific preferences or past interactions. This personalized touch fosters a sense of connection and trust, leading subscribers to feel more engaged with the content, which can increase the click-through rate.
Frequency & Timing 
Striking the right balance between sending too many and too few emails is crucial. Overloading your subscribers may lead to higher unsubscribe rates, while sending too few emails may result in lower engagement.
Similarly, understanding the optimal timing for sending emails to your target audience maximizes the chances of your emails being opened and read. Does the target audience respond better in the morning or afternoon? Are weekends a bad time when it comes to driving email engagement and click-through rate? Should emails be sent at a specific time or in the user's local time zone? 
By experimenting with different sending times and closely monitoring engagement patterns, marketers can identify the ideal moments to reach their client's subscribers.
Mobile Friendliness
A growing number of users access their emails on mobile devices. By ensuring that emails are designed to be mobile-friendly, marketers can provide a seamless and enjoyable user experience, regardless of the device being used. 
A well-optimized mobile email should have a responsive design, clear and easy-to-read fonts, and touch-friendly buttons or links.
Click-Through Rate Summary & Key Takeaways
Achieving a high click-through rate (CTR) is essential for the success of any online marketing campaign. By understanding the factors that impact CTR, marketers can optimize their ad campaigns and SEO efforts to maximize effectiveness and drive more clicks and conversions. 
Although CTR may not matter to the client as a stand-alone metric, it can often be an indicator of potential success.
Really our clients want one thing, revenue growth. The other metrics are irrelevant to them, even though we optimize for them, such as CTR. Adam Huycke, Owner, Peritive Digital
Whether it's considering the user intent, crafting engaging meta data,  optimizing Google Ads campaigns, creating compelling ad formats, developing a landing page, or selecting the right targeting options, there are several steps that marketing agencies can take to improve their CTR. 
By incorporating industry benchmarks, monitoring their campaigns, and adapting to changes in user behavior and technology, agencies can stay ahead of the curve and drive results for their clients. With the right strategies and tools, marketers can achieve their goals and unlock the full potential of their online marketing campaigns.
Of course, one cannot manage what they do not measure–so the first step is understanding your client's current CTR data so that you can watch it grow!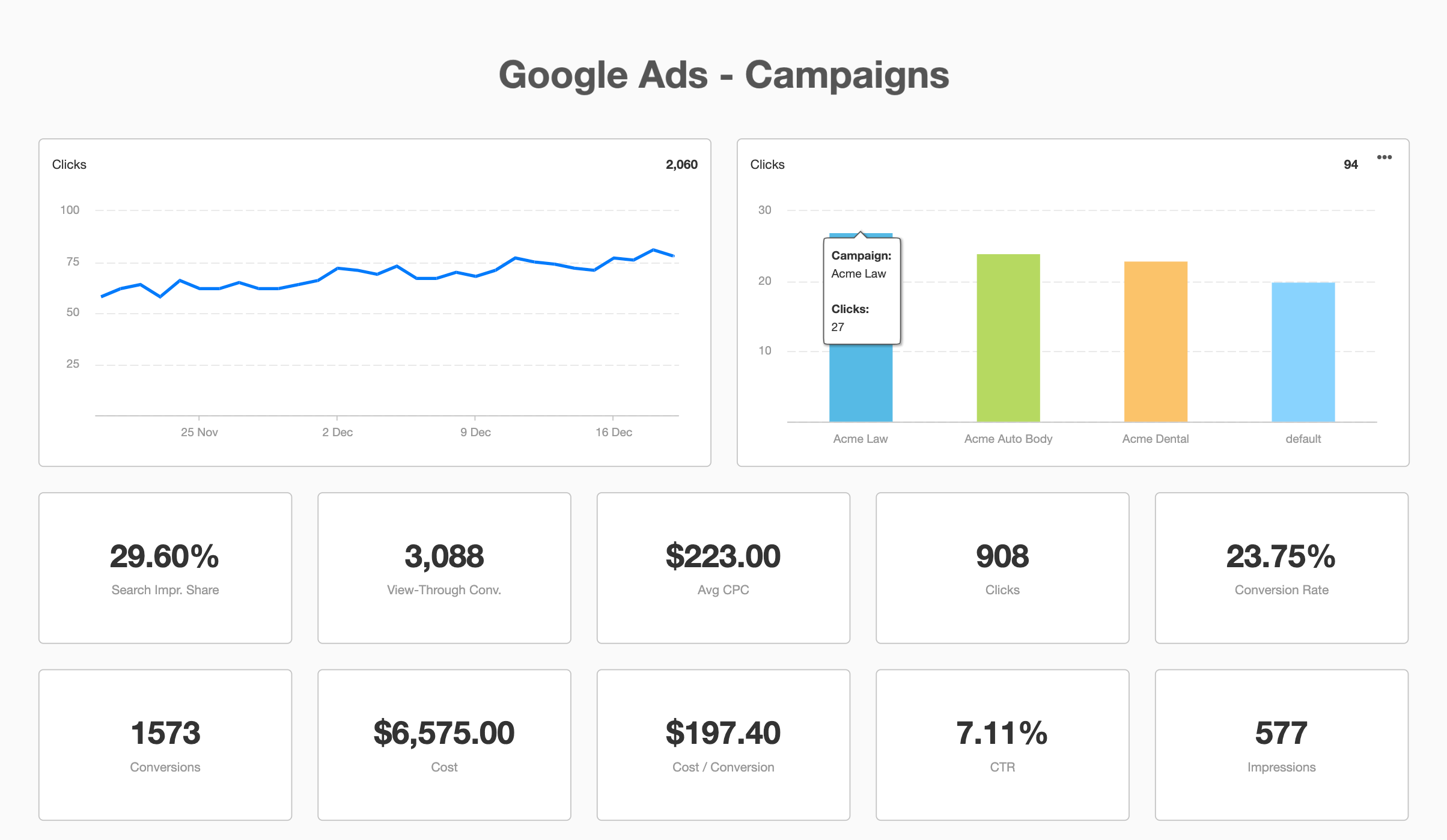 If you're looking to track the average click-through rate across all of your campaigns, check out our prebuilt PPC reporting template to automate the process. Streamline your PPC reporting with AgencyAnalytics. Try it free for 14 days!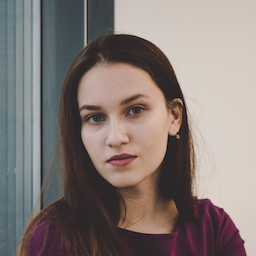 Lisa is a self-published writer and editor who has worked in the PPC/Search Engine Marketing niche for years. As a search engine marketing expert, she has led hundreds of paid advertising accounts for search engines, mobile, display, retargeting, and social media ad campaigns. When she's not writing, she can be found with her nose stuck in a book.
Try AgencyAnalytics risk-free for 14 days. No credit card required.