Every few years, the debate over SEO vs. PPC resurfaces, and it seems to be back again. Which one is better? Should you focus on organic search, PPC, or both? Having worked in the search marketing world for well over a decade, I have seen this argument take many forms, and most of the time they miss the point. It's not about which is better, it's about how to use them both to drive exponential growth.
Welcome to the fascinating world of search engine marketing, where search engine optimization and pay-per-click marketing rule. We're about to delve into the core of these powerful digital forces. They shape the online landscape, each with their distinct approach, yet working together to maximize growth and performance.
Search engine algorithms define this terrain, dictating the patterns of organic traffic that SEO relies on, as well as the rapid influx that PPC advertising generates. The key takeaway? SEO and PPC are not competitors; they're powerful allies.
Search engine results pages are the stage where SEO and PPC play their roles. SEO builds a solid foundation, pulling in a consistent flow of visitors over time, while PPC campaigns offer immediacy, generating swift traffic.
The purpose of this blog post is to guide you through this terrain. You'll gain a clearer understanding of both SEO and PPC, and most importantly, you'll discover how they work in concert to deliver compound results.
So prepare to embark on a journey of discovery into SEO and PPC. It's not a case of either/or, but rather how the two, when combined, can accelerate growth and performance. This article will discuss the benefits of tracking organic rankings for PPC keywords and using PPC to help your clients' SEO. We'll also look at how to use this data to improve budget management and position your agency as an organic and paid search powerhouse.
In this article:
The Intersection of SEO and PPC in Search Engine Marketing
Search engine marketing capitalizes on two key components: SEO for organic traffic and PPC for paid traffic. These two components work synergistically to create a comprehensive and effective approach to increase online visibility.
SEO: The Driving Force Behind Organic Traffic
SEO is crucial for generating organic traffic. Its role is to optimize content and website design to improve ranking on search engine results pages. Though the outcomes of SEO aren't immediate, it provides a steady and growing flow of traffic over time, making it an indispensable element in long-term digital marketing strategy.
| Basic Elements of SEO | Description |
| --- | --- |
| Keyword Research | This involves identifying and analyzing the terms or phrases people enter into search engines. It's critical to use these keywords effectively in your content to improve your visibility in search engine results. |
| On-Page Optimization | This includes optimizing page titles, headers, meta descriptions, URL structures, and content using relevant keywords. Good on-page SEO improves your website's visibility and usability. |
| Content Creation | High-quality, original content is crucial in SEO. Regularly updating your website with valuable content can help attract and retain website visitors. |
| Link Building | Acquiring high-quality inbound links from other websites (backlinks) is essential off page SEO. Search engines see backlinks as a sign of trustworthiness and relevance. |
| Technical SEO | This involves optimizing the backend of your website. Elements like site speed, mobile-friendliness, site architecture, and structured data all play a part in how search engines crawl and index your site. |
| Local SEO | If your business serves a local area, optimizing for local SEO can help you appear in location-specific searches and Google maps. This includes managing online reviews and local business listings. |
| SEO Analytics & Reporting | Using tools to track and analyze SEO performance is crucial for making data-driven decisions. This includes monitoring keyword rankings, organic traffic, bounce rate, and conversion rate. |
PPC: The Accelerator for Paid Traffic
In contrast to SEO, PPC offers immediate results. It operates by purchasing ad space on search engine results pages. By creating effective ads and bidding on relevant keywords, each click on your ad results in paid traffic to your website. PPC's strength lies in its ability to quickly drive high volumes of traffic, offering immediate exposure and potential customer conversions.
By harnessing both SEO and PPC, you employ a robust strategy in search engine marketing. It's about the steady growth of organic traffic from SEO paired with the immediate results driven by PPC. Together, they form a potent combination, optimizing your online presence and enhancing overall search engine performance.
| Basic Elements of PPC | Description |
| --- | --- |
| Keyword Research | Similar to SEO, PPC also relies heavily on keyword research. These keywords are used for creating ads that will appear when users search for these specific terms. |
| Ad Creation | This involves crafting engaging and compelling ads that users will want to click. Ad copy must be persuasive, clear, and aligned with the landing page. |
| Landing Page Optimization | Once a user clicks on an ad, they're directed to a landing page. This page needs to be relevant, informative, and encourages the user to take a specific action (like making a purchase or signing up for a newsletter). |
| Bid Management | In PPC, you bid on keywords you want your ads to show up for. Effective bid management involves strategies to win ad placement without overpaying. |
| Campaign Settings | Choosing the right settings for your PPC campaign is crucial. This can include targeting options (like location and language), budget, and bidding strategies. |
| Ad Extensions | Ad extensions provide additional information and clickable links in your ad to improve visibility and increase click-through rate. Examples include call extensions, sitelink extensions, and location extensions. |
| Conversion Tracking | This involves monitoring and analyzing how users interact with your ads and website. Tracking conversions helps you understand your return on investment and provides insights to improve your PPC campaign. |
Interesting Organic vs. Paid Search Statistics
Organic search is based on the relevance of the web page to the query. This is determined by algorithms that consider keyword density, backlinks, and other factors. Meanwhile, paid search results are the relevant ads that appear at the top of the SERPs when you type in that query. The success of both types of campaigns relies heavily on keywords.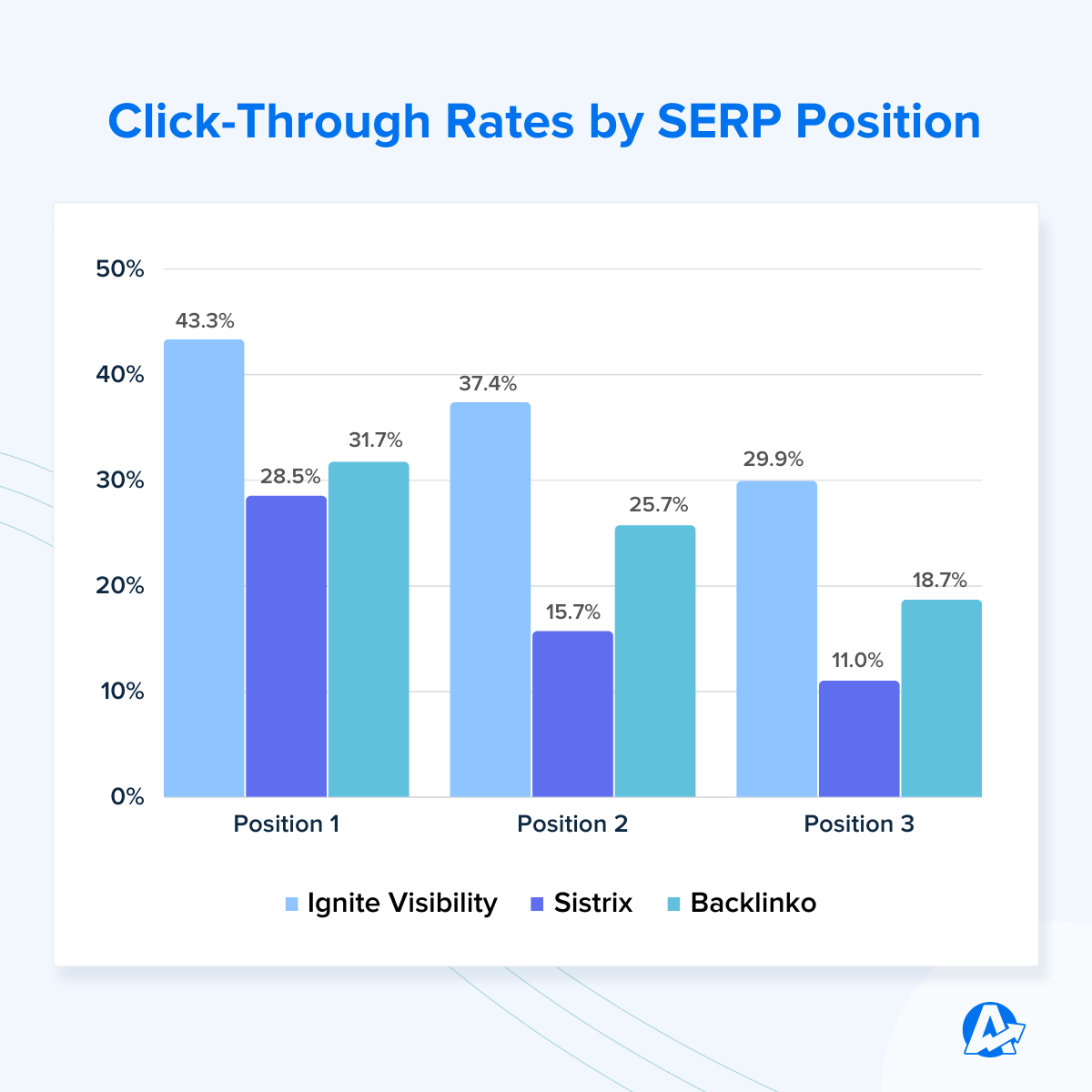 Let's see just how interconnected SEO and PPC are with some interesting stats:  
64% of marketers actively invest in search engine optimization

Click-through rates on Google paid search ads are about 2% 

The #1 result in Google's organic search results has an average CTR of 31.7%, which is 10x the CTR of position 10

Paid search visits are 35% more likely to convert than organic search

55% of marketers consider search engine optimization either "very important" or "extremely important" to their overall marketing strategy

The average small to medium-sized business invests 7x more in PPC than they do in SEO 

The average number of eCommerce touchpoints varies by product but can range from 8 to over 20. 

Over 52% of marketers are investing in technical SEO updates to their website

Roughly 50% of marketers consider their SEO tactics to be "very effective" in helping them achieve marketing goals

The average ROAS for Google Ads is 200%, which translates to earning $2 for every $1 spent

53% of marketers are actively trying to rank for Google Featured Snippets

21% of consumers use the search engine daily to search for local businesses near them

63% of users believe that the top results on the results page are the well-known brands

On average, 54% of view time is spent on the top 3 positions

Owning the first ad position and first organic position can drive 49% of all clicks to your client

A combination of paid and organic results in increased brand recall

The average marketing agency tracks 45 keywords per client campaign
Sources: HubSpot, Statista, Google, Backlinko, WebFX, AgencyAnalytics Client Reporting Benchmarks, and Wordstream
SEO vs. PPC: Which Is Better?
Both organic and paid search have their advantages and disadvantages.
On the one hand, organic search results are free, so you don't have to pay anything to appear in them (other than the time and effort to create content that will rank). Organic traffic can also be very valuable–if Google gets its algorithm right–because it's usually more targeted. For example, with PPC ads you only have a few words to input as targeting. With organic, Google has an entire page full of content to determine if it's a match for what that user is looking for.
However, organic search results can take a long time to achieve; it takes effort and patience to improve your organic rankings, and there's no guarantee that your efforts will pay off.
"Although the payoff rate can be much slower than other tactics...the lasting outcome is far more rewarding," adds Conrad O'Connell, founder of BuildUp Bookings.
Additionally, organic results are becoming increasingly crowded as more companies try to improve their organic rankings. Lastly, the balance of SEO best practices and copywriting can make it a challenge to stand out in the SERPs, even if you achieve a good organic ranking.
Paid search, on the other hand, is much quicker and easier to implement than organic search. You simply create a campaign, set your budget, and start appearing in the paid results almost immediately. Although paid search does require ongoing optimization, it is also great for targeting specific, exact-match keywords and audiences.  With the correct campaign settings, you ensure that your ads are only being shown to people who are likely to be interested in what your client has to offer.
Ex. A client looking for quick wins or an event or pop-up shop wouldn't invest time into the long-term benefits of SEO and instead opt for PPC. A local business looking to establish its online presence while finding immediate clients (both long-term and short-term success) would invest in both. 
The downside of paid search is that it can be expensive–especially if bidding on competitive keywords. Additionally, there is always the risk that your ads will not be clicked on even if they are being shown to people interested in what you offer. Or, perhaps worse, your client's ads will get a tonne of irrelevant clicks, driving up the spend while generating no revenue.
Marketing Objectives/Scenarios

Better Use Case

Reasoning

Marketing Objectives/Scenarios

Promotions and Scheduled Events

PPC

PPC delivers quick results, which is perfect for limited-time promotions or events. It immediately positions your ads on top of search engine result pages when users search for relevant keywords.

Marketing Objectives/Scenarios

New & Innovative Products

Combination of SEO and PPC

PPC can create immediate awareness for your new product, while SEO can help establish long-term visibility in organic search results.

Marketing Objectives/Scenarios

Clients with a Short-term Exit Plan

PPC

If the client plans to exit in the short term, they'll need immediate results that PPC can provide, as opposed to the long-term benefits of SEO.

Marketing Objectives/Scenarios

Branding

Combination of SEO and PPC

PPC provides immediate visibility on Google search, while SEO helps in establishing credibility and long-term brand recognition.

Marketing Objectives/Scenarios

Local Business Expansion

SEO

The benefits of SEO, especially local SEO strategy, include high visibility in local search results, which is ideal for local businesses looking to expand.

Marketing Objectives/Scenarios

Competitive Market

Combination of SEO and PPC

In highly competitive markets, using both SEO and PPC can help you occupy more real estate on search engine results pages and gain an edge over competitors.

Marketing Objectives/Scenarios

Limited Budget

SEO

While both are essential digital marketing strategies, SEO is more budget-friendly in the long run, providing sustained traffic without the continuous cost of PPC.

Marketing Objectives/Scenarios

Broad Target Audience

PPC and other digital marketing strategies (like social media ads)

If you're targeting a broad audience, PPC and social media ads can reach more people in a shorter period, offering demographic targeting and other customization options.

Marketing Objectives/Scenarios

Niche Markets with Specific Keywords

SEO

SEO strategy is highly effective for niche markets where specific keywords can be identified and used in content to rank higher in organic search results.

Marketing Objectives/Scenarios

Establishing Trust and Credibility

SEO

SEO is key to building trust and credibility. When your website appears in organic search results, it shows users that your site is relevant and authoritative, which strengthens your brand's trustworthiness and credibility.
So, which is better–organic or paid search? As you can tell from the table above, the answer depends on your client's individual needs and goals. If they want quick results and are willing to pay for them, then paid search may be the best option. However, an organic search strategy may be a better choice if they are looking for a long-term solution that doesn't require a significant and ongoing investment.
But the best choice is fairly obvious. Two channels are better than one.
No matter what route you decide to take, if your agency manages PPC campaigns, you should be tracking organic rankings for PPC keywords as part of your overall strategy. 
Why You Should Track Organic and Paid Search Keywords
Sometimes, there is an unfortunate "Not my pig, not my farm!" attitude regarding client reporting. Although it's understandable to focus exclusively on the campaigns being managed by your agency, there can be a disadvantage to this kind of blindered approach.
After all, if your client is willing to pay for those clicks, they should also try to rank organically for them (with some exceptions, of course). Especially keywords that drive conversions and revenue. Doubling down on the search efforts for those top keywords can drive positive results.
Even if you are not handling both sides of the search equation for clients, tracking and reporting on organic rankings for PPC keywords can help position your agency as an expert in multiple digital marketing tactics. By providing holistic reports that show both organic and paid results, you demonstrate that your agency has its finger on the pulse of the entire business. And this can be a great way to upsell clients on additional services without even trying.
Imagine this scenario for a moment. Your client has hired your agency to manage their PPC ad campaigns but works with a different agency on SEO. Instead of just sending over a PPC report, your agency provides a holistic digital marketing dashboard that covers the client's entire business, including paid search, social media, and SEO.
Month after month, they receive reports highlighting their organic search growth (or lack thereof, since they're not working with your agency on this) and thoughtful insights on how PPC and SEO could be improved to work smarter together.
"So many clients over time have had multiple agencies working on different parts of their campaigns," adds Michael Gasser, Co-owner of Squeeze Marketing. "And then they realize that we are the ones that are effectively reporting in a way that allows them to assess the other agencys' work as well. If we're just running Google Ads for the client, we're not just reporting Google Ads data. We're reporting their full suite of data. We connect to every applicable data source."
When the time comes, and that client decides that it's time to try a new SEO agency, who do you think will spring to mind first? And when the time comes to make an SEO proposal, how handy would it be to have a prebuilt history of their keyword tracking?
Gasser adds that they often have conversations with clients that run along the lines of "I get all of my information from SEO campaigns from you, but these other guys are running them." Which is usually followed by the question... "Do you guys do SEO?"
As a matter of fact, they do.
Read the Entire Squeeze Marketing Case Study >>
Although there is a small investment required in organic keyword rank tracking tools, even if you only tracked the top 25-50 keywords for each client, it shows that you are paying attention. Compare that to the cost of other lead generation campaigns, and you should be able to easily spot the ROI possibilities.
Agency Tip: The above applies to all marketing channels, even if your agency does not handle them. It only takes a few minutes to integrate their Paid Search, Social Media, Email, and other programs from a full set of integrations available on the AgencyAnalytics platform. If your agency provides that service, you should include it in your reports even if that client is not currently taking advantage of your expertise.
Why Go the Extra Mile and Track Both Organic and Paid Search Keywords? 
The truth is, there isn't a simple answer to the debate about SEO vs. Paid Search. Every client is different, and each will have its unique approach to organic and paid search. However, all search-focused agencies should track the organic rankings for their PPC keywords and the PPC performance for their organic keywords. 
Tracking organic rankings provides valuable insights into that client's market, generates improved optimization opportunities, and creates an automated upsell funnel to generate more business. The same can be said for monitoring the performance of paid search campaigns, as there is a wealth of keyword data readily available inside Google Ads reporting.
Agency Tip: Combining the Google Ads integration with the AgencyAnalytics Rank Tracker makes it easy to copy your client's top PPC keywords to monitor organic rankings. Simply select "Google Ads" from the Suggestions section and the tool will automatically suggest your client's top-performing paid search keywords.
SEO and PPC: How They Work Together
While some people will continue to debate the merits of Search Engine Optimization vs. Paid Search until the Internet is no more, we like to think of them as peanut butter and jelly. Sure, they can be used on their own. But they are so much better together.
Keyword Research
One of the benefits of tracking organic rankings for PPC keywords is that it can help you with your keyword research. By looking at both organic and paid results, you will get a better idea of which keywords are worth targeting, the search intent behind those keywords, and where the gaps are that your agency can take advantage of.
For example, let's say that your client is a professional electrician in Los Angeles who wants to start running paid search campaigns. You've done some initial research and come up with a list of potential keywords, including "electrician Los Angeles," "emergency electrician Los Angeles," and "24-hour electrician Los Angeles".
If you only look at the keyword research, you might assume that all of these keywords are worth targeting with SEO and PPC. 
However, looking at the paid search estimates using Google Ads metrics, you discover something different. "Emergency electrician Los Angeles" has a lot of organic results, but there are very few paid ads, and the estimated cost per click is lower than the average. This could indicate that this keyword is not very competitive and that it would be easy to drive some efficient traffic.
On the other hand, "24-hour electrician Los Angeles" has lower organic competition but there are plenty of paid ads. This could indicate that this keyword is quite competitive and could be very expensive from a PPC perspective. However, since the organic keyword difficulty score is lower, this makes a great candidate for SEO.
By looking at organic and paid search results, you have a full view of which keywords drive traffic and conversions organically and through paid ads and build the opposite side of the program to match.
Improved Click-Through Rates
Another benefit of tracking organic rankings for PPC ad keywords is that it can help you improve your click-through rates. Organic listings tend to get more clicks than paid ads, even if the organic listing is lower on the page.
Think about it this way. You're looking for an SEO reporting tool (or the best SEM reporting tools, for that matter) and see that AgencyAnalytics has both a paid ad and the top organic position. How much extra confidence does that implicit stamp of approval from Google give to the AgencyAnalytics brand?
As noted earlier, if you can acquire the #1 spot organically and through paid search ads, you could drive nearly half of the total clicks for that keyword to your client's site. The other half gets divided between the rest of the competitors in the space. Who would you rather be? The agency that owns 49% of the keyword clicks, or those "other folks?"
Increased Digital Footprint
Another benefit is that having a paid ad and an organic listing on the first page for the same keyword increases the total SERP real estate. Not only can this increase the click-through rates on both listings, as discussed above, but it also increases your client's overall brand presence on the SERP and pushes their competition out of the way.
There are typically ten organic results on the first page of Google (although this can vary depending on the search query). If you have a paid ad on the first page, that's roughly 10% of the total real estate. Of course, that's a very rough figure as it can depend on the type of ad, whether extensions are shown, etc. But it should do for this illustration.
Add an organic listing for the same client on the first page and instantly double your client's search engine results page (SERP) footprint. Snap up a few enhanced results, such as answering "people also ask" or ranking an image, video, or map result, and you could easily triple their ownership of that critical first page.
And anyone in the digital marketing world knows the importance of being on that first page.
The best place to hide a dead body is page two of Google. - Huffington Post
Bridging the Gap
Although we've already discussed many of the benefits of SEO, one of the key drawbacks is that it takes time. As an agency, it's important to show quick wins, and paid search can give those to your clients.
Smart agencies understand that you need to deliver quick wins. You need that low-hanging fruit that's going to drive clicks and calls, etc. It's about creating a combination of everything so you can see some results in three months and good results in six months. Mark Jamieson, WSI eStrategies.
Creating paid search campaigns that target the keywords your agency is going after organically can drive traffic to the site while you're building that organic foundation.
By tracking both, you show the progress of your PPC efforts and bridge the gap between short-term paid results and long-term organic growth.
Budget Management
Budget management is another key benefit of tracking organic rankings for PPC keywords. If you reduce your client's spend on competitive keywords by achieving a high organic ranking, you stretch their budget further and get more growth bang for their buck.
Use this in a variety of different ways, including:
Reducing high-CPC keywords - If the CPC on certain keywords is beyond an acceptable ROAS range, and your client has achieved a solid first page ranking for that keyword, shift that investment to more profitable options.

Ad scheduling - CPCs fluctuate greatly based on the day of the week and the time of the day. It may be prudent for your agency to focus on certain times for paid campaigns and let organic take the reins at other times.

Geographic targetting - One of the pros (or cons, depending on how you look at it) is that there is far less control over geographic targeting with organic search. If you need to hit a particular market, do so with paid ads. If you want to expand into untapped markets, organic may be a low-cost way to test into those spaces.
Ready-Made SEO Proposals
Now here's where the juice is definitely worth the squeeze. An SEO proposal is your agency's sales pitch—your chance to persuade a new client that your firm is the ideal match for them. Bringing up search engine optimization during discussions with existing clients is the perfect opportunity to upsell a happy customer.
If you already have a solid amount of history regarding the client's SEO growth or decline, it only takes a few minutes to turn that into a powerful SEO proposal.
A typical SEO proposal includes the following sections, most of which will already be at your agency's fingertips:
Introduction & Summary - Here is where you'll be selling your agency and building credibility.

Specific SEO Insights - Show specific insights you've gathered about their current SEO performance. Lucky for you, you already have a lot of SEO KPIs to work with.

Solutions & Deliverables - Dive into what tasks and projects you'll be doing as part of the SEO campaign. Since you've been monitoring their SEO for a while now, you probably already have many ideas.

SMART Goals - Based on the SEO metrics you have in your client dashboard, what can your agency help them achieve?

Project Timeline - Setting a realistic timeline will save a lot of headaches down the road.

Investment -  It's time to talk money. The investment section of your proposal includes all pricing for your services.

Call to Action - One of the most important sections of an SEO proposal, but is too often forgotten!
The best part? Combine all the data you've already gathered on your client's SEO performance with a professional SEO report template, and you are ready to pitch your agency's services in minutes instead of days.
As you can see below, this template has all the SEO dashboard features mentioned in this article and can be customized for each client: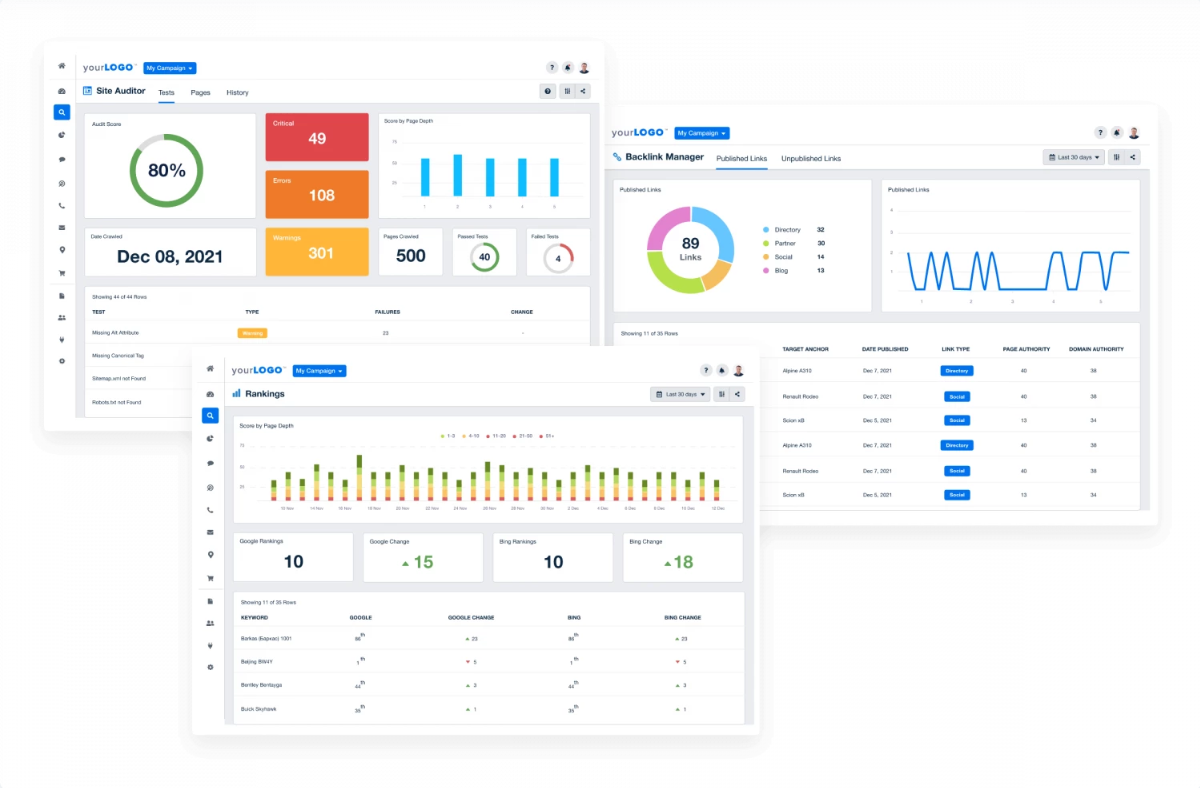 Create your SEO proposal using our dashboard template in minutes. Try AgencyAnalytics free for 14 days.
Summary: Integrating SEO and PPC Data Has Never Been More Important
More than two decades after Google Ads launched, the debate over PPC vs. SEO is still a hot topic in digital marketing. Many agencies only offer one service, but with the right tools, an agency should provide holistic reports that include organic and paid search results. By including both, agencies show clients how they perform in multiple channels and use that as an upsell tactic.
With AgencyAnalytics' SEM reporting tool has a built-in keyword rank tracking, easily keep track of organic rankings for your clients (even if your agency does not manage them) and showcase your results in a professional, white-label seo report.
For prospecting, use our free SEO proposal template, quickly turn the SEO analytics data you've gathered into a sales pitch to upsell existing clients or win new business.
With AgencyAnalytics, track organic vs. paid keyword rankings–along with over 75 other marketing platform integrations–side-by-side within the same platform. After all, why settle for one when you can have both?
Want to put the full power of search to work for your agency? Try AgencyAnalytics free for 14 days.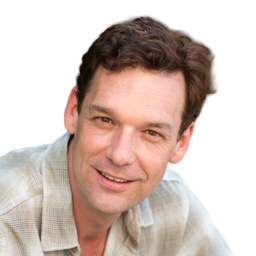 Paul Stainton is a digital marketing leader with extensive experience creating brand value through digital transformation, eCommerce strategies, brand strategy, and go-to-market execution.
Read more posts by Paul Stainton ›
Try AgencyAnalytics risk-free for 14 days. No credit card required.