The anatomy of a perfect SEO report can seem like a mystery, even for the most seasoned marketing agencies. The reason is that SEO is an ever-changing field, as are each of your clients' goals and expectations for their business. This requires a level of flexibility with your clients' SEO reports, but needn't hinder your clarity on what makes a great SEO report–and deliver consistent results.
Regardless of your marketing agency's specialization, SEO is an undeniably important factor for your clients. Consistent SEO reporting allows you to keep track of your agency's efforts–and make sure your client's SEO doesn't hit the fan–so to speak. It also proves to your clients that you are taking action to bring their campaigns to the next level–even as SEO metrics fluctuate.
Creating SEO reports is no easy feat. And creating them regularly can be a downright obstacle for agencies that are trying to scale. Sometimes it's good to just go back to the basics and ask ourselves: Why is SEO reporting important? What metrics should we be tracking for organic traffic this year? How can we track and report keyword rankings automatically? And–is there really a perfect SEO report template for my agency? 
Let's first unpack what SEO reporting means for agencies, and how to master SEO client reports.
TABLE OF CONTENTS
Why Is SEO Reporting Important?
Even as you publish content regularly, build backlinks to your client's sites, and run other initiatives to boost their keyword rankings and increase their organic traffic, your results won't always impress clients. As any marketing agency knows, running SEO campaigns takes time to see a return on investment–and traffic tends to fluctuate. 
This is where SEO reporting comes in handy, allowing you to show your success over time, and prove your actions will deliver long-term wins. An SEO report is a bird's eye view of the key metrics that illustrate how your client's website is performing in the organic search world.  
Agencies need a way to scalably report on the trends over time and customize their reports based on their clients' goals. 
How Do You Present SEO To Clients?  
So you've spent all this time working on your clients' SEO campaigns, and reporting time is coming up. How do you make an SEO report that clients actually want to read? And how do you do so without wasting an entire week copying and pasting tables and charts from other platforms?  
SEO reporting is more than just data storytelling – it's an essential part of an agency's client communication. As such, it shouldn't overcomplicate things with extra metrics to try to impress clients. It should instead clearly state–in plain English–what your clients really want to know:
Has your agency made progress towards its SEO campaign goals? 
Add this at the very beginning of your report & state clear results against goals using the goal tracker widget.
What has your agency been doing the past month to reach its goals and what impact has it had? 
Add annotations throughout your report to point these key milestones out.
What will you do to fix any issues and drive further growth? 
Even if things aren't quite where your agency wants them to be, show your client's that you are aware of and are actively addressing any SEO issues. 
As an agency, ask yourself: How do you present SEO to clients? Do you make it more about your results or their goals? It's important to tailor your SEO reports to what they want to see and do so in a way that they understand by:
Knowing who your clients are – are they marketing-savvy or busy business owners who don't have time to go deep into the SEO analytics themselves?

Simplifying how your agency demonstrates its actions and results
Analytics for SEO is important– but your clients don't need to see everything all the time. Which brings us to the next question, how often should you be sending these SEO Reports out? 
How Frequently Should You Send Out SEO Reports?
It's a good rule of thumb to send out an SEO report each month, as changes will be more notable month over month, and it helps offset any temporary fluctuations. Your clients will also want to see their month-over-month growth and might compare their SEO metrics to their other business growth metrics. A monthly SEO report that shows steady growth throughout the year is what your agency should aim for. 
But it's also a good idea to summarize each year with a yearly growth SEO report. This will highlight to your clients the increases over time. Showing clients how your agency brought an overall increase in their keyword rankings and site traffic will go a long way in helping retain them. It's a great opportunity to show off the value you brought to their business. And also help set their marketing budget with your agency for the coming year.
Agency Tip: Aim to send these annual SEO reports about 6 - 8 weeks before your client is creating their annual operating plan for the following year. You want to make sure you have highlighted all of your agency's success and the value you've generated while your client is in the process of allocating budgets, not after. 
What to Include In Your SEO Reports
Your SEO reports should be the complementary document to your agency's SEO strategy–which is based on your client's business goals. Luckily, determining your client's business goals would have been done during your SEO proposal phase–and we encourage you to keep an open conversation with your clients as their campaigns progress. 
Read more: What to Include in a Winning SEO Proposal + Our Free SEO Proposal Template
That's where your SEO report comes in. It's there to bridge the gap between what your agency promised to deliver, what you've been doing to get there, how you stack up against your goals, and what you'll be tackling next.
8 Things Every SEO Report Should Include: 
1. Report Summary
This is where you write about your overall progress towards your goals, what you have accomplished in the past month, and what you plan to tackle next. Putting your future recommendations and execution plan at the very top is a good idea because it's sometimes all a busy business exec will read. 
2. Traffic Overview by Channel
Increasing organic traffic is usually the primary goal for your clients' SEO strategy, so putting it near the top of your report will satisfy them right away and set the tone for the rest of the results.
3. Conversions via Organic Traffic
Now we're talking! Conversions can mean a number of things to different clients, but the ultimate goal is to track whether or not the organic traffic your agency is driving is contributing to their business funnel.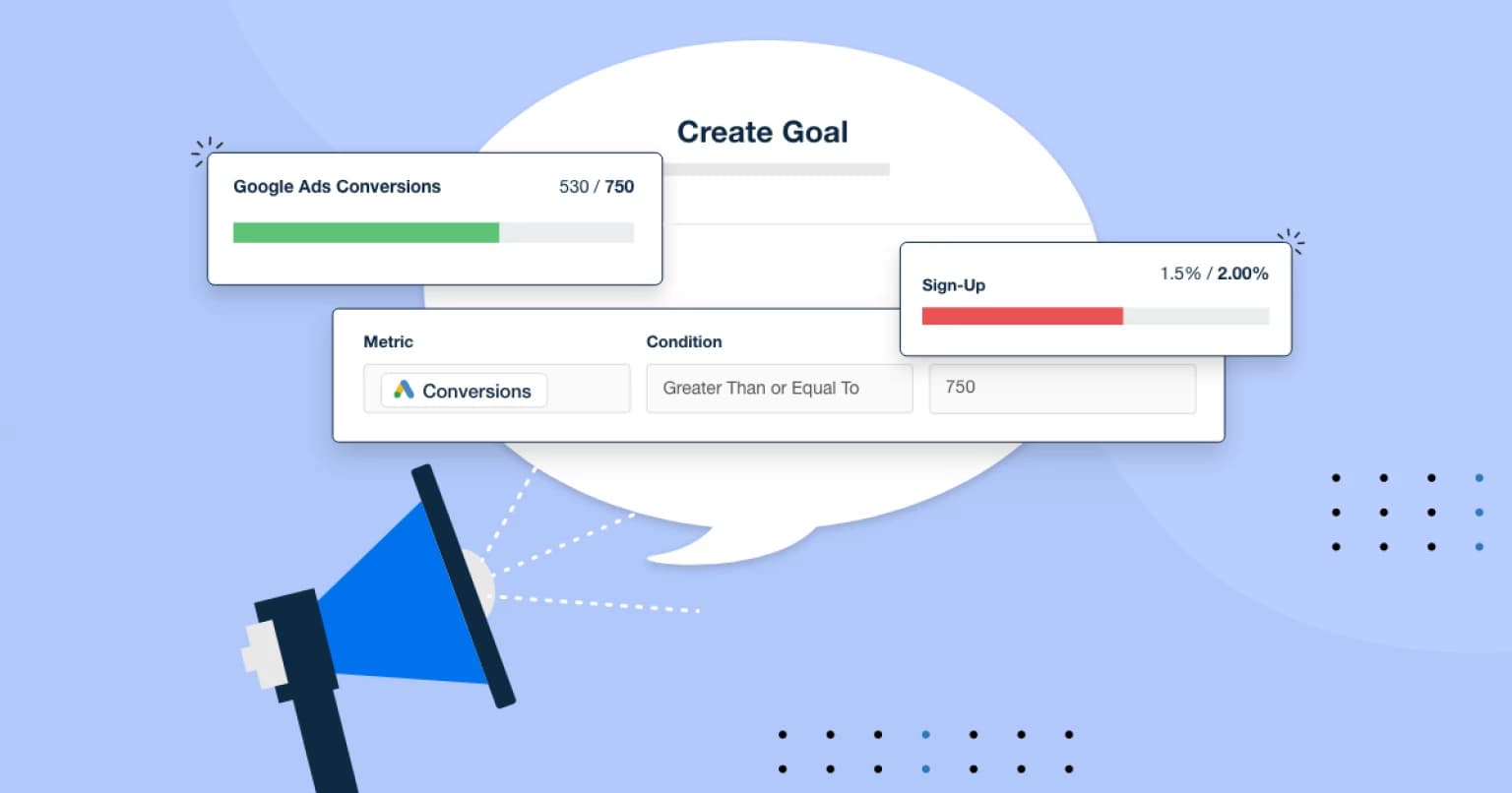 Agency Tip: Create custom goals and use the Goal completion widget in your dashboards to instantly report your results against your goals. Your clients will love this intuitive visualization. 
4. Landing Page Report 
Page-level traffic insights let you know where your client's audience is coming from. By identifying your clients' top-performing pages, you'll know whether they are actually doing their job. The benefits of mapping the customer journey are endless.
5. Keyword Rankings
You shouldn't focus too much on the details of individual keyword rankings in your SEO reports. Instead of going too granular, show a snapshot of the top keywords you're ranking for to show your clients that you're reeling in the right audience.
6. Google Search Console 
As one of the most powerful (and free) SEO tools out there, it's a great way to make sure your client's site presence on Google Search results is up to par. Including this in your reports shows you're monitoring the big picture at all times, maintaining their website, and troubleshooting regularly. 
7. Backlink Overview
This is nice to add, as it shows that your agency is committed to maintaining and building their site's domain authority, and making strides to get ahead of the competition. A simple snapshot will do the trick to show that you are keeping track of both the quantity and the quality of new inbound links. Explain to your clients that you're looking for high-quality links as opposed to sheer volume, as that is an SEO best practice. 
8. SEO Site Health
A well-optimized website not only improves your client's rankings and search visibility, but it also enhances user experience, which ultimately leads to increased engagement and conversions. Broken links, images that are missing accessibility alt text, and more can impact both the user journey and a site's ranking.
One way to keep track of a website's SEO health is by setting up regular SEO site audits. These reports help identify issues quickly, as well as identify trends and patterns in a website's performance over time. Do you notice that 404 errors increase after a new product launch? Perhaps adding a QA check to the development cycle can help stop these before they happen.
Automated SEO reports are an excellent way to communicate the website's SEO health to clients and stakeholders, as they provide a clear, concise, and easy-to-understand summary of the website's performance.
Note that your clients with local businesses will also want a report of their local SEO, and that section can easily be added to your report. 
Of course, one thing is determining your clients' SEO goals – another is to establish clear objectives through KPIs and OKRs. This brings us to the next question…
What Metrics to Include in an SEO Report? 
The SEO metrics you include in your client SEO reports will be the ones that touch upon your client's business, and business goals. It will vary from case to case, and we've got a whole article on the most important SEO metrics to track–and how to track them. 
For instance, a client with an eCommerce-focused business focused will need metrics related to their eCommerce SEO strategy, whereas a client SEO report for a local business will need more emphasis on local SEO metrics.
What's important is to ensure your SEO reports cover enough metrics that show the full picture of your client's SEO campaign–without getting them bogged down by too many details. 
It's one thing to track the SEO metrics that matter to your internal team. (That's where you would use more detailed SEO dashboards). It's a whole other thing to decide what to include in your client-facing dashboards and SEO reports. That's the sweet spot. 
What KPIs and OKRs to Track in an SEO Report?
Another consideration is the reporting on the metrics that relate directly to your goal-tracking. Here are 8 critical SEO KPIs you should be tracking and reporting on:
Organic traffic

Keyword Rankings

Site Health

Google My Business Metrics– for local businesses only

Conversions (Including Leads, Phone Calls, or Sales)

Bounce Rate

CTRs (with a particular focus on High Impression / Low Click Pages) 

Page Load Speed

Site Health Audit Score
These KPIs are useful for all your client SEO reports as they are indicative of their overall SEO health and how the metrics stack against the client's goals. With all this to track, and more, what tools does an agency need to create an SEO report? Let's take a look. 
What Tools Do You Need To Create an SEO Report?
A robust SEO reporting software allows you to customize your reports and select client-facing vs. internal dashboards to ensure you're tracking everything you need to bring your clients success–while only showing them what they absolutely need to know. 
Here are 30+ SEO software tools that you can use like Ahrefs, SEMrush, Google Analytics, Google Search Console, and Rank Tracker. Luckily, AgencyAnalytics integrates with all of these tools mentioned to bring everything into an all-in-one reporting platform. Let's see how this is done with the many customizable features to make your agency stand out. 
How To Create the Perfect SEO Report for Your Clients
Many agencies use manual reporting tools like Google Data Studio (now called Looker Studio)–not knowing the alternative from AgencyAnalytics is extremely cost-effective and time-saving. So what's the best alternative to Google Data Studio, Excel spreadsheets, and endless screenshots and powerpoints? Automated data retrieval and reporting! 
It's time to ditch the manual reporting because it's difficult to present your clients' SEO campaign results in a way they'll understand when your agency has to spend so much time simply gathering all of the metrics. Instead, have all your clients' metrics automatically updated in one place, so you're working from a single, streamlined source for all your SEO analysis and reporting needs. 
The perfect SEO report should have white labelling to look professional, with your agency's or your clients' own brand colors. But beyond the professional look of the report, customize the data sections by dragging and dropping their most indicative metrics into a visually appealing dashboard. Your SEO report should be intuitive for your clients, look like it was built in-house, and remain consistent month over month to allow for easy comparison for your clients. Check it out: 
Our SEO report template makes SEO Reporting for clients easy. Try it free for 14 days! 
How To Share Your SEO Report
Here comes the easy part. Once you've crafted your perfect report for each client, all the data gets updated in real-time, so you don't have to start from scratch the next month. Choose to give your clients their own login to take a look at their dashboards when they want, or automatically create and send reports on a set date. Simply hit the schedule button, and your SEO report does the work for you. 
Tip: Most agencies choose to review and approve client reports before they are sent out to give them the chance to personalize their executive report summary at the top of their SEO reports, make custom annotations around specific highlights and lowlights, and make sure there are no surprises in the data. The rest of the data is automatically taken care of, so all you have to do is write quick notes to provide context and make recommendations for the future. 
Summary: Why Agencies Should Provide Regular SEO Reports To Their Clients
Regular SEO reporting is key to client satisfaction, showing what a great job your agency is doing each and every month. Not to mention, the transparency you provide through consistent check-ins will help your agency retain its clients longer. 
Rather than spending time copying and pasting data from dozens of SEO tools, free up your agency's time and talent to focus on scaling your agency. By having your SEO reports taken care of, you spend less time with back-and-forth phone calls with your clients, and use your meetings to strategize and focus on the next phase of their SEO growth. 
Find this article helpful? Share it on LinkedIn and don't forget to mention @AgencyAnalytics with your top takeaways! You might also like:
Why Website Accessibility Is a Smart Business Move for Your Clients' SEO Strategy
How Often Do Your Clients Need SEO Audits in 2022?
How to Perform a Technical SEO Site Audit in 12 Steps
Written by
Melody Sinclair-Brooks
Melody is a marketing manager, writer, and startup consultant with a background in behavioural neuroscience. Through a data-driven approach and a passion for product-led strategies, she helps businesses achieve growth in today's competitive digital landscape.
Read more posts by Melody Sinclair-Brooks ›
Try AgencyAnalytics risk-free for 14 days. No credit card required.