What's an SEO campaign without post-analysis? A missed opportunity to conquer SERPs, outperform competitors, and reach SEO goals. 
Picture this: you've poured a ton of creative energy into crafting the most captivating collateral for your client. From eye-catching graphics to meticulously written blogs, their content is top-notch. 
There's just one problem–your client's website is nowhere to be found on search engine results. In fact, organic traffic volume is next to nothing, which draws some serious concerns and even doubts about your agency's services. 
In this case, a thorough SEO analysis empowers your agency to devise more effective SEO strategies, replicate top-performing campaigns, and make data-driven SEO improvements. 
Aside from being an integral part of your client's marketing strategy, it's a sure way to prove your SEO expertise. 
What Is SEO Analysis?
SEO analysis is the systematic evaluation of your client's search engine optimization efforts, which ensures its effectiveness and identifies areas of improvement. 
It involves the assessment of:
On-page SEO elements. These are internal website factors that can be directly optimized to improve your client's SERP performance. This includes meta information, page and link structure, and website content

Off-page SEO elements. This refers to SEO-related activities outside your client's website that influence search rankings. Examples include backlink acquisition and guest blogging

Technical SEO elements. Evaluates a website's backend, code, and structure for performance improvements in search engine rankings.
Perfecting the nuances of SEO analysis is key to climbing the search rankings, significantly boosting traffic by snagging those top spots, which have significantly higher SERP clickthrough rates.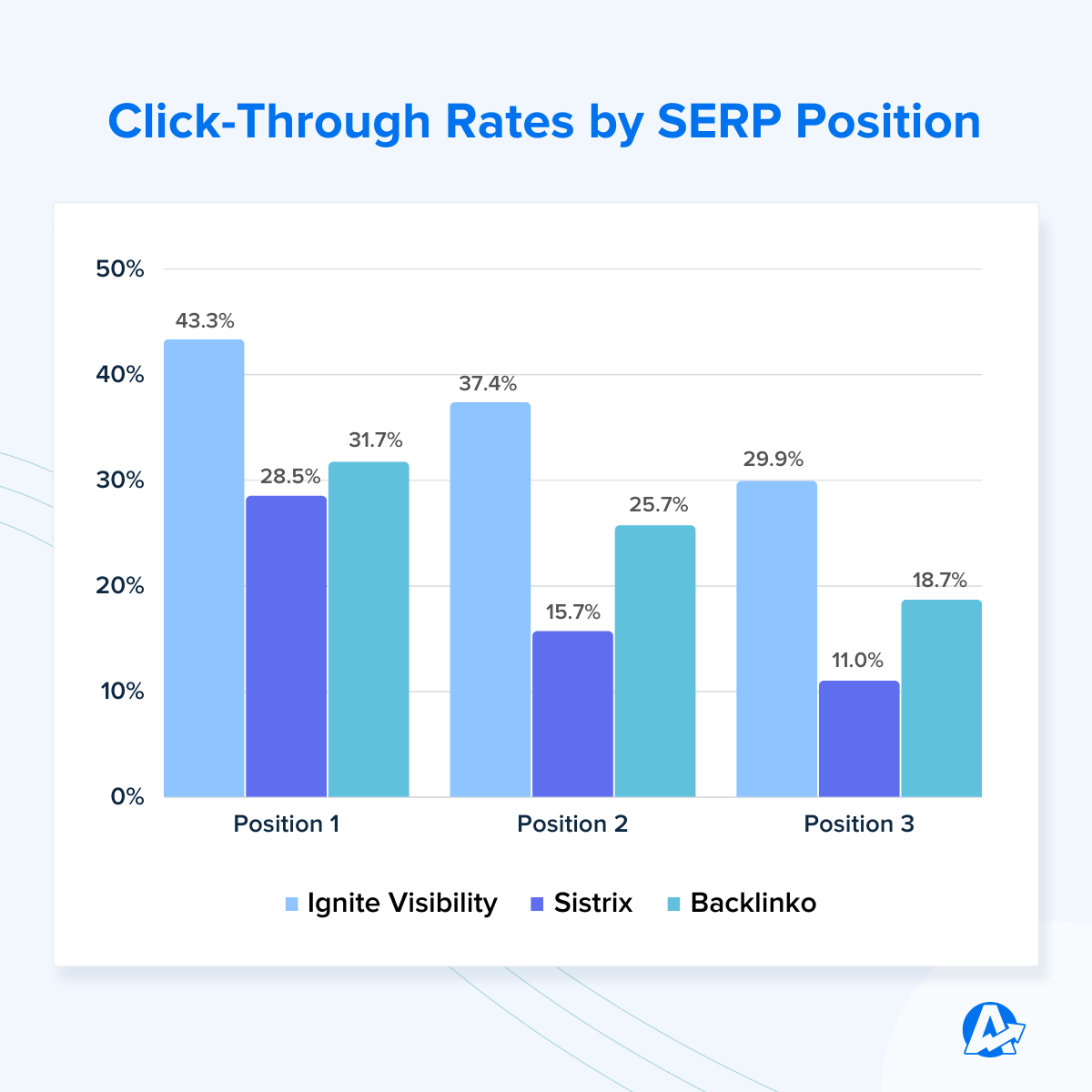 Understanding the Importance of SEO Analysis
To provide a more detailed explanation, SEO analysis:
Monitors website performance (e.g., perceived page load times), which influences user perception and behavior

Measures content traction and provides insight into what resonates with target audiences most

Evaluates your client's backlink profile, which gives a better understanding of website authority and overall reach

Identifies technical SEO issues that affect search rankings, such as missing metadata and 404-page errors. This is especially important since top-ranking websites often achieve higher clickthrough rates 
How To Perform an SEO Analysis
Remember that SEO is all about the end result–customers finding your client's brand and completing a conversion activity. If your client's website isn't in the top SERP spots, it defeats the entire purpose of SEO efforts.
To get started, here are the steps to execute a comprehensive SEO analysis. 
1. Check Current Visibility on Google
First things first–see where your client ranks on Google search results. This gives you a better idea of current SEO performance and whether improvements are needed. No need to head to Google's search bar each time. Use the Google Search Console integration on AgencyAnalytics to: 
View your client's current SERP position and the number of impressions across different web pages

Uncover search performance by geographic region. This confirms whether your client's demographic targeting is effective and may also reveal new target markets

Identify sitemap errors, which affect Google's ability to crawl your client's website and display it on search results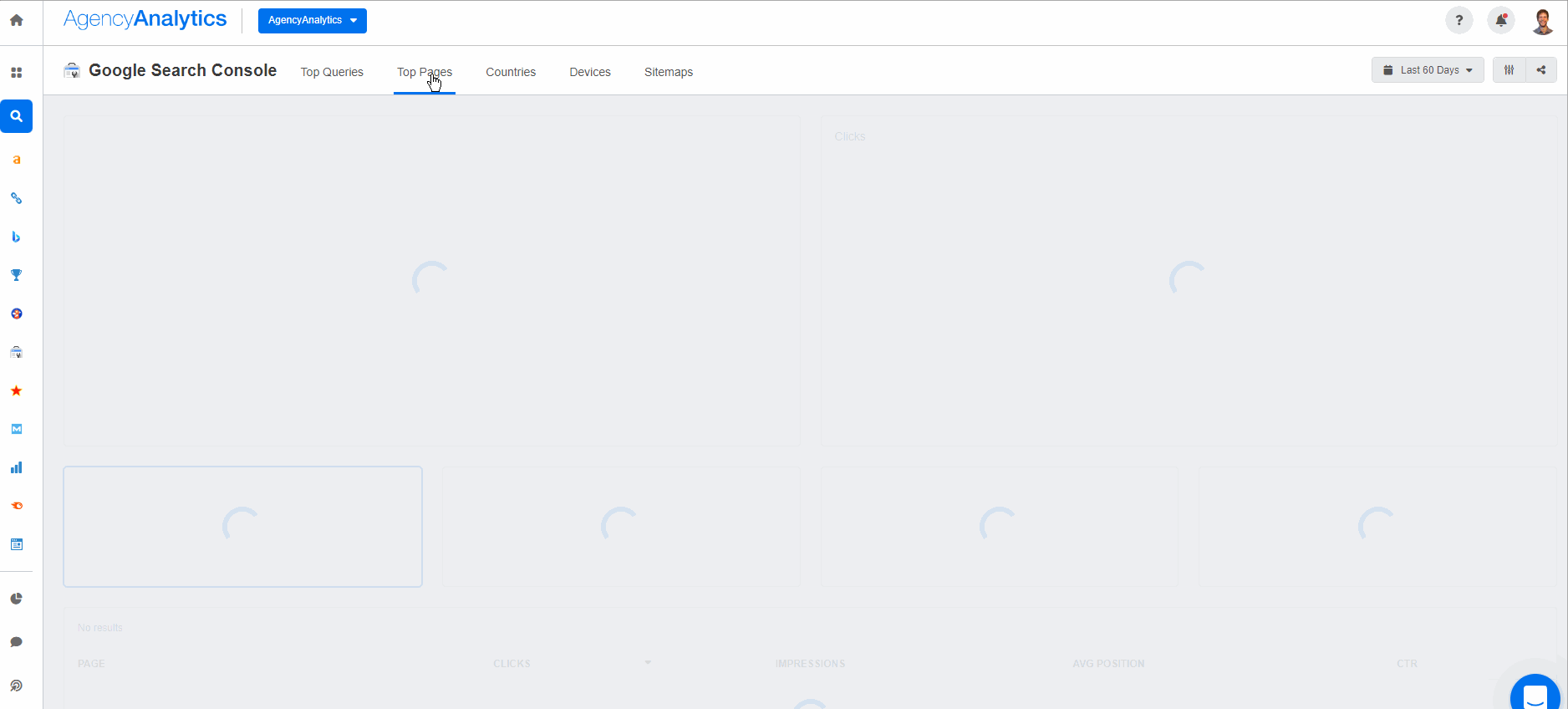 Easily stream your client's SEO metrics into real-time visual dashboards. Monitor top-performing pages, engagement by geographic region, and more—try AgencyAnalytics today; it's free for 14 days.
2. Monitor Keyword Performance
Here's a vital part of the search visibility mix–consistent keyword monitoring. 
The strategic use of SEO-relevant keywords increases the chances of showing up on SERPs and reaching the right users. And since no two days in SEO are the same, keyword relevance  changes quickly, especially with the emergence of competitor content or evolving search intent. That's why post-publication keyword monitoring is also critical.
Tracking target keywords manually is time-consuming. In fact, it's nearly impossible when you're managing multiple Google search campaigns with unique keywords and phrases. Luckily, the Google Search Console integration also helps here. Use it to:
Monitor clicks, impressions, and clickthrough rates for selected keywords. Use this to evaluate the effectiveness and ROI of your client's keyword strategy

Uncover long-tail keyword variations that are boosting your client's SERP position. This gives more insight into search intent and helps to develop content for each stage of the customer journey
3. Analyze Metadata for Any Errors or Omissions
Think of metadata as a digital introduction to your client's content. Meta titles are the headlines that are prominently on SERPs–they summarize the content of a particular web page and often entice clicks (if it piques user interest enough).
A meta description complements a meta title, providing a short but more detailed overview of the web page's content. If this metadata is incomplete, unoptimized, or omitted, it's a missed opportunity to rank higher and capture user attention. 
To avoid this from happening, use the AgencyAnalytics SEO Audit Tool to detect:
Missing or irrelevant metadata, which results in compromised content visibility or not reaching intended audiences

Duplicate metadata. This makes it challenging for search engines to differentiate between different pieces of content. As a result, your client may end up with reduced search visibility or ranking for a lower-priority web page

Metadata that isn't well optimized for search engines (e.g., exceeding character limits, inaccurate or missing title tags)
A well-written meta title and meta description can lead someone from simply seeing the page or blog in their search results to actually clicking on it and engaging with the content. Those two elements should always describe the content accurately and pique interest.

Ruben Roel, President and Founder of Investigator Marketing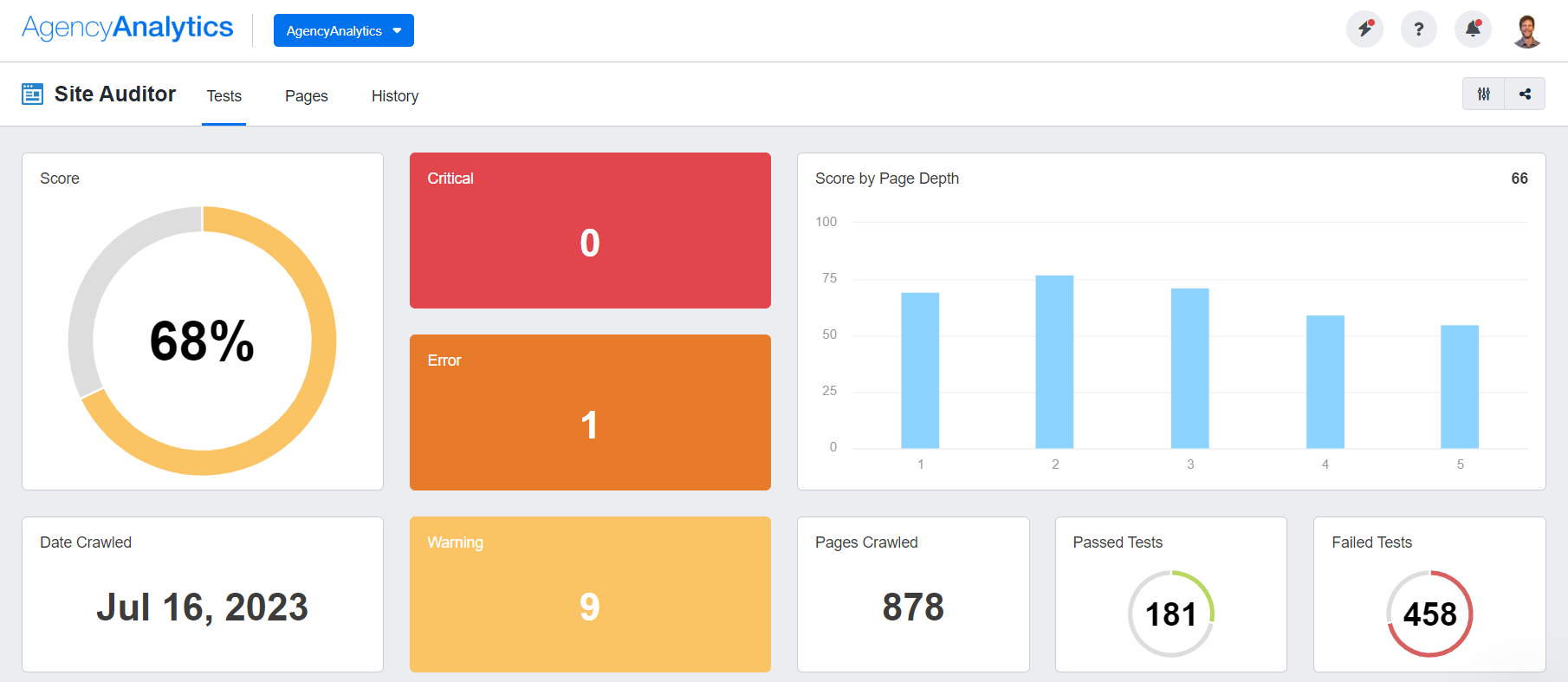 Find technical errors and provide clients with actionable data. Evaluate website SEO performance at the click of a button–run a free SEO audit on AgencyAnalytics by signing up for a 14-day trial. 
Agency Tip: Use this tool to identify SEO-related issues like missing headings (e.g., H2 and H3 headings), misspelled content, and low word counts. These findings are also ranked by severity (critical, warning, or error), which helps to prioritize SEO tasks and identify quick fixes.
4. Review Internal Links
Internal links are an opportunity to incorporate relevant anchor text, which promotes deeper website exploration and reinforces your client's authority. In turn, they significantly boost your client's search ranking and enhance internal link structure.
Here's another situation where an SEO Audit tool truly shines. With the click of a button: 
Identify internal link issues (e.g., 400 and 500-page errors) that affect user access to information on your client's website

Uncover a missing HTTPS redirect. This is especially important since it provides a secure browsing experience and ensures data privacy

Pinpoint internal linking opportunities, which improves traction to other web pages and overall link structure
5. Look At Content Performance Metrics
Beyond keyword monitoring and search visibility, it's important to understand how content is received on a user-centric level. 
Monitoring content marketing metrics identifies what resonates most and how users interact with your client's website. For example, is there significantly more website traffic and higher clickthrough rates for a particular content topic? 
If so, it's an opportunity to create impactful strategies and replicate content ideas for greater impact.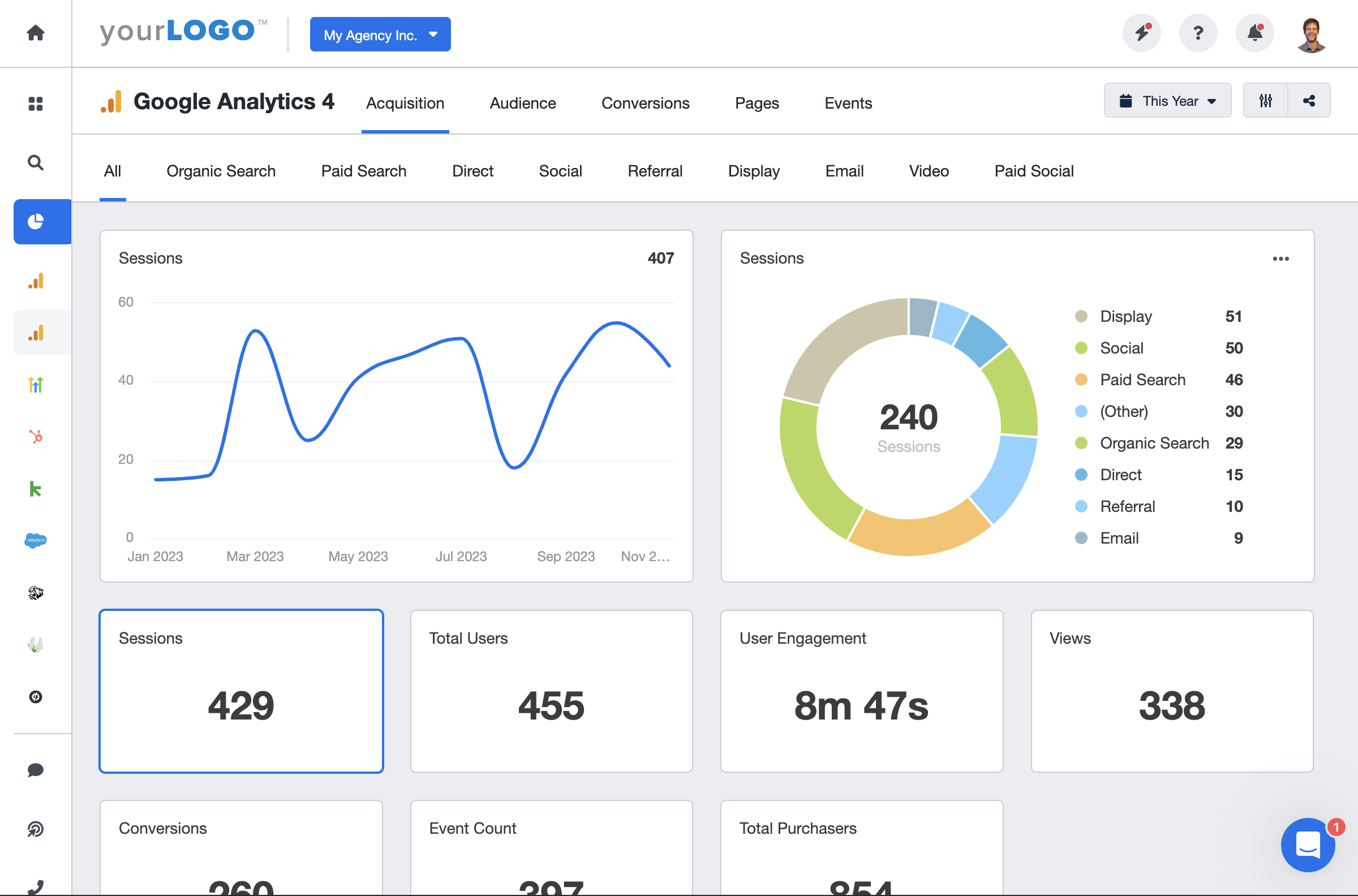 To get started, track key SEO metrics such as: 
Organic Search Traffic: The number of website visitors acquired through unpaid search engine results. Generating consistent SEO traffic is cost-effective and builds your client's brand authority over time

Bounce Rate: The percentage of visitors who leave your client's website after viewing only one page. A low bounce rate signifies that users are engaged with your client's content, potentially leading to improved search rankings

Clickthrough Rate: The ratio of website link clicks to the number of times it was displayed in search results. Use this to evaluate the appeal of titles and meta descriptions

Pages Per Session: The average number of pages a visitor views during a single session on your client's website. If this metric is high, it indicates more website exploration, which positively impacts SEO rankings

Average Time On Page: The average duration visitors spend on a specific page. This also gives more insight into top-performing pages, which is an opportunity to encourage conversion-oriented behavior (e.g., using more CTAs)

Conversion Rate: The percentage of website visitors who complete a desired action (e.g., making a purchase or filling out a contact form). A high conversion rate demonstrates the effectiveness of SEO efforts in driving valuable user interactions 
6. Perform a Backlink Assessment
Think of backlinks as external endorsements of your client's website. High-quality backlinks have the potential to increase relevant search traffic, elevate search rankings, and open doors to collaborative opportunities. However, not all backlinks are created equally.
For example, a spammy backlink may lead to irrelevant traffic and even penalties from search engines. This may result in lower search rankings and a significant dent in your client's online reputation.
While this sounds like an agency's nightmare, there's a solution–conducting regular backlink assessments. This helps to:
Track changes to backlink volume, including referring domains and the number of new backlinks

Produce an overall backlink quality score (i.e., a Trust Flow score)

Understand the perceived authority of your client's website (as indicated by the Citation Flow score)

Identify broken or lost backlinks. This ensures that there are no gaps in your client's link-building strategy or lost opportunities for more content reach
Gain a comprehensive view of your client's backlink profile, view actionable insights, and identify steps to strengthen their online presence–it's free for 14 days on AgencyAnalytics. 
7.  Assess the User Experience (UX)
It's widely known that search engines prioritize websites that provide a smooth, user-friendly experience. A positive user experience reduces bounce rates, enhances engagement, and attracts more organic visitors.
Keeping an eye on website performance metrics is easier than you think. Simply use a platform like Google Lighthouse to monitor: 
Page load time, which often determines whether a user exits a website

The parts of your client's website that load first. For example, prioritize loading meaningful content first (like a CTA or product image) since this is more impactful than non-responsive or secondary elements

Accessibility Score, which gauges whether your client's website can be accessed by differently-abled users

Best Practices Score, a metric that measures the overall user-friendliness of your client's website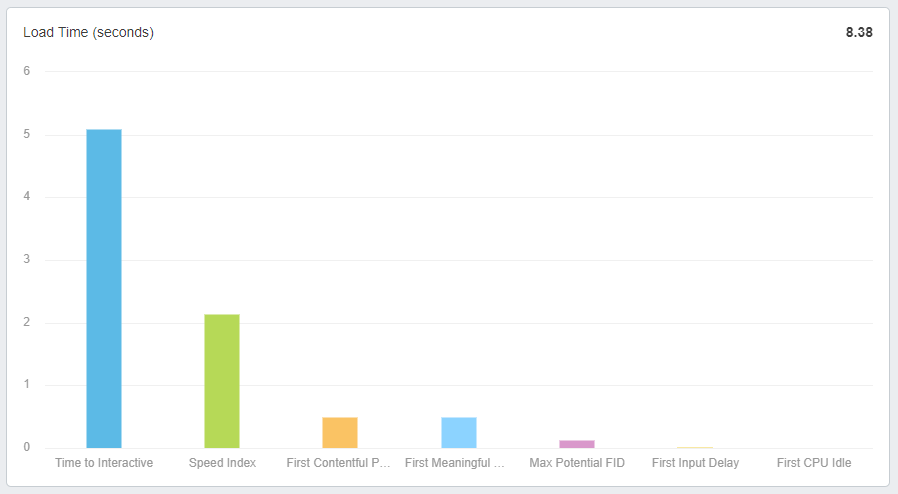 Are website optimization issues affecting your client's SEO performance? Keep an eye on actionable data like page load times and more–try this exact dashboard on AgencyAnalytics, free for 14 days. 
Interpreting SEO Analysis and Fixing Common Issues
After you've completed a thorough analysis of your client's SEO efforts, it's time to act on those findings. 
Based on the SEO-related issues we've identified, here's a quick summary of how to resolve them.
| SEO Issue | How To Fix It |
| --- | --- |
| Low search visibility and keyword rankings | Conduct thorough keyword research by considering user intent and creating relevant search terms. Where possible, uncover keywords that aren't heavily saturated or used by competitors |
| Missing or poorly optimized metadata  | Create keyword-rich, relevant metadata and follow character limits. Ensure each web page has unique metadata and remove duplicated content |
| Low on-page content performance | Focus on creating high-quality content with an easy-to-follow structure. Regularly conduct audits and make refreshes when needed (e.g., using updated statistics) |
| A weak backlink profile | Create well-crafted content that attracts organic backlinks. Remove low-quality backlinks, avoid black-hat link-building techniques, and reach out to reputable websites for collaborations |
| A compromised user experience (UX) | Maintain a fast page load time by optimizing image sizes, ensuring mobile responsiveness, and choosing a user-friendly page layout |
| Broken or missing internal links | Update, add, or replace internal links with accurate URLs. This will ensure a seamless browsing experience for your client's website visitors |
Choosing the Right SEO Tool for Your Agency
SEO tools automate various aspects of the SEO analysis process, such as mass crawling websites for technical SEO errors or quickly doing a backlink analysis. 
If your team is ready to start working with an SEO tool, consider the following questions: 
What SEO features are most important to your agency? (e.g., keyword research, backlink analysis)

Is it possible to diagnose technical SEO issues with this tool?

Are there competitor SEO insights available?

Does this SEO tool offer adequate customer support?

Are multiple integrations supported (e.g., with CRM systems and other marketing platforms)?

Does this tool provide reporting and analytics?
By considering your agency's unique SEO needs beforehand, it becomes much easier to decide on a tool that gets the job done. 
Invest in an all-in-one SEO reporting tool with over 75 integrations, a technical SEO audit feature, and 24/5 live customer support–try AgencyAnalytics today, free for 14 days.
10 Best SEO Analysis Tools for Agencies
Now that you've narrowed down what to look for in an SEO tool, it's time to explore what's on the market. Here's a top ten list of SEO agency software, including each tool's use cases and pricing.
1. AgencyAnalytics SEO Site Audit Tool
Technical SEO issues are not something you want to overlook. The AgencyAnalytics SEO Site Audit Tool quickly detects any errors in an easy-to-read list, which also assigns priority levels. 
From missing metadata to duplicate content, leverage it to improve your client's SEO performance and make tangible improvements. Use this embeddable audit tool in a custom SEO dashboard or a white-labeled SEO report–whatever works best for your client. 
Aside from existing clients, use these findings to produce a comprehensive SEO proposal to win over new prospects and show what you're capable of. 
We perform an SEO audit on every one of our prospects and incorporate the results into each one of our pitch decks. We weren't looking for this feature in a reporting tool, but it made a huge impact on our ability to win business.

Adam Allen, CEO of LeaseMyMarketing
The Agency plan starts at $18/month per client campaign, which includes a range of branding features, unlimited login profiles, and more. The SEO Site Audit Tool is available as an add-on for $50/month.
2. Ahrefs
Ahrefs excels in SEO analysis thanks to its vast backlink database and robust competitor analysis. This makes it a versatile tool for enhancing website visibility and understanding the wider landscape. 
Their free SEO features include a Keyword Generator and Webmaster Tools ( including SERP snapshots and SEO metrics). Ahrefs' Lite package starts from $99/month and goes up to $999/month for an Enterprise plan. 
Plus, Ahrefs integrates seamlessly with AgencyAnalytics for an enhanced reporting experience. 
3. Majestic
Similarly, Majestic offers comprehensive backlink analysis and competitive intelligence. Its standout features include Trust Flow and Citation Flow scores, which give insight into the quality and quantity of backlinks. 
Majestic's Lite plan starts from $49.99/month, going up to a Full API package from $399.99/month.  If you're an AgencyAnalytics user, easily populate those data-rich SEO insights into a Majestic dashboard to share directly with your clients. 
4. Moz
Moz provides a variety of SEO features, including backlink analysis, keyword research capabilities, and a score for overall Domain Authority (DA). This platform also has an active user community, which helps to address any platform or SEO-related issues. 
Their Pro package starts from $179/month and also offers a free 30-day trial. Larger agencies may benefit from the Premium package, which is priced at $599/month.
For a more integrated approach, filter Moz metrics into a visual dashboard on AgencyAnalytics. 
5. Semrush
Another powerhouse SEO tool is Semrush. It's commonly used to conduct competitive keyword research, find link-building opportunities, and track keywords. There's also a built-in social media management tool, which is handy for running multiple client campaigns.
Semrush offers a free 7-day trial, and their Pro package begins at $129.95/month. Enterprise-level agencies should explore the Business plan, starting from $499.95/month. To access quick and intuitive analytics, use the Semrush integration on AgencyAnalytics. 
6. Google Search Console
As we've previously covered, Google Search Console is a free service that evaluates a client's website search visibility. This tool reports on clicks, impressions, top-performing search terms, and any site indexing issues. That means it becomes much easier to analyze a website's user-friendliness and take actionable steps to improve it. 
This platform also integrates seamlessly with AgencyAnalytics, which means it's easy to view these insights alongside related SEO insights (like organic traffic).  
7. Google Lighthouse
A quick reminder to add Google Lighthouse to your suite of SEO tools (if you haven't already). Use this free tool to identify technical issues that affect SEO performance, gauge website speed, and measure adherence to website best practices. 
As we mentioned earlier, AgencyAnalytics users have access to a Google Lighthouse integration that showcases website performance metrics. Use this feature to add greater context to the UX improvement strategies you present to clients.
8. Google Analytics
No list of SEO tools is complete without a mention of Google Analytics 4. This platform provides actionable insights, such as organic traffic numbers, keyword insights, conversion tracking, and audience breakdowns, offering a more granular understanding of user behavior and content performance assessment. 
Don't get lost in complex GA data, though. Sign up for a free 14-day trial of AgencyAnalytics and try the Google Analytics integration instead.
9. Screaming Frog SEO Spider
Need an SEO tool that can mass crawl multiple URLs and identify backlink issues? Screaming Frog SEO Spider is a great option. This advanced SEO tool automates the detection of broken links, which saves billable time and reduces manual work. This tool is especially beneficial for replacing broken links with valuable client content.
Their free version comes with a website crawl limit of 500 URLs. If your agency needs unlimited website crawls and additional features, their paid license costs $259/year. 
10. Google Keyword Planner
Rounding off this list is Google Keyword Planner. While this free tool is used to find PPC keywords for Google Ads, it's still helpful to implement effective SEO strategies. 
For example, start by identifying top converting keywords for a client's business. Then, create organic content that provides supplementary information about related topics and answers any possible user queries. 
It's an often overlooked way to extract SEO gold from PPC keywords and position your client as an authority in their industry. 
Weave SEO Insights Into a Central and Visual Interface
Whether you're exploring an SEO tool or two, one thing is certain–you'll need a systematic approach to track progress.
Moving up the SERPs requires strategy, and there are multiple contributing factors. It's impossible to see the full picture without a central hub to display all your client's SEO metrics. Otherwise, you'll spend that precious billable time toggling between multiple SEO platforms and losing sight of important data points. 
Here's the missing puzzle piece–a client reporting tool like AgencyAnalytics. Not only does this platform automatically retrieve metrics, but it also comes with a suite of SEO tools that make your job easier.
From a comprehensive backlink checker to a built-in SEO audit tool, use AgencyAnalytics to monitor SEO KPIs and produce better results for clients. 
We've been using AgencyAnalytics for many years now, and it's proven to be a dramatic time-saver and cost-saver for us. With the real-time interface, white label dashboards, and accurate rankings, we have all the tools we need to set us and our clients up for success.
Invest in a client reporting tool that gives a thorough SEO analysis and offers a range of agency-centric features. Create an SEO report or custom dashboard in just a few clicks–it's free for 14 days on AgencyAnalytics.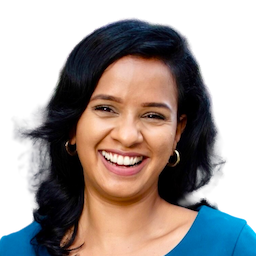 Faryal Khan is an experienced marketer and brand photographer with a passion for content creation. She creates value for brands through storytelling and captivating visuals.
Read more posts by Faryal Khan ›
Try AgencyAnalytics risk-free for 14 days. No credit card required.