Ranking on the first page of Google for a competitive keyword is a super valuable form of traffic in any industry. After all–organic search results are cost-effective and provide long-term benefits that result in happier clients. 
But to achieve the coveted high positions in SERPs, your agency needs to constantly monitor and optimize your clients' target keywords, which gets very time-consuming as you take on more clients and grow your agency. 
This is where a keyword monitoring tool comes in!
For one, it keeps clients' top-performing content where it belongs, making it more likely to retain them as clients 

Two, it automatically creates regular reports, helping your team spend more time on creative tasks 

And three, it helps you take on more clients without the added workload of manually checking rankings and reporting results  
In this guide, we'll discuss how to consistently improve your clients' SEO analytics (regardless of their competition) and help them achieve their traffic goals.
This article covers: 
Let's get started.
What Is Keyword Monitoring and How Does It Help Retain Your Clients?
A key part of any search engine optimization strategy is targeting specific keywords that are relevant to the customer journey.
While there is a significant amount of effort that goes into the process of researching and optimizing your clients' content for these target keywords, there's also work to be done after you publish their content.
In fact, only 19% of websites (from a study with 28,000 websites) started ranking in the top ten and actually stayed there for about a year.
All this is to say that content marketing is a long-term game, and your agency needs to monitor keywords and search rankings well after you've initially published your clients' content.
And this is what helps you retain your clients. 
Keyword monitoring tracks the position of webpages or websites in search engines for specific keywords. And by completing this research, your agency clearly shows clients where their SEO strategies are working over time. 
Regardless of how many keywords your agency is monitoring, tracking each clients' rankings manually is virtually impossible, given their constant fluctuation. Instead, agencies should use a keyword monitoring tool to automate this process as they scale. 
The single most important factor in using AgencyAnalytics for our reporting is client retention. The keyword ranking changes—showing massive wins for our clients–never fails to impress them.

Dr. Richard Girling, CEO, Red Castle Services INC
Benefits of Using a Keyword Monitoring Tool
Aside from optimizing SEO strategies and retaining your clients, keyword monitoring tools have a host of benefits for your agency. Here are the top seven:
1. Real-Time Tracking
Identify fluctuations in your clients' rankings and quickly respond to any changes in real-time. Your agency should aim to adapt strategies accordingly and maintain your clients' competitive position. 
The AgencyAnalytics rank tracker lets your agency build on clients' old keyword data.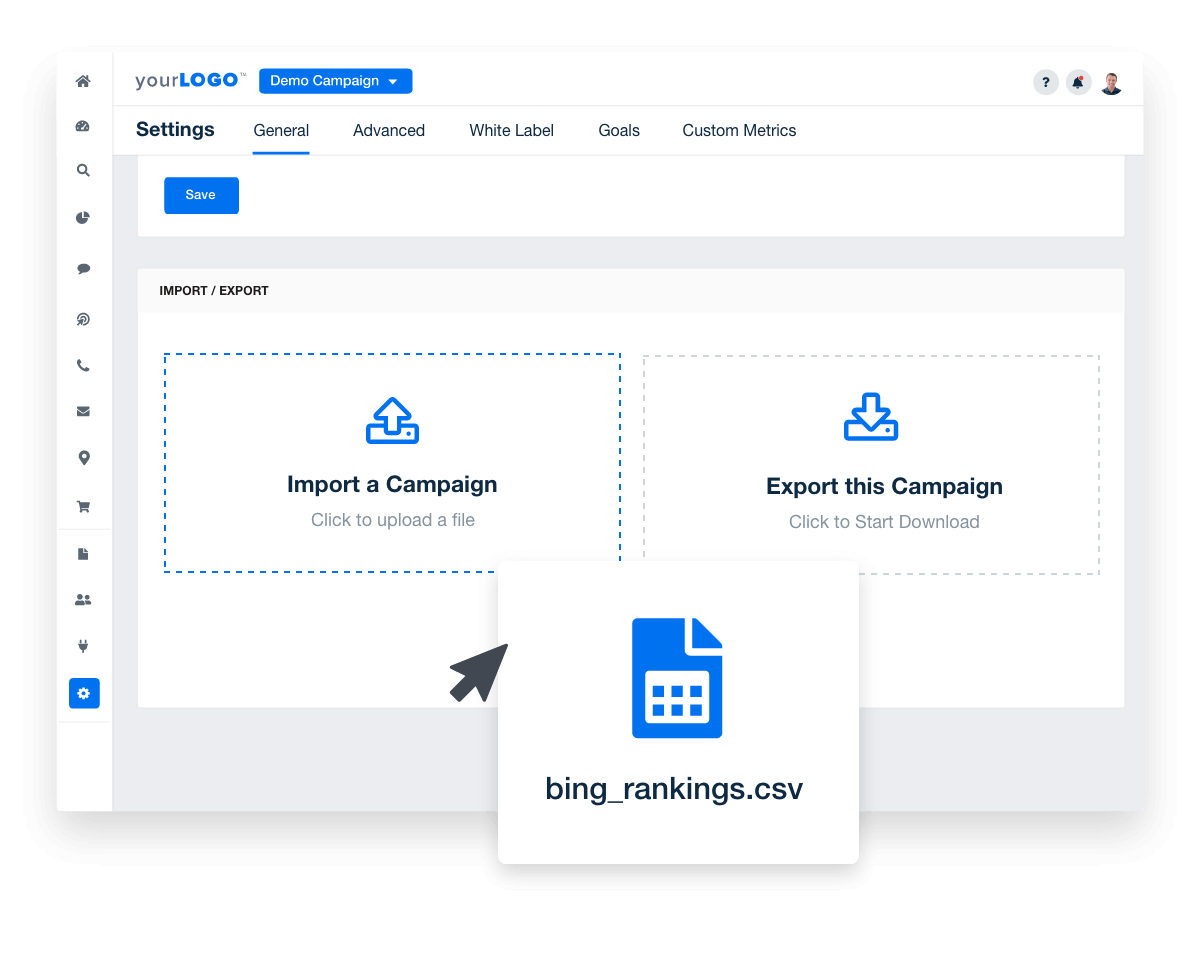 Easily switch to AgencyAnalytics from other rank tracking tools by importing your clients' historical Google and Bing ranking data. Then, access it in all of your client reports and dashboards. Start your free 14-day trial.
2. Counteracts Search Personalization
In the digital era, personalization has become a pervasive aspect of online experiences. It has changed the face of marketing and search engine algorithms. As a result, each individual's search engine results are tailored to their unique preferences, browsing history, location, and many other factors. While this might seem like a boon for users, it poses a distinct challenge for agencies trying to assess their client's online visibility accurately.
Keyword monitoring tools offset the personalization of search results to provide a more objective, comprehensive understanding of your keyword performance, undiluted by the individualized results you might see if you typed a keyword in the search bar. 
3. Geo-Specific Insights
Google reports that 'near me' searches have seen significant growth in recent years, making location-based optimization an essential aspect of SEO. As a result, agencies must track how their clients' keywords perform in specific regions, not just on a national or global scale.
Keyword monitoring tools allow for this critical location-specific tracking, so you see exactly how your targeted keywords rank in search results for particular locations.
With the help of these tools, identify the regions where your agency's SEO efforts are flourishing and the ones where you need to put in more work. They provide data-driven insights that help in crafting localized SEO strategies, which in turn lead to improved visibility, increased web traffic, and ultimately, business growth. 
For local SEO, the aim is to make sure people nearby know about the business and ultimately purchase from them, so brand awareness, engagement, and sales are very important to these clients. To translate that into a business context, we use the following metrics - website clicks/views and calls from their Google My Business page, local search ranking/listing visibility.

Michelle van Blerck, Communications Manager, Digital Freak
4. Content Optimization
As we mentioned earlier, these tools give your agency opportunities to upsell certain services. For example, by monitoring keyword rankings and search trends, your agency not only identifies high-performing keywords but then can also create relevant and engaging content around them. 
However, be sure to factor in keyword search intent, as searchers actually want to find answers in your clients' content, and you don't want to start noticing a high bounce rate. 
Agency Tip: Explain the value of content optimization to your clients by letting them know their content is aligned with their ideal customers' search intent. And this optimization strategy leads to higher visibility and improved customer engagement (clicks, phone calls, purchases, etc.) 
5. PPC Campaign Optimization 
For agencies running pay-per-click (PPC) campaigns, SEM reporting tools that offer insights into keyword performance, click-through rates, and conversions are crucial.
This data helps refine clients' PPC campaigns by looking at their PPC competitors to improve ad targeting, optimize bidding strategies, and maximize return on investment (ROI).
Combine your agency's Google Ads reporting and other PPC management services with keyword monitoring reports to show how everything is working together. Comparing a client's SEO vs. PPC performance helps show your clients how their paid and organic strategies are working together. 
6. Competitor Analysis
Keep track of the keywords your clients' competitors are ranking for. Identify competitive trends, benchmark performance, and uncover new keyword opportunities. 
This is the perfect example of a marketing agency tool that helps your agency deliver value by giving your clients a competitive edge. 
7. Reporting and Client Communication
Insights into valuable keyword data help with client reporting and communication. Generate comprehensive reports that showcase keyword rankings, trends, and improvements over time. 
These reports help demonstrate the value and effectiveness of your agency's services, enhance client satisfaction, and foster better communication and collaboration.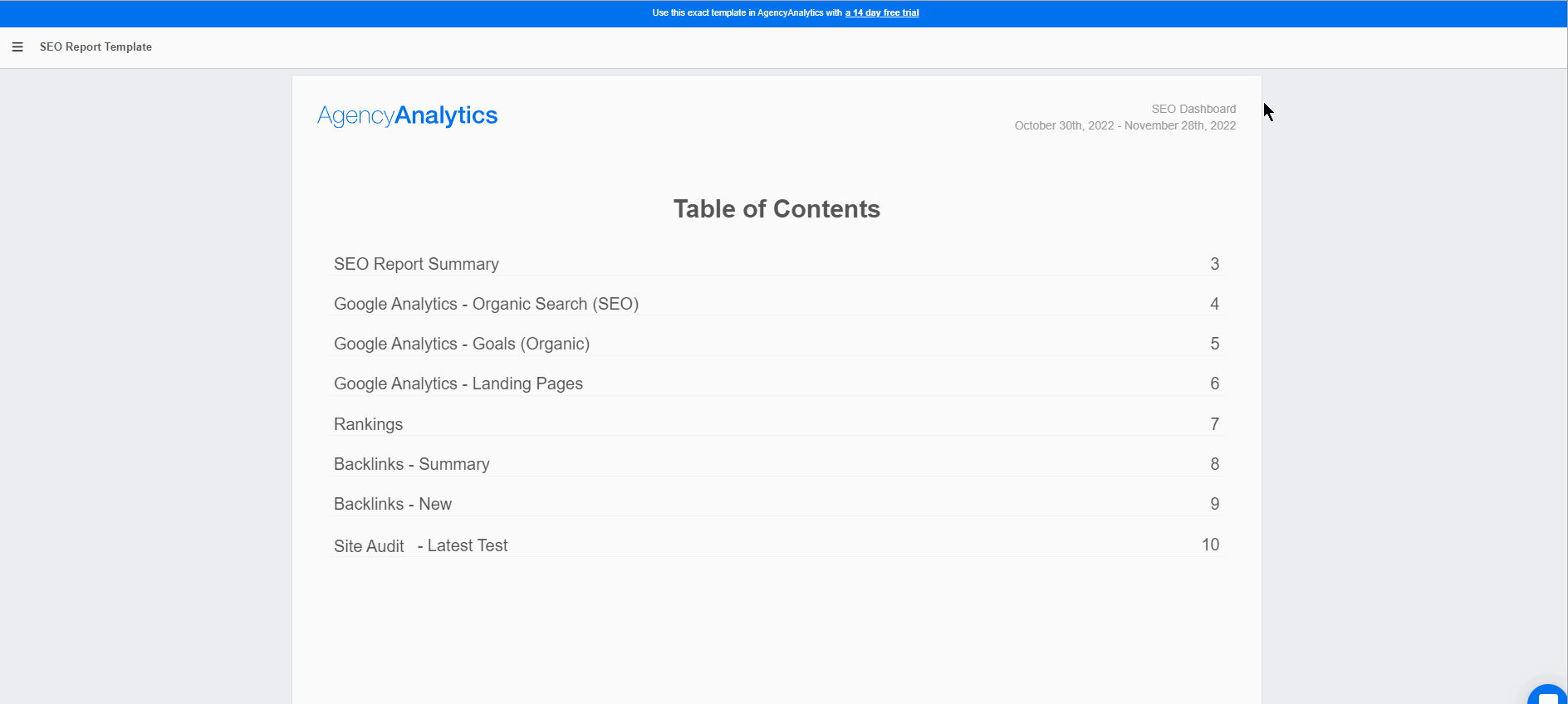 Create accurate keyword ranking reports in minutes without the time-wasting guesswork. Whether you want to track specific metrics, SERP positions, or SEO improvements over time, AgencyAnalytics has customizable reports to streamline the entire process. Get started with your free  14-day trial today.
How To Set up a Keyword Monitoring Strategy
Every client is unique, so tailor strategies to their specific needs and adjust them over time based on results and feedback. Effective client communication and collaboration are key when it comes to a successful keyword monitoring strategy. 
Here is a general outline to help get you started:
Step 1: Understand Client Goals and Objectives
Start by having a thorough discussion with your client to understand their business goals, target audience, and marketing objectives. This helps you align their overall SEO strategy with their specific business needs.
Step 2: Identify Relevant Keywords
Conduct thorough keyword research to identify the most relevant and valuable keywords for your client's industry. 
Consider factors such as search volume, competition, and relevance to the client's products or services. This is where using a keyword research tool makes everything more efficient when gathering a detailed list of targeted keywords.
Step 3: Define Key Performance Indicators (KPIs)
Work with your client to define key performance indicators that align with their goals. Common SEO KPIs include keyword rankings, organic search traffic, conversion rates, and visibility in SERPs. Establish benchmarks and targets for each KPI to track progress over time. 
This step is arguably the most important initial step, as it showcases your agency's value and clearly shows clients how your agency is impacting their bottom line.  
Step 4: Set Up Keyword Tracking
Configure your chosen keyword ranking tool to start tracking the selected keywords. Input the keywords you want to monitor and specify the search engines you want to track. Next, select the location(s) you'd like to track and in what language. Finally, your agency has the option to tag keywords to help organize and filter client data. 
Once you've added all of your clients' keywords, they will appear in a rankings table with a clock icon next to each of them while the initial ranking is being fetched. 
Keep in mind that SERP tracking isn't an exact science and has a lot of variables. If you're having trouble setting up your clients' keywords in the AgencyAnalytics platform, view the help article, adding keywords for SERP tracking. 
We use AgenyAnalytics' keyword ranking integration the most. Our team & clients love how easy it is to understand alongside the ease to add new keywords if needed.

Guy Hudson, Founder, Bespoke Marketing Plans
Step 5: Track and Analyze Keyword Performance
Regularly monitor the tracked keywords. Analyze important metrics such as their current keyword rankings, any changes in position, search volume trends, and organic traffic data. 
Keyword ranking is usually the most impactful and clients want to see this number continually moving up, or remaining steady in a high position.

Bec Moloney, Senior Account Manager, Redsteps Consulting
Other important metrics to track include: 
How are prospective customers interacting with their website? Increasing traffic is important, but depending on your client's goals, looking user actions is equally important. For example, maybe they want more appointment forms filled out. 
Click-Through Rate/Bounce Rate
Are your keywords resonating with users? A poor match will lead to low CTR. You want to give their customers the information they're looking for so they don't immediately leave the website and go elsewhere for answers.  
Are you using the right local keywords? For example, if your client is trying to attract new dental patients in London, there should be some specific content surrounding that and not something general like 'accepting dental patients in the UK.'   
Look for patterns, identify opportunities, and troubleshoot any declines in rankings or visibility. 
This is also where using keyword tags are vital to help your agency monitor URL changes over time. For example, if you're updating a client's older blog content, keyword tags help track specific activities like SERP position changes. 
The keyword ranking report allows us to keep a really good pulse on our campaign's visibility in Google search.

David Friedman, Technical SEO Manager, PaperStreet Web Design
Step 6: Generate Regular Keyword Reports 
Create comprehensive and visually appealing reports showcasing the ranking history, and tracked keywords' progress and performance. 
Include relevant metrics, charts, and insights, and tailor the reports to meet your client's preferences and requirements. 
Reporting tools that integrate with your keyword monitoring platform, like AgencyAnalytics, help automate the report generation process and save your agency's time every month.
Step 7: Provide Insights and Recommendations
Along with your keyword reports, offer your clients valuable insights and recommendations based on the data. 
Identify areas of improvement, highlight keyword opportunities, suggest content optimizations, or propose adjustments to the overall SEO strategy.
For example, recommend a backlink-building strategy to boost their credibility and search rankings. 
Backlinks build the credibility of a website to rank in the industry. As long as they are done carefully, with thought and relevance, it adds a lot of credibility to Google to rank for competitive keywords in verticals. 

Peter Magee, Managing Director at Significant Digital
Step 8: Be Proactive
Continuously monitor keyword performance, stay updated on industry trends, and adapt your clients' keyword strategies accordingly. 
SEO is an ongoing process, so staying proactive and ensuring your clients' keyword rankings and visibility are consistently optimized is crucial.
Different Types of Keyword Monitoring Tools Available
Here is a list of the leading SEO tools that help with keyword tracking:
Moz Pro is a popular SEO tool suite that includes a keyword tracking feature. It tracks keyword rankings, analyzes search visibility, and compares performance against your clients' competitors. 
Moz Pro also gives insights into keyword difficulty, search volume, and recommendations for optimizing content. Other SEO features include website auditing, link analysis, and local SEO tools.
Many marketing agencies use Moz alongside AgencyAnalytics. The Moz integration brings you detailed backlinks dashboards and a wide range of widgets for fully customizable reporting.
This powerful SEO tool offers comprehensive keyword tracking, competitor analysis, and keyword research features. 
Ahrefs also provides data on keyword rankings, search volume, keyword difficulty, and related keyword suggestions. The platform offers backlink analysis, site auditing, and content research tools.
With the Ahrefs integration, add your clients' SEO data to a report that combines data from over 75 marketing platforms for a holistic view of their performance.
Semrush helps scale your clients' SEO by tracking position ranking over time. In addition to the position tracker, this tool helps with keyword research by using competitor URLs.
Pull backlink data from the Semrush platform and report on referring domains, anchors, referring IPs, and indexed pages with the Semrush integration. 
The AgencyAnalytics rank tracking tool is a great Semrush alternative that monitors keyword rankings for any location and language on Google and Bing. The rankings are updated on a daily basis so that you and your clients have access to the most up-to-date data.
The tool tracks up to 100 positions for Google on both desktop and mobile, 50 for Bing, and 20 for Google Local–an ideal solution for local rank tracking. 
Below, the first part of the rank tracker displays a stacked column chart or a "Stoplight" chart that illustrates the distribution of rankings over time. In particular, the dark green section indicates the top 1-3 position, light green indicates the 4-10 position, and so on:
Below that, the table contains the keyword, location, position, and position change. Change the metrics you'd like to display with the "settings slider." Learn more about this in our Help Center.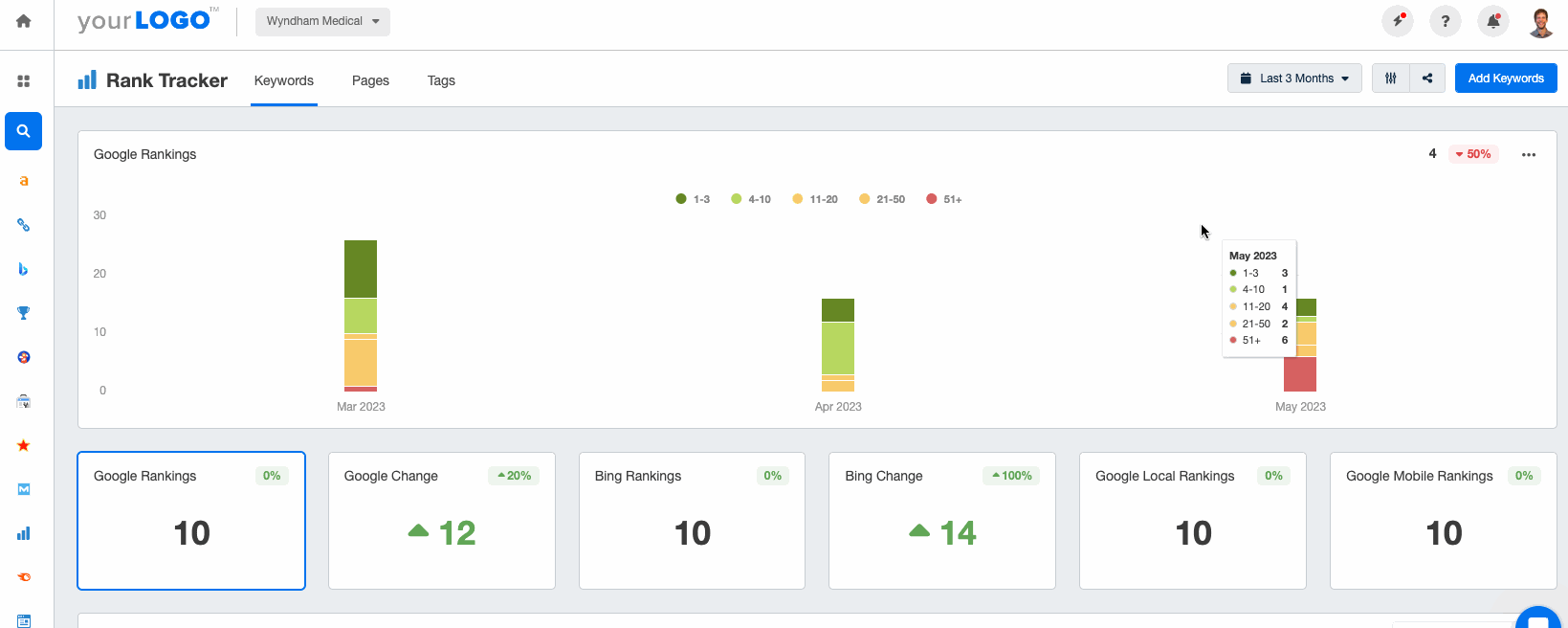 Easily add this keyword data to a rankings report or SEO dashboard to highlight your agency's SEO work.
Agency Tip: Since an SEO strategy requires you to monitor a number of metrics to track overall performance, having rankings alongside other data such as website traffic and goal completions provides a much more comprehensive overview of the campaign.
We love using AgencyAnalytics, and of all the SEO tools we invest in, we consider this to be the most important one! When we're able to clearly show a client their data, we improve client retention.
Screenshot of GSC
This free tool provided by Google offers valuable insights into a website's organic search performance. View your clients' marketing metrics like keyword rankings, impressions, clicks, and click-through rates (CTRs).
Google Search Console also helps identify any indexing or technical issues that might affect their search visibility.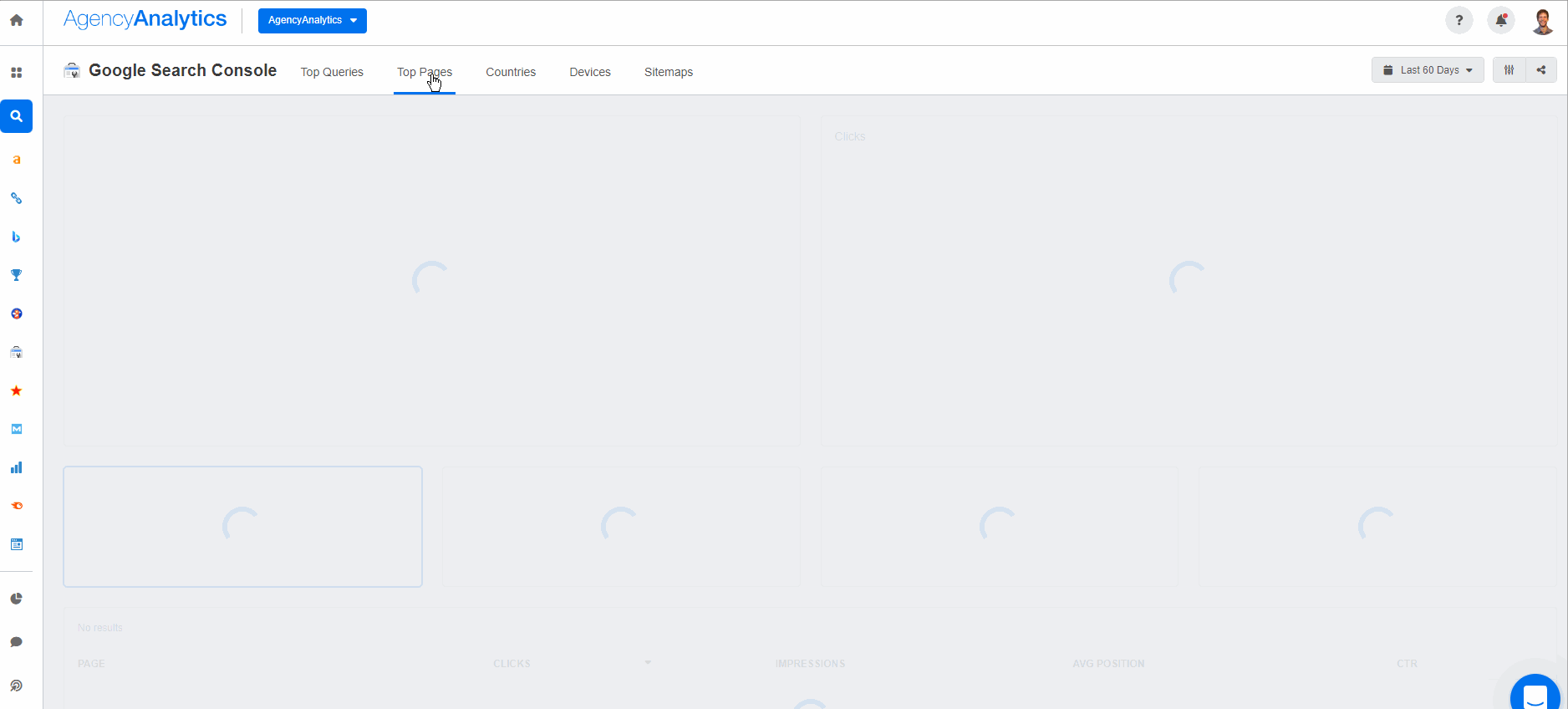 Display your clients' Google Search Console data with all their marketing platforms. No more mistakes with copying and pasting data into spreadsheets or manual PDF client reports. Get started with your free 14-day trial. 
How To Automate Your Keyword Monitoring & SEO Reporting 
Now that we have covered the list of available keyword monitoring tools, the next step is figuring out how to automate your clients' entire rank tracking and reporting process with a dedicated SEO dashboard. 
Since the success of an SEO campaign can't be measured using a single metric, building a dedicated SEO dashboard for your clients helps monitor a variety of KPIs to understand how the strategy is playing out fully.
Incorporating the Google Analytics 4 (GA4) integration in your clients' SEO dashboards is a great way to tie their Keyword Results to their Organic Traffic Growth. 
This paints a complete picture of your clients' metrics in real time, including user engagement, behaviors, and conversions. This also helps your agency optimize and tailor their marketing campaigns. 
Similarly, an SEO dashboard focuses on campaign optimization to maximize ROI while automating much of the manual data collection and visualization process.
In particular, the AgencyAnalytics SEO dashboard automatically collects and organizes data from the following sources:
1. Rankings
The rankings section provides metrics for your clients': 
Current Google and Bing position

The daily ranking change

A stoplight chart that tracks the average position over time
Including a section in your report that highlights the growth and improvements in keyword rankings highlights the initial position of the tracked keywords and their progress over time. 
Visualizations such as line charts or tables to clearly depict the upward trend will help your clients understand your technical work. Emphasize the keywords that have shown significant growth or achieved top rankings to demonstrate the effectiveness of your optimization efforts.
2. Website Traffic 
Next, the website traffic section pulls data from Google Analytics and includes:
Sessions

Session sources

Goal completions (i.e.conversions)
Showcase the impact of keyword optimization on organic traffic in your SEO dashboards and client reports. Include data on the increase in organic search traffic over a specified period. 
Use line charts or bar graphs to visually represent the growth, making it easy for clients to see the positive trend. 
Agency Tip: Highlight specific keywords or keyword groups that have contributed the most to the traffic increase, reinforcing the value of targeting those keywords.
We found, for our clients, they needed a nice visual report to look at where they could clear see the improvements in both traffic & keyword rankings each month. AgencyAnalytics offers reports that are simple to understand so that a client with zero SEO knowledge can still see how the work we have done has helped benefit their website.

Guy Hudson, Founder, Bespoke Marketing Plans
3. Backlinks
The Backlinks section pulls data from integrations, like Majestic, and includes:
New and lost links

Total backlinks

More advanced metrics, such as Citation Flow
4. Site Audits
Next up, the site auditor quickly discovers and resolves common on-site issues. This tool automatically scans for over 40 technical issues and enables continuous on-page SEO improvement.
Fixing any issues their website might have has the potential to improve conversion rates. Demonstrate the connection between keyword optimization on content throughout their website and the improved conversion rates. You always want to show the initial conversion rate and the subsequent growth or improvement. 
Agency Tip: Try presenting the data as a percentage increase or using a comparison table to highlight the impact of different keywords on conversion rates. Keep in mind that your clients often don't understand digital marketing jargon, so think of ways you know they'll understand what you're presenting.
5. Google Search Console

The GSC section tracks the top pages and queries that are driving traffic to your clients' sites.
Your report should connect the dots between keyword optimization and the bottom-line impact on the client's business. Showcase the revenue or return on investment (ROI) attributed to specific keywords or keyword groups. 
Include data on revenue generated from organic search traffic associated with targeted keywords. And if possible, calculate the ROI by comparing the revenue generated against the cost of your marketing services. This helps clients understand the tangible business value derived from keyword growth.
As an SEO consultant, accurate client reporting is essential to be able to evaluate how well various SEO strategies are working. To retain my clients, I need to be able to show them that their rankings are improving over time.

Kelly Fitzgerald, Founder, Savvy Marketing Services
The Takeaway
The best way to efficiently track your clients' SEO progress over time is with keyword monitoring. Since each campaign involves multiple keywords and data from search engines are constantly fluctuating, it will be increasingly difficult to focus on growing your agency without an automated rank-tracking tool. 
Keyword monitoring and rank tracking tools automatically collect, organize, and visualize SERP data. By combining this data with other SEO data, such as site audits and backlinks, your clients see a comprehensive view of campaign performance over time–i.e., agency value! 
Stop wasting time manually inputting clients' data into marketing reports. AgencyAnaytlics monitors your clients' keywords and helps your agency paint a picture of overall marketing performance. Start your 14-day free trial today.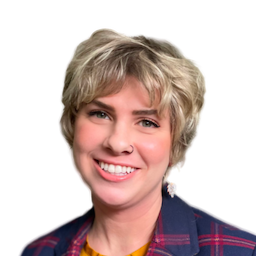 Richelle Peace is a joyful writer with a degree in Journalism. She loves writing web content, blogs, and social media posts. Whatever the topic, she's fascinated by learning and sharing.
Read more posts by Richelle Peace ›
Try AgencyAnalytics risk-free for 14 days. No credit card required.