Building a strong foundation of organic traffic and SEO is one of the most powerful marketing channels available to businesses.
With rising PPC costs and increased competition on social media, ranking in search engines can be a major competitive advantage when it comes to driving leads and customers. That said, even though there are many benefits to SEO, it is also highly competitive and more of a long-term game that requires consistent time and effort to see notable business results.
Since ranking organically is a longer-term investment compared to other marketing strategies, if you decide to invest in this channel, you need the right SEM reporting tools to ensure success. In this guide, we'll discuss how to use one of the most powerful tools that marketers can use to succeed with SEO: Semrush.
As one of our marketing partners and most highly used integrations, Semrush has become a key part of our client's SEO success. In order to understand how marketers are using this tool, we also reached out to several agency owners to hear how they're using Semrush in conjunction with AgencyAnalytics. 
In particular, in this guide, we'll discuss:
Let's get started.
What is Semrush? Key Tools & Features
Semrush describes itself as an online visibility management platform that's used for everything from SEO, content marketing, competitor research, PPC, and social media marketing.
We'll discuss use cases and examples of each tool in more detail below. But, to start, a few of the core SEO features to be aware of include:
Competitive Research: With tools such as domain overview, traffic analytics, keyword gap, and more, Competitive research provides unique insight into the strengths and weaknesses of your competitors and prospective customers.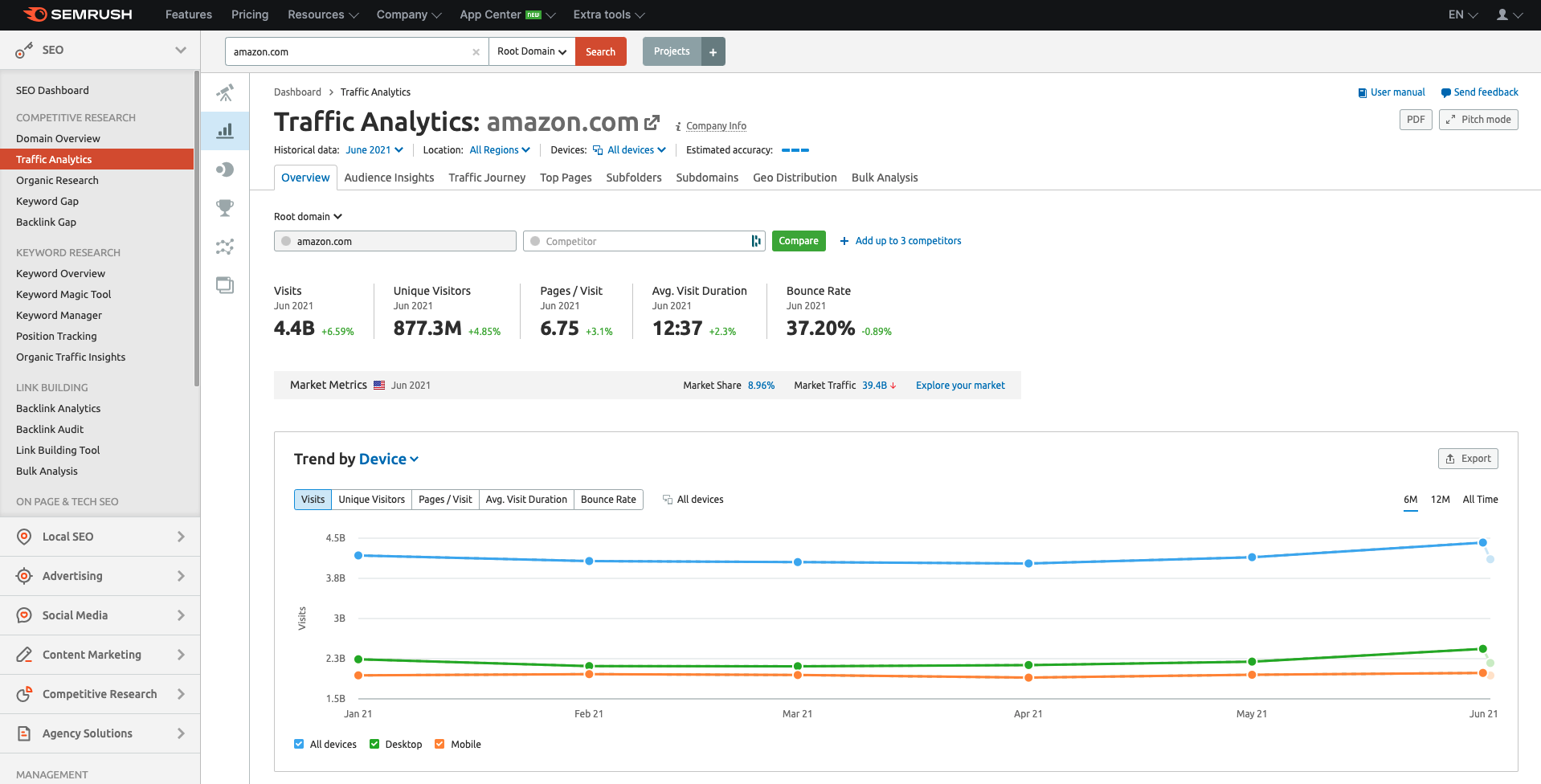 Keyword Research: Keyword research is an essential part of any SEO campaign and allows you to be strategic about the content to create. One of the most widely used Semrush keyword research tools is their Keyword Magic Tool, which gives you a "powerful resource to analyze an entire search market, study niche subtopics, and groups, and save your research as you go".

Link Building: Link building is another effective strategy to increase Domain Authority and rank higher in search engines. To help with this, Semrush provides tools for backlink analysis, backlink audits, and link-building tools.
On-Page and Technical SEO: Whenever starting a new campaign, on-page and technical SEO is always the first place to look for quick wins. By identifying and resolving on-site issues, this can often provide an immediate increase in search rankings. To facilitate this, Semrush provides tools for SEO-focused site audits, SEO content templates, on-page SEO checker, and more.
Rank Tracking: As you begin to implement SEO changes and consistently put out content, a keyword ranking tracker tool allows you to efficiently monitor how the strategy is playing out over time.
In addition to these SEO features, Semrush also provides tools for local SEO, paid advertising, social media marketing, content marketing, and more. In this guide, we'll just focus on SEO, so let's now look at several strategies you can use to improve your own organic rankings.
How to Use Semrush to Improve Your SEO
Now that we've reviewed a few of the main SEO features provided by Semrush, let's look at how professional marketers are using them in their day-to-day lives. To do so, we reached out to several agencies and brand owners and asked them their favorite features and use cases of the platform. 
Keyword Research
Before writing any content or even creating a content calendar, it's key to identify which keyword opportunities you are going to target, including how valuable the keyword is, the level of difficulty to rank for it, and more. To do so, Nik Sharma, the CEO of Sharma Brands suggests using the Keyword Overview tool as follows:
I always start with a quick analysis using the Keyword Overview tool. It's a comprehensive summary of volume, CPC, competition in paid search, and more. As I've said before, there's no shortage of data, but the key is how we analyze it. Do I want to target a highly-competitive keyword, or should I nail down several small ones to increase traffic as much as the big one? The next step is working on my master list of keywords using Keyword Magic. This helps me with in-depth analysis and narrowing things down, as well as keeping them organized. Finally, I make my decisions on which keywords to target based on the Keyword Difficulty metric in Semrush.
Content Calendar Creation
Next up, after you've done some initial keyword research, you'll want to prioritize your most important content with a data-driven content calendar. As Joey Randazzo, the Founder & CEO of Portland SEO Growth suggests:
Creating value-adding content is an integral part of SEO. However, many companies go wrong before they ever put pen to paper. Here's how the content calendar creation process looks for many companies: their marketing team sits around a table, talks through what their audience might like to read, and then builds a content calendar based on that. No data is involved! We build out data-driven 6, 12, or even 18-month content calendars by doing extensive keyword research using Semrush's keyword magic tool and by doing comprehensive competitor analyses through the keyword gap analysis tool.
Identifying Onsite Issues with Daily Site Audits
One of the most important aspects of running an effective SEO campaign is ensuring there are no technical on-site issues with the website. As Adam Kaminski, a digital marketer from Anura.io suggests, starting your SEO work with a daily website audit can go a long way in terms of identifying and resolving issues before they impact your organic rankings:
I usually begin my SEO work by running a daily Site Audit under their SEO menu to ensure complete optimization and linking throughout our entire website (leaving zero broken links, images, or videos behind).
From here when issues are found, Semrush rates the issues based on their rule sets whether the issue is an Error, a Warning, or just a Notice (Notice has zero negative SEO impact, however when fixed can benefit SEO long-term). Found issues can be as simple as a web developer incorrectly inputting a meta description during maintenance or an outgoing backlink returning a 404. 
With the thoroughness of the Site Audit tool, you are able to pinpoint down to the proper page and asset that is causing an SEO error. Ensuring your site's health is half of the job of getting great SEO results.
Position Tracking & Traffic Value
After you've determined your target keywords and created pillar content around the topic, the next step is to monitor the site's performance for those terms over time. As Jonathan Zacharias, the Founder of GR0 suggests, using their "Traffic Value" and position tracking tools can help automate this process:
Semrush is a great SEO tool and is best for their "Traffic Value" metric and their position tracking. I use this to go and choose my top 25 keywords per brand and monitor their fluctuation day over day, week over week, and month over month. This is fantastic to keep track of where we are for our most valuable keywords to the business. 
Competitor Research & Analysis
Another effective keyword research strategy is to identify what your competitors are doing. Not only can this help you come up with new keyword ideas, but also to identify gaps in the market and link building opportunities. As Justin Smith, the CEO of OuterBox suggests:
We find that Semrush is a total game-changer when doing competitor research - especially if you're looking to build out your keyword list or uncover link-building opportunities. In particular, their Keyword Gap tool makes it extremely easy to plug in your competitors' websites and build a complete keyword profile so that you can easily see where you have gaps in your master list. We also love their backlink analytics dashboard, as it gives an in-depth look at your competitor's backlink profile. This feature is especially helpful for seeing when a competitor loses a backlink (and signals to you that it is available to claim!)
Identify Low Competition Keywords
If you have a relatively new site, one of the fastest ways to get it off the ground is to identify low competition, often long-tail keywords. Before targeting broad, high search volume keywords, ranking for these lower competition terms can help build up domain authority over time. As Ryan Stewart, the Founder & CMO of the SEO agency Webris suggests the following four steps:
I use Semrush to find the good keywords that also have the lowest competition. I do this in four stages. First, I generate a list of preliminary keywords by using the Organic Research option. I enter my competitor's domain name and Semrush generates a list of keywords that they are presently ranking for within Google's top 100 search results.
In the second step, I expand my keyword master list using the Keyword Magic Tool where I then learn the best long tail keywords for my content project. Long tail keywords allow me to better understand my customers' problems by seeing what they are searching for and then I can create content that I know will address their queries.
Step three involves determining high volume keywords that have the lowest competition by using the filter options, Keyword Difficulty and Competition Level.
The fourth and final step involves filtering my master keyword list to identify low competition keywords. I recommend utilizing keywords with a KD (keyword difficulty) score of less than 75. 
Use SEO Content Templates & the Writing Assistant
Finally, when it comes time to actually create the content, it's helpful to not start each article from scratch. Instead, Semrush's SEO content templates and writing assistant can drastically speed up the time it takes to create a page 1 worthy piece of content. As Nicola Younger, the CMO of MakeMeLocal suggests: 
Our copywriters mainly take advantage of the SEO content template within the content marketing tab. They use it to compile the top ten pages ranking for a given keyword, making it easy to identify important 'semantic keywords' that we need to insert into our written content to ensure it outranks what is already out there in Google's top search results. 
It also advises on the optimal word count our copywriters should aim to reach (for both headings and in the body of the text) and provides tips on readability to make sure people will want to read the finished web page. The SEO writing assistant is also useful for our copywriters to check how well our work fits with those recommendations and to find places where keywords need to be added or the text needs to be more readable. 
Now that we've discussed common use cases and tips from SEO experts, let's look at some of the key metrics that you should be reporting to your clients and the tools your team can use to simplify that reporting.
18 Semrush Report Metrics & What They Mean
As a marketing agency, you know how important Semrush reports are for understanding your client's search engine visibility and health. But do you know how to explain all of those metrics and analytics clearly to your clients? 
In this section of the article, we break down the key metrics and analytics you'll find on Semrush dashboards and reports, what they mean, and why they are important, including:
Semrush is a great agency tool to help understand, monitor, and improve SEO performance and keyword rankings. However, these Semrush SEO reports can be confusing for clients who don't know how to read them. And if your clients don't understand their campaigns' progress, they won't know the value you bring to the table. 
By better understanding how Semrush calculates some of these important metrics, you'll be able to explain them in terms that your clients will easily understand.
When clients understand what the heck is going on with their campaigns, it helps foster transparency and trust, which leads to higher client retention, fewer back-and-forth phone calls, and a greater overall satisfaction level with your agency's SEO services.
But how do you explain the nuanced metrics that can be confusing to someone who doesn't live and breathe Semrush reports on a daily basis, like your clients? What metrics do you choose to present in your client reports–and why put them there in the first place?
Semrush Authority Score
The higher your Authority Score, the stronger your website SEO is, which means it should have a better chance of being listed in the top results for targeted keywords.
It's not always a direct correlation, but the Semrush Authority Score is a good metric to keep an eye on because it can be used to predict changes in search engine rankings. An increase in authority score does not always lead to an increase in organic traffic, but - more often than not - it's a very good indicator.
How Does Semrush Calculate Authority Score?
The Semrush Authority Score is a proprietary metric, so they are the only ones who really know how it's calculated. However, we do know that it is calculated using various SEO signals, such as:
Quality and quantity of backlinks

Content authoritativeness and depth

SEO site health

Social signals
100 is a maximum reachable Authority Score, but the chances of getting to that top mark are pretty slim. To put this in context, here are the current Semrush authority scores from the Top 10 most popular websites in the world:
And, of course, the lowest possible Authority Score–which is usually only seen with brand new sites with minimal content and no backlinks-would be a starting score of 0.
Authority Score Ranges and What They Typically Mean
This is a helpful guide to help answer the common questions agencies can get, such as:
What is a good authority score on Semrush?

When can we get the authority score above 90?

Why didn't our authority score go up at all last month?
| | |
| --- | --- |
| SCORE RANGE | WHAT IT MEANS TO YOUR CLIENTS |
| 0-19 | Typically assigned to a new site with minimal content, social shares, or backlinks. |
| 20 - 39 | This means your agency is making some headway in supporting a new (or previously ignored) website. |
| 40 - 59 | This is the sweet spot for many agencies working with small businesses. |
| 60 - 79 | You're in elite company. Only a small percentage of websites have an Authority Score in this range. |
| 80+ | You're among the best of the best. |
The Semrush Authority Score can be used as a predictor for changes in search engine rankings, so it's important to keep an eye on it and understand what a change might mean.
But remember, as Semrush says:
Authority Score is used more for domain comparison and not for determining how good or bad domains are on an absolute scale.
Semrush Visibility Index Metrics

The Visibility Index measures a website's progress in Google's top 100 based on the keywords currently being tracked in the campaign. A zero-percent rating means that it does not rank at all while a hundred percent indicates that the client occupies the first position on the search engine results page (SERP) for every keyword being tracked.
The Semrush Visibility Index is a great way to see how your SEO efforts are increasing the visibility of your website on Google. If you're working on a new campaign and you see a sudden spike in Visibility Index, it's likely that your new keywords are starting to rank better.
How is the Semrush Visibility Score Calculated?
As compared to a pure average ranking number, the Semrush Visibility Score takes into consideration the CTRs (click-through rates) of the various search positions.
For example, let's compare two sites:
| | |
| --- | --- |
| SITE A | SITE B |
| Ranks for 4 keywords, one in position 1, one in position 8, one in position 31, and one in position 80. | Ranks for 4 keywords, one each in positions 27, 30, 31, and 32. |
| Average Position: 30 | Average Position: 30 |
| The visibility score of this site will be much higher because it has the leading position for one of the keywords and a page 1 ranking for the second. | Although the average positions are the same, the visibility score will be much lower because all of the rankings are on page 3 or beyond, where the CTRs are much, much lower than the first page. |
Comparing the visibility of these two sites, rather than just their positions on Google's SERP rankings, provides a more accurate representation of how well each website is performing based on its keyword data.
Tracking Your Client's Semrush Visibility Score
The important thing to keep in mind is that this metric is based on the specific keywords you are tracking for each client. This means if you add or remove keywords, you can positively or negatively impact the visibility score, without actually changing any rankings.
That's why most Semrush experts recommend using tags so that you can monitor the progress of your core keywords as well as the Semrush traffic analytics based on the efforts your agency is making, and not just on adding more and more keywords to the Semrush platform.
For example, you can tag keywords with a combination of identifiers including:
Priority Level (High, Medium, Low)

Intent Level (Commerical, Informational)

Date Added (Typically the month or the quarter)

Type of Content (Product, Blog, Competitor)

Status (New, SEO optimized)
Then, you can use the tag selector to include or exclude certain tags to maintain a clear view of the progress for each keyword grouping.
For larger companies, including enterprise SEO programs, you can also use these tags to segment the keywords by product type, profit center, customer vs investor content, etc.
Agency Tip: In addition, you can toggle to display Estimated Traffic and Average Position to see all of the data that plays into your client's total SEO visibility. Just click on the tabs above the graph to load the different metrics.
How To Improve Your Client's Semrush Visibility Score
The simplest answer to this question is to improve the rankings for your client's keywords, with a target of getting more pages into the top results. As you can see from the above, a handful of top-ranking keywords will do a better job of increasing the visibility score than getting small gains in page 5 - 10 range across a larger volume of keywords.
To make sure that your agency is keeping its SEO engine in tip-top shape, we recommend that you:
Semrush Site Health Score
The Health Score shows you how well your client's website is performing in terms of technical SEO. This includes things like whether or not your pages are properly optimized for the targeted keywords, if there are any broken links, and if your client's sitemap is up to date. A high Health Score means that the website is in good shape from an SEO perspective. A low score means that there is much work to be done.
Each time you make changes to your client's website, the Site Health score updates automatically during the next crawl. This means that if there are any new warnings or errors on the site they will be found so that they can be fixed quickly. And once they are fixed, they will drop off the list and the score will increase.
The resulting Site Health Score is based on the total number of Errors, Warnings, and (to a much smaller extent) Notices that are found during each site audit. Errors have a more significant impact on the score than Warnings, and Notices typically have a very small impact (although some of these could still negatively impact SEO-especially when there are a significant number of them).
Similar to the Visibility Score above, you can "trick" Semrush into showing an increased Health Score number by excluding certain checks. If you exclude any particular error type, the audit will no longer take these into account during future crawls, and therefore will not be used when calculating your client's Site Health. 
But keep in mind that this does not mean the site health has actually improved, it just means you have chosen to ignore that particular issue.
Therefore, you should only do this if an error is repeatedly coming up in the Semrush crawl but your team has verified that the error coding is inaccurate. Even though it may be tempting to hide issues that your agency simply cannot fix, this could provide an exaggerated view of the site health score. And you should be transparent with your client if you do this, as you don't want even a question about whether or not your agency is hiding issues to paint a rosier picture of site health.
Agency Tip: The Site Health Score is an excellent tool for prospecting. Simply run an audit on a prospective client's website and include their current health score as part of your agency's SEO proposal, especially if the score is below average.
Semrush Backlink Toxicity
Another key Semrush metric that almost always leads to questions from clients is the Backlink Toxicity score. This is a number between 0 and 100 that reflects the quality of the backlinks pointing to your client's website.
The score is calculated based both on the number of toxic domains linking to your client's website as well as the type and importance of the toxic markers that were discovered.
Semrush uses more than 40 different toxic markers to determine the Toxic Score for a particular link. These markers can include:
Non-indexed domain

Mirror pages

Potentially dangerous domains

Long domain name

Numerals in the domain name

Link networks

etc.
Agency Tip: By clicking on the down arrow beside the Toxic Score you will be able to see which Toxic Markers are associated with that specific backlink. Simply go to the Backlinks to Review section, and then click the down arrow sitting right next to the score. 
A low toxicity score means that the backlinks are-in general-relatively higher quality, while a high score means that there are a lot of low-quality or potentially harmful links pointing to the site. Therefore you want to target a Low to Medium toxicity score on any given client domain. 
Keep in mind that the Backlink Toxicity metric is of arguable importance because some experts state that it still has a direct impact on SEO, while others offer a conflicting viewpoint that this is no longer a relevant ranking factor. 
Even though Google has flipped back and forth several times on whether or not low-quality links can hurt your rankings, a large number of toxic links are not ideal. Especially since too many low-quality links can be a signal to Google that you may be running some black-hat techniques for your clients - even if you aren't - which could get them penalized by Google.
This is why it's important to keep an eye on this metric and take action if the score starts to creep up.
There are two main ways to improve the Backlink Toxicity score:
Both of these methods can be time-consuming, but they are worth it to protect your client's website from any potential penalties.
Agency Tip: Because Semrush can't actually see what is included in the disavow file that you've uploaded, you need to add these toxic links to the Semrush disavow file and then let Semrush know after you have uploaded the disavow file. That way, Semrush will no longer count these disavowed links in your client's toxic link score.
14 Other SEO Metrics to Include In Your Client SEO Reports
There are many other important SEO metrics that you should be tracking for your clients. Here are a few more of the core metrics that should be included in your client SEO reports, although these (typically) don't need as much explanation as the ones above:
Organic Traffic -  The number of visitors that come to your client's website from organic search results.

Organic Keywords -  Total number of keywords that your client's website is ranking for in organic search results.

Keyword Rankings -   Current position that your client's website holds for the keywords in the campaign.

Position Changes -  Change in keyword rankings from one period to the next.

Average Session Duration - The amount of time that an organic visitor spends on your client's website during a single session.

Bounce Rate - The percentage of visitors that leave your client's website after only viewing a single page.

Pages per Session - Average number of pages that a visitor views during a single session on your client's website.

Backlinks -  The total number of links that are currently pointing to your client's website.

New Links -  New links that have been created (or discovered) since the last check. 

Backlink Authority Score -  An overall metric that reflects the quality of links pointing to a website, beyond just the toxicity factors.

SEO Conversions -  Visitors that take the desired action on your client's website after coming from an organic search result.

Referring Domains - The total number of unique domains that are linking to your client's website.

Competitive Metrics - Compare your client's website against their direct competitors for a better view to relevant benchmarks. 

Top Landing Pages -  The pages on your client's website that receive the most organic traffic.
When you combine the core Semrush metrics, the more in-depth analytics that Semrush provides, as well as data from other sources such as Google Search Console, Google Analytics, and more–you paint a well-rounded picture of your client's organic performance and what areas need improvement.
These are just a few of the important Semrush metrics to track. By understanding what they mean, and how to explain them to your clients, you can use SEO reports to help your clients understand their visibility in search results and what your agency is doing each month to improve SEO performance.
Bring all of your client's Semrush metrics, and much more, together into a comprehensive SEO dashboard. Try AgencyAnalytics free for 14 days!
Case Study: How WSI Ottawa Automated their Semrush Reporting
In order to better understand how clients are using both AgencyAnalytics and Semrush together, we sat down with Mark Jamieson from WSI Ottawa. They've been in business for 7+ years now and their core offerings include search engine optimization, web design, and paid search. As SEO is one of the main focuses for the agency, they've looked at nearly every tool on the market for both ranking organically and reporting on the results.
The Challenge
In the early days of building the agency, like many other agencies, Mark and the team were doing manual reporting. This involved manually building out PowerPoints for each client by taking screenshots from Google Analytics and other platforms. While this was manageable in the early days, as the agency grew to 80+ clients they knew that they needed to automate their reporting process.
On the SEO side of things, they had been using Semrush since the beginning and loved their SEO tools, although they still needed a reporting solution that could integrate with all their data sources.
The Solution
In order to automate their reporting, Mark and the team looked at a number of solutions. One of the main selling points for AgencyAnalytics was that it had all of the integrations they needed, including Semrush.
Immediately their clients were much happier as their enterprise clients could access their own live dashboard and look at their data on their own schedule. In addition, their internal marketing team would now use Semrush and AgencyAnalytics daily to get a quick snapshot of client results. In particular, Semrush is their SEO intelligence tool while AgencyAnalytics gives their team analytics at a glance and allows them to build custom dashboards for clients.
AgencyAnalytics gives our marketing team an edge over the competition. Instead of having to dig into Google Analytics and search for data, we just open up a dashboard and everything we need is right there. The man-hours we save each month compared to what we spend with AgencyAnalytics is a no-brainer.
The Results
In terms of quantifying their results, Mark estimates they used to be spending 2-3 hours per client each month for reporting, and even more for enterprise clients. After implementing AgencyAnalytics, their reporting is almost entirely automated, except for their review process and personalizing each report.
On the SEO side of things, Mark has tried nearly every tool out there, although Semrush has become their go-to tool as it's the most robust solution they've found. They have a paid search team, web development team, and SEO team, and each of the departments uses both AgencyAnalytics and Semrush almost on a daily basis.
For each new client they bring on, they set up a campaign inside both AgencyAnalytics and Semrush and use each tool to evaluate and make data-driven decisions.
If I had to say my favorite part about AgencyAnalytics, it would be simplicity and ease of use. All the other tools we looked at were complicated and the user interface just didn't look good.
To conclude, Mark's advice for other agency owners that may be earlier in their growth curve is to find the tools that will 1) help your clients get results and 2) reduce the time you spend on manual tasks. In the early days, it can be easy to get shiny object syndrome and end up with 10+ tools, and the costs can add up quickly. At the end of the day, you need to show clients the progress you're getting for them in a way that won't overwhelm them. This is exactly why AgencyAnalytics and Semrush are Mark's two go-to tools for running his agency. 
Time is money. If you're an agency owner you need to be investing your hours in growing the business and you can't do that if you're in front of your computer all day manually taking screenshots for reporting. You need to invest your time wisely to scale and agency—these two tools help us do exactly that.
Summary: How to Automate Your Semrush Reporting
In summary, scaling an agency is all about finding the right tools that help you both improve your client's results and automate your internal agency tasks. Although there are several alternatives to Semrush, including Moz, Majestic, and Ahrefs, Mark's two favorite tools are AgencyAnalytics and SEMrush.
On the SEO side of things, Semrush is the go-to intelligence tool that helps them rank their clients higher in search and improve their paid advertising results. In terms of reporting, the AgencyAnalytics SEO reporting tools , including the SEO site audit and keyword rank monitor have automated many manual tasks and allowed them to scale the agency while still demonstrating the value of its services to clients.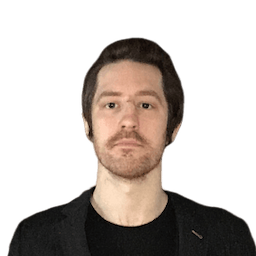 Peter Foy is a content marketer with a focus on SaaS companies. Based in Toronto, when he's not writing he's usually studying data science and machine learning.
Read more posts by Peter Foy ›
Try AgencyAnalytics risk-free for 14 days. No credit card required.