Running a regular SEO site checkup is an integral part of any SEO campaign. They allow you to track your SEO progress and make sure that your client's website is performing in search engine rankings as well as it should be. In this article, we will discuss the importance of using SEO site checkers and how to run them correctly. 
After pouring heart and soul into building a magnificent website, brimming with engaging web page content, it's beyond frustrating to see it languish on page 42 of Google's search engine results pages (SERPs). It's akin to creating a masterpiece only to have it hidden away in a seldom-visited corner of a vast gallery.
You meticulously craft every detail, optimizing every image, every piece of text, expecting to see a surge in organic search traffic. But alas, the ruthless reality of search engines seems to undermine your efforts. The website's SEO data, which you anticipated to yield promising results, seems to be languishing.
It's as if your hard work vanished into the ether, swallowed by the digital abyss, unappreciated by Google's algorithms. In this moment, an SEO checker becomes your beacon in the dark, your ray of hope.
We start with a local SEO audit - if you don't know where you are, you can't get to where you want to go!

Michelle van Blerck, Communications Manager, Digital Freak
A thorough SEO audit is what stands between your labor of love being lost in the vastness of the web and the triumphant realization of your website finally being discovered by the audience it was built for.
In this article, we will cover:
Plus, we'll identify some key areas that make an Agency-level SEO site checkup different–and typically more comprehensive–than the kind of SEO review using popular SEO tools or a free SEO checker that a client might do for themselves. 
We will also elaborate on what to do when you find page and link structure issues with your client's website and how to create an SEO report to share the results that your agency discovers.
Why Run Regular SEO Checkups?
The answer to this question is quite simple. An SEO checker helps your agency identify and fix any potential SEO problems that your client's website may have, and track the improvements in an SEO report to highlight not only the improvements to SEO score, but increases in search engine rankings over time.  
By running an SEO checkup, you ensure that your client's website is performing at its best and that there are no web page content or technical issues that could harm their organic traffic growth. It is going to be a very rare circumstance when a client's site passes the first checkup with flying colors, so your agency can also show the progress over time as you work to fix the content and technical errors across their site.
There are a few things that you should keep in mind when you are performing an SEO health check.
First, you should run an SEO site checker on a regular basis. This will allow you to catch any potential problems early on, preventing them from becoming bigger issues down the road.
Second, be sure to include all aspects of the website in your SEO audit. This includes the website's content, structure, backlinks, and more.
Finally, always report the results of your checkup to your client. Showing them what you have found justifies the actions your agency is taking. Not only do you deliver quick wins, but you also build trust by ensuring that your client's long-term SEO program is in good hands. If you find any issues with your client's website during your SEO checkup, it's time to take immediate action–especially for any errors that are marked as critical (but we'll get to that later).
The SEO Audit Report clearly shows prospects which areas of their website are lacking and I can articulate how I would go about correcting any issues. I also use AgencyAnalytics to develop trust and rapport with prospective clients by pointing out that they will have the same access to the reporting as I have. This helps to create an environment of transparency, honesty, and trust. Adam Allen, CEO, LeaseMyMarketing
If your agency is also managing a client's technical SEO aspects, these are things your team can tackle one at a time. Once you have fixed the issue, you should then report the results to your client. This will allow them to see that you have taken action and that their website is now performing better.
Agency Tip: If your agency is not managing the client's website, provide very clear directions on what needs to be fixed and detailed instructions on how to fix them. This is made easy with our site audit tool that can quickly be turned into automated reports.
Popular SEO Site Checker Tools
There are a number of popular SEO site checker tools that you can use to perform your audit. The most popular SEO site checkers for agencies include:
Agency Tip: All of the above tools seamlessly integrate into the AgencyAnalytics SEO dashboards and SEO reporting tools, giving your agency instant access to all the data you need to optimize your client's website! 
How To Choose The Right SEO Checkup Tool For Your Agency
When choosing an SEO checkup tool for your agency, it's not just about your agency's needs, but your clients' needs too. Consider:
1. The Size of their Website
If your client has a large website, you will need a tool that can handle auditing a large number of pages.
2. Their Geographic Market
Not all SEO site checkers handle local SEO as well as others, so if your clients need a localized approach to their SEO checkup, make sure that the tool allows for this level of customization.
3. Their Budget
If you are passing along the cost of the site audit tool to your client and they have a limited budget, you will need to find a tool that is affordable. If the tool is already a part of your agency's tech stack, it's a win-win.
4. Their Level of Technical Expertise
If your client is not very technical, you will need to find a tool that generates reports that are easy for them to understand.
5. How Many SEO Clients Your Agency Has
The more client SEO work you tackle, the more comprehensive SEO tools your agency will need.
Once you have considered the needs of your clients and your agency, you should then compare the features and prices of different SEO software tools. This will allow you to find the best SEO tools for your agency.
The Role of SEO Tools at an Agency
SEO tools play a crucial role in ensuring that a client's website reaches its full potential, acting as the digital mechanics for their online presence. They provide invaluable insights through SEO analysis and generate a comprehensive SEO report that assesses a website's strengths and weaknesses.
Tap into a full suite of SEO tools to complement your agency's client reporting. Try AgencyAnalytics free for 14 days!
These SEO reports include critical elements such as missing meta tags, web page load times, technical errors found, broken links, long meta descriptions, and more. All of which are parts of on-page SEO that contribute to a site's visibility and search engine rankings.
By integrating with their Google Analytics account, SEO tools can further drill down into the site's organic search performance, providing a clear picture of how customers find and interact with the website.
Last but not least, off-page SEO significantly influences search engine rankings, acting as a testament to a website's credibility and authority from the perspective of search engines. A robust backlink profile, composed of high-quality external links from other respected websites, signals to search engines that the website content is valuable and trustworthy.
While internal linking contributes to a site's navigability and structure, it's the external links, or the 'votes of confidence' from other websites, that truly bolster a website's reputation in the digital ecosystem. The more endorsements a site receives in the form of backlinks, the higher the SEO score tends to climb. By effectively managing off-page factors, you can significantly improve your standing in the competitive arena of search engine rankings.
Those are just a few reasons why an SEO checker is a particularly essential tool, as it assigns an SEO score to each website, serving as a tangible metric that signifies the site's SEO health. These tools function as the driving force behind search engine optimization, helping you better understand what's working and what's not so you make informed decisions about how to improve the website's performance, maximize its reach, and drive sales.
The most important success metric is, of course, sales. This begins with keywords that have proven to convert into leads, not just traffic. Once established the focus of our SEO are to rank in the top three positions for as many of these keywords / phrases as possible. David Rooks, Agency Owner, Rooks Advertising
However, one thing that most agencies will point out is that each of these tools has its own strengths and limitations and that you will almost never get the same results between each of the tools. That's why SEO-focused agencies often have more than one SEO site checker tool in their arsenal. 
What Is Involved in an Agency-Level SEO Checkup
An agency-level SEO health check is different from a general SEO checkup or a free website SEO checker because it is typically more comprehensive.
A basic SEO checkup will include issues such as broken links and images or missing metadata that are easily fixed by someone without a significant amount of digital marketing knowledge. Even if they use a tool that provides deeper analytics and insights regarding SEO issues, your client may not understand exactly what that issue is or have any clue how to address it. 
When you are performing an agency-level SEO checkup, you should include all aspects of the client's entire website in your SEO audit. This includes the website's content, thin content, site structure, backlinks, code, mobile-friendliness, core vitals, and more.
If you dig even deeper into the insights based on your agency's specialization, such as niche-focused, local SEO, or platform-based (e.g. Shopify) optimizations, that's even better. 
The point of an agency-driven SEO health check is to go deeper than the client could execute for themselves, and bring your unique digital marketing insights into play by reviewing what should be fixed, when they should be fixed, why they impact search engine rankings, and how you're going to fix them. 
8-Step SEO Health Check 
The exact process for running an SEO checkup will differ depending on the tool your agency selects, but the core principles remain the same. In the following example, we use the AgencyAnalytics SEO audit tool to perform a thorough SEO analysis. 
Step 1: Create a Campaign
If you're just starting out with AgencyAnalytics, the first step is to create a client campaign, which refers to one website or URL that you're running a site checkup on. 
If this is your first time running an SEO audit for a client, it's important to brace yourself for the number of SEO errors you will uncover. Most clients, prior to engaging a professional SEO agency, don't fully grasp the complexities of search engine optimization, including meta tags, off-page SEO, page and link structure, or have any inkling about optimizing web page content for keyword rankings. Or, even worse, they think they do... but have it all wrong.
This lack of understanding can lead to a lower SEO score and subpar performance in search engines. As you utilize an SEO checker to assess these factors, you're actually taking the first essential step towards transforming your client's website into a well-optimized platform primed for search engine success.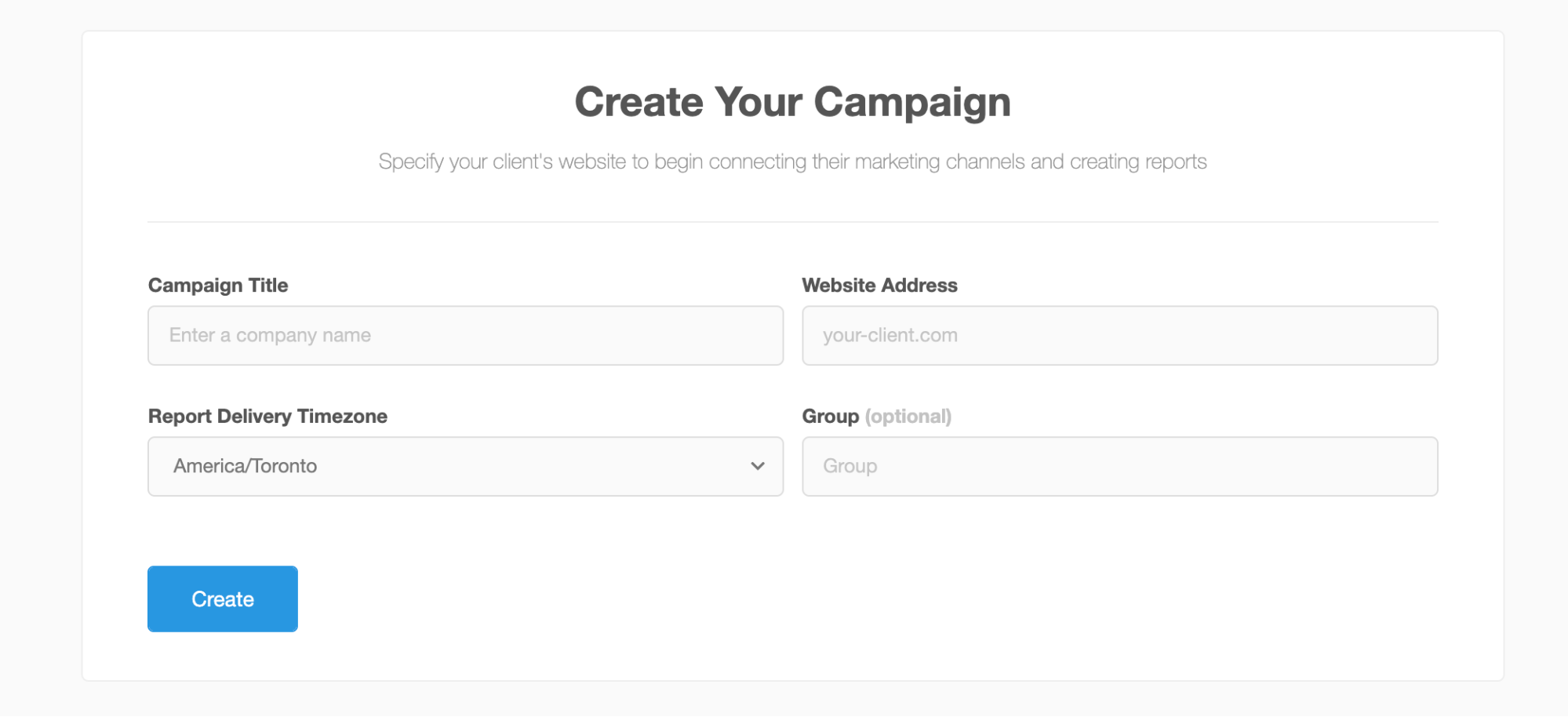 Once that is complete, navigate to "Integrations" and enable the "Site Auditor". In this step, also enable any of our 75+ other marketing integrations, such as Google Analytics, Google Search Console, Google Lighthouse, as well as any of the other SEO site checkers you want to see backlink data from. 
Incorporating SEO data from sources like Google Search Console, Google Lighthouse audits, and Google Analytics significantly enriches an SEO audit. Google Search Console offers invaluable insights into a website's visibility in search engine results pages, providing data on clicks, impressions, and indexing status. This data helps identify opportunities to enhance search engine optimization and identify areas of weakness that may be hindering the site's performance.
Similarly, Google Analytics provides detailed information about the website's traffic and user behavior, revealing how users interact with the site, the journey they take from their initial visit, and which web pages drive the most revenue.
The integration of this data into an SEO analysis brings a broader perspective, presenting a more holistic view of the website's performance.
Step 2: Select the Site Checker Crawl Settings
To start the site checkup process, all you need to do to get started is click "run audit".
You'll then be prompted to select the appropriate crawl settings, including the URL and subdomains, the page crawl limit, and if you want to exclude any URLs or paths.
This is a relatively common step across all SEO site checkers, but one typical mistake that many novices make is not setting the page crawl limit correctly. If you set the crawl limit lower than the total number of pages on your client's site, you will not get a complete picture of the site's overall SEO health. 
If you're not exactly sure how many pages are crawlable, refer to the XML sitemap for a complete list of published pages. And always err on the side of too high of a limit for the first crawl, because the site checker will only crawl as many pages as are available on the site.
One other area your agency should consider is if you want the crawl to include subdomains. Subdomains typically include supporting documentation or backend systems that aren't part of the normal customer-acquisition flow–but can impact your client's overall SEO. 
A good rule of thumb is to look at the content that's hosted on a subdomain to determine if it is used for customer acquisition. Google Analytics reports can help with that! If it is, you should include it. If not, you might want to exclude it so that you focus your agency's efforts on the most important marketing pages. You can always circle back to this and expand the crawl to include subdomains once you've got the main domain in tip-top shape. 
The next step is to choose how often you want to run the site checker. This will automatically run a new checkup crawl at whatever interval you choose. A one-time SEO audit is especially useful if you are using this information as part of an SEO proposal, but don't want to use up your allocated crawl limits (based on your plan) to repeat that crawl if the client doesn't hire you for SEO services. 
The frequency should be set based on how much time and effort your agency will be allocating towards improving the technical SEO health of the client's website. We'll go into this in more detail later, but the main goal is to see the impact of your fixes and how they improve the overall site score. 
If this is a major effort, with a lot of billable hours and changes to the website being made on a regular basis, you will want to set that at weekly (or even daily). If your agency is putting in a smaller effort based on the client's budget, bi-weekly or monthly will likely suffice.
Step 3: Start The Site Checkup Crawl
This is where the magic happens! All you need to do is click "Start Crawl," and the system automatically reviews every single web page (up to the crawl limit that has been set) to check for common SEO issues. 
These checks will typically include the following types of efforts:
| | | | |
| --- | --- | --- | --- |
| 4XX Errors | Duplicate Meta Descriptions | Duplicate Meta Titles | Broken External Links |
| Broken Internal Links | Robots.txt Blocking Crawlers | Redirect Links | Missing Alt Attributes |
| Missing Canonical Tag | Long Title | | Long URLs |
| Missing Meta Description | Blocked from Being Indexed | Missing Sitemap.xml Reference | NoFollow Attributes in External Links |
| Slow Page Load | Robots.txt not Found | 5XX Errors | Overused Canonical Tags |
| Missing Title | Duplicate Content | Broken Internal Images | Broken External Images |
| Invalid Sitemap.xml Format | Incorrect URLs in Sitemap.xml | Missing Viewport Tag | Large Page Size |
| Missing Canonical Tags in Amp Pages | Https Redirect | Short Title | Missing H1 |
| Multiple H1 Tags | Matching H1 and Title Content | Too Many On-Page Links | Low Text to HTML Ratio |
| Too Many URL Parameters | Encoding not Declared | Doctype not Declared | Flash Content Used |
| Frames Used | Underscores in URL | NoFollow Attributes in Internal Links | Sitemap.xml not Found |
Step 4: Sort SEO Issues in Order of Severity
Once the site audit has completed its comprehensive crawl, the next step is to sort onsite issues in order of severity and resolve the most critical errors first. To do so, simply click on the "Type" button on the "SEO Test" page:
These issues are typically bucketed under 3 categories based on their level of severity: 
Critical SEO Issues
These should be fixed as soon as possible, as they are the most likely to directly impact the site's overall SEO health and ranking performance. Critical items are usually things that are completely broken, such as missing images or 404 pages. They are also, more often than not, the easier ones to fix. This gives your agency a chance to rack up some quick wins.
SEO & Technical Errors
Although slightly less important, too many of these can accumulate to downgrade the site's search engine friendliness, and therefore its rankings. Sometimes, these errors–such as duplicate meta descriptions or broken external links–can be time-consuming to correct. But the effort is well worth it.
Warnings
These are the "fix if/when you can" items that are also usually where your marketing agency can shine, as they are often harder to fix. They include things like pages being blocked by robots.txt files, missing canonical tags, or too many nofollow attributes. Many of the warnings will fall outside of your typical client's capability set, so being able to fix them is a major bonus for an agency. 
A good SEO site checker will give your agency a really clear and easy way to highlight the different issue types and show an overall grade for the client's website based on all of the factors. 
Step 5: Resolve Critical Issues First and Fastest
As noted above, critical issues should be fixed as soon as the SEO audit is complete in order to give your clients an immediate SEO gain. In the test account, we can see the critical errors include 5XX Errors, 4XX Errors, and Overused Canonical Tags.

If you click on the error link, you'll then see exactly what it means and the pages affected. For example, 5XX Errors are "fatal errors that will prevent anyone, including search engines, from accessing your website". They are normally caused by a programming bug or a server misconfiguration.
The good news is that temporary errors like 503 errors will more often than not resolve themselves on the next crawl. Seeing these on a consistent basis, however, could be an indication that your client needs more server capacity to handle the increasing number of visits.
Step 6: Review and Resolve Errors & Warnings
After you've fixed all the critical errors, you'll also want to go through each error and warning and resolve them. Keep in mind there will usually be many more of these errors, so you'll want to create a plan to resolve them all over a certain period of time.
One other thing that an agency will often bring to the table is the ability to balance the level of effort versus the reward of fixing certain errors and warnings. 
For example, duplicate meta descriptions on priority content pages should be fixed immediately. However, the same issue–if it relates to the blog archive pagination–may be far less important as you are likely not trying to rank page 4 of your client's blog article archive for any particular keyword. 
Your expert and detailed analysis will help your agency stand out as being experts in SEO, so put it to good use!
Step 7: Review Individual Page Performance
The next tab over in our SEO site auditor allows you to review individual page performance. This includes metrics such as:
Page-level SEO Score
The page percentage site score is an important SEO health check metric as it reflects the quality of each page on your client's website. It's determined by counting up all issues discovered on each web page, weighting them according to the page depth and the issue severity level. Learn more about how the page score is calculated in our Help Center.
Page Depth
The SEO click depth is a measure of how many clicks it takes for visitors to reach a specific webpage from the homepage. For example, any link on the homepage would be scored as a 1 because a user only needs to click once to get there. The higher the click depth number, the lower priority search engines assign to any particular page. This is an opportunity for your agency to fix the site's internal linking structure to make sure that priority pages never have a click depth over 3.
Inlinks
Also referred to as "backlinks", this is the number of external websites that are linking to the page. This metric is a signal to the search engines about whether or not you (or your client) think that page is important enough to link to. If you don't think that page is important, then why would search engines?
Status Code
These codes essentially communicate whether the page is working properly, or if there are issues in the server response. You can learn more about common status codes in this article by Moz. Typically, you want to see a status code of "200" across the board.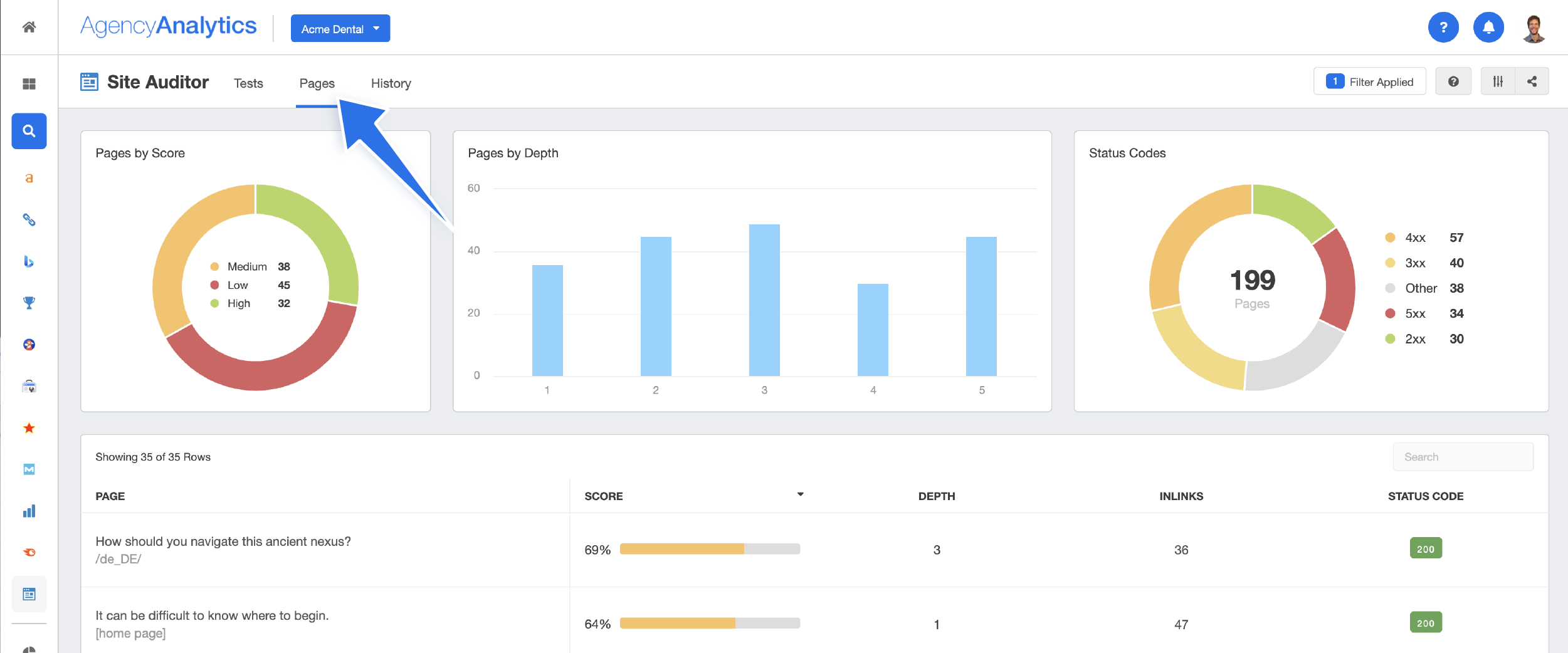 Target the pages that drive your client's conversion rates to help improve their SEO page score. Take a look at how close they are to being ranked on Google's first page since this will have an impact when it comes time for potential customers searching online about products or services in those industries.
It is often far easier to move a page from the top of page 2 onto page 1 than it is to get a ranking to shift from page 28 to page 1. That's why focusing on the ones with small, incremental increases can have a significant positive impact on your client's business.
As an SEO agency, you take this type of page-level analysis even deeper by doing on-page optimizations targeted at specific keywords. For example, the SEMrush on-page SEO audit tool will let your agency analyze how well a particular page is constructed in regards to specific keywords. 
This is a very labor-intensive process, so it should only be done for priority pages that have the highest potential for driving revenue to your client's business. 
Step 8: Highlight Your Improvements with Historical Comparisons
The next tab over called "History" is probably one of the most fun bits of SEO data for an agency to look at. This SEO checker tool compares the current site checkup results with previous checks. Use page-level or site-level scores along with other data visualization to highlight your team's progress over time as that SEO score grows! 
And there you have it, a comprehensive 8-point site checkup. 
As exhaustive as that SEO audit process may be, most agencies understand that you often need more than one site checker tool to run an agency-level site checkup. 
That's why you would also use the AgencyAnaltyics platform to combine the findings from all of today's top SEO site audit tools to make sure that your agency does not miss out on a single issue.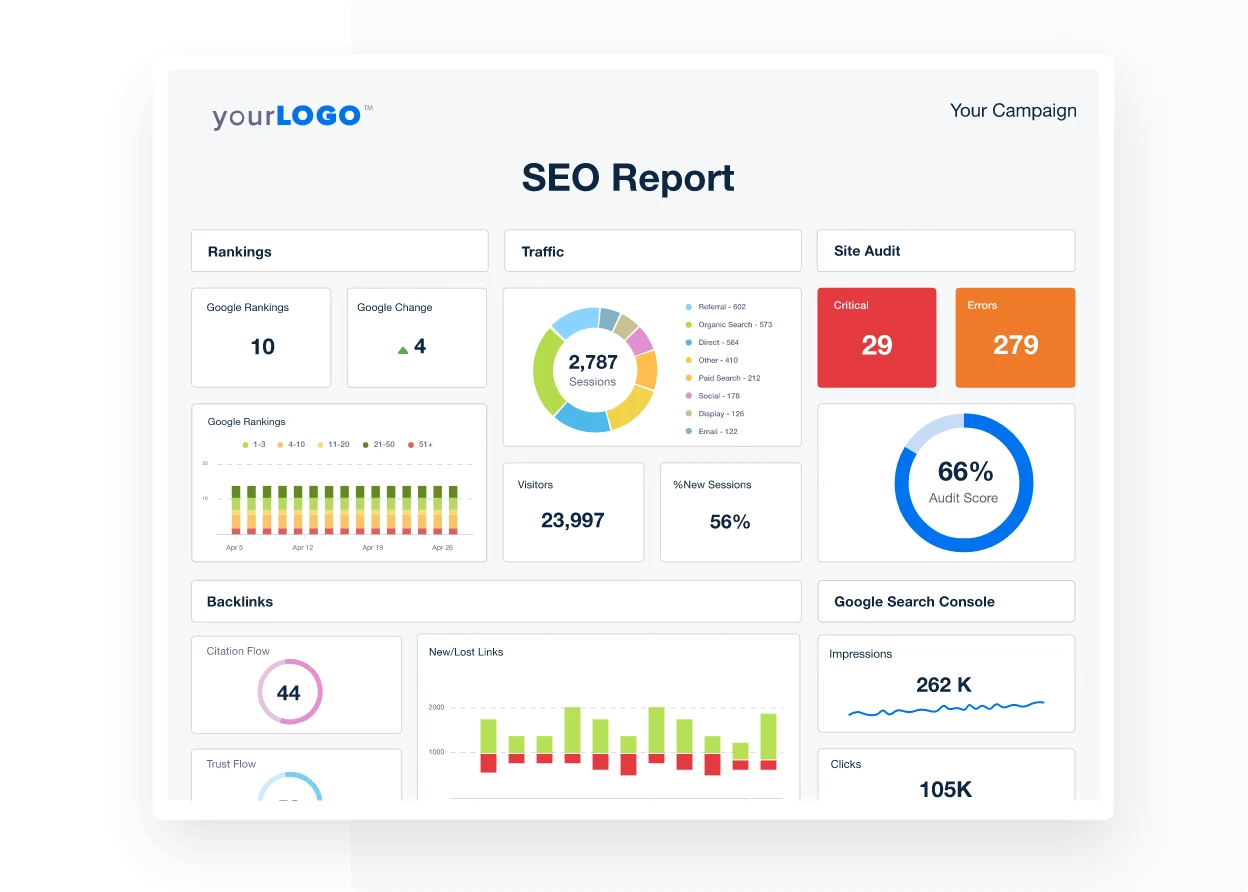 Whichever combination of SEO analytics tools your agency prefers, consolidate data from Ahrefs, Backlink Monitor, Google Search Console, Google Analytics, Moz, SEMrush, and more to create the most comprehensive site checkup reports. 
You should also report the results of your SEO audit to your client in a detailed manner. This kind of SEO analysis allows them to see what you have found and what your agency plans to do in order to take action to correct the issues.
Keyword Rankings & Organic traffic growth are critical KPIs, but what we're really measured on is our ability to create bottom-line dollars for the business. Tyler Krause, Owner, Conversion First Marketing
How Often Should You Audit Your Client's SEO
With most clients, you should run an SEO checkup on a monthly basis at the very least. This will allow you to catch any potential problems early and prevent them from becoming bigger issues down the road.
An excellent rule of thumb is to tie the checkups to the level of SEO effort being provided by your agency: 
Very High = Daily
If your agency is making a significant number of changes on a daily basis or launching a new website for your client, you should be running your SEO checker tool on a daily basis-at least until you've reached a certain level of stability. 
High = Weekly (Most Common)
In most cases, the efforts your agency is implementing can be accounted for on a weekly basis. A great way to start the week off is by adding any new issues that have been identified to your agency's action items. For this reason, and to run the site checkup during downtimes, we typically recommend running the site checker automatically on weekends (or another off-peak day for your client). 
Moderate = Monthly
For smaller sites with a lower-level of SEO focus, monthly is usually enough to catch and correct any technical SEO issues before they can cause a snowball effect on your client's rankings. 
Low = Quarterly or On-Demand
In the rare circumstance that you are doing minimal SEO effort to support a client, or their development cycle for implementing recommended changes is very long and unpredictable, it is often best to go with a less frequent site checkup since little will have changed in the interim. On-demand also works well in these circumstances because you run the checkup as soon as you have confirmed that significant improvements have been made. 
Proposal Stage = Once
Run an SEO site checkup once when filling in a new client SEO proposal template to provide an accurate snapshot of the client's current SEO performance, as the results can serve as a baseline for comparison and demonstrate the value your agency's services will bring. Once the client hires your agency for SEO services, you can always adjust the schedule and conduct regular checkups to track progress and make necessary optimizations.
In addition, you should perform an SEO checkup whenever there are major changes made to the website. This includes when new content is added or when the website structure has been changed.
By performing SEO health checks on a regular basis, you ensure that your client's website is always performing at its best.
Want to dig deeper into this topic? Read: How Often Do Your Clients Need SEO Audits?
How To Report Your Results to Clients
Once you have completed your client's SEO health check, it is important that you report the results to your client in a detailed manner. This will allow them to see what you have found and take action–if your agency isn't also in charge of implementing the fixes.
It's very difficult to explain the value of a service to a client without visuals. Using the web analytics report and the SEO reports side by side, helps us show our clients a correlation between SEO and Traffic. We merge this data with a custom template that tracts conversions, and stripe data to show that traffic growth - from SEO and PPC - does have an impact in the number of conversions and revenue (Their bottom line).

Ruben Roel, President, Investigator Marketing
A comprehensive report should include all aspects of the website that you audited, as well as your findings and recommendations. It should also be easy for your client to understand and follow.
Create a task list of items that need to be addressed for you to track their progress to completion. And remember to white label the report so that it includes your agency's branding!
By reporting the results of your SEO audits to clients in a detailed manner, agencies show their commitment to helping their clients improve their ranking and organic revenue.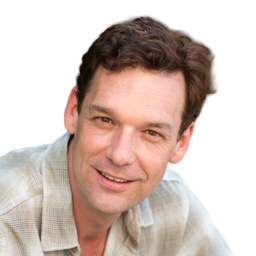 Paul Stainton is a digital marketing leader with extensive experience creating brand value through digital transformation, eCommerce strategies, brand strategy, and go-to-market execution.
Read more posts by Paul Stainton ›
Try AgencyAnalytics risk-free for 14 days. No credit card required.