If you manage SEO campaigns for clients, you know that it is a much longer-term investment than many other forms of marketing.
In addition to the time it takes to see results, there's also no single metric that will tell you that your efforts are working. Instead, you need to track a wide variety of metrics to ensure your strategy is playing out as excepted. This includes tracking on-page metrics, off-page metrics such as backlinks, SERP rankings over time, and more.
With the volume of data available to marketers, it makes sense to build a dedicated SEO dashboard that automatically pulls relevant SEO KPIs from each data source without having to switch between platforms. A dedicated SEO dashboard not only improves an agency's efficiency at analyzing data, but also gives clients the ability to review the campaign's performance on their own time.  
In this guide, we'll discuss exactly how you can set up an SEO dashboard to consolidate your data into a single platform, including:
Why SEO Analytics Matters

How to Build an SEO Dashboard in 10 Steps

5 Sections to Include in an SEO Dashboard 
Let's get started.
Why SEO Analytics Matters
As discussed in our guide to SEO analytics, one of the main advantages of an SEO campaign over more traditional marketing campaigns is that there is much more data available to track, measure, and report on the progress. 
Although achieving significant results from SEO can take some time, by consistently analyzing your data you're able to uncover actionable insights that drive the campaign forward. A few examples of these insights include:
New opportunities to rank in search engines for high volume keywords

Identifying on-site issues through a website audit that may affect search performance

Identifying the organic traffic sources that are delivering the highest ROI on your marketing efforts
In order to successfully monitor and make use of SEO-related data, it's recommended to automate as many manual tasks as possible and only focus on more high-value work. For example, a few tasks to automate include daily rank tracking, data collection from platforms such as Google Analytics and Search Console, and data visualization.
How to Build an SEO Dashboard in 10 Steps
Let's now look at the step-by-step process of building an SEO dashboard to automate your data workflows.
1. Create a Campaign
The first step to creating a dashboard in AgencyAnalytics is always to create a new campaign. A campaign refers to one website that you're tracking data for, so in general, each client will have their own campaign.
2. Connect Your SEO Integrations
The next step is to connect your data sources from our list of 75+ integrations. In order to make use of our SEO dashboard template, this means integrating Google Analytics, Google Search Console, our Backlink Manager, Site Auditor, and Rankings tool.
3. Add a new dashboard
Now that we're integrated the client's data sources, the next step is to create a dedicated dashboard for SEO. If you're a full-service agency, you'll want to create the best marketing dashboards for each channel—for example, social media, PPC, SEO, and so on.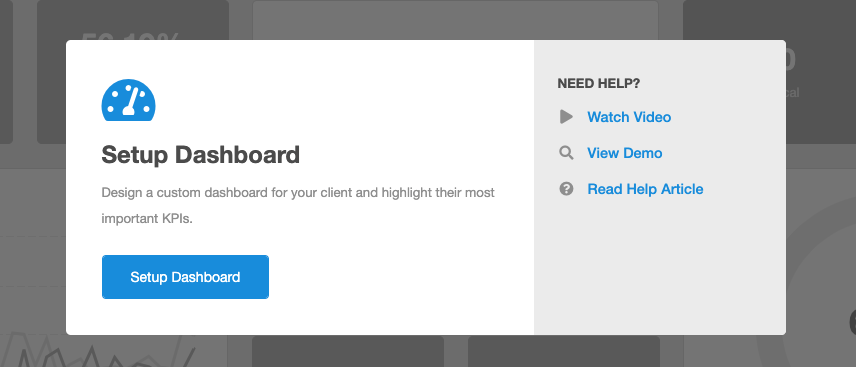 Here are just a few of the other dashboard templates available to get you started.
4. Choose between an SEO template or a custom dashboard
After this, you'll have the option to create a new dashboard, start from a template, or clone an existing dashboard. In this case, we'll start from a template as it already has 22 prebuilt widgets ready to go:
5. Customize the dashboard
Even if you're using the SEO dashboard template, you may still want to customize it to fit your clients needs. To do so, you can simply click on "Edit Dashboard" to rearrange, resize, or delete any widgets:
6. Add annotations and goals
Once you've customized the dashboard to fit your client's needs, another key step in automating your data workflows is setting goals for the campaign and annotating any major changes you may have made. This can be done for each widget by clicking on the ellipsis "..." in the top right corner and clicking "Edit". From there, you can add annotations and goals to your time-based charts—for example, you may have SEO-related goals for daily visitors, bounce rates, conversions, and so on.
7. Add commentary to the dashboard
Although data visualization is an important part of reporting, many clients simply want to read your own commentary to understand the campaign's results. That said, every SEO dashboard should include a section for personalized commentary that includes the key actions taken that month, results achieved, and your plans going forward.
8. White label the dashboard
Before sharing the dashboard with clients, the next step is to white label it with your agency's branding. This includes adding your logo, color scheme, and the option to host the dashboard on your own domain:
9. Create a Client Account
One of the main advantages of an SEO dashboard is that clients can login and review the campaign's performance on their own schedule. In order to add a client to the dashboard, you will first need to create a client account from the "Users" tab in your root campaign. This will guide you through the process of creating a client account and setting their permissions in terms of what they can see:
10. Share the dashboard with clients
Finally, there are several options to share the dashboard with clients, including:
Downloading a static PDF

Sharing a link

Sending it via email

Or presentation mode if you're presenting the dashboard in a client meeting
5 Sections to Include in an SEO Dashboard
Now that we've discussed how to set up an SEO dashboard, let's take a deeper look at the five sections included in the template.
Rankings
The first section pulls data from our rank tracker, which monitors both global and local keyword rankings for your SEO campaigns. In addition to daily changes in Google's SERP, you can add rank tracking for Google Maps, mobile rankings, and Bing rankings. Below the daily ranking change widgets, we have a "stoplight chart" that presents the distribution of rankings over time.
Website Traffic
Next, we have a section dedicated to website traffic that pulls data from Google Analytics. Here we have widgets that display both the site's goal completions and sessions as stat widgets, sessions as a time-based chart, and a pie chart breaking down each session source. 
Backlinks
The next section is pulling data from our backlink monitoring tool, which includes stat widgets for new links, total backlinks to the site, and a bar chart showing the new and lost links over time. This tool also provides more advanced backlink metrics such as Trust Flow and Citation Flow so you can show clients the relative value of the links being built.
Site Audit
Next, the site audit section helps you quickly identify any potential on-site issues that may be affecting your client's search visibility. In addition to an overall site score, the site checker scans for over 40 on-page technical SEO issues and breaks them down based on severity. This allows you to resolve common issues such as missing meta tags, broken images, server errors, and so on.
Google Search Console
Finally, we have a section dedicated to Google Search Console that includes two horizontal bar charts for the sites top pages and top queries. In addition to analyzing top pages and queries, GSC provides key insights such as CTR, crawl errors, and can be used to identify long-tail keywords.

Summary: Automating SEO Analytics
Creating an effective SEO strategy typically involves creating long-form content, resolving on-site issues, and building high-quality backlinks. Since SEO can take much longer to see results than other forms of marketing, you'll need to monitor a variety of metrics to ensure your strategy is on track to hit your target KPIs.
Building a dedicated SEO dashboard allows you to spend more time on the campaign and less time collecting and analyzing data. Since SEO can also be a confusing topic for clients, with effective data visualization alongside personalized commentary, you can also communicate the results of the campaign in a much more accessible way. 
Finally, if you want to show clients a snapshot of the campaign instead of a live dashboard, you can always use our SEO report template to create a white-labeled SEO report and achieve the same result. Either way, automating the manual aspects of SEO analytics allows you to spend more time improving the campaign's performance.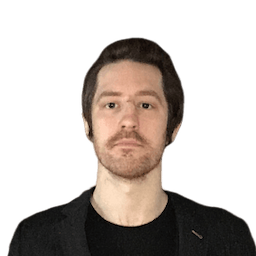 Peter Foy is a content marketer with a focus on SaaS companies. Based in Toronto, when he's not writing he's usually studying data science and machine learning.
Read more posts by Peter Foy ›
Try AgencyAnalytics risk-free for 14 days. No credit card required.