Assuming that more data is automatically better, even if they asked for all their metrics, is a disservice to clients. After all, you don't want them drowning in a sea of data without a life jacket. 
Focusing on the key performance indicators is how your agency demonstrates its value to clients–and tracks their goal progression. And an automated KPI dashboard streamlines your client reporting, keeping everyone informed with just the right amount of information. 
This guide shows your agency how to create automated KPI dashboards in minutes, making it easy for clients to access the key performance indicators that matter most to them. 
This article covers:
What Is a KPI Dashboard? 
A KPI dashboard displays key performance indicators (hence the acronym) in interactive charts, tables, and graphs, allowing for quick, organized review and analysis. Think VISUAL data for your clients.
Key performance indicators are quantifiable performance measures over time for specific objectives, depending on your clients' goals. KPI reporting dashboards enable any user to easily explore the data behind the KPIs and uncover actionable insights–right this second. They transform massive data sets from across your client's organization into data-driven decisions that can improve your clients' businesses.
KPI dashboards differ from client marketing reports. A dashboard includes real-time data, while a report is a snapshot of that data for a given period. Agencies that distinguish between the two and use them appropriately take full advantage of the benefits of data monitoring without wasting resources.
Often-used KPI dashboards include:
| | | |
| --- | --- | --- |
| | | |
| | Digital Marketing KPIs | Sales KPIs |
| | | |
| Call Tracking KPIs | Website KPIs | PPC KPIs |
Benefits of KPI Dashboards
Narrowing the focus of a KPI dashboard helps your clients understand what's most important to them. This clearly shows how your marketing efforts are helping clients reach their goals. 
You want to show them enough data so that they feel fully informed without including distracting data points that just look good. Not sure what the difference is between KPIs and metrics? We explain this more in our blog post, KPIs vs. Metrics: What is the Difference? 
The data your agency chooses to include will vary from client to client, but a general report could include KPIs related to website performance, organic/paid social media, email marketing, PPC campaigns, SEO, and lead generation. It may be helpful to create a separate report for each of these areas, but that's something to determine with your individual clients. 
"Real-time dashboards are great for those more savvy business owners or decision-makers who understand the need to look longitudinally at their marketing investment. The transparency always helps to strengthen long-term relationships." - Bodie Czeladka, Creative & Managing Director at Dilate Digital
Overall, KPI dashboards deliver many benefits that help build agency-client relationships:
Providing a snapshot of all the information clients need to assess the success of their campaigns 

Allowing agencies and their clients to focus on immediate problems, issues, or any relevant information in line with priorities

Clearly communicating marketing objectives and allowing for transparent goal-progression, which in turn reduces churn 

Motivating employees to achieve specific goals and improve productivity

Helping businesses assess their competitive position and identify areas where they need to improve
How To Create a KPI Dashboard For Efficient Automation 
Creating a KPI dashboard for your clients doesn't need to be complicated or time-consuming. You want your clients' dashboards to provide a high-level overview, so simplicity is key. And creating KPI dashboards with client reporting software like AgencyAnalytics streamlines the entire process.
Choose from poplular marketing dashboards including:
Here are some simple steps to follow when creating a KPI dashboard for efficient automation:
Step 1: Identify Your Clients' Most Important Objectives 
You'll want to discuss with your clients what KPIs are important to them. If your client is in an analyst role, business manager, or an executive, they might want to know if specific KPIs are being met and gather key takeaways. If your client is a salesperson with little technical or subject matter expertise, they might need a simplified display that provides key customer insights or shows sales figures over time. 
Whatever your client's role, it's important to determine (and agree upon) the most appropriate KPIs in your marketing dashboard. 
"KPIs allow us as, the agency, to demonstrate our value to the client," adds Jacob Hicks, Owner at Magnyfi. "There are basic KPIs such as spend, clicks, impressions, ranking, etc., but the real KPIs every client wants to know are leads and/or sales. When you can clearly demonstrate this, it increases your retention rate and keeps clients paying you month after month."
Some common KPI examples that we've seen agencies use: 
Sessions

Keyword Rankings

Channel Analytics 

Campaign Performance 

Leads

Sales and Goals

Conversion Rate

Revenue 

AOV

Cost Per Acquisition 

ROAS
Step 2: Make Sure Your Reporting Tool Pulls All the KPIs Your Client Needs 
AgencyAnalytics has over 75 integrations (such as Google Analytics, Facebook Ads, Backlink Manager, Instagram, Spotify Ads, and more) to ensure you'll find the platform your client uses.
You'll want to connect the integrations that matter most to your clients. The most popular integrations from AgencyAnalytics users include:
Step 3: Visualize the Information
Explore and test out different charts and other ways to display data visually for your client's dashboard. A map might work best to display social media followers in different parts of the world, and a pie chart might work best for Google Analytics data. Give yourself time to play around or start with a pre-made dashboard template like our digital marketing dashboard template!
Step 4: Customize Your Agency's KPI Report
Creating a report specifically catered to your client shows their data in a personalized way. It highlights that your agency cares about the reports you're sending and delivers value by customizing their specific KPIs.
Agency Tip: Organize your client's dashboards with title headers that they can understand easily. And don't forget to white label your client's marketing dashboard with your agency's logo for an additional personalized touch. 
What To Look For When Choosing a KPI Dashboard Software
Your agency will want to choose a dashboard software that integrates with the key services that you offer. There is a variety of dashboard software out there, but they're not all created equally. When deciding which one best fits your agency's needs, consider the following:
Integrations 
The ability to integrate with various platforms your client use is crucial. You don't want to be switching between platforms to get all of your client's data into one place. AgencyAnalytics has 75+ to choose from to keep your reporting process streamlined. And that list keeps growing!
Understanding your clients 
There's really only so much data the brain can process at once, and it does so most effectively with images. This is why dashboards are the most effective way to communicate and present data to your clients. Set up a simple structure with clear visuals to represent the data. Keep in mind that the average person can only remember 5 to 9 pieces of information at any given time. 
Customization
Not everyone reads data the same way. Your agency software must allow you to choose how to display information to your clients. AgencyAnalytics enables agencies to display the data in the most intuitive formats, including pie charts, area charts, gauge charts, and even maps. 
Collaboration
Some dashboards limit the number of users who can access them or the number of people who can work on them simultaneously. Depending on your agency's needs, check whether the software enables multiple users to work together or if you'll have the ability to share the data with external users. 
User experience 
The user experience (UX) is crucial when considering what software to use. You want your agency's KPI data to be displayed as clearly as possible but also have the ability to explain what the data means. Your dashboard should give you the ability to label or include descriptions.
Real-time data
Streamline your reporting with real-time data. No more manual updates and long waiting periods to collect your agency's data. Create operational KPI dashboards that provide real-time data that your clients can use whenever they want, like Monday morning meetings, for example. 
Automated client reporting
Waiting a long time to compile all of your agency's data is tedious and extremely time-consuming. Therefore, you'll want to look for software that automatically gauges daily, weekly, or monthly pictures of your clients' KPIs. This automated process empowers you to quickly identify noteworthy patterns and deliver valuable insights.
New and improved integrations
It's important to stay ahead of the curve with the ever-changing digital marketing landscape. Choose a dashboard software that values improvement and constantly updates its integrations. When your client joins new, emerging marketing platforms, your agency should be able to provide the reports they need. 
Why Should You Automate Your KPI Reports? 
Gathering your client's marketing metrics from various marketing channels can quickly become time-consuming and repetitive. The biggest benefit of sending automated reports? Saving TIME.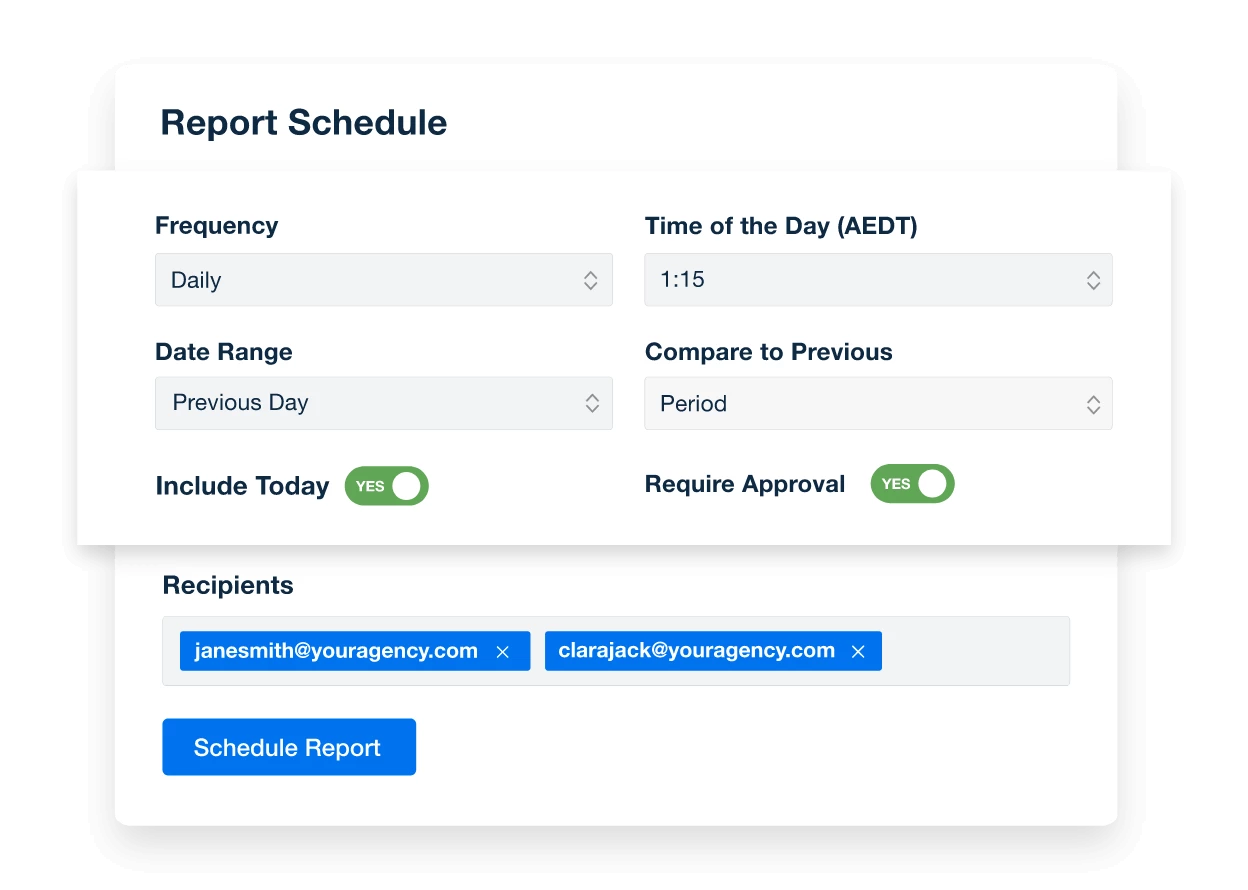 Quickly collect your client's important KPIs in one place and have them updated automatically with custom dashboards and reports from AgencyAnalytics. An automated reporting system lets your agency focus on scaling rather than frequently creating tedious client reports. 
After building a report in AgencyAnalytics for the first time, you can then put the entire process on autopilot with a simple and scalable reporting schedule and approval process. Choose to send out reports daily, weekly, or monthly, compare against previous reports, and so much more. 
"There are so many features and they are all very easy to use. Having monthly reports sent to clients automatically couldn't be better. Clients are happy, I'm happy!" - Angus Ewart, Digital Marketing Director, Marwick Marketing
It's time to streamline and automate your client's KPI reporting. Start Your Free 14-day Free Trial Today!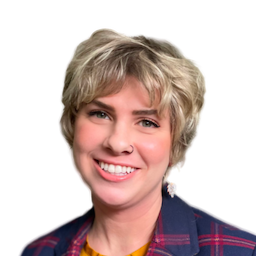 Richelle Peace is a joyful writer with a degree in Journalism. She loves writing web content, blogs, and social media posts. Whatever the topic, she's fascinated by learning and sharing.
Read more posts by Richelle Peace ›
Try AgencyAnalytics risk-free for 14 days. No credit card required.