When it comes to running a marketing agency, there are so many areas that you have to excel in, such as improving your marketing strategy, getting more clients, closing sales, and so on.
Luckily, we live in the 21st century, and you can use a tool or software for almost anything. They help you automate a number of aspects of your business and focus on your most important goal: your clients.
Whether you're scheduling a ton of social media posts or need to send out monthly email campaigns for your clients, we've prepared a list of the best marketing agency tools to use as you scale your marketing agency.
Find the tools your agency needs to increase efficiency and create better workflows.
Content Creation Marketing Tools
Execute your client's marketing campaigns with the ultimate efficiency. If your team doesn't have time to create content or needs some ideas to get started, give any of these content creation tools a try to engage as many potential customers for your clients.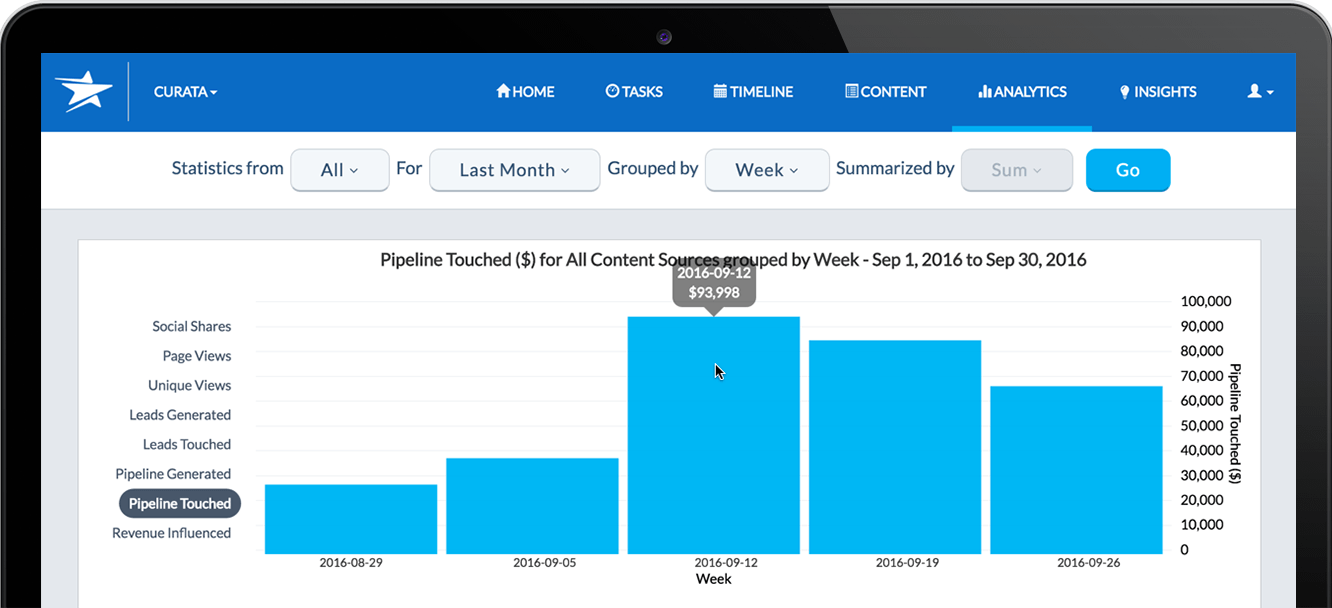 Everything starts with content marketing. Creating and promoting content is the cornerstone of every successful business.
Awarded by several organizations, Curata is a tool that helps you discover the best content, as well as organize and publish it across the web.
Moreover, promote your content by analyzing sales pipeline and marketing impact, streamlining content production, and building a predictable content supply chain.
This is a great tool to use to quickly come up with content ideas for your clients. It helps you plan content effectively by simply typing in a topic and target location, and it provides you with potential ideas around the main topic. 
Basically, the Semrush Topic Research Tool scans the top 10 results in Google for your client's targeted keyword and related terms and categorizes them based on a theme.
This is a free tool from Google that shows the popularity of a keyword, search term, or topic among Google search users. It helps to find trending topics in your client's niche and gives them a competitive advantage in their industry. It can be a great tool to use to help keep them relevant and jumping on the latest trends. 
Before publishing your client's next blog post, use this SEO checklist to make sure that it is fully optimized for readers and search engines. After all, you don't want to spend all of that time and effort writing an informative blog post for it to go into the internet abyss.
Download Your 39-Point SEO Content Checklist
Everything you need to make sure your agency is publishing optimized content.
This tool's AI-powered platform helps agencies get more out of the content they create. Clearscope not only optimizes your content to be shareable, clickable, and readable, but it also produces content that is highly relevant to what potential customers are searching for. 
They integrate with other software such as Google Docs and WordPress plugins to save you from jumping to multiple platforms. 
Clearscope also has multiple pricing plans with no restricting contracts, making it easy for your agency to give it a try.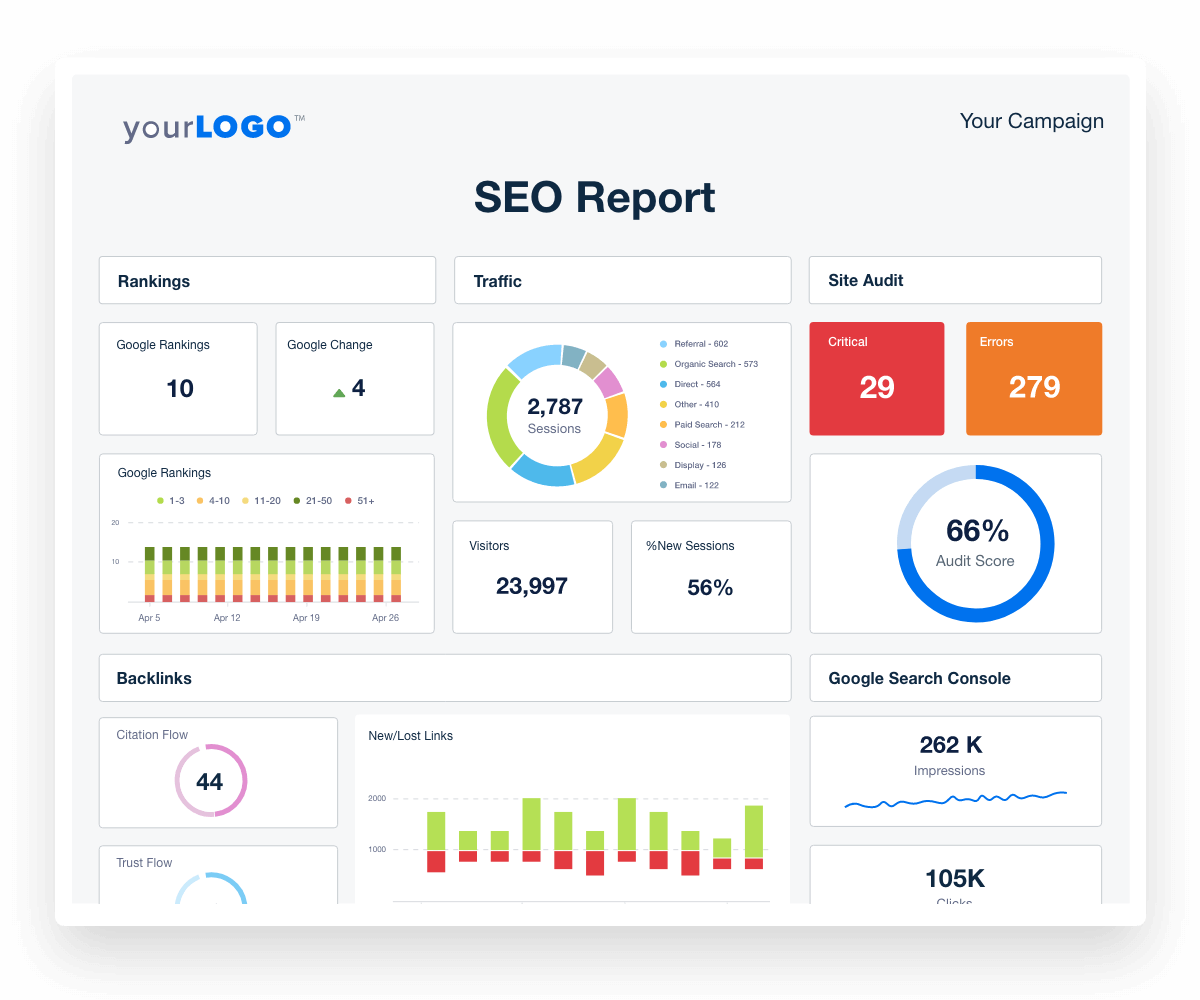 Improve client retention with an SEO report template. Try AgencyAnalytics free for 14 days!
Social Media Marketing Tools
Save your agency's valuable time by implementing a social media tool. They help keep your agency's content organized, schedule client posts, interact with other accounts, and track conversations around your client's brand. And then pull all of that impressive data together using a pre-built social media report template to showcase everything your agency has achieved.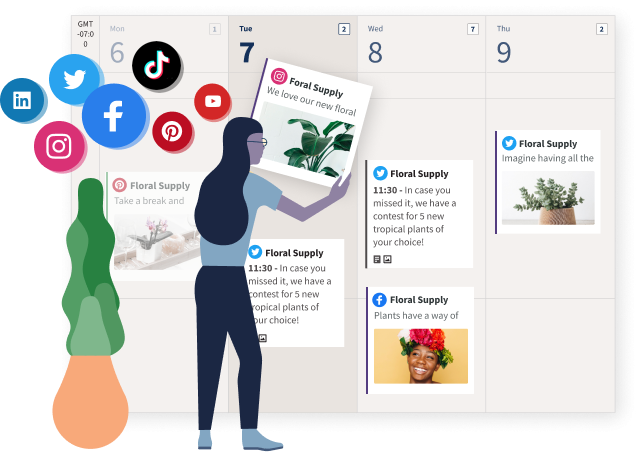 Hootsuite lets you schedule and publish your clients' posts and track their effectiveness. It saves your agency a ton of time from manually posting to each platform for each client while helping you stay on top of the latest social trends. They offer a variety of plans, a free trial, and free classes for beginners to show you the ropes of the software.
Sprout helps agencies categorize messages, schedule posts on all social media platforms, and optimizes team workflows. It also offers 'listening' tools that help you understand your client's audiences better. 
Basically, Sprout Social uncovers trends and actionable insights from social media to inform brand and business strategies for your clients. Be sure to take full advantage of the free trial before determining if it's the right fit for your agency.
Later is a similar social media scheduling tool, but their differentiator is telling you the best time to post to reach your client's audience. They were reportedly the first-to-market Instagram scheduler, so they know a thing or two about the platform.
Later helps your agency plan, analyze, and publish content in advance, including Instagram Reels, to save your agency time.
PromoRepublic centralizes social media management. It has an easy-to-navigate interface where you can create, schedule content, collaborate, and measure the results.
What is best about PromoRepublic, is that it has a Content Library of 6,000+ ready-to-use post templates. It's easy to customize them, as the Graphics Editor is built-in, and you are free to apply 200+ fonts, shapes, and banners.
The posts you create can be scheduled to several pages and groups simultaneously and reused as needed.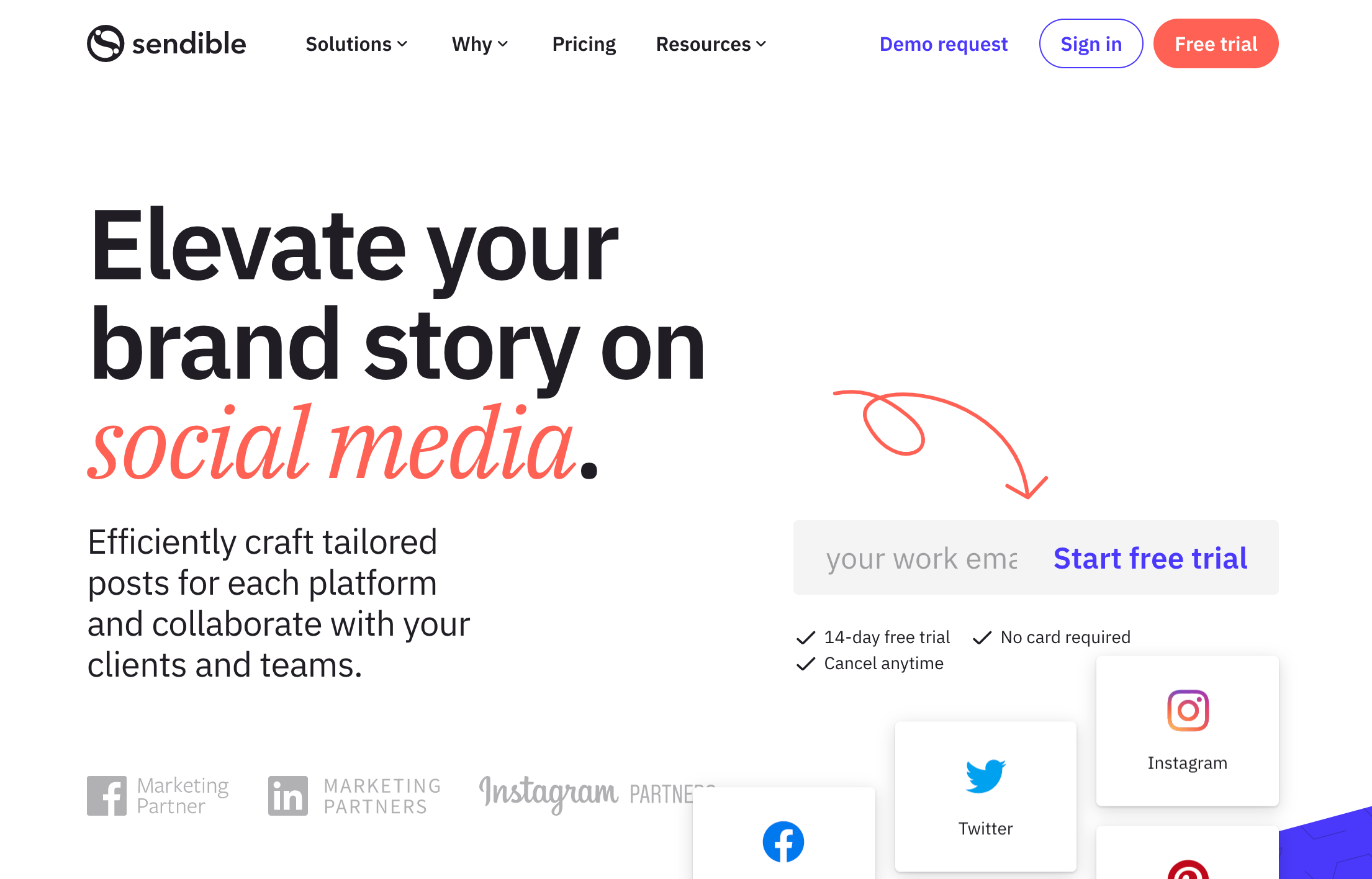 Sendible is another social media marketing platform for agencies that allows you to engage with customers across multiple social media channels in a centralized platform. It's positioned as a productivity tool for digital agencies that saves time executing marketing strategies.
The platform includes a number of solutions, including:
Publishing: Plan your social media content and strategy across multiple channels.

Collaboration: Collaborate and approve posts before they go live.

Analytics: This provides digital marketing data analysis and insights for your client's social media data.

Listening: Monitor your client's brand mentions and improve engagement.
In short, Sendible is a powerful tool to streamline your entire social media management workflow.
If you have no time to create content, use Mixbloom to outsource it.
Collaborate with professionals, schedule posts automatically, approve your content simply and promote it effectively with Mixbloom.
When you introduce the Mixbloom team to your client's brand, their project manager suggests a content strategy and starts working on your content. After that, all you have to do is approve the content, and it will get published and promoted within a few days.
Buffer is an application that lets you manage your social media quickly and easily.
With it, you can schedule your client's posts, add them to your queue and build your following from a single user-friendly dashboard.
Also, Buffer browser extensions and mobile apps work from anywhere, allowing you to schedule content as you discover it.
Finally, view how your client's posts are performing and analyze what type of content works best for their audience.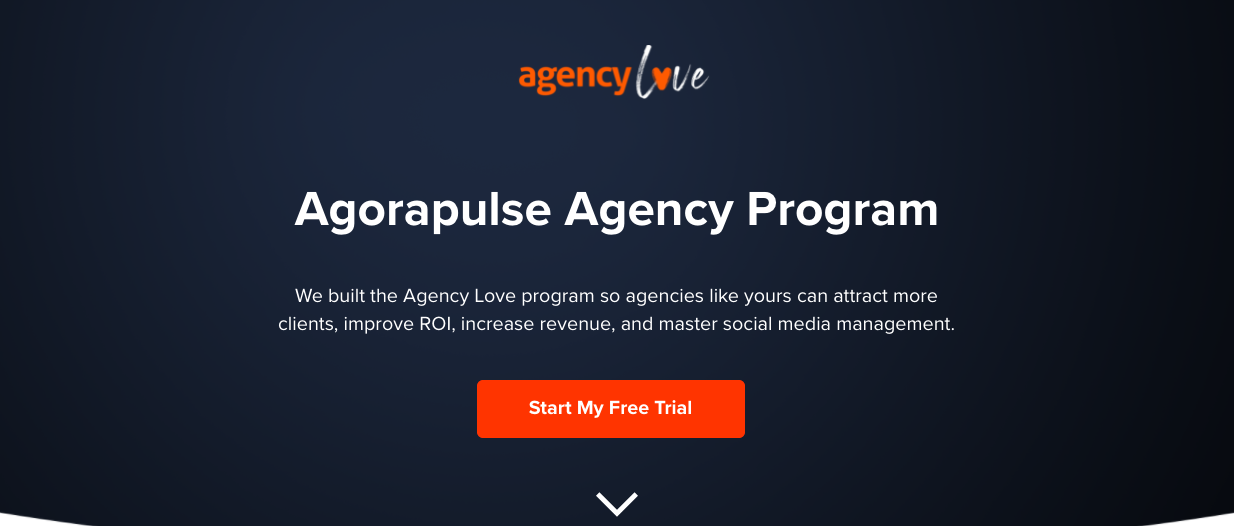 Agorapulse is a social media management software that lets marketers schedule content, creates reports, and engage with followers. With the launch of their Agency Program, you get access to the following benefits:
Access to an exclusive Facebook group

Priority placement in the Social Agency Scout directory

An option to purchase shared calendars to streamline feedback from clients
This tool also gives you access to Agorapulse's social media management features, including bulk publishing, approval workflow, social CRM, and more.
Automated Email Marketing Tools
When it comes to a good automated email marketing tool, you'll want something that gives the ability to set up advanced communication sequences, subscriber prisoners and more. And, of course, you want something that automatically integrates with your reporting dashboards so that you don't waste time manually cobbling together data each month.
So, we've compiled a list of automated marketing tools that won't cost your agency a ton of time on a day-to-day basis.
This tool helps your agency sell more products or services for your clients with sleek email messages that don't take much time to build. Plus, other features include chatting with customers while they browse your client's websites, SMS messaging capabilities, and a shared inbox that keeps customer email history organized in one place.
Take your agency's efficiency one step further when you build your client reports. Use the Brevo integration on the AgencyAnalytics platform to keep all of your client's marketing data in one professional, white-labeled report.
Grow your agency's email marketing services with ActiveCampaigns. This email automation tool combines CRM tools with email marketing tools to deliver a seamless customer experience. 
This cloud-based software helps marketers track customer behavior with options for marketing segmentation to create customized campaigns for a variety of audiences. 
Use the ActiveCampaign integration in AgencyAnalytics to report all of your client's marketing data into one efficient dashboard specifically designed for marketers.
One of the leading email marketing service providers is Constant Contact. The company was established in the last 90s and has been helping businesses promote their brands to inform customers of updates, encourage more sales with discounts, and more. 
This is a great email tool for marketers as it shows you your client's open rate, and what their customers are clicking on, plus other automation features like choosing who to resend emails to based on non-openers. 
View all of your client's Constant Contact data from unsubscribes to open rates and more in one streamlined marketing dashboard from AgencyAnalytics.
If your clients have eCommerce businesses, Drip is a great tool to use. Their platform lets you create forms and popups to convert drive-by web traffic into customers, build HTML emails from pre-built templates (or custom builds), send automated SMS, and more. 
Drip stores customer data to tailor content for individual customers, recognize when they take key actions, and engage with perfectly timed messages. 
Connect a client's Drip account to the AgencyAnalytics' powerful reporting platform and watch their real-time Drip data–like Lifetime Value, Tag performance, and Subscriber Count–aggregates into live marketing dashboards. 
Turn your Drip dashboards into custom white-labeled reports your clients will actually enjoy. Start your AgencyAnalytics 14-day free trial today.
Klaviyo is another great tool to use for your eCommerce clients. This platform makes it easy to create deeper, higher-value customer relationships through email marketing and SMS campaigns. 
Klaviyo lets you get the full story on every customer visit–what they're clicking on, what is causing them to bounce, and what makes them buy. Segment a variety of customers, build automated sending schedules, and more. 
Combine your client's Klaviyo metrics with their other marketing platform metrics in one report to give them a picture of their overall marketing performance.
The AgencyAnalytics widgets showcase their Klaviyo metrics in an intuitive "at-a-glance" format that is easy to understand.
Mailchimp is an all-in-one marketing platform that helps your agency manage and talk to your clients, their customers, and other parties. Their platform offers professionally designed email campaigns paired with data analysis tools to inform your email marketing efforts.
Mailchimp is a web-based application. It can be used just like a website or with any web browser without needing to download or install software programs on your computer. It also offers mailing list management, template creation, segmentation, automation, and more. 
Instead of jumping from each of your clients' marketing tools when it comes time to complete their monthly reports, save your agency's time by using one reporting tool–AgencyAnalytics. The platform pulls your clients' Mailchimp metrics, social media metrics, and more, in one place.
Use this email analytics report template to showcase your client's data in a visual way. Start your 14-day free trial today to start streamlining your agency's reporting process.
Digital Marketing & Process Automation Tools
Streamline your agency's workflow by automating the processes that make the most sense with a digital marketing reporting tool. These marketing and process automation tools will be extremely valuable as your agency grows.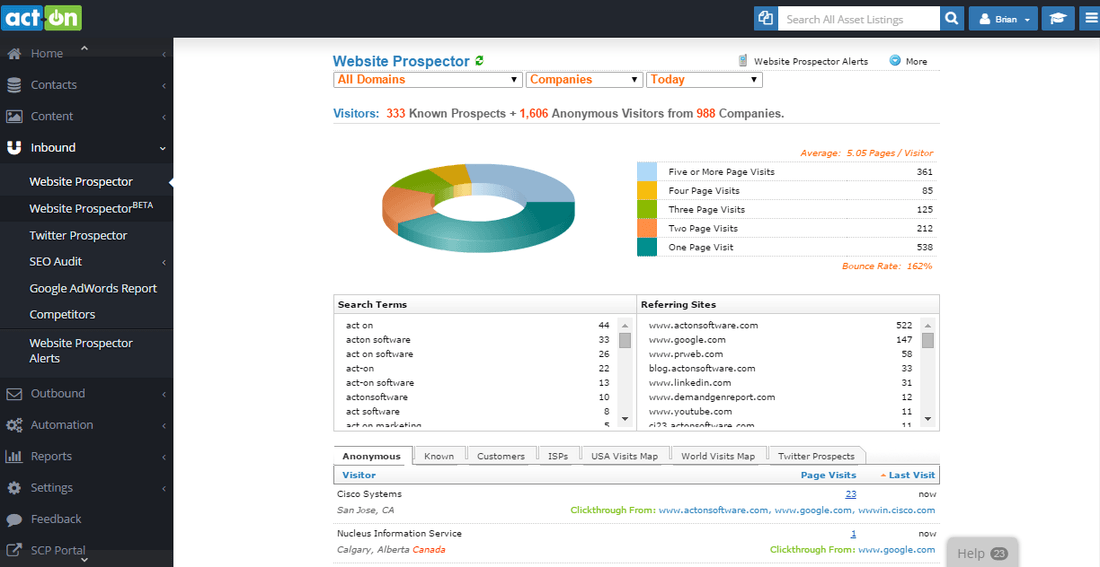 Act-On is a marketing automation tool, that helps it enables you to improve numerous aspects of your client's campaigns, such as:
Inbound marketing: Maximize customer awareness and convert unknown visitors to prospects.

Outbound marketing: Segment, score, and nurture contacts and target accounts.

Sales effectiveness: Use sales intelligence to increase sales and revenue while minimizing sales cycle duration.

Proving marketing ROI: Learn which marketing programs and campaigns directly influence your client's revenue and growth goals and to what extent.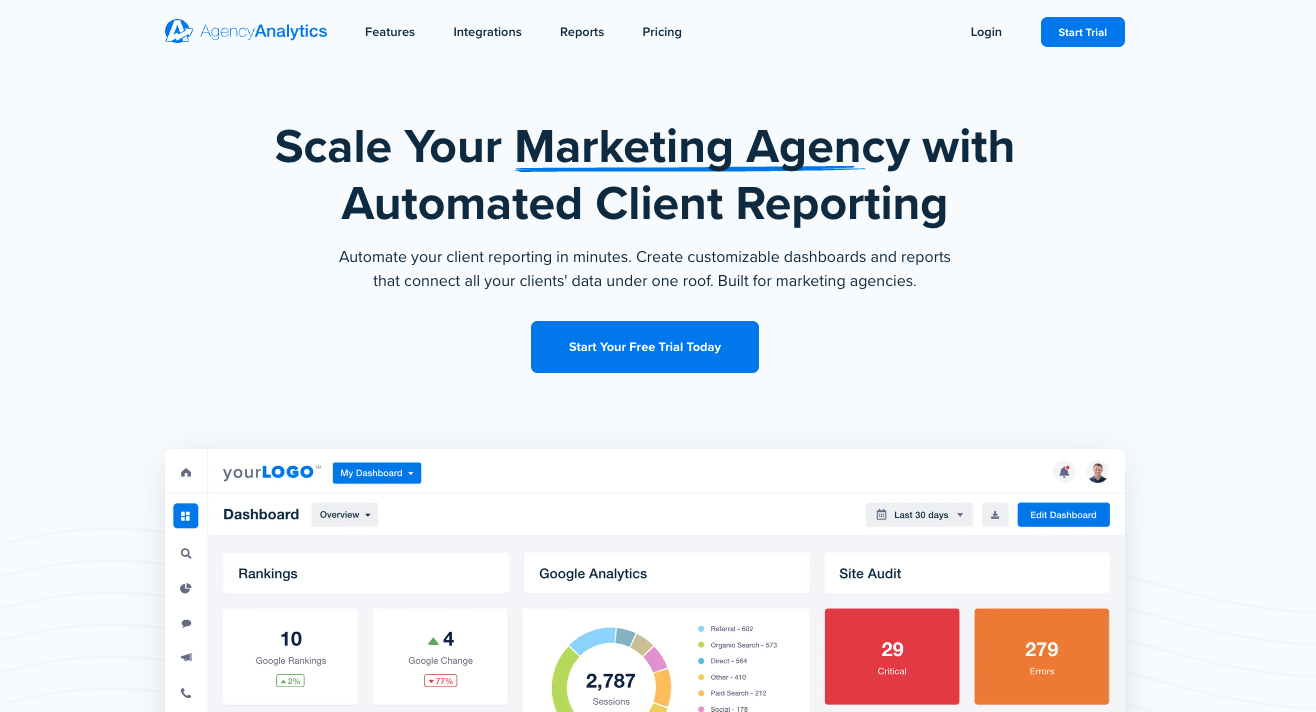 If you're looking for an all-in-one reporting platform for all your reporting needs, you've found it. Combine a variety of marketing platforms into one simplified dashboard to monitor your client's campaigns. Some features include: 
SEO tools: rank tracking, SEO auditing, backlink monitoring, competition analyzing, and more

PPC tools: with over 75 integrations; monitor your client's budget across multiple platforms including Google Ads, Facebook Ads, Shopify, LinkedIn, and more Automated reports: put your reporting process on autopilot and have them delivered right to your client's inbox

Create custom, shareable drag-and-drop dashboards for your clients to see their most important KPIs

Create white-label SEO reports with your agency's logo, color scheme, and domain
Connect all your client's marketing tools to monitor and report on the most important metrics. Create your client reports within seconds with AgencyAnalytics using proven report templates!
Zapier is a web automation tool that connects your favorite apps together to help automate tedious tasks. With Zapier, you can easily connect two or more apps to create powerful workflows without any coding knowledge. For example, you could use Zapier to automatically add new leads from your CRM into your email marketing software to follow up with them quickly.
Conversion Optimization Tools
We can bet a high majority of your clients are looking to increase their conversion rates. If this is in fact, one of their KPIs, check out the following conversion optimization tools to start generating more leads for your clients.
Unbounce builds mobile-responsive, high-converting landing pages, website popups, and sticky bars.
Create dedicated landing pages that drive more leads and revenue from your client's pay-per-click campaigns.
Over 15,000 brands have built their landing pages with Unbounce, including Vimeo, Hootsuite, and Shopify Plus.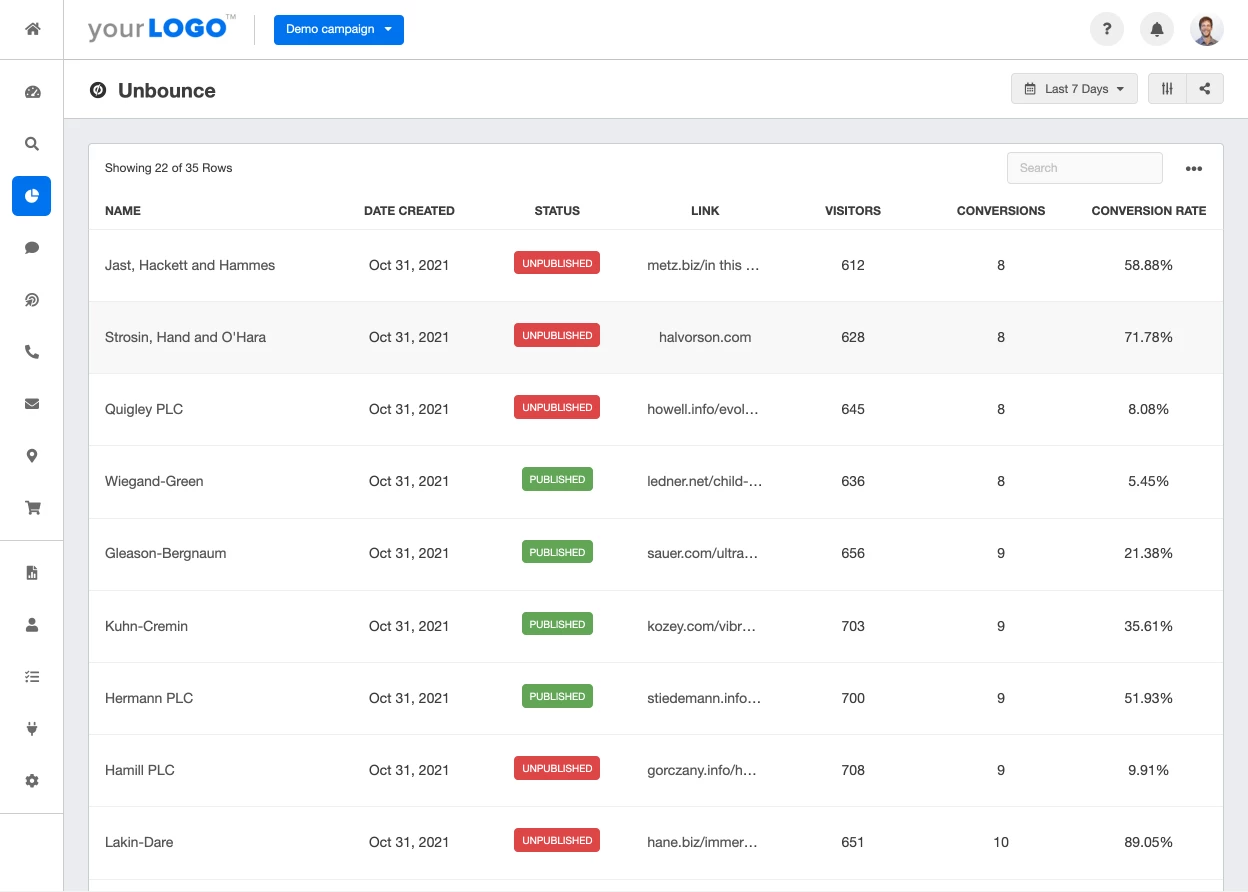 Keep track of your client's landing page performance, conversion tracking, lead information, and more in one convenient dashboard by using the AgencyAnalytics Unbounce integration. 
Start your AgencyAnalytics 14-day free trial to save your agency's billable hours.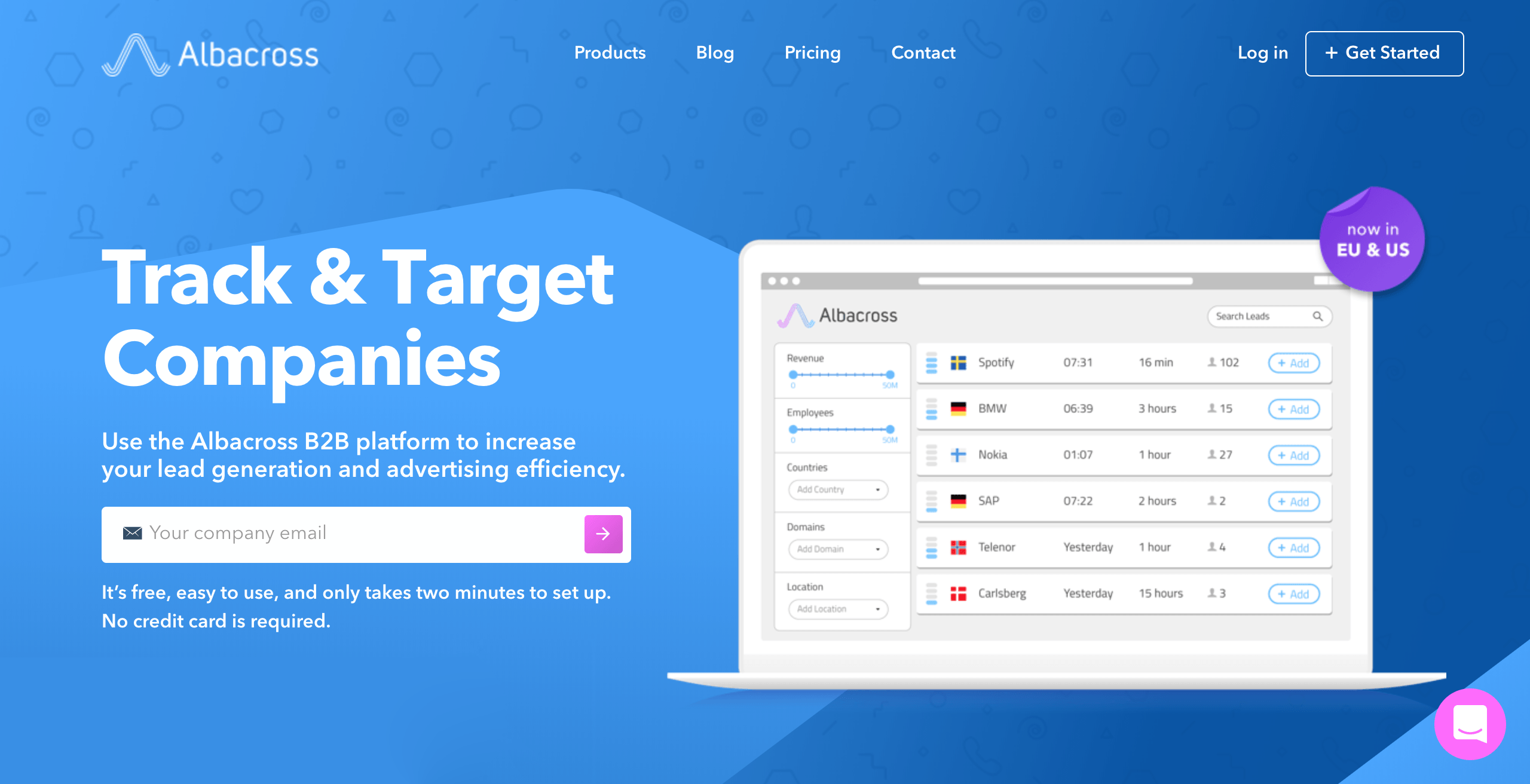 If your client wants to generate more leads (who doesn't), using Albacross is a solid option.
With it, you can increase your B2B conversions by finding out who is visiting your client's website and how you can reach them to land a deal. Also, you're able to see the most engaging pages for your client's visitors and company information that helps their sales team engage with them more effectively.
Moreover, Albacross improves your account-based marketing by helping you use personalized ads to target companies and influence decision-makers. This could be the perfect opportunity to make business suggestions that showcases your agency's value simultaneously.
The WhatConverts tool offers complete lead tracking and reporting software, including full-featured call tracking & lead analytics. It helps agencies capture leads of all conversion types beyond call tracking such as form tracking, eCommerce, chat tracking, and more.
WhatConverts also has keyword call tracking for your clients' PPC ads that reveal which campaigns are working best. They have different pricing models that appeal to agencies of all sizes, including a free trial.
Simple call tracking doesn't always tell the whole story. Present clients with a holistic analysis of all of their leads with the WhatConverts integration.
Add your client's WhatConverts metrics to a larger marketing dashboard to get a full picture of all their campaigns in one place.
Mailshake is a sales engagement platform that helps salespeople create highly personalized outreach cadences using email (via your professional email account), social, and phone. Upload a list of prospects with personalization fields like name, links to social profiles, phone numbers, and even fully personalized sentences and paragraphs.
Once you publish the cadence, the messages are sent automatically according to your client's campaign settings and can be paused automatically if a recipient replies or clicks a link.
When a lead engages with your outreach, you can reply to them directly from Mailshake or through your own email. You can also track your client's campaign performance in real-time and see which messages in your cadence have the best engagement.
formcarry is a user-friendly form processing solution designed to capture leads, gather insights, and streamline the workflow of marketing agencies. This software offers a seamless way to manage web forms without any server-side code, allowing for quick and efficient form integration on websites. With its advanced analytics, formcarry provides valuable insights into form performance, helping agencies optimize their strategies based on real-time data.
Key features include an intuitive dashboard for easy form management, automatic spam filtering to ensure data quality, and flexible webhook integration for seamless connectivity with other tools and services. formcarry also supports custom auto-responses, allowing agencies to maintain consistent communication with their clients.
formcarry's standout capabilities is its robust API, which facilitates custom integrations and automations tailored to specific agency needs. This flexibility makes it an ideal choice for agencies of all sizes seeking to enhance their digital marketing offerings.
CRM Software Tools
When reaching out to your clients, whether you're meeting and interacting with them in person or digitally, you need to be professional if you plan on building long-term, trusting relationships.
Use these tools to stay on top of your game and create great relationships that reflect your brand.
True to its name, Hunter enables you to find email addresses in the blink of an eye and connect with people who can help you grow your business.
With Hunter, you can:
find the email addresses of the people who matter to your business

verify the deliverability of any email address
This tool browses more than 200 million email addresses to find the ones you need, collecting and distributing them in the Domain Search with indicated public sources and discovery dates, thus promoting data transparency.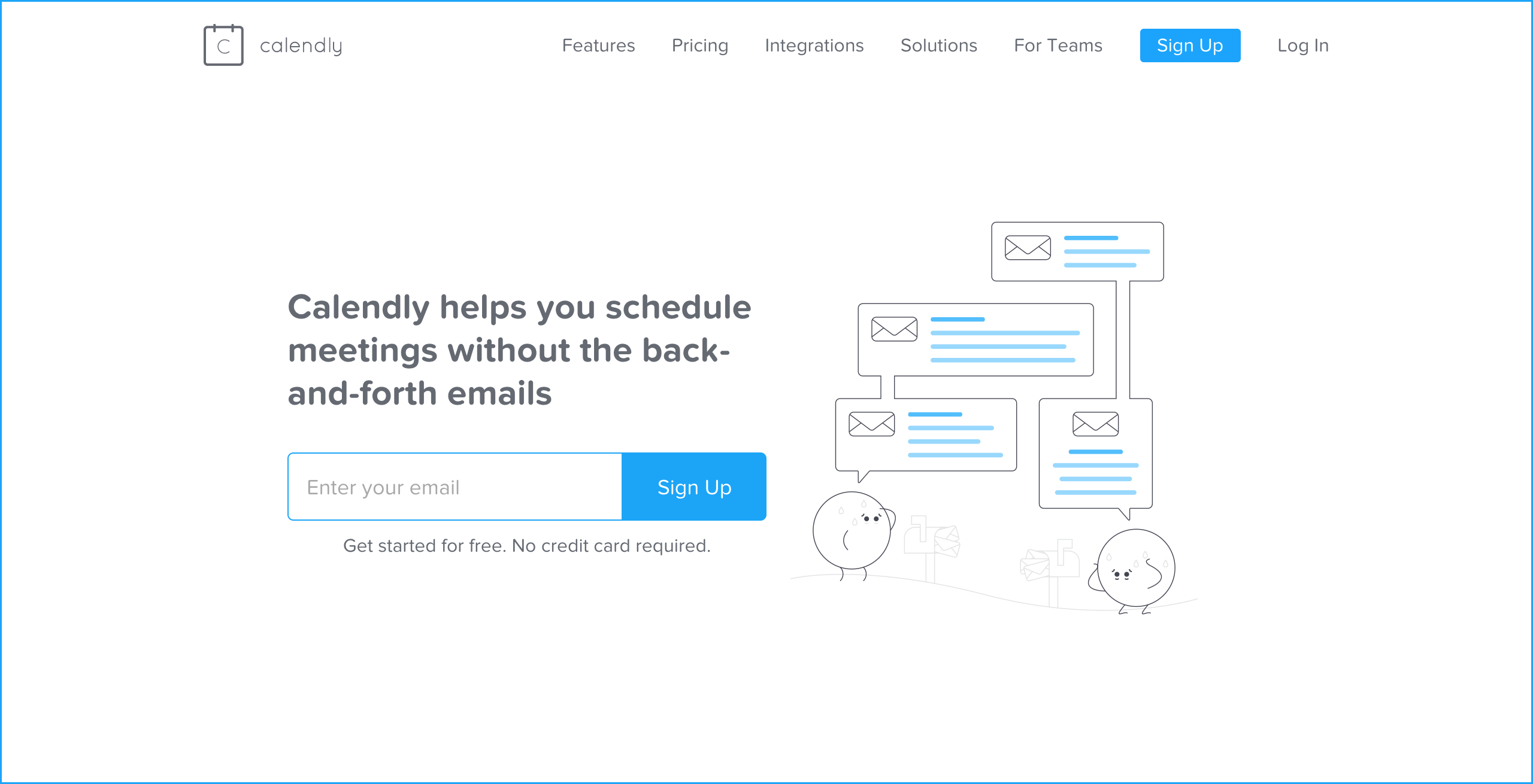 Schedule meetings without the back-and-forth emails by using Calendly.
You only need to share your Calendly links and let your invitee pick a time. Then, the event is added to your calendar.
Calendly is:
very flexible, allowing for various types of individual and group bookings

easily integrated with calendars, apps, websites, as well as APIs and webhooks

customizable, offering buffer times, custom event times, notifications, and other options

enjoyable and user-friendly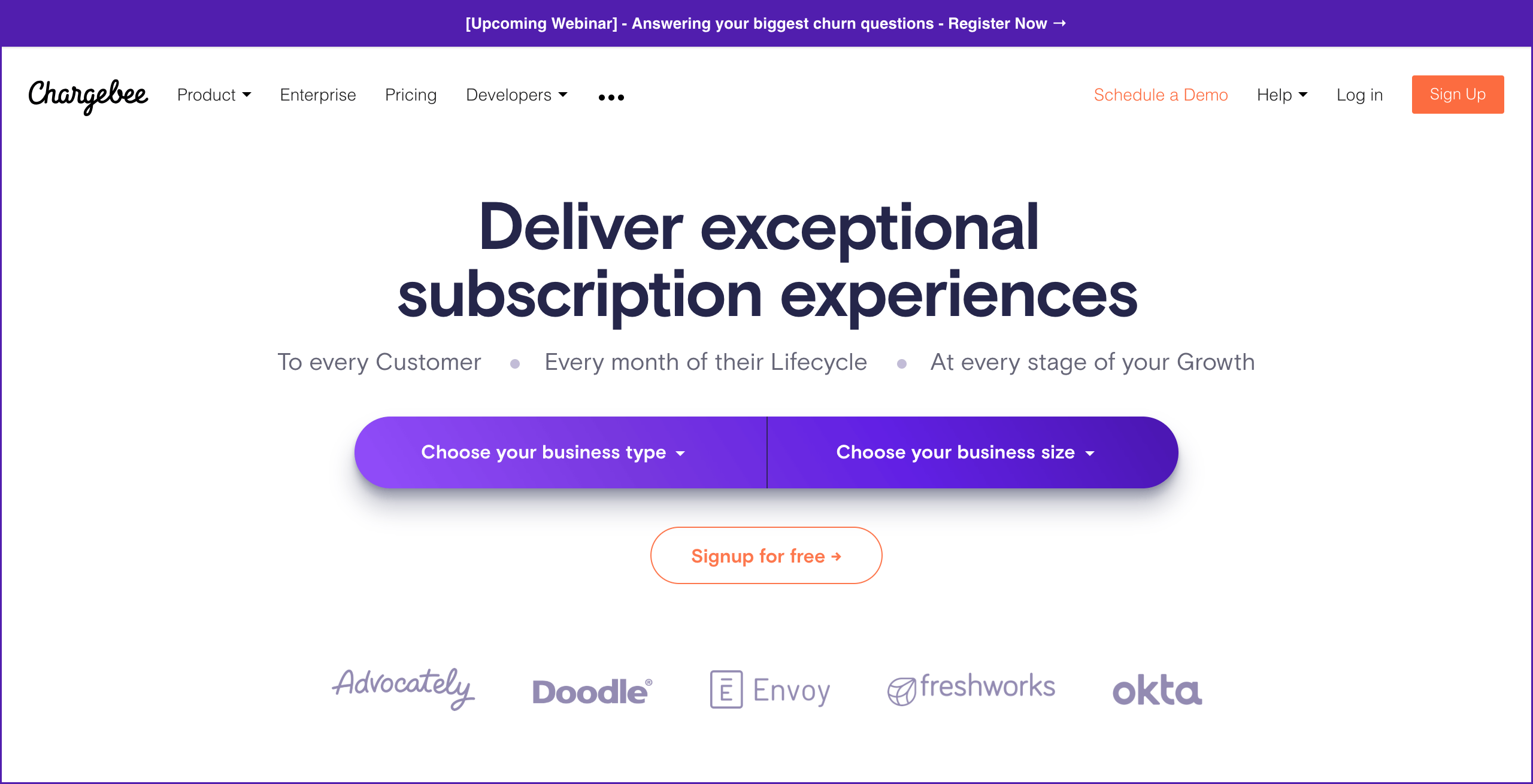 Chargebee helps over 7,000 companies around the world to increase subscription growth and recurring revenue while taking secure payments and simplifying your agency's accounting processes. 
Forecast business growth and recognize your agency's revenue accurately with Chargebee. This tool offers churn reporting, helps you adjust your price structures, and more. Test out your subscription services with a customized demo that addresses your agency's workflow pain points.
Right Inbox saves you time on repetitive tasks and helps you send better emails in less time. Join more than 250,000+ professionals that have added Right Inbox to Gmail for next-level email productivity.
Right Inbox's most used feature is the send later feature, which is great when dealing with clients in different time zones. Write emails now, scheduled to be sent later for perfect timing. Instantly align with schedules of remote contacts with time zone support.
Right Inbox's other powerful features include: Switching between different email signatures, insert a templated message, set up an email sequence, email tracking, and reminders.
HubSpot is a CRM platform that connects everything scaling agencies need to deliver an optimal customer experience from one place. It has a variety of useful capabilities, including lead generation tools, keyword tracking, content solutions, and more.
For example, the HubSpot blog content writer leverages AI technology to generate high-engaging blog content, making it an excellent tool for marketing agencies looking to streamline their content creation process.
From an analytics perspective, HubSpot is also a great way to keep track of where your potential clients are coming from–your website, social media, etc. 
Connect your client's HubSpot account with the HubSpot integration to reduce your agency's reporting time. AgencyAnalytics puts HubSpot data alongside powerful SEO tools and integrates with 75+ other digital marketing channels: 
Save time, impress clients, and handle all your reporting and daily workflow in a single white-labeled platform. Start your free 14-day trial today.
Build marketing campaigns while managing customer relationships with Salesforce. Keep track of the customer journey and provide a personalized experience with email campaigns, SMS messaging and push notifications, social media engagement, real-time chats, and more.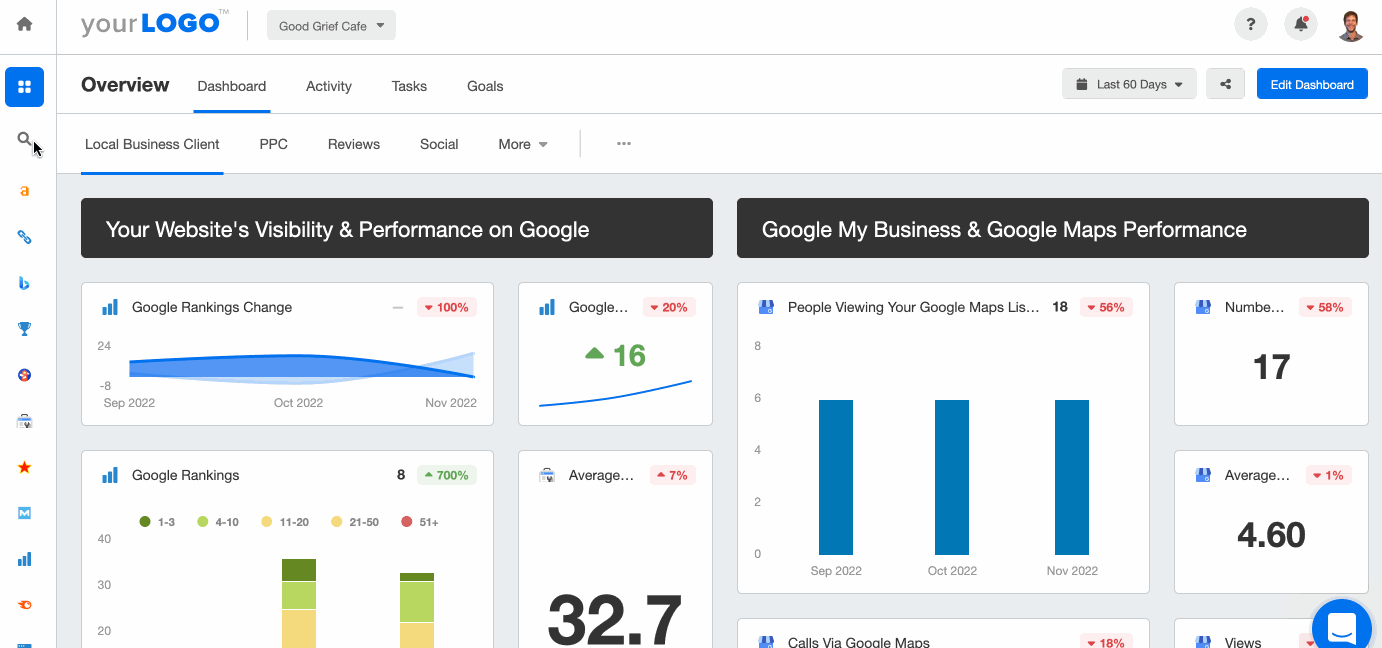 Create a complete picture of your client's revenue pipeline by consolidating their Salesforce data into AgencyAnalytics' powerful marketing dashboard and reporting platform.
Keap helps marketers collect leads and convert them into customers for their clients. This CRM software has countless features that help save time like organizing leads, built-in invoicing, plus checkout cart features to increase conversion rates and average cart values. 
Highlight the value your agency brings by using the Keap integration in your client's marketing reports.
Drag and drop key metrics including the total number of payments, subscriber growth, and month-over-month revenue to the forefront to give your clients the details they want to know.
SharpSpring is an all-in-one platform that offers marketing automation combined with sales automation and CRM tools. Keep track of leads, activities, opportunities, custom fields, lead scores, and more all from one place.
SharpSpring offers a real-time lead-scoring tool that identifies hot prospects in the CRM platform. The score leads are based on engagement, page tracking, fit, and completeness of the information and can then be sent targeted messages to match.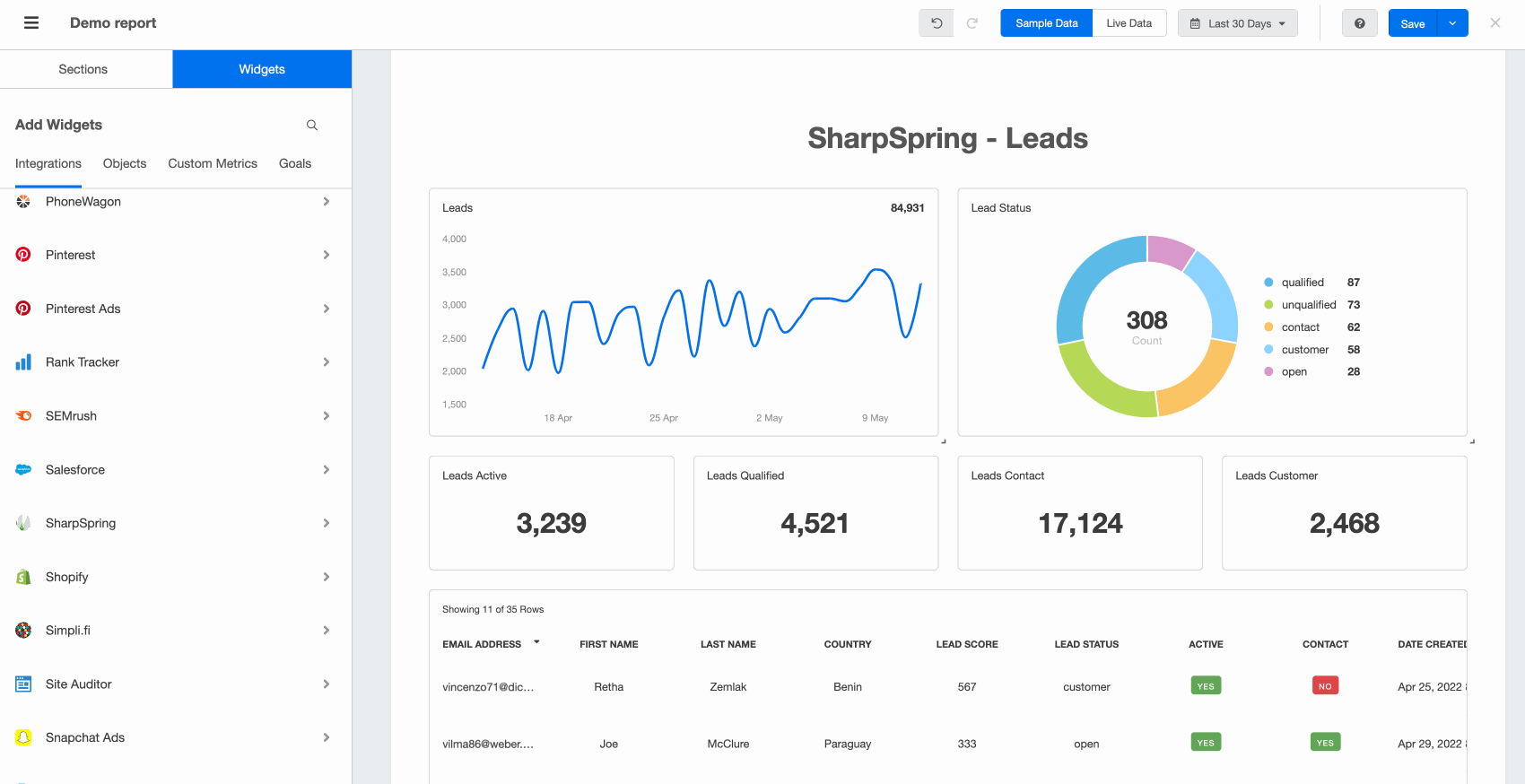 With the SharpSpring integration, your client's real-time data aggregates into a powerful yet intuitive reporting platform that clients can easily understand.
HighLevel offers an all-in-one sales and marketing platform designed specifically to help marketers and agencies succeed.
With HighLevel, agencies can:
Capture leads using comprehensive websites, landing pages, surveys, forms, and an integrated appointment scheduling system.

Nurture leads into customers with automated multi-channel follow-up campaigns, covering Phone, Voicemail, SMS/MMS, Email, and Facebook Messenger.

Streamline their workflow using built-in Pipeline Management and a Stripe payment integration.
Pull your clients' HighLevel metrics into AgencyAnalytics quickly and easily with the automated HighLevel reporting integration.
Project Management & Collaboration Tools for Marketers
You can't run a business without people in it. To achieve outstanding results, you need to collaborate efficiently and ensure your entire team is on the same page.
Build, manage, and organize your team with these tools: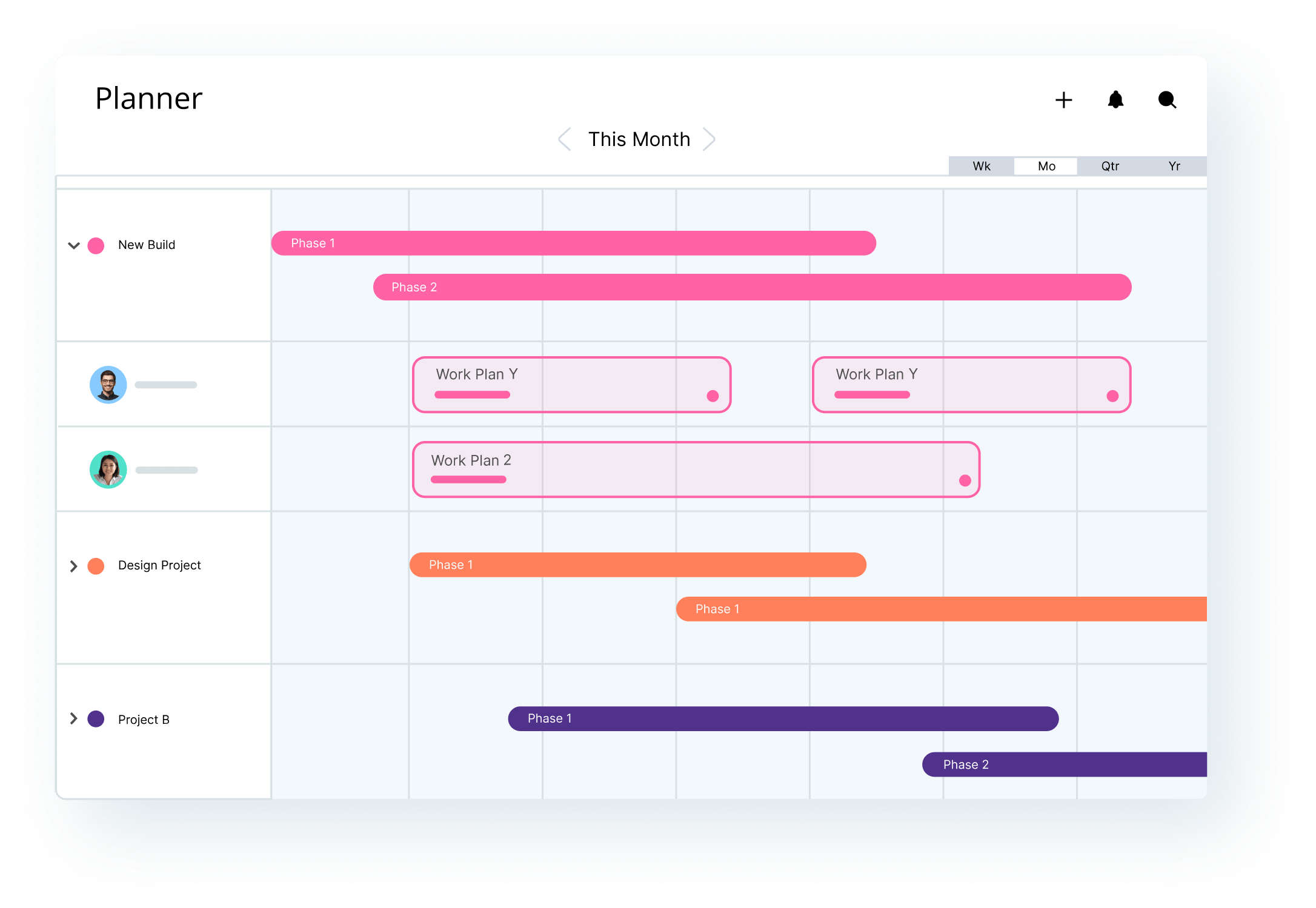 Mosaic is the only combined project and resource management software purpose-built to improve utilization rates and increase profitability for agencies. Core functionality includes:
Resource Planning: See who is working on what and when, manage capacity, and get AI-powered suggestions to assemble the best project teams quickly. 

Workload Forecasting: Get workload under control and strategically plan for the next quarter and beyond. 

Demand Analysis: Know exactly when to hire and when to bring in more work–before everything is urgent or everyone is burnt out. 

Profit & Loss Analysis: Identify which projects are the most profitable.

Budget & Time Tracking: Track project times, fees, billing, and profit in one place. 

Project Management: Integrate with existing task or project management software to improve project visibility or use Mosaic's project management features. 
Whether online or in an office, building a high-performance team can be very tricky. Slack is one of the best remote working tools you'll need. It's a collaboration platform that allows communities, groups, or teams to work together. When a team admin or owner wants to invite a new user, they just need to send them a specific URL or invitation.
Team members are able to communicate through public channels without using email or group (SMS) texting. However, if a part of your team has a small project to work on, it can use private channels for a private conversation.
Finally, Slack can be integrated with Google Drive, Dropbox, Box, Heroku, Trello and other major platforms to enable your team to have a seamless flow of work activities.
Asana is a project management tool that helps teams track their work and get things done. It's simple to use and easy to get started with, but it also has powerful features for more advanced users. Asana is used by some of the world's leading companies, including Airbnb, Facebook, Google, and Uber.
Asana is free for teams of up to 15 people, and there are paid plans for larger teams. Asana has native apps for iOS and Android devices so you can stay connected to your work even when you're on the go.
Zoom is a great communication tool because it's easy to use and has a variety of features that make it ideal for online meetings and video conferencing. The software offers high-quality audio and video, as well as screen sharing and collaboration features that allow users to work together on projects in real time. Zoom is also very affordable, making it a great option for any size of agency.
Scoro is ideal for agency business management because it helps agencies keep track of their projects, clients, and finances all in one place. It also has features that help agencies manage their workflow and collaborate with their team members.
Agencies use monday.com to stay organized and keep track of their work. It's technically a project management software but think of it more like highly customized spreadsheets.
Team members can log on, see the tasks they need to complete, give updates on progress, pass one project off to another person, and more. Its attractive interface and user-friendly capabilities make it a great option for agencies of all sizes.
Trello helps agencies visually manage their projects in one easy-to-use platform. Automate time-consuming tasks, collaborate with the entire team, and view the status of any project. It helps with a variety of tasks including internal process-based tasks like onboarding a new employee.
In a nutshell, Trello helps marketers visualize all of their projects and the detail needed to complete them. Attach files, write text descriptions, comments, and more to ensure everyone on the team is on the same page. 
Graphic Design Tools That Save Marketers' Time
These design tools help save your agency time while producing high-quality assets that are sure to impress your clients. 
Give any of these graphic design tools a try to streamline some of your creative services:
All of us are much more likely to buy a product if it has a great design. If you need to hire a talented freelance designer, 99designs is the place to search for them.
There are a number of freelancer platforms to choose from. 99Designs is great for design work specifically. Designers compete to meet your requirements. Then, you choose your favorite design and pay for it.
However, if you think that hiring remote workers is easy, you are wrong. Sure, it does give you numerous benefits, but it is completely different than a traditional hiring process, so you need to be careful, especially if you have never done it before.
Canva is an online graphic design tool that lets you create images for social media, websites, and more. Use it to enhance your clients' photography, edit them for websites, or choose from their extensive library of stock images. 
Canva also has other helpful features like uploading images directly to social platforms as well as templates for events, email marketing campaigns, and more. It's a great tool to use that has free and paid options available.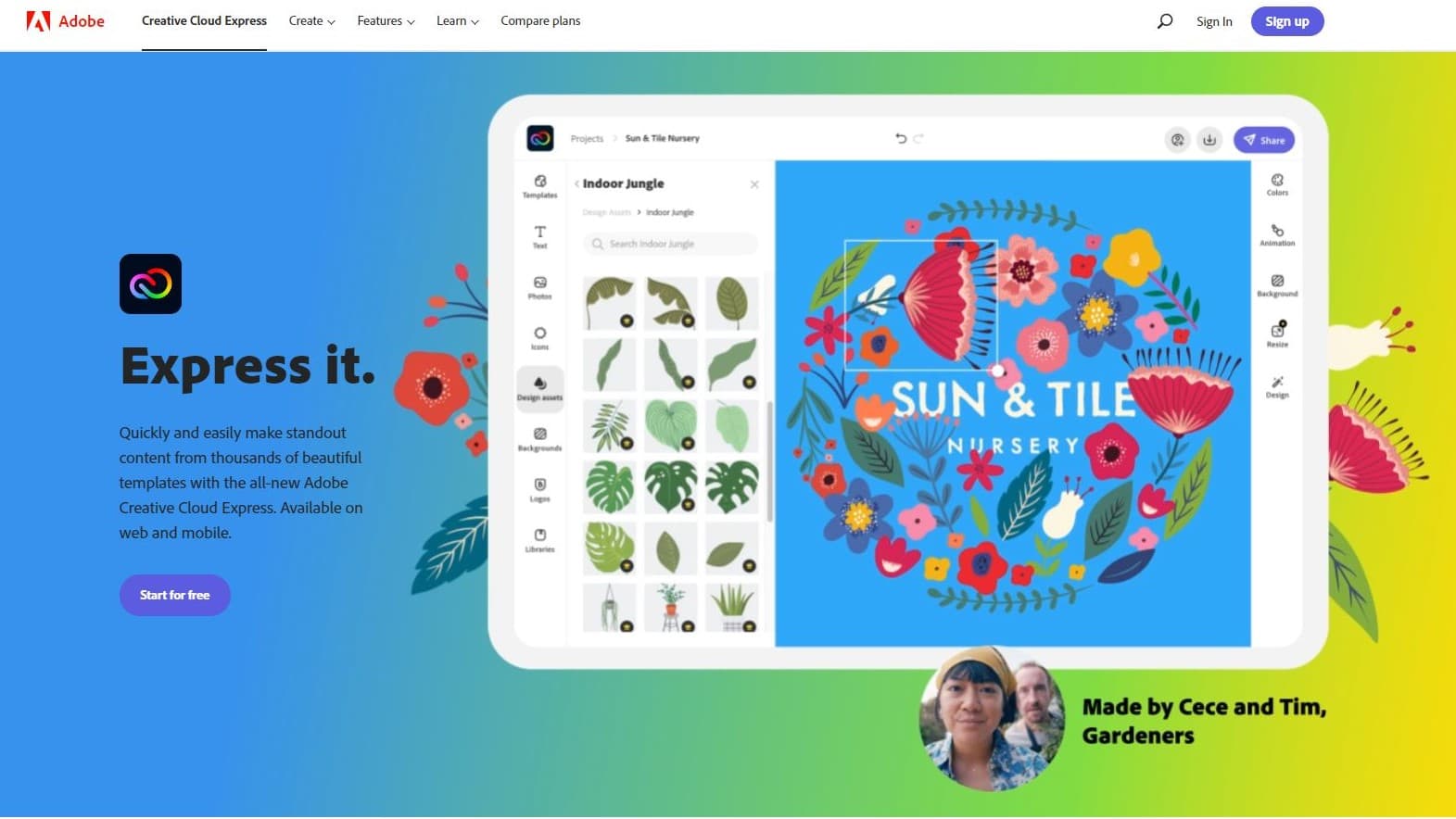 Adobe Express (formerly Adobe Spark) is an online Adobe tool for quick graphic design. It offers basic functionality compared to Adobe Photoshop or Illustrator, but it's a great alternative to a tool like Canva. 
The interface is user-friendly, and it's relatively simple to create a quick image your agency could share on social media. Add your client's main brand assets like logos, fonts, and colors, and Adobe Express will create a simple template collection for their brand. Ultimately, this tool is great for non-designers looking to build quick images for easy sharing.
What to Look for When Selecting Marketing Tools for Your Agency
Whether you're managing customer relationships, winning over leads, or uncovering new marketing opportunities, it's important to find the right tool that will work for your agency. 
So, where do you begin?
Think about what your agency needs most and if you can find it in one all-encompassing tool or if you need a few different ones. 
For example, does your agency have a large focus on email campaigns? Maybe a tool like HubSpot would work best for you to manage emailing efforts as well as customer management and more. But if you're helping the majority of your clients with landing pages and lead captures, a tool like Typeform might be best. 
At the end of the day, you'll want to keep a few things in mind:
What goal does your agency have in mind to best serve your clients? (Lead generation, social media management, etc.)

Does the price justify the value your agency will get out of the tool? Will you get a return on investment? 

Is there a trial period that lets you test out the tool before you sign up for a full subscription? 

Will the tool work for the majority of your client's campaigns or just a few? 
After you evaluate some of those key questions, you'll be able to make an informed decision on what tool will work best as you grow your agency.
More Marketing Agency Tools To Save Your Agency's Time
The best digital marketing tools are built to help your agency scale, impress clients, and win new business. Because you have so much to deal with as your agency grows, it's imperative to have a set of tools that will streamline as many processes and workflows as possible.
We've created a list of some of the best tools out there so you can focus on other aspects of your business:
📣 Social media listening tools
Bottom Line
Those were the best marketing agency tools that can help you effectively scale and build the best digital marketing agency. They cover a number of stages: building and managing your team, improving your marketing strategy, boosting your sales, and creating great relationships with people.
Use these tools wisely and patiently, and you will see your digital marketing agency achieve great results. Of course, there are many tools out there, so make sure you search thoroughly and find the best fit for your agency's long-term goals.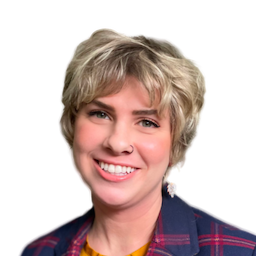 Richelle Peace is a joyful writer with a degree in Journalism. She loves writing web content, blogs, and social media posts. Whatever the topic, she's fascinated by learning and sharing.
Read more posts by Richelle Peace ›
Try AgencyAnalytics risk-free for 14 days. No credit card required.