As an agency, freelancers are your super weapon…and your Achilles heel.
With 64.8 million people in the US workforce now comprised of freelancers and numerous platforms that connect you to potential contractors, it's easy to get overwhelmed with where and how do I find a freelancer?
It doesn't matter how large your agency is or what kind of clients it serves; sooner or later you'll run into a problem that requires outside expertise. Hiring full-time people for such one-off projects is neither feasible nor recommended.
This is where freelancers come into the picture.
The hard part is filtering down to freelancers who are actually good at what they do and within your budget.
In this article, I'll show you how and where to find these "unicorn" freelancers.
First, we will identify your needs so that you know exactly where to look for a freelancer that is the right fit for your project.
Second, we will break down and review different freelancer website by type. Each platform type has its own advantages and disadvantages. I'll show you the the best freelance websites grouped by:
General Freelance Platforms

Niche-Specific

On-Demand

Job Boards

Matchmaking Services

Full-Service Vetting

Local-Oriented
Identify your needs
Before you start looking, you need to know what kind of freelancer you require.
"Freelancer" is a catch-all term that encompasses a large number of professionals varying in skills and expertise. It includes the $5/hour logo designer from Fiverr as well as the $200/hour ex-Googler software architect.
Therefore, when you say need freelancers, make sure to clarify what exactly do you need them for.
Start by listing out the following:
Skills: Identify the skills the freelancer should have. Try to be as narrow as possible ("Node.js", not "JavaScript"; "UI mockups", not "design").

Experience level: Figure out whether the problem is appropriate for a beginner, intermediate or advanced level freelancer. A beginner might be able to redesign a blog, but if you want to develop a complete enterprise app, you'll need someone with more experience.

Cost: Clearly state the upper bound of your budget. Make sure the experience level you are looking for and your budget align. Understand what is a realistic and fair budget.

Project Length: Is this a long-term project, one-off task, or low-level manual labor?

Location: Location will affect communication and cost. If this is a priority for you, identify it beforehand.
Once you identified your needs, you can start looking for freelancers.
Where to look for freelancers
Finding freelancers is largely a selection problem. There are hundreds, even thousands of freelancing sites, job boards and niche communities. Yet, they have little in common when it comes to quality, quantity and the kind of freelancers they host.
Despite this, you can still find great freelancers if you target the right platform for your project.
1. General Freelance Platforms
Freelance platforms are large scale, general-purpose marketplaces where freelancers and clients can connect with each other. These are the sites you are probably already the most familiar with and their are plenty of reviews available of these websites.
These sites are defined by their size; they routinely boast the number of freelancers they have on their platforms.
While you will get a lot of responses to a job posting, you may struggle to sift through to find the experience and work-quality you desire.
Outsourcely, for instance, is a popular platform with over 200,000 freelancers.
The Good
A. Large talent pool
Because they don't focus on any particular niche or skill-level, these platforms tend to attract a massive amount of applicants.
You can find almost anyone ranging from content creators, graphic designers, animators to coders and customer services agents.
For instance, here are some of the categories on Upwork for "writers & translators" alone: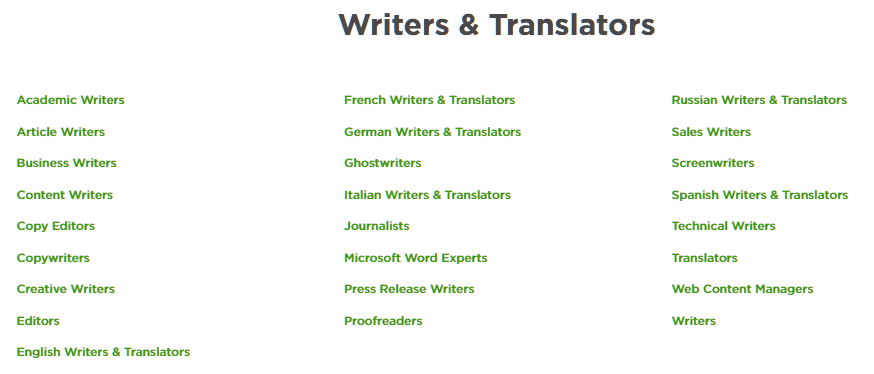 This is a serious plus for a large agency that wants to cover a number of requirements. Instead of juggling multiple sites, you can get your work done on a single platform.
B. Affordable
With the number of freelancers available, you can easily find someone within your budget. The bidding system – you put up a project and freelancers submit proposals along with a bid – also promotes competition among freelancers. This can further push down prices.
The Bad
A. Lack of screening for quality
The size of these platforms is both a blessing and curse. With so many freelancers on their platform, there are no checks and balances on quality.
You can have freelancers ranging from beginners to those with decades of experience. This leads to uncertainty on what you'll actually get when you hire someone.
B. Communication issues
Since these freelancing platforms are open to anyone, you will find applicants who don't speak your language or live in your time zone. This can cause a number of communication issues.
Some of these platforms also require that you use the built-in messaging system, which can further hobble communication.
List of general freelancing platforms
Here are some of the best general freelancer sites:
Best way to use general freelance websites
Although the quality tends to varry, there are a few use case scenarios that work best for these platforms:
Best place for budget projects and low-level tasks.

Simple projects that require fast turnaround. With such a applicant base, you can often find and hire someone within a couple hours of posting your job.

Find talented beginners looking to work for cheap in order to bulk up their portfolio.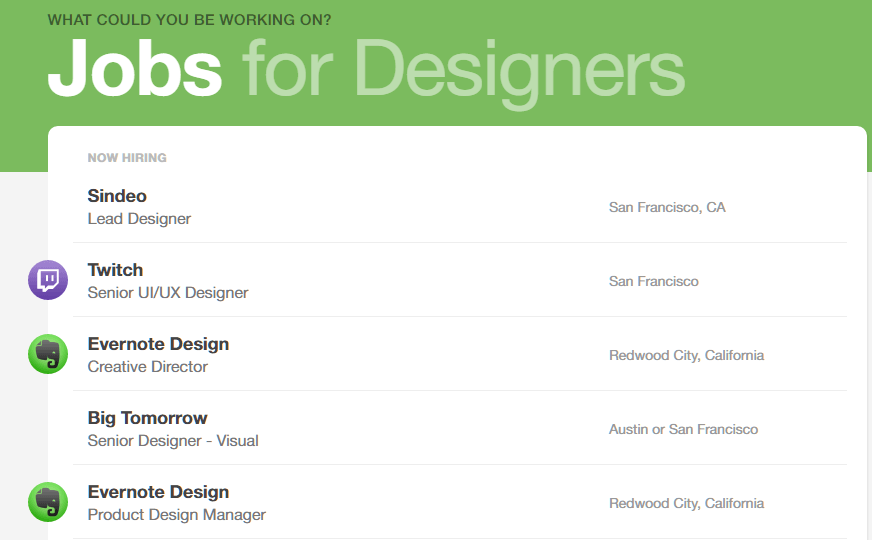 2. Niche-specific Freelance Platforms
These are skill (such as design) or niche (such as tech) focused platforms that attract talented people. When you know your specific project, it is often easiest to start on one of these platforms. They attract more experts and specialist for their industry.
Some niche-focused communities may not be focused on freelancing, but still a valuable resource for finding freelancers. For example, Dribbble started as a platform for designers to share their work. Now it is also a top website for employers to hire designers. Sometimes these platforms will have an associated job board. But if not, you can often post a discussion thread with your requirements.
The Good
A. High-quality applicants
Niche communities are largely inaccessible to beginners. While anyone can sign up, only those truly passionate in their field will go through the trouble to actively participate and showcase their work in order to improve. As a result, the quality of applicants will be usually high.
B. Existing portfolios
You can quickly gauge a freelancer's expertise by going through her portfolio or post history in the community. If someone responds to your job request on Dribble, for instance, you can quickly look at their portfolio to see their work.
This works the other way around as well. Some communities encourage employers to create their own profiles on the site. On StackOverflow, for instance, applicants can your existing employees who are on StackOverflow:
The Bad
A. Cost
The costs vary on these niche sites, but they are generally at a premium than your "generalist" websites. (Though that also comes with higher quality work.)
B. Filtering issues
Often there are less tools to sort and filter applicants based on their experience, price, specialty, etc. This can make the selection process even harder.
List of niche platforms:
There are countless communities for every niche. Here are just a few of them:
Developer
Design
Writing
Virtual Assistants
Best way to use niche freelance sites
Your best bet is to use these platforms to:
Find high-end freelancers quickly.

Ongoing freelance roles.
3. Job Boards
Before "freelancing" was in demand, 'traditional' job seekers made use of job boards (and they still do) to look for opportunities.
Job boards can range from large platforms for general-purpose hiring (like Monster.com) or small, niche-specific freelance sites for on-demand talent. Some might cater exclusively to freelancers while others focus on full-time recruiting.
More often than not, they serve as the classifieds section of your local newspaper: once you buy a spot, you are free to post any requirements. Ad spots can range from a few dollars to hundreds of dollars.
Some job boards (such as the ProBlogger job board) are attached to niche communities. Others, such as WeWorkRemotely function as stand-alone hiring platforms.
The Good
A. Decent quality applicants
Generally, job boards attract freelancers ranging in quality from moderate to high. They manage this either through a lengthy application process, or by being obscure enough to weed out unmotivated applicants.
There is usually an inverse relationship between the size of the job board and applicant quality. The more popular the board, the less quality applicants.
B. Relatively inexpensive
Most job boards aren't crazy expensive. The costs are also pretty upfront – you pay for an ad that typically stays on the freelance website for 30 days.
For example, listing a job on ProBlogger costs $70 which is a bargain for the quality of pool applicants you are exposed to.
On other freelance platforms, you (or the freelancer) are having a percentage taken from every paycheck. When you use a job board, it is only this one up-front cost, so its ideal for a long-term hire.
The Bad
A. Inefficient format
You can usually only exchange email information during the initial hiring phase which makes communication and applicant management very inefficient. Not ideal if you're hiring a lot of people.
B. No screening of candidates
Furthermore, there's no way to vet an applicant quickly.
You will have to view their portfolio without assurance that it displays their actual work.
C. Difficult to scale
Some job boards have a minuscule amount of traffic. If you're taking the job board path, you might have to post on multiple boards to get any decent volume of applicants. This can further exacerbate applicant management issues.
List of job boards
There are job boards covering nearly every niche and requirement imaginable. Here are some places to help you get started:
Best way to use job boards
Job boards can give you a good mix of applicant quality and volume – provided you pick the right ones.
Here are some tips on how to use them:
Use job boards mostly to hire long-term contractors

Create detailed ads and make sure that you developing a vetting process (such as a test assignment)

Consult the job board owners to figure out the average number of applicants you'll get
4. On-demand Marketplaces
Just as their name implies, on-demand marketplaces are platforms where an employer can buy a service as they would a product. The service is 'on-demand' – you only pay for what you need, when you need it.
Such marketplaces usually allow you to post your requirements and then match you with a competent freelancer or agency. In some cases (such as 99Designs), the marketplace makes freelancers compete for your work.
On-demand marketplaces are great if you want quick results with minimal involvement.
The Good
A. Easy to use
On-demand marketplaces sell themselves on being easy to use. You'll typically have a step-by-step, wizard-like process to post your job. Once the post goes live, the marketplace will follow-up regularly to keep you updated about its progress.
B. Fast Turnaround
Your project turnaround is generally faster with an on-demand service than going through a traditional freelance hiring process.
The Bad
A. Costly
While convenient, these marketplaces are only good for small scaled projects and can be costly. You also have to pay upfront, which can make agencies queasy.
B. Lack of custom projects
On-demand marketplaces usually sell themselves on end-products instead of skills. Thus, you don't hire a designer, you hire a logo designer. This means that there is little room to post custom requirements. You can typically only avail the services the marketplace already offers.
C. Variable Quality
On-demand marketplaces usually sell themselves on end-products instead of skills. Thus, you may find yourself with a freelancer with low skills. But this is usually very dependent on price. 99designs is more expensive, but reliable. Fiverr, on the otherhand, is very hit or miss.
List of on-demand marketplaces
Here are some on-demand marketplaces you can test out:
Best way to use on-demand marketplaces
On-demand marketplaces can give you a lot of options in a quick, efficient manner.
Here are some tips on how to use them:
Use them for one-off projects

Have a clear description in mind. You won't get won't you want if you can't accurately describe the project.
5. Matchmaking Services
You can think of matchmaking services as your own recruiter. They'll match you up with the right freelancer(s) to get your job done. They will also give you a dashboard to keep track of the progress and ease communication.
The Good
A. Hands-off approach
These services provide a hands-off approach as you don't need to be involved in every step of the recruitment process. Once you post a gig, the matchmaking service will work to find a fitting freelancer for you.
B. High-quality of work
Since most matchmaking services have thorough vetting processes, you only get access to industry-leading freelancers. This typically leads to quality work.
The Bad
A. Expensive
As with whenever there is a third-party involved, these services are expensive.
You'll have to pay a cut to these platforms for finding freelancers for you which eats away at your agency's margins.
B. Availability issues
And with a rigorous screening process which eliminates most freelancers, those on the platform will be busy. It's not unusual for the matchmaking service to take your project then find that there is no one competent available to work for you.
C. Lack of control over the process
Lastly, you'll have little control over the selection process. This is sold as a positive, but it can also be a negative if you have very specific requirements.
List of matchmaking freelance websites
An example of a matchmaking sites you can consider for your projects is Credo, which matches Marketing & SEO Experts.
Best way to use matchmaking freelance services
Matchmaking freelancer sites are great for hiring domain experts for complex projects

Use them for anything that requires significant hand-holding like a complete website or mobile app.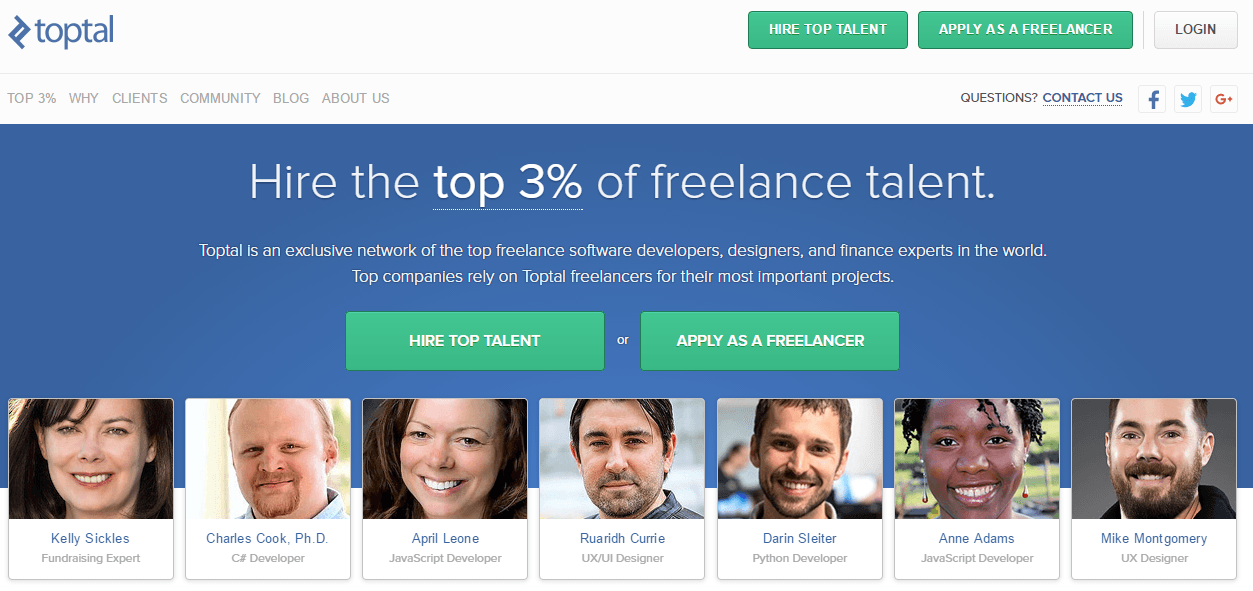 6. Vetted Freelance Platforms
Similar to a matchmaking service, vetted freelance sites help you find a qualified freelancer but without the middleman.
Every freelancer on the platform will be fully vetted before being able to apply to your job. You simply post your requirement and time frame.
The Good
A. Qualified Applicants
You only receive applications from freelancers that have already been vetted as an expert in their industry. This will help cut down on the total amount of time filtering through applications.
B. Retain Control
You still have control over the hiring process. You decide who is the right fit for you, unlike with matchmaking service that does it all for you.
The Bad
A. Expensive
These are the experts in their industry. Expect to pay a premium price.
List of Vetted Freelancer Platforms:
More and more freelance platforms are going this route, and curating their list of available freelancers. Here are a few of the best to get you started:
7. Local-Oriented Platforms
While technology and new tools make it easier than ever to communicate with remote workers across time zones, you may still prefer to hire someone local.
Most cities with an active tech community will have an industry job board for both full-time jobs and freelancers in the area.
The Good
A. Easy Communication
Knowing you are in the same time zone or can even meet in-person to go over project details may save you a lot of hassle. There is still a great benefit to hiring locally with a team you can meet.
B. More Availability
Besides being able to talk within the same timezone and meet in person, there may be project requirements where it is necessary to meet in person. A Virtual Assistant might not be able to coordinate a company meeting. A local personal assistant can.
The Bad
A. Less Options
If you decide to stick local, you will have a smaller applicant pool. This will vary greatly depending on your city. In some places, it may not even be an option if you are looking for a very specific skill set.
Local Freelance Websites:
For these sites you are going to need to search for you city-specific. For example, Denver and Boulder have a job listings for tech and startups (including a list of available freelancers) called Built in Colorado.
Search to see if your city has something similar.
For general tasks in your area, TaskRabbit is a great platform with vetted "helpers". They have added business admin to their wide list of available services too.
Bonus: Facebook groups
There is one last source for freelance talent that is in a category of its own - Facebook groups.
Facebook is a growing source for freelancers. Every city, niche and skill has groups which can be a fantastic source of applicants.
To find Facebook groups, just search for your industry or skill, then filter out the results to only include groups.
You can also search for hiring-focused groups by using search terms like "freelance designers" or "writers wanted".
The best part for hiring on Facebook groups is that it is free to post and no commissions. In the right groups, you can find a lot of talent.
A few things to keep in mind before you post on Facebook:
Abide by the group's rules. Make sure the group allows job ads before you create a post.

Be a person, not a company. It fits Facebook's audience much better.
Over to You
Hiring freelancers is a great way to expand your agency's reach and expertise.
Finding the right people, however, can be a challenge. With an overload of options, it's okay to feel overwhelmed on how and where to begin your search.
Try to follow the strategies above to kickstart your freelancer-hunting efforts. Understand your requirements, hit multiple platforms to get a variety of candidates and develop a thorough vetting process to only recruit the best of the lot.
Joe started his career as a developer and since has created many internet businesses. He has now moved on to the position of CEO and has enjoyed all the challenges it has brought.
Read more posts by Joe Kindness ›
Try AgencyAnalytics risk-free for 14 days. No credit card required.