As an agency, freelancers are your super weapon…and your Achilles heel.
With a growing number of freelancers in the US workforce, there's certainly no shortage of talent to choose from. 
Agencies typically use freelancers when there's an overflow of work or a bit more expertise is needed (outside of their current skill sets or service offerings). 
We hire freelancers for overflow work, particularly for ad management, when our in-house ad managers are at full capacity. We also hire freelancers for web development and design services that are outside of our core offering.

Will Rico, Principal Consultant at CommonMind
But picking any freelancer just won't cut it, especially when you've got a packed agency roster and a reputation to upkeep. 
Because let's face it–your agency probably has a story (or two) about hiring the wrong freelancer. And what happens in those scenarios? Wasted spending, delays, and even pushback from your clients.
So the real question remains: where and how do you find the best freelancers? 
In this article, we'll break down the different types of freelance websites, how to narrow your search, and decide on the best freelancer for the job, 
Read on to learn about:
First Things First: What Are You Looking For?
You don't want to go around hiring any freelancer looking for work which is why you must identify your agency's needs beforehand.
Think about it–"freelancer" is a catch-all term that encompasses a large number of professionals varying in skills and expertise. It includes the $5/hour logo designer from Fiverr as well as the $200/hour ex-Googler software architect.
So before you start scouring through any ol' freelance website, start on the right foot by asking the following questions:
What types of skills should this freelancer have? Try to be as narrow as possible (specifying "Node.js" instead of "JavaScript" for coding jobs; saying "UI mockups" versus just "design").

What experience level is needed? Figure out whether the project scope is appropriate for a beginner, intermediate, or advanced-level freelancer. For example, a beginner might be able to redesign a blog. But if you want to develop a complete enterprise app, you'll need someone with more experience.

What's the budget? Clearly state the upper bound of your budget to keep transparency on the table. Ensure your budget is fair, realistic, and aligned with the required experience level.

Is this a long-term, short-term, or one-off project? Clearly identify the length of the project and any timelines you're working with (e.g., start and completion dates, time-sensitive deadlines).

Does the freelancer have to be in a specific location? For example, local SEO services outside of your agency's practice area may be best outsourced to a freelancer that's very familiar with a particular geographic location.

What are the terms of payment? You may decide that payment upon 100% completion is better for shorter project scopes. On the other hand, long-term projects may require payments at specific milestones.

How will performance be measured? When all is said and done, you need to know how a freelancer has performed, especially if you're hiring on a long-term basis.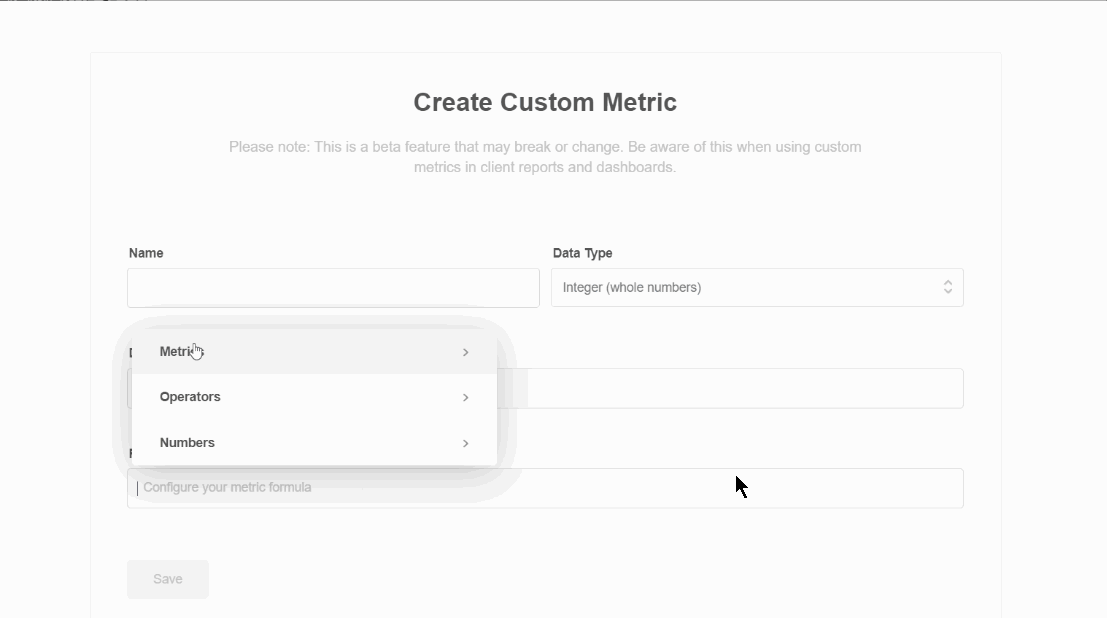 Need to understand how a freelancer's efforts are contributing to a client's marketing goals? Create a custom metric to calculate any significant upticks in performance–try it on AgencyAnalytics, free for 14 days.
The 5 Types of Freelance Platforms Your Agency Should Know
Finding freelancers is largely a selection problem. There are hundreds (even thousands) of freelancing sites, job boards, and niche communities. Yet, they all vary when it comes to work quality and the kind of freelancers they host.
Have no fear, though–it's more than possible to find the best talent once you choose the right freelance sites.
To break this down further, here are the five types of freelance platforms your agency should know about:
Type #1: General Freelance Platforms
If your agency needs freelancers to work on large-scale project scopes (e.g., to support ongoing programmatic advertising campaigns) or on a retainer basis, a general freelance platform is a great option.
General freelance websites also typically have a step-by-step, wizard-like process to assist with job postings. Once your listing goes live, you'll receive updates and track progress (another bonus). 
From developers to brand photographers, these general-purpose marketplaces function as a one-stop shop. That means you won't have to venture too far out to find multiple freelancers at a time or one freelancer with a diverse skill set. 
Pros and Cons of General Freelance Platforms
Before you decide on this type of freelance platform, here are a few pros and cons to consider.
| Pros | Cons |
| --- | --- |
| Access to a large talent pool | Lack of screening for quality |
| Affordability (especially if you're on a budget) | Potential communication issues |
General freelance platforms are definitely worth trying if your main priorities are having: 
A Large Talent Pool
Given the sheer volume of freelancers on these platforms, you'll definitely find what you're looking for. Need a design-savvy graphic designer or an experienced videographer? Got it (and there are probably a few options to choose from, too). 
And let's say you're working on a complex project for an enterprise-level client. Using a general freelance websites means you won't have to toggle between multiple freelance platforms. It streamlines your entire resourcing process. This means less hassle for your staff and more efficient agency processes. 
General freelance websites are also useful if you've got the time to trial and error with freelancers till you find the best fit. 
My #1 piece of advice when hiring freelancers is to start with a small project and build trust from there. Consider paying a freelancer for something small, even if you don't need the work done so that you can see the quality of their work and communication style before assigning a client task. 

Will Rico, Principal Consultant at CommonMind
Wondering how to test the real impact of a freelancer's performance over time? Don't resort to second guesses–use a data-driven approach and see what the numbers are saying.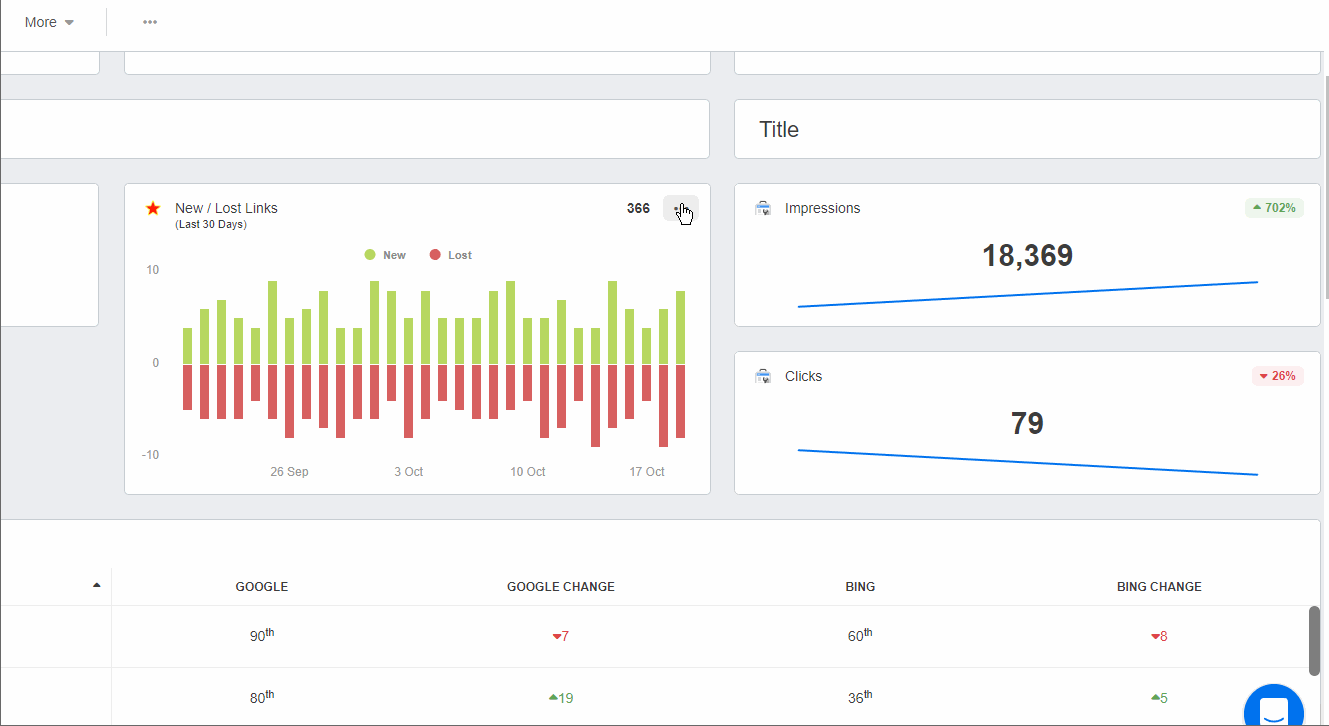 Need to understand the impact of your hired freelancer's digital marketing efforts? Contextualize the data by adding annotations and evaluating the big picture–try it on AgencyAnalytics with a free 14-day trial.
Affordability
If you're watching dollars and cents, you'll surely find a freelancer within your price range on one of these platforms.
It makes sense–having a significant number of freelancers to choose from means competitive bidding and prices. After all, many freelancers want to get the job and appeal to their target market (which includes your agency in many instances). 
While general freelance platforms certainly have their advantages, also keep in mind that there may be:
Lack of Screening for Quality
The size of general freelance platforms is sometimes a blessing and curse. Because of the vast number of freelancers, it's sometimes difficult to ensure quality or find exactly what you're looking for. 
Sure–you'll get that logo you paid for, but at what quality? That's the trade-off, especially if you're dealing with freelancers with a factory line, produce-and-go mentality.
And to top it off, you may also encounter freelancers with too much on their plate and not enough time to give your project the attention it deserves. As Will Rico, Principal Consultant at CommonMind, shares, "If a freelancer is slow in delivery for an initial test project, it is a good sign they will be slow for subsequent assignments."
If you're taking this route, check freelancer reviews for credibility and make your decision accordingly.
Make sure to read reviews, check their work, and interview them for culture fit and clear expectations ahead of any trial or contract.

Alex Faiers, Founding Director of Addictivity
Potential Communication Issues
Part of delivering effective work is having effective communication from the get-go. General freelance platforms attract talent from all over the world, which means there may be potential language barriers or even time zone differences. 
And then there's another challenge–how do you streamline communication? Sure–general freelance websites may have in-platform messaging. But your agency may already have a communication platform in place for all other business relationships (e.g., Teamwork, built-in messaging through a client reporting tool). 
This results in an added platform to monitor, which may result in reluctance from your staff and even freelancers themselves. 
Our top challenge when hiring freelancers is incorporating them into our project management systems. We use Teamwork, and some are reluctant to use communicate on that platform because they don't want to learn a different tool for each of their clients.

–Will Rico, Principal Consultant at CommonMind 
7 Top General Freelance Websites To Consider
To help you narrow down your options, here are the top general freelance websites to explore. 
1. Upwork
Your agency is probably quite familiar with Upwork. It's a valuable resource for sourcing global talent, streamlining the payment process, and monitoring project milestones.
We tend to keep going back to Upwork to find freelancers. The quality of creative talent you can find on there keeps improving, so for short-term projects, it's ideal for a quick and easy search to get someone in.

Alex Faiers, Founding Director of Addictivity 
2. Freelancer
The name is pretty self-explanatory–this is another powerhouse freelance platform that attracts a large talent pool.
Freelancer also has a verification process (for both employers and freelancers) to avoid any scams and 24/7 customer support.
3. Guru
Next up on the list is Guru. This freelance platform offers skill-matching (i.e., matching your agency with the right freelancer), a dedicated "workroom" for streamlined communication, and secure payment through SafePay. 
4. Peopleperhour
This comprehensive freelance platform offers neat features like "Hourlies" (which allows freelancers to offer fixed-priced services) and project matching. And so, Peopleperhour is useful if you're looking for one-off services at competitive prices. 
5. Freelanced
This freelance platform boasts an extensive talent pool and a wide range of categories to choose from. To get started, simply post your job to Freelanced, state how much you're willing to pay, and see who applies. 
6. Fiverr
You're probably already familiar with Fiverr–an on-demand marketplace that has over 300 categories to choose from (e.g., video and animation, programming) and quick turnaround times. 
This platform works particularly well for one-off or short-term project scopes, as freelancers offer their services at a fixed rate.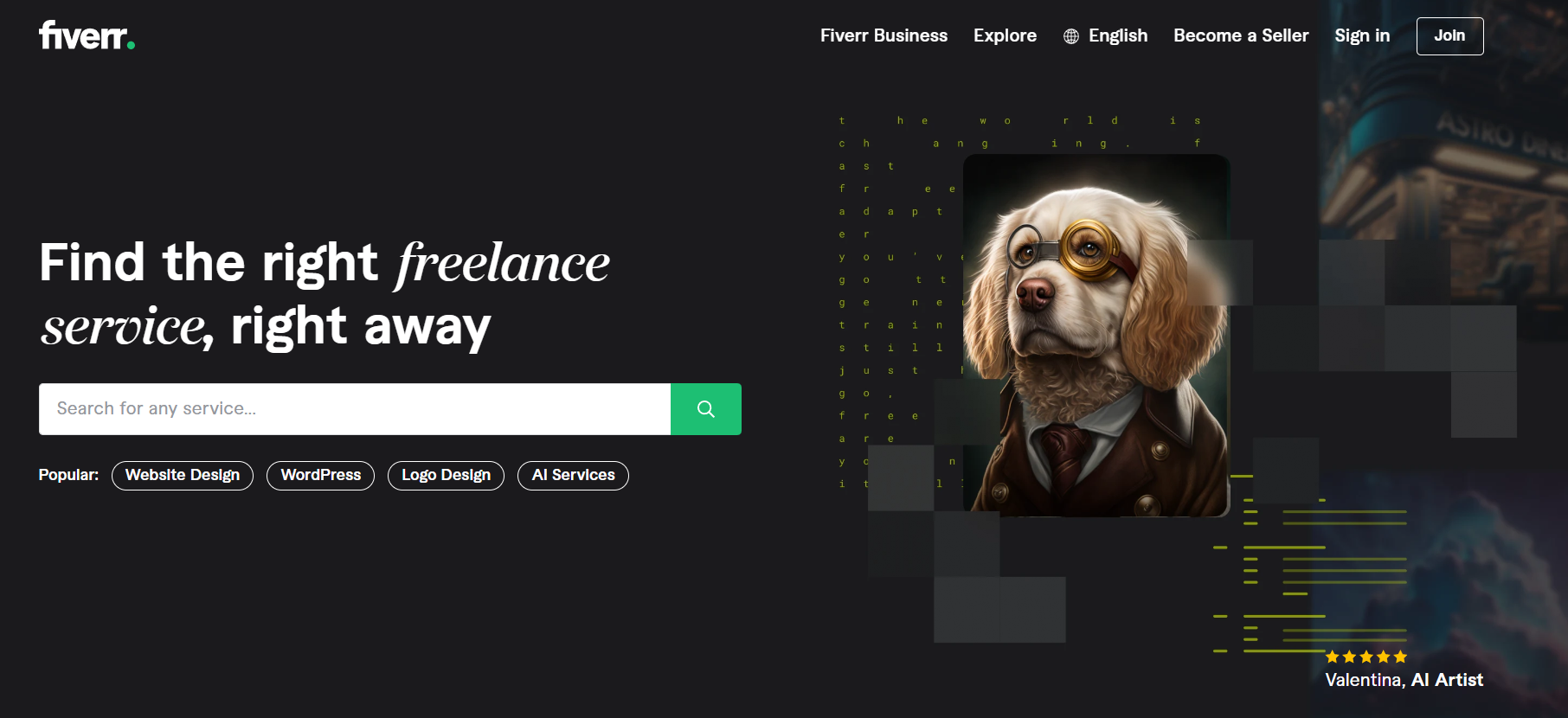 7. 99Designs
This platform focuses specifically on graphic designers and connects you to freelancers specializing in areas like logo design and branding. Additionally, 99 designs offers competitive pricing and a money-back guarantee if you're not satisfied with the work received.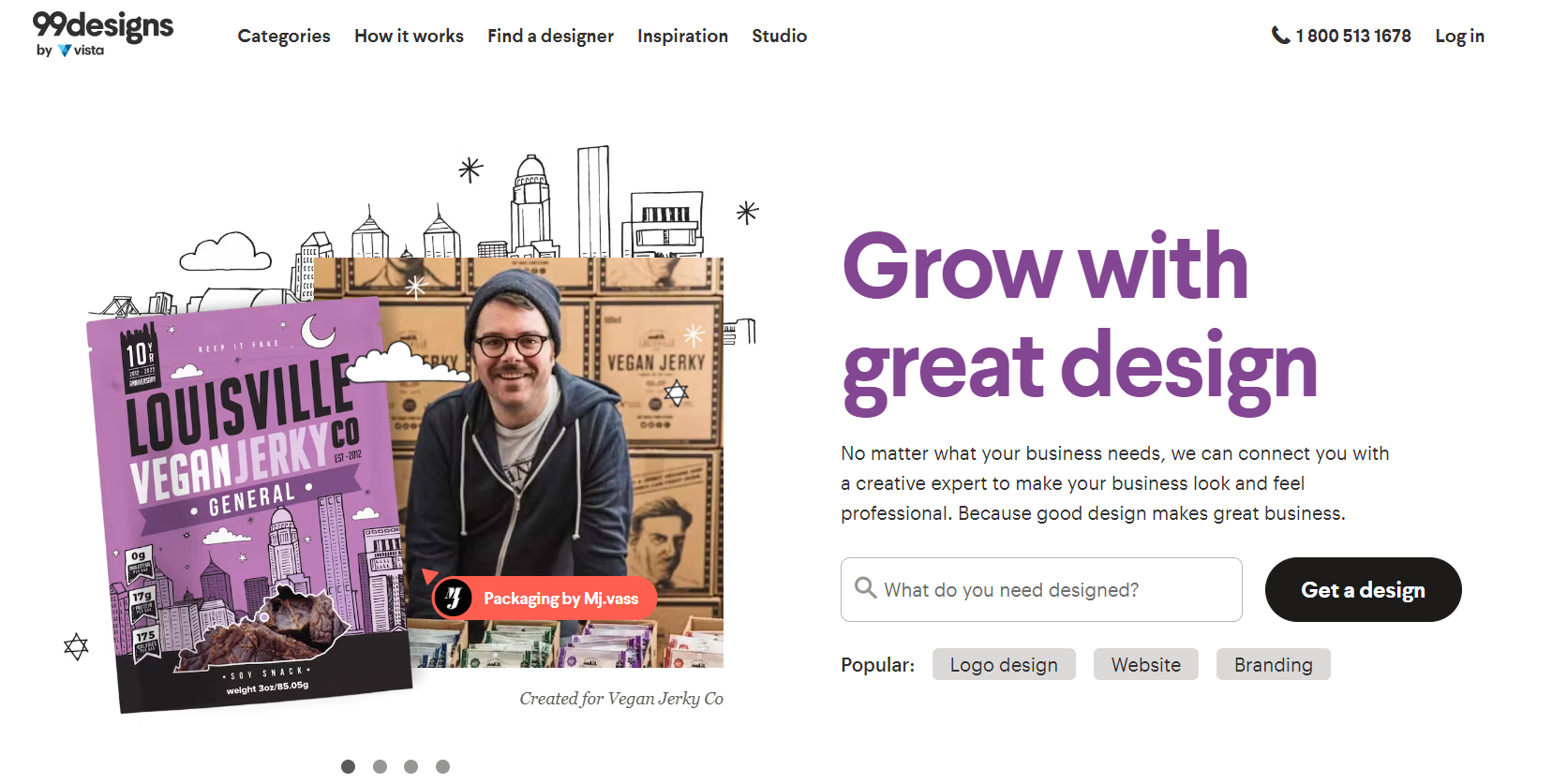 When To Use General Freelance Websites
Wondering when to use general freelance websites? They're handy for:
Instances where you're tight on budget and need many competitive freelance options to choose from. There are also more opportunities to hire beginner-level freelancers at cost-effective rates

Simple projects that require fast turnaround. With such an enormous  freelance base, you can often find and hire someone within a couple of hours of posting your job
Type #2: Niche-Specific Freelance Platforms
Let's say you're a niche agency with an overflow of work. In these instances, you'll need a very specific type of talent to overcome this backlog and not just any freelancer on the block. 
That's where a niche-specific freelance platform comes in. They often attract expert or specialized freelancers (which means you won't have to spend hours rummaging through general freelance platforms just to find the right fit). 
We typically hire freelancers for something we don't have the skills or capacity for in-house, like specialist tasks within the digital marketing space.  Examples would be video editing, Lottie animations, content, and copywriters. These tasks don't warrant an in-house specialist for us, so short-term freelancers fill that gap perfectly.

Alex Faiers, Founding Director of Addictivity 
While some niche-focused freelance jobs platforms may not specifically focus on freelancers, you never know who you'll come across or what they'd be open to. 
Oftentimes, these platforms may have an associated job board where you can post a discussion thread with your freelance job requirements. 
Pros and Cons of Niche-Specific Freelance Platforms
Wondering if a niche-specific freelance job platform is the best option? Let's explore this further.
| Pros | Cons |
| --- | --- |
| High-quality applicants | Top talent = Higher premiums |
| Extensive portfolios to look at | Less filtering options (if you're looking for something very specific) |
If you're searching for a specific type of freelancer, niche-specific freelance sites are excellent for finding:
High-Quality Applicants
Niche communities aren't always the most suitable spaces for beginner-level freelancers.
And though registration is open to anyone, the most serious niche freelancers invest in their crafts and have the most impressive portfolios. And so, niche-specific freelance websites tend to attract applicants with exceptionally high skill levels. 
Extensive Portfolios
As we've mentioned, niche-specific freelancers tend to have extensive portfolios because of their years of experience. Therefore, it becomes much easier to gauge a freelancer's skill level without second guesses. 
And once you've decided on a suitable option, it becomes much easier to outsource to that freelancer when new work comes along. 
The biggest challenge is finding freelancers that are 100% reliable, show up, and work at the level we're looking for from our whole team. Once you find a great freelancer, you keep going back for more.

Alex Faiers, Founding Director of Addictivity
But of course, every freelancer platform type comes with its drawbacks. Here are the cons to keep in mind.
More Expensive
With top talent comes top prices. And so, it's no surprise that niche-specific freelancer platforms are usually at more premium prices.
But on the other hand, keep in mind that this usually comes with higher quality work, which will be exemplified by favorable marketing metrics down the line.
For us, quality of work and speed are even more important than price. Also, my #1 piece of advice when hiring freelancers is to start with a small project and build trust from there. It's a great way to test the waters.

–Will Rico, Principal Consultant at CommonMind
Less Filtering Options
Because niches are already quite specific, you may find there are fewer filtering options available. 
This means you may have some extra digging to do (even if you're already in a goldmine of highly skilled freelancers).
3 Common Types of Niche-Specific Freelancer Platforms
There are countless communities for every niche imaginable. Here are just a few of them that are popular with agencies. 
1. Developer Niche Platforms
When hiring a developer, you definitely don't want a freelancer that doesn't know what they're doing (especially when there's complex coding involved). 
We typically hire freelancers for website (WP) development. I haven't found the right person to bring on in-house that is committed to our business. So having a freelancer is the best option right now.

–Greg Schueler, Owner of Say So Marketing
A niche-specific platform like Codeable.io offers access to top WordPress developers, which eliminates the hassle of searching for them on more general platforms.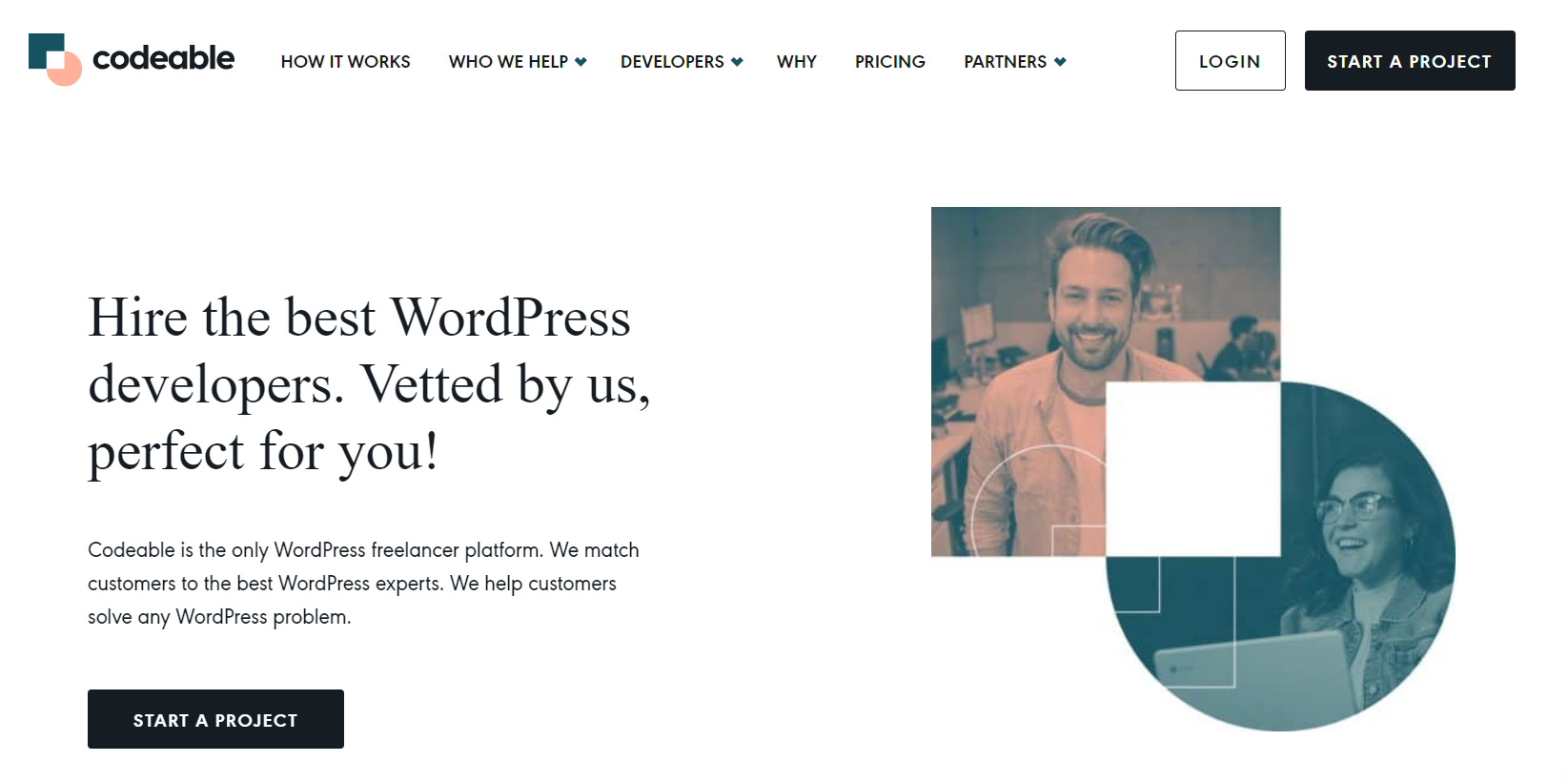 2. Designer Niche Platforms
Not all design is created equally, and there are so many different types (e.g., a graphic designer's skillset is much different from a UI designer's). 
To accommodate this variability, there are niche-specific platforms like Dribbble that give access to all types of designers.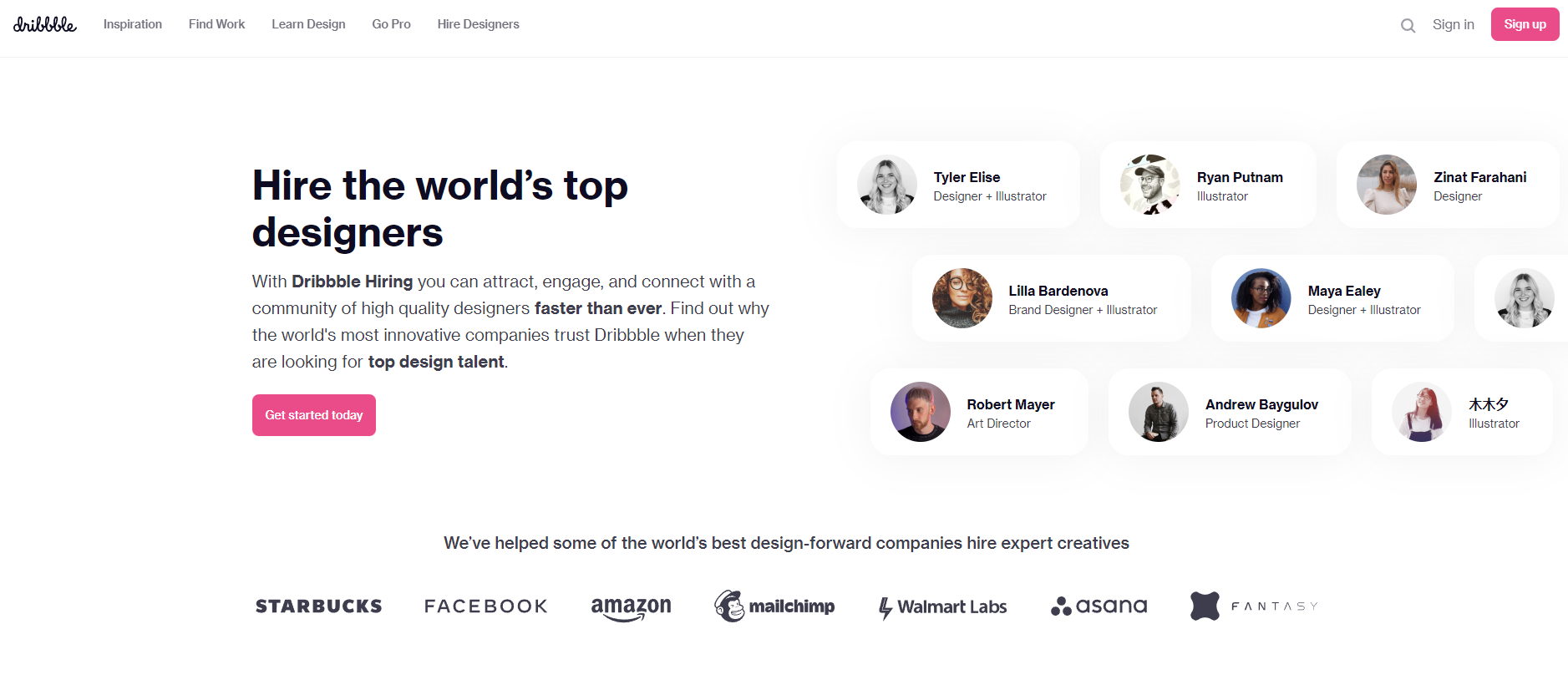 3. Writer Niche Platforms
Looking for a talented blog writer or perhaps a tech-savvy writer to churn out product descriptions? Use a freelance platform like Constant Content to access the best writing talent and find exactly what you're looking for.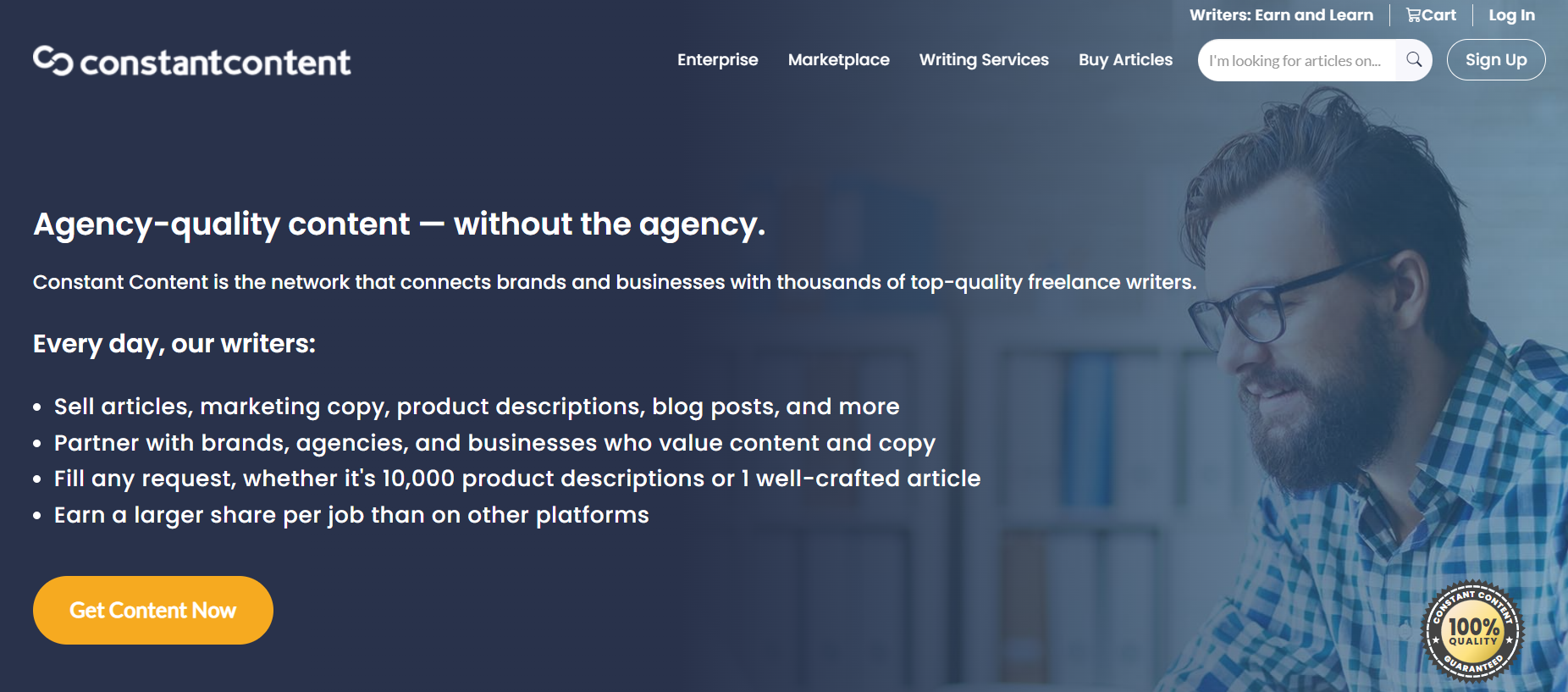 When To Use Niche-Specific Freelance Platforms
If you're wondering whether to invest in using a niche-specific platform, here's when to use it: 
To find high-end freelancers quickly. Sometimes your intricate client projects have tight deadlines and require expertise. Get the job done right and quickly by exploring a niche-specific platform. 

Similarly, use niche-specific websites for ongoing freelance roles that require a high level of expertise and experience
Type #3: Job Boards
Think of job boards like the classified section of your local newspaper. 
Once you buy a spot, you're free to post any requirements which result in attracting freelancers that are interested in your job. 
Not all job boards are created equally, though. Some are large-scale and better suited for general-purpose hiring. On the other hand, some job boards are smaller and more niche specific (it really depends on what you're looking for). 
The Pros and Cons of Job Boards
Before you sign up for using job boards, here's what you should know.
| Pros | Cons |
| --- | --- |
| Quick turnaround times for receiving applications | May attract a high volume of unqualified freelancers or other candidates |
| Relatively inexpensive | Limited applicant information available |
In a nutshell, here are the main benefits of using job boards. 
Quick Turnaround Times
As it's often said, you have to go where the market is. 
And job boards are definitely the place to be if you need to resource an agency job quickly. You'll also receive a lot of visibility and even word-of-mouth referrals from other job seekers on the platform. 
Relatively Inexpensive
Job boards are also a cost-effective way to ensure bang for your buck. The costs are also pretty upfront–you pay for an ad that typically stays on the freelance website for a specific time period (e.g., 30 days).
On the other hand, keep in mind that–most often–you get what you pay for.
High Volume of Unqualified Candidates
You may get a high number of applications after you've clicked "Post" on your job listing. However, it may not always be the right type of freelancer. And if you don't put any pre-defined requirements in place (such as screening questions), it's basically fair game for whoever feels like applying.
That means more time sifting through applications and less time for more pressing agency operations (like actually fulfilling client jobs). 
Limited Applicant Information
Given the nature of job boards, you also may not get any in-depth information about freelancers (past generic cover letters, a few portfolio items, and resumes). There also isn't a rating and review section to get any kind of read regarding how this freelancer has performed at similar tasks. 
This makes the hiring process a bit more tricky and may result in more time spent during the interview process and checking references. 
Top Job Boards To Explore
There are job boards covering nearly every niche and requirement imaginable. Here are some places to help you get started:
1. We Work Remotely
This popular job board is geared specifically towards remote gigs, which gives your agency access to global talent. We Work Remotely includes job postings for back-end programming, sales and marketing, and customer support (just to name a few). 
2. Indeed 
Similarly, Indeed is another reputable job board that includes a wide range of job postings, salary information, and even company reviews. 
There's also a neat section called "Indeed Gigs" for short-term and freelance job opportunities (which is ideal for agencies).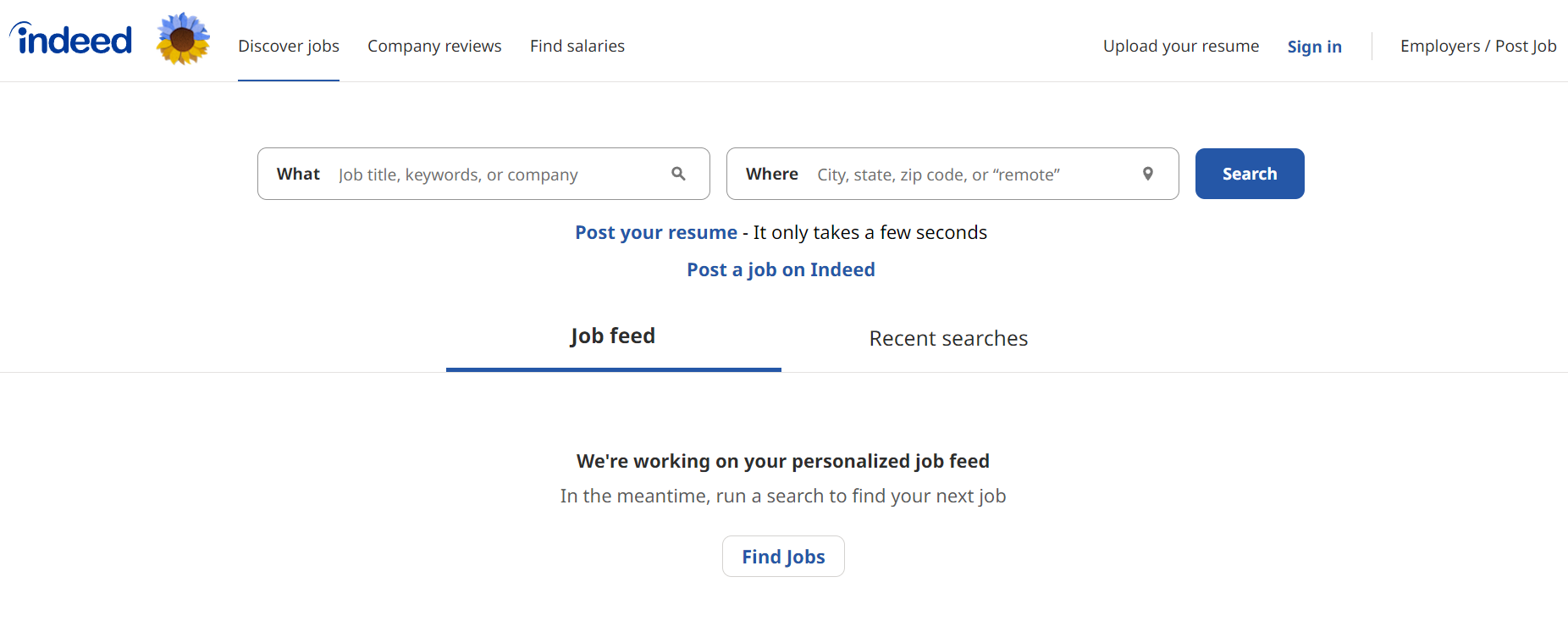 3. Simply Hired
This job board aggregates listings from across the internet. This means you'll have to ensure your freelance job descriptions have the right keywords and screening questions.
Keep in mind that Simply Hired also works on a pay-to-reveal basis. In other words, you'll have to pay to see a candidate's information after they've applied.
When To Use Job Boards
Job boards can give a good mix of applicant quality and volume (provided you pick the right ones).
Here's some advice on when to use job boards:
To hire long-term freelance contractors since many job seekers are on these platforms looking for longer-term gigs

If you're on a budget and need a cost-effective way to advertise your freelance job posting
Type #4: Vetted Freelance Platforms
Generally speaking, vetted freelance sites help your agency find a qualified freelancer without having to do extensive screening or qualification. 
In fact, every freelancer on the platform will be thoroughly vetted before having the option to apply for your job (which significantly saves time on your end). 
The Pros and Cons of Vetted Freelance Platforms
If you're curious about this type of freelance platform, here's what you should know.
| Pros | Cons |
| --- | --- |
| Highly qualified freelancers | Expensive |
| Control over the hiring process | Smaller pool of applicants to choose from |
Vetted freelance platforms have key advantages such as: 
Qualified Applicants
You'll only receive applications from highly competent freelancers that have already been vetted and assessed. 
This will help reduce the total amount of time filtering through applications or ending up with unqualified applicants. 
Control Over The Hiring Process
That being said, you'll still have complete autonomy over the hiring process. Even if you receive applications from fully vetted freelancers, you ultimately decide the best fit, and there's no obligation. 
While vetted freelancing websites are undoubtedly useful, here are a few drawbacks. 
More Costly
We probably sound like a broken record by now. But remember that top experts come at a premium price (even more so for vetted freelancers). 
Remember that because these freelancers have already gone through an extensive vetting process, it also shows that they're serious. 
Smaller Pool of Applicants
Since these platforms weed out any unqualified applicants, you'll end up with a significantly smaller number of freelancers to choose from. This may leave your agency with a limited number of options. 
This process may even unqualify good freelancer candidates who checked most boxes but missed a few minor ones.
Top Vetted Freelance Platforms To Consider
If you're convinced this is the best freelance website option, here are two vetted freelance platforms to explore.
1. Toptal 
This exclusive freelance platform has a vigorous screening process and prides itself on offering "The Top 3% of Freelance Talent." 
In addition to its high-quality talent pool, Toptal offers matchmaking and access to a range of professionals (e.g., developers, designers, and finance experts).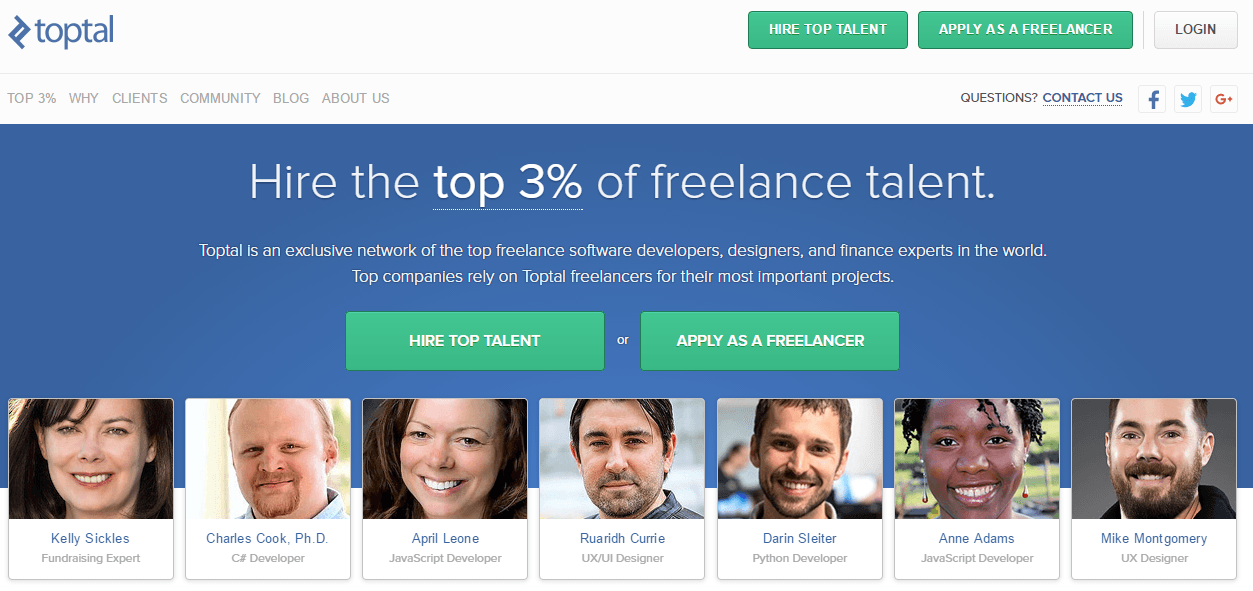 2. FreeUp 
Similarly, FreeUp is another vetted freelance platform that gives "Access To The Top 1% of Online Talent". Their matchmaking services will pair your agency with a freelancer within 24 hours (which is ideal if you're working on a time-sensitive project).
There's also a turnover guarantee–if your freelancer quits within a short time, they'll get a replacement and cover any associated costs.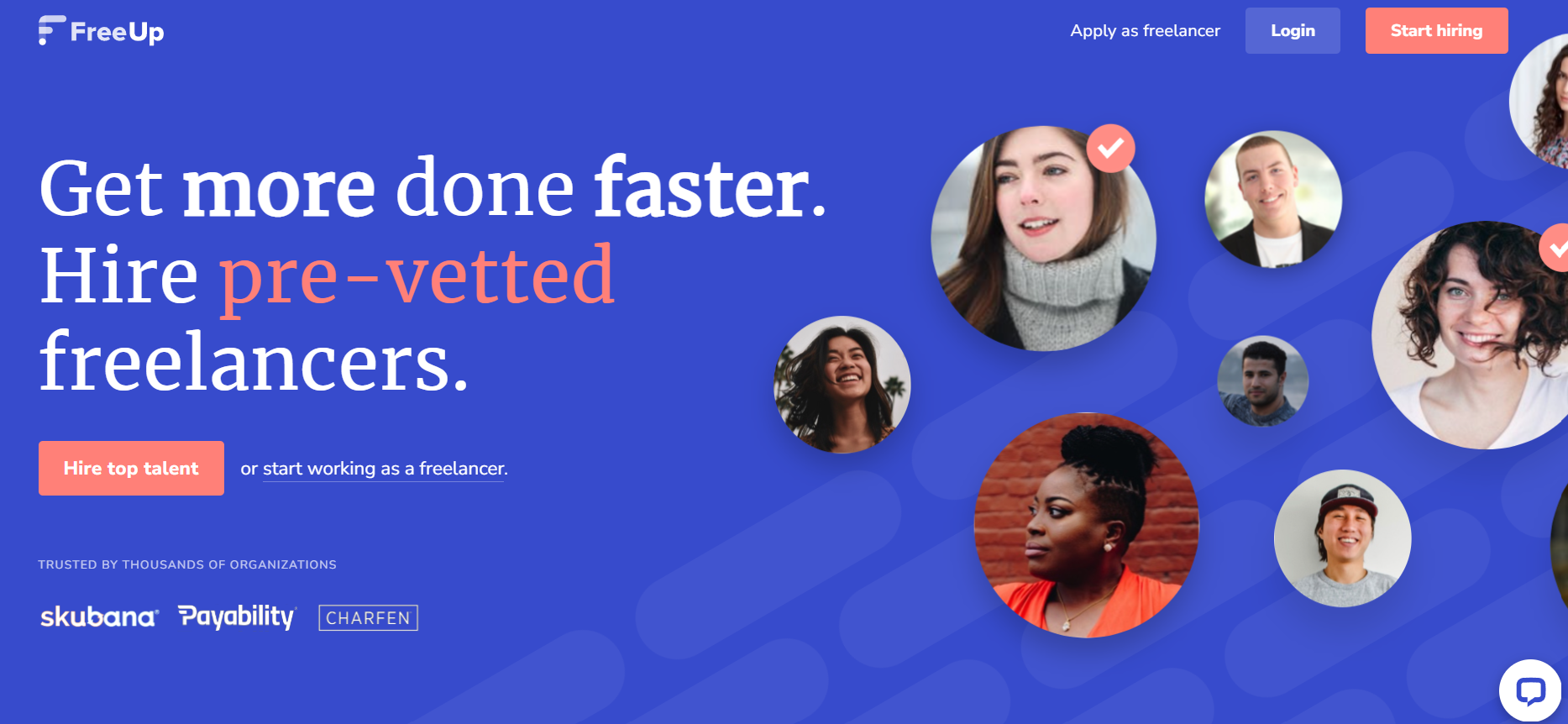 Type #5: Local-Oriented Platforms
Last but not least is local-oriented platforms. As the term implies, these platforms focus specifically on sourcing talent from a specific geographical area. 
While it's become easier to hire global talent, sometimes you may need a freelancer who's familiar with a city or has local-specific expertise (e.g., you need pictures of a local store opening or event as part of the Facebook campaign).
And what happens when your agency gets a client on the other side of town or even in another country? Local-oriented platforms help you to hire a local freelancer to meet project demands. This is quite helpful if your team is too busy or unable to travel to a particular location.
The numbers don't lie–monitor real-time local SEO metrics over time and see whether your hired freelancers are delivering tangible results. Try it on AgencyAnalytics when you sign up for a free 14-day trial. 
Pros and Cons of Local-Oriented Platforms
If you're debating whether to use a local-oriented platform, here are a few things to consider. 
| Pros | Cons |
| --- | --- |
| Same location and time zone = easier communication | Smaller applicant pool |
| Greater availability for in-person meetings | Reduced access to global, competitive talent  |
Easier Communication
Sharing the same time zone as a freelancer is a major plus, especially if you have on-demand requests or need speedy response times.
And plus, being from the same city or region means you'll both have an understanding of cultural nuances and the local market in a more in-depth way. 
Greater Availability for In-Person Meetings
Working remotely is certainly a huge plus, but nothing beats meeting in person from time to time. And some services may also require in-person meetings (e.g., event management).
If you're hiring freelancers in the same geographic area as your agency's office, meeting face-to-face with your hired freelancer also adds a sense of personalization and may strengthen your business relationship over time.
But local-oriented platforms also have a few cons, such as: 
Smaller Applicant Pool
Keeping your hiring process to a specific local area automatically means having a smaller applicant pool.
And if you're from a small city or town, it severely limits your ability to hire the right freelancer (especially if the service you need is niche-specific or expert-level). 
Reduced Access to a Global Talent Pool
Similarly, sticking to a local talent pool means missing out on high-quality, global freelancers. 
Even if a freelancer isn't from your city or a specific geographic area, you may miss out on hiring a skilled expert that'll get the job done well (and even at a more competitive rate). 
An Example of a Local Freelance Website
Because local freelance websites are city-specific, they'll vary depending on where you're located or outsourcing services to. 
Here's an example of a local freelance website based in Colorado (Denver and Boulder, to be specific). Built in Colorado shows job listings specifically in those areas (including marketing and design jobs). 
While they're primarily focused on full-time job listings, there are also opportunities to post contract or freelance opportunities.
Bonus: Using Social Media to Source Freelancers 
There's one last source for freelance talent in a category of its own: social media. 
For example:
Facebook groups are a growing source for freelancers. Simply search for Facebook groups focused on freelance opportunities (narrow your search based on city, niche, or skill). Then, post your job and see what types of freelance applicants reach out.

LinkedIn is another great resource, especially since it's a social network for professionals and often freelancers searching for work. Post the freelance job description on your agency's company page and encourage engagement from your network (i.e., reposting or referrals). 
Slack Groups are also very handy for sourcing freelancers, especially if you belong to one of the more popular groups within the marketing or agency space.
 If we're searching for a freelancer who will work within our core service offering, I would post to my network on LinkedIn, and also advertise the job on LinkedIn. 

Will Rico, Principal Consultant of CommonMind
Freelancers Are Sometimes Needed To Help Your Agency Go Round
Whether you're dealing with a work overflow or in need of expertise skills, hiring freelancers often fills in that gap and helps your agency to press forward.
As we've outlined, not all freelancing websites are built the same, and it's sometimes difficult to decide on the best one. 
To streamline your freelance hunt and get the best results, remember to:
Clearly define what you're looking for (i.e., skill sets, job requirements, timelines, and budget)

Decide how soon you want to hire a freelancer (e.g., using a vetted freelance platform may have a quicker turnaround time than posting to a job board)

Explore freelancer portfolios when possible to make the right decision

Consider having test projects, especially if you're hiring freelancers for longer periods of time
Once you've done your due diligence, you'll set your agency up for success and may even have go-to freelancers over time. 
As your agency's demands begin to grow, remember to streamline your processes (e.g., task management) as much as possible. That way, you'll keep your freelancers' deliverables on track and ensure nothing slips through the cracks.
Keep track of your freelancers' tasks and monitor digital marketing metrics in one place–try AgencyAnalytics today, it's free for 14 days.
Joe started his career as a developer and since has created many internet businesses. He has now moved on to the position of CEO and has enjoyed all the challenges it has brought.
Read more posts by Joe Kindness ›
Try AgencyAnalytics risk-free for 14 days. No credit card required.