Local SEO is a pillar of a well-built marketing strategy for any business with a brick-and-mortar location. Local SEO is essentially the tactic by which your clients' businesses are found online through search engine queries associated with a particular area.
For example, any one of the following searches would trigger results based on how well the business's online presence has been search-engine-optimized locally: 
… best taco restaurant in Albuquerque
… top gymnastics program Buffalo
… cheapest health insurance Florida
… Williamsburg bakeries
… hotel deal St. Lucia
And the list goes on.
Very few businesses would not benefit from a Local SEO strategy.
In fact, many people confuse what is really a "multi-local" business with a "national" business, and multi-local businesses certainly need Local SEO. 
Take Chipotle, for example. Even though Chipotle is a global brand, the location of its corporate headquarters is somewhat irrelevant. The individual locations and searchability of those locations on a local level are extremely important. Whether your client is a local business with only one or two locations or a multi-local corporation with hundreds of franchises, Local SEO is massively important.
If your client is a multi-local corporation, you'll have to take extra care in developing a strategy that positions their corporate website and brand presence and their local microsites or landing pages for optimization. 
This also spills over into social media: it is important to understand whether to use multiple profiles for different locations or consolidate the client's presence under a single profile. When targeting a local audience, having a Facebook page for each individual location takes advantage of the findability features for local businesses built into the Facebook platform. For Twitter, however, having a single consolidated account makes more sense.
This article will explore how agencies can set expectations for their local SEO clients to retain them in the long run. 
How To Approach Local SEO in Your Agency
Like any marketing strategy, there is no "purple pill" or "silver bullet" approach to winning the Local SEO game. SEO is the very definition of a long-term strategy, and success is created by down-and-dirty, tried-and-true tactics. Unfortunately, there are no shortcuts. 
Google has spent decades fine-tuning its algorithm to show users the best search results possible, and there are literally thousands, if not hundreds of thousands, of businesses that are all jockeying for the top positions in the same SERPs (Search Engine Results Pages) as your clients.
So, when it comes to setting expectations with your clients, honest communication and a thorough explanation of the process are essential to ensure that you are not setting unrealistic expectations. In fact, a great rule of thumb when it comes to setting local SEO expectations is to under-promise and over-deliver. But you want to balance that against not-underselling the long-term benefits of SEO.
The Importance of the Research Process
The challenge with that, of course, is that when your agency is trying to acquire a new client, you are likely competing with others who may not worry about setting realistic expectations and will promise the client the moon and more just to land the sale.  
Backing your SEO proposal up with solid research based on what is happening in the market and the organic search place is a great way to set your agency apart from the rest of the pack. 
At HITE, a marketing agency with 24+ locations globally, we service more than 200+ clients' Local SEO needs on a monthly basis. Our process has been through the test of time, and despite evolving to keep pace with new algorithmic developments over the years, we always start with the same foundation: research. 
Without good research, you're setting your agency–and your clients–up for a hard road to success. As with any kind of SEO, typically, it will be hard to dominate every search term. Especially if your client's business is new to the market, they've just launched their website, opened a  location, or have little history with Google so far. 
For instance, if your clients have just opened up a plumbing business in a certain city–let's say, Pittsburgh–you will inevitably be competing with hundreds of other plumbers that have historically already been ranking for popular terms around plumbing in Pittsburgh.
So while your client may want to rank for commonly searched keywords such as "Pittsburgh plumber" or "best plumber in Pittsburgh," this simply may not be possible given the competitive landscape.
Good research will reveal alternative, longer-tail keywords that you may be able to rank for and dominate more quickly, such as "best pipe-fitting company Pittsburgh" or "new construction plumber"–whatever would make sense with the client's particular specialty.
As you look to increase your client's presence in search, the site's performance for these longer-tail keywords may signal for search engines to gradually push your content to more competitive searches over time. So, getting clicks from your initial set of keywords and keeping searchers engaged when they click on your site are ways to establish a strong record and expand your website's reach.
Present this research to the client by using a tool such as Google's Keyword Planner, MOZ, Semrush, or similar software, to show them the actual search volume and competition rankings for both their desired and your chosen keyword will help them understand why they won't be able to rank as quickly for those more desirable or common keywords they have in mind.
Call out the findings of your research in the Summary and Next Steps section of your agency's SEO proposal template to reinforce the data-driven framework that you have built for their SEO project.  
Including Other Marketing Activities To Multiply SEO Success
It's also important to set a precedent for your clients that SEO is a multi-faceted practice, and there is a limit to how much you can do on-site to improve your rankings. No matter how many blogs you write, pages you optimize, and perfections you make to your client's website, sometimes you just won't generate enough traffic for Google's crawlers to bump up your rankings.
This is when other marketing tactics are essential for success, and having a well-rounded strategy is paramount. For instance, how often is the client posting to social media and linking back to their site? A business' social presence is massively important in a site's overall ranking, and the more active a client is on social media, the higher its potential to rank better in the SERPs.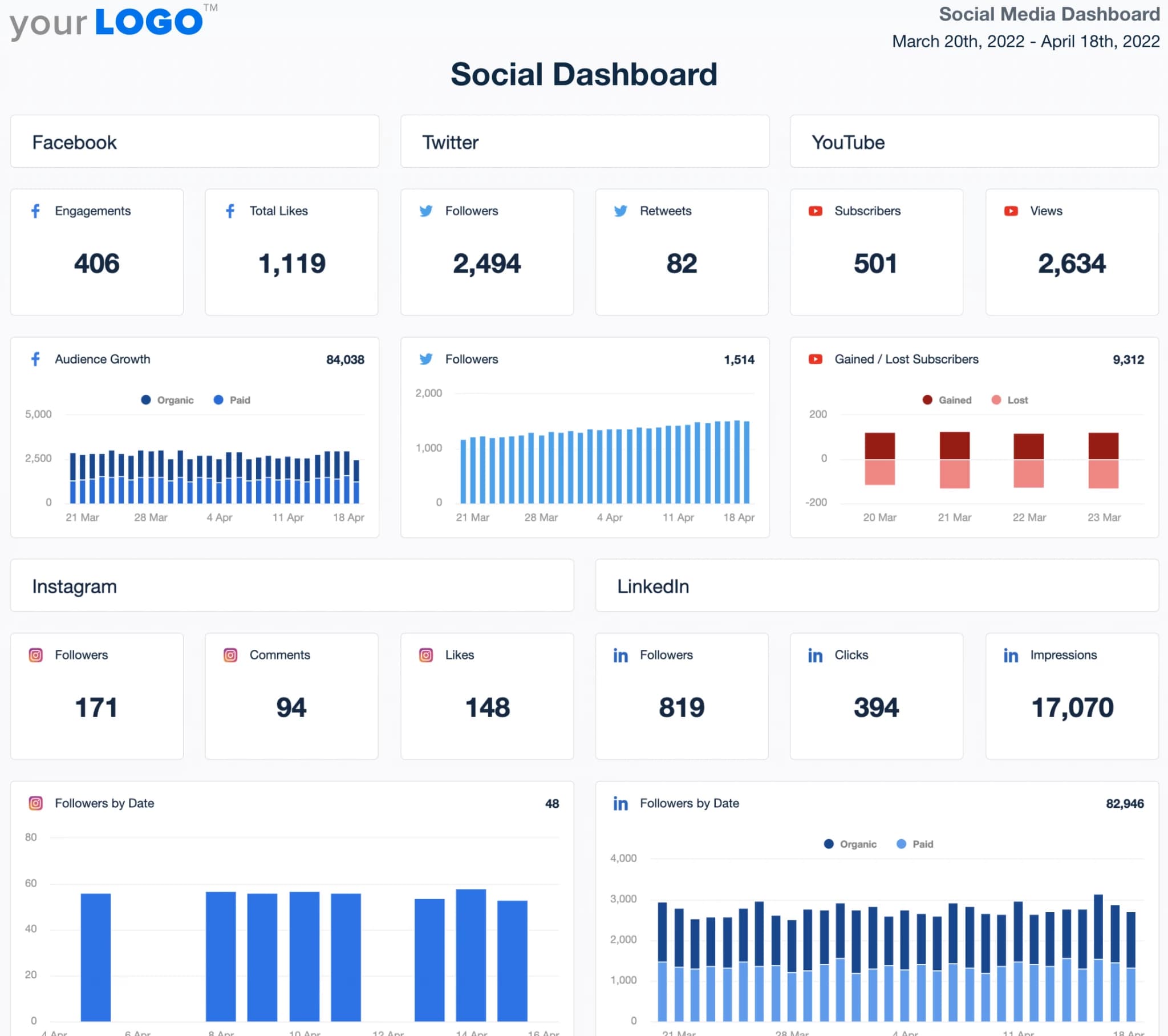 Also, are they investing in any type of PR or link-building activities, such as guest posting or appearing on podcasts? Anytime a high-ranking site can link back to the client's website is worth its weight in gold in the SEO economy. Offline activities such as billboards and events, or even TV and radio ads, can drastically increase organic search volume and traffic for a client's brand, all of which help boost the health of their Local SEO strategy.
Making sure your client understands that Local SEO is not a solo mission but rather just one piece of their bigger marketing strategy will help set them and you up for success. 
Considering the Costs
SEO is a time-intensive activity by nature. No tools can automatically write SEO-optimized content for you (at least well) or implement SEO strategies on websites and listing sites. Of course, there are platforms such as Uberall, Yoast SEO, and many top SEO site auditors that can aid in these activities, but SEO remains one of the agency services that require a lot of thought, time, and effort to be successful. 
Download Your 39-Point SEO Content Checklist
Everything you need to make sure your agency is publishing optimized content.
So, make sure that you are adequately pricing your agency's services for the amount of work that will go into a Local SEO strategy, and you also prepare your client accordingly for the costs that will be involved. 
Overpricing your agency services will lead to a default level of expectations that your agency may not ever be able to live up to. After a client wants to see a positive ROI come from the investment they've made. Conversely, underpricing yourself is only going to do a disservice to the client in the long run if you can't dedicate the needed resources to the account to truly move the needle.
Setting a Realistic Timeline
By far, the timeline is the most important thing to clearly discuss with the client before starting a Local SEO program. There is no uniform timeline for Local SEO, as it is highly variable based on the competition within that specific industry and the clients' geo-market. However, sometimes, it can take up to two years or more to see a significant payoff from Local SEO efforts. While that is a long time to wait, Local SEO is an investment that will continue to pay off exponentially over the year after you've invested in it. 
It's like the mango tree–plant it, and you won't get a harvest immediately the same way you would from a watermelon plant, but once it starts producing fruit, you'll reap the harvest of that work for years and years to come with minimal additional effort and costs.
When establishing a long-term timeline for our client, make that assessment and presentation about 2-3 months into the process. At that point, you are able to see how quickly the changes are affecting the client's position and use that initial growth data to extrapolate out a more accurate timeline. This is because even the best SEO tools can't capture all of the nuances of how the algorithm and ever-changing pool of competitors will respond to your agency's efforts. 
While we don't require our clients to commit to long-term contracts, we make it abundantly clear how long SEO results can take to accumulate. Our clients typically stay for an average of nine-plus months for our SEO products.
In the short term, it is helpful to have some "quick wins" for the client that will supplement their traffic while you build out their organic SEO. Other tactics, such as Google PPC ads, social media ads, and direct mail campaigns, can start an initial stream of traffic to your client's web property. 
Also, it's extremely important that, first and foremost, the client's web property is mobile optimized and that they have also taken advantage of the standard listing services for their industry. 
For example, if they are a restaurant, they absolutely need to be on Yelp. If they are a hotel or tourism operation, TripAdvisor is a must. For the home services industry, Angi or Home Advisor is essential. Doing your due diligence to get your client listed on these services, as well as optimizing their Google Business Profile, will produce immediate traction for them.
Explaining The 3 Stages of SEO To Clients
When breaking down Local SEO timelines for our clients, break the expectations down into three stages: visibility, traffic acquisition, and conversions. Just like crawling, walking, and running–you can't do one without first completing the prior.
Visibility Phase
During the visibility phase, the goal is just to get the client discovered. Using keyword rank tracking tools, ensure that their website and Google Business Profile listing are showing up in the SERPs. If they aren't showing up, that is the first problem, so start by tackling that issue through on-page and off-page optimization protocols.
Traffic Phase
Secondly, they may be showing up for certain searches but not getting enough–or any–clicks through to their website. This is the traffic phase. This is where rankings, media, and metadata factor in. Make sure not only that the client's business shows up but it also is showing up in a more appealing way than any other result so that this is the listing that is clicked on by the searching user.
Conversion Phase
And last, once a good amount of traffic is coming to the website, focus on conversions. Conversions are determined by two things: if the local SEO campaigns are bringing the right people to the website, and if the website is guiding them through the right story once they get there. 
The point of this is to have the visitor convert–whatever that looks like. It could be filling out a lead form, purchasing a product, or making a phone call. During this phase, look at how organic traffic is responding to the website and figure out how to improve this process.
Client Communication is Key With Local SEO Campaigns
As you go through each of these three stages with your client, it is important to have regular communication with them to keep them apprised of the progress. It is also important to establish micro-goals and milestones in each stage so that as you work towards the greater goals of the client, you have smaller wins to celebrate and mark progress along the way. 
The client must see you as a long-term partner in their success, not just the executor of a short-term task with immediate outcomes.
Some businesses may underestimate their own capabilities or that of their agency when it comes to this area of marketing, but ultimately if there are people searching for the client's product or service, the potential of Local SEO is only limited by the client's commitment to it – both in time, effort, and communication. 
Reporting Your Local SEO Successes
Putting this all together, your agency needs to report on the success of its Local SEO campaigns by tracking the right metrics–not just web metrics like traffic.
Although keyword rankings, backlinks generated, SEO site health improvements, clicks, and organic visitors are great leading indicators of SEO success; it's also important to focus on the metrics that move the needle for your clients, such as leads, orders, and revenue.
Let's take a case study for an REI company in Charlotte, NC, where Sparo increased organic performance by 10% month over month by combining SEO and PPC efforts to target local homeowners. Here's the breakdown of their organic traffic metrics:
Not only did the client report showcase this, but it also tied that to a conversion rate, which increased by 160%. These included:
Phone calls

Emails

Contact form submissions
With a detailed Local SEO strategy, your team provides clients with more qualified leads to close more deals and grow their businesses.
In order to track all your clients' key marketing metrics and make full-picture reports for your clients, you'll need to track your Local SEO, PPC, and other marketing efforts in one place.
Create a Local SEO Report in minutes with AgencyAnalytics' ready-made templates! Start your free 14-day trial today.
Written by
Molly Lopez and Israel Medina
Molly Lopez is the Founder & CEO at Sparo. She brings all her digital marketing services, knowledge, and experience to the table while offering a wide array of marketing services strategically crafted to help businesses of all sizes achieve their goals.
Israel Medina is the Strategic Digital Manager and head of SEO at HITE Digital. He develops strategic and learning projects to improve the quality of HITE products while overseeing the SEO product and support channels. He's committed to creating and developing a culture of search in his local community.
Try AgencyAnalytics risk-free for 14 days. No credit card required.