Successful local marketing campaigns rely on a combination of organic traffic data, PPC analytics, and reputation management to drive growth. Combining all three of these into local marketing reports involves a full gamut of metrics that is challenging to gather manually & present in a way your clients will understand–especially when your clients want their ROI broken down for each location.
Marketing agencies know that location-based metrics are essential when their clients have a business that services specific locations. As such, local marketing client reports should clearly distinguish between each location and allow room for comparison between campaigns.
Clients with single-location shops that offer local products or services also need location-based reporting also need local reporting. They need to know that your marketing efforts are tapping into that ideal customer in the right places, and how many quality leads your agency is bringing into their pipeline.
So, how can agencies consistently produce reports that satisfy their local-focused clients with actionable insights and fresh leads, and do so in a way that is scalable? What local marketing tools allow them to make the most of their local metrics?
With all this information left to parse, most successful agencies choose to visually represent how their local marketing strategy is progressing on one single platform that's easy to digest. We'll show you how, as we cover: 
What Should Agencies Include in a Local Marketing Report? 
Depending on the local marketing strategy you prepared with your clients, your local marketing reports will include all the relevant metrics from the channels that contribute to their local marketing success. This might include social media metrics (paid and unpaid) as well as data from organic traffic, local listings, and even reviews. 
Not only this, the report should put all these key metrics under one roof to accurately measure channel and overall performance. This way your agency can make comparisons between channels and locations in order to improve upon your local marketing strategy moving forward. Local marketing reports also give your clients a clear picture of their business and their campaigns by location. 
The trick with these reports is to only present the data your clients care about–and leave the other details for your team in the live dashboards. But we'll get to that a bit later. For simplicity's sake, we can divide local metrics into five categories, with examples of the marketing tools you can instantly plug into your reports with our integrations.
What Metrics to Include in a Local Marketing Client Report
1. SEO Metrics
Did you know that 72% of consumers who did a local search ended up visiting a store within 5 miles? And according to Google, purchase and navigational intent are high on mobile: 76% of users doing a local search actually end up going to the physical store the same day.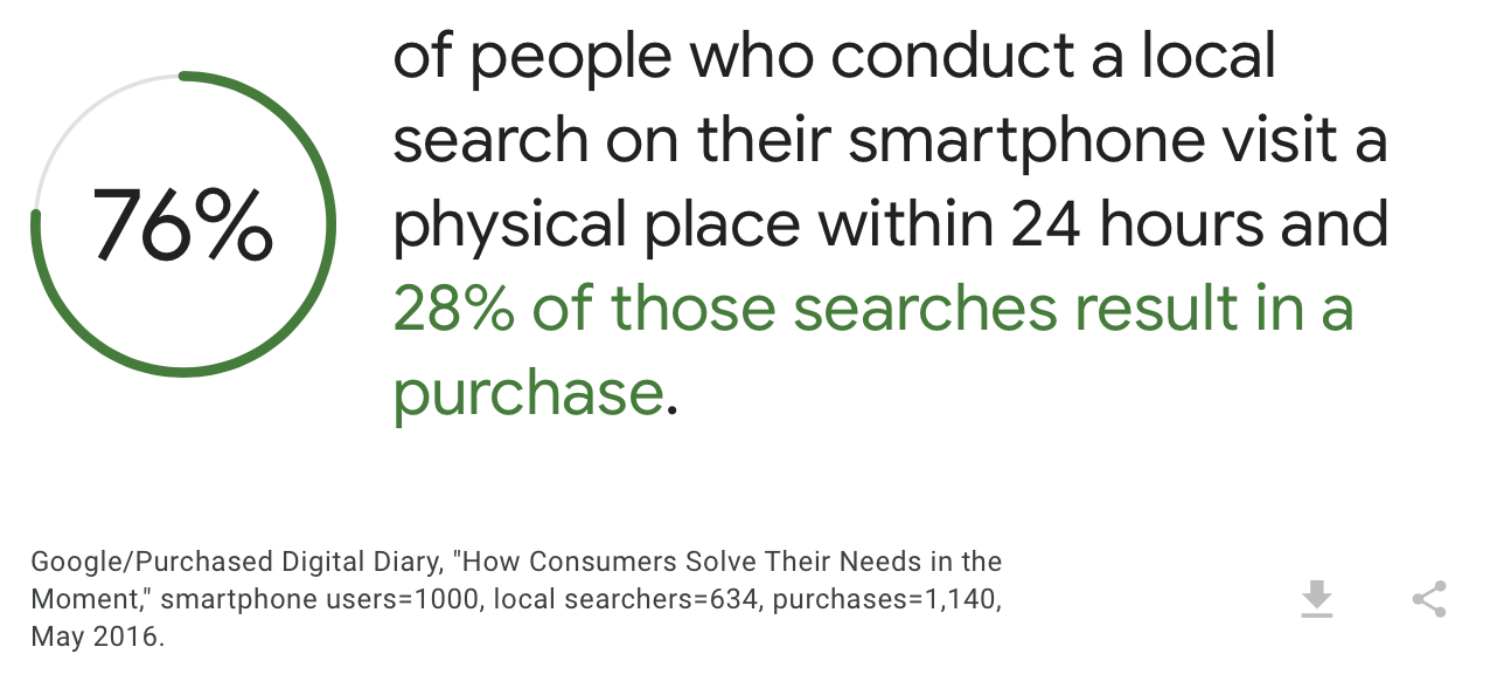 Location-based marketing is almost entirely founded on a strong SEO foundation. The right keyword strategy helps your target audience easily find your client's business when they need them most. 
Agencies not only need to optimize local SEO but optimize it for mobile, too. People who need something specific right then and there (especially those searching for local services) are usually typing in "dog walker near me" or "best coffee shops in Atlanta" on their smartphones. 
Agencies need to keep a close eye on all their clients' local SEO Metrics because it is the backbone of their local lead generation. This can be done with the following local marketing tools and integrations, including:
Use our powerful keyword ranking report tool for intuitive, data-driven insights on your clients' SEO. Try AgencyAnalytics free for 14 days. 
2. Local Search PPC Metrics
Local PPC metrics are especially important when your clients' brands are localized because local leads tend to be of higher quality. When ad dollars are involved, your clients have higher expectations for conversion rates and will be keeping a close eye on their ROI. To set better client expectations, you can benchmark your agency's performance against some industry-based conversion rates from Google Ads: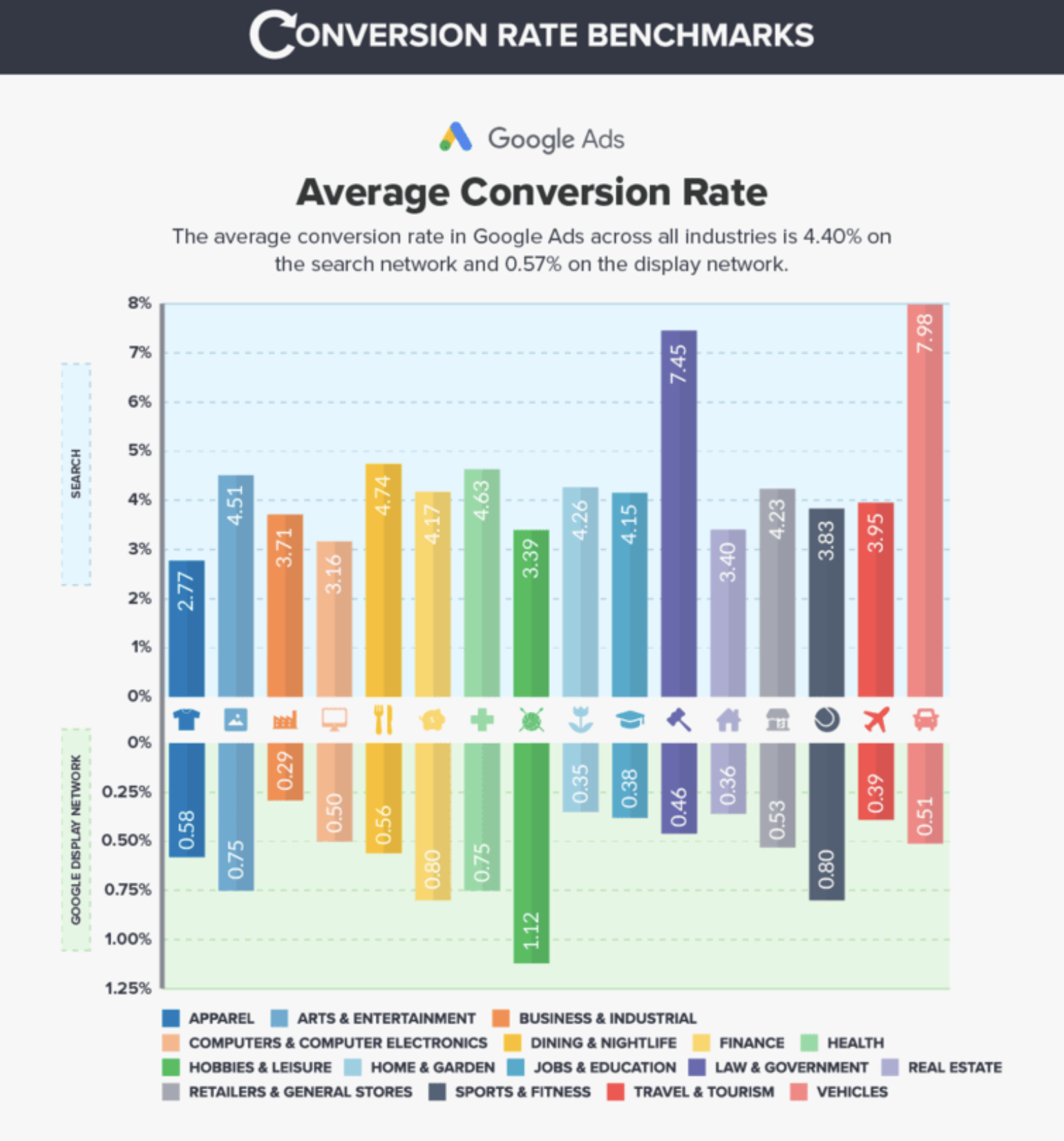 Agencies can also plug in their local PPC metrics to a live dashboard to track conversions and other KPIs instantly. Examples of popular local PPC marketing tools and integrations are: 
3. Call Tracking Metrics
Call tracking metrics are especially important to your local clients, as they are likely some of the highest-intent leads out there. Agencies can harness the power of these quality leads by analyzing contact information (like names, phone numbers, and yes, locations) to show their clients who called, when they called, and whether the call resulted in a quote. 
Some great call tracking tools you can integrate into your live dashboard are: 
4. Social Media Metrics
Social media marketing metrics are an essential part of local marketing because it is the direct contact your clients' businesses have with their community. And nowadays, it's all about building an authentic relationship between your clients & their customers, and strengthening that online presence–it even helps expand your clients' local businesses internationally!
This is why social media growth is so important for businesses, and why agencies should be incorporating social metrics into their campaigns. Here are some integrations you can use to track all your clients' social media metrics in one dashboard (and in real-time!): 
5. eCommerce Metrics
Your clients may be local, but it doesn't mean they don't also have an online store–especially post-pandemic! Maybe they just have an online order form for in-store or curbside pickup, but a sale is a sale. Agencies can track their location-based information for eCommerce growth (and get business insight on whether or not to expand to other locations) using integrations such as: 
Read more: Key Analytics to Track in Your Shopify Reports
6. Reputation Metrics
Fact: 88% of consumers trust online reviews just as much as a friend's recommendation and 92% of consumers who end up making a purchase occasionally rely on reviews before making a decision. 
Nowadays, we're all looking at each other online for advice about where to shop and what to buy. Reviews are more important than ever for local search. When you go local, it becomes less about brand image, and gets more personal: it's about your client's reputation. Your clients need to monitor their brand reputation and keep a close eye on this–and agencies can help. 
You can add ratings and reviews to your client-reporting platform so you can give them a regular overview of what people are saying about their business.
Of course, there are many more marketing integrations to choose from to include in your local reports. It all depends on your clients' business goals and needs. The KPIs, however, remain pretty much the same, as you will see in the section below. What will change depends upon which metrics you choose to show in your local marketing reports. 
Local Marketing KPIs Your Agency Should Track Internally– And Which to Report On
Depending on your local marketing channels, there are certain KPIs your local clients want to see, like breakdown by location. Other metrics may overwhelm your client but are necessary for the agency to effectively optimize marketing campaigns.
Let's take a look at some of the KPIs to include in your clients' local marketing reports to make them meaningful (and which to keep for yourselves). After, we'll show you how to combine them all in a report.
Organic Traffic KPIs
Use the Google Analytics information to get advanced analytics for your clients' local traffic channels. You can determine which metrics to include in your client reports based on the needs of each client, and what your clients tend to care most about: 
Know how many leads & sales your SEO efforts are generating: Including leads by user type. Some leads might be coming in from newsletter signups, others from a contact form on your client's website–it's important to differentiate between user type

Has your client's web traffic increased in a specific location? Measure sessions from organic traffic over time

Has your agency delivered new, high-quality backlinks that will help increase your client's website authority? If so, show them off! 
Your clients' organic traffic is an indicator of whether they are reaching the right audience, increasing brand awareness, and also informing the types of keywords that are driving your client's success. Including only the KPIs that matter most to your clients will instantly give them an understanding of how their campaigns are performing, without getting bogged down by too many details. 
Other metrics, such as bounce rate, organic visibility, pages per session, exit pages, average time on page, and page speed are excellent KPIs for your agency to deliver consistent improvement but may be too much data for a specific client. 
Local Search KPIs 
Our Google My Business integration automatically tracks the following essential KPIs for local marketing:  
Traffic growth: total number of visitors over time

Search by brand or category: The number of times a client's business profile shows up when someone searches their brand or a brand related to their category 

Reviews: Reputation management is important–especially when clients are local. Take advantage of our reputation management reporting to keep your clients up to date in one unified platform. 
From Google Search Console, track local queries. List the number of impressions and rankings in a given period of time.
Use Google Business Profile reporting to track and showcase every search-based KPI from one single platform.  Try AgencyAnalytics free for 14 days. 
Putting local search KPIs like traffic growth are key to proving your agency is bringing in more leads, while search by brand or category shows how successful your SEO strategy is at reaching the right people, at the right place, at the right time. 
If those numbers are dropping, it's an indicator that you might want to dig into some more keyword research to improve your results. Including reviews in your client reports allows your clients to quickly understand their areas of improvement, respond to reviews in a timely manner, and deliver on their promises.
The available data points available with these reports and dashboards can get much more granular, such as phone call trends by date or by the hour, which your agency can use to further optimize campaigns, but is often too much for a high-level local marketing report. 
PPC KPIs
This can be from various sources, depending on each client's paid platforms. It could be from social media ads to Google or Bing ads, or other paid local listings. Check out our PPC integrations here. 
Measure traffic from each location's ads if they have different landing pages: Sessions by landing page

Impressions are a great metric for showing off the brand exposure your agency has generated

Cost per lead (or cost per sale for eCommerce businesses)

Best performing city or location

Cost by city or region

Cost per conversion by city or region 
Paid campaigns are generally where marketing agencies feel the pressure to deliver: after all, you are using your clients' hard-earned money to convert into real, paying customers. Keeping a close eye on the KPIs above indicates that your agency is trustworthy, and is doing everything to put your client's return on investment as a number one priority. 
Other metrics, such as lost impression share, might be something your agency would be better monitoring internally, especially if your focus is to deliver ROI and not awareness. 
eCommerce KPIs
Nowadays, many local businesses have online stores. Even if they don't ship, they allow for in-store or curbside pickup to streamline the buying process. Tracking your clients' total sales in their online stores from your eCommerce dashboard allows you to provide the full picture of your client's local marketing campaigns, from the first impression, right to checkout. 
These eCommerce KPIs also complement your other marketing activities. For instance, if total sales increase and correspond to traffic in a particular location, you can more easily attribute this to a particular campaign you're running. This might even drive you to ramp up your PPC spend, and inform your clients to stock up on their most popular products so they don't run out. The most common metrics agencies include in their local eCommerce marketing reports include:
Total Sales

Net Sales

Total Refunds

Sales By Channel

Sales By Referrer

Products by Type
Depending on the services your agency is providing, you can choose to include other metrics such as average order value, shipping charges, and taxes in your report. However, these are typically only included when the agency is also managing the website and is responsible for certain targets in each category. 
Call Tracking KPIs
Knowing which location is receiving the most phone calls is another indicator of your local campaign's success. Your clients will appreciate knowing this number so they can ensure that they have enough personnel to answer the phone and follow up with queries to provide better customer service on their end. That's why it's important for your local marketing report to include key call tracking metrics, such as:
The number of phone calls each location receives

Whether the calls were answered or missed

Which sources are driving phone calls

First-time callers vs. repeat callers 
Certain clients will also want to be able to review call recordings. For others, that could create a rabbit hole of information that your agency may want to avoid in a local marketing report. 
Presenting Your Client's Local Data Under One Roof
Client reporting is your agency's number one way to prove the value you are bringing to your clients. But let's be honest. Too much data can be overwhelming to your clients and they may not end up reading about all of your hard work if you don't present it clearly. Unless your clients are able to extract actionable insights, you risk losing them in the long run. 
Putting all this together in a meaningful way is important to your clients because it shows them how their marketing efforts are performing at-a-glance. And organizing how to present your clients' data is also perhaps the most important personalization you can do to make your clients happy. 
Based on your clients' unique local marketing strategy, you'll want to present the relevant information (local KPIs) in a way that tells a story. And by keeping these marketing report templates consistent, it will show your clients their growth trends, month over month, and year over year. 
Your local marketing report is not about filling in all the metrics your agency might be measuring internally–it's about putting your agency's best foot forward by keeping communication open and building relationships with your clients to open the conversation for future marketing activities like upselling on services, or ramping up spend on the more successful campaigns.
After all, what your clients really want is a story about their local business in a way they'll instantly relate to.
Agency Tip: Keep all your clients' key local metrics in individual live dashboards for more detail, then simply drag and drop your desired sections to build a custom report in minutes. This will save your marketing team hours of work each week so you can get right down to analyzing, strategizing, and working on the creative side of things. 
By automating the entire process of collecting your clients' local marketing metrics, your agency can dedicate more time to data storytelling that helps explain what is happening, why, and what your agency is doing next to bring your clients success.
One Last Note: Using Reports To Grow Your Agency 
Do you spend a lot of time explaining your reports to your clients, or do you use your reports as a tool to have deeper conversations on strategy? 
Marketing agencies often get bogged down by the analytics side of things, so much so that they don't get enough face time with their clients to discuss future plans and build deeper relationships. Save time and use your meetings to discuss what to do next, not what has already been done—because an open line of communication is essential to retaining clients. This can be done with client reporting software.
Agencies should be creating consistent reports that can be understood instantly and that help show the bigger picture. Your clients want to see growth trends, and how their marketing dollars are impacting their bottom line. Even if you automate your reports, you'll still want to highlight what's been working based on their ROI, and what you will improve upon the next month.
The best place to do that is in your Executive Summary at the beginning of your local marketing report. Call out their most popular locations, their ROI, and other key insights in simple terms—you don't want your clients to have to pull out a 'Marketing-to-English' dictionary!
You can even use this information to upsell your clients on a proven need that your reports have identified. Plus, our report tracking lets you know if your client has opened or clicked your report so you know exactly which clients are engaging with your results, and which are not (which can often be a leading indicator of churn).
Want to build a proposal for prospective local clients? Start with our proposal report template which includes a full website audit that you can do in minutes, and create an SEO proposal that converts.
Written by
Melody Sinclair-Brooks
Melody Sinclair-Brooks brings nearly a decade of experience in marketing in the tech industry. Specializing in B2B messaging for startups and SaaS, she crafts campaigns that cut through the noise, leveraging customer insights and multichannel strategies for tangible growth.
Read more posts by Melody Sinclair-Brooks ›
Try AgencyAnalytics risk-free for 14 days. No credit card required.