Your clients' online reputation wields tremendous influence over revenue potential and drives business growth. As a marketing agency serving numerous clients, your role includes the essential task of brand reputation monitoring to unlock new avenues for growth, benefiting both your agency and the businesses you serve.
This article delves into the paramount importance of brand reputation monitoring for your diverse client base and how to streamline this practice to enhance client satisfaction and create additional revenue sources.
Says Who? Why Your Clients' Online Reputation Matters
For marketing agencies, understanding and leveraging a positive brand reputation is vital. This intangible and invaluable asset is at the heart of your clients' success, making it an essential factor that needs to be taken into consideration when providing your own services.
As a marketing agency, your role extends beyond making your clients known; it includes establishing them as respected and trusted entities in their respective markets. This approach fosters customer and brand loyalty, fueling business growth. By prioritizing brand reputation management, you empower clients to harness the benefits of a long-lasting and positive brand image.
Your endeavors to enhance your clients' reputation can stimulate customer loyalty, inspire repeat business, and facilitate organic growth through word-of-mouth marketing. This approach contributes to a consistent revenue stream and expanded market share for your clients, and in turn, for your agency.
Understanding and monitoring brand reputation helps agencies: 
Develop a strategy to directly speak to weaknesses, 

Change the conversation, and therefore 

Improve your clients' perception of the brand online.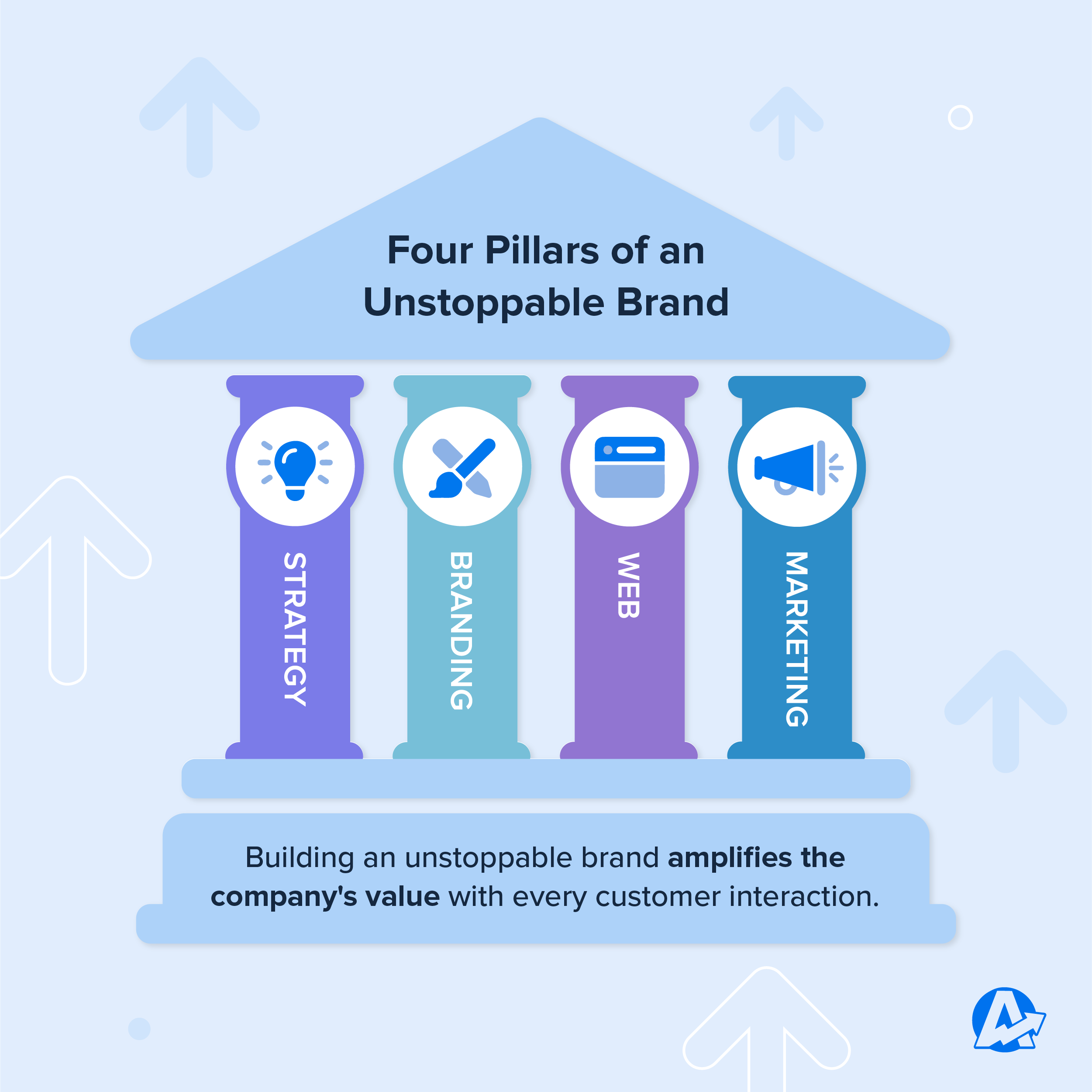 Consumers rely heavily on new reviews to gather information and share their opinions about different brands, services, and products. In fact, 93% of consumers read reviews before making a purchase decision, and 82% of consumers have been convinced to buy because of a product's positive reviews.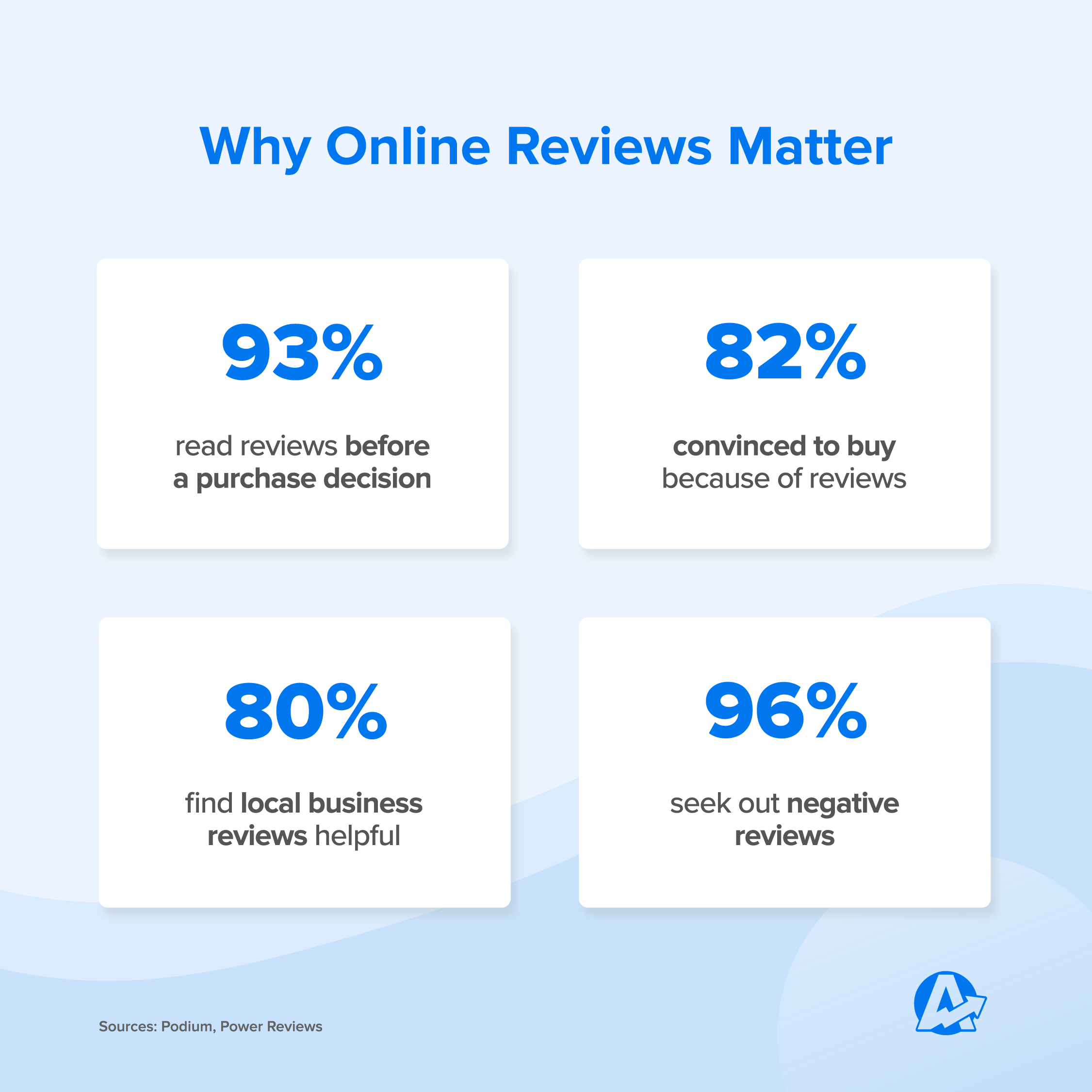 This is where online reputation monitoring tools become essential: having a stellar product, killer brand design, and impeccable advertising only get you so far if your client's online brand reputation or social media image is lacking or if all potential prospects come across are negative comments. 
Monitoring your clients' online business reputation gives you a critical understanding of what potential customers see–including positive or negative mentions–when they inevitably look up user reviews before purchasing.
Receiving confirmation of a positive brand reputation is often the nudge a consumer needs to click "add to cart". Conversely, a series of negative reviews creates a barrier to purchase that even the best marketing campaigns will struggle to overcome.
Reviews are what sell new business. They are vital when customers are making a decision. Without reviews, prospects don't know whether they should trust you or not. Positive reviews make your potential customers feel "warm and fuzzy" about choosing your business out of the pack. Even professional responses to negative reviews can convince a prospect that your company is the one they want to work with.

Anya Curry, Owner, Ambidextrous Services
Let's take a look at three more reasons why brand reputation monitoring is so critical to client success:
1. Builds Trust
Online reputation is closely tied to consumer trust. In an environment of ever-shifting market dynamics, a strong brand reputation serves as a stabilizer. Over 80% of consumers consider trust to be a deciding factor when making purchases. When your clients have a consistently positive reputation online, consumer trust grows, and sales increase.
2. Attracts Connections
Beyond impressing consumers, a positive reputation also captures the attention of potential employees and investors. By strengthening your clients' reputation, you concurrently increase their appeal to top-tier talent and investors, who are naturally drawn to ethical, successful businesses. 
3. Enhances Resilience
A robust brand reputation provides your clients with a buffer for effective crisis management. Should a crisis arise, a solid reputation offers resilience and accelerates recovery. 
When agencies ensure that their clients' brands can withstand adversity, they also increase the chances that the client will stick around and retain the agency's services during trying times.
Agencies in online reputation management facilitate a positive feedback loop between the client's overall strategy, branding, web presence, and marketing efforts. This results in a unified and impactful brand image that can easily survive a few negative mentions from the rare unhappy customer.
Maximizing Brand Reputation Monitoring to Foster Customer Loyalty
Brand monitoring is an exciting tool that allows agencies to: 
Craft unified messaging, 

Create dynamic content, 

Be vigilant about a brand's reputation online, 

Refine the customer experience, 

Personalize loyalty programs, and 

Optimize efforts through data-driven insights. 
Let's delve deeper into the methods used by marketing agencies to nurture lasting relationships between clients and customers, achieved through vigilant management of clients' brand reputations and a relentless commitment to boosting customer loyalty.
Relevant Value-Driven Content 
Marketing agencies stand at the forefront of crafting compelling content that harmonizes with a client's brand ethos, striking a chord with their target demographics. High-caliber, pertinent content bolsters customer loyalty by establishing the brand as a reliable authority, a go-to source of value. This continuous provision of value forges a bond, ensuring customer retention.
The more readers connect the client's brand with helpful, authoritative content in their niche, the stronger their brand reputation becomes.
Effective brand reputation monitoring necessitates uniformity in messaging and communication about a client's brand across all platforms. Marketing agencies build strong brands that customers can relate to by keeping a consistent brand message and establishing their clients' place in the market. 
Trust and familiarity grow from this consistency, fueling customer loyalty and brand reputation.
Creating Data-Driven Client Loyalty Programs 
Agencies serve their clients by developing and executing loyalty programs that reward customers for their steadfast support. Using customer data and analytics, these agencies empower clients to customize their marketing initiatives, curating messages and offers that strike a chord with each customer, turning them into evangelists. This level of personalization enriches the customer journey and instills a deeper sense of loyalty.
Optimizing Every Step of the Customer Journey 
Agencies should seek to optimize their clients' customer experience at every interaction point. Through insightful analysis of customer feedback and sentiment, they pinpoint areas for enhancement and devise strategies to improve the overall journey. 
A positive customer experience boosts customer satisfaction and loyalty, fortifying the brand's reputation.
Evaluating Brand Reputation and Highlighting Areas of Improvement
It's essential for marketing agencies to consistently evaluate the influence of their brand reputation on customer loyalty. Key metrics such as customer satisfaction, retention, and repeat purchase rates provide valuable insight into potential areas for improvement and the refinement of strategies to boost loyalty.
Maximizing the Impact of Ratings and Reviews
As we touched on earlier, ratings and reviews play a crucial role in reputation management. Think of them as online conversations others are having about your client's brand. This includes reviews on various platforms, social media presence, and the overall online narrative about the brand. 
5 Solid Reasons to Use Online Reputation Monitoring Tools
While the responsibility of shaping and managing brand reputation primarily rests in the hands of your clients, agencies would be remiss to neglect the potential of this vital growth factor.
Reputation management might sound like a whole new set of services, but in practice, it doesn't need to be a huge lift. Online reputation monitoring and management tools streamline the process, allowing agencies to reap the spillover benefits that a good brand image has on campaign success. 
Customer reviews are one of the few things that readers are likely to trust, they have to be earned.

Richard Jaggs, Director, Resolution Design
It's not just about getting better star ratings or improving a client's net promoter score. Leveraging insights from online reputation management software and conducting sentiment analysis provides agencies with an invaluable glimpse into consumer perception. 
By doing so, agencies gain a competitive edge by:
Fostering strong client relationships, 

Driving client success, and 

Positioning themselves as industry leaders in reputation management for their clients.
Let's explore how leveraging online reputation management software enhances your ability to create successful marketing solutions tailored to client needs. 
1. Use Customer Feedback for Targeted Messaging and Content Creation
Customer insights and sentiment analysis inform agencies about the target audience's feelings, pain points, and preferences, allowing you to customize your clients' messaging and content to resonate with the customer experience, increasing engagement and conversion rates.
For example, monitor social media reactions to pick up on trends or product benefits your agency–or your client–may not have considered.
At AgencyAnalytics, one of our happy customers shared how they save time during team meetings by creating a budget-pacing dashboard so that all of their clients' spend trends are available at a glance. This inspired an instructional post to help share those insights with other agencies. 
An approach like this creates a feedback loop between the customers who know and love the product, through the agency, to other potential customers who will appreciate those same benefits.  
2. Develop a Proactive Crisis Management Plan
Online reputation monitoring and management tools allow agencies to detect and address negative brand sentiment or emerging issues quickly. Performing sentiment analysis mitigates potential crises early on, allowing agencies to safeguard their clients' brand's online presence and prevent any adverse impact on marketing campaigns. 
3. Leverage Partnerships with Brand Ambassadors 
Micro-influencers generate an impressive 60% more engagement compared to their macro influencer counterparts. Leverage online reputation software to identify customers who are already raving about your client's brand on social media and other top online review sites. Use this data to forge strategic partnerships that amplify your marketing efforts. 
4. Real-time Product Feedback and Campaign Optimization
Online reputation management provides agencies with immediate feedback on campaign performance to assess the impact of marketing efforts, identify areas for improvement, enhance the client's online image, and make data-driven optimizations in real-time. This allows agencies to maximize campaign effectiveness and achieve better results.
For example, comments on a Facebook ad help guide whether the content of the ad is reaching and resonating with the target audience. A lot of negative comments will indicate an immediate need to rework the concept. 
Feedback is also a great source of inspiration for clients on what can be improved or what features their customers truly appreciate. If everyone who buys a client's product raves about it, except for one tiny flaw, that's an excellent opportunity to remove that flaw. 
5. Assess the Impact of Brand Perception on ROI
By tracking revenue figures alongside your clients' online reputations, your agency gains a comprehensive understanding of the direct relationship between customer feedback and business outcomes. 
This invaluable knowledge empowers you to make data-driven decisions and take appropriate actions to optimize your client's online presence and maximize their sales potential.
Agency Tip: Whether your clients are small businesses or large corporations, use automated review reporting to pull data from various online channels into one dashboard full of visual insights. 
Use Case: Tagging Brand Monitoring to ROI  
For clients who sell products and services online, leveraging an eCommerce dashboard and brand reputation monitoring is handy. This powerful tool allows your agency to track revenue and monitor their online reputation simultaneously. By integrating these two aspects, you better analyze the impact of customer reviews on their sales performance.
Track your clients' online reputation metrics against their marketing efforts' return on investment (ROI) with multi site monitoring. Try it free in AgencyAnalytics for 14 days. 
For instance, if a series of negative reviews surfaces, the eCommerce dashboard provides valuable insights into whether these reviews adversely affect the client's revenue. 
On the other hand, you can also track the positive reviews received from customers and correlate them with an increase in sales.
Having this information housed in a singular location positions your agency as a crucial partner to your clients, uncovering important insights to improve their business. 
Top 10 Best Reputation Management Software Tools
Ever wondered what's the secret recipe behind skyrocketing your clients' brand reputations online? The answer is simple: they're using the right tools. For agencies keen on pushing their clients' brands to new heights, it's time to explore the top ten reputation management tools. 
In no particular order, here are the reputation monitoring tools to use: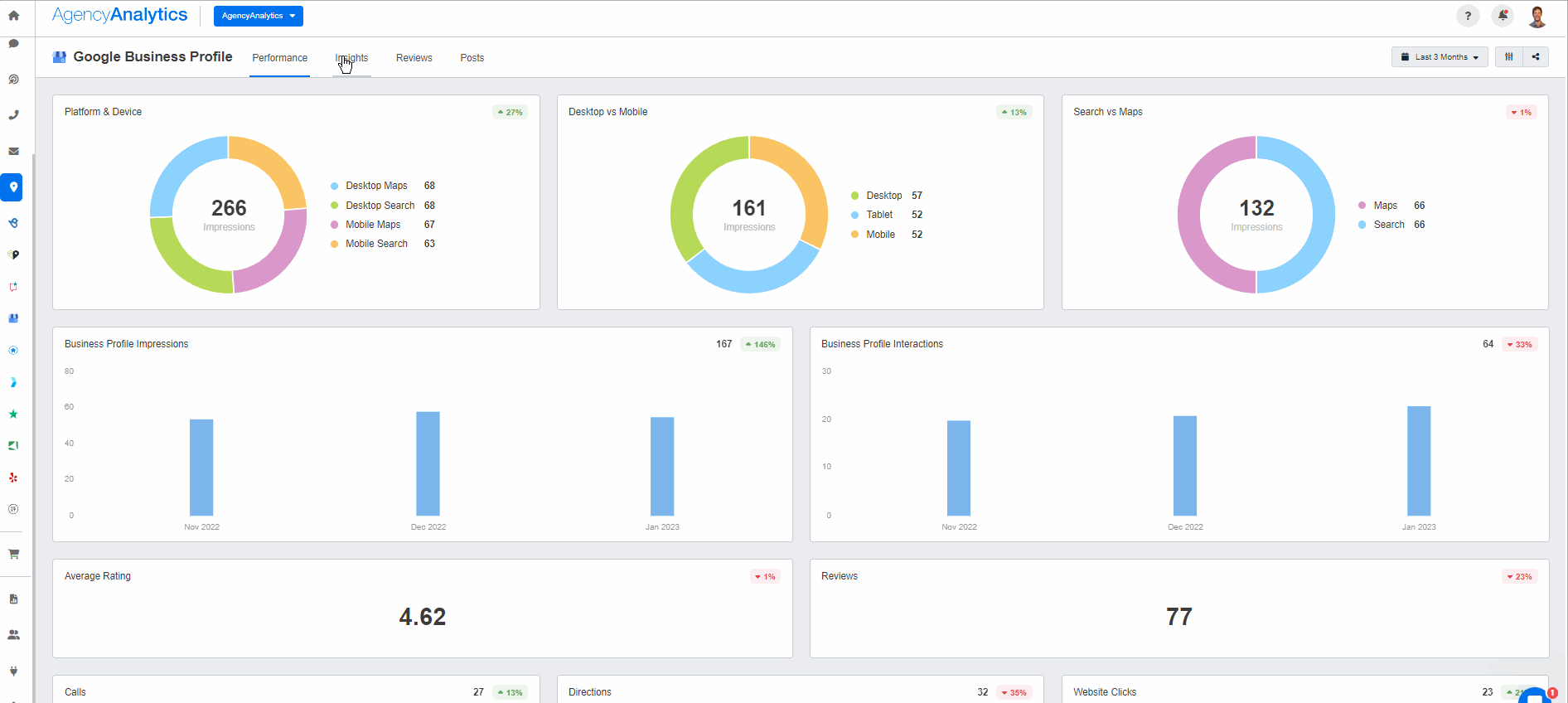 Track all your clients' GBP key metrics in a live dashboard! Try it free in AgencyAnalytics.  
Here's an open secret: Google Business Profile isn't just a platform for your client's business to appear on search engines, it's also a potent reputation management tool. It allows users to respond to online reviews and engage with customers directly. 
The name says it all, right? Mention is the perfect tool for knowing whenever a client's brand is, well, mentioned. It monitors social media, blogs, news websites, and more. It's like having a radar for your client's brand online.
The heart of G2 beats for B2B software and services companies. It offers a platform where businesses review each other. It's a fantastic reputation management tool for clients who want to know how they are viewed among their peers, and their competition. 
This is one of the most sophisticated reputation management tools out there. Grade.us enables agencies to guide customers toward the platforms where their positive reviews would be most impactful. So, the clients' own brand becomes a star in all the right places.
Birdeye is like a Swiss Army Knife when it comes to reputation management. It has tools for review management, social listening, and even surveys. If that's not enough, it's got an amazing dashboard that will make you feel like you're piloting a spaceship.
Texting is the new email, and Podium knows this. It helps businesses get reviews and feedback and even answer queries through text messages. It's a fresh take on the review management tool that will click with younger demographics.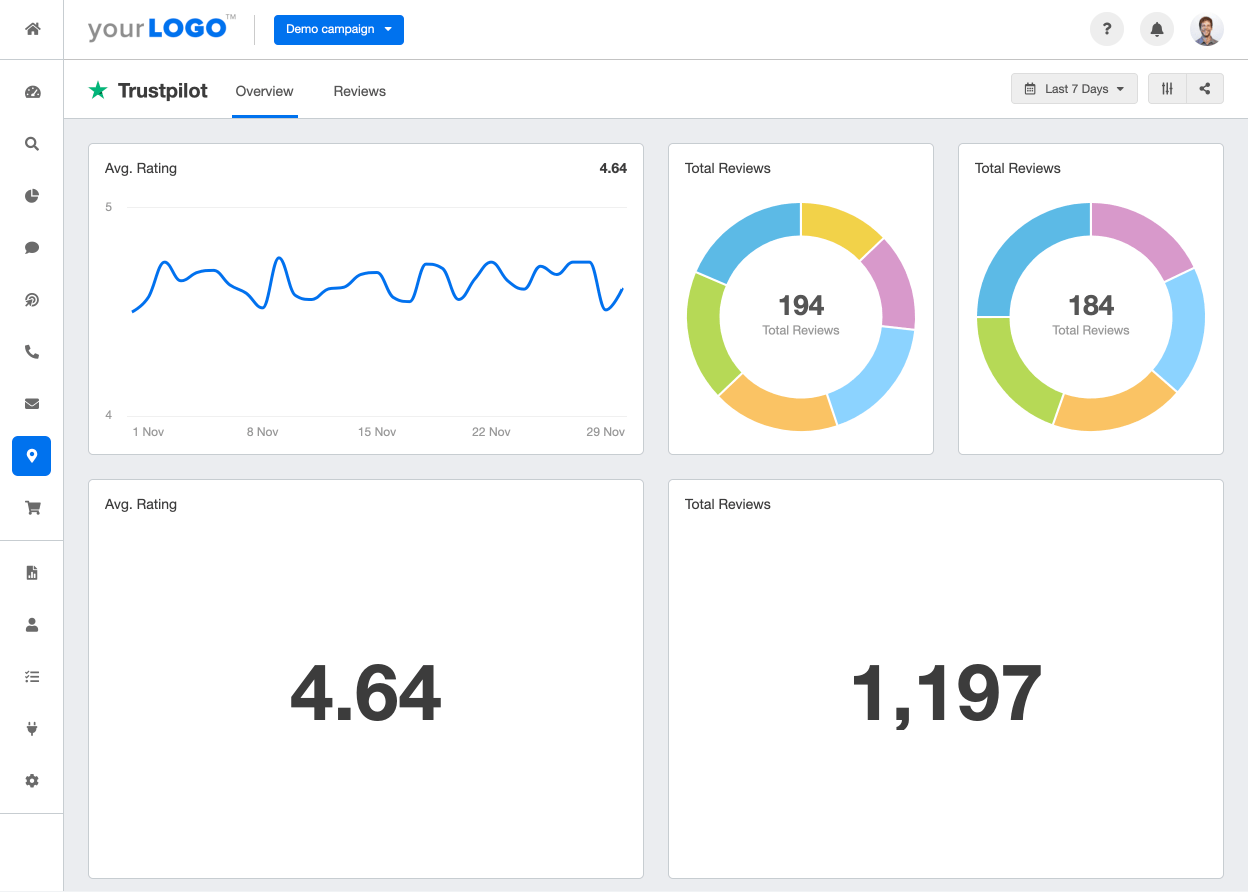 Easily report on your clients' Trustpilot metrics in a live dashboard! Try it free in AgencyAnalytics.  
Trustpilot is like a watchdog that never sleeps. This online review platform is that's open to everyone, letting customers share their experiences to help others make better choices. This also encourages companies–and their agency partners–to up their review game with the ability to invite customers to leave reviews.
Vendasta is an agency's best friend, with its suite of brand reputation monitoring tools. Not only does it track online reviews, but it also helps improve SEO, and manage social media. It's like a helpful sidekick, just without the funny costume.
Let's be honest, you knew this was coming. Yelp is the godfather of online review platforms and remains an important tool for monitoring a client's reputation. It's got the traffic, the name recognition, and the star power.
Last but not least, Yext! Yext helps clients stand out on search engines with smart, updated business listings. This reputation management tool also allows for real-time responses to customer reviews. It's like the tech-savvy secretary everyone wishes they had.
Remember, not all that glitters is gold. The right reputation management platform for your clients will depend on their individual needs and goals. The good news is, with such a variety of options, there's likely a perfect fit for every client.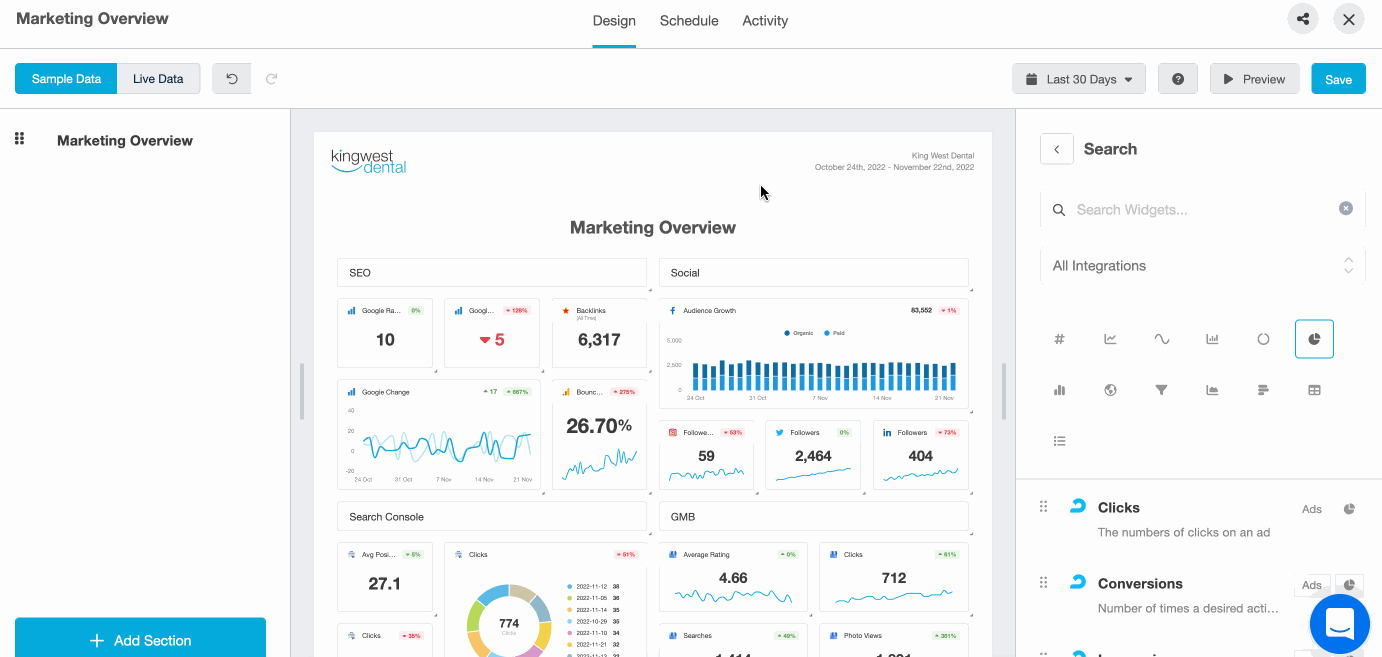 Combine all your clients' review metrics in one custom dashboard! Add metrics from integrations like Yelp, Yext, Vendasta, Trustpilot, and more! Flip it into a client-ready report in minutes! Sign up for your free 14-day AgencyAnalytics trial today. 
Best Practices for Brand Reputation Monitoring
Of course, this article isn't only about brand monitoring. It's about using actionable information to improve your client's positioning online. Three keys to brand reputation monitoring success are: actively responding to reviews, monitoring the competition, and automating the process with all your online reviews in one place.
1. Actively Respond to Reviews 
Responding to comments or reviews can make or break a business's online reputation. 
Whether it's a comment from unhappy customers or positive comments, how your client's business responds is crucial. In other words, your clients must address both positive and negative reviews, and this has to be done in a proactive, not reactive, fashion. 
Most consumers feel that a business cares about their consumers more if they respond to online reviews than if they do not.

Daniel Dye, President, Native Rank Inc.
When a brand is responsive, customers feel that their opinion is valued. They also appreciate transparent, sincere, and authentic brands rather than reactive or idle ones. 
While addressing comments directly may not be within your agency's service offering, below are some essential tips to consider or share with your clients.
Responding To Positive Comments
Thank customers for sharing their feedback

Emphasize how committed the brand is to their satisfaction

Invite customers to continue using the product or service
For positive feedback, encourage your clients to make the most of it. It's marketing gold. 
Positive reviews and feedback can be used on your clients' websites, in their marketing materials, and in their online ads. They will help enforce the brand's authority and credibility and make the audience more likely to buy.
Responding to a Negative Review
Apologize and sympathize with the customer's issue

Assure them that you are taking all necessary steps to address the issue

Take responsibility and be direct and transparent if the situation calls for it

Reach out to the media and address any criticism without being defensive
We advise our customers to contact the person directly, if at all possible. The next step is to respond publicly to the review in a kind, professional manner. Depending on the circumstances and content of the review, details about the solution can be shared in the response as well.

Anya Curry, Owner, Ambidextrous Services
2. Gain Competitive Insights 
As a marketing agency dedicated to managing your clients' brand reputation, expanding your understanding of how the brand fits within their greater industry landscape is essential. While you're at it, explore your clients' competitors. 
Monitoring the online reputation of your clients' competitors offers several significant advantages. 
Firstly, it serves as a source of inspiration, allowing you to identify effective strategies that can be adapted and implemented to enhance your clients' campaigns. 
Secondly, it lets you pinpoint high-quality opportunities that may have been overlooked, allowing you to adjust your clients' digital marketing strategies.
Moreover, by studying the aspects that the competitors' customers express dissatisfaction with, you can identify areas for improvement and differentiation within your clients' brands. 
Addressing these pain points not only enhances your clients' brand reputation but also positions your client as a superior alternative, emphasizing their unique selling points.
Agency Tip: Check out industry-specific review sites to spot what people are saying about the competition. 
Use your online reputation monitoring tool to assess competitors' online reputation, looking at factors such as:
The frequency of mentions in traditional media,

Their level of activity on social media platforms,

How they manage their reviews, 

The level of audience engagement, and 

How they respond to negative feedback.
3. Embrace Automation for Brand Reputation Monitoring
Agencies need a scalable solution to efficiently handle the vast amount of information involved in brand reputation monitoring. By automating the brand reputation monitoring process, you effortlessly gather real-time data and generate insightful reports for your clients, showcasing the value of your agency without any additional time investment on your part.
Automating the retrieval and reporting of data positions your agency as a reliable and trustworthy partner to your clients. With the right tools, you can offer your clients this add-on service at minimal extra cost.
Developing an Online Reputation Management Strategy for Clients 
Here's how to incorporate insights from an online reputation management tool into your client's overall marketing strategy. 
Step 1. Audit Brand Mentions
There are many brand reputation monitoring tools available, and these social listening tools give you real-time alerts on social mentions, harmful statements, or even new reviews about your client's brand. 
One such example is Google Alerts, which can be set up to track brand mentions and alert you as they arise. This means that every time your client's brand is mentioned on social media platforms, news sites, or online discussions, you'll be the first to know.
By tracking online mentions, you'll gain an in-depth understanding of how people perceive your client's brand and establish the direction you want to take that perception. Where is there room for improvement? What are the commonalities you're seeing as you're monitoring online reviews? 
Step 2. Set up Multi Level Reporting With an Online Reputation Monitoring Tool
Every strategy needs actionable data to guide it. As such, agencies need online reputation management tools that allow for trends detection from review sites with clear, actionable insights. 
Additionally, to track reviews, you'll need to connect to multiple social media channels and major review sites like Trustpilot to share your progress with clients easily. 
Easily track reviews to streamline your clients' brand reputation monitoring. Flip it into an automated report in minutes. Try it free for 14 days with AgencyAnalytics! 
Step 3. Identify Your Brand Monitoring Goals
The report will give you detailed data on areas of need. Whether it's:
The audit and report combined should tell you where to allocate available resources to make the most significant impact.
Step 4. Firm up the Brand Reputation Management Strategy 
Next, create a set of guidelines and a cohesive plan for approaching all aspects of online reputation, including:
A tone of voice that is in line with the brand image (to be used across all channels)

Response templates for review management

Campaigns to improve online reach

The help of PR professionals or industry influencers to establish authority

A crisis management strategy
All these plans help manage a brand's online reputation in a controlled and effective manner and set it up for success.
An unstoppable brand is a thriving, purposeful entity built on the right foundations. It's resilient enough to weather any storm or challenge and is built for long-term, sustainable growth.

David Metcalf, Founder & Managing Director at Distl
The Takeaway
Developing and maintaining a solid online reputation helps your clients grow and thrive. When your clients succeed, it reflects positively on the role you played in their success, making them eager to continue your working relationship.
Brand reputation monitoring provides clients with the opportunity to actively engage with their customers, fostering a sense of community and fueling the positive feedback loop within the campaigns your agency runs. 
This involves integrating brand reputation monitoring into your agency's social media efforts to track and enhance the share of voice, improve sentiment, and drive campaign success by tracking the right eCommerce metrics. 
Build trusted brands, drive growth, and position yourself as an industry leader by prioritizing brand reputation monitoring and leveraging the right reputation management platform for your clients. 
Create custom marketing dashboards easily with a drag-and-drop report builder. Give clients access to their review dashboards so they can view their reviews from multiple online and social media sites. Try AgencyAnalytics free for 14 days–no credit card required.
Written by
Melody Sinclair-Brooks
Melody Sinclair-Brooks brings nearly a decade of experience in marketing in the tech industry. Specializing in B2B messaging for startups and SaaS, she crafts campaigns that cut through the noise, leveraging customer insights and multichannel strategies for tangible growth.
Read more posts by Melody Sinclair-Brooks ›
Try AgencyAnalytics risk-free for 14 days. No credit card required.