If you manage social media marketing for clients, one of the best ways to kick off the client relationship is by performing a thorough social media audit.
Similar to an SEO site audit, the goal of a social media audit is to identify the current standing of your client's social presence, including what's working and what needs improvement.
For agencies, a comprehensive social media audit not only demonstrates your expertise but also helps prioritize key social media metrics to measure, marketing tasks, goals, and the success of the client relationship. This prioritization of social media marketing and client communication ultimately helps retain clients.
In this guide, we'll discuss how you can perform a social media audit in 10 steps with the help of our prebuilt social media dashboard template. Also, keep in mind that social media audits can be a powerful tool for landing new clients for the agency. In particular, we'll discuss:
Let's get started.
What Is a Social Media Audit?
A social media audit is a systematic process of analyzing a company's current social media presence. But more importantly, what does it mean for your clients? 
We've gathered some of the top questions most businesses and social media experts had when they wanted to know what an audit should look like.
The goal of a social media audit is to take an inventory of each social media platform the company is on. Here's a quick social media audit checklist to consider:
Is each profile on-brand, both visually and in terms of messaging?

What type of content is performing the best?

What is the current traffic and ROI from social?

How do you compare to your competitors and is there any undiscovered growth potential?

Should any changes be made to the overall social media marketing strategy?
By answering these questions, a social media audit allows marketers to identify what's working, and what needs improvement, and use this information to create a marketing plan going forward. 
Ultimately, audits allow marketers to prioritize their marketing tasks in order to see short-term improvements, for example, ensuring each profile is on-brand and sets them up for long-term success. In addition, analyzing the current state of a company's social presence helps determine which KPIs and metrics will be most important to measure the success of the campaign. It's also a guiding tool to tweak your client's social media strategy if needed.
At the end of the day, starting off with a social media audit aligns both the agency and the brand on the most important work to be completed and how they are going to measure the success of the campaign.
How Often Should You Conduct Social Media Audits
You should do frequent audits of your client's social media accounts and social media analytics to verify that everything is on track and on brand, and you should keep an eye out for changes in how your accounts are operating. 
Some social media agencies prefer to do smaller audits on a weekly rather than larger audits on a monthly basis. 
You'll want to have enough information from this audit to figure out what worked and what didn't. Doing so more regularly allows you to notice not just minor changes, but also to catch them early on, allowing you to make an urgent change in approach.
We take a data-driven approach to all of our strategies and constantly measure and analyze the results to ensure that we are delivering maximum ROI for our clients. We make sure that our clients are always informed about the progress of their campaigns to make informed decisions about their digital marketing strategies.

Daniel Dye, President of Native Rank, Inc.
Social media is all about relevance and following trends. It doesn't help if you look back in 6 months and realize you missed an opportunity. Audit often and adapt quickly.
With the help of a social media template, this audit should take no more than 10 minutes to create. You can schedule a report using our social media monthly report template.
What Should a Social Media Audit Include?
We'll look at key performance indicators across several social media platforms, although the overall process will look the same regardless of the platforms being analyzed.
Essentially, you want to review each platform's past results, including your clients' followers, engagement, audience demographics, and the best performing content. 
As you go through the steps below, be sure to take notes on all social media platforms, as a key outcome of the audit will be a personalized commentary about their performance as a whole.
How to Do a Social Media Audit for a Client in 10 Steps
Below, we'll look at how you can use our social media dashboard template to efficiently conduct social media audits. 
1. Create a Campaign in Agency Analytics
The first step is to create a new campaign for the client. In AgencyAnalytics, a campaign refers to a single website, so in most cases, each client will have their own campaign.
2. Connect Integrations & Create a Social Media Dashboard
After creating a campaign, you'll then be directed to connect each of your clients' social integrations. You can connect as many social media profiles as needed to run a complete audit, including integrations for Facebook, Instagram, LinkedIn, Pinterest, Twitter, Vimeo, and YouTube.
After connecting each integration, the next step is to add a new dashboard that will display all their social data in a single, unified location. In this case, use our prebuilt social media dashboard as it contains the data visualization widgets needed for a social media audit.
Seamlessly integrate your clients' social media platforms with AgencyAnalytics. Automatically populate marketing metrics into visually appealing dashboards and reports–start your free 14-day trial today.
3. Review Followers Over Time
After creating a social media dashboard, the next step is to review each account's current followers. In this step, it's important to go beyond simply the total follower count at that point in time, and instead focus on the follower growth rate, and whether it has been primarily from organic growth, paid acquisition, or a combination of the two.
For example, with our Facebook integration, you can see both target audience growth over time, and if they're attributable to organic or paid acquisition:

Or you can track engagement and user clicks from LinkedIn analytics. Similarly, you can see each social platform's followers can easily be displayed over time with a bar chart to determine how the follower growth rate is distributed across platforms:
No need to reinvent the wheel Use a pre-built social media dashboard template and replicate it each time a new client comes along. Try it on AgencyAnalytics, free for 14 days! 
4. Analyze Engagement Metrics
After making a note of each account's follower growth rate, the next step is to analyze engagement over time. With our Facebook integration, for example, there's a dedicated tab for engagement that displays audience engagement over time, including total likes, shares, and comments for the time period: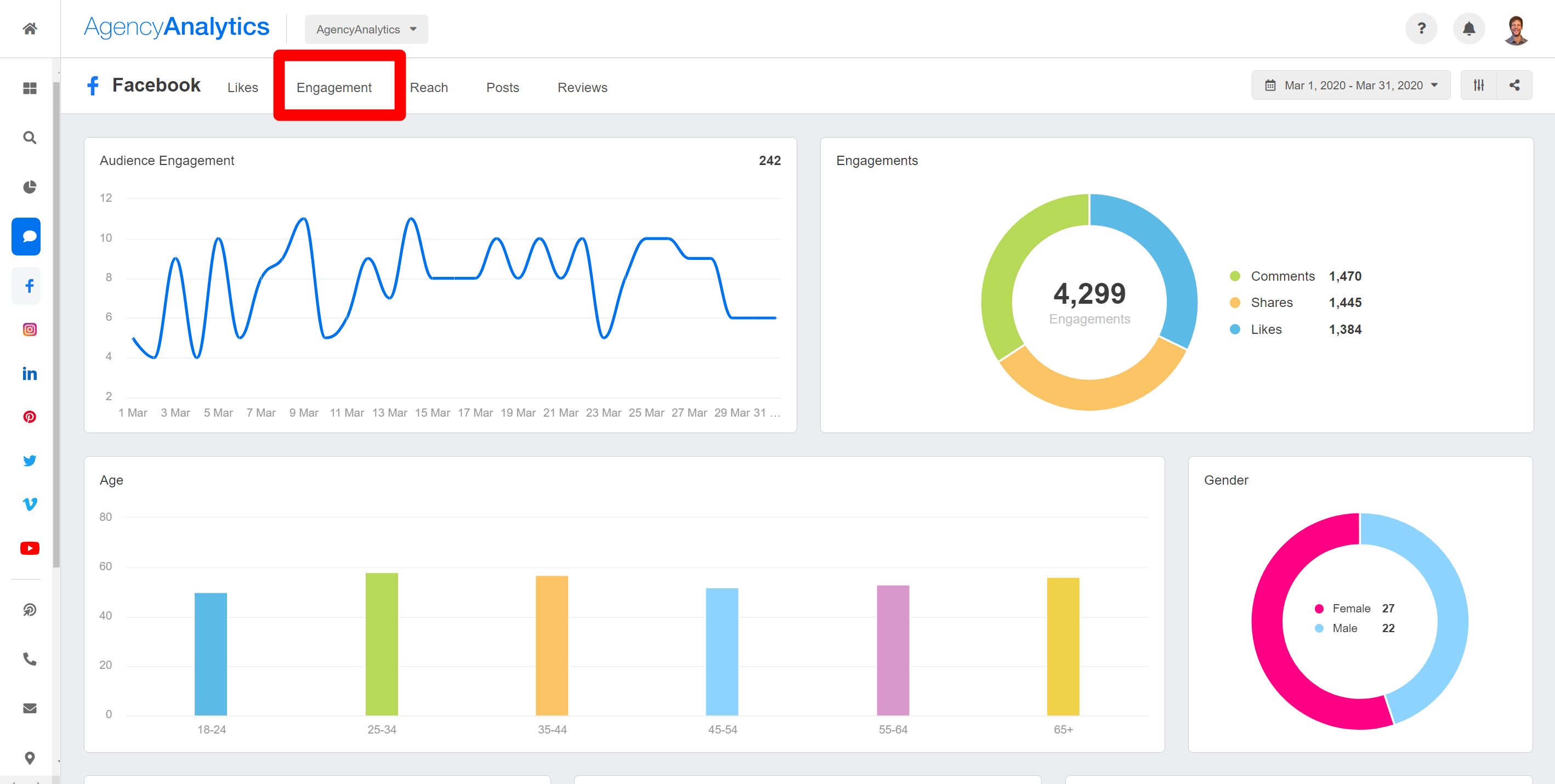 5. Review Reach Metrics
Another key metric to make a note of in a social media audit is each account's reach, which is defined as the total number of people who see the account's content.
With our Instagram integration, for example, there are time-based line charts for both reach and impressions to see how quickly the account reaching new people:
6. Review Top Performing Posts & Posting Frequency
After making a note of the social media analytics mentioned above, it's important to take a more qualitative look at the account's posts. In this step, the goal is to make sure all the content is on-brand and to determine if a particular type of post performs better than others.
Similarly, ‌make a note of the posting frequency on each channel. With our Instagram dashboard, there are tabs for both Posts and Stories that allow you to quickly review each post and its associated reach and engagement:
7. Analyze Audience Demographics
Next, a social media audit should always make a note of the existing audience demographics, including the most prevalent age range, location, gender, and device used.
Below you can see an example of the Demographics tab in our YouTube analytics integration that automatically provides this information: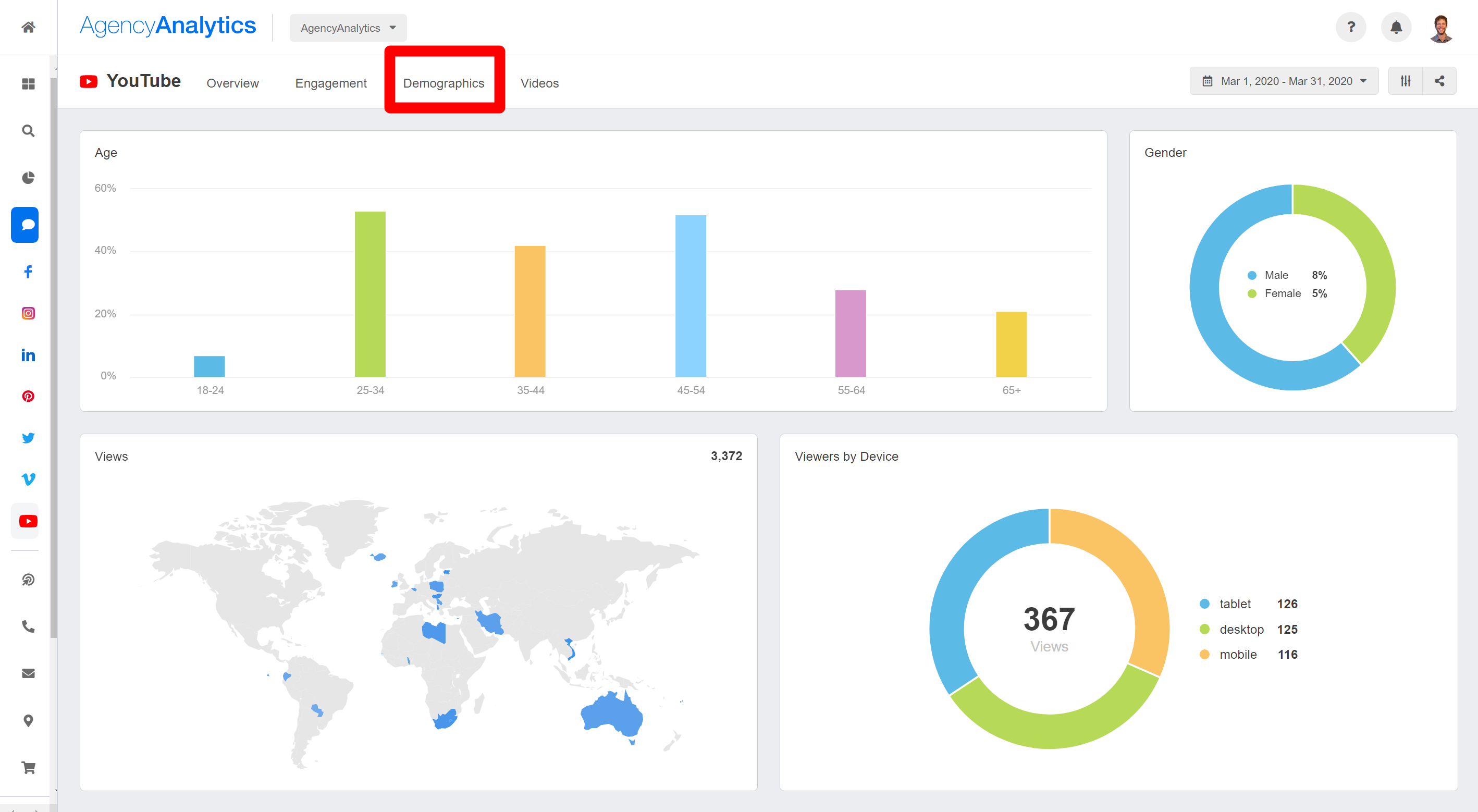 Analyze your clients' social media efforts and whether they're reaching intended audiences. Make data-informed recommendations and monitor performance with ease. Invest in a time-saving tool like AgencyAnalytics, it's free for 14 days.
8. Referral Traffic from Social
Now that we've reviewed each individual social account and made a note of key social media metrics, it's important to determine how much traffic is visiting your client's website from all social media channels.
This can be done by connecting Google Analytics and going to the Acquisition -> Social tab.
From there, you can find traffic metrics from social platforms such as Sessions, Users, and more:
9. Determine Social Media ROI
While in the Google Analytics tab, it's also important to make a note of any existing ROI that can be attributed to social media channels. This can include making notes of metrics such as Goal Completions and Goal Value from social accounts.
When it comes to digital marketing, clients often want to see results. That's why one of the most useful elements of our digital marketing reports is the section on ROI. This allows clients to see how their investment is paying off in terms of web traffic, leads, and sales. Guy Hudson, Founder of Bespoke Marketing Plans
Below you can see how Goal Value is broken up into the amount from each social account in a bar chart: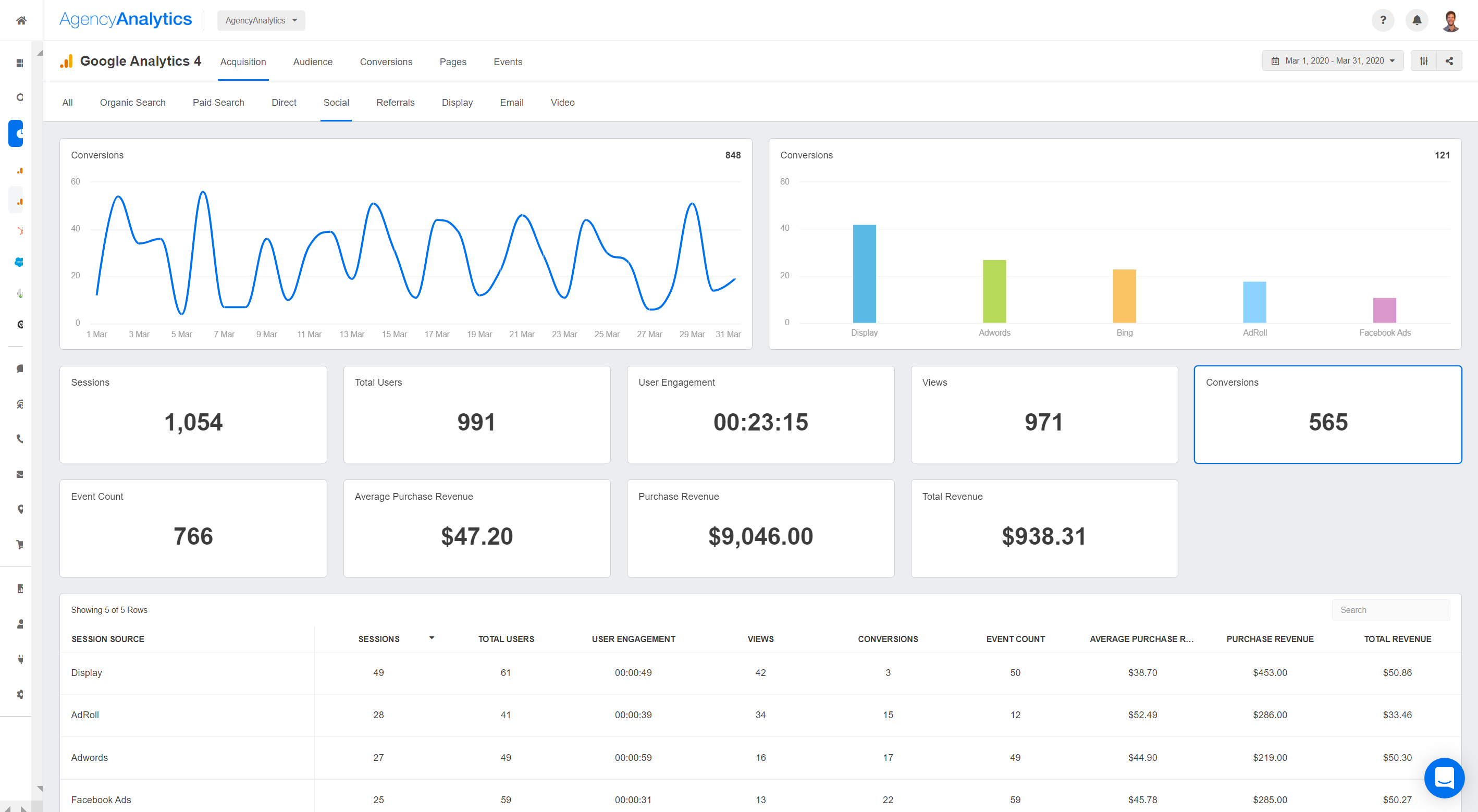 10. Add Personalized Commentary
Finally, the most important part of a social media audit is your personalized commentary. Many clients will want to read your insights from the audit, and this is the place where you can provide your unique understanding of their data.
We like to personalize the summary piece of the report each month. It is helpful to have the majority of the report completed and all we have to do is update the summary piece of it. Perfect balance!

Ariene Dionela, Digital Media Account Director at Connections Marketing
Your commentary is where you should include your insights from the analysis above. For example:
Evaluating each channel's performance, including the best opportunities for growth and other valuable insights (e.g., demographic data)

Highlighting successes of these social media efforts (e.g. what to do more of) and challenges (e.g. what to do less of) 

Providing suggestions for what to focus on in the next 90 days, for example, the type of posts, frequency, top performing social media network, and so on

Setting realistic goals for follower growth, traffic from social, and the ROI from the social media strategy

Creating a timeline and roadmap to achieve these goals
The personalized commentary will typically be included right in the homepage of the social dashboard:
Summary: How to Conduct a Social Media Audit
Social media has become a key part of any client's business. As you land new clients for your agency, conducting a social media audit is key to analyzing the brand's current social accounts and growth rates, setting goals for each account, and determining the most impactful tasks you can take to achieve those goals.
Starting off the client relationship with a social media audit helps prioritize your internal tasks and creates a framework to measure the success of the campaign. With the help of our social media dashboard template, you have all the necessary data visualization widgets to efficiently conduct a social media audit that will set up your client relationships for success. Keep on the pulse of real-time, up to date social media metrics and identify areas for improvement over time. Drive your clients to social media success by monitoring insights on AgencyAnalytics, free for 14 days.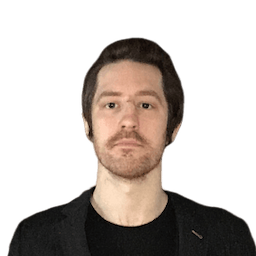 Peter Foy is a content marketer with a focus on SaaS companies. Based in Toronto, when he's not writing he's usually studying data science and machine learning.
Read more posts by Peter Foy ›
Try AgencyAnalytics risk-free for 14 days. No credit card required.