LinkedIn is the king of B2B social media marketing. An effective LinkedIn marketing strategy will help your clients build their brand and generate leads. But you need to communicate that strategy effectively using the right LinkedIn analytics tools.
How is your agency measuring its LinkedIn marketing efforts? Do you know which metrics to monitor?
Whether you're promoting awareness of their brand or boosting credibility among peers, tracking your clients' LinkedIn Analytics will help you identify which parts of your LinkedIn marketing campaigns are working and which aren't. 
In this post, we'll cover the top five LinkedIn metrics to track and focus in on LinkedIn dashboard and reports to make it scalable for you to take on as many clients as you like.
In this article:
Is LinkedIn Marketing Still Relevant?
Over the last several years, LinkedIn has grown far beyond just being another job site. Just like any other social network, many clients who have business pages expect to know their engagement metrics as part of the social media management services they pay for. 
Nowadays, almost every business professional has a LinkedIn profile. With more than 700 million business professionals, it has evolved into one of the best content marketing platforms for B2B businesses.
Professionals are here for more than networking and job hunting–LinkedIn is an opportunity to get in front of your ideal clients too.
Savvy agencies use their LinkedIn Company Page to build trust by producing relevant, high-quality content, thus positioning themselves as authorities in their market. Top agencies also apply the same strategy and use LinkedIn to boost their clients' businesses.
But you'll need to measure progress in real-time and demonstrate how effective your LinkedIn marketing is.
What Is LinkedIn Analytics?
LinkedIn Analytics is a selection of metrics that capture the performance of your LinkedIn Company Page. Like other social media platforms, they measure metrics such as followers, clicks, shares, and comments.
The content you publish on the platform, ads that you run, and people who visit your Company Page are all captured by these metrics. Tracking your analytics is critical when determining what content resonates with your target audience.
Use this LinkedIn Dashboard template to track all your clients' LinkedIn metrics in one place & flip it into a client-ready report in seconds! Try AgencyAnalytics Free for 14 Days.
Where To Find Your LinkedIn Analytics?
First, you need to make sure your (or your client's) Company Page has been set up. When you log into your Company Page, you will then see the Analytics dropdown on the top menu:
Note: Linkedin Analytics is only available to Page Admins.
Which Metrics Does LinkedIn Analytics Measure?
As you can see from the screenshot above, LinkedIn Analytics are divided into 3 main categories:
Each section reports on a different aspect of your LinkedIn page.
Updates:
In this section, you're given metrics that help you determine if your company updates (posts) are generating customer engagement. These metrics include:
Update Title - The title of the update you posted.

Posted by - Who on your team posted the update.

Created - The date the update was published.

Impressions - The number of times an update was shown to a user.

Video Views - When 3 seconds or more of a video was viewed, or the Call-to-Action (CTA) was clicked.

Clicks - The number of times your update or company branding was clicked.

CTR (Click Through Rate) - Clicks divided by impressions.

Likes - Number of likes on your update.

Comments - Number of comments on your update.

Shares - Number of update shares.

Follows - Number of people who click 'follow' on your sponsored updates.

Engagement Rate - (Clicks + Likes + Comments + Shares + Follows) / Total Impressions
Examples of company updates would include how-to articles, company achievements, advice, and other content that provides value to your target audience.
Make sure you have a well-defined strategy before posting updates. There should be a purpose and direction.
LinkedIn Followers:
In this section, you're given follower metrics about who is following your Company Page. These metrics include:
Total Followers - Total followers of your company page.

Organic Followers - Followers acquired without ad spend.

Sponsored Followers - Followers acquired through paid ads.

Follower Demographics - Demographics of your company page followers broken down by location, job function, industry, and company size

Follower Trends - A line chart that shows when followers were added over time.
Visitors:
In this section, you're given visitor metrics about people who have landed on your Company Page. These metrics include:
Page Views - Total number of views of your company page, including your career page.

Unique Visitors - Unique page visitors. Excluding multiple visits from the same user.

Visitor Metrics - This is a line chart that allows you to see the number of Page Views over time.

Visitor Demographics - Similar to Follower Demographics, this section gives the demographics of your page visitors.
Remember, visitor analytics give you data on who has visited your page, but not metrics on content performance. Fill out every section of your company page in order to optimize the visitor experience. You don't want a prospective customer to leave with more questions than they arrived with.
Phew! That's a lot of LinkedIn metrics to track! With all these available metrics it's easy to get lost in a sea of analytics. Which brings us to the next question: Which of these LinkedIn metrics should you actually report on?
Top 5 LinkedIn Analytics Metrics to Report
Let's now hone it down to the most important LinkedIn metrics for monitoring the health of your LinkedIn marketing efforts.
1) Impressions
Content marketing is all about attracting potential customers by offering value upfront. Impressions are the total number of times your LinkedIn post has been seen. This includes users who see it more than once.
For example: If a user sees your update three times, it counts as three impressions. But, it will only count as one unique impression.
When viewing impressions data through the update metrics chart, you can gain additional insights, such as:
Determining the best time to post: You'll be able to identify the days when your LinkedIn posts are seen most often, and then, refine your posting schedule to ensure that your customers are receiving your content when they are most likely to view it.

What posts to sponsor: By comparing organic and sponsored posts, you can quickly determine which organic posts are resonating with your existing followers. Making it easy to determine which posts and topics you should sponsor to broaden your follower base.

Long-term trends: Viewing your impressions over time will help you visualize the trajectory of your marketing campaigns. If you are seeing a downward trend in impressions, this could mean your content is not compelling and LinkedIn is serving it to fewer followers.
Having a high number of impressions doesn't necessarily mean you've got a winning post, but it is a great indicator. You still need to look at the following two metrics as well, to understand how well your posts are resonating with your target audience.
2) CTR (Click-Through-Rate)
How's your performance?
All too often, clients obsess over how many clicks their content and LinkedIn ads are receiving. But as many seasoned marketers know, it's the click-through rate that gives you the real insights regarding how relevant & engaging your posts are.
As mentioned before, CTR is the total number of clicks your post receives divided by the total number of impressions. It measures the percentage of people who see your post and click through to learn more.
Why is this metric important? Because a high CTR means a high percentage of people who saw your post are clicking your content and going to your site. This indicates that your LinkedIn ads - both imagery and copy - are effective and that your audience is willing to take action. The same applies to organic posts. 
Monitoring your click-through rate will make you aware of underperforming content and signal you to act.
3) Engagement Rate
Are people interested in what you have to say?
You need to do more than just reach an audience - you need to know that you're reaching the right audience and reach as many of them as possible. Look at your follower demographics to understand who your content reaches.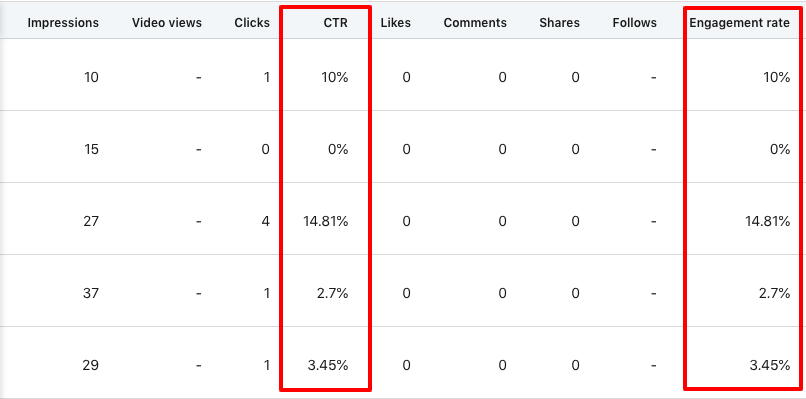 This will help you determine what resonates with your followers and allow you to create more of what your audience loves. Don't forget to experiment with images and video. Images receive 200% more engagement than a standard text post.
4) Follower Demographics
Who is liking what you're saying?
This section lets you connect the dots between the audience your agency is reaching on LinkedIn and your client's target market. Look at your follower demographics to understand who your content reaches. Does it align with the ideal target for your client?

What role does your client play within an organization? Are they decision makers? You can see if your audience comes from small businesses or large corporations, what job function they have within their company, and even their location.
Do you want to target specific verticals? If so, you can target the industry most of your viewers work in. When combined with CTR and Engagement Rate, you can very clearly determine who loves your content and craft your updates just for them.
5) Followers: Total and Organic
Not surprisingly, the probability of your target audience seeing your posts in their feed increases if they follow your page.
This is why it's important to know and actively try to increase your total followers.
Having a high total number of followers also implies strong brand credibility in the eyes of future customers. In the follower metrics chart, you can see both your total followers and the trend in gaining followers.
This creates a visual representation of the followers metric under updates, which shows you which posts generated new page followers. Knowing which posts generated the most followers creates a feedback loop allowing you to improve the effectiveness of your content marketing.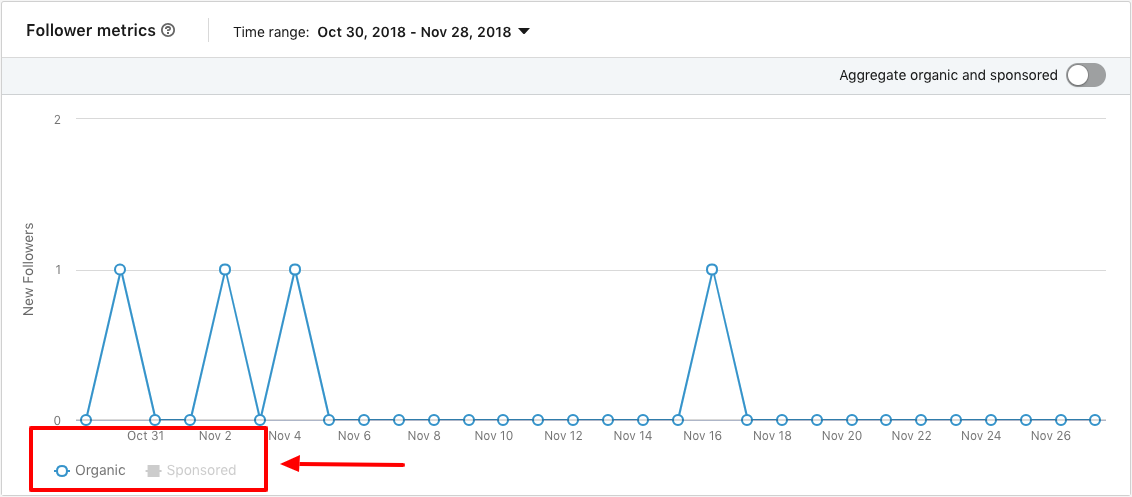 You can also gauge the effectiveness of your sponsored posts by seeing how many new followers they generated compared to your organic posts.
How To Report Your LinkedIn Analytics
LinkedIn requires a separate content strategy from your clients' other social media channels. As such, it comes with its own metrics to benchmark against.
Once you have tailored your client's live LinkedIn dashboard to your specs like the one above, you've got all the data you need to demonstrate the success of your content marketing strategy. Now you just need a clear and concise way of reporting this data.
This is where AgencyAnalytics' white label dashboard and reporting software helps you showcase your results. By including key LinkedIn metrics in your social media reports like follower growth and post engagement, you'll be able to show how LinkedIn is performing against your other campaigns.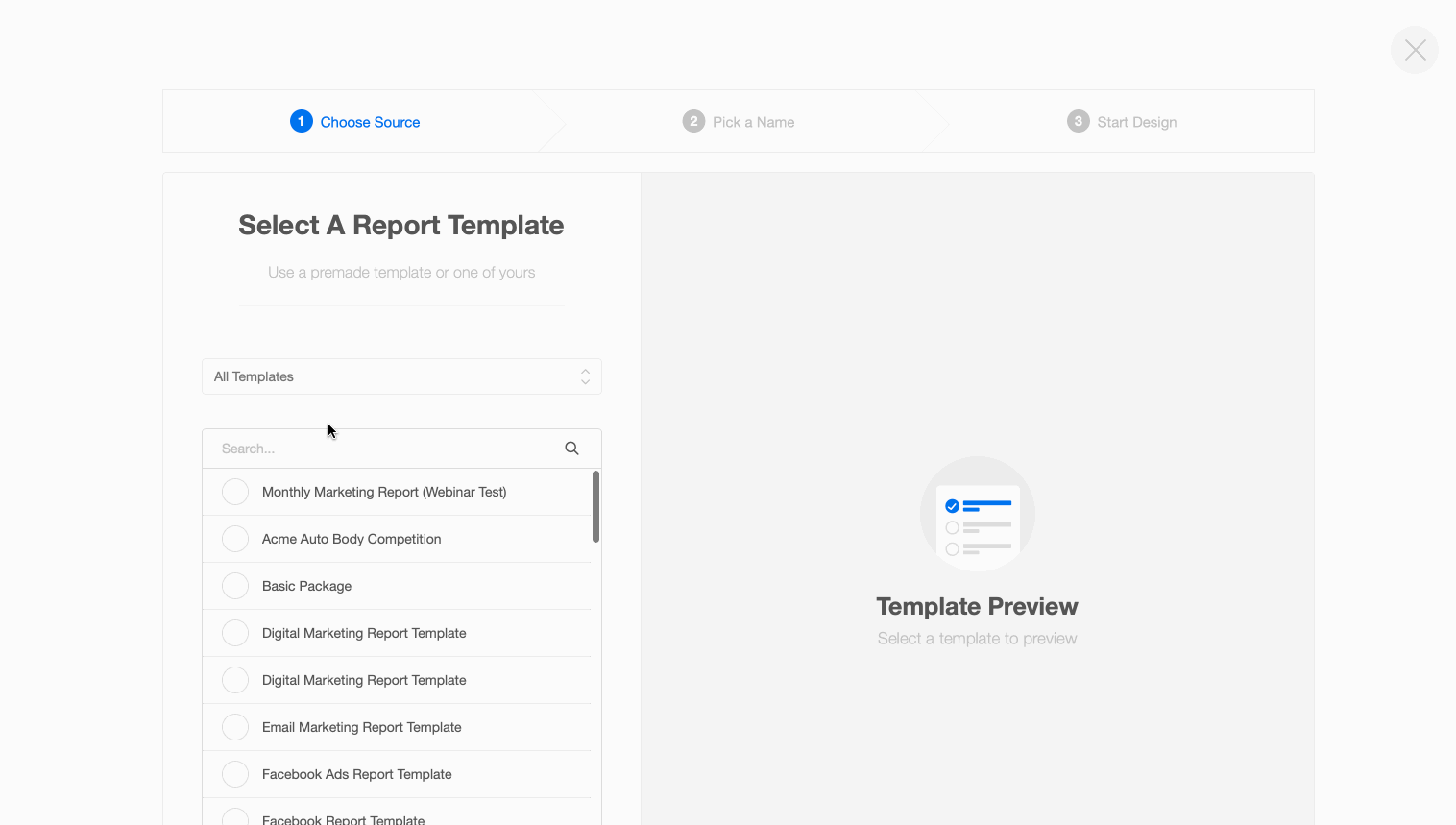 With an easy drag-and-drop report builder and over 75 integrations to choose from–including Google Analytics, Facebook, and Instagram–build white labeled client reports in minutes.
And chances are, you're not just managing your clients' LinkedIn profiles. Win back countless billable hours every month when you put all your client reporting needs under one roof.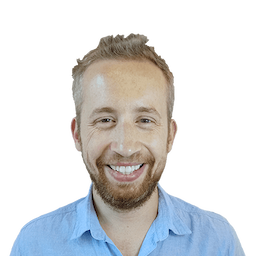 Try AgencyAnalytics risk-free for 14 days. No credit card required.