What social media marketing platform has twice the buying power as the average web audience? You guessed it–LinkedIn. 
While you might be wary of adding yet another platform to your agency's plate or convincing your clients to up their paid ad budget to include LinkedIn Ads, overlooking the world's largest professional networking platform can make your clients miss out on a powerful lead generation tool to grow their business. 
This article will explore LinkedIn ads best practices and mistakes to avoid and show you just how to stay on top of all the data in a scalable way to generate a positive ROI.
In this article:
How Do LinkedIn Ads Work?
LinkedIn advertising works similarly to other marketing campaigns. It is broken down into 5 logical steps:
Picking a campaign objective (Awareness, Consideration, or Conversions)

Selecting targeting options to reach your desired audience    

Picking an ad format: Sponsored, Message, Dynamic, or Text

Setting your budget

Measuring your ad's success
How Effective Is LinkedIn Advertising?
One thing you probably already heard about LinkedIn ads is that they are more expensive than their Facebook or Google counterparts. But with an audience of over 830 million members, LinkedIn is still the number one advertising platform for B2B companies. 
Why is that? Well, their audience of business professionals is looking to connect with other businesses. Businesses like your clients'. 
Pros and Cons of LinkedIn Ads
You already know that LinkedIn ads run on the expensive side. Perhaps you'd like to see if it's worth it or get more information to convince your clients to divide their ad budget to include LinkedIn ads. 
Let's make a little comparison of the advantages and disadvantages of LinkedIn ads. 
Advantages of LinkedIn Ads

Disadvantages of LinkedIn Ads

Advantages of LinkedIn Ads

A large audience with greater buying power 

Disadvantages of LinkedIn Ads

Limited scope and reach limited to the B2B space 

Advantages of LinkedIn Ads

An audience of professionals to market to

Disadvantages of LinkedIn Ads

Many users are on the site for job hunting 

Advantages of LinkedIn Ads

Detailed, business-specific targeting options not available on other platforms (i.e., industry, profession, position, college, etc. ) 

Disadvantages of LinkedIn Ads

Targeting is mainly focusing on one aspect: their work lives 

Advantages of LinkedIn Ads

Various ad formats 

Disadvantages of LinkedIn Ads

Lacks advanced optimization options that are available on other platforms 

Advantages of LinkedIn Ads

Targeting options to reach high-level prospects and top decision-makers

Disadvantages of LinkedIn Ads

Ads cost more than other platforms
While LinkedIn is mainly a platform for B2B advertising, there is an increasing amount of activity in the B2C sphere since users are sharing more about their personal lives and interests than ever before. This can tie into your client's company culture and brand identity goals quite nicely.
Agency Tip: Use marketing messaging that falls outside of the topic of work for your clients to stick out and be different. For instance, topics that inspire that aren't directly related to a profession but tie into values of being a good life-long learner get more engagement. 
While LinkedIn ads are clearly more costly, they can go a long way if your agency makes them cost-effective and focus on campaigns that drive the strongest return on ad spend. 
The following sections will look at best practices for targeting, pacing your budgets, and delivering a strong ROI. 
How Much Do LinkedIn Ads Cost?
While there isn't a one-size-fits-all answer to this question, LinkedIn ad clicks fall into the average range of $2 to $15 based on your various settings like ad type, bid, and campaign type. Generally speaking, a daily spending minimum is $10 (compared to Facebook's $1 minimum), and a minimum for each ad click or impression is $2. 
If you're just starting out and need to allocate a certain budget for your clients' ad campaigns, note that most companies have a CPC of $5.26 and a CPM of $6.59 when advertising on LinkedIn. So if you have a daily budget of $100, you can expect to receive roughly 19 clicks per day for LinkedIn ad campaigns. Of course, depending on the nature of competition in the space, those amounts can fluctuate significantly.  
LinkedIn message ads work a bit differently on a cost-per-send basis. So when a message is successfully delivered to someone in your target audience, the average is about $0.80 per send.
The first decision you need to make is whether you're interested in pay per click (PPC), cost per impression (CPM), or perhaps you use a hybrid model if you're running more than one type of ad.
To avoid overspending your clients' ad budget, control your spending in three ways:
Total budget: Use this when you want fast results within a predetermined budget

Daily budget: If you want your ad campaign to run 24/7, a daily budget makes the most sense

Setting bids: Set the maximum amount you're willing to pay for clicks, impressions, or messages delivered
The trick is to slowly increase your budget while ensuring that your results don't slip as your campaigns become more successful. So start small, get your feet wet, and track everything (more on this below). 
Targeting the Right Audience: How People Use LinkedIn 
Before jumping into LinkedIn ads, understanding the use cases for including LinkedIn advertising will help you better incorporate it into your social media marketing strategy and get the most success. 
Let's look at when you should advertise on LinkedIn. 
When Should You Use LinkedIn Ads and Why 
Companies use LinkedIn to grow within the professional market. 
LinkedIn ads can be used as a powerful marketing tool for B2B companies to generate new leads, gain brand recognition online, and share content. They can also be used to hire talent, increase sales, and up a company's social media presence (over other social media channels). 
In essence, LinkedIn ads offer the full cycle of awareness, consideration, and conversion–all in one platform. 
What Companies Should Advertise on LinkedIn? 
The latest stats suggest that the US offers the largest LinkedIn advertising audience, with a reach of approximately 160 million users. Furthermore, the US audience has the highest potential to be reached via advertisements.
Note: While LinkedIn ads are used mostly by B2B companies, B2C advertising is gaining traction as LinkedIn users start posting Facebook-like content to their feeds. This just means that your ad types and messaging will change to reach a wider B2C audience. 
Who Should You Target on LinkedIn?
As expected, LinkedIn has powerful career-related filters in place–but not much in terms of additional categories that you'll find with Facebook advertising. 
LinkedIn's advanced targeting options help you find an audience by filtering for:
Title 

Company size

Geographic location 

Industry
This can come in very handy when you want to focus your agency's efforts on getting in front of the right people, with the right buying roles, inside the right companies. 
Perhaps your clients only need to connect with VPs of Sales at technology companies in Austin, Texas. Perhaps they're most interested in engineering professionals at companies with more than 1,000 employees. Hello, lead generation! 
Such targeting options allow you to build a well-defined target audience for your clients. This is exactly what you need to get the most bang for your client's buck. 
Agency Tip: Experiment with more than one audience, allowing you to tweak future ad campaigns based on what has and hasn't worked in the past.
How To Use LinkedIn Ads to Grow Your Client's Business
Now that we've covered the basics, let's apply this knowledge. 
So how do you create a LinkedIn ad, exactly? 
How To Create LinkedIn Ads
Creating a LinkedIn ad starts with visiting the "Marketing Solutions" section of the site. Here's what you'll see:
Next, click on the "Create ad" box to start the process. This takes you to the LinkedIn Campaign Manager, where you'll create an account name, choose your currency, and select the LinkedIn page to associate with your account (this is optional).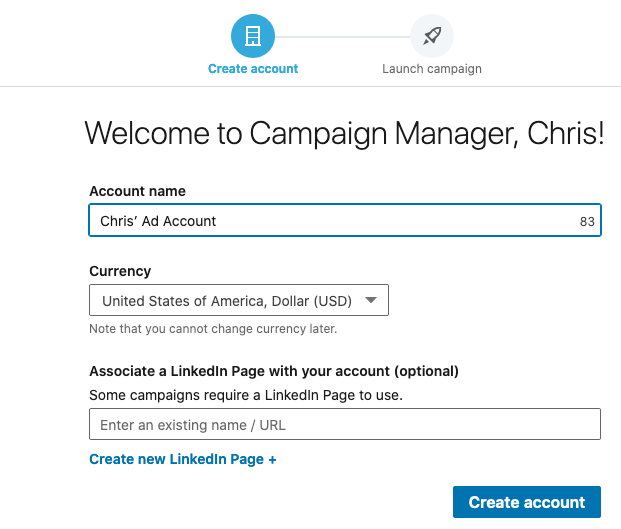 After clicking "Create account" you'll see a page that looks like this:
When getting started with LinkedIn ads, poke around this page and test every feature. Make notes on what you do and don't like. This knowledge is invaluable, as it'll provide you with everything you need to create and publish your first ad, matching the content with the targeting.
One of the first things you should do is choose an objective. For example, if lead generation is what you're after, click on it for a more detailed look at how to create an ad.
There's a lot to see and do from the campaign manager. You might not get everything right the first time, and that's okay. Trial and error are all part of the process. The important thing is to start small for each client and adjust as you go before making small incremental changes to your LinkedIn ad budget. 
Is There More Than One Type of LinkedIn Ad?
You bet. There are four types of LinkedIn ads, with multiple ad formats for each. Let's take a look at which LinkedIn ad types and formats convert best depending on your goals. 
4 Types of LinkedIn Ads 
1. Sponsored Content
With sponsored content, promote your client's company updates to targeted audiences and build brand awareness on both desktop and mobile devices. 
Sponsored content comes in four distinct forms:
Single image ads

Video ads

Carousel ads

Event ads
Here's an example of what it looks like if you opt to run native ads across desktop and mobile:
Use sponsored content to target the professionals you want to reach, in the manner that best serves them.
2. Sponsored Messaging
LinkedIn Messaging happens to be one of the most used LinkedIn features, as it allows you to connect with your audience through their inbox (and chat). However, to engage through messaging at scale, you need a strategy. That's where sponsored messaging comes into play.
With this approach, you can send native ads directly to your audience's LinkedIn Messaging. So, when they check their inbox, they see your ad. There's no way around it.
Some of the benefits of sponsored messaging include:
Reaching your audience in a personalized manner

Engaging with prospects to move them through your pipeline 

Accelerating the number of leads you generate
The two types of sponsored messages are Message Ads and Conversation Ads. With Message Ads, you send direct messages to your audience. With Conversation Ads, you provide a "choose-your-own-path experience" to have what feels like an authentic experience of speaking with a person.
Here's an example of a Sponsored Message ad:
LinkedIn users spend a lot of time with LinkedIn Messaging, so sponsored messaging shouldn't be overlooked. 
3. Lead Gen Forms
If lead generation is your goal, use these pre-filled forms to collect more quality leads at scale directly from LinkedIn.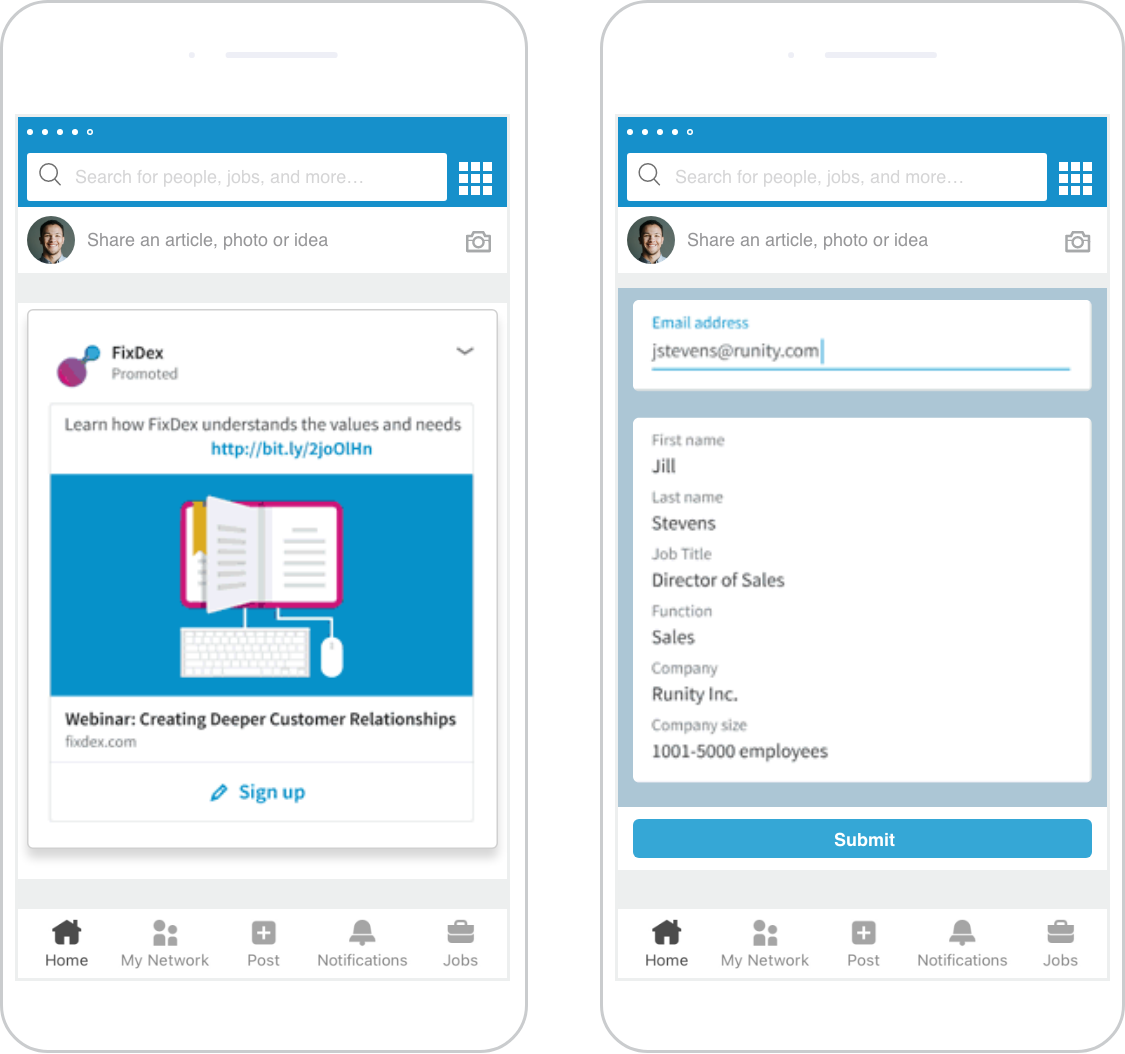 Using these forms will save your prospects time and effort while giving you more accurate and complete information for your clients. 
4. Text and Dynamic Ads
On the surface, text ads may sound old school. However, it's often the best way to generate leads in short order and personalize your ads based on a LinkedIn member's profile data. There are three formats for this type of ad–which appear on the right rail:
Text Ads

Spotlight Ads

Follower Ads
Text Ads use the same approach as almost every advertising platform, such as Google Ads. You'll choose your audience, create your ad, set a budget, and track click-throughs and leads. LinkedIn Text Ads offers a self-service pay-per-click (PPC) platform that allows you to drive new customers to your client's business on a controlled budget. 
Spotlight Ads are used to showcase your client's product, service, or event. If increasing traffic to your landing page is the goal, go for this format. 
Follower Ads are used to promote your client's LinkedIn page to grow their audience and gain more followers. 
Here's a table summarizing each ad type, format, and goals they help achieve: 
| 4 Linkedin Ad Types | Ad Formats | Goal |
| --- | --- | --- |
| Sponsored Content | Single Image Ads | Run native ads on desktop and mobile |
| | Video Ads | Captivate attention using native video at any stage of the buyer's journey |
| | Carousel Ads | Tell an iterative story to prompt viewers to take action |
| | Event Ads | Maximize attendance to events like online webinars  |
| Sponsored Messaging | Conversation Ads | Start quality conversations for lead generation |
| | Message Ads | Spark immediate action from prospects |
| Lead Gen Forms | Lead Gen Forms | Push new leads down your funnel  |
| Text & Dynamic Ads | Text Ads | Drive new customers to a business  |
| | Spotlight Ads | Increase traffic to a landing page |
| | Follower Ads | Gain followers on a LinkedIn page |
Now that you understand the nature of LinkedIn advertising and the various forms it can take, let's look at what to do–and what to avoid–with your LinkedIn ads strategy. 
LinkedIn Ads Best Practices: Tips for Winning LinkedIn Advertising 
To get a head start on your LinkedIn ads journey, here are some tips to boost your success.
What Are Some Keys to Success in LinkedIn Ads/Marketing? 
1. Make It Personal
When it comes to Dynamic Ads, for instance, personalization is key. But make it too personal and they might opt out. Ensure your messaging speaks to your audience in a way that will inspire them to take the action you want without making them feel like you're spying on their every move. 
2. Test Everything
LinkedIn recommends you create a minimum of three ads per campaign (there's a maximum of 15 ads per campaign) to split test different variations. Try changing up headlines and calls to action (CTAs) to find the ad that converts best. 
3. Bid Above the Suggested Range
Usually, it is good to bid just a little bit above your competition to get an edge in the auction. Try bidding 10% above the suggested range to boost your average click-through rates and outcompete the others. Even using this technique for short bursts at the start of a campaign can help provide more optimization and auction data that can be put to good use once you revert the bids to their normal range.
4. For Improved ROI, Bid Within the Suggested Range
According to PPC expert Ahmed Raza Ali, keep within LinkedIn's suggested range based on each campaign to get the most bang for your client's buck. "If you bid high, LinkedIn will eat up your budget fairly quickly. And if you bid lower, the only drawback is you serve fewer impressions," says Ahmed.  
For better ROI, slow and steady might just win the race. After all, you can always bump up the bid a little bit to spend the full budget. 
5. Keep Your Copy Short, and to the Point
Our attention spans are limited. Your content should be useful, display a sense of urgency, and have a crystal-clear CTA. Ensure that your messaging is oriented to benefit the prospect and offers something unique.
6. Find Your Audience Sweet Spot
The better your targeting, the better your ads will perform. Once you refine targeting, the messaging you create for your LinkedIn ads should resonate with your audience persona. 
How To Lower Your Costs on LinkedIn Ads 
As with any PPC campaign, you're going to need to spend your client's money strategically. Once your daily budget is reached, no more ads will show up for that day. If you're not receiving as many impressions as you'd like, increase your daily budget incrementally and compare performance with the previous week. It's all about staying on top of your metrics and fine-tuning your campaigns over time. 
If you've reached your client's maximum spend amount, and you're still not seeing the impressions or clicks you need, play with the bids. When you are working with a lower budget, it's often preferred to bid a bit lower. Your client's ads will appear less frequently, but they can drive more cost-effective traffic. 
LinkedIn Targeting Options
LinkedIn targeting operates differently than other platforms. For one, the targeting options are oriented around users' career, education, and industry–and not broader preferences like you'll find with other platforms such as Facebook. 
Two, you must define geographic location. In fact, it is the only mandatory field when setting up your campaign.
Once you have enough data behind a current campaign, adjust these targeting options to reach a balance of better audiences and lower costs to drive increased efficiency. Don't focus exclusively on one over the other; low-cost clicks may not convert well. High converting clicks may cost far too much. Strive to find the balance. 
How Does LinkedIn Targeting Work?
While it's tempting to go granular when selecting your audience, you should avoid over-specifying. LinkedIn recommends a target audience of at least 50,000 for Text Ads and Sponsored Content. Message ads tend to perform best with an audience of 15,000. 
If you're looking for broader targeting, you can choose to go for only geographic selections such as Country, State/Province, or even City or Metropolitan Area. 
For more refined audience targeting, select Company Details such as Industry, Company Size, Demographics, Job Experience, and Education. 
To find your targeting sweet spot for a client's particular business, A/B test campaigns by only changing the targeting criteria. This should help you choose which audiences best connect with your client's brand and further inform your campaign content and strategy. 
Top 3 LinkedIn Advertising Mistakes and How To Avoid Them
When setting up a client's campaign on a new platform, the worst thing you can do is make some newbie errors that could shut down the whole operation. We've compiled a list of top 3 LinkedIn advertising pitfalls to avoid: 
1. Using the Wrong Asset
A common pitfall is to select an asset that talks about your client's company instead of talking about the person reading the ad. So before choosing what type of asset to advertise for your clients, you need to first figure out:
Does it solve a problem?

Is it timely?
If the answer is no to either of these questions, then chances are you won't be getting as many leads as your clients expect. Your asset should show that your client's business understands the problem and has a ready solution.  
2. Optimizing Too Early
It's normal to see large fluctuations in your campaign once you've launched it, and though it might be tempting to make adjustments, you need to hold back. 
Why? 
It takes time for LinkedIn to determine what time of day, to whom, and in which context to show your ads. 
Much like Facebook's Learning Phase, making significant changes to a campaign too soon can negatively impact the algorithm's ability to learn about your ad and its audience. What qualifies as significant changes? The budget, audience, and ad creatives. 
The rule of thumb is to wait 7-10 days after a campaign has been launched–otherwise, your ads are at risk of re-entering the Learning phase. And back to square one.
3. Spending Too Much on Traffic Ads 
Putting more money into traffic ads doesn't necessarily mean it will deliver better results. This is because LinkedIn chooses the ads that perform best by counting: the number of likes, shares, comments, and clicks–and then delivers more impressions to the best-performing ad. Put too much money too soon and your learning phase will blow through the budget before being able to provide more targeted results. 
There is also a frequency cap on each ad where you can only reach the same person once every 48 hours. A tip is to create a campaign with multiple unique ads so that a person can see your campaign up to four times in that same period.
What's the Best Way to Track LinkedIn Ad Performance?
You can put more money into your LinkedIn ads, but if they're not performing up to your standards, you're throwing away your client's money. That's why proper tracking is a necessity.
LinkedIn has a built-in tool—Conversion Tracking—to help you keep tabs on your performance. It's powerful, accurate, and easy to use. 
Here's how to use this tool:
1. Connect Ads to Conversions
This allows you to measure the impact of ads on your website, including but not limited to traffic, downloads, and purchases. Even track conversions from people who viewed your ad, without clicking.
Agency Tip: Much like Facebook's view-through conversion–or any other post-view metric–these numbers can often be exaggerated. That's because view-through conversions track an impression as soon as your client's ad is loaded, even if the user zoomed right past it without noticing. 
Here's an overview of the type of data you can expect:
Use filters to understand your conversions better and adjust your campaigns accordingly.
2. Get Help Deciding What To Do Next
With simplified LinkedIn analytics, you never have to guess what you should do next. LinkedIn Conversion Tracking gives you a push in the right direction.
This allows you to answer: what type of people are converting via your client's ads?
If you don't know the answer, everything you do in the future is hit or miss. Once you create the perfect buyer persona, however, your targeting will immediately improve.
You have access to data including:
Company name

Job title

Industry
Check this out:
In this example, you see that individuals in the marketing industry have the highest conversion rate. However, you also see that there were only 44 conversions, which is far less than in other industries.
You can spend hours on end combing through this data, tweaking your campaign, and devising new strategies.
3. Automatically Add LinkedIn Ads Performance to Dashboards & Reports
The downside of the native LinkedIn Ads reports is that they won't show your clients the bigger picture of their paid social media campaign performance, or any other campaigns or programs you are running for them.
Say goodbye to screenshots and excel spreadsheets. AgencyAnalytics' LinkedIn Ads Reporting integration updates all your LinkedIn Ad metrics automatically and incorporates them into beautiful dashboards and marketing reports in minutes.
4. Use Automation to Your Advantage
LinkedIn wants advertisers to succeed. That's why they have a variety of automation tools for you to target the right audience, stay within budget, and boost your conversion rate. For example, automated bidding allows you to set the optimal bid for reaching members who will convert. 
Final Thoughts on LinkedIn Ads
There's no denying the power of LinkedIn ads. Now that you know the basics, there's nothing standing between you and launching your first client campaign on this powerful B2B channel.
Everyone has to start somewhere, so don't let the details slow you down. Create your first campaign, track the results, and make changes until you reach your desired performance. You may come to find that LinkedIn ads are just what you need to grow your client's business.
Track all your clients' LinkedIn Ads metrics in one place with the LinkedIn ads reporting dashboard. Try it free for 14 days.  
Liked this article? Read more: The Agency Guide to a Winning B2B Marketing Strategy
Written by
Melody Sinclair-Brooks
Melody Sinclair-Brooks brings nearly a decade of experience in marketing in the tech industry. Specializing in B2B messaging for startups and SaaS, she crafts campaigns that cut through the noise, leveraging customer insights and multichannel strategies for tangible growth.
Read more posts by Melody Sinclair-Brooks ›
Try AgencyAnalytics risk-free for 14 days. No credit card required.