Pinterest analytics for Agencies. Deliver audience and engagement reports to your clients.
Track Growth
Show clients their Pinterest follower growth month-over-month
Monitor New Pins
View a live feed of recent pins directly in the dashboard
Follow Comments
Track the number of comments each pin receives
Schedule Reports
Save hours every month with beautiful, scheduled reports
Create in-depth Pinterest analytics reports for clients
Pinterest Reporting on Autopilot
Streamline your social media marketing reports with an all-in-one reporting tool. Say goodbye to screenshots, spreadsheets and hours wasted. Create beautiful Pinterest reports in minutes. Schedule daily, weekly or monthly delivery so clients are always up-to-date.
Explore All Available Pinterest Metrics
See all the metrics you can easily add to your client reports and marketing dashboards
Clickthrough Rate

Clickthroughs

Closeup Rate

Closeups

Date

Engagement Rate

Engagements

Followers

Impressions

Quartile 95 Percent View

Save Rate

Saves

Video 10s View

Video Avg Watch Time

Video Mrc View

Video Start

Video V50 Watch Time
Delight clients with beautiful graphs that highlight performance
Follower Growth Over Time
Your clients want to see results - period. Prove your value with gorgeous, intuitive graphs that highlight follower growth over time. Quickly identify your top performing months, so you can continue to optimize your Pinterest marketing strategy.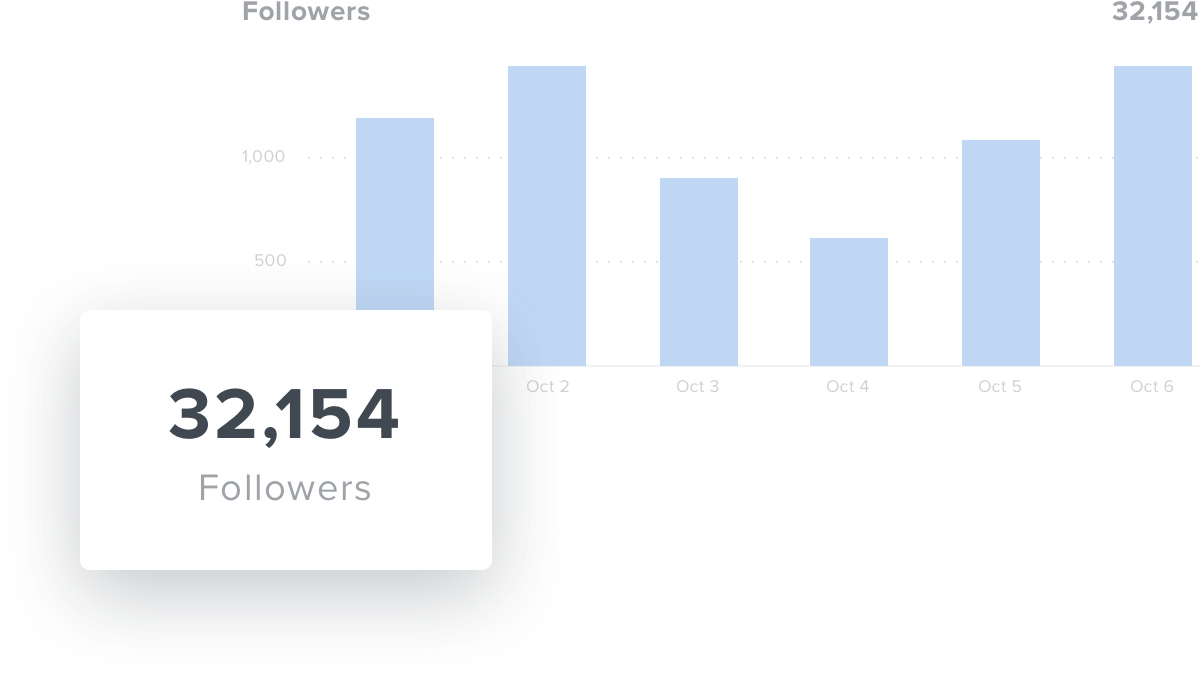 View Live Updates in Your Dashboard
Tired of managing multiple logins for each client? There is an easier way! Keep clients up-to-date on recent pins with their own Pinterest dashboard login. They can view a live feed of their pins, plus all of their content being published across EVERY social account. Finally, everything you need in one place!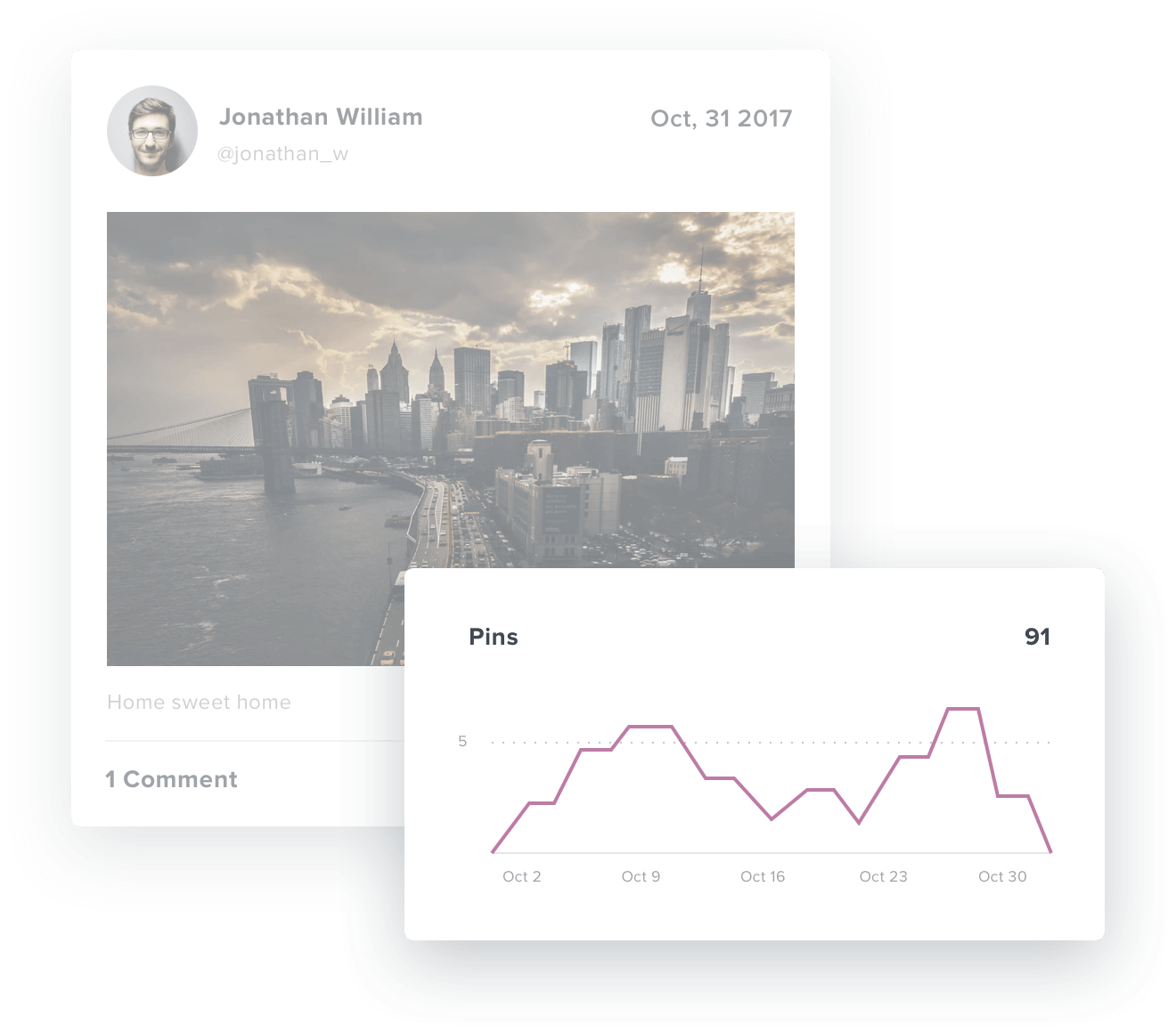 Monitor Comments, Likes and Engagement
Understand Your Client's Audience
Analyze Pinterest engagement to understand what resonates with your client's followers. Track comments and likes for each pin; know exactly what content is driving engagement. View engagement month-to-month; pinpoint the best performing time periods. Use your newfound insights to deliver great, engaging content.
Collaborate With Your Team
Create a "staff" login for each of your employees. Access controls allow you to restrict the campaigns each of your staff have access to. Or specify one staff to handle all your Pinterest marketing. Complete flexibility allows you to run your Agency anyway you like.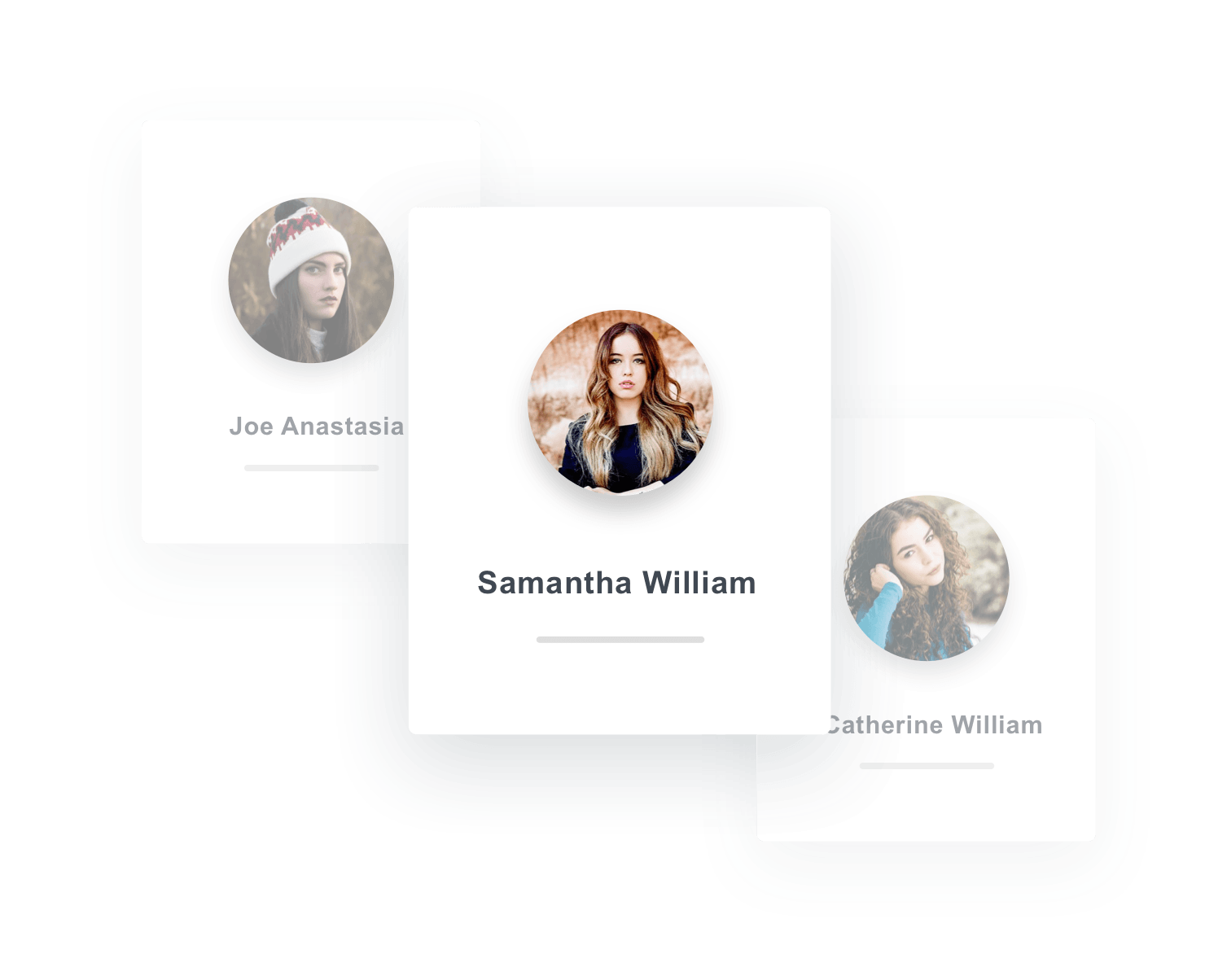 White Labeled Pinterest Marketing Reports
Add Your Logo & Colour Scheme
Build your agency's brand recognition with a fully white labeled dashboard. Prominently feature your logo in the dashboard and social media reports. You can even host the dashboard on your own domain!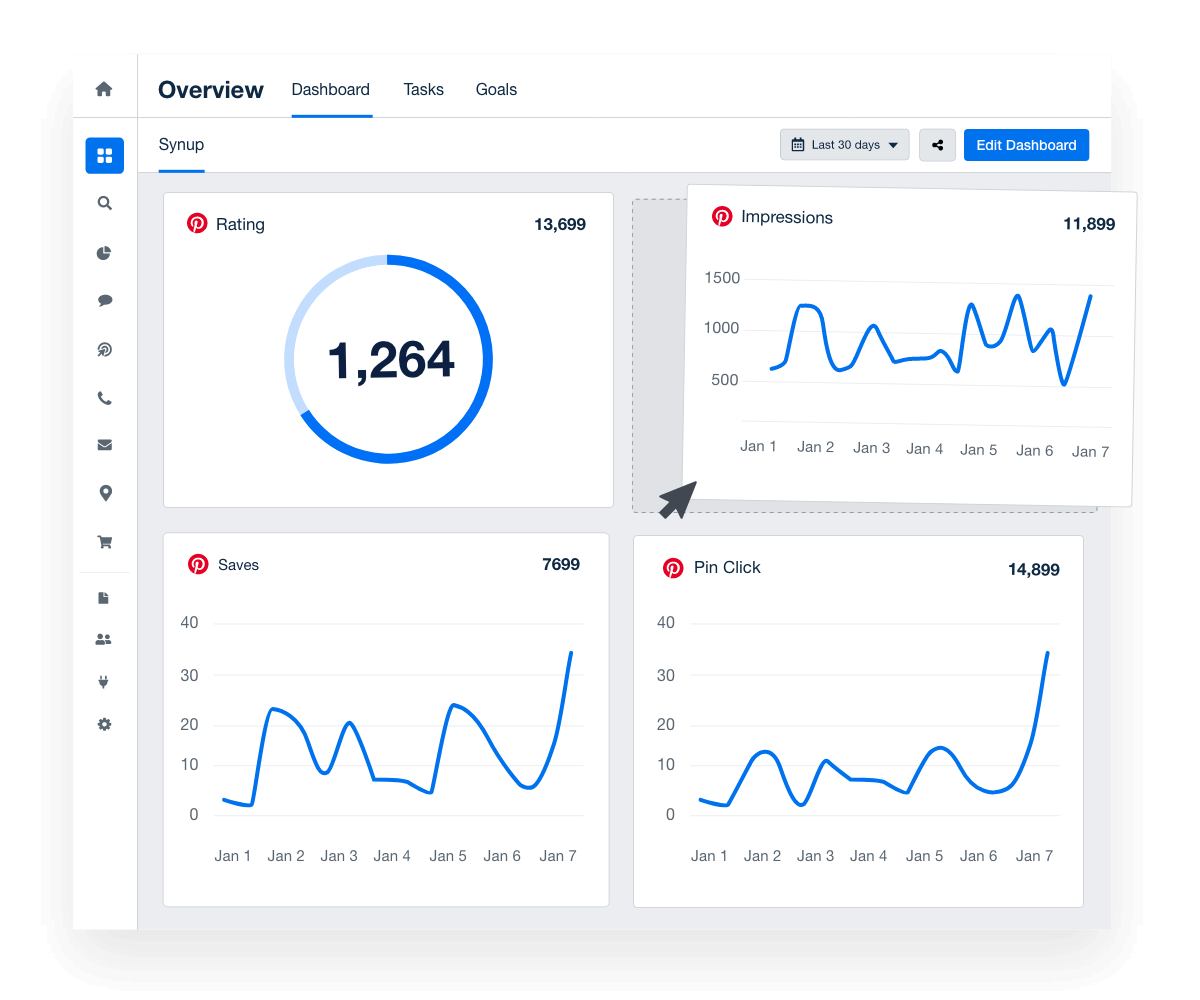 All Your Client's Social Media Metrics
Social Media Reporting Made Easy
Automatically include the most critical Pinterest Ads metrics in a comprehensive social media marketing report that includes all of their social media channels, like Facebook, Instagram, LinkedIn, Twitter, and more. Take it up a notch by creating a live social media dashboard and give clients real-time access to their marketing data, showcasing your agency's commitment to transparency.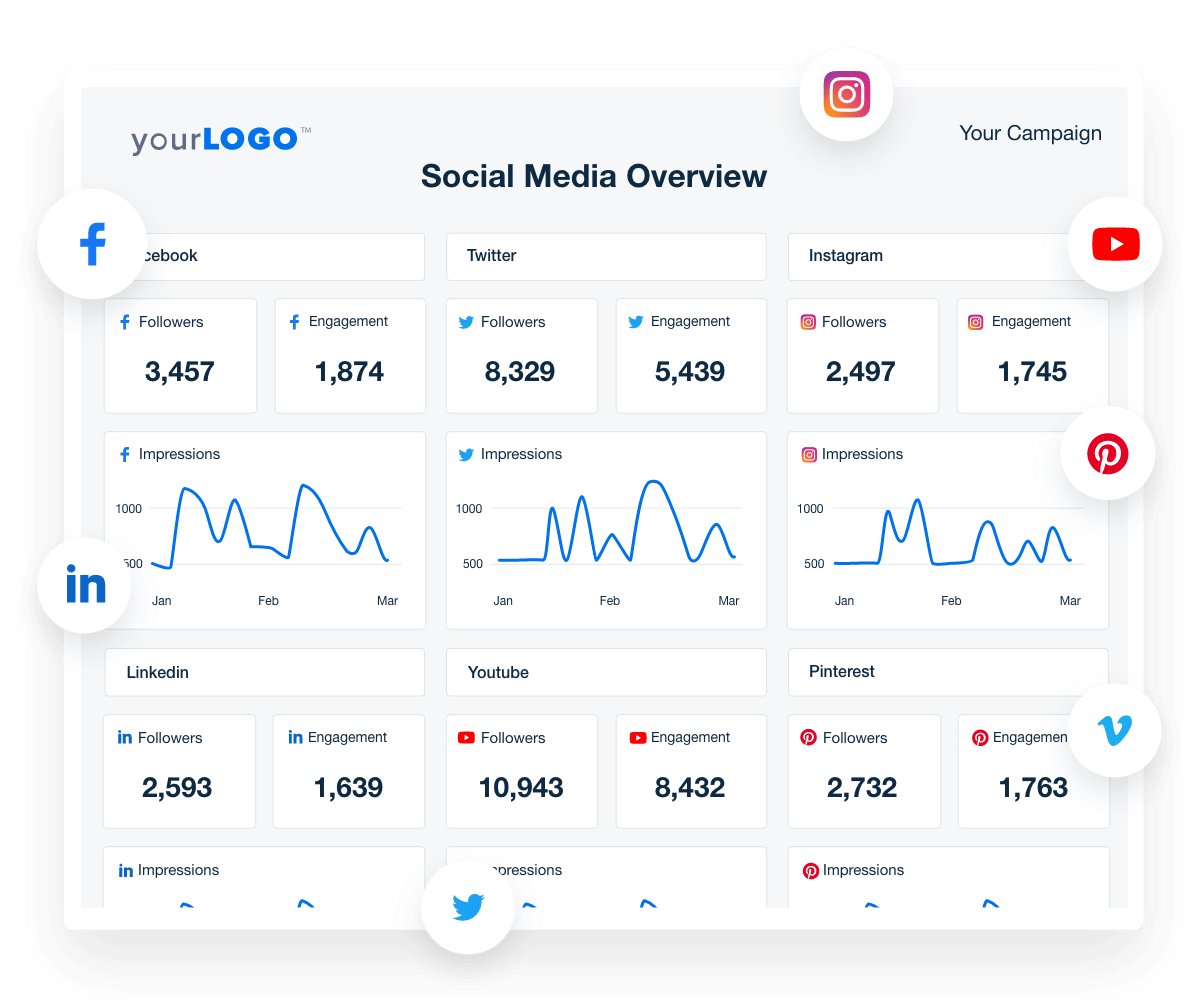 Connect the Pinterest integration in seconds to streamline your client reporting.
Everything Your Agency Needs
Try AgencyAnalytics risk-free for 14 days. No credit card required.