While you may be well-versed in running discovery meetings, do you have a tried and true structure that could be delegated as you scale your agency? Is your discovery process streamlined, or do you sort of go with the flow? How do you avoid a discovery call flop–or worse, the ghosting that ensues? 
If you find any of these questions unsettling, it's time to solidify your discovery process. Read on to discover tips straight from our B2B SaaS sales playbook to apply directly to your agency. 
In this article:
When Does the Discovery Phase Begin?
The discovery phase is often the second part of the sales deal stage. So before we get into it, let's take a look at the typical seven deal stages that make up a deal pipeline:
The 7 Sales Deal Stages & Why They Exist
1. Research: This is where you prescreen prospects to determine whether they even fit your criteria before moving forward with the discovery meeting. For qualified prospects, you would also use the information gathered to finetune your initial sales pitch for the next phase. 
2. Discovery: Here you meet with your prospect to determine the agency-client fit and uncover the prospect's pain points. You'll eventually base your learnings from this phase on your proposal if both parties choose to proceed.  
3. Additional Evaluation: This is sometimes necessary if you need to gather any additional information necessary or need to get more information to make your proposal (e.g.: meet with a larger buying team of decision-makers).
4. Proposal: Your proposal outlines your solutions based on the prospect's pain points. It's where you ask them to sign on with your agency with clear pricing and a detailed timeline. For example, a winning SEO proposal will outline a potential client's pain points, detail the recommended solutions, and highlight the agency's expertise.
Agency Tip: Present your proposal either in person or during a live call, and definitely set a deadline for when they should respond to your proposal.
5. Negotiation: If there's a pricing objection, this is where you find a reasonable compromise for both parties with the key negotiators and decision-makers. 
6. Closed Won: Pop the champagne, you've landed a new client that's a good fit!
7. Closed Lost: Better luck next time. Not every client is meant to be. 
Here's an example of how the deal stages might look in an agency's CRM. The further along the sales pipeline you progress, the better the closing ratio, with all new prospects organized into seven deal stages, along with their associated tasks and notes:
The deal stages outlined above can vary from business to business. For instance, you can skip straight from Discovery to Proposal or Proposal to Closed Won without the intermediate steps. Larger prospects tend to require additional stages in order to meet with the decision-makers, hammer out all the details, and negotiate a fair price.
What Is a Client Discovery Session?
A discovery meeting is a two-way discussion that gives you a chance to get to know the potential client by creating the time and space for them to explain their business' unique challenges–and outline what they'd like to achieve. 
It's your chance to learn everything you need to know about your prospects and land more clients that are the right fit for your agency. 
Relax and listen. Don't make assumptions about the client or their business, and don't try to impress them. The real discoveries are made by putting the client at ease so they feel comfortable sharing their real thoughts and feelings, and that is how relationships are built.

– James Londesborough, Owner of Ignite Marketing
Discovery sessions let you know:
Your prospective client's pain points and struggles

What they've done so far to reach their objectives

What their overall goals are, and what they expect to achieve with your agency

Whether the prospect is the right fit for your agency culture 
We approach them with open minds and open ears and treat them as an opportunity to briefly take a step inside another business, learning about their biggest ambitions and their deepest struggles. It's a privileged position and it's one of the best opportunities to set the tone for the lifetime of that client relationship.

– James Londesborough, Owner of Ignite Marketing
The True Purpose of a Discovery Call
While it may be tempting to talk about how great your agency is and what it has achieved for past clients, hold your horses. 
The purpose of a discovery call is to discover the pain points of the customer and align your agency's solution to erase those pain points by:
Confirming an agency-client fit.

Demonstrating your value.

Develop a proposal that the convinced prospect will sign off on. 
And no, the point of a discovery call isn't always to close a deal. This rarely happens in bigger deals.
The Best Kind of Discovery Call
Ask any sales team, and they'll tell you that the best kind of discovery call is collaborative. 
It's when you ask:
"What is the problem you're trying to solve?" and the prospect actually talks about their problem. 
And then you ask:
"What happens if you don't solve this by the end of the month/year?" 
And then you've got their attention. Because you got them thinking about their long-term strategy full of gaps.
To which you respond:
"I think we have the right solution for you."
And then, get this: you don't make your sales pitch. Yet.
"You can't prescribe until you've diagnosed," says Richard Jaggs, Founder at Resolution Design. "To create the best solutions you have to understand your client's business, objectives, and more."  He uses this time as an opportunity to see where the clients' needs fit into their proven approach. 
It's a great springboard into the project and enables us to communicate from a common understanding.

– William Wilkinson, Founder at Interactive ID
It's also the time to learn what you cannot research online: 
It's a chance to hear directly from the client about the challenges and roadblocks they've experienced to determine what marketing paths may work best.

– Stacey Steiner, Director of Brand Activation at Prattify
Now let's back up a bit. Because not every prospect is a discovery call. No matter how much you want to get more clients. 
Who Qualifies For a Discovery Meeting?
While it's tempting to jump in on a call straightaway, there's no sense wasting your agency's precious time and resources on a dead end. Some preliminary research is needed to qualify for a discovery meeting.
Client qualification is super important to improving your conversion rates. In fact, mature agencies run their qualification process in a structured way. Meet BANT: 
Budget–Here's a critical one: can they afford you? 

Authority–Are you talking to the right people? The decision-makers? Those who are in charge of the buy-in? You need to get as close to the decision-makers as possible. 

Need–Do they need you to solve their pain points? 

Timing–It's everything. If they don't commit by a certain time or date, then it's a soft no. 
There are other prospect qualification frameworks like MEDDIC. The idea is that if you can't check off all those boxes on your criteria, then it's a no-go. Some agencies use a pre-screening questionnaire to assess fit. You would do as much of that qualification before the discovery call, but it's not always possible to receive all the information you need.
Before starting discovery meetings with any client, first, qualify them and ensure they are a good fit. It is important not to waste your time or theirs.

– Nick Butler, Managing Director at Ireland Website Design
They don't have the budget to be able to fix their pain points? That's a red flag. Can't get close enough to the decision-makers? Figure out the strategy to get to them before you spend a lot of time on the deal.
How Do You Prep for a Discovery Meeting?
Once you've vetted the prospect and they've agreed to meet, it's time to prep. You have entered the discovery phase.
Preparing for a discovery session is more than having a script or playbook. You'll need to spend about an hour ahead of time to prepare your questions about their business as well as top-level answers to common questions or sales objections.
William Wilkinson, Founder of Interactive ID recommends creating:
A list of questions, including who will ask each one 

An agenda for the meeting 

A timeline for the project(s) 
In addition, we note any gaps in the information we have and any brand essentials we feel the client lacks. We're often able to help them in ways they didn't initially consider when they first contacted us.
1. Do Your Background Research
The more research you do, the more productive the discussion can be. Remember, the preliminary research phase comes before the discovery phase, but here you might want to spend some more time digging a little deeper. 
Although we call them discovery sessions, what we are actually doing is digging deep into the client's business. To dig deep, there has to be some initial research and discovery ahead of the call. This is built into our sales process. 

– James Londesborough, Owner of Ignite Marketing
You'll also need to assess their business from an outsider's perspective to correctly identify their niche and determine their ideal target audience. 
Before your discovery call, you'll need to know: 
The client's own public information 

The names of all the attendees

Competitor information 

Trends in the client's industry

Customer demand in the client's service area 
Research your prospective client's business by reviewing their website (if they have one) including an SEO audit, conducting a social media audit, and using competitor analysis tools. If your potential client has a brick-and-mortar location nearby, do some secret shopping to get a sense of the experience and the brand. 
Even do a quick PPC competitor analysis of their business–even if you aren't managing their paid ads, this will help identify their top competitors and show you did your due diligence.
We also learn more about the market than the client ever considered. This allows us to ensure we exceed expectations and over-delivering on their campaigns. The more questions we ask, the better we can perform for our clients.

– JR Griggs, President at Red Wall Marketing 
2. Send Them Pre-discovery Meeting Questions 
While you can do your own research, you can also help speed up the process by sending out a preliminary questionnaire before the meeting. 
The activity of 'discovery' begins the very first time we speak with a client. Ahead of a formal discovery session, we also ask clients to complete an Onboarding Questionnaire which gives us some direction on where to focus our explorations during the session.

– James Londesborough, Owner of Ignite Marketing
Ask for answers that you cannot research yourself to understand the bigger picture:
In addition to the basics, we always like to get a feel for the bigger goals and ambitions that have brought the discovery session about. At this stage in the journey, we are less concerned with the marketing numbers and more concerned with the big picture–what does the client want to achieve and most importantly, why.

– James Londesborough, Owner of Ignite Marketing
This step also helps the prospective client prepare for the meeting:
The hardest discovery sessions are the ones where the client is not prepared with the necessary answers. In that case, we coach them through getting those answers.

– JR Griggs, President at Red Wall Marketing
3. Prepare Your Discovery Meeting Questions
Once you've done your preliminary research, you'll need a set of custom questions to ask your prospect to fill in any gaps.
We have a list of questions we typically ask. We also use this as a time to get access to the client's social media accounts, as some are just easier to access in person. I have a list of social media accounts and how-to-share access that I email to the client in advance of this day to speed things up.

– Stacey Steiner, Director of Brand Activation at Prattify
How Much Time Should You Spend Prepping for a Discovery Meeting?
Considering the above, you need to do adequate research before the meeting and prepare a custom list of questions, too. So how much time should you spend this early on in the game? 
From the agencies we surveyed, the time varied from 30 minutes to three hours to even two days. Here are some insights as to why.
The 1:1 Rule
1:1 as a minimum. So if a discovery session will be 1 hour long then I recommend spending at least 1 hour for preparation. If you have a strong lead then invest as much time as needed to really show that customer what makes your agency better than anyone else they talk to.

– Nick Butler, Managing Director at Ireland Website Design
It Depends On the Scope of the Project
I'd say it ranges from 30 minutes to 3 hours, depending on the scope of the project. That's not considering bid-based clients, though. In-depth proposals can take 2 team members up to 2 full days each.

– William Wilkinson, Founder at Interactive ID
A Note of Caution: Spending Too Much Time Can Backfire!
Spending too much time researching a client ahead of a discovery call can also backfire! Quite often, what you can see about a client through their existing marketing and online presence has little bearing on where they want to go or the goals they want your support in reaching... so be careful not to waste your time!

– James Londesborough, Owner of Ignite Marketing
Having a Process in Place Speeds Things Up
Building a process around preparation, making use of a questionnaire or assessment that the client completes ahead of the discovery session, and building the act of 'discovery' into the sales journey all contribute to reducing how much time is required to sufficiently prepare. 

– James Londesborough, Owner of Ignite Marketing
Who Should Be Holding Client Discovery Meetings? 
So you'd like to delegate more tasks and reduce bottlenecks. Still, when not done by the account managers and business development teams, many agency owners are still the ones holding the discovery meetings at their agencies. 
We get it. It's a crucial stage that directly affects your agency's revenue and determines the future of your client relationships. 
However, this becomes unsustainable as an agency scales. Having one person–the agency owner–running all of the pre-sales discovery calls creates a bottleneck in the agency growth pipeline that should be avoided.
Yes, the person holding the discovery sessions should have in-depth knowledge of various marketing campaigns. However, business development representatives can use a well-structured playbook to gather the information from the discovery sessions and bring it to the strategy team.
And if the opportunity warrants it, such as a high-AOV (Annual Order Value) potential client, having subject matter and strategy experts on the call–even if they aren't running the meeting–can help reinforce your agency's capabilities. 
After all, nothing can bring the client acquisition process to a grinding halt faster than a client asking questions that an expert should know how to answer, only to be met with deafening silence.
Hence, the importance of the preparation stage.
The better prepared we are, the more assured the client feels that we can handle the project well.

– JR Griggs, President at Red Wall Marketing 
Why You Need to Structure Your Client Discovery Meeting
While you can approach discovery meetings in a less informal, personable way to start your relationship-building with a prospect, having a formalized process will help you scale your agency by delegating this task to your account owners and business development representatives. 
With a defined discovery meeting structure, your client acquisition will be scalable and will gain replicable results.
It'll also be easier to train your team on leading practical discovery sessions that filter the right clients for your agency, saving you time and money in the long run. 
Besides, having a discovery meeting system in place reduces sign-offs needed from the agency owner, preventing bottlenecks when getting more clients.  
Download this client onboarding questionnaire to learn everything you need to know about a new client!👇
Download Your Client Onboarding Questionnaire Template
Streamline your workflows and grow your agency.
This brings us to the next point: what to say during a discovery session. 
What Is the Best Way To Hold a Client Discovery Meeting?
With remote work becoming the norm, what is the best way to meet with prospective clients for the first time? It seems to be a split debate between virtual meetings and in-person ones. 
Here's the case for each:
Virtual Meetings
Virtual meetings have more tools available now that it's becoming the norm: 
Pre-covid, we met with clients in person as often as possible to conduct discovery sessions. More recently we've conducted these sessions virtually, and as this has evolved they have become more impactful and productive than the way we were doing things before (face-to-face). With the right approach, virtual discoveries can be more focused and more revealing, thanks to the nature of meeting online as opposed to physically, making virtual discoveries our go-to choice.

– James Londesborough, Owner of Ignite Marketing
They are certainly more convenient but more distracting for some clients: 
Virtual meetings can be very useful because of the ability to share screens, which can make information sharing and data demonstrations more efficient. While we have a lovely meeting room at our office, it can't quite compare to the convenience of being able to look directly at a screen. We have found that some clients can be more distracted during virtual meetings as they are often at the location of their business and can be interrupted often. 

– Nick Butler, Managing Director at Ireland Website Design
In-person Meetings
Some agencies believe that in-person meetings create stronger relationships:
Shaking someone's hand has relational power and helps temper the natural skepticism that some clients carry with them to agency relationships. We can look people in the eye, laugh with them, and converse without accidentally interrupting. Most of all, they can see us taking notes and feel genuinely heard. 

– William Wilkinson, Founder at Interactive ID
Especially as they're a rare chance to all meet in person.
In Person. It's a great opportunity for the client to meet the team in person. Many meetings are now virtually, and this may be the only time some team members meet the client in person. 

– Stacey Steiner, Director of Brand Activation at Prattify
It's also the chance to visit your prospect's place of business:
Personally, I like in-person meetings because we get a chance to visit the client at their place of business. This helps us see more and learn more about them, their business, and their market.

– JR Griggs, President at Red Wall Marketing
Getting Your Head In the Game
Before you dive into your questions, you should begin by setting the tone and purpose of your conversation. This means sharing with them that you'll be asking them questions to learn more about them. 
While it's important to come prepared, you should also come with an open mind and not rely on a set of standardized questions.  
In most cases, we hear clients mention important info that might not have ever come up if we were to use a set of canned questions.

– William Wilkinson, Founder at Interactive ID
Bring a clear structure, a game plan, and an open mind. Slow the conversation down enough to get through all the key information you'll need, make the prospective client feel heard and understood, then carefully answer their questions. 
This is a two-way conversation. The more involved they are, the better. Your questions should be aimed at:
Understanding your prospect's goals and challenges for both the short-term and long term

Uncovering their core needs, pain points, and challenges in achieving those goals

Demonstrating your value by aligning your solutions to help them with their needs, pains, and challenges

Reiterate your value with your past successes on similar projects and your vision for the future–the next steps for the prospect 
9 Discovery Meeting Questions: What You Should Ask and Why
Below are questions that you cannot answer yourself to ask the prospect to guide the conversation. (No making assumptions!) 
1. What prompted you to contact our agency?
This will let you know the prospect's expectations. Are they new in business or trying to break through a growth plateau? Were they working with a different agency and looking for a different approach? Or are they trying to tackle an emerging marketing channel where your agency thrives? 
Understanding what connects the dots between what they are looking for and what makes your agency tick can help confirm the agency-client fit. 
For example:  "What is it that made you seek out an agency?" OR "What sort of relationship do you want with your agency?" 
2. Tell me about your market.
"Assuming the client is trying to grow, it's good to ask everything about the market they exist in," says Nick Butler, Managing Director at Ireland Website Design. "If they're the market leader, look at what threats are coming at them from competitors." 
This will show you how your agency can help solidify the prospect's position in the market or, if they're new, see what needs to be done to help them grow. "Learn about your client's customers. You need to solve problems for them, too," he adds.
But be careful not to ask questions where the answer is so obvious your team should have already known. For example, you wouldn't ask someone at Tesla "Who is your biggest competition?" 
Instead, focus on uncovering the things that only someone really close to the business might have a handle on.
For example: "What is your easiest-to-acquire customer type?" 
3. Tell me about your business's current marketing activities. 
This will determine whether or not they've already contacted another agency–and see where they were disappointed–to help you differentiate yourself. If you've come across some of their existing marketing during your research phase, make sure to call that out as part of your question to show that you've done your research. 
For example: "I see that you have a fairly robust presence on Facebook, but is it driving the end results that you are looking for?" 
4. If you could get rid of your current problem in an instant, what would it be?
This identifies the biggest challenge they're trying to solve and points out their frustrations. This will also allow them to elaborate on some of the things that you previously uncovered and perhaps add more challenges.
For example:  "What is the biggest challenge you're trying to solve that you haven't quite found a solution for yet?" 
5. What does growth for your business look like to you in the next six months to a year? 
This type of information will help you set realistic goals, whether gaining more leads, sales, or brand recognition. Be sure to ask for a timeline for these goals. Goals without timelines are not SMART.
For example: "What would success look like to you in 1 year?" OR "What KPIs would you like to see changes in to indicate success 6 months from now?
6. What do you think is keeping you from achieving those goals? 
Here you're uncovering the pain points they perceive. 
For example: "What is the problem you're trying to solve?" 
7. What would happen if you kept this current marketing strategy and didn't change anything about it? 
This reminds them why they need your help. And the negative consequences of maintaining the status quo.
For example: "In the worst case scenario, if you kept on doing what you're doing, what would happen to your business in a year?" 
8. Based on the answer, how soon do you want to make changes to your strategy?
Use this to create a sense of urgency or even to ensure that you can talk about aligning implementation timelines. Remember to tie this back to the timeline. Also, you could provide your own assessment based on the feedback (You'll later use this to modify your proposal template and create a customized quote.)
For example:  "When do you think you need to implement changes in order to meet your goals in a year?" 
9. What concerns should be answered before you sign up with us as your marketing partner?
This will uncover common objections and allow you to reassure their concerns. By asking this flat out, you give yourself the opportunity to combat their concerns and convince them why you're the right fit. 
Use the learnings from each discovery session to adjust and improve the script or playbook. And you will definitely be using it for your proposal. A well-honed discovery process will reduce fumbling and help the team ask natural and relevant questions.
Write everything down and send an actions list out to the team and the client detailing the next steps. 

– Stacey Steiner, Director of Brand Activation at Prattify
This brings us to the next point: what are the next steps? 
How To Follow Up After A Discovery Call: Next Steps
It is absolutely essential to follow up after. 
What is a successful discovery call? 
Finalizing a follow-up meeting to discuss the next steps is a measure of success. Make sure you set a date. Another ideal next step is getting additional memos from the buying team for additional evaluation or presenting the proposal itself. 
Either way, set a date or risk being ghosted. 
This way, you'll know exactly what their objections are. If it's pricing, you might require further negotiation. If it's about services, emphasize that you'd like to make sure your proposal fits all their needs and revise it. 
Agency Tip: Book a meeting to show them the proposal and gauge what they think. This is also the opportunity to remind them of the problems they will face if they don't go with you. 
You wouldn't propose via email, right?
When all is said and done, a successful discovery call has all the feels: 
If everyone leaves with full knowledge of the next steps and a positive, expectant outlook on the project, we've succeeded. 

– William Wilkinson, Founder at Interactive ID
A positive outcome is less about ticking boxes and more about setting the tone for the relationship going forward. If we've connected on a personal level with the client, shared our hopes and concerns around the project, and know what we both want from partnering together, we've done our job!

– James Londesborough, Owner of Ignite Marketing
What do you do if the meeting is not a clear success?
Just like any relationship, not all agency-client relationships are meant to be. Either side could determine that the fit was not right.
If the meeting is less than effective, or if there is discord of any kind during it, we often call them to thank them for coming by and use a warm tone throughout the call. Then, we send an email that includes encouragement and expresses confidence in helping their company succeed as a result of the project. We also outline the project tasks and timeline, along with any information the client is expected to provide.

– William Wilkinson, Founder at Interactive ID
So…How Do You Improve Your Client Discovery Sessions? 
If you've found yourself stumbling through discovery meetings, or are having less-than-optimal outcomes, consider returning to some of these discovery fundamentals. 
Ensure that your client discovery meeting questions are open-ended and focus on understanding the root problems your prospect wants to solve. Bring a curious and positive outlook, along with a structured discovery meeting agenda.
With a tried and true discovery meeting structure in place, your agency will not only land more clients but ones that are in line with your agency's culture, too. 
Watch the video for more insights!👇
Key Takeaways 
Determine an agency-client fit

Understand their pain points and show you will solve them

Set a date for a follow-up meeting
Ready for your follow-up? 
To land new clients, Jo McKee, founder of McKee Creative agency, says that showcasing other clients' dashboards has helped her agency secure new clients.
Showing potential clients an example of the reports they will receive will differentiate your agency from one that uses harder-to-read reports from tools like Google Data Studio (now Looker Studio) or Google Sheets. 
And a proven track record of your past successes with similar clients and showing the agency tools and client reporting software you use to deliver their results is key to building trust.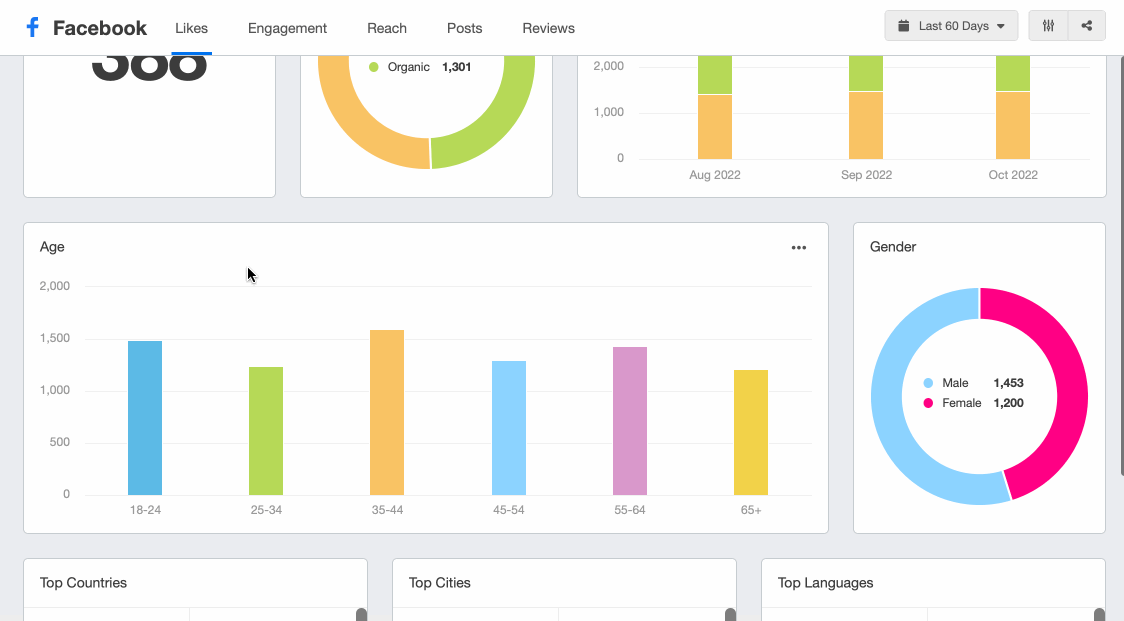 Clear communication = client retention. Easily create white labeled marketing dashboards–and give your clients a login to client-facing dashboards they can access 24/7. Try it free for 14 days.
Written by
Melody Sinclair-Brooks
Melody is a SaaS marketer and startup consultant with a background in brain science. With nearly a decade of experience working in rapidly scaling online businesses, she is passionate about transforming data into actionable marketing strategies.
Read more posts by Melody Sinclair-Brooks ›
Try AgencyAnalytics risk-free for 14 days. No credit card required.