Structure is key to agency growth.
Whether your agency is brand new or has 100 employees, how it's organized has a direct impact on the company's efficiency, culture, client success, and scalability.
Without a well-thought-out structure, agencies suffer from miscommunication, frustration, and poor results.
What are your options? What should you consider when creating or adjusting an org chart? Should you separate account management and execution? Should you go remote? And most importantly, how do you structure your agency in order to scale?
We posed these questions to experienced agencies who weigh in on what works for them.
There are two primary ways to structure your agency: the traditional approach and the pod approach, sometimes referred to as "Mechanistic" and "Organic"—and there are many combinations and adaptations in between.
Keep in mind there's no one right model, but some are certainly better options depending on your size, industry, and desired culture.
The Traditional Agency Model
The traditional model is the go-to structure for larger teams who offer a wide variety of services. Think: department heads, VPs, senior and junior roles, and so on. Here's a breakdown of a traditional agency structure. 1. Clearly Defines Organizational Structure
Each team is broken up by function and typically led by a department head.
"A hierarchical structure with clearly defined roles and a chain of command works great when you have a large team," –Jonathan Gorham, Founder of Engine Scout
Smaller teams may also find benefit from this type of structure, as it outlines individual roles and ensures everyone knows what they're working on.
"Our agency follows a traditional agency structure. Our team is structured with a President, VP of Business Development, VP of Marketing, Senior Developer, Junior Developer, an SEO Specialist, a Paid Media Specialist, and an Analytics Implementation Specialist." –Jeff Romero, Co-Founder of Octiv Digital
2. Facilitates Long-Term Agency Growth
The traditional model does a good job of handling significant growth. Think about it–when an organizational structure is clearly defined, it's much easier to fill in new departments or roles when the infrastructure allows it. For example, say you've recently decided to onboard an SEO specialist to your team. This resource fits seamlessly into your existing marketing team that already has a department head and specialists. In the long run, it's also much easier to add new specialists or other resources that fall under this purview.
When Stephen Christopher, Founder of Wit Digital, hires his employees, their onboarding includes training on marketing terms as well as client industry terms as they relate to their niche. New employees also shadow a team lead in each department, even if they weren't hired for that specific role. 
"Even if someone is in the paid department, they have to shadow people in SEO, creative, web dev, and all of our departments to get an understanding of how they all work together for our clients." Stephen Christopher, Founder of Wit Digital
3. Ensures Team Accountability
Hierarchical structure is helpful to ensure that everyone knows what they're working on and can be held accountable for their output.
"While it's fine to have a flat organizational structure, and is sometimes necessary with smaller agencies, you may reach a point where there's confusion and mini power struggles. And if there's no clear boss to report to, you run the risk of people not being held accountable for their work (and especially the quality of that work)." –Amit Raj, SEO Consultant at Amit Digital Marketing
This traditional agency model is well suited to larger teams who typically serve clients' individual offerings requiring little cross-team collaboration/
Know exactly who's working on what by assigning tasks and keeping track of progress in one place. Try AgencyAnalytics free for 14 days. The Downside? Power Struggles and Office Politics. The disadvantages of this agency structure are divisional silos and potential tension in the chain of command.
"People may argue that a flat structure is best, but I have found that there is still always a 'hidden' chain of command existing in flat structures too." –Jonathan Gorham
As with all organizational structures, there are challenges that will always pop up, so don't let them deter you from making the best decision.
The Ins and Outs of the Pod Agency Model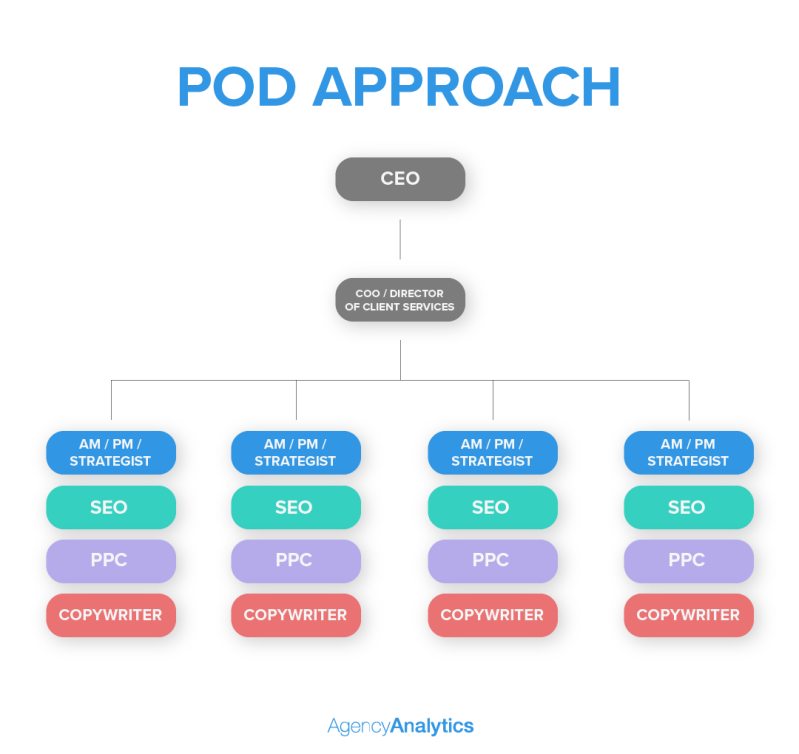 A "pod" is a small team of individuals with complementary skills. An example of this is an Account Manager (who may or may not double as the Project Manager and/or Strategist) leading a team containing an SEO Specialist, PR Specialist, PPC Specialist, Copywriter, and Designer. Plug and play this with any specialty or discipline.
1. Allows Team Members To Become Subject Matter Experts
If your agency is working with a small pool of clients, the pod approach is especially handy because it allows a higher degree of focus and specialization.
"We have 2-3 person media teams working on a small set of clients and managing their entire digital media budget across all channels. We keep our client portfolios limited to only a handful of accounts per team to ensure that our team members can go deep and become experts within each digital channel." –Natalia Wulfe, Co-Owner & CMO of Effective Spend
2. Streamlines Operations and Puts More Focus on Clients
The pod model streamlines many processes by reducing friction. All members of the team are working on the same projects, day in, and day out. It takes the chain of command and senior positions out of the picture while increasing accountability within the team.
"This structure ensures that the client is getting a service that is working toward their best interests. A siloed media team leads to in-fighting between teams over the client's budget and focus. Our structure allows us to optimize budgets toward the channel where we see the best performance – no politics." –Natalia Wulfe
Streamline your agency's operations and collaborate with your team seamlessly by using a customizable dashboard from AgencyAnalytics–try it free for 14 days.
The Downside? Scaling May Be A Challenge
If you're onboarding more clients without necessarily adding resources, your specialists' focus may become more diluted. In this particular case, clients may not receive the same level of attention as before, which could lead to dissatisfaction. To offset this possible challenge, think about your agency's growth goals and whether you'll plan to hire more staff to meet those needs. That way, you'll be in a better position to grow your agency in a sustainable, customer-centric way.
Additional Agency Structure Tips to Consider
There are hundreds of structures that combine aspects of both models.
1. Having Distinct Team Structures With Specific Functions
By streamlining operations in this way, each team is essentially a 'hub' that's responsible for specific duties. That way, all resources get their jobs done but also contribute to the bigger picture.
"We have an account management team that takes over the relationship and handles all client communication. Internally, we have a project management team that quarterbacks all campaigns to ensure that the right specialists, think designers, developers, producers, media planners, and more, are involved and that the work is completed on time and to scope. " –Chris Weatherly, Director of Sales & Operations for WRAL Digital Solutions
In this agency structure, the siloed account management and project management teams assign execution to a rather flat group of specialists.
2. Assigning Client Projects to More Than One Team
Many digital agencies offer web design and development, in addition to digital marketing services. Here's how you can structure your agency around these two product offerings. 
"The current agency is split up into 2 disciplines: Web Development and Digital Marketing. There is fluid collaboration between the 2 disciplines for production staff, however, on the development side, account management is not tied to any production staff." –Bryan Coles, Client and Strategy Development at KD
3. Listening to Client Needs and Adjusting Your Structure Accordingly
As your agency begins to evolve, so will client needs and expectations (if they're also in a growth phase). To keep up with these demands and ensure you're delivering the best service possible, optimize as much as possible (e.g., hiring new staff when needed).
"We structure and equip our team starting with web designers, developers, SEMs, and copywriters. Our initial focus was designing and building bespoke beautiful websites. However, as time went on, our clients started asking us the question of 'what next'. From that point on, we heavily invested in SEMs and copywriters." –Rahul Khosla, Director of Point & Quack
Should Your Agency Separate Account Management and Execution?
No matter the structure your agency chooses, one decision you will have to make is whether you separate account management and execution. It seems every agency has a different opinion–some are all-in on splitting the responsibilities while others prefer to combine them. Here's what you should consider. 
'All Hands On Deck' May Work Better for Smaller Agencies
"I think it's an ideal customer experience to have a specialist handling all of the work and an account executive communicating the progress to the client. However, in a smaller agency, everyone has to be "all hands in" when it comes to client service." –Jeff Romero
Separation Keeps a Buffer Between The Client and Specialist
"It's helpful to have this account management team in place because it gives a buffer between our specialists and the client—allowing our specialists to perform the work needed to move the needle on their sites and marketing efforts without having to be in constant contact with the client all the time," –Chris Weatherly
Grouping Responsibilities May Reduce Unnecessary Steps 
Others lean toward grouping the responsibilities into one role to streamline operations a bit more. 
"I've found it is much more effective to combine account management and fulfillment. In my experience, it's better to not have a middleman who is just an account manager because when the client has specific questions, they are often not able to answer them. Having an account manager and a different person to fulfill specific tasks just adds an unnecessary step in the communication chain," –Stacy Caprio, Founder of Accelerated Growth Marketing
Separating Responsibilities May Increase Miscommunication
With a separation of account management from execution, the potential for miscommunication may increase. 
"I think there should be one person who "handles the account" and does the actual work on their website. I worked in a few agencies and often there is an information discrepancy between an account manager and a SEO, PPC person who is working on the account. Also from a client perspective, it is better for them to have direct contact with their digital marketing person." –Filip Silobod, Founder of Honest Marketing
As you can see, there are distinct pros and cons for separating account management and execution. Factor all these considerations when deciding on an agency structure. 
Should Your Agency Go Remote?
We're in a digital age that offers possibilities businesses have never seen before. Technology allows for collaboration across the globe, which opens the door for remote possibilities.
The benefits are clear: remote work is a strong work perk, and it opens the talent pool from a single city to the entire globe. But on the other hand, it can be problematic if not done well. To mitigate this risk, learn from other remote agencies (such as Distribute Digital and Portland SEO Growth) that have successfully navigated this space.
Put things in place such as:
Reliable technology to ensure seamless staff and client communication

Setting expectations upfront and early (e.g., hours of operation, meeting times, availability)

Understanding any associated labor laws or implications (if hiring overseas)

Having regular touchpoints (with staff and clients)
That way, you'll cover your bases and set your agency up for remote work success. All Agency Structures Need Reliable Systems In Place
Regardless of what structure you choose, remember to have solid processes in place. The last thing you want is to have a scaling agency with no set system to track trends or provide the data your clients need for strategic decision-making. 
And for a collaborative environment where you're combining responsibilities or assigning clients to multiple internal teams, you'll need added support and functionality. That's where a client reporting tool like AgencyAnalytics comes in!
Created specifically for marketing agencies, AgencyAnalytics has all the capabilities you need to manage your entire agency, from assigning tasks to unlimited client and staff access with customized permissions. From creating white-labeled reports to real-time data access, this powerful tool:
Set your agency up for long-term growth and success by trying AgencyAnalytics free for 14 days–no credit card required. 
Brooks Manley is a digital marketing strategist and freelance writer specializing in SEO and content marketing. He's a big fan of the internet, tacos, and the NBA.
Try AgencyAnalytics risk-free for 14 days. No credit card required.