While it's possible to get by with ad-hoc internal systems and procedures for client campaigns in the early days of a marketing agency, you've probably noticed that it quickly becomes unsustainable in the long run.
Without doing resource planning on a continual basis, team members often become overwhelmed or confused about their roles and responsibilities, resulting in delayed deadlines and poor project tracking.
From getting more clients to expanding your portfolio, proper resource management is key to developing a strong presence in the industry and consistently delivering successful marketing campaigns.
We surveyed six marketing agency founders and leaders who have successfully scaled their agencies to give you the most strategic ways to continue growing your digital marketing agency.
Read on to discover:
15 Project Management Tips for Scaling Digital Marketing Agencies
Whether you're early in the growth phase of the digital agency life cycle or putting things in place after an unexpected growth spurt, here are actionable steps to follow. 
Project Management Tip #1. Establish a Scalable Agency Structure
I understood the value of having good systems in place to communicate and track work, even when we were just three people. After that, my first full-time hire was a Project Manager to help keep on track of all our clients and task management.

Yanira M. Castro, CEO of Humanity Communications 
Think about where you're at and where you see your agency heading. As you begin to hire more resources, ensure that your agency structure, systems, and processes allow for growth without severely disrupting organizational hierarchy. 
For example, your digital agency may have just two specialists specializing in search engine optimization. As you begin signing new clients and taking on more complex projects, you may need an agency liaison (such as an account manager) to oversee project management. In this scenario, adapting to a pod agency model may be your best bet.
Project Management Tip #2. Update Your Pricing Structure
Knowing how to charge your clients may not always be the most straightforward task, but it's absolutely essential. 
To decide on an appropriate agency pricing strategy, ask yourself the following questions:
Is my agency focused on short-term or long-term client projects (or a combination)?

How long would these types of projects take?

Are there any contractual clauses my agency should consider (e.g., 50% downpayment)?

How do my competitors typically price their services?

Are there any opportunities for pricing add-ons or upselling clients?

Should my agency charge for client reports? 
Agency Tip: Be sure to set your boundaries early when receiving payment. You don't want to end up in sticky situations such as trying to convince a client to pay on time or even firing a client for payment delinquency. Include payment terms and conditions in your client's contractual agreement (and stick to them).   
With a pre-determined pricing structure, you position your agency to send proposals and contracts quickly. But, as your agency continues to scale in both size and experience, don't be afraid to adjust your pricing structure as needed. 
Project Management Tip #3. Decide on a Niche
What does your agency want to be known for? Trying to be all things to all clients can be difficult to sustain as your agency continues to grow. If you haven't already, consider narrowing your services and targeting a specific niche (or two).
That way, you become top-of-mind for prospects looking for your specialized product offering and expertise.
Find a niche or two and be great at it. It is far easier to repeat results for similar clients than to be an expert in every field imaginable.

Joaby Parker, President of Cover3 Creative
To become a niche agency, be sure to: 
Clearly outline your ideal customer profile

Create advertising and inbound marketing strategies that align with prospects' needs

Research different keyword types to understand user search intent and their pain points

Evaluate competitor websites and social media platforms to decipher who's their target market

Develop a unique selling proposition, and determine whether there are any untapped target markets
Once you decide on a niche, creating repeatable agency processes for that type of client becomes exponentially easier. That way, you'll be in a better position to scale and build your brand reputation in the process. 
How This Agency Found Their Niche
Elke Critchley, Founder of Social & Staple, shares the experience of starting an agency, figuring out a niche, and evolving over time:
I felt like a small fish in a big pond while I watched some of my friends start their own small businesses, so I thought about how to gain the kind of work lifestyle I was craving. As an agency owner, initially I specialized in helping small businesses that were typically overlooked by bigger agencies and found that really rewarding.
Social & Staple honed in on this unique opportunity by continuing to focus on smaller brands while keeping passion at the forefront of agency operations.
Connecting with brands that I aligned with was my core objective, and I feel like that close-knit community was really where Social & Staple thrived.
As a result, Social & Staple developed more marketing expertise and experience with their chosen niche. This meant that their agency had a unique selling proposition and was the preferred choice for smaller businesses. 
I found a passion in helping small brands create big moves and loved working with these businesses because I felt like an extension of their existing team and was able to scale with them as they grew. Today we find ourselves in a really nice pocket of the market as a boutique agency with the personal touches of a small business and the expertise of a bigger organization.

Elke Critchley,  Founder of Social & Staple
Don't be afraid to take calculated risks, follow your passions, and create a unique lane for your agency to thrive. Even if you don't figure out everything in one go, it'll bring you a step closer to fulfilling your large-scale agency dreams.
As Simon Thompson, CEO of SEO MCR, puts it:
Don't give up but also expect setbacks. If you never give up, you'll keep improving all the time.
Interested in reading about another in-depth, niche agency story? Check out Vortala Digital's agency profile to discover how they grew a marketing agency by focusing on local healthcare providers.
Project Management Tip #4. Create Replicable Documents and Procedures
Our onboarding was so messy that we knew we needed better processes. Now when a client onboards, it's all automated, and each client has a smooth experience. And getting sales was always just a matter of chance. Now, we have a strategic and focused sales process that gives us a steady stream of leads.

Joaby Parker, President of Cover3 Creative
Picture this–your agency's brand reputation begins prospering, and suddenly, you've onboarded ten new clients in one day! It's excellent news, but it won't mean much if you try to do everything from scratch and fumble during the onboarding process.
To avoid unnecessary hassle, create documents and procedures that can be easily customized and sent out when needed. From professional SEO proposals using a pre-built proposal template to client contracts to onboarding checklists and dashboard templates, automated processes save your agency time in the long run. 
No need to reinvent the wheel each month. Save time by using pre-built reporting templates on the AgencyAnalytics platform–sign up for a free 14-day trial today.
Onboarding new clients is a big deal—especially if it's happening frequently. It's a waste of time to re-create your entire reporting setup from scratch again and again. Client-level campaign templates pull in all of the individual dashboards and reports that your team already uses with just a few mouse clicks.
Agency Tip: While your digital marketing agency is scaling, client retention is critical. Even after you've onboarded new clients, be sure to understand any changes to the customer journey. That way, you'll pick on any areas to improve and buffer your agency from a high churn rate. 
Project Management Tip #5. Invest in Infrastructure
When scaling their agency, Yanira M. Castro, CEO of Humanity Communications, found that the most important thing was to build out the infrastructure. 
And it makes sense because workflow automation is a non-negotiable for scaling agencies. As your roster grows, you need proper systems in place to ensure your agency can keep up with numerous marketing efforts and evolving demands. 
I understood the value of having good systems in place to communicate and track work, even when we were just three people. Infrastructure building helped us grow because there wasn't wasted time searching for something stuck in one person's email inbox. It also allowed us to become more responsive to clients, which leads to better quality work.

Yanira M. Castro, CEO of Humanity Communications 
For example, say your client wants to run several large-scale marketing efforts in conjunction (e.g., a Facebook Ads campaign alongside a Mailchimp drip campaign). Relying on unscalable processes (such as tracking metrics through a manual spreadsheet) will only work for so long. Not only is there an increased likelihood of copy-and-paste errors, but there's also an unnecessary waste of billable hours on tedious work. 
Having the right marketing agency software at your disposal makes life much easier. From an automated reporting tool like AgencyAnalytics to a CRM to house employee details, the right technological solutions make a world of difference.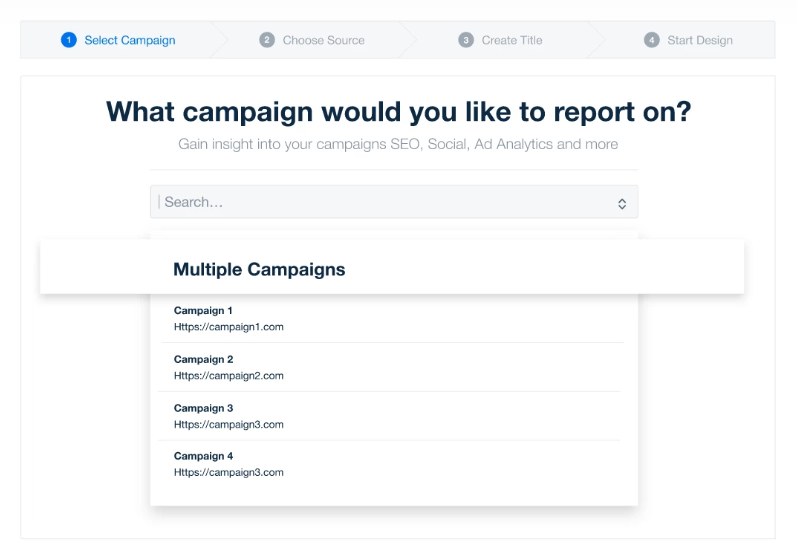 Easily create cross-campaign reports through AgencyAnalytics–the automated marketing agency software trusted by over 6,500 agencies. Sign up for a free 14-day trial today. 
Project Management Tip #6. Keep Track of Your Numbers
Know your numbers! Understand deeply the cost of doing business and delivering the work at your desired level. Once we understood our processes, workflows, and staffing needs for every project and initiative, we could price our services with profitability.

Rodrigo Campos, Founder & CEO of Splurge Media
Business is business, and you're in it to make a profit. To run your marketing agency successfully, you'll need to keep track of your financials and performance. Just as you deliver actionable insights to your clients, don't forget to track your own agency KPIs as well, such as implementing EOS rocks or measuring key retention metrics to make sure you're holding onto your hard-won clients.
Reporting platforms aren't just for clients. Create a custom marketing dashboard to track your agency's growth. See your numbers in real-time on AgencyAnalytics–it's free for 14 days. 
Project Management Tip #7. Hire the Right People
There's power in diversity and hiring resources with a range of skill sets. This will bring new perspectives to your agency and ensures proper resource management while scaling. 
We ensure that we have the right mix of people and support their individual needs, all while staying focused on the company as a whole. When you're building a company, you don't want to hire all the same types of people. Just like in a recipe, you need different ingredients to make a dish shine.

Yanira M. Castro, CEO of Humanity Communications 
And a part of hiring the right people is trusting them to do their jobs. As Simon Thompson, CEO of SEOMCR, says, "I hire good people with specialist skills that can–annoyingly–do every job better than me." 
After all, you've got an agency to run and can't stretch yourself thin by focusing on everything. It may be a challenge to pass important responsibilities on to someone else, but it is the only way that an agency can continue to scale. 
The solution? Focus on hiring resources with the appropriate skill sets and trust them to get the job done. That way, you won't have to worry about micro-managing competent employees or excessive workflow management, which gives you more time to focus on agency operations. 
Factor in resource management and hire people with strengths where you are weak. I am awesome at strategy and creative, but struggle with the details of account management at times. We now have rock-star account managers that ensure the strategy we set gets executed, and now we succeed on a higher level than I ever thought possible.

Joaby Parker, President of Cover3 Creative
Project Management Tip #8. Invest in Employee Development
Scaling your agency means putting measures in place for your employees' development also. As your workforce grows, your staff must be able to manage their workloads at a steady and realistic pace. 
Here are a few practical steps to ensure your staff is well-equipped to reach their full potential.
Identify and Nurture Employee Strengths 
Your employees are valuable assets with their own particularities and interests. 
By understanding their strengths and taking the time to cultivate them, you encourage your employees to bring their best selves to work. Not only does this lead to their professional and personal growth, but also your agency's. Invest in your employees and watch your agency thrive.
I like to identify my employees' strengths and play to their strengths. I also try my best to pay attention to my staff's time management and hire at critical times so that they have the support they need to do their jobs well.

Linda Rooney, Founder & CEO of DandeLions Digital
If you're interested in learning how one agency's people-centric approach led to business growth, check out Dilate Digital's agency profile below.
Read More: Putting People First: A Recipe for Success at Dilate Digital
Whether you're managing a large or modestly sized team, your staff needs to know precisely what they're responsible for. That's why you focus on SMART task management (i.e., specific, measurable, attainable, relevant, and timely). It keeps everyone on the same page and ensures staff accountability. 
The last thing you want is any critical deliverables falling through the cracks. To avoid this from happening, keep a rolling to-do list and have regular check-ins. 
Streamline task management, create workflow automation, and improve internal communication. Streamline your operations by using a marketing agency software like AgencyAnalytics–sign up for a free 14-day trial today.
Offer Professional Training
Equipping your staff with the right tools and skillsets will help them to develop holistically and positively contribute to your agency's growth. 
For example, consider offering an education allowance or additional professional training. This will allow your staff to sharpen their skills, gain new knowledge, and apply it to your agency's operations. 
In turn, it also shows that you're invested in their professional development and advancement. 
Resource Projects Adequately
Growing marketing agencies need adequate resourcing. Even if you've got competent staff with the right skillsets, an overwhelming workload will lead to lapses, burnout, and even turnover.
To avoid this, adopt a project management approach to your agency's operations. That way, you'll take a proactive stance without dropping the ball. 
For example, Dan Delmain, Founder of :Delmain, adopted the Entrepreneurial Operating System (EOS) when his agency was on a growth trajectory. The EOS framework provided a clear-cut overview of :Delmain's vision, data, process, traction, issues, and people. 
By defining business goals, Delmain is better positioned to pinpoint challenges, determine whether resource planning is needed, and ensure efficient workflow management.
Adopting EOS has been an absolute game-changer. It's singlehandedly the most important thing we've done as an organization in the past five years to really spur growth.

Dan Delmain, Founder of :Delmain
Interested in their full story? Check it out below. 
Read More: Growing an Agency by Turning Adversity Into Opportunity
Project Management Tip #9. Outsource When Needed
Knowing your entire team's strengths is a key part of running and scaling a marketing agency. Don't be afraid to outsource if your time is stretched or you're not as experienced in a particular aspect. 
Our biggest challenge was finding the right people. We found that hiring an HR consultant was the best way to manage that. It was the right decision, and I am glad we did it early on.

Yanira M. Castro, CEO of Humanity Communications 
Whether it's policy creation or creative tasks, handing it over to another professional frees up time and lets someone else take the reins for other tasks. 
Project Management Tip #10. Create a Healthy Agency Culture
Creating a value-based, inspiring agency culture will attract employees that align with your vision and long-term goals. It's especially important since you want to ensure your staff is on board during your growth trajectory.
Our values have run deep through our company culture since we started. This list continues to evolve, strengthen, and serve as our guide.

Kim Meissenheimer, Ads Specialist at Expand Agency
Your agency staff spends many of their waking hours at work, so be sure to prioritize their job satisfaction. It's a continual process of enacting your agency's values (when applicable), encouraging employee engagement, and protecting morale at all costs. 
As Rodrigo Campos, Founder & CEO of Splurge Media, puts it, "I focus heavily on building the right culture for our business. We spend a significant amount of time together, and this time together needs to be positive, welcoming, collaborative, creative, and innovative." 
Project Management Tip #11. Explore Agency Partnerships
To manage growth demands, you may need more hands on deck. At this point, consider the possibility of agency partnerships. 
It may seem counterintuitive to give work away to another agency. However, a strategic alliance could go a long way in distributing client workloads, offering a broad range of white-labeled agency services, and providing cutting-edge marketing campaigns to clients.  
If you're exploring this route, consider agencies that offer services that complement (but don't compete) with yours. 
Say you're a remote agency that provides social media management services. A possible partner might specialize in SEO agency software and also have remote-first operations. Not only does this align with your cultural values, but it fits in well with your current product offering and what clients may be looking for. Plus, you probably use some of the same remote work tools, which will make collaboration easier!
Project Management Tip #12. Know Your Leadership Style 
Self-awareness is one of your greatest assets, especially if you want to scale and be a better online marketing agency.
How you lead your agency will trickle down to all aspects of your operations. It shapes your unique agency culture and lets clients know what to expect. 
I would say I have quite a visionary leadership style. I have always wanted to create an environment where my entire team feels inspired to come to work and that we are always growing in some way and feel proud that that is where I see Social & Staple. It doesn't feel like a job when you can lead a team and a business that aligns with you. Yes, it still has its challenges, but the payoff is always worth it.

Elke Critchley, Founder of Social & Staple
Not sure where to begin? You may fall into one of the ten leadership styles below (or a combination of a few). 
Regardless of your style, one thing's a given–adopt an empathetic approach. In a recent study by EY Consulting, 1,010 American employees shared that they value leaders who are:
Open and transparent (41%)

Interested in hearing their team's opinions (36%)

Able to navigate difficult conversations successfully (34%)
Empathetic leadership fosters employee loyalty (as indicated by 88% of respondents) and even increases employee efficiency (by up to a whopping 87%). 
That means that this people-first leadership style has a two-fold effect. It affects your staff's ability to produce exceptional results, and this, in turn, impacts client loyalty. In other words, take care of your employees, and they'll take care of your agency.
Want More Agency Leadership Tips, Delivered to Your Inbox?
Subscribe to the AgencyAnalytics Newsletter!
Project Management Tip #13. Adopt Active Listening
Realistically speaking, there may be instances where your staff's feedback doesn't align with your views and opinions. However, adopting an active listening approach encourages employees to speak up and be unafraid to voice their opinions. 
I lead from a place of honesty, directness, and respect. While I have a lot of experience, I don't have all the answers and don't want to. Hearing other people's opinions, thoughts, and differing opinions is critical–not only for my growth and development but also for the business. It allows people to feel comfortable bringing all of who they are to work, and it shows them that they are valued.

Yanira M. Castro, CEO of Humanity Communications
And who knows–maybe you'll learn something new or change your mind when presented with new information.
Project Management Tip #14.  Accept That Mistakes Happen Occasionally
A vital part of agency management is accepting that mistakes will happen. After all, your staff is only human. Great leaders ensure that they're approachable when these things happen by keeping an open-door policy. 
Our mantra is Ugly, Early, Often–it's ok to make mistakes; it shows we're being creative and innovative. However, we encourage the team to raise the "ugly" as early and often as possible so we can collaborate, work together towards a better solution, and course-correct promptly to meet the desired outcomes still.

Rodrigo Campos, Founder & CEO of Splurge Media
By adopting this approach, your staff won't hesitate to let you know if any pressing issues should be addressed. As a result, any errors could be addressed and corrected in an acceptable time frame. 
Project Management Tip #15. Take Accountability When Necessary
Even if things run smoothly, you may sometimes fall short of your goals. There may even be times when you've gotten your team on board for a promising endeavor that didn't turn out as planned–it happens in all marketing agencies. 
I coach high school football, so my leadership style follows suit. My experience has taught me how to set clear objectives, create real game plans, devise strategies to achieve those objectives, and rally a team behind a single goal. I try to be the cheerleader when my team succeeds but take the blame when we fall short.

Joaby Parker, President of Cover3 Creative
As the captain of the ship, you're responsible for steering the team toward success. Instead of shirking responsibility, show transparency by taking accountability for your mistakes or shortcomings.
Not only does it show your humanness, but it may also increase employees' sense of trust in your agency management.
How To Avoid Burnout While Scaling Your Agency
If you're growing your digital marketing agency at an unmanageable pace, you risk burnout. To prevent this from happening, here are things to consider. 
Don't Be Afraid to Say No
For growing digital marketing agencies, new business means a healthy cash flow and a diversified portfolio. It may be tempting to say 'yes' to everything that comes your way, but it's not always worth the hassle. 
To avoid taking on too much at once, remember the power of saying 'no.' It won't make sense to onboard new clients if you're already drowning in requests, struggling to tie up loose ends, or if they simply don't fit your agency culture. Turning away business isn't always the easiest decision, but sometimes it's necessary. 
It has been so rewarding to build my dream team and now work with some of our dream clients, who share our mentality around nurturing long-term relationships over transactional interactions.

Elke Critchley, Founder of Social & Staple
Being selective about the work your agency chooses to do also opens up new possibilities with clients you actually want to work with. That way, your agency will keep a relationship-focused approach instead of saying 'yes' for the sake of it. 
Put Boundaries In Place
Speaking of no's, your agency must set firm boundaries when it comes to client requests. 
It's a given–your marketing agency wants to go above and beyond for its clients. However, enabling toxic clients and creating unhealthy habits will lead to employee dissatisfaction and burnout. 
You don't want your staff to feel compelled to answer off-hour communication constantly, which will lead to a compromised work-life balance and eventual burnout. 
Set expectations early on and stick to them whenever your boundaries are tested. It's for your agency's own good. 
Check In With Employees Regularly
During your 1:1 meetings, check in with your staff to see how they're managing projects and any roadblocks in achieving their goals. Keep communication open and encourage transparency. That way, any challenges or concerns can be addressed before they escalate into burnout. 
Be sure to notice any concerning changes, such as a loss of motivation, a decrease in productivity, or a more negative outlook. If it gets to this point, keep an open mind and determine whether there's a salvageable solution (such as time off or addressing a stressful situation). 
Set Your Agency Up for Scaling Success With the Right Project Management Tools
Growing a digital agency is a work in progress. If you've gotten to this point, give yourself a pat on the back! It's an admirable place to be, and it's a journey that's full of potential.
Before you say 'yes' to new projects that come your way, be sure to:
Take a vested interest in employee growth and development

Have a scalable agency structure in place

Create repeatable processes to ensure effective agency management

Insulate your agency from burnout by addressing concerns early on

Invest in the proper infrastructure to monitor project progress
To keep up with your agency's growing demands, you need robust tools that save billable hours each month. With an automated reporting solution from AgencyAnalytics, create white-labeled reports, grant client login access, and manage your operations under one roof. 
If we had not committed to software investment at the start-up of our agency, I'm not sure how we would be able to service all our clients. AgencyAnalytics is definitely one of the most important tools we have. It's how we prove our worth to our clients.

Linda Rooney, Founder + CEO of DandeLions Digital
Don't wait till things become unmanageable. Cut down on manual work by using marketing agency software like AgencyAnalytics!
AgencyAnalytics was built specifically for scaling marketing agencies like you. Sign up for a free 14-day trial to access our full suite of automated features.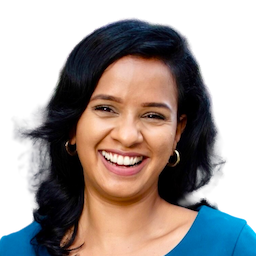 Faryal Khan is an experienced marketer and brand photographer with a passion for content creation. She creates value for brands through storytelling and captivating visuals.
Read more posts by Faryal Khan ›
Try AgencyAnalytics risk-free for 14 days. No credit card required.