Ad hoc reporting means creating reports as your clients need. Even though scrambling to satisfy a client's unexpected request might seem like the last thing your marketing agency needs, sometimes, it's inevitable.
This article will give you the tools to rise to the occasion and impress your clients with your personalized ad hoc reporting skills. Learn how to create in-depth reports–all in time for your next coffee break. 
In this article, we'll explore: 
The State of Reporting Today
Today, we're knee-deep in big data. There's no going around it. 
With more and more businesses going digital, data tracking is giving marketers more insights into their clients' performance than ever before.
The very data you need from companies like Google and Meta is what drives their success–and it's having a snowball effect. We'll see what happens with new privacy laws and Google's Third-Party Data Phaseout. But for now, big data is readily available. 
With hundreds of metrics and multiple clients each having their own goals, it can be hard to choose which metrics to report on. 
Getting lost in that data is a trap that can cause data fatigue, and leave you scratching your head when clients ask for actionable results.
While some agencies are still mucking around in a puddle of metrics, others have already sorted out their data proficiency and are leaving their competitors in the dust with data-driven marketing that drives measurable success. 
Client reporting best practices dictate that for a client report to be effective, it must be personalized to their unique needs to know what the key results are pointing to and be consistent in order to make comparisons to assess performance.  
No cookie-cutter approach can cover every client's unique needs. Clients expect personalization. It not only helps them better understand how your agency is striving towards their business goals.
Thankfully, no-code reporting software helps you filter out the most important data and drag and drop them where they showcase your advancements towards your clients' goals. That's especially important given that, even in today's age of automation, over 68% of marketing reports still have some element of manual intervention.
Part of that comes from the need to infuse Data storytelling into reports, which has become essential in today's over-informed world. That's why client reporting needs to use data visualization to intuit the results much faster than say, mindlessly scanning columns upon columns of Google Sheets data and pretending to be a data scientist.
While regular client reporting is already a part of your operations, ad hoc analysis is necessary for agile agencies to provide important data to their clients on the fly so they can go on about improving business on their end.
And with the right marketing reporting software on hand and 75+ data sources to connect to, your agency will be equipped to get your clients the answers and tools they need–within minutes. But we'll get to that in a bit. 
What Is Ad Hoc Analysis & Reporting
Ad hoc reporting is the process of creating reports on the fly to glean actionable business insights.
The Purpose Of Ad-Hoc Reporting & Analysis
For a marketing agency, it means creating reports for your clients on request to answer a specific question. This might be beyond the scope of your services, but with the right ad hoc reporting tools, it won't be hard to provide actionable insights to satisfy your clients' specific needs.
Ad hoc is actually a Latin term meaning 'for this specific purpose'. Generally, it implies that something is required on a one-time basis.
5 Examples of Ad Hoc Reporting for Marketing Agencies
Your agency naturally has access to tons of marketing insights that apply to your clients' various business departments: sales, retail management, and even finance. Let's take a look at some examples of when a client might request an ad hoc report from your agency. 
1. Significant Changes in Campaign Performance
Whether it's an increase or drop in paid search traffic or a sudden spike in organic keyword rankings, your agency should be able to quickly report on and adapt to changes in campaign performance. Clients rely on you for guidance on how to budget their ad spend and where to allocate those precious marketing dollars.
For example, using SEO reporting software, your team quickly creates an ad hoc SEO report after an algorithm update or a significant change to the website to make sure that it hasn't negatively impacted your client's rankings. Using customizable SEO report templates makes this process a breeze!
Read more about how to create an SEO dashboard. 
2. New Marketing Opportunities
As your client's business evolves, so too should their marketing strategy. Ad hoc reports help identify new market opportunities for your client's products or services. Perhaps it's time for a deep dive into demographic data, such as geographic or device metrics, to help narrow down the ideal customer profile and improve messaging.
Or maybe the client wants to expand their presence on Facebook, which means it's time for a thorough social media audit.
Whenever opportunities arise, you–and your clients–should be prepared to seize them. Ad hoc reports are often the best way to identify, reality check, and scope growth areas.
3. Employee Management
Your client is auditing their customer service department to see when they need more employees on shift. They would like to know when their business receives the most phone calls, and how many of those calls are currently being answered on average. 
You create a call tracking report to monitor their staff performance over the last 6 months by assessing their volumes of answered and missed calls and send it out to your client. You also give them access to their own live call tracking dashboard so that they can go in and see their latest call tracking metrics without having to ask you next time. 
4. Financial & ROI Analysis
Let's say your clients are assessing their upcoming marketing budget and need a drill-down of how each of their marketing channels is performing and their return on investment–both in your agency and at the channel level.  
You drag and drop all their critical marketing metrics into a custom report that showcases ROI, ROAS, and Profit across all their channels to show them the value you're driving to their business.   
5. eCommerce Inventory
Let's say a client is preparing for a big sale or is going through a busier period. They need to see which of their pages are getting the most traffic and also ask you for a list of their top products. You go into your Google Analytics dashboard or Stripe dashboard, for instance, and whip up a report that focuses on their top products in minutes. 
Benefits Of Ad-Hoc Reports
As you can see, due to the very nature of this type of short-term data reporting, ad hoc reporting comes with some unique benefits: 
Simplifies and filters data with a clear purpose in mind. Your clients ask, you answer. Easily share with stakeholders in a way they'll understand.
Faster time to market. Stakeholders and clients can make important decisions without having to wait until their next reporting period 
Allows for flexibility to choose the most relevant data points. Create reports that adapt to an ever-changing digital landscape.
Fully customizable. Provide personalized reports for each of your clients' unique needs.
When To Choose Ad Hoc Reporting vs. Static or BI Reports
Just as there are many use cases for ad hoc reports, there are also a few different types of reporting to consider:
Static reports/Canned reports/Structured reports

Business intelligence (BI) reports
Static Reports Vs. Ad Hoc Reports
Static reports–also known as canned reports or structured reports–are what you call the 'traditional' method of reporting: they are routinely sent out on a weekly, monthly, or quarterly basis. 
They follow a similar pattern month over month to deliver your clients' usually tracked KPIs. The regularity and consistency of these structured reports offer insights into progress over time and allow you to easily compare and benchmark your goals.
Ad hoc reports, on the other hand, segregate a particular category of data and are mostly used for short-term decision-making. This leaves no room for ad hoc analysis as the information they provide doesn't necessarily answer the most pressing questions your clients might have. 
The same goes for static dashboards. 
Why Are Static Dashboards Not Enough?
Although static dashboards are great for keeping clients informed, they don't always allow you to navigate between different time periods or drill into particular segments for easy comparison. When you're trying to answer some difficult questions, you need to have all the data readily available to explore solutions and come up with an answer. 
Sometimes you need to zoom in and out to get insights. Live, interactive web analytics dashboards give you access to your key metrics dynamically, allowing you to browse through different channels with real-time metrics–and compare different date ranges until your data starts to speak for itself.
BI Reports Vs. Ad Hoc Reports
Business intelligence reports have a strong focus on metrics that deal with the financial aspects of a business. BI reports analyze data like how you're tracking against your revenue, gross profit, and net income goals. 
They both have many common benefits such as:
Basic and advanced analytics

Using historical & real-time analytics

Access to multiple data sources

Data visualization 

Results-focused decision-making

Cost optimization

Improving workflow
From a marketing agency perspective, you might provide complementary data in your ad hoc reports that your clients will elaborate upon for their BI reports, or vice versa.
Challenges of Ad Hoc Analysis & Reporting
Given the nature of ad hoc reporting, data is often siloed. And that's partly intentional. The important thing is to use dynamic software that allows you to pull in live metrics as needed. 
Here are some things to keep in mind when creating ad hoc reports:
Don't rely too heavily on ad hoc reporting. This is especially the case when you are creating ad hoc reports about a specific channel or campaign, as it segregates the data and doesn't give you the big picture or allow for cross-comparisons. They have a time and a place but shouldn't replace your regular client reporting.
Streamline your decision-making processes. Data is great, but the whole purpose is to glean actionable insights. Use data visualization to enhance the experience and ensure quick and easy analysis–both internally and externally. Ad hoc reports are often too specific and too intermittent to use as part of a clean and clear decision-making process. 
Use the same data points as every other stakeholder. Sometimes ad hoc reports go out to more stakeholders as they fall outside of your regular reporting. It's important to ensure that your metrics line up. i.e. If you're reporting on different sales metrics than your client's sales team, the insights won't match up. 
Spend some time on your team's data literacy. Lack of training–even though the ad hoc reporting tools out there are quite intuitive–ensure your whole team is comfortable with the numbers and actively uses them to track their performance. Even spend some time explaining the data to your clients so they familiarize themselves with your ad hoc reporting style. If they don't understand your reports, they won't understand your agency's value. 
Agency Tip: To avoid many of the challenges outlined above, use standardized marketing report templates, even when creating ad hoc reports. That way, the core of how the information is presented and how the data is collected and transformed remains consistent. 
Do I Need An Ad Hoc Reporting Tool?
When your client calls you up with a request to create an in-depth report on ROAS across ad spend even though your regular report is due at the end of the month, how do you prepare? 
For data that falls outside of your regular reporting, you need the right tool to save the day–without wasting billable hours on non-billable tasks. 
You absolutely need reporting software that allows you to drag and drop your clients' requested data into live dashboards and reports. In minutes.
Let's take the example discussed earlier where your client wanted to assess their employee's performance and follow up with leads. With the right ad hoc reporting tool, you would quickly create a report or live dashboard analyzing answered vs. missed calls. 
An ad hoc reporting tool like a live client-facing dashboard allows them to log in to your reporting platform and analyze their data without having to go through your agency, too. This saves time for them–so they can make decisions on the fly without having to wait on an answer–and it saves time for your agency! 
And that level of transparency and reliability is what keeps your clients loyal.   
What To Look For in an Ad Hoc Reporting Tool
There are some features of an ad hoc reporting tool that you need to be equipped with, including the ability to:
If you're new to AgencyAnalytics, Start Your Free 14-day Trial and let's get your first ad hoc report set up! 
Get the Free Client Reporting eBook
Keep these useful tips, insights, and ideas handy whenever you need them.
How To Set Up Ad Hoc Reporting
Now that we've determined the type of tool you need to efficiently create an ad hoc report, let's look at how to create one–without touching a spreadsheet. 
Normally, if you were doing a report on Google Sheets, you would start off with raw data, use a bunch of calculations to filter them to match the client's request, create your graphs and charts, and send out something bland. 
Now, creating an ad hoc report is as easy as:
1. Going to your client's campaign in AgencyAnalytics
2. Creating a custom report with an easy-to-use report builder.– Use a pre-built marketing report template as a starting point or create one from scratch by dragging and dropping your metrics into place with widgets (choose from different formats like numbers, charts, and graphs). 
At the beginning of your ad hoc report, impress your clients with some personalized commentary in the report summary to clarify what they're about to see, and let them know your future plans.
3. Hitting send! Even see when your clients open it!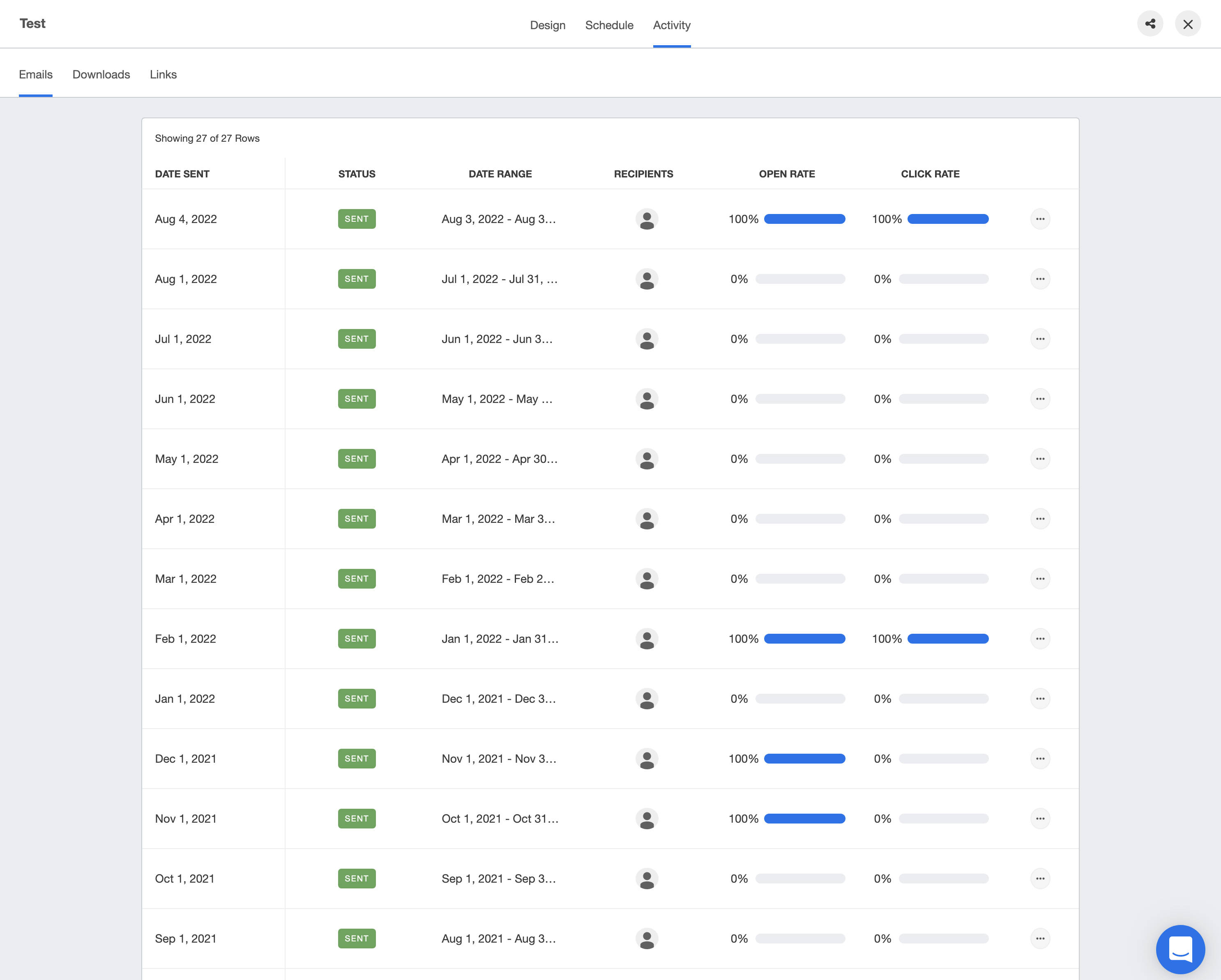 How to Enhance Ad Hoc Reporting With Data Visualization?
There are many formats you can use to present the data:
Pie charts

Bar charts

Line graphs

Lists

Scatter plots

Map charts, 

and more. 
Traditionally, they take a long time to make. That's why it's important that your ad hoc reporting tool has widgets that make them for you. 
Putting large amounts of data into visual boxes not only look good–but they allow you to quickly extract information and streamline your workflows.
Read more on data visualization best practices.  
Final Thoughts
With ad hoc reporting, time is of the essence. And you need the tools to do it quickly, effectively, and without fail to show that your agency is consistently driving revenue and growth opportunities in a consistent and data-driven manner. 
Try AgencyAnalytics' marketing report software and switch to a client reporting solution that scales with your agency. Try it free for 14 days.
Written by
Melody Sinclair-Brooks
Melody Sinclair-Brooks brings nearly a decade of experience in marketing in the tech industry. Specializing in B2B messaging for startups and SaaS, she crafts campaigns that cut through the noise, leveraging customer insights and multichannel strategies for tangible growth.
Read more posts by Melody Sinclair-Brooks ›
Try AgencyAnalytics risk-free for 14 days. No credit card required.