Once you've signed a new client and have all the necessary information to start working on their campaigns, most of your agency-client communication will likely come through periodic client reporting.
While the frequency and format of your reports may vary from client to client, there's no doubt that actionable reports and insights are the best way to demonstrate how your agency contributes to your clients' bottom line.
Client reports are crucial in retaining clients over the long run. When done right, they allow you to present new opportunities to existing clients and upsell your services. However, there are also several common pitfalls to avoid–including spending too much time on your client reports–that can hinder your agency's growth. 
In this guide, we're going to break down exactly how to create great client reports in less time and provide you with loads of client reporting templates to get you started. 
The guide is organized as follows:
What Is Client Reporting
Client reporting is a periodic presentation of your agency's marketing campaign results. It shows what you're doing to drive results and reach your clients' goals. Ultimately, client reports are critical to demonstrating the value of your services. 
For example, a white-labeled SEO report will showcase the client's growth in organic search, all while reinforcing your agency's brand. We call that a win-win!
Let's see just why. 
5 Reasons Why Client Reporting Is Important
Client reports may be one of the most important marketing agency tools your agency uses. A good digital marketing analytics report clearly highlights all the work you've been doing behind the scenes, the results you've achieved, and your plans moving forward.
1. Client Reporting Reduces Churn & Retains More Clients
The first reason client reporting is so important is that it clearly shows the value of your services, provides open communication and transparency, and builds trust between an agency and its clients. 
By scheduling regular check-ins with a client through informative client reports and suggesting ways to improve their business, your agency positions itself as a valuable resource that has a positive ROI. 
Monthly reports tell our clients that what they're paying us to do is actually worth the money.

- Michael Gasser, Co-Owner & Partner of Squeeze Marketing
Using a client reporting platform like AgencyAnalytics enables you to see when a client has opened a report. If you notice your clients aren't interacting with your agency as much, it's a sign of potential churn and a good opportunity to hop on a call with them to see what's up. After all, we all know that it costs more to acquire a new client than to keep one.
2. Client Reports Are a Framework for Regular Interaction
If you've ever purchased a service before and then had radio silence from the service provider, you know that even if they are working hard for you, it doesn't always feel that way! 
Client reporting provides a framework for regular interaction and client communication. 
By clearly establishing a periodic reporting timeframe, whether you choose to send reports monthly or bi-monthly, you can avoid these awkward agency-client misunderstandings altogether and maintain a positive relationship.
However, client reports don't need to stand on their own. They are a springboard for productive conversations, providing the basis for face-to-face or virtual meetings about a client's marketing performance. Some agencies also give access to dashboards so clients can check in on their results in the interim:
AgencyAnalytics has that client account feature where you can add a client and give them visibility of just their own dashboard, not your entire professional dashboard. And for those clients that are into the data and like to check on stuff every week or every day, it saves us a ton of time.

- Michael Gasser
3. Client Reporting is Your Chance to Educate the Client
As we'll discuss below, many clients that you'll encounter are not tech-savvy marketers, which is why they came to you in the first place. While the client is likely not looking for a marketing lesson from you on a day-to-day basis, your client report is the perfect place to educate them on the work you've been doing and the results they've achieved.
We love to use report templates to provide a consistent experience for everyone, which allows clients to become familiar and comfortable with our reporting. I have found that over time this reduces client frustration on reporting calls. -Lorianna Sprague, VP of Marketing at Trusted Search Marketing 
The goal is to reduce the need for back-and-forth phone calls and emails and instead use your client reporting to have productive interactions that improve your overall strategy–while saving time. 
4. Client Reports Manage Expectations
Oftentimes, it is not just the agency that will work on the marketing campaigns–you'll usually need some input from the client, too. With each client report, you clearly lay out what you need from the client for the next reporting period and show them how you're meeting their expectations. 
Choose from over 15 report templates on AgencyAnalytics that already lay out the KPIs that matter, including a: 
5. Client Reports Are an Opportunity To Upsell Your Services
When it makes sense, client reports are a great way to upsell clients. By presenting new opportunities to your existing clients and pointing out areas of need, you're offering useful services backed by actual data and anticipating your clients' needs before they do. 
In the same vein as educating your client, a client report is a perfect place to highlight the costs and potential benefits of pursuing additional marketing strategies. For instance, you could show how their competitors are ranking in organic search and offer your SEO services. 
When we raise our service prices and the clients are happy to pay that price, that means we've communicated effectively the value we bring to the table. And that's one of the most difficult things to do in any creative agency. -Michael Gasser
Build a winning SEO proposal using a proven proposal template to easily run site audits, check backlink profiles, and analyze keyword performance for your clients.
Client Reporting Best Practices
Deliver Client Reports on a Consistent Schedule
One of the first things to consider when creating client reports is how often you will send them. 
According to the recent client reporting benchmarks report, most agencies send their reports monthly to keep their clients informed without overwhelming them with data.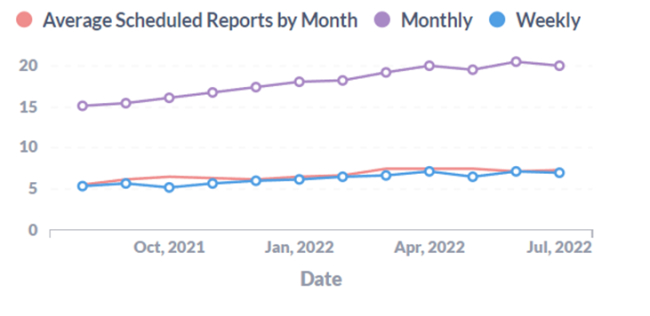 Agency Tip: Based on that same benchmark report, the best time to send client reports is between 9 a.m. and 9:30 a.m. on a Tuesday or Thursday.
While this may vary depending on the client and their needs, sticking to a consistent schedule helps establish trust and builds stronger client relationships over time.
Include Key Performance Indicators That Matter to Your Clients
Creating impactful client reports means paying close attention to the metrics that are relevant to each client. That's why your client reports should put the numbers into context–rather than simply rehashing their performance.
In the end, your clients care about results, so tailor your client reports to include the right metrics. This could include traffic, conversion rates, and revenue generated. 
Before setting up your client reporting, you should already have sat down with your clients to determine the metrics and key performance indicators (KPIs) that are unique to their business objectives. This way, not only will you track against your goals, but easily report on your progress towards them.
Showing KPIs from all sources enables our clients (and our team) to evaluate which of their efforts are working best. From there, we help guide them as to where to spend their efforts and their dollars.
KPIs can be top-level, such as total business revenue, or broken down by a differentiator like the marketing channel, including:
Showcase Your Successes 
At the end of the day, your clients are looking for revenue metrics. Take advantage of the easy drag-and-drop features of your client reporting platform to highlight what matters most to your clients, including Conversions, ROI, ROAS, and Revenue. 
Using trend charts, easily highlight the growth trends that have been driven by your marketing campaigns. 
Keep your team on point by tracking progress against your goals. Use visuals that instantly convey the answer to: How are we doing? 
Show just how you're reaching your client's campaign goals–built right into AgencyAnalytics' client reporting platform. Try it free for 14 days! 
Include Actionable Insights and Recommendations
We report with human analysis, as many of our clients need an explanation for what they're looking at in the report.

- Patrice Valentine, President, ProFusion Web Solutions
Aside from reporting on KPIs, agencies should provide reports with data-backed insights that could boost a client's business growth. These might include campaign recommendations or ideas for expanding to other marketing channels. 
Talk about actionable data. 
Ensure Data Accuracy
Inaccurate data, whether from a copy-and-paste error or an incorrectly configured formula in Google Sheets, can damage that relationship. For good. 
Want an easy way to get your data from multiple marketing platforms into Google Sheets?
Check out the Google Sheets Export Extension: The easiest way to get your marketing data from over 75 top marketing platforms into Google Sheets for extra handling and analysis. 
After all, client reporting should be accurate–and is critical in client retention and building long-term agency-client relationships.
Not only that, Claire Aldridge, a Digital Marketing Specialist at Victory Digital says that having an automated data collection and report creation process "helps save crucial time that would be spent collating data and writing reports that are unnecessary and open to errors."
Using client reporting software practically eliminates the margin for human error. It provides reliable data and gives the option to implement quality assurance checks before delivering your client reports. 
Visualize Data In an Intuitive way
Client reports that are heavy on data and numbers can be difficult for clients to digest and understand. Visualizing data using charts and graphs help clients navigate their campaign results and make informed decisions.
Graphics make it easier to convey complex information in an intuitive way. Plus, including visuals in client reports can highlight key information and trends that might otherwise be lost in a sea of numbers. 
Our clients want an easy-to-digest, visual format of just the most important information. But I was spending hours gathering data and manually creating these. That only lasted a few months before I found AgencyAnalytics and cut the time down enormously.

- Lane Anderson, Founder & CEO, London Road Marketing
For example, when running an SEO site audit, the tool provides an overall website score and presents it in a very easy-to-understand graphic.
AgencyAnalytics makes your client data easy to analyze and even easier to report on. Start your Free Trial Today!
Create Cross-channel Marketing Reports
A data point in isolation is just that. A data point. However, when you present your marketing metrics alongside other marketing channels, you show the bigger picture, such as:
The effect your social media campaign is having on web traffic

The overall return on ad spend (ROAS) across all your PPC channels

Revenue from your organic campaigns
AgencyAnalytics makes cross-campaign client reporting easy by combining metrics from over  75 marketing channels, from PPC to SEO, Call Tracking, Social Media Analytics, Email, and more!
Simply drag and drop your widgets into your marketing report and save it as a preset template for that client: 
Create custom client reports in minutes with AgencyAnalytics' all-in-one reporting platform. Try it free for 14 days. 
Put Your Agency's Brand Forward 
Since client reporting is your #1 communication tool with your clients, put your name to it with client reports that look like they were built in-house. Use our white label reporting software to make the platform truly your own.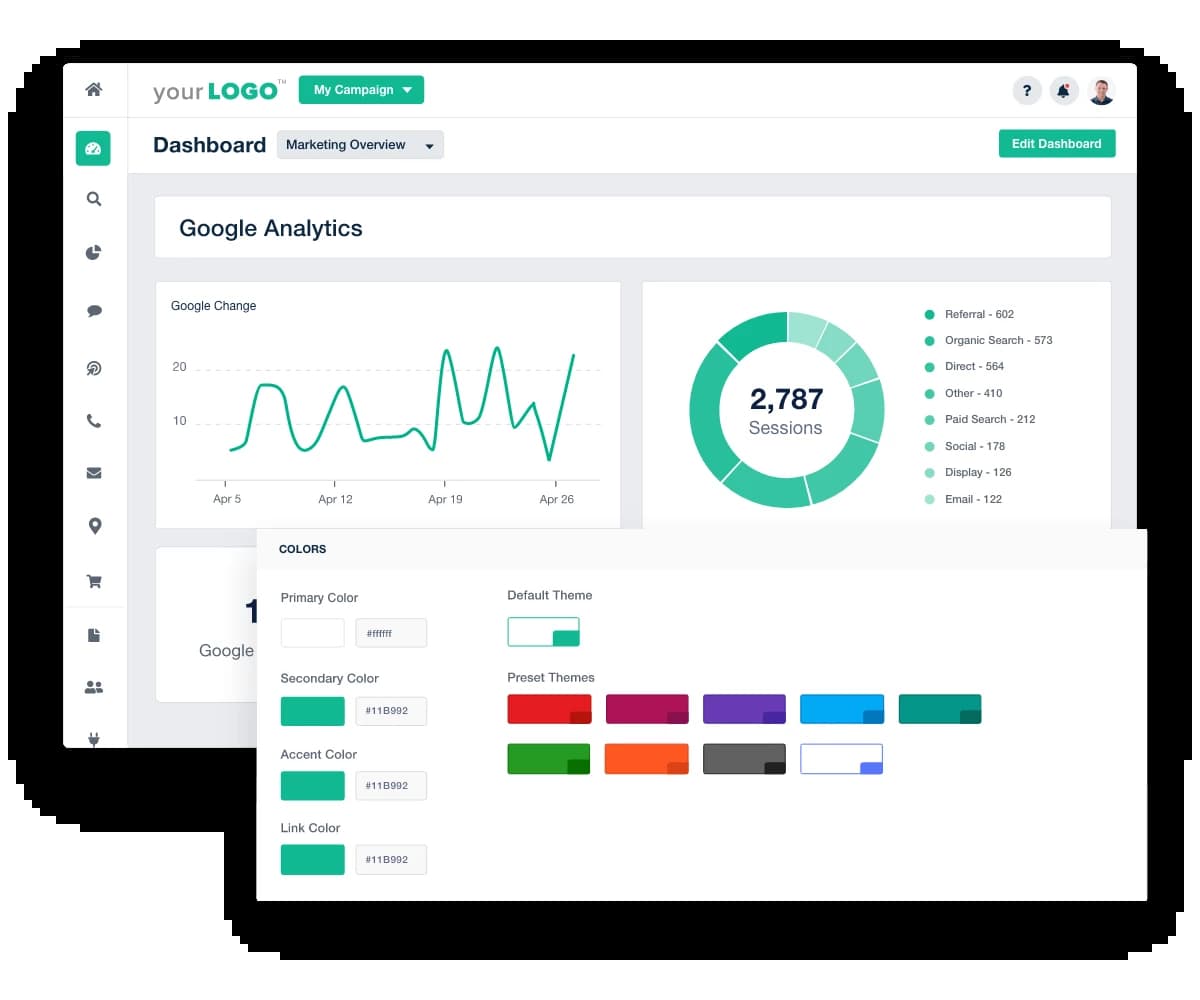 If you want to create consistently high-quality client reports, it's a good idea to use marketing report templates to help streamline the process. Report templates help agencies save time and money by establishing a reusable framework for all client reports.
Combined with automated reporting software, once you have configured the template, there is no need for manual data entry. Plus, your client reports are always delivered on time.
When we're onboarding new clients, there's a huge checklist of tasks to go through: getting access to or creating ad accounts, websites, Google Analytics properties, Google Search Console, and more, formulating a strategy, setting up conversion and event tracking, etc. You know the drill. It's a tedious and lengthy process. With AgencyAnalytics, the step for implementing reporting is a snap. Because you can create reports with just a few clicks, that whole process is effortless and anyone on the team can do it.

- Graham Lumley, Blackhawk Digital Marketing
The AgencyAnalytics platform comes with over 75 pre-built reporting templates, including platform-specific templates as well as cross-platform templates. 
Automate Your Reporting
Schedule your reports beforehand, and never worry about another deadline. Use the report scheduling feature to automate your reporting–the metrics will populate your report templates for the time period of your choice and send them out automatically. 
Thanks to templated and automated reports, we no longer have to spend hours and hours on a monthly basis on analytics. This saved time is compounded each time we sign on a new client.

- Graham Lumley
If you want to give your report a final look, add a report approval process to give your report that extra eyeball and get the chance to add your personalized commentary with annotations. 
We always intercept the automated reports to review prior to sending, which allows us to stay on the pulse of a client's account and to pivot as needed to address any negatives we are seeing, and to call out positives.

-Lorianna Sprague, VP of Marketing at Trusted Search Marketing 
4 Things To Do Before Setting up a Client Report
Before you start building out a client report, it's best to have a preparatory process in place to ensure you're tracking the right metrics. 
While the details of each client will change, make this a standard operating procedure so that it's repeatable and scalable. 
It's essential to show value to clients with key metrics that matter, business owners & marketing managers want to see the results simplified to measure marketing against business growth/sales.

- Pat Akkawi, Director at The Marketing Co 
Here's what to do before setting up your client reporting: 
Follow a thorough client onboarding process

Identify the KPIs and important metrics 

Choose between marketing dashboards or periodic reports

Determine your ideal reporting frequency
1. Gather Intel With a Client Onboarding Checklist
As discussed in our 6-Step Onboarding Checklist guide, a client onboarding questionnaire is not only the best way to gain a better understanding of your client and their goals, it sets your client relationship on the right foot, and helps you decide what to include in your client reports.
Here are some questions agencies should be asking new clients:
What are your monthly marketing goals? It is an obvious first question, but it helps you understand the client's previous marketing performance and goals.
What values and beliefs define your brand? An example of a question that helps you understand your client's business strategy.
Who is your target audience? Do you have a buyer persona for each target customer group? This type of question allows you to understand the brand's audience and industry better.
What made you want to hire our agency? This question allows you to understand their motivation and goals for making a change in their business.
Spending more time at the beginning of your client relationship will ultimately make your client reporting and marketing efforts more effective and save time in the long run.
Download the Marketing Launch Checklist Template Every Agency Needs🚀
Use this template to kickstart new marketing campaigns and keep your team on the same page. Email, Social, SEO, Video, and More! Edit it until it's just right.
2. Identify KPIs & Important Metrics
Next, before you start any type of marketing campaign, it's important to know precisely how you're going to define the success of your performance. Before we continue, here's an excerpt from our article on the difference between a KPI and a metric:
A business metric is a category of quantifiable data relevant to the organization's standard business processes. One key difference between a KPI and a metric is that metrics don't need to be tied directly to a strategic objective. On the other hand, a KPI is a performance metric that is directly related to business objectives. This could be revenue growth, user acquisition, and so on, but the key point is that the KPI is tied to a specific goal.
Of course, the KPIs and metrics you use to measure your marketing efforts will change based on the type of campaign you're running (i.e., SEO, PPC, email, etc.), but regardless it's crucial to have these in place before you create a client report. Often, you'll be able to identify the KPIs and metrics that matter to your clients in the previous step of interviewing the client.
3. Choose Between Real Time Dashboards vs. Periodic Reporting
The next step in preparing for client reporting is to determine if you want to use a live dashboard with real time metrics or send periodic reports. 
Using custom marketing dashboards gives clients 24/7 access to the marketing data you choose to show them. 
Read More: 15 Marketing Dashboards To Help Your Marketing Agency Scale
On the other hand, if you decide to send periodic client reports, the client will receive a PDF report covering the reporting period.
Choose from over 15 dashboard templates in AgencyAnalytics, including: 
Marketing dashboards give you access to all your clients' marketing metrics under one roof. Try AgencyAnalytics free for 14-days. 
4. Determine Your Client Reporting Frequency
Finally, it's vital that both you and the client know exactly how often you will be sending reports. Even if you use automated reporting software to automate your reports, you'll want to allocate some time each reporting period to provide personalized insights and commentary with each report.
Our clients understand (through setting expectations) that a monthly frequency is the default. Although each client is different, a higher frequency of data reduces the ability to deduce trends and evaluate effectiveness. It can also lead the client to making hasty decisions, which can throw off measuring evergreen campaigns.

- Terrence Gordon, CEO of Pl8ted
What To Avoid in Your Client Reports
Now that we've discussed why reporting is so important and how to prepare for it, let's discuss a few things to avoid in your client reporting.
❌Creating Overly Technical Reports
The reality is that many of the clients you'll encounter don't necessarily care about the technical details of a marketing campaign. For example, if you're running an SEO campaign for a client, it may not be wise to use overly technical jargon such as redirects or canonical tags, even if these things are second nature to you.
Instead, most clients want a simple and intuitive report that covers the basics. After that, you can add more information to the report on a case-by-case basis, depending on each individual client's goals and level of technical expertise.
Aside from a report summary, another useful technique to simplify marketing performance into an easy-to-understand format is data visualization. This allows you to easily communicate a lot of information in a way that anyone can understand.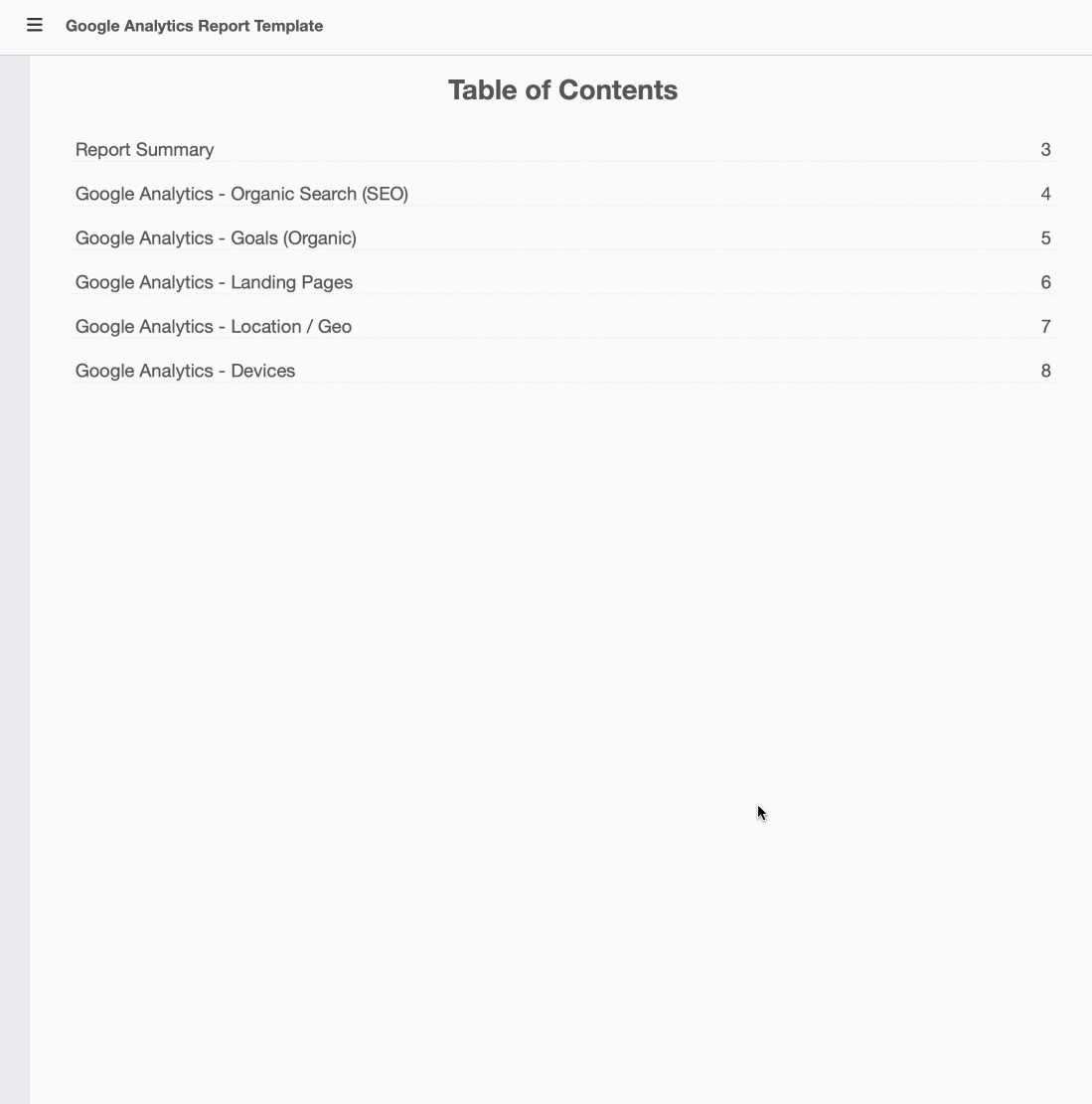 Here's a monthly marketing report example that streamlines your client reporting process. Try it with your clients' live data during your 14-day free trial!  
❌Making Reports Too Long
Along the same lines as creating reports that are too technical, making your reports too long is another common mistake to avoid.
Since you're using automated client reporting software, you may think that you should include every metric and KPI possible since it doesn't require much more effort from you. Instead, the report should be clear and concise and highlight the overall achievements.
This is again where a Report Summary comes in handy. The purpose of your client report isn't necessarily to show your client everything that happened; instead, you want to summarize what you've been working on, the results you've achieved, and how you're progressing towards helping the client reach their goals.
❌Using Spreadsheets for Manual Reporting
Regardless of the type of campaign you're running, you're likely dealing with multiple data sources and marketing channels. 
This is where using reporting tools to automatically track data from multiple integrations like the Google Analytics dashboard, Google Search dashboard, and Facebook Ads reporting integration come into play.
Instead of long Excel spreadsheets, the best alternative to Google Data studio (which is now called Looker Studio) is to house all your marketing data in a streamlined client reporting platform. This means you can focus on higher-value, revenue-generating activities instead of clicking between your clients' different marketing platforms.
Automated reporting cuts through the limitations of Google Data Studio and reduces the labor costs associated with manually tracking data and generating reports each month. This saves you countless billable hours every month and allows your agency to focus on results-driven activities. 
If there are data points that are only available in spreadsheets, use the Google Sheets reporting tool in AgencyAnalytics to automatically include them in your client reports. Try it free during your 14-day free trial. 
The reporting process should be a front-end loaded activity where you initially set everything up for each client and then use reporting software to replicate the process. Automating your client reporting goes a long way to adding value and simplifying your clients' lives. 
As mentioned earlier, you don't want to 100% automate each report. Take the time to personalize each report by providing your own insights and commentary. This reporting process doesn't take much time on your end, and the results are well worth that added personal touch. 
What To Include in a Client Report Template (With Examples)
1. Monthly Summary
Believe it or not, your executive summary is likely the most crucial part of the entire report. Since the client may not be very technical in marketing, this is your chance to write out your analysis of the past month's performance in plain English. 
Also, since the report includes data from several different sources, it's important to provide an overview of the overall changes associated with each platform. As you can see below, the main sections of the report summary include a brief overview, the work done this month, and a recap of the target KPIs.
2. Google Analytics - All Channels
The next section in the digital marketing report template tracks how many people are visiting your client's website due to your marketing efforts. Again, this is a great place to highlight precisely what actions are currently working well and which may need additional effort next month.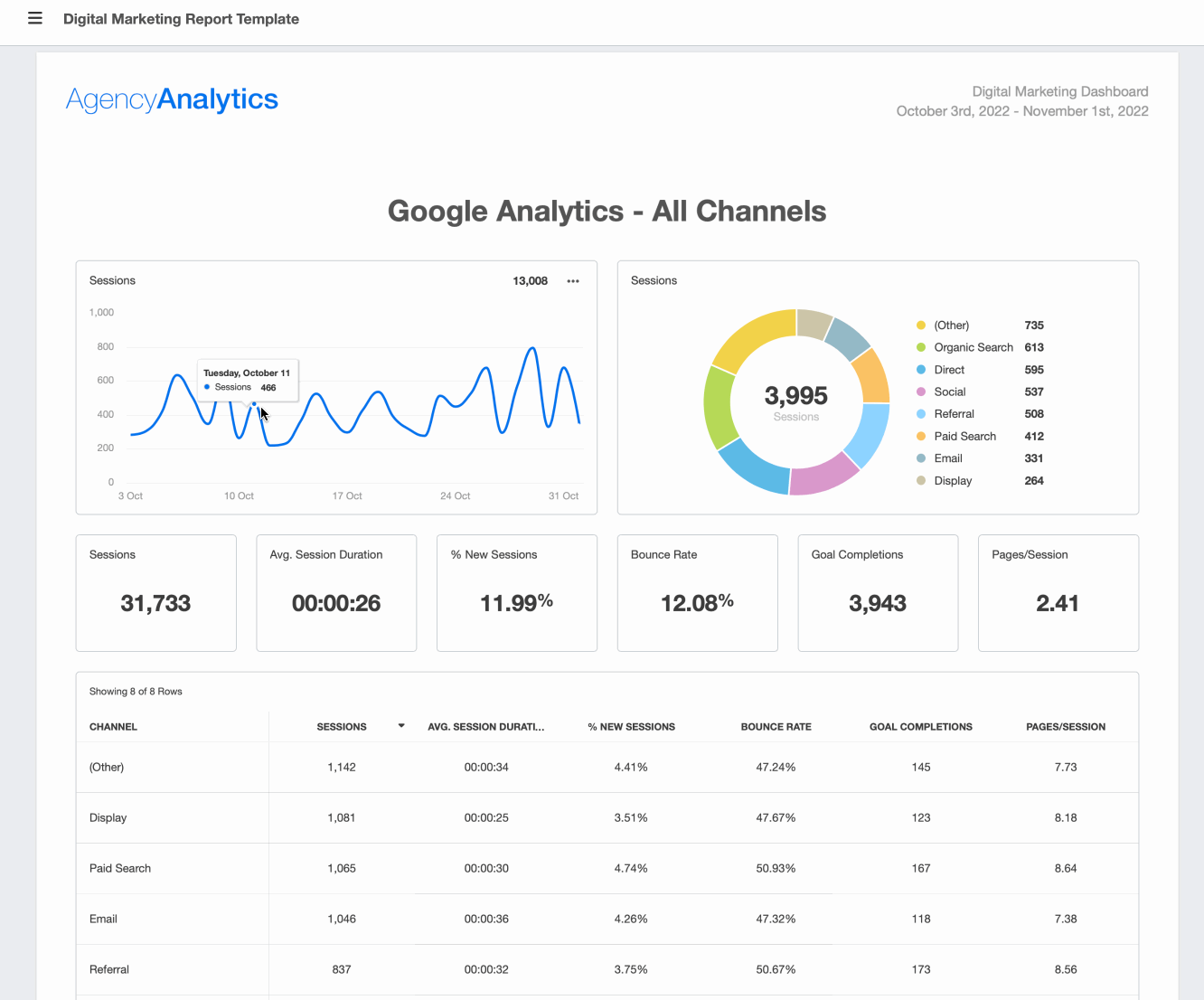 In this section, you want to include the total number of visitors to the website and then break down each channel's traffic, including social media, organic search, email, and so on. This is also a useful section to highlight more detailed metrics such as bounce rate and average session duration, which can indicate that your marketing efforts are improving the website's user experience.
3. Google Analytics - Goals
The following section in this template is the number of conversions completed on the website, as this is one of the most important KPIs for clients. As you probably know, a "conversion" will often be different for each client, although, at this point, you've likely already identified what that means to each client and have them set up as "Goals" in Google Analytics.
In addition to the total conversions, this section gives you a few more detailed metrics, such as conversion rate, goal value (if applicable), and conversion metrics for each individual conversion type.
4. SEO Rankings
If you're running a more broad digital marketing campaign for your client, you've likely included SEO in the service offering. The long-term benefits of SEO are without question, so tracking changes in a website's SEO rankings is a crucial part of demonstrating the campaign's progress. In this section, the report displays metrics such as the overall rank changes for each day of the month and the actual rank of the client's website. 
Aside from demonstrating the progress of your SEO efforts to clients, this section is a great way to internally identify which areas of the campaign need more focus to achieve the target performance.
5. Social Media Overview
The Social Media report overview section allows you to aggregate data from multiple platforms into a single section. It gives your client an overall perspective of the engagement on each platform and how it's changing over time.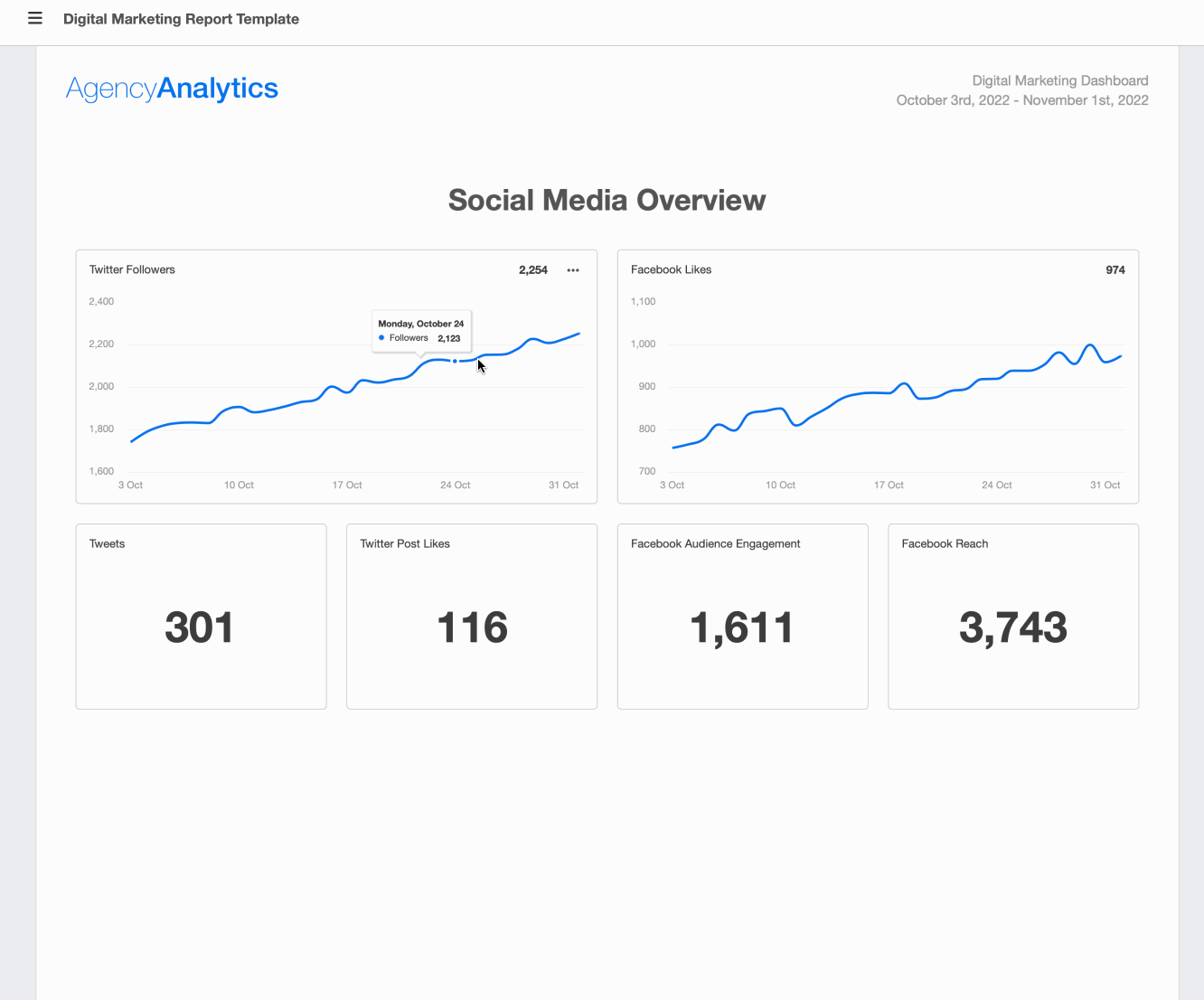 Engagement breaks down into total followers and total post engagement. In this section, you can also track the feeds of each social media platform so that you can show your clients what you've been posting for them each month.
6. PPC Overview
If you're running paid ads for your clients, there's no question they're going to want to know exactly how the budget was spent and the results it achieved. When it comes to PPC reporting, the metrics you can include here are entirely customizable, although a few standard metrics include total ad costs, cost-per-click, conversions, impressions, and more. 
This section also allows you to track your paid ads across multiple platforms, so it is a great way to demonstrate the overall Return on Ad Spend (ROAS) on your PPC budget.
7. Email Overview
Finally, although it can often get overlooked for newer forms of digital marketing, email remains an essential part of many businesses' marketing stacks.
For example, if you're sending emails to your clients, you want to know precisely how many people are opening them and how effectively they drive conversions. It includes tracking key email metrics like open rate, click-through rate, and the change in email subscribers throughout the month.
While we just covered the sections that we've included in our digital marketing report template, keep in mind that you can easily add new widgets to your report with our drag-and-drop editor if you want to customize any of this.
Summary: Automate Your Client Reporting To Scale Your Agency
Client reporting is an essential part of any successful marketing agency. After you've signed a new client and put them through your onboarding process, client reporting is the best framework to communicate the value of your services on a regular basis, set your pricing right, and improve your client relationships.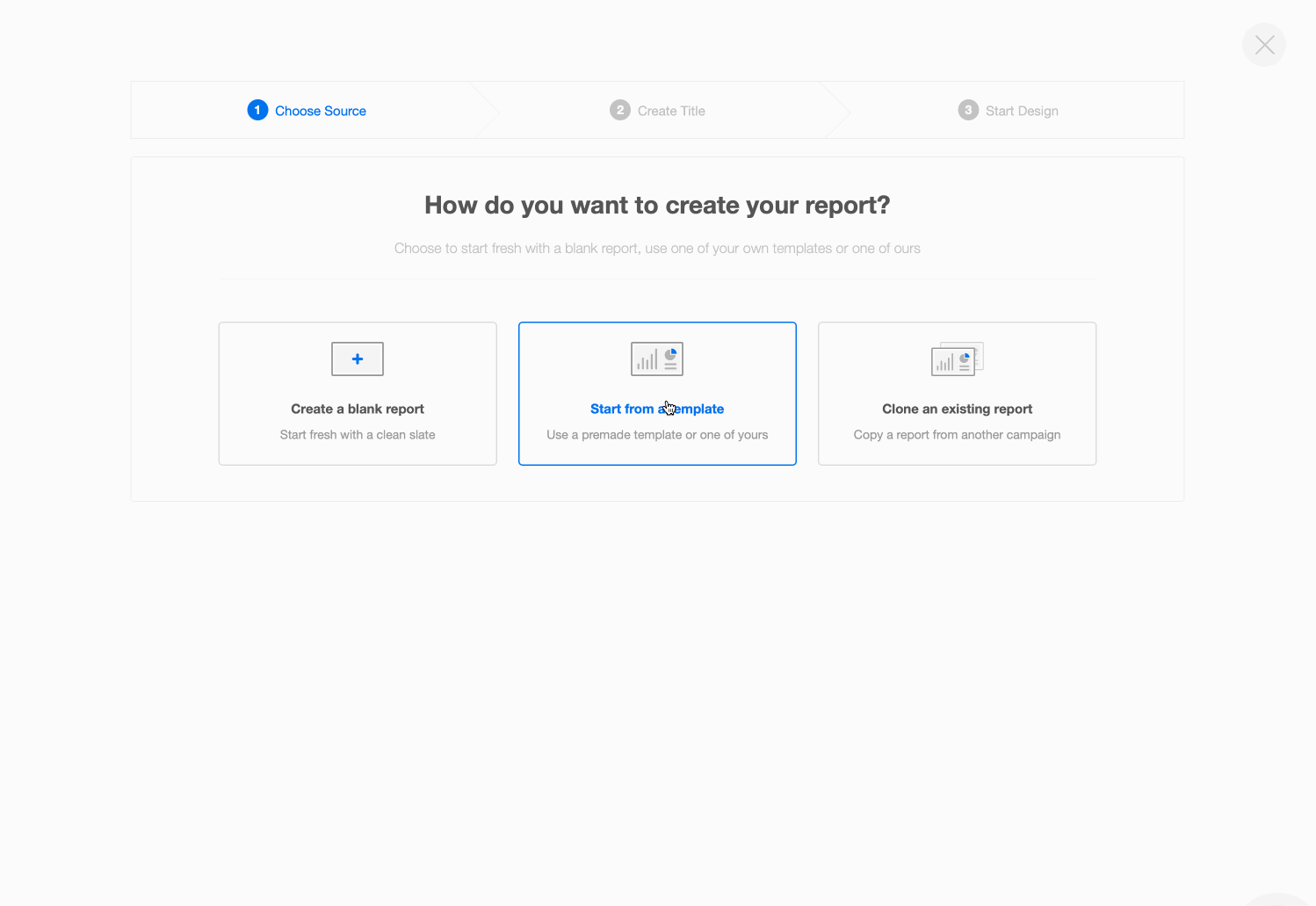 Save countless hours each month and improve your agency-client relationships with a digital marketing reporting tool. Start your 14-day free trial today! 
Key takeaways:
Aside from highlighting your achievements each reporting period, client reporting software is valuable to save time, educate, and potentially upsell your clients on additional services.

Before you start creating a client report, it's vital to have a standard operating procedure that you can follow with each new client so that reporting becomes a repeatable and scalable process.

Once you start each report, remember that your clients hired you to simplify their lives, so avoid creating overly technical reports that are 50 pages long.

When you're finally ready to start creating your custom reports, use an automated client reporting platform to track data across multiple platforms in real time and present that data in the most professional and efficient way possible.
Written by
Melody Sinclair-Brooks
Melody Sinclair-Brooks brings nearly a decade of experience in marketing in the tech industry. Specializing in B2B messaging for startups and SaaS, she crafts campaigns that cut through the noise, leveraging customer insights and multichannel strategies for tangible growth.
Read more posts by Melody Sinclair-Brooks ›
Try AgencyAnalytics risk-free for 14 days. No credit card required.