Goal-tracking is an essential key to any marketing agency's success. Is your agency on track to hit a client's revenue target this month? Is your campaign ad spend on budget or on pace? Without making it easy to track goals in your workflows, you can't measure progress, quantify results, or show return on ad spend.
But how integrated is goal tracking in your daily workflow, really? 
On any given day, can your team easily assess how they're tracking against their clients' OKRs, KPIs, and other performance benchmarks? Or does it still involve a series of back-and-forth calculations that take time and eventually end up being put on the back burner until the end of the quarter?
If you want to level up your agency's performance marketing and retain your clients, keep on reading to see how to incorporate goal-based reporting into your agency's campaign monitoring and client reporting.
What Are Custom Goals?
Custom goals are an easy way to set a target for your client's campaign and track performance toward that target during a given timeframe. They might be different for each client, or they might be specific to different departments within your agency.
With custom goals in AgencyAnalytics, you set targets for any of your campaigns–which could include PPC, SEO, social media, email, and more. Need inspiration for which OKRs or KPIs to set as goals, check out the following deep dives on:
It's basically a way to graphically show just how well your agency is doing. And putting it in front of your clients' eyeballs so they can't miss it.
Create custom goals to track progress against your clients' key metrics. Automatically. Try AgencyAnalytics free for 14 days.
How To Set up a Custom Goal
Step 1. Decide what metric you want to track. This could be anything from website traffic to leads to eCommerce revenue, which is one of the core eCommerce KPIs. 
Step 2. Set a timeframe for the goal. Is the plan to reach that goal this month, this quarter, or this year?
Step 3. Set a target for the metric. For example, you might want to increase the number of backlinks by 200, or decrease Google Ads cost per acquisition metric by 10% in the next month.
Why Custom Goals Are Important
Creating measurable goals–and tracking them regularly–can be your agency's superpower. Not only does it create accountability and motivates your marketing teams, but also it helps them prioritize their work on a daily, weekly, and monthly basis.
Immediately seeing which goals are on track, off track, or completed helps keep your agency on pace towards improved performance. 

At a client-facing level, custom goals are a direct way to measure and communicate goal success to your clients.
Be An Indispensable Partner to Your Clients 
When you show that your agency's activities are contributing directly to a client's business goals, you're demonstrating your dedication to their success. 
But set the wrong goals, and you risk disappointing. In fact, agencies often struggle with managing client expectations–which can make or break your client relationships. Here a few tips to avoid these pitfalls while ensuring you're delivering the best service possible.
1.  Use Custom Goals and Dashboards
Some goals require data from multiple sources and platforms. Without AgencyAnalytics, reporting on the progress toward those goals can become more complex and time-consuming.
Including your goal-tracking in every client report–and having it top-of-mind in your custom marketing dashboards–not only keeps your team on track but also makes it easier for your clients to grasp what's going on:
Education is a key aspect of this as an educated client is a great client to collaborate with on a Marketing strategy. Education also means being able to eliminate the complexity and noise of very detailed data which platforms can provide, and make it simplified so clients can understand.

— Mike Gualtieri, VP of WSI Comandix
2. Create Custom Metrics When Needed
Managing all your clients' social media platforms? Use custom metrics to track Total Impressions across all their social media channels–and consolidate it in just one widget. 
Creating PPC ad campaigns for your clients' eCommerce stores? Show how your ad campaigns are converting to sales. Create a Total Sales formula that tracks that for you, then put it into the goals widget. 
AgencyAnalytics makes it easy to pull in key metrics from over 75 integrations to provide a full picture of your clients' marketing performance.
3. Add Goals and Annotations for More Context
Show clients how you're reaching their goals in just one glance. And add annotations next to your goals and key data points for easier data storytelling to show just what you're doing to get there.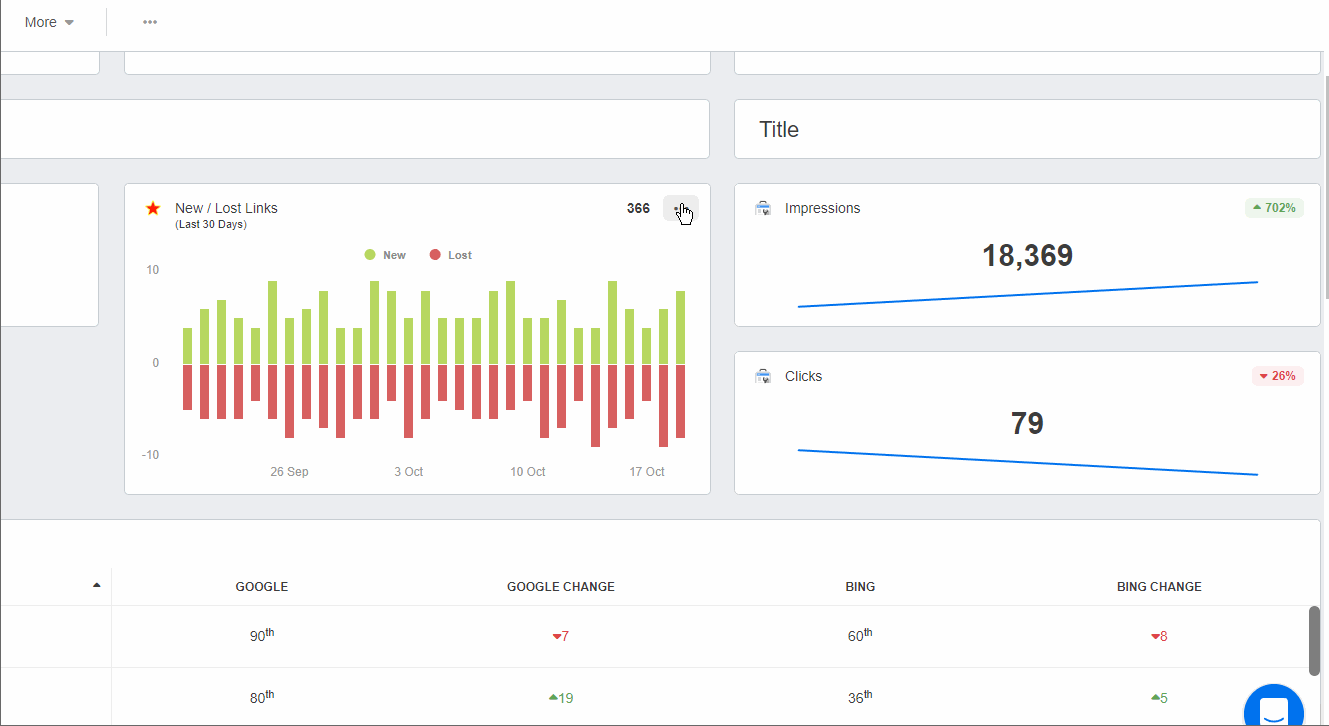 The goals feature aggregates set targets at the agency, client, and campaign levels. Both your agency and your clients can see the individual goals associated with their campaigns, with a high-level tracker on how your team is progressing against all of the performance goals you have set for that client. 
For specific campaigns, the enhanced goals widget shows exactly how close your agency is to reaching that goal, with a pacing bar that indicates whether your team is on pace to hit that goal by the target date.
Agency Tip: Include client goals on the first page of your agency dashboard. That way, every time you log in, you'll know how you're performing for all of your clients.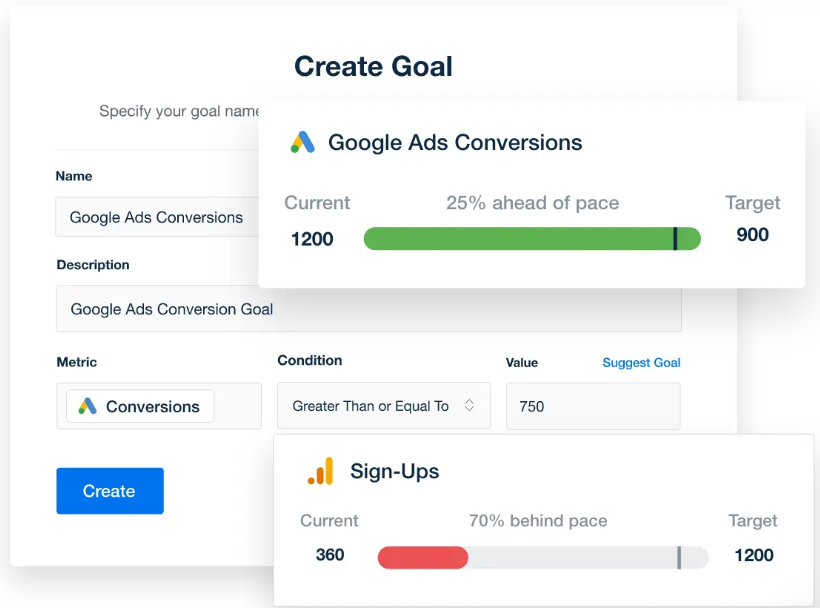 4. Assign Tasks to Ensure Accountability
It's important to know who's working on what, and how things are coming along. By assigning tasks, you'll ensure that your client's goals stay on track and your entire team will be on the same page. You'll also be able to focus attention where it's needed the most. 
Agency Tip: Work with your clients each quarter to reassess their business goals and see how your marketing efforts match up. When you set KPIs with your clients, you are all on the same page and know exactly what your team should be tackling next.
Summary: Automate Goal-tracking in AgencyAnalytics
Automating your agency's goal-tracking process not only saves tons of time and confusion but also helps you know exactly what to focus on for each client, day in and day out. Be consistent, transparent, and goal-oriented.
Visually tracking goals will help your agency to:
Manage client expectations,

Set achievable targets,

Quickly identify problem areas to course correct,

Assign time-bound tasks to their marketing team,

Showcase success,

Keep all stakeholders on the same page, and

Retain clients. 
By investing in an automated reporting solution like AgencyAnalytics, you'll be in a better position to scale efficiently, manage multiple clients, and share insights that really matter. Automate your client reporting and create white-labeled reports at the click of a button.
Want to streamline your agency's workflows, save billable hours, and deliver goal-beating campaigns for your clients? Start your free 14-day trial with AgencyAnalytics today. Trusted by 6,000+ Agencies.
Written by
Melody Sinclair-Brooks
Melody is a SaaS marketer and startup consultant with a background in brain science. With nearly a decade of experience working in rapidly scaling online businesses, she is passionate about transforming data into actionable marketing strategies.
Read more posts by Melody Sinclair-Brooks ›
Try AgencyAnalytics risk-free for 14 days. No credit card required.