Imagine being a client receiving two SEO marketing reports. The first is a professionally white labeled SEO report with clear results, wrapped in the agency's branding. The second is a spreadsheet with a jumble of important-looking numbers and graphs.
Which do you think would have more authority? Which do you think would be easier for you to understand, even if the data was essentially the same?
Agencies that leverage white label tools streamline their data collection and reporting processes, delivering timely, accurate, and insightful results to clients. They synthesize valuable insights without the hassle of navigating complex interfaces or deciphering raw data from a spreadsheet.
This article looks at the best ways to leverage white labeled reporting software, how to choose the best tools for your agency, and how to implement them to win back more billable hours.
Let's get started.
What Are White Label Marketing Tools? 
Before we dive into the benefits of white label marketing tools, here is a refresher on how these solutions relate to your client reporting. 
White label reporting is the process of creating reports that are in line with your agency's brand. 
White label reporting software helps your agency create completely customized reports with your choice of logo, brand color scheme, and URL, to look like it was built in-house. 
By using white-labeled marketing dashboards and reports, your agency automates your own branding and streamlines data retrieval from multiple sources, saving you time and effort every month.
Make every client report a testament to your commitment to excellence and quality with AgencyAnalytics. Customize your report covers with striking background visuals, and adjust the title box widget to your heart's content. Try it free with your 14-day trial today!
Why Should Your Agency Use White Label Marketing Tools?
The nature of white labeling is simple: a branded experience for your clients with little button-pushing on your end, allowing for:
Consistent branding

Scalable personalization, and

A better client experience
The main goal of white label reporting software is to gain access to branded reports and templates to significantly reduce the amount of time your agency spends collecting, collating, and presenting marketing metrics to clients.
Agencies with a growing client base need white label reporting to create client reports that are consistent and professional. 
Presenting a professional brand should always be at the forefront of an agency's processes, but commonly used reporting platforms such as Google Data Studio (now Looker Studio) or Google Sheets don't make white labeling easy. 
One of our agency's biggest challenges is reaching new clients to showcase our work and expertise in a way that differentiates us from the thousands of digital marketing firms out there. Clients are so inundated with calls and emails from our industry, it's hard for our clients to know who they can trust.

Lane Rizzardini, Co-Owner of Marion Relationship Marketing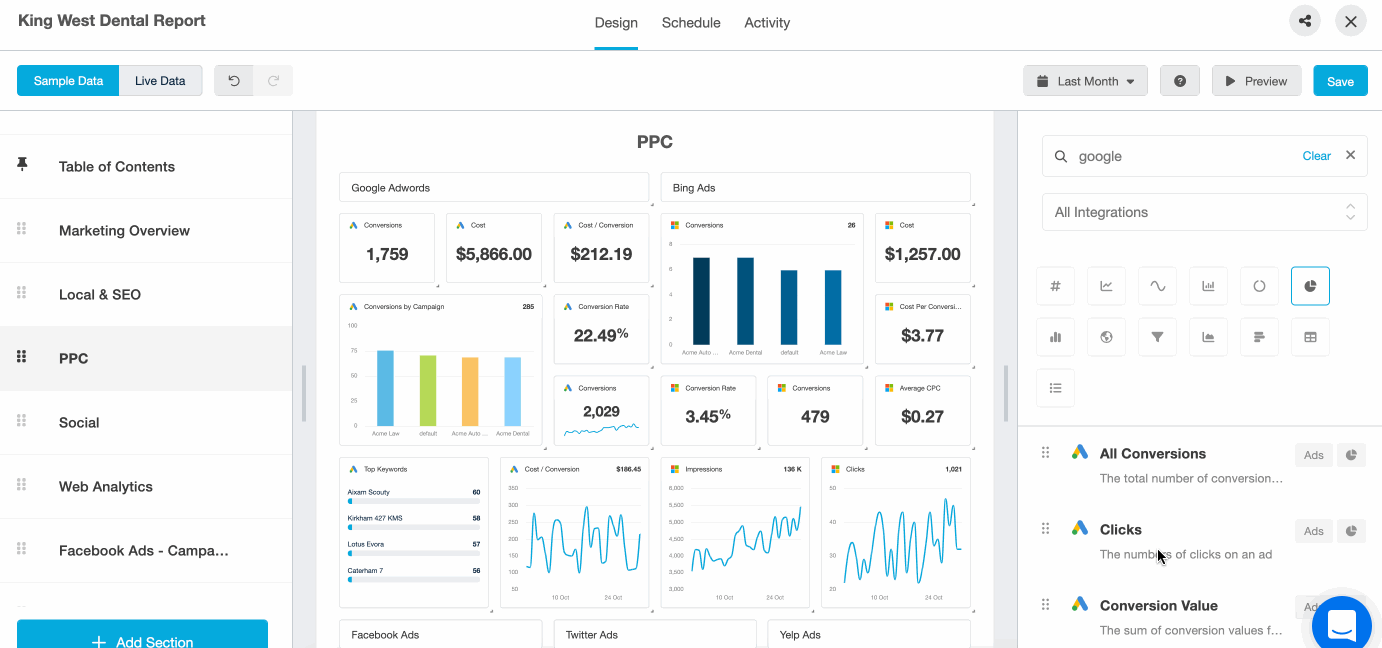 Save time with automated white labeled reporting. Each report is seamlessly branded to connect your agency's results with its name. Try AgencyAnalytics Free for 14 days!
6 Benefits of White Label Reporting for Agencies 
Here are six key ways white labeled client reports benefit digital marketing agencies:
1. Brand Recall
After your initial client discovery meetings, client reports are a common way that agency's communicate regularly with clients. Including your own brand identity front and center on your dashboards and reports reiterates the importance of your agency's digital marketing services–and why your clients should keep coming back to you. 
2. Personalized Client Experience 
No matter how many clients you have, they expect a personalized experience. Your agency easily creates this by:
Including your agency's own logo, or your clients' logo & brand colors

Creating visually appealing reports that incorporate annotations and personalized commentary to hone in on your agency's key results 

Hosting a marketing dashboard on your own custom domain that clients can log into at any time to promote transparency

Sending reports directly from your agency's email address
3. Scalability 
Saving time on client reporting means your agency spends more time on billable tasks. 
When your agency's report templates automatically include pre-set branding choices, you save time from having to manually brand and update any new report or dashboard you create every time.
White labeled client reports are completely scalable, as every one of your clients' marketing metrics is updated in real time. All you have to do is select your ideal date range and flip it into a report–in minutes.
4. Third Party Platform Integrations
To house all of your clients' data in one place, your agency needs a client reporting platform that connects to as many marketing platforms as possible. 
From Google Analytics to Shopify, Twitter, Facebook, and a host of other SEO, PPC, and Call Tracking tools–AgencyAnalytics integrates with over 75 marketing platforms and counting.
Read more: 12 Key Metrics to Track in Your Shopify Reports
5. Data Visualization 
Your clients need to understand what they're looking at. Sending them a list of numbers in a spreadsheet doesn't tell the full story of all the hard work your agency has conducted on their behalf. Your reports should visualize the data as much as possible so your clients easily understand the results. White label your charts and graphs with the colors of your choice for a more aesthetically pleasing experience. 
AgencyAnalytics allows us to show the impact of our work in a way clients understand, frees our time to do more for our clients, and makes us look polished and professional–all for a reasonable cost. It's one of our few "no brainer" tools.

Brendan Chard, Owner of The Modern Firm
Help your clients make sense of their marketing data while also recognizing the value your agency brings them. Start using data visualization techniques in your 14-day free trial of AgencyAnalytics.
6. Differentiating Your Services
Let's say your agency operates under more than one brand. You'll need to present one brand to some clients and a different one to others. Use multiple white label profiles for different agency brands or divisions to create a separate profile for each client. 
AgencyAnalytics has created an amazing product and they really believe in customer service. The simplicity of setup and white labeling of this product is bar none the best thing I have seen since 2007 for client reporting. We use it for three of our companies.

Dave Conklin, CEO at 5K Media
How We Selected the Best White Label Marketing Tools
We made a list of the best white label marketing tools available based on a few factors. The list is broken down into different types of services depending on what your agency specializes in. Here are the top five things we considered when compiling our list of white label marketing tools:
Cost Effectiveness: Each section includes tools for various budgets

Extensive Features: We looked for tools that do more than just client reporting to reduce your tech stack 

User Permissions: A white label marketing tool should build trust and better client relationships with transparent user permissions

Integrations: Selecting a tool that integrates with the majority (if not all) of the marketing platforms your clients are on is crucial

Most Useful for Marketing Agencies: You deserve to work with tools that will grow with your demanding business needs 
Features To Look For in White Label Software
Before choosing the right white label software for your agency, ensure it has the following features: 
Customization Options
The option to add a client's logo and/or your agency's logo, plus different logos for different reports 

The ability to apply custom brand colors throughout the platform, including on client-facing dashboards and reports

The flexibility to choose where to add your custom colors (including charts, graphs, titles, and text)

Multiple accounts that can be white labeled for different agency brands or divisions

The ability to create different white label profiles for each client

Custom email domains

Custom dashboard domains

Custom domains for reports 
Integration Capabilities
Seamless connection to popular marketing systems 

Supports data extraction from various sources 

Addition of new platforms as more are released

API access for custom integrations
Pricing and Support 
Transparent pricing structure 

Scalability to accommodate your agency's growth

Easy access to a responsive Customer Support team
Security Measures
Ensure the tool uses strong encryption methods to protect sensitive client data 

The white label tool should provide role-based access control, allowing you to define who can access, modify, or export data and reports

Look for automated data backup and recovery procedures to safeguard against data loss in case of unexpected incidents
Types of White Label Marketing Tools
From white label SEO platforms to email marketing software, these white label tools help your agency cater marketing solutions to various aspects of your clients' needs.
Social Media Management Tools
These white label tools help you to efficiently manage and grow your clients' social media presence while maintaining your agency's branding. Social media marketing tools with white label services allow agencies to offer branded solutions to clients while achieving better results in social campaigns. 
SEO White Label Tools
With white label SEO platforms, optimizing your clients' websites for search engines aims to improve their online visibility and credibility, all under your agency's branding. White label software with built in SEO tools helps optimize landing pages and some are also equipped with a report builder tool to streamline your client's data compilation. 
Email Marketing White Label Tools
White label email marketing software helps you build engaging email campaigns and newsletters, reinforcing your agency's expertise in delivering effective communication to your clients' audiences. Tools that come with a white label feature help you deliver quality email campaigns for your clients with your own branding throughout. 
Content Management White Label Tools
These tools assist in high-quality content creation and publishing features, showcasing your agency's authority in content marketing. Content management tools with white label options allow you to produce and organize higher quantities of content for clients. 
Hosting and CRM White Label Tools
Hosting and CRM tools with white label capabilities keep your agency's branding at the forefront when clients check in on their website performance and customer base. 
Invoicing and Project Management White Label Tools
Whether you're sending an invoice or campaign proposal, you want to personalize your interactions with your clients to reflect your agency's professionalism. Accomplish this with a white label invoicing and project management tool.
Use a project management tool like Monday's white label tools or an invoicing platform like Invoice Ninja to create a seamless experience for your clients with your agency's branding front and center. 
Best White Label Tools for Digital Marketing Services
Here are the top 11 white label marketing tools to streamline your agency's reporting processes while maintaining your professional appearance. 
AgencyAnalytics is a white label marketing platform specifically built for growing marketing agencies, offering the complete customizations you need to put your best foot forward. This white labeling reporting software gives you everything you'll need to call the platform your own in just a few clicks. 
Key Features: 
Retrieve client data from 75 marketing platforms and combine them into a unified view of your client's marketing campaigns

Drag and drop editor lets you add a custom logo, and custom branding colors, and create multiple white label profiles 

Give your clients access to transparent marketing metrics via the customizable mobile app, domain, subdomain, or email domain
Pricing: Agency plan starts at $18/month/client campaign. Enterprise plan available.
Check out the full suite of white label SEO tools and get those quick wins for your clients in no time. Try Agency Analytics free for 14 days!
Vendasta offers CRM solutions, billing software, and eCommerce products to agencies with small to medium-sized clients. Vendasta also provides a business app that creates white labeled client dashboards. Through your agency, clients get access to a customer communication hub, appointment booking, and automated reporting. 
Key Features: 
Third-party integrations including QuickBooks and other popular digital marketing platforms with white label features

Unlimited users so your entire team can collaborate 

SMS messaging for your agency to communicate (on your client's behalf) with their customers and appointment booking 
Pricing: Free plan available, then $369/month for the Essentials plan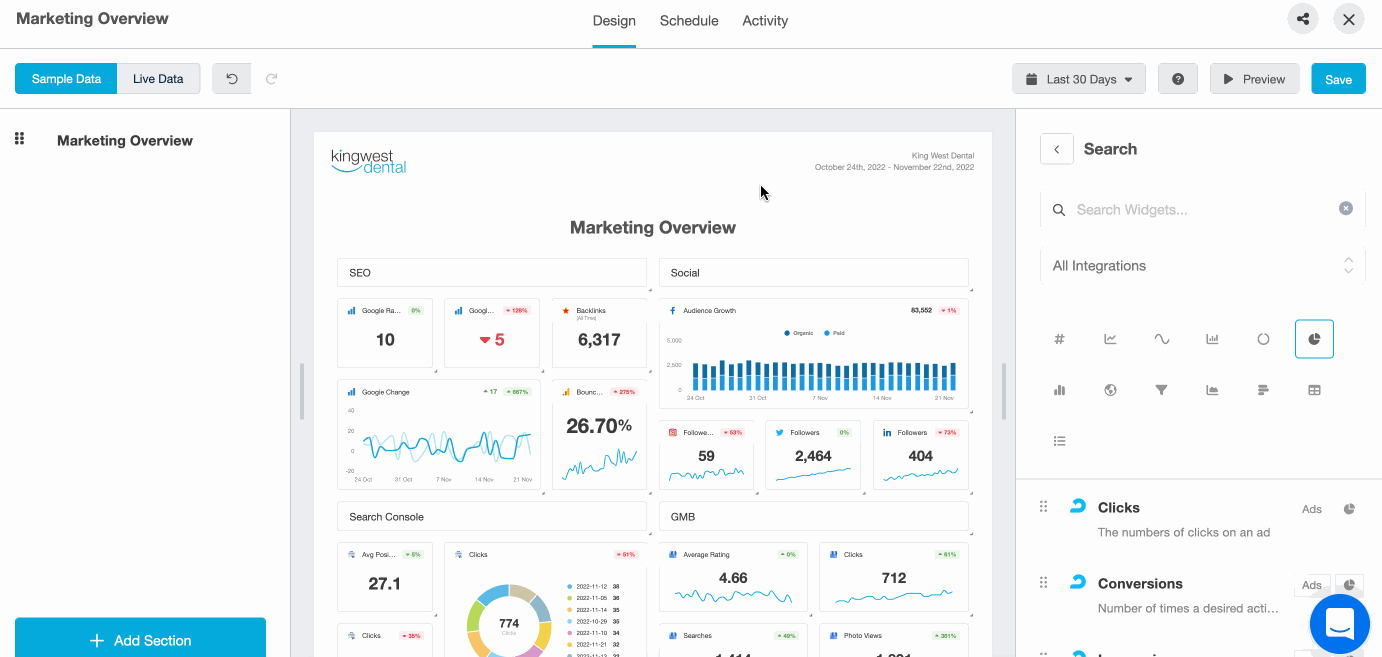 Connect the Vendasta integration to your client reports to relay valuable customer feedback and paint a picture of your clients' entire online reputation. Get started with your 14-day free trial of AgencyAnalytics.
Mention is a social media marketing management tool that lets marketing agencies manage multiple social media accounts. It's equipped with social listening and social publishing features to gather brand insights via media monitoring. This white label marketing software has real-time monitoring so your agency can see what's said about your clients' businesses anywhere online, including social media, forums, news sites, and blogs. 
The Mention social media management tool also helps clients understand their brand reputation online, and offers suggestions to improve social media marketing campaigns.
Key Features: 
Real-time monitoring with an alert feature to filter sentiment, location, and gender

Social media post scheduler 

Customer support
Pricing: Starts at $41/month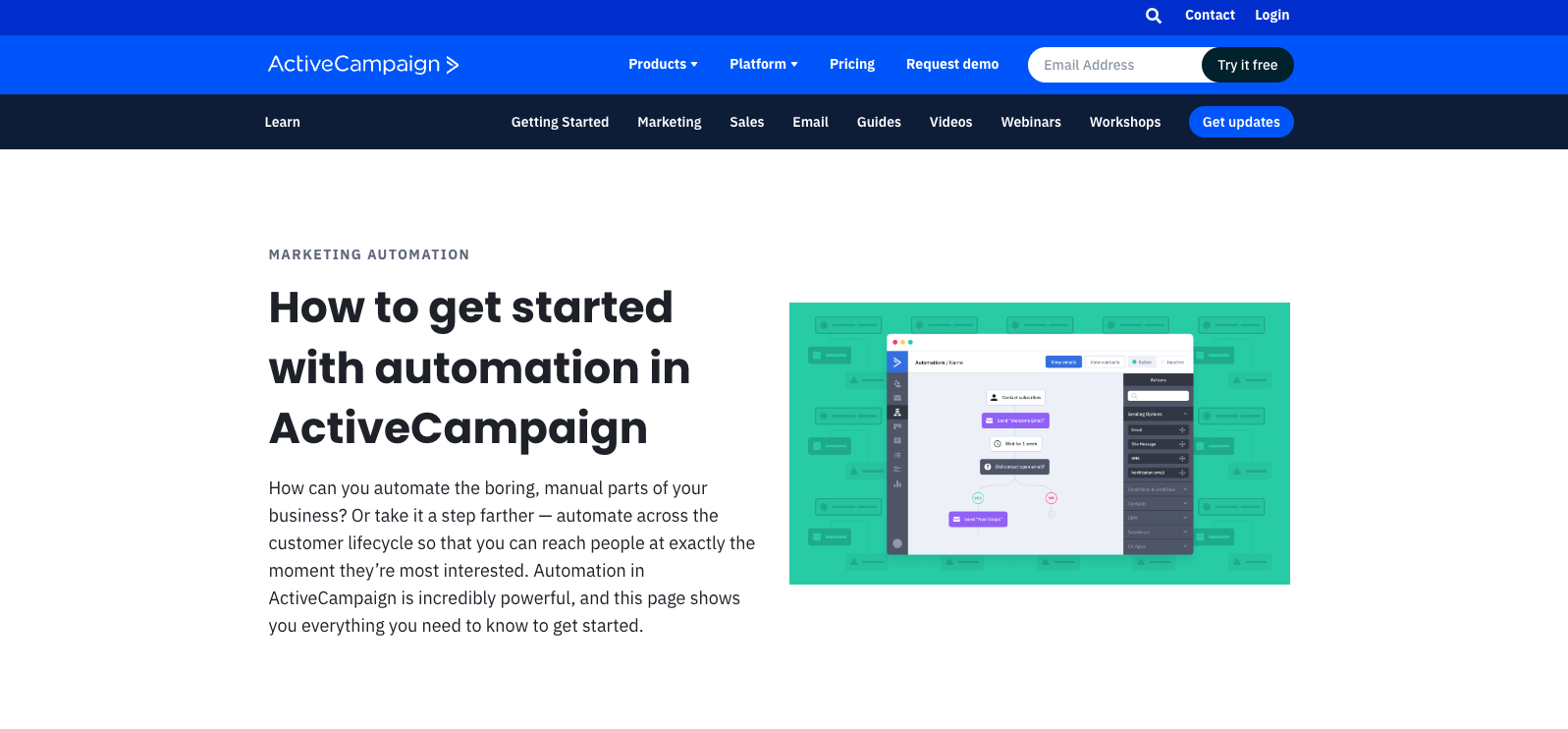 Active Campaign is a white label marketing solution that agencies use for sales automation and CRM services. This tool helps teams with lead generation, qualifying leads, and engaging leads with their marketing automation and white label features. 
Key Features: 
Automated email campaigns with goal features 

Helps pinpoint where customer interactions are happening and how to automate them 

Access to 250+ pre-built automation "recipes" created by ActiveCampaign and their customers 
Pricing: Plus Plan starts at $66/month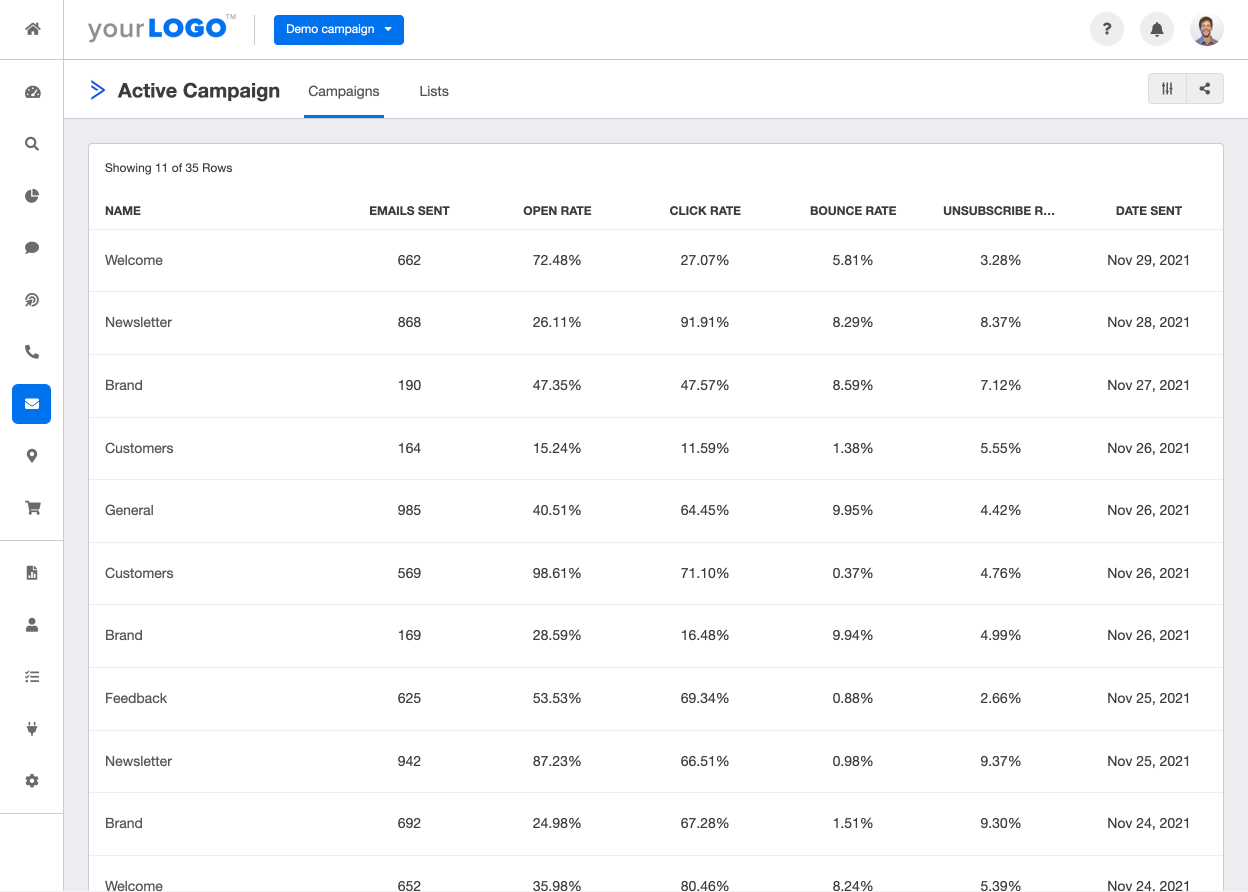 Stop using manual spreadsheets and screenshots to deliver results to your clients. With the Active Campaign integration, your team saves billable hours with professionally designed (and white labeled) custom reports. Sign up for your free 14-day trial today.
HubSpot's Marketing Automation Software uses workflows and bot builders to create automated campaigns for your clients. This white label marketing automation tool also has automated email and form submission capabilities, SMS, and in-product marketing features. HubSpot's white label software helps your agency leverage workflows, chatbots, email triggers, and more to reach your clients' target audience. 
Key Features: 
Automated lead nurturing with email drip campaigns 

Automate lead scoring and send lead follow-ups and notifications to sales teams 

CRM connectivity 
Pricing: Free demo available, and then the Starter plan is $24/month
Creating HubSpot dashboards shows clients how their CRM data connects to their larger marketing campaigns. Make sense of your clients' marketing data with your 14-day free trial of AgencyAnalytics.
Semrush is a great white label tool for marketing agencies, especially when you need to create landing pages for clients. It provides a range of features including backlink analysis, website auditing, keyword research, and competitor analysis. Your team can create white label reports with clients' integrated data from Google Search Console, Google Business Profile, Google Analytics, and other Semrush tools.
Semrush Marketplace also has a white labeled content writing service that delivers unique and fully anonymized writing for your agency to use anywhere. 
Key Features: 
Bring traffic to your clients' websites with keyword researching tools 

Improve site health and SEO performance with on-page SEO features 

Competitor analysis, rank tracking, social media management, and more
Pricing: Free trial available, then $129.95/month
Connect your Semrush account to over 75 marketing platforms in AgencyAnalytics, and give your clients a complete view of their marketing activity. Automatically pull backlink data and build dedicated Semrush reports that showcase your agency's technical expertise. Start your free 14-day trial.
7.

Brevo

(Formerly Sendinblue)
Brevo is a white label email marketing software that has a range of functions including marketing automation, email and SMS services, and analytics to help optimize campaigns. Brevo helps your agency offer a white label marketing service like email campaigns and connect them to a larger digital marketing campaign to paint a complete picture for your clients. Brevo also has the option to send white label PDF reports to clients. 
Key Features: 
Built-in chat feature for customer support and engagement 

Available white label templates and design tools to streamline email marketing 

Manage the entire sales cycle from pipeline management to booking meetings, making calls, and collecting payments 
Pricing: Free plan available, Start plan is $27/month
Connect Brevo metrics like contacts, email open and click rates, unsubscribes and more with data from 75 marketing platforms in AgencyAnalytics. Start your free 14-day trial today.
Moz helps marketing agencies with all things SEO, and offers additional white label capabilities. This all-in-one white label software performs SEO audits, makes SEO suggestions, sends client reports, and manages workflows to make optimizing more efficient. 
Key Features: 
Helps with keyword research and rank tracking

Performs website crawls and on-page optimization

Link research and custom white label report features
Pricing: Free trial available, Standard plan starts at $99/month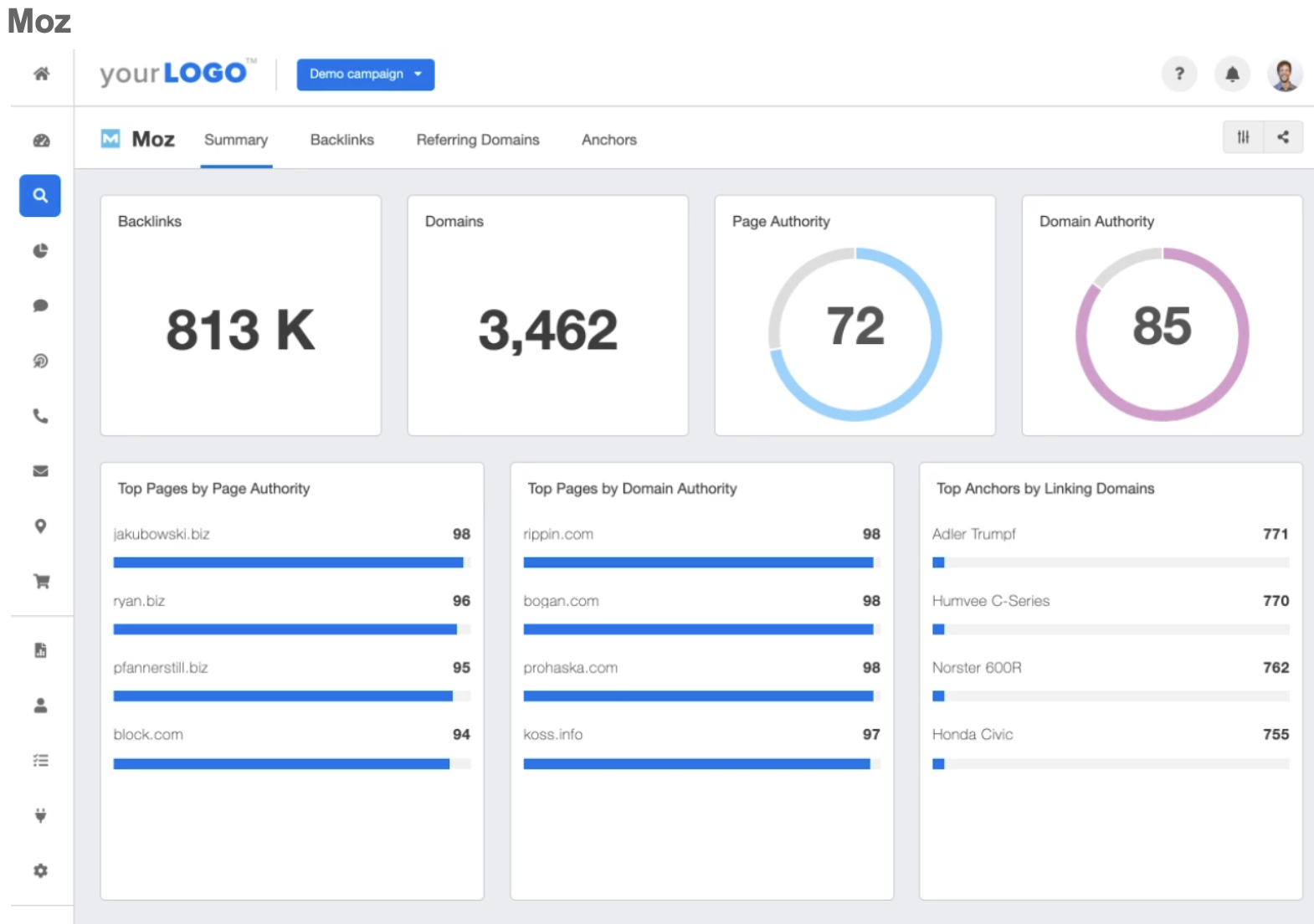 Build Moz rank tracker reports that your clients will understand. See why 6,500+ marketing agencies trust AgencyAnalytics with their client reporting. Start your 14-day free trial.
Ahrefs is another white label SEO tool designed for keyword research, keyword generation, and backlink checking. It also provides white label solutions in website traffic reports and SERP rank analysis that agencies can share with their clients. 
Key Features: 
Collaborative white label dashboards to share data with team members or clients 

Extensive suite of SEO tools in one platform 

Get insights into a competitors' marketing strategies and reverse engineer them to optimize your clients' strategies 
Pricing: Lite plan starts at $99/month
Build Ahrefs reports that connect backlink data to live updates across all of your clients' marketing platforms. AgencyAnalytics makes it easy to create a cross-channel dashboard that clients easily understand. Get started with your free 14-day trial.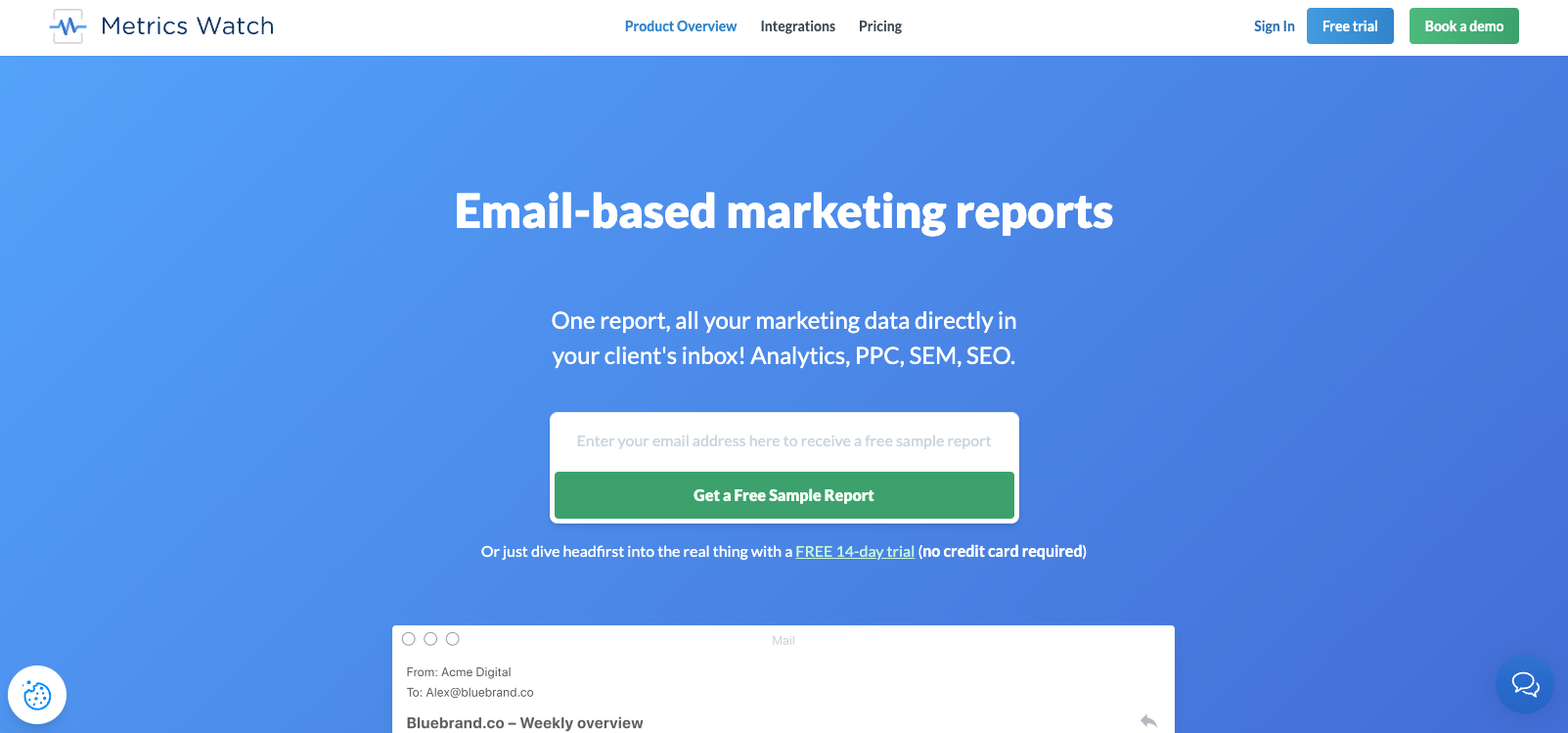 Build email-based marketing reports with Metrics Watch white label software. This tool also sends automated white label reports with all of your clients' PPC, SEM, and SEO analytics directly to their inboxes. 
Key Features:
Create identical white label reports for multiple clients 

Pre-made report templates

Support concierge with live chat
Pricing: Free trial available, Starter plan is $29/month for two reports
SE Ranking has unlimited white label SEO reports your agency can send to clients, keeping them informed on real-time results. SE Ranking also has customizable dashboards that include SEO, PPC, social media, website reviews, and more. 
Key Features:
Easily build SEO reports for multiple clients with automation features 

Keyword researching tool 

Content research tool with AI and editing capabilities
Pricing: SE Ranking has a free trial available with the Essential plan starting at $44/month
How To Choose the Right Tool for Your Agency
Doing your research to find a new tool is overwhelming. How do you determine which white label tool is right for your marketing agency? Here are a few factors to consider: 
Understanding Your Needs: Consider if this white label tool is a good solution for the current moment or if it will grow with your agency in the future. 

Compare Your Options: Make a list of the pros and cons of the top features your agency is looking for. Then, analyze different white label options to find the best fit. 

Trial Periods: Test out any white label tool before you make the final decision. Something you may think has all the answers might actually have limitations once you integrate it into your workflow.
Implementing White Label Marketing Tools
Speaking of workflow, how does your agency implement a white label marketing automation tool? Here are three ways to help your agency get started: 
1. Integration Process
The integration process should be seamless and effortless. It should compliment your current processes rather than disrupt them. Note that this may take a bit of time up front, but your team should set up any configurations and custom settings early on to make the most of the new white label tool. 
2. Training Staff
Communicate with your team the reasons for choosing a new white label tool and how it will improve their day-to-day workflows. Provide training sessions to familiarize them with all of the features and functionalities to ensure it's being used properly. 
3. Monitoring Performance and Collecting Feedback
Keeping an eye on performance is key. Are you utilizing every possible function the white label software offers? Does it live up to the promises made during the trial period? Track key performance indicators (KPIs) to assess the tool's impact on your marketing efforts. 
Regularly monitor how your white label marketing tool is delivering results for your clients and agency. It's critical to ask your team and your clients for feedback whenever possible to make sure everyone is happy with the solution. 
Summary and Key Takeaways
Give your clients the best agency experience–one that differentiates you from competitors. White labeling your dashboards and reports is a simple yet powerful solution to implement as you grow your agency. 
If you aren't white labeling your marketing dashboards and client reports yet, you're missing out on a powerful branding tool that makes your agency stand out.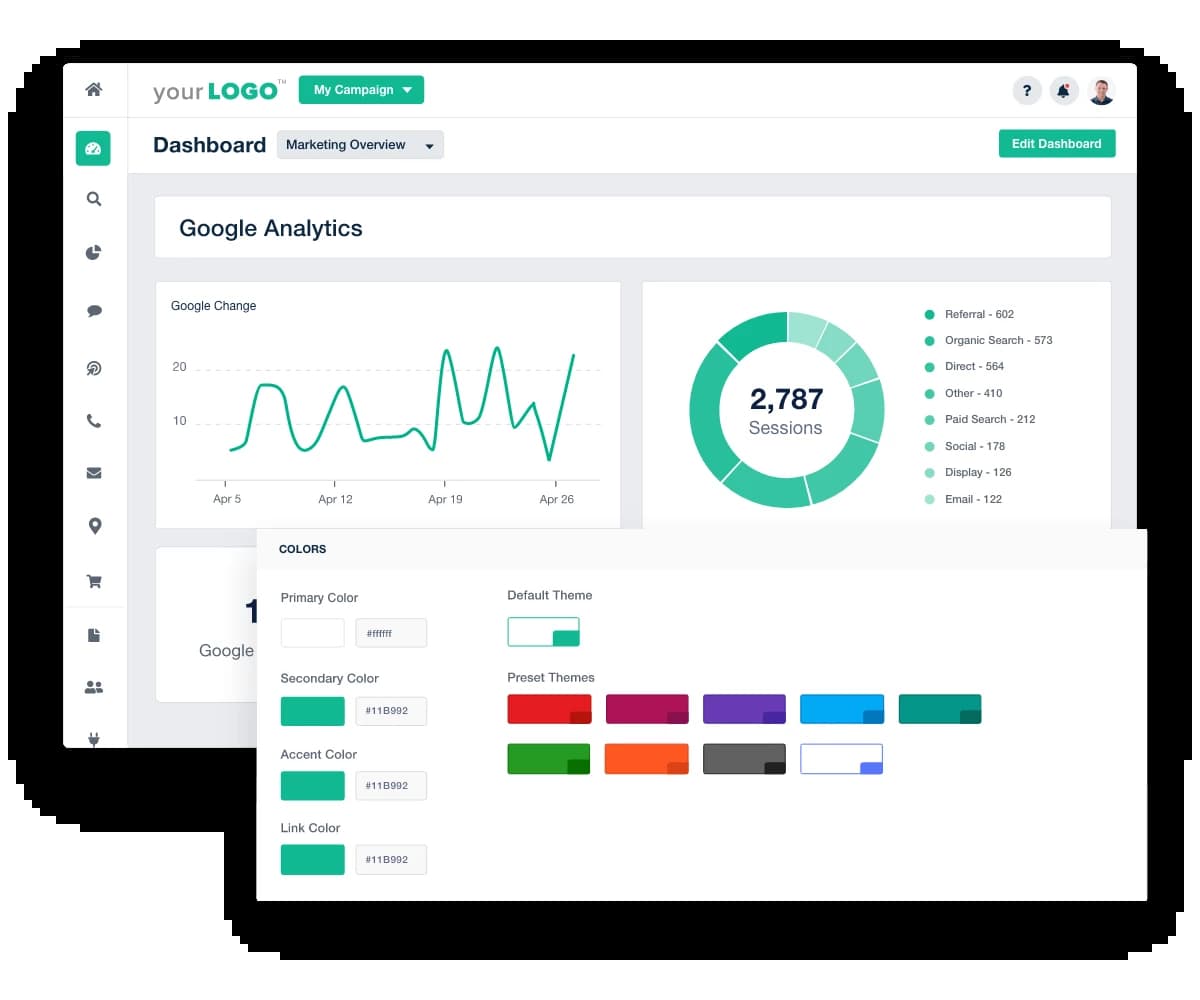 Show off your agency's skills, automate your reports, and keep clients up to date–and on-brand–in a scalable way. Try AgencyAnalytics Free for 14-days!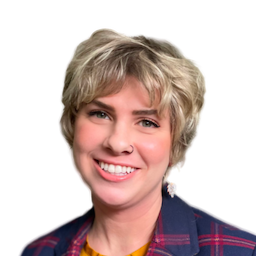 Richelle Peace is a joyful writer with a degree in Journalism. She loves writing web content, blogs, and social media posts. Whatever the topic, she's fascinated by learning and sharing.
Read more posts by Richelle Peace ›
Try AgencyAnalytics risk-free for 14 days. No credit card required.