As an agency owner, you can't be everything to everyone. 
It can be tough to say 'yes' to new opportunities when you have limited bandwidth or expertise in an area–that's where white-label marketing services come in. 
Leveraging an experienced, professional white-label partner augments your agency's capabilities, diversifies your portfolio, and takes some weight off your in-house staff. 
The best part? All this work happens behind the scenes and under your agency's name. When executed correctly, it results in increased efficiency and more service offerings.
That said, since your agency's name is on the line, it's important to choose a trusted white-label provider that does the job well and seamlessly maintains your standards.
Before contacting a service provider, how do you decide which agency services to white-label? 
If you're looking for guidance, look no further.
What Are White Label Marketing Services?
Simply put, a white-label marketing service provider executes work on your behalf, which is then branded under your agency's name. 
Working with third-party tools or white-label services is an excellent strategy for increased productivity. It helps you save time and invest it in other activities that require it. 

Marivi Mora, Director at Viva la Ad 
Why Use a White Label Marketing Provider?
Digital marketing agencies often seek white-label services for several reasons.
It comes in handy to:
Successfully deal with work overflow without overwhelming your staff or compromising quality

Decrease overhead costs by finding a solution to hiring a full-time agency resource

Move further along the digital agency life cycle, meet your business growth goals, and get more clients

Create agency partnerships and diversify your service offerings (especially for niche-specific digital marketing services that are outside your staff's skill set)
When building strategic partnerships, prioritize mutual value and alignment. Focus on finding organizations that align with your values, complement your strengths, and offer mutual benefits. Look for partners who share a common vision and have compatible goals. By prioritizing alignment, you can foster a strong foundation for collaboration.

Gia Ching, Managing Director at GCC Consulting
Rely on experienced professionals that get the job done efficiently
How To Choose the Right White-Label Marketing Provider 
While white-label marketing providers are undoubtedly useful, you must do your due diligence before choosing your partner. 
There's a lot at stake. While you've got growing demands, you also don't want to end up with a white-label provider that compromises your reputation or inadvertently competes with your agency. 
For us, the biggest challenge when using white-label agency services is finding the right fit— it's important that they serve as an extension of our digital marketing team without muddling the field by offering overlapping services.

Jessica Gibbon, Owner of Stellaractive
For example, say you're an agency looking to white-label SEO services. 
In this scenario, it probably won't make sense to hire an SEO white-label marketing agency that also offers the same digital services or serves a similar ideal client profile (ICP). It could potentially lead to a conflict of interest down the road, especially if they're hoping to onboard the same new clients as you.
To choose the best white-label marketing provider, remember to: 
1. Outline Your Agency's Needs
First things first–what is your agency looking to white label? To get started:
Do an internal SWOT analysis. Identify where your agency is performing optimally, gaps in your service offerings, and possible areas to outsource

Identify any frequently-asked-for or technical services that you don't currently provide (e.g., if you offer social media marketing, website development or web design services may be good add-ons)

Look at what your competitors are doing.  Use this to pinpoint any differentiating digital marketing services that may be best outsourced to a white-label agency

Survey your existing clients to understand their satisfaction levels and any additional services they might be interested

Evaluate your staff's workload and make a note of any areas where additional support is needed
2. Decide on the Type of Partner
Next up, decide on the scope of work and exactly what type of white-label partner you'll need to get the job done. 
To help you make the best choice, consider the following options and their use cases:
White-label marketing agencies: These digital marketing companies are better equipped to handle work from your large enterprise-level clients who may need many hands on deck (especially if you're looking for longer-term contractual agreements)

Freelancers or consultants: If you require smaller-scale or specialized services, this is a great option to consider. They may be better suited to flexible contract lengths and on-demand requests

SaaS tools: If you want more autonomy in the entire process, consider using a white-label SaaS tool instead. That way, you won't have to rely on turnaround times or extensive follow-ups. Plus, there should be customer service support if you run into any issues 
3. Search for Reputable Providers
Next up, conduct thorough research to find white-label marketing providers that align with your agency's requirements. 
Scope of work aside, you'll also need to partner with a provider that shares your general values and approach.
To find the best white-label services, be sure to:
Reach out to industry peers for recommendations and feedback

Look for social proof such as case studies, testimonials, and reviews

Ask for work samples and quantitative results

Evaluate their expertise and years of experience. Ensure it aligns with the services you want to provide
We thoroughly evaluate the reputation and track record of potential partners. This includes assessing their past performance, client testimonials, and industry recognition. A partner with a proven track record of delivering quality work and maintaining strong client relationships is more likely to contribute to the partnership's success.

Gia Ching, Managing Director at GCC Consulting 
Remember that agency partners will reflect on your brand reputation. Even if it takes time to find the right white-label partnership, it'll save you time and money in the long run.
4. Give It a Test Run
Before solidifying an agreement with a white-label marketing provider, thoroughly test their services first. 
For example, let's say you're outsourcing blog creation to a white-label digital marketing agency. Instead of signing on for a 1-year retainer off the bat, consider asking for a test writing piece. 
Adopting this test-and-try approach allows you to evaluate work from multiple white-label digital marketing agencies. That way, you're better equipped to make an informed decision.
When we hire an outsourced tool for one of our processes, we are meticulous with the search and tests until we find the ideal one. Find white-label partners that can be adapted to your processes and the standard of your own company because, after all, it will be your company image that you will project. 

Marivi Mora, Director at Viva la Ad 
Once you've made your decision, remember the following when finalizing your agency contract: 
Include confidentiality clauses to protect your clients' information (e.g., a non-disclosure agreement)

Clearly outline the scope of work, timelines for turnaround, and the agreement length

Outline any rights to intellectual property
5. Assign an Agency Liaison 
While a white-label digital marketing agency certainly makes life easier, proper project management is still necessary to achieve success.
Even if you've established a good working relationship with a white-label digital marketing agency, they may not be aware of any shifting priorities that could affect their produced work (e.g., a client adjusting their marketing strategy to meet more aggressive OKRs or KPIs).
Have a single point of contact to:
Share any project details (e.g., a comprehensive content brief) and clarify details as needed 

Conduct regular 1:1 meetings to analyze marketing results and give any constructive feedback

Disclose any tweaks or changes in business needs from previous meetings
8 White-Label Marketing Services Your Agency Can Resell
To help you decide which services to white-label, here are a few practical options.
1. Conversion Rate Optimization (CRO)
Let's say you're doing a great job with SEO and PPC for your clients. While website traffic is coming in, there's just one problem (a big one, actually).
All these website hits aren't converting into leads, which is what most clients are interested in. What's the fix, then? Conversion rate optimization (CRO).
This process involves improving the overall effectiveness of a client's website or landing page to drive conversions (e.g., newsletter signups, online purchases). CRO increases your client's revenue while delivering more conversions with the same level of traffic. Conversion rate optimization is done through:
Systematic A/B or multivariate tests, which are helpful to experiment with website element variations (e.g., comparing two headlines or CTAs)

Historical data analysis (e.g., analyzing top-performing marketing channels over time)

Continuous data monitoring to see the effect of any implemented changes
When in Doubt, Leave It to the Experts
Here's the thing–CRO is quite a technical field and is often best left to experts (unless you have previous experience). 
That's where a white-label marketing provider comes in. They'll be better equipped to navigate these technicalities, run complex tests, and return with informed recommendations. 
Even if you are white labeling some of your client's CRO work, it's best for your agency to understand the key tools involved in this process. After all, your may agency may have admin rights to these platforms while your chosen provider actually runs the tests on your behalf. 
For example:
Optimizely is a leading provider of CRO solutions and is a great white-label option for agencies. They provide a comprehensive platform for A/B testing, personalization, and analytics
VWO is another popular CRO platform that offers white-label solutions like A/B testing, heatmaps, visitor recordings, and targeting options to improve website conversions
With CRO, it's easy to white-label this service and charge your clients for a one-off assessment or on an ongoing monthly basis. 
Tracking the results of CRO (e.g., increased website conversion rates) is also a breeze with an internal white-labeled marketing dashboard. 
Assess the effectiveness of your chosen white-label provider and easily share insights with clients. Choose from an extensive range of dashboard and report templates on AgencyAnalytics, free for 14 days.
2. Website Speed Optimization
Website speed is often an overlooked part of web development and digital marketing as a whole. 
It's no secret that a fast-loading website leads to a more positive user experience. When visitors navigate your client's site quickly, they're more likely to browse longer, explore additional content, and even take action (e.g., completing an online sale).
On the flip side, a slow-loading website frustrates users who want answers or information immediately. As a result, they're more likely to abandon your client's site and look elsewhere. 
No need for frustration or wasting those precious billable hours–hire a white-label company for website speed optimization. For example, White Label Coders offers behind-the-scenes website optimizations in addition to WooCommerce and WordPress development.
Keep a Watchful Eye on Website Performance
While we're on the topic, one way to check your client's website speed is by using a Google Lighthouse dashboard.
That way, you'll be able to identify whether they need more complex website optimizations or any other digital marketing service (like extensive coding work).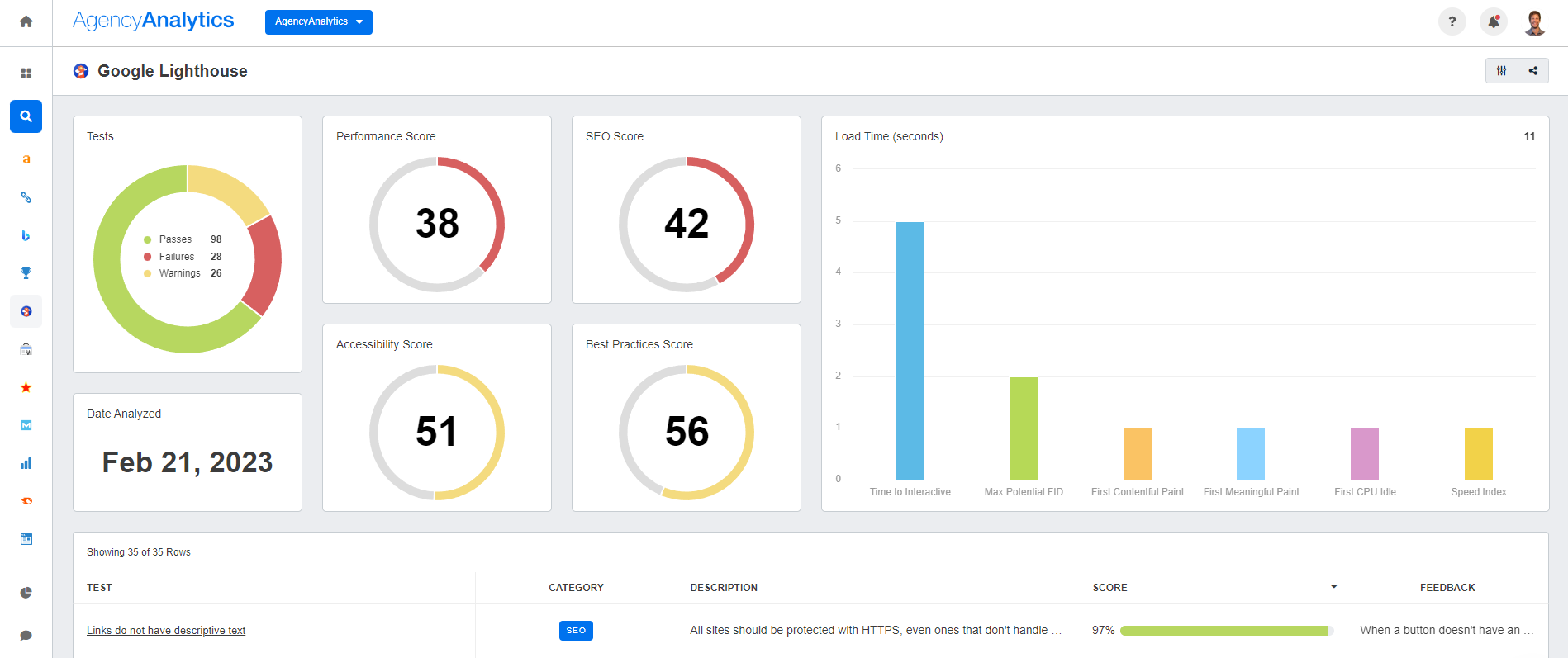 Understand website performance on a more granular level with a real-time Google Lighthouse dashboard. Use AgencyAnalytics to pull data from over 75 marketing platforms–sign up for your free 14-day trial today.
3. App Development
By outsourcing app development, digital marketing agencies will have more time to focus on core competencies without having to hire developers.
After all, building an in-house team for app development is time-consuming and expensive. There's recruitment, training, investing in technical infrastructure, and so much more. 
Hiring a white-label agency specializing in app development helps you to meet tight deadlines and get your clients' apps to market faster.
A reliable white-label service provider will also offer ongoing support and maintenance services. This is especially important to ensure apps run smoothly and address any issues arising after launching. They may rely on platforms such as:
Buildfire, which is software that enables branded app creation without extensive mobile development knowledge. They've also got a specific white-label reseller option that works well for app creation in niche-specific industries (e.g., restaurants, non-profits, education)

10 Pearls–a digital development company that offers various services, including mobile app development, optimization for user experience (UX), and strategy creation. They also provide testing and support services after the app development phase
4. SEO Link Building
Link-building is a well-known search engine optimization tactic that helps to increase search relevance and website credibility.
Backlinks remain the best indicator to Google and other search engines that a webpage is considered important by internet users. Links can be compared to votes, but when it comes to backlinks, votes are not equal. The more relevance and authority a website has, the more weight the vote gets.

Andy Hill, Managing Director of Distribute Digital
Instead of scouring the internet for effective link-building opportunities, a trusted SEO reseller can:
Source reputable and relevant backlinks

Use their extensive network to secure relevant link-building opportunities like guest posts

Build a solid local SEO presence (e.g., getting citations for local businesses, creating a comprehensive Google Business Profile)
While link building is a helpful exercise, proceed with caution and be wary of any providers that rely on backhanded methods just to get ahead (e.g., link farms). 
Transparent link building is key–you don't want to end up with a blacklisted, spammy website or even ethical concerns from clients or industry peers. 
Effective link-building builds the credibility of the website to rank for that industry. As long as backlinks are done carefully, with thought, content, and relevance, it adds much credibility to rank for competitive keywords in verticals.

Peter Magee, Managing Director of Significant Digital 
To get started with outsourcing link-building, consider using:
Digital marketing agencies that offer link-building services, such as Page One Power and The Hoth. They're also useful if you're looking for support in other areas (like content marketing)
Keep in the Loop With a Backlink Monitoring Tool
If you decide to offer link building to clients, be sure to keep tabs on progress with a backlink monitoring tool. 
This will allow you to analyze key link metrics such as anchor text and other metrics (e.g., Trust Flow, Citation Flow). 
By closely tracking the links your white label agency service provider is sending, you'll ensure ensures they're quality backlinks that won't harm your client's website reputation.
Monitor link-building campaigns, analyze link profiles, and create comprehensive reports at the click of a button. Try it on AgencyAnalytics by signing up for a free 14-day trial today. 
5. SEO Site Audits & Ongoing Health Checks
Even if your client has all the moving parts in place, you'll need to conduct comprehensive SEO audits and ongoing health checks.
That way, it's much easier to identify any pressing issues that could affect your client's overall SEO efforts and website performance.
Investing in a client reporting tool like AgencyAnalytics lets you white-label SEO audits and get insights like:
Website score and page depth

Any website errors and their priority level (i.e., critical, error, and warning tags)

Historical website performance data
Here's a tip–include these insights in a white-labeled SEO proposal to potential clients to show your capabilities off the bat.
One of the greatest impacts AgencyAnalytics has had on our agency is the ability to quickly perform an SEO audit. We present it to every one of our prospects and incorporate the results into our pitch decks. It made a huge impact on our ability to win business.

Adam Allen, CEO at LeaseMyMarketing
It's also useful as an add-on service, which results in more revenue for your agency and extra value to your clients. 
Create white-labeled SEO reports that include audit insights, keyword research, and any other insights you choose–customize this pre-built template on AgencyAnalytics, free for 14 days.
6. Content Creation
It's a given–you need top-tier content marketing to make waves in the SEO ocean. Even so, think about how much time this process takes. There are long-form blogs, intricate infographics, e-books… the list goes on. They all require hours of research, strategizing, and creation. 
To top it off, finding the right freelancers is often time-consuming when you've got so much on your plate. You may even have enterprise-level clients that require more bandwidth or expertise than a single resource.
In these scenarios, a white-label content writing service may be a better alternative since you'll often get access to a range of content creators. Plus, you won't necessarily have to test each of these resources to find the best fit–your white-label digital marketing agency could choose the best option for you. 
Take these options, for example.
Verbilio works well for digital marketing agencies seeking on-demand, white-label content services (such as blog posts, newsletters, and videos). They serve a range of niche-based industries such as beauty, hospitality, and landscaping

If you've got large-scale clients, Constant Content is a digital marketing company that offers enterprise-level services, including project management and a dedicated team of digital marketing experts. This platform offers writing services in fields like marketing, law, medicine, and personal finance
7. Social Media Management
Managing social media accounts is an intricate exercise. There are many moving parts in social media management (depending on the scope of work), such as scheduling, the creation of content, and strategic planning. 
Hiring a full-time social media manager may not be the best option if it isn't your specialization or you don't have a lot of clients asking for this service.
Instead:
Partner with a white-label marketing firm to do the heavy lifting on your behalf. For example, $99 Social offers white-label social media marketing for agencies. Their reseller package includes a dedicated account manager, custom social media posts, and niche-specific content if needed

Use an online service like Hootsuite OwlyWriter AI to help with the creation of captions, get ideas, and create content calendars. It's currently free for Hootsuite users (if you already use it for social media management) 
8. Pay-Per-Click Management (PPC)
Setting up PPC campaigns involves many complexities. Without the right foundation in place, it's exceedingly difficult or even impossible to run effective PPC campaigns. 
For any given PPC campaign (e.g., Google Ads), you may be tasked with ad setup, competitive research, coming up with ad creative, and more. 
What if there was a way to make this process easier? There is–outsource PPC ads (or even some parts of it) to a white-label digital marketing agency. 
For example, white-label PPC companies (such as White Shark Media and ClicksGeek) may be equipped to assist with: 
The initial set-up of cross-platform configurations (e.g., linking Google Ads to Google Analytics and Google Tag Manager)

Campaign creation (such as creating bid strategies, ad copy, and A/B testing)

Making tweaks and improvements for existing PPC campaigns
If you've got the bandwidth and expertise, consider taking over for monthly PPC maintenance (e.g., ad optimization). 
Oftentimes, this takes only a couple of billable hours per month, which also makes it easier to decide on agency pricing for your clients.
There you have it! 
Leaning on white-label marketing solutions will help your agency to scale, manage workflows, and get the job done quicker. It all boils down to bringing in clients with your core competencies and filling in the gaps with the right partner.
Create White-Labeled Reports and Dashboards With Ease
After you've procured the white-label services of one or more resellers, one dilemma remains: how will you create a white-label report for your clients?
Things can get pretty complex when you're navigating multiple platforms, service providers and digital marketing services. No need for excessive manual work or numerical whirlwinds–there's a white-label reporting solution built for agencies like you. 
With just a few clicks, it's easy to create custom, white-labeled dashboards and reports with AgencyAnalytics.
AgencyAnalytics' white labeling feature allows us to present dashboards and reports under our agency's branding, reinforcing our brand identity and professionalism. This consistent branding builds trust and positions our agency as a reliable partner in our clients' success.

Jessica Crist, Production Manager, High Five Media
Simply add your agency's logo, infuse your unique brand colors, and send white-label reports or dashboards to your clients.
Want to take it up a notch? Create your own white-labeled mobile app to give your clients an enhanced reporting experience. With an agency plan or higher, you'll also have the option to create custom URLs and domains for your clients' dashboards.
Monitor marketing performance and report on key insights–all while keeping your agency's name at the forefront.
Create a customized reporting experience for your clients and brand it under your agency's name (we won't tell!) Invest in the client reporting tool used by 6,000 and counting–sign up for a free 14-day trial of AgencyAnalytics today.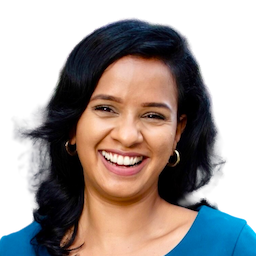 Faryal Khan is an experienced marketer and brand photographer with a passion for content creation. She creates value for brands through storytelling and captivating visuals.
Read more posts by Faryal Khan ›
Try AgencyAnalytics risk-free for 14 days. No credit card required.