Starting a marketing agency is a journey full of enthusiasm and uncertainty. As your agency continually evolves, so do the challenges to overcome.
If your agency isn't prepared for what's coming next, you'll likely experience disruptions in productivity or experience unforeseen setbacks in your agency's growth trajectory. While growing your client base is great, you don't want to suddenly end up at a pace your team can't manage, turning down client projects or underperforming because of a lack of resources. 
That's why understanding each stage of the agency life cycle (conceptualization, start-up, growth, and maturity) prepares you for upcoming business cycles to make smart decisions for your agency's future. 
That way, you'll be in a better position to adjust smartly to any developments and manage your agency efficiently.
In this article, we'll cover:
Why You Should Identify Your Stage in The Agency Life Cycle
Knowing what stage your agency is in is key to effective and strategic planning as well as keeping your goals on track. That's because it allows you to finetune your goals and prepare for the demands that come with growth. 
1. Finetune Your Agency's Goals
You can't know where you're heading until you know where you've been.
Let's say you recently transitioned from a boutique agency to a mid-size agency. This progression may come with an entirely new terrain, such as juggling more clients, hiring more resources, and a need for a revised strategy.
By evaluating where your agency is and where you plan to go, you'll be better positioned to set realistic goals and reach the success you've dreamed about.
2. Prepares Your Agency for The Demands of Scaling
As your agency scales, your workload doesn't necessarily have to. Having the right processes in place allows your agency to take on more clients in less time. 
In fact, our research shows that:
Mid-size agencies send more than twice the number of client reports than freelancers

Enterprise-level agencies send five times more reports than mid-size agencies

On average, enterprise-level agencies have almost 18 times more clients than freelancers
Read more insights from our 2022 Client Benchmark Report for Agencies.  
By investing in the right tools, such as automated client reporting, your agency better manages increased demands, streamlines operations, and consistently meets client expectations–without the added burden of non-billable tasks like report-building.
From customizable dashboards to pre-built reporting templates, AgencyAnalytics was built specifically for marketing agencies like yours. Try it out for yourself, it's free for 14 days.
The 4 Stages of the Agency Life Cycle
To better understand where you're at and what to expect, here's an overview of the agency life cycle, starting with the early phases of conceptualization and startup.
| Stage 1: Conceptualization | Stage 2: Start-Up |
| --- | --- |
| Transitioning from a freelancer to an agency | Establishing a brand identity, processes, and staff |
| Building a business from the ground up | Focus on advertising and outreach to increase clientele |
| Conducting initial market research to identify and fill a gap in the market  | Refining business processes |
As an agency matures, the challenges that it faces shift to support growth, revenue, and processes.
| Stage 3: Growth and Establishment | Stage 4: Maturity |
| --- | --- |
| Rapid growth and expansion | More established and renowned brand presence |
| Increased revenue, brand recall, and word-of-mouth referrals | Plateau in sales and growth but a more stable outlook |
| Opportunity to explore additional funding and resources | Possible market exit due to stagnation, change in priorities, new direction  |
Reference: Lewis & Churchill Business Growth Model
Stage 1: Conceptualization
Before the birthing phase of an agency, there's the initial idea to begin a business or build upon some existing foundation. Here are a few instances where the conceptualization of a marketing agency happens. 
Scenario 1: Transitioning from Freelance Services to Becoming an Agency
Successful freelancers may see an influx of new clients from their impressive track records and word-of-mouth referrals. As business grows, it becomes increasingly challenging to manage a mountain of responsibilities as a one-person show.
At this point, you might want to explore a few options such as:
Teaming up with other freelancers or industry peers to distribute or refer projects

Hiring an additional resource (or a team) to assist with some elements (e.g., a videographer may hire another freelancer to do final edits)

Outsourcing supplementary elements such as administrative work or bookkeeping
Some freelancers may choose to keep this business model for a variety of reasons, such as maintaining a particular work-life balance, finding a comfortable process that suits them best, or juggling other gigs.
However, for many others, a lightbulb goes off and the idea of building a marketing agency comes into play.
Not only is it an attractive option to manage the demands of an increasing workload, but it's also an opportunity to create a sustainable business with the potential for growth and recurring revenue over time.
Scenario 2: Building An Agency From the Ground Up
On the other hand, other aspiring agency owners may have had prior experience building a business or even extensive industry experience or marketing exposure. Others might already have an agency and want to create a second division or branch altogether.
While in a previous role at MNA Digital, we set up digitally-based solutions and diversified our product offering at the time. As a result, we created an agency division offering paid search, SEO, and website design services. In most of my previous roles, there have always been really talented digital marketing teams from a UX perspective, and even in data, paid search, and websites. –Andy Hill, Founder of Distribute Digital
In these scenarios, it's crucial to leverage prior experience, analyze what worked well, and come up with repeatable processes. As Hill explains, "One of the challenges you get as an agency–especially when you grow–is the complexity of onboarding a new client. The fix? Build repeatable, specific processes and get good at delivering for that type of customer."
Goal: Realizing a Consumer Need and Filling a Gap
An important part of agency conceptualization is market analysis and determining your agency's unique selling proposition. Perhaps you've noticed a gap in the market, or you uncovered a specific niche to specialize in.
Becoming niche-specific allows you to do certain things that you couldn't do otherwise, like speak the language of your client, quickly figure out what works and what doesn't from an advertising standpoint, and create scalable internal operations. –Dan Delmain, Founder of :Delmain
By figuring out who you're marketing to and where there's an opportunity to stand out (or specialize in), you'll be in a much better position to transition into a major industry player. 
What to Expect at the Conceptualization Stage
Here's a quick snapshot of what you should prioritize and expect in the conceptualization phase.
| Priorities | Challenges | Solutions | Success Indicators |
| --- | --- | --- | --- |
| Conducting research to determine a niche, target market needs | Budget and resource constraints | Do online sweeps to understand other agencies' offerings, reach out to existing network | Rich, high-quality feedback that narrows your agency's focus |
| Establishing a business structure | Possible lack of experience  | Learn from other agency profiles, agency structures, and relevant success stories  | A clear business structure that factors in long-term growth |
| Determine possible cash flow  | Limited starting capital and bookkeeping  | Formalize an accounting process to keep track of invoices and payments | Finding a robust accounting solution or process |
Tips at the Conceptualization Stage
When making that leap into building an agency, it's vital to:
Create an ideal customer profile so you'll know what type of client to target for business

Come up with consistent branding so your agency will be easily identifiable over time

Identify any gaps or niches in the existing marketing landscape and how your new business venture could fill them

Create a business plan with specific goals, an outline of your services, agency processes, and a pricing strategy

Analyze your current cash flow (if it exists) and decide what's financially feasible over the long term 

Do market research to understand the competitive landscape and any opportunities for differentiation

Explore the possibility of partnership (e.g., with another upcoming freelancer or an industry peer with the same target market) 
Stage 2: The Start-Up
At the start-up phase, a marketing agency comes tangibly into existence with the establishment of a brand identity, a growing team, and even an office space (unless it's a remote workplace). 
A more streamlined organizational structure may be developed and can include line managers, a team of specialists, and the establishment of various departments. At the start-up phase, there's typically a distribution of responsibilities, a more granular definition of staff roles, and an attempt to have formalized systems in place.
Each role is equally important. From the strategist who digs and plans out the tactics and strategies to the technicians responsible to see them through. We're all working together to provide top-quality digital marketing solutions. This results in educating our clients to show the value of leveraging the internet for more sales and leads. –Mark Jamieson, Managing Partner of WSI eStrategies
Marketing agencies in the start-up stage usually:
Bolster advertising and outreach efforts (e.g., cold calls, online display advertising)

Create a suite of services to attract new clients, increase brand awareness, and stand out from the competition

Attempt to solidify a cash flow each month and cover recurring overheads (such as staff salaries, monthly subscriptions, and office rent)

Offer incentives and a bit more flexibility (e.g., short-term contracts or negotiable pricing) to increase client influx and retention over time
And so, the goal of start-up marketing agencies is to figure out what's working well, how to improve processes, and work closely with clients to understand their goals.
We've had clients stop with us because we've given them too many leads too quickly, and it caused operational problems. It created a phase of HR recruitment and so on. So it's important to understand the business's challenges, so you give them the right volume and growth that they're looking for. – Bodie Czeladka, Creative and Managing Director at Dilate Digital
One pain point often experienced by startup agencies is that the client load and staff count often outpace processes, creating operational issues that need to be addressed.
Try to set as many of the best practices and SOPs as early as possible, understanding that they will need to be adjusted over time as your team identifies and develops better and faster ways to get the work done.
As your agency grows, streamline your agency's operations through staff and client management on the AgencyAnalytics platform. Sign up for a free 14-day trial, no credit card required.
Agency Tip: Adopt a learning mindset to understand any notable achievements or areas for improvement. At regular intervals, have internal 'Lessons Learnt' sessions with your staff or even as a personal exercise, and especially after onboarding new clients, taking on a new type of project, or stepping into a more large-scale space (e.g., taking on your first enterprise client).
What to Expect at the Start-Up Stage
Are you in or just at the precipice of the start-up stage? Here's what your top priorities should be and how to navigate them effectively.
| Priorities | Challenges | Solutions | Success Indicators |
| --- | --- | --- | --- |
| Finalizing and documenting agency processes and systems | An overwhelming number of processes to document from scratch | Outsource process creation (e.g., HR policies) | Clearly outlined procedures that are easily understood |
| Establishing a brand identity | Undefined vision; roadblocks in conceptualizing ideas  | Brainstorm unique identifiers and angles | A recognizable brand identity with consistent elements |
| Ramping up outreach and advertising efforts | Limited capital for advertising; overwhelming number of prospects to contact | Create an outreach goal (e.g., 5 calls a day) | A steady flow of new clients and inquiries; increased brand awareness   |
Tips for the Start-Up Phase
Remember to: 
Reiterate your marketing agency's unique selling proposition

Clarify brand vision and develop a brand guide

Establish a clear, time-sensitive system for onboarding and follow-ups

Use pre-built tools (such as reporting templates) to save time in the long-term

Have a solid inbound marketing strategy to nurture leads and navigate limited capital

Set baseline KPIs and ensure there's goal tracking at regular intervals, including customer acquisition, productivity, delivery margins, and very important client retention KPIs.

Objectively view your systems, automate processes where possible, and identify any areas that need refinement or an overhaul (e.g., your invoicing process, establishing agency liaisons for clients, reducing time in between client follow-ups)

Document processes and store them in an easily accessible place for staff to refer to

Establish clearly defined staff roles to ensure accountability 

Understand your clients' needs, work towards meeting them effectively, and focus on client retention 

Invest in long-term, technological solutions to streamline workflows and facilitate growth (such as automated reporting)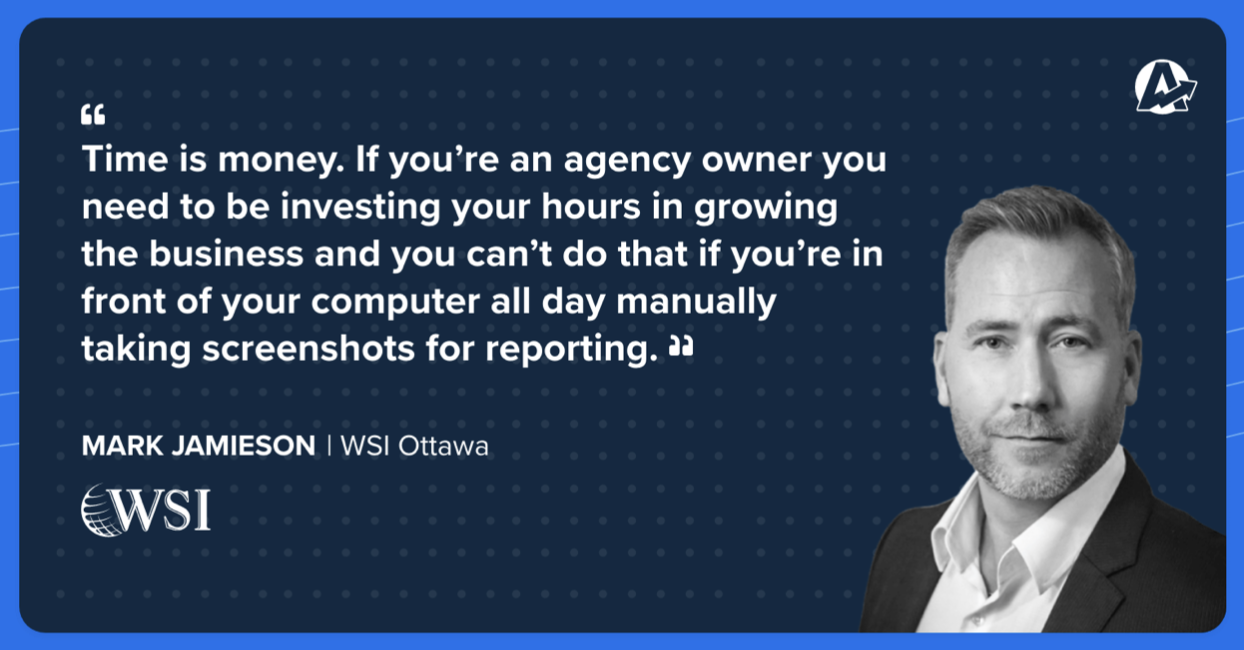 Stage 3: Growth and Establishment
As the name suggests, at this stage, your marketing agency becomes more renowned and may begin to grow in more than one area (e.g., revenue, number of clients, staff). 
Transitioning from a small to a medium-sized business definitely comes with a lot of growing pains, but we've remained really flexible when it comes to meeting the needs of existing and prospective clients. You have to be intentional about the actions you're taking to move the company forward. It's important to make the necessary investments in things like technology in order to prioritize long-term goals. –Stena Lambert, Director of Vortala Digital
With a more established brand presence and even word-of-mouth referrals, sales may exponentially increase which leads to agency expansion (e.g., offering additional SEO services, or onboarding more specialists and account managers). 
As Claire Aldridge, Digital Marketing Specialist at Victory Digital puts it, "Most of our clients come on board through word of mouth, which is a testament to the work and dedication of our talented team. We are big believers in transparency, and our clients find this approach very refreshing. This unique approach is one of the main reasons many of our clients have increased their retainers and recommended us to other business owners."
What to Expect at the Growth and Establishment Stage
As your agency begins to grow and expand, here's what you should expect.
Priorities

Challenges

Solutions

Success Indicators

Growing your clientele and increasing revenue

An unmanageable level of growth (e.g., limited resources or stretched processes)

Research further infrastructure or refine existing ones

Efficient solutions that assist with growth challenges

Less overwhelmed staff 

Exploring opportunities for additional funding if needed 

Determining how much capital is needed and which avenues to explore 

Create a shortlist of targeted investors; devise an outreach strategy

Secured funding with an outlined plan of where to inject capital
Keep on top of your agency's growing list of tasks on AgencyAnalytics–sign up for a free 14-day trial today.
Tips for the Growth and Expansion Phase 
While it's refreshing to have more clients come to you (instead of incessantly searching for new business), remember to focus on airtight processes so nothing slips through the cracks. 
Here are a few tips for the growth and expansion phase:
Decide which client projects are really worth pursuing, especially if you've got a healthy bank of options coming your way
In early years as an agency, you take on anything and everything that comes your way as you are trying to grow your client base. Although effective for startups, this method causes staff burnout and dilutes your agency's focus if you take on too much. —Peter Jasniewski, President and CEO of WSI Comandix
Invest in employee growth and explore options for training, promotions, and incentive programs (if you haven't already)
Happy people are productive people. And happy people are going to perform better in all areas of their lives. It sounds simple, but a lot of agencies get it wrong. They just don't put enough time into their people. –Bodie Czeladka, Creative and Managing Director at Dilate Digital
Determine whether your agency requires additional funding for expansion

Explore loan options, and industry-related grants (e.g., government incentives)

Strategize on how to meet financial obligations (e.g., loan repayment) 

Explore existing options in already established technological solutions (e.g., increasing your tier level) 

Hire additional full-time, part-time, or seasonal resources to meet client requests and take on more complex projects
Agency Tip: Many established marketing agencies may still struggle with pricing. By knowing the ins and outs of your services and based on your level of experience, explore different pricing agency pricing models and decide what works best. And don't be afraid of evolving your pricing strategy as time goes on. 
Stage 4: Maturity (And Possible Exit) 
At the maturity stage, marketing agencies typically experience a plateau from the previous influx of sales and organizational changes. 
After experiencing most of the growing pains from the previous cycles, marketing agencies typically have a more stable outlook in this mature era, in addition to an increased wealth of experience to draw from. 
While brand awareness may not be as much of a challenge compared to the other life cycles, it's important to stay competitive and differentiate as much as possible in this cycle (especially if you're trying to address declining revenue). 
We needed a point of difference in the marketplace. Especially because it's difficult for clients to understand the activity that's being done for them in a digital world. They can't touch it, feel it or see it. Especially for some of the more traditional clients. –Oliver Wood, CEO of PWD (Perth Website Design)
Once strategized correctly, there may even be a life cycle extension where your agency recovers from this plateau. This may result in increased sales, a renewed marketing strategy, more competitive pricing, and new opportunities for expansion.
What to Expect at the Maturity Stage
Being an established agency comes with a unique set of priorities and challenges– let's explore them further.
| Priorities | Challenges | Solutions | Success Indicators |
| --- | --- | --- | --- |
| Increase strategic outreach; leverage your agency's existing brand reputation  | Limited opportunities within the existing market | Explore new markets and opportunities for expansion | An increase in revenue from previous slowdown |
| Differentiating from other agencies | Lack of new, unique selling points  | Conduct market research to determine any new gaps | An increase in clientele; data-driven insights for the development of new product offerings |
Tips for the Maturity Phase
As a seasoned marketing agency, here's what you should keep in mind at the maturity phase:
Focus on differentiating your agency from competitors and reiterating your brand presence through testimonials, a portfolio of past projects, strategic partnerships, and endorsements

Consider doing market research of your existing customer base to determine any overlooked needs and opportunities for new product offerings 

Revisit your pricing structure and determine whether any adjustments should be made based on emerging competitors or any other market changes

Map the customer journey and determine any roadblocks or areas to tighten up on

Explore branching off into any new areas of expertise and how to leverage your brand's name (e.g., creating a new division or a subsidiary)

Revisit your ideal client profile and determine where there's any untapped potential in other markets (e.g., in another geographic location)
Planning an Agency Exit (Or Closing Altogether)
If you're a founder (or perhaps a high-level executive with a stake in the agency ownership), there may come a time when you're exploring whether to exit the agency, pass the reigns to someone else (such as a partner or an investor), or even sell your company.
The reasons for this may vary, such as:
Reaching an unignorable, long-standing business plateau (such as a lack of new clients over a long-term period)

Stagnant or declining recurring revenue

An emergence of agency competitors that make it harder to produce the same results you did in the past

Wanting a complete rebrand or a fresh, new perspective
Questions to Consider for an Agency Exit or Close
Let's face it– you're only human, and these things happen. You may even decide on an exit to prioritize another part of your life (such as spending more time with family or enjoying your retirement). Whatever the case may be, here's what you think about when strategically planning your exit.
What changes would happen on an organizational level (e.g., changes to the roles of your direct reports)?

Would you still have any vested interest in the company (e.g., shares, serving on a board)?

What would you need to put in place for a successful agency handover (e.g., documentation of processes, partnership agreements)?

Are there any legalities involved (e.g., passing over ownership, relinquishing shares)?

How far in advance should you enforce an exit strategy to allow a seamless transition and as minimal business disruption as possible?
Plan your agency exit with careful consideration, advance notice, and deliberation. That way, it'll be a more seamless transition for you and all parties involved.
Put Processes In Place, No Matter The Agency Life Cycle
Agency life cycles are meant to illustrate and educate you on what to expect, but it isn't set in stone. For example, you may be able to accelerate your agency's growth and even surpass a particular cycle at a faster rate.
Or perhaps you may have digressed to a previous stage, which may have even been out of your control (e.g., due to market conditions such as the recent pandemic or a potential recession). Whatever the case may be, knowledge is power. Regardless of which stage you're in or aspiring towards, remember to:
Make future projections based on data-driven insights over time

Create strategic goals at each agency life cycle (and remember to differentiate between KPIs vs metrics, so you don't end up making decisions on a bunch of vanity metrics)

Understand your unique agency goals and the best strategies for getting there

Invest in scalable, long-term solutions like AgencyAnalytics to reduce manual work and win billable hours back
The more efficiently we can work, the more time goes back into our day, which we can spend on getting great results for our clients. We can easily build trust with our clients by demonstrating our progress in a real tangible way. Using AgencyAnalytics has slashed our reporting time so that we can get them out to our clients quickly, and be more responsive when they have questions. –Rachel Jackson, Lead SEO at Wit Digital
With a robust client reporting tool like AgencyAnalytics, you'll have the ability to manage an influx of client requests, share real-time data access, and even manage your staff's day-to-day tasks–all under one roof.
Meet your client reporting goals month after month, regardless of which agency life cycle you're in. 
Automate client reporting and free up more hours for your busy days ahead. New to AgencyAnalytics? Sign up for a free 14-day trial–no credit card required.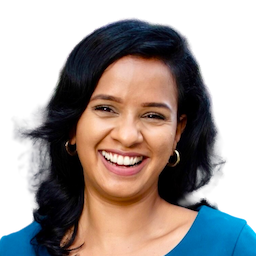 Faryal Khan is an experienced marketer and brand photographer with a passion for content creation. She creates value for brands through storytelling and captivating visuals.
Read more posts by Faryal Khan ›
Try AgencyAnalytics risk-free for 14 days. No credit card required.