It's common knowledge to all agency owners: running a digital agency can be tough.
You have to worry about hiring, selling, accounting, payroll, marketing, account management, lead generation—the list goes on. Oh yeah, and you need to get results for your clients, or they'll move on and may not say the nicest things. Even the most successful agencies encounter obstacles along their journey. It's essential to skillfully navigate these challenges; they're valuable opportunities to grow, thrive, and emerge even stronger.
Luckily for you, we've put together 23 tactics to grow & scale your digital agency to make your life a little easier. Sure, you may already be doing a few of these things, but you'll likely find at least one gold nugget that helps take your agency to the next level. Whether you're looking to streamline repetitive tasks
The list is broken up into five categories:
Let's get started.
Receive Agency Growth Tips, Delivered to Your Inbox
Improving Your Internal Marketing & Sales
1. Pick a Niche for Your Agency
As discussed in our article on choosing a niche for your agency:
Digital marketing agencies have become a commodity. There are 500,000 agencies worldwide and one of the best strategies to stand out is by focusing on serving a single niche.
This is absolutely true, and there are plenty of agency success stories out there to prove it:
Picking a niche allows you to brand yourself as the expert in that industry and helps you separate from the pack. As an agency owner, it also opens up other opportunities (like speaking at industry-specific conferences).
Here are some ideas of potential niche industries to explore:
Massage Therapists

Personal Trainers

Tattoo parlors

HVAC

Water Damage

Rehab Centers

Auto Shops

Insurance Agencies

Optometrists

Restaurants
Think outside the box as well. It doesn't have to be an industry-specific niche; maybe you're just an expert in a specific marketing vertical, like marketing for Shopify stores or lead generation for local service providers. Even target a specific vertical and niche. Anything to help you distinguish yourself from the other thousands of full-service agencies and get more clients.
2. Create a Lead Magnet for Your Agency Site
The vast majority of visitors to your agency's website won't convert to leads. There are a number of reasons: they may not be ready to commit, they may not be sure what services they need, or they may not trust your company yet.
In spite of these challenges, you still need a strategic approach to lead generation, otherwise you'll risk remaining stagnant in the digital agency life cycle.
By offering them an alternative to an intimidating phone call, you collect their business information and move them toward becoming clients.
Be creative with your lead magnets and offer something of value to your new leads, like doing an SEO audit that points out some flaws in their website's technical SEO.
3. Walk the Walk When It Comes to Web Design
Regardless of whether or not you specifically offer web design, it's imperative to have a clean and professional website. Your website is how people perceive your company online.
It doesn't have to be expensive, either. There are a number of agency-ready WordPress themes available for next to nothing. As a matter of fact, here are 58 themes to get you started.
4. Reduce Your Lead Response Time
If you're collecting leads from your agency's website, it's essential that you get back to them as quickly as possible. It's too easy to let them just sit there for a day or two before getting back to them. In fact, the average response time to a lead is a whopping 47 hours! These potential customers are shopping around, and your agency won't be the only one they stumble on.
Firms that try to contact potential customers within an hour are seven times more likely to close the deal than those that tried even an hour later.
5. Set Up Outbound Sales and Fill the Pipeline With Leads
So many start-up digital agencies are afraid to pursue outbound sales. It seems counter-intuitive when you can just put out a few paid ads to get some leads. Finding customers with paid ads is often harder and more expensive than it sounds, so you're limiting yourself by not considering outbound for customer acquisition.
We recommend checking out Alan O'Rourke's post over at BrandPitch. It goes into detail on his process of building a sales funnel through outsourcing and vetting leads and then reaching out to them through cold emails.
It works even for agency owners to target s a specific niche because your prospectors will have clearer targets.
While it's not for every agency, you should consider building an outbound sales funnel. You no longer have to hire an expensive Sales Development Rep and they can deliver huge returns for your agency; especially if you're just starting out and don't have many client referrals yet.
6. Turn Visitors Who Haven't Converted Into Leads
There are a number of platforms like Leadfeeder that match visitor IP addresses to a database of companies. They essentially tell you who has visited your website even if they haven't converted to a lead. While it doesn't match every single visitor due to dynamic IP addresses, you'll often be able to recover a large percentage of lost leads.
Use this information to track down the decision-makers through LinkedIn. If somebody at that company has visited your site, there's a good chance they're looking for a marketing solution.
Give them a call to assess their needs. But be careful about how you connect the dots between their visit and your outreach. You may impress them by knowing that they visited your website, or you may creep them out!
7. Build Case Studies From Successful Clients
Client case studies are undoubtedly one of the most popular and effective promotional tactics used by marketing agencies. Use them as lead magnets on a website, part of an email drip campaign, or sales assets for your team members to close more deals.
Find an existing client and tell their story with a case study. Make sure you lay out specific strategies you used and back everything up with data. Create multiple case studies based on buyer personas. That way, you'll have an extensive portfolio of client work and quantifiable results.
If that sounds like too much work there is also a service available called Case Study Buddy which will make beautiful case studies for you. It's run by Joel Klettke who's well-known in the content marketing world.
8. Be Your Own Best Client
If you have all of this web and marketing talent, why not put it to use on your own product? That's exactly what two agencies did and it worked out pretty well for them:
37signals started as a web agency that saw an internal need for project management software. They created Basecamp to suit their own needs and it's turned into a massive success.

Coudal Partners was once a creative agency that started Field Notes as a side project. The rest is history!
Side projects can be a fantastic learning experience for your agency as a whole. Use them as a testing ground for new ideas, and write about the journey in your blog. It could be the next big thing! Just don't forget about your client work.
9. Start Blogging Even if You're Not an SEO Company
Even if you don't offer SEO, your agency can benefit from ranking for certain terms. What about "PPC agency your city" or "creative agency your city"? Ranking for those keywords with high purchase intent will drive hot leads to your website. And anyone with an SEO background will quickly share with you all of the long-term benefits SEO has to offer.
Guest blogging is a popular off-page SEO strategy and a great way to build quality links to your agency site to improve your organic presence.
That being said, SEO is far from the only reason to create engaging and informative content, be it on your site or as a guest post. By writing for reputable publications you position yourself as an expert in your field. "Guest posting is dead" articles pop up once or twice a month, but it's far from reality.
Download Your 39-Point SEO Content Checklist
Everything you need to make sure your agency is publishing optimized content.
Reducing Client Churn
10. Use NPS Surveys
If you're not aware, NPS stands for Net Promoter Score. Essentially it's a survey you send out to your customers asking them to rate your service on a scale of 1-10.
The basic idea is to send out this survey to clients a little while into their contract to see how they feel about your service. There are three basic groups and here's how you should handle them:
Anybody who scores 1-6 is considered a detractor and may be ready to leave your agency at any moment. Consider them high priority and get to the bottom of why they scored so low (e.g., dissatisfaction with client work, long agency response times)

Anybody who scores 7-8 are considered passive and are somewhat satisfied with your service but have something holding them back from scoring higher. Find out what you can do to improve their experience and try and deliver it.

Anybody who scores between 9-10 are considered promoters and love your service. Leverage them for case studies and set them up with your referral program if you have one. It has the potential to make a huge potential for your agency's brand reputation.
NPS is a great way to pinpoint customers who may be on the brink of leaving. If you don't ask, you may never know.
You can also use NPS for a number of other things. What about offering a bonus to the employee with the best score for the year? Be creative where it makes sense!
11. Build Out Recurring Revenues Over Campaigns
Robin Leonard of AF Digital wrote in an article:
"Brands will realise that consistency is king and they will need a digital agency to run the social media and website functions all year round, with creative agencies that pitch for campaigns to overlay and enhance. The answer is to build recurring revenues in a retainer style relationship where you bill monthly for a fixed set of services (for example, X published blogs per week, Y Facebook posts per day etc)."
He says to get out of 'campaign' thinking and to move towards charging recurring revenue. Recurring revenue is the key to the success of SaaS businesses and can be critical in building a thriving digital agency as well. It ensures you get paid every month. While this may seem obvious to many agencies, some are still left pitching new campaigns every quarter.
There are many tools at your disposal to manage recurred billing with clients, see: Recurly, Chargebee or ChargeOver.
12. Send Letters & Gifts to Clients
Building relationships is important to keep clients around. It helps with communication and they're more likely to listen to your recommendations if they like you. Gifts and letters are a great way to build rapport and get on their good side.
When you sign a new client consider sending a handwritten letter as part of your client onboarding process. No, you don't need to relearn cursive and go to the post office. There are services like Scribeless that will write and send the letter on your behalf.
If they're a valuable client, make them feel valuable by sending over gifts. Forget about fruit cake gift baskets – send something memorable that their entire team will talk about. See this is why I'm broke for some fun ideas.
13. Client Staff Intake Training
Be Top Local explained it perfectly in their SEO case study:
"When you're about to spend $8,500 in marketing dollars to make the phone ring, the last thing you want is to lose leads to a busy phone line."
Be Top Local set up a system where leads are followed up within five minutes and the staff receives a commission for every appointment booked to incentivize results.
At the end of the day, your goal as an agency is to help your clients make more money. If they're more profitable using your services, they'll stick around. Offer training to client employees to gracefully handle calls and turn them into results for your client. Ensure that phone calls are never left on hold for long and are handled in a professional, friendly manner.
By offering this type of training you not increase efficiency, but go above and beyond where other agencies are willing to go.
14. Be Laser-Focused on Results
A good agency will focus on being data-driven and getting financial results for their clients as opposed to vanity metrics. Clicks, likes, impressions, etc., mean NOTHING if they don't turn into profit at the end of the day.
When you first take on a client you should be certain that you can turn a profit on your services – if you can't, there's no point in providing the services. By ensuring that your client is profitable, there's no good reason for them to leave your agency.
AgencyAnalytics gives our clients clarity and confidence because of how easily we can communicate our efforts and results to them on a frequent, consistent basis.

Lane Anderson, Founder & CEO, London Road Marketing
Everything is measurable these days: Facebook even has a way to measure in-store visits and sales from their ad platform. If you report on the vanity metrics, be sure that they're somehow translated into money in your client's pockets.
Scaling Systems & Processes
15. Automate Your Marketing Reports
How much time do you spend on reporting? Some agencies have said that reporting takes up to a week of their employee's time every month after manually putting the reports together and answering client questions.
Client reporting can be one of the most effective ways to reduce churn and keep customers over the long run. To achieve this and increase your retention rate, it is crucial to keep clients in the loop with the state of their campaigns and the results they're getting. Reporting is also a great opportunity to upsell new services; especially if you're giving them great news.
Use AgencyAnalytics to build reports and automate them to go out every day, week, or month. Integrate everything you need like SEO audits, PPC analysis, social media reporting, and more. And by giving clients access to a custom-branded dashboard, you could even eliminate manual reporting and streamline repetitive tasks!
Choose from 75+ marketing platforms to pull into your live marketing dashboards. Flip them into white labeled, client-ready reports in minutes! Try AgencyAnalytics free for 14 days.
Thanks to templated and automated reports, we no longer have to spend hours and hours on a monthly basis on analytics. This saved time is compounded each time we sign on a new client.

Graham Lumley, Director of Marketing, Blackhawk Digital Marketing
Pick from over 15 marketing dashboard templates to automate your data-retrieval process, like the:
And choose from our client report templates for you to create automated reports fast, including:
16. Build a Client Onboarding Process
Create a scalable and repeatable client onboarding process (including a client onboarding questionnaire) to get the information you need and save yourself headaches down the road. Edit that checklist to suit your agency and ensure that each step is followed when a new client comes on board.
Use our client onboarding checklist for free!👇
Download Your Client Onboarding Questionnaire Template
Streamline your workflows and grow your agency.
17. Systemize Proposals & Contracts
You probably have a proposal template in place for lead generation but customizing each one takes hours. What about if the client asks for edits? How do you handle the signature process?
Using software like PandaDoc or Jotform Sign can speed up and systemize that process for you. It helps shorten your sales proposal turnaround times by creating templates that allow collaboration between multiple parties.
They notify you within your CRM when the client opens the proposal so you know to follow up. Once the client is ready to sign they can do so within the PandaDoc software. Integrate your payment gateway to give them the option to pay right after signing!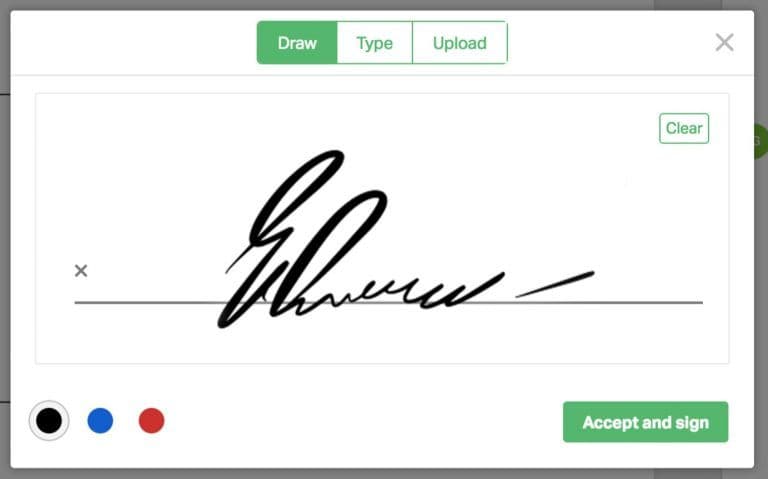 There are also a number of other features like:
Managing HR documents when you hire new employees

Streamlining legal approval for agency partnerships

Quote management to help you price your services and calculate profit margins
P.S. another tool to checkout for proposals is Qwilr, which allows you to create stunning proposal websites instead of sending docs back and forth.
You can also check out our social media proposal, SEO proposal, and PPC proposal guides
18. Streamline Appointment Scheduling
In this day and age, there's no reason to waste time going back and forth with clients to book a meeting time. It's a time hog to find a time that suits both parties and it isn't a value-added activity. Time to cut it out!
There are a couple of tools you can leverage to streamline appointment booking:
Calendly is a tool that allows you to share a link that lets people book meetings according to your availability. It automatically sets reminders before the meetings and shares a Google Hangout URL if you'd prefer to video chat.

x.ai is an AI-powered assistant who will automatically schedule meetings on your behalf at the best time and location for both parties.
Growing Your Team
19. Outsource as Long as You Can
The beauty of running a digital agency these days is that almost everything can be outsourced. You can truly be a "full service" agency as a one-man freelancer if you know how to hire through Upwork or Freelancer. While the majority of outsourced talent may not work out, it's worth it for the few who do. When you find the right people it's a goldmine: high-quality work for a relatively low cost.
When growing an agency, outsource almost everything until there's enough work to hire a superstar in-house. Leverage those superstars to be your agency's core competencies. If you're lucky, some of the people you outsource can turn into location-independent superstars. It's all about taking the time to find the right people.
See how Arianna O'Dell is building Airlink Marketing while traveling the world on FastCompany. While it doesn't go into depth on outsourcing, it's proof that you can run an agency without being in the same room as your entire team.
Download the Marketing Launch Checklist Template Every Agency Needs🚀
Use this template to kickstart new marketing campaigns and keep your team on the same page. Email, Social, SEO, Video, and More! Edit it until it's just right.
20. Leverage Internships
Internships are incredibly common in the marketing community. While unpaid internships are unfair and a recipe for exploitation, you can hire a number of interns for a fraction of what a full-time employee will cost and get high-quality work. Many interns are hungry to prove themselves as marketers and may surprise you with their determination.
Just like outsourcing, the fantastic thing about hiring interns is that you will find a few superstars along the way. Those high-performing interns can become the foundation of your agency and may determine your core competencies.
"Don't tell people how to do things, tell them what to do and let them surprise you with their results." - George S. Patton
Enhancing Your Service Offerings
21. Partner With Other Agencies
There are very few agencies that exist that are truly "full-service" in-house. In order to offer a complete package to clients, it can be very beneficial to partner with another agency owner.
This allows you to tap into other companies' expertise and portfolio without taking on much-added risk. Plus, it may also lead to a shared long term vision and more hands on deck to achieve those goals.
There are two ways that you can set up partnerships that make sense:
White label other agencies' services. This works well if you're looking to have another agency manage smaller projects like PPC or reputation management. Here are seven services you can white label to increase the revenue of your agency.

Quarterback the relationships between clients and agencies. This works better for large projects like entire web design makeovers, strategic planning, etc. Your agency can generally work out a finder's fee system when you pass the lead over to them.
22. Think About Alternative Marketing Channels
Don't pigeonhole yourself as a basic digital agency offering web design, SEO, and PPC. There are so many other marketing channels available that you can upsell and become experts in. Here are a few new services ideas that have the potential to make a huge impact:
Experiential marketing

Native advertising such as StackAdapt

Spotify Ads (or other podcast sponsorship opportunities)

Content discovery networks

Influencer marketing
A great thing about many of these is that businesses don't have the time to learn them in-house. If you can have expertise in one or multiple, of these channels you can get lower CPAs than traditional advertising and kill it for your clients.
23. Offer Corporate Training
Research by the Society of Digital agencies found that there was a substantial increase in the number of companies that no longer work with outside agencies. These companies haven't given up on marketing altogether. Instead, they've brought it in-house. Many companies now want complete control over their own data and employees instead of handing it off to another company.
This trend is looking to continue, but you can still take advantage of this opportunity by offering corporate marketing training. This type of education is a big need as colleges and universities are still slow to catch up with the digital world.
If you have some superstar employees, think about leveraging them into teachers. For example, they could offer an SEO training course for clients who want to tackle that aspect of their digital marketing on their own. They already have the knowledge and experience that you need.
A few companies are already doing this, like Brainstation, but the demand is high and corporate pockets are deep. Training is also a great alternative for small business owners who can't afford your monthly fee.
Conclusion
That's it for our guide to 23 clever ways to grow and scale your agency. While there's no one-size-fits-all approach to growth, try a few of these tactics and see what works for you! Focus on what matters to your business instead of wasting time on reporting. Automation = scalability for digital agencies. Start using the agency tools out there that will help you scale.
Try AgencyAnalytics risk-free for 14 days. No credit card required.