StackAdapt Reporting Dashboard
Pull all of your client's StackAdapt data into one streamlined reporting platform. Create client reports and marketing dashboards that have maximum impact with minimal effort.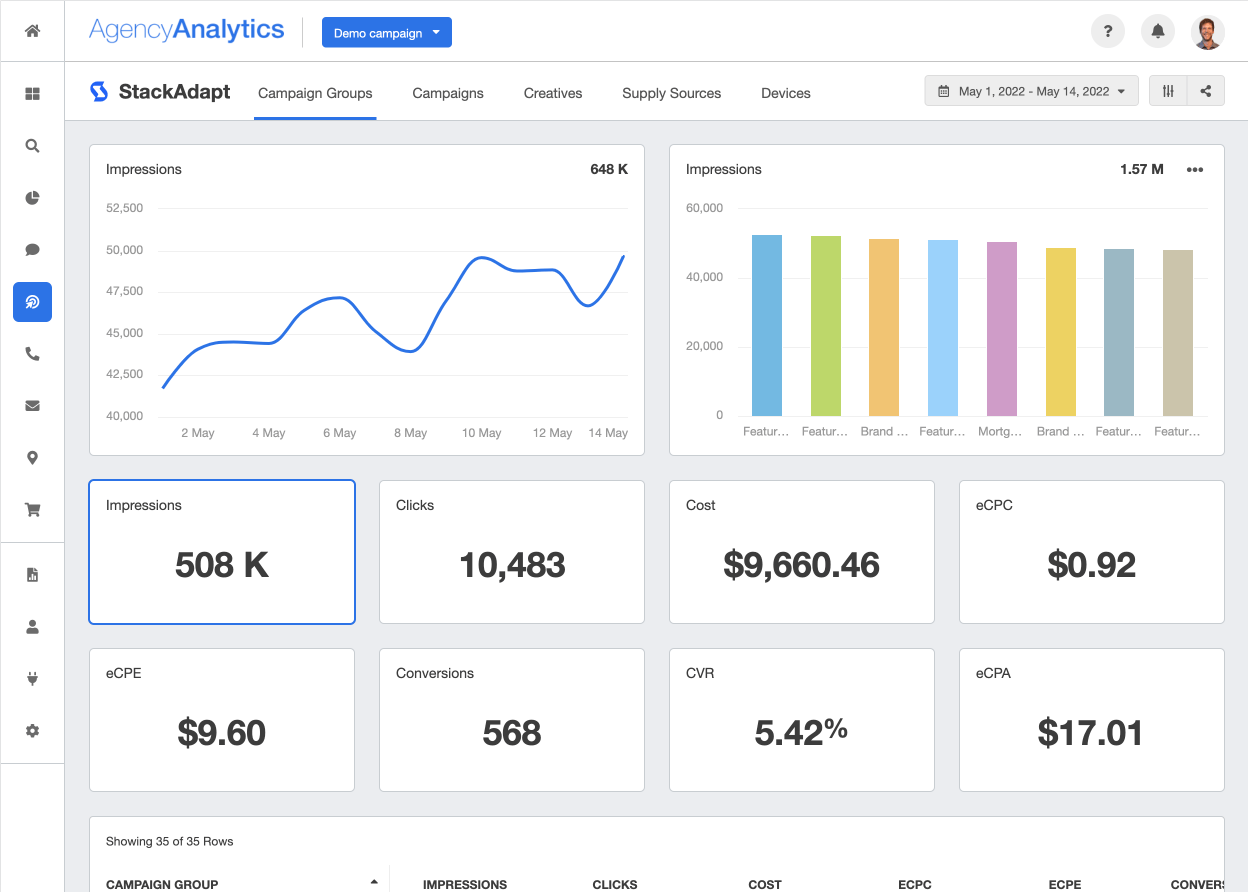 Monitor Conversions
Track each campaign's performance in a live dashboard
Granular Campaign Data
Optimize native, display, video, and audio campaigns using detailed performance metrics
Simplified Reporting
Save hours of tedious tasks by automating your agency's StackAdapt reporting and track all your marketing campaigns in one place
Highlight ROAS
Showcase the value your agency brings to the table by highlighting key success metrics
CLEAR DATA, ACTIONABLE ANALYTICS
Detailed Insights for Programmatic Campaign Data
Agencies need to create programmatic ad content based on metrics–and report on complex data in a way clients will understand. Access StackAdapt data right from your AgencyAnalytics account and watch as the data aggregates into a powerful and intuitive reporting platform.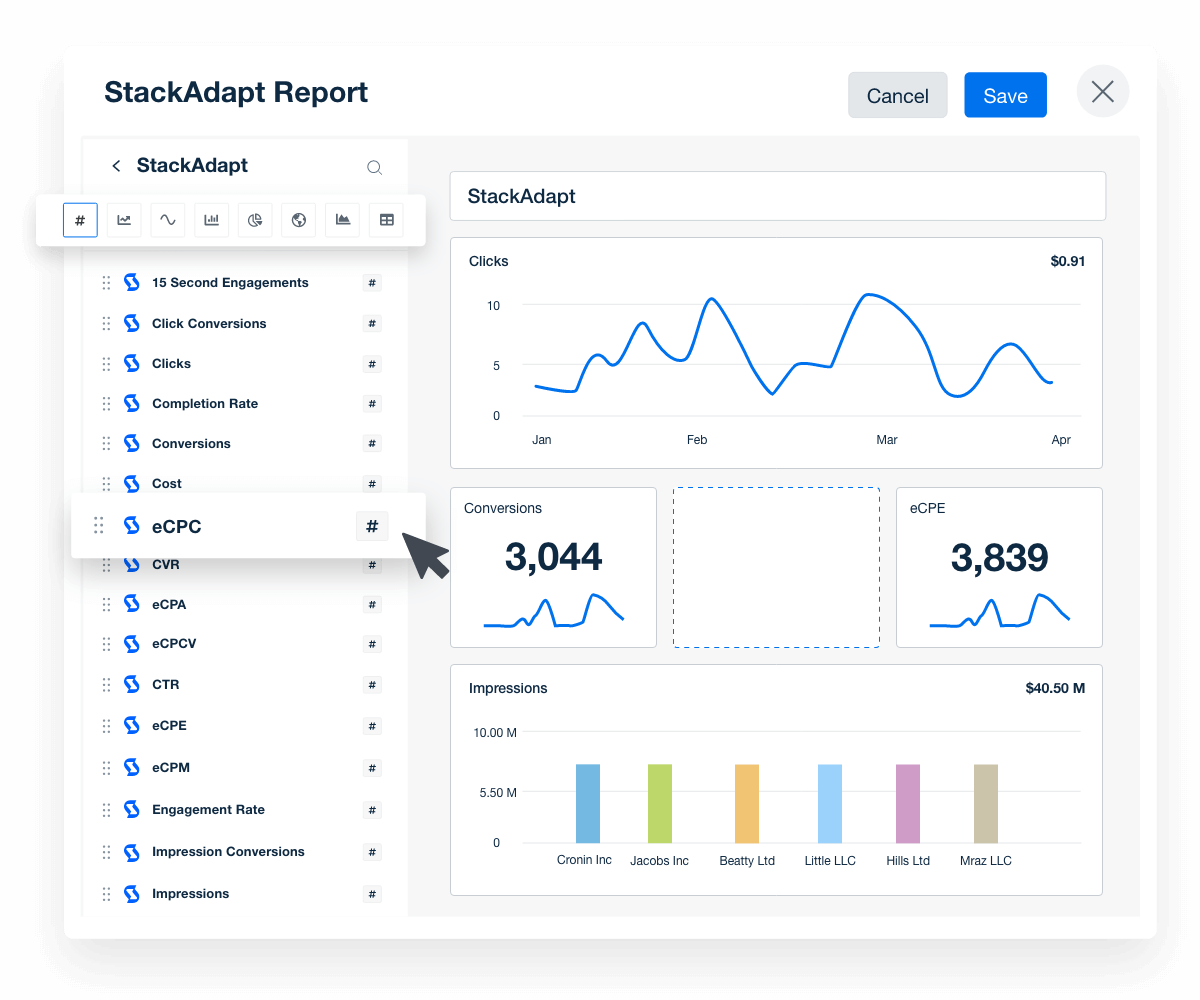 Explore All Available StackAdapt Metrics
See all the metrics you can easily add to your client reports and marketing dashboards
Audio Completion Rate

Audio Played To 25

Audio Played To 50

Audio Played To 75

Audio Played To 95

Audio Started

Clicks

Conv Revenue

Conversions

Cost

CTC

CTR

CVR

Date

Ecpa

Ecpc

Ecpcl

Ecpcv

Ecpe

Ecpm

Engagement Rate

Impressions

Page Time 15s

Page Time Total

Profit

Revenue

Roas

Secondary Conv

Unique Conv

Unique Imp

Video Completion Rate

Video Played To 25

Video Played To 50

Video Played To 75

Video Played To 95

Video Started

VTC
GRANULAR CAMPAIGN DATA FOR DEEP INSIGHTS
Actionable Data for Your Clients
Leverage campaign data to optimize ad content based on your clients' performance metrics. Track campaign performance right down to the effective cost per acquisition. Dig into StackAdapt's video analytics to view engagement metrics such as watch time, cost per completed view, video completion rate, and more.
SHOW YOUR CAMPAIGN'S TRUE IMPACT
Highlight Conversion Rates and ROAS
Summarize the results brought by your programmatic advertising campaigns including conversion rates, cost per acquisition, revenue, and ROAS–all in one dashboard. Put your agency's results at the forefront of your dashboards and client reports.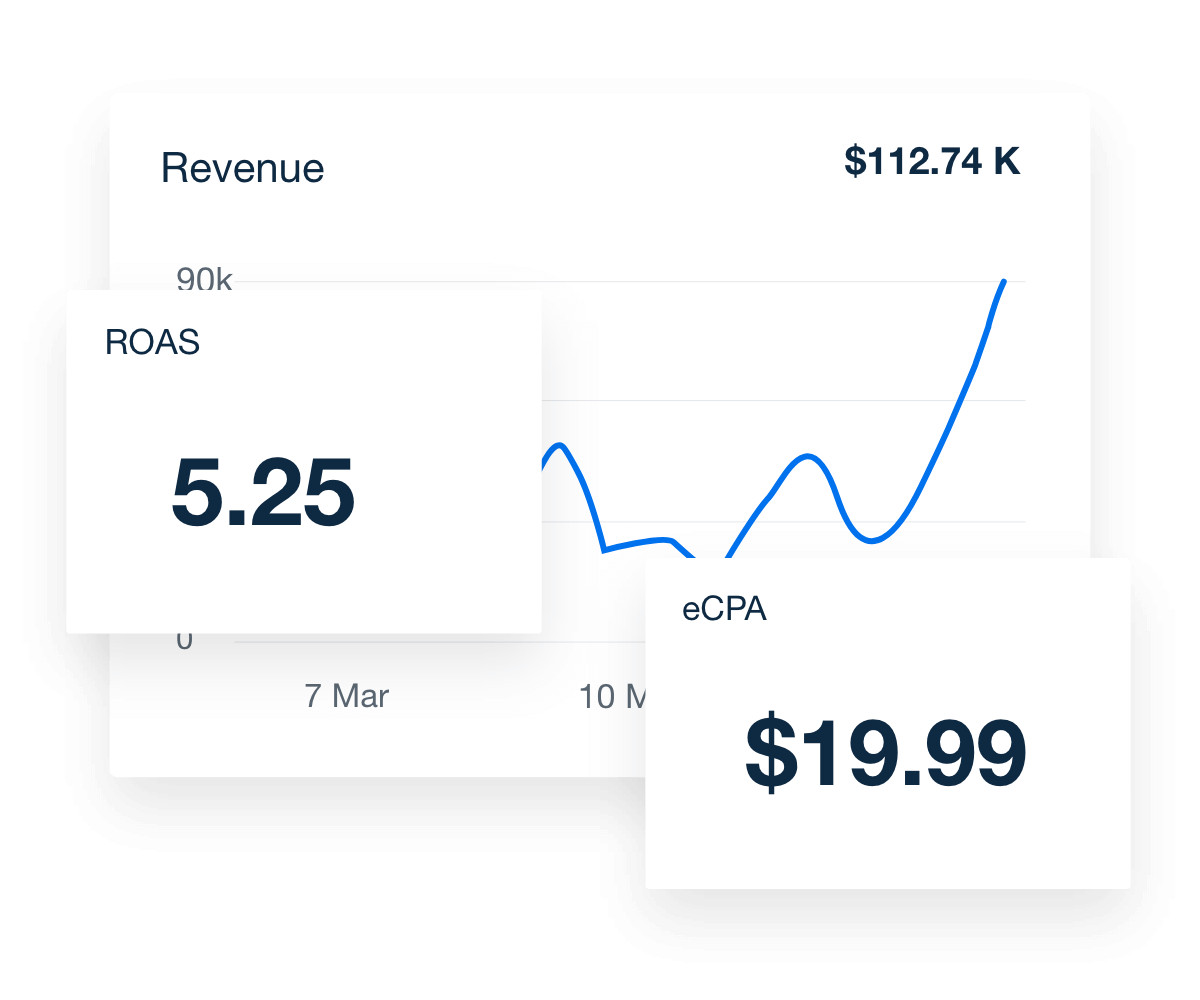 DRILL INTO MULTICHANNEL DATA
Integrate Every Ad Account
Create better ads by analyzing performance metrics at-a-glance in an intuitive marketing dashboard built for agencies. Track your clients' key StackAdapt metrics in the same platform as their other marketing programs to get an overall view of how their campaigns are performing. 
SAVE TIME & STREAMLINE YOUR AGENCY WORKFLOWS
Automate Your Client Reporting in Minutes
Put your StackAdapt reporting on autopilot and spend more time scaling your agency. Use the drag-and-drop report builder to create personalized client reports in a fraction of the time.
WHITE LABEL FEATURES SHOWCASING YOUR AGENCY'S BRAND
Put Your Agency's Brand at the Forefront
Use the white label suite to personalize your StackAdapt dashboards and reports with your own logo, brand colors, and more. Present your campaign results as if the reporting platform was built in-house. We won't tell!
Include Your Markup in All PPC Reports
Many agencies charge PPC clients a percentage of total spend. Showing clients your agency's gross PPC cost can lead to unnecessary questions and confusion. On Agency and higher plans, include your markup in all client-facing PPC cost reports automatically.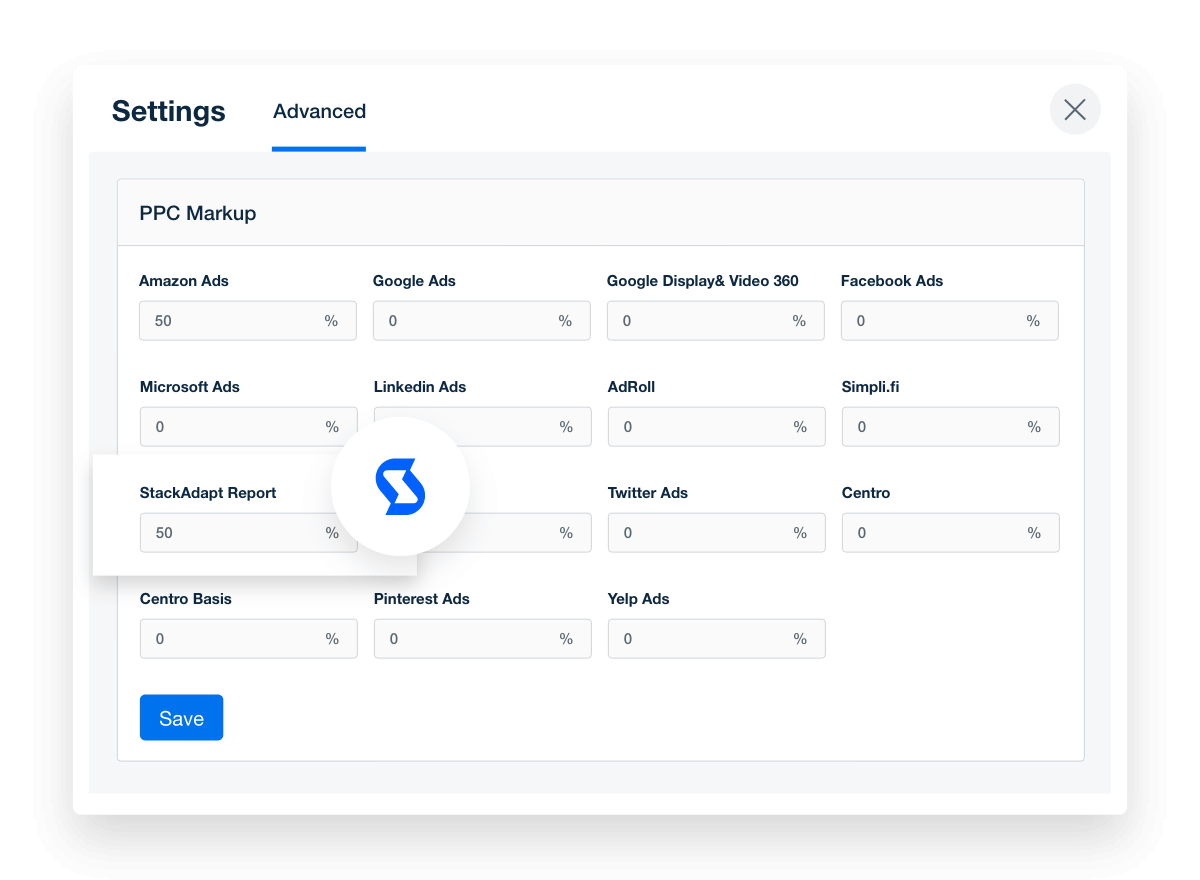 TELL AN INTUITIVE STORY WITH YOUR DATA
Add Annotations & Create Goals
Tell a story with your ad data by adding annotations and goals to your line charts and date-based column charts. The feature allows you to point out specific changes, set programmatic advertising goals, and keep clients up-to-date with the progress in the most intuitive way possible.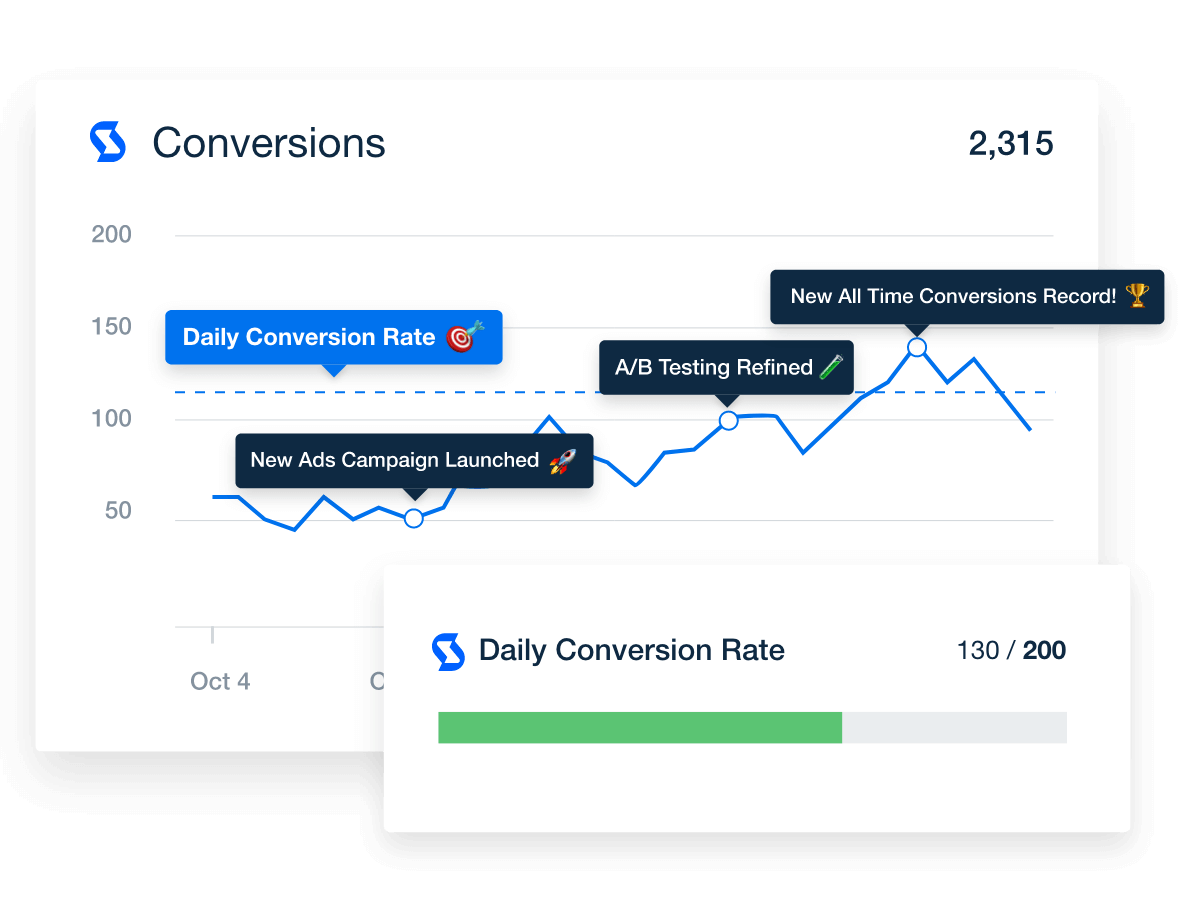 Connect the StackAdapt integration in seconds to streamline your client reporting.
Everything Your Agency Needs
Try AgencyAnalytics risk-free for 14 days. No credit card required.