Scaling a marketing agency is never easy. And although word-of-mouth referrals are great, relying exclusively on your existing clients to grow your agency's client base can limit how quickly your agency grows. 
We get it. You're so focused on lead generation for your clients that you haven't carved the time to do it for yourself. Or you have but aren't getting the right clients, or fast enough. 
Lead generation for agencies can be one of the most difficult challenges to scaling. But master lead gen, and you'll continually bring in revenue and grow your agency. 
This article will cover lead magnet ideas for agencies for you to attract the clients of your dreams.
What Makes a Great Lead Magnet? 
Lead magnets help get your prospective client's information in exchange for something valuable. A great lead magnet answers your target clients' pain points in the form of a free resource.
And that free resource can be created in a variety of different formats (surveys, webinars, contests, and more) depending on what best suits your agency's needs. But how do you create a great lead magnet that will actually do its job of generating leads? 
To start, you should be offering expert insights, insider knowledge, a quicker way to get something done, or a unique solution that solves a problem of your potential customer.
After all, if you can solve a future client's basic problem, they are more likely to turn to your agency when they need help solving more complex problems.
Great lead magnets should be well-designed to quickly grab attention while speaking to your audience's struggles.
Agency Tip: Try making the language as specific as possible to your ICP (Ideal Client Profile) while creating an easy win for them. If your lead magnet makes their day-to-day life easier, they'll associate that win with your agency's lead magnet.
How To Create an Effective Lead Magnet
There are a few things to keep in mind when building your lead magnet.
1. Make It Relevant
First, lead magnets should offer something valuable that your ideal clients can benefit from. For example, if your agency specializes in dental practice clients, try offering a guide on how they can increase patient loyalty. This offers them something valuable in exchange for their information and they may become your client down the line. 
If you're trying to attract more dental practice clients, make that crystal clear in your lead magnet, whether in an ebook, newsletter subscription, or other free downloadable assets.
Specific is always better, which may mean creating multiple resources if your agency targets more than one niche.
Lead magnets should solve a problem that is relevant to your target market, so if you've put in the work figuring out who your ideal clients are, then your lead magnet should offer a resource or service that is compelling enough for them to provide you with their email addresses. 
Agency Tip: Research the platforms where your ICP is asking questions. For example, if your agency's niche is law firm marketing and you're trying to attract more law firms, find a law forum where they're asking specific questions that your agency answers with your lead magnet.
2. Perfect Your Call-to-Action
Second, test different titles and CTAs to determine what works best for your lead magnet. It should be relevant, enticing, and specific. You may want to try something like '5 Ways to Turn Your Social Media Followers Into Customers,' for example. Putting a number in the title tells them exactly what they're going to get.
When it comes down to converting, lead magnets with CTAs that are short, clear, and actionable usually see the best results. Plus, it doesn't hurt to personalize them if you can. Lead magnet CTAs should be tailored for each specific cause.  
Here are a few CTA concepts to test:
Download Your Local Business Website Checklist Now.

SEO For Lawyers: Everything You Need to Know.

How To Create A Dental Practice Social Media Strategy: Get 10 Free Templates Now.

Click Here for Free Instant Access to the Webinar.

A Step-By-Step Guide to Growing Your Practice. Get It Now.
3. Highlight Your Unique Selling Proposition
Next, you'll want to think about how you can visually communicate your agency's value and differentiate yourself from other marketing agencies who are doing the same thing. What is your unique selling proposition (USP)? Incorporate your agency's values, niche expertise, and other factors that make you different.
"If I could give myself advice when I started Distl, I would say build an offering that's unique and offer real value to your clients. Make it clear what you provide, how it's different from what competitors do, why it's valuable, and why clients would want to work with you." - David Metcalf, Director of Distl.
4. Make Your Brand Stand Out
If your lead magnet is visually appealing, you'll increase the likelihood that your potential clients will download your resource, put in their information, etc. Just be sure to use your agency's branding somewhere in the visual so they know who to call if they want to request more services.
For example, the Australian-based agency, Oh My Digital, wasn't always crystal clear on their brand identity. 
"When we first started the agency, we felt sort of pressured to brand really neutral. Which is the biggest marketing mistake you could ever make, but when you just start out, you think you need to attract leads and work with anyone. We felt like we needed to make our agency feel really neutral and not too feminine to appeal to everyone." - Katy Gillies, Co-Founder, Oh My Digital. 
When Oh My Digital honed in on their brand identity, they began to attract the clients they actually wanted to work with. Your agency's branding and content should resonate with your target audience. 
"We love working with millennials who really want to be taken back to a time and place where everything was simpler, easier, fun, and everything made you happy. That's what our branding is, essentially." - Hayley Peters, Co-Founder, Oh My Digital.
Agency Tip: Avoid putting lead magnets all over your website. No matter how much time and effort you put into it, you don't want to compromise visitors' experience popups all over your site. Try infusing it in your blog or social media channels. On the same note, once you get their information, don't be spammy and send them countless emails.
What Should Your Lead Magnet Be About?
When you're trying to attract new leads, what topic should lead your agency's magnets cover? Think about what your ideal customer struggles with the most. For example, are they trying to get patients to open their email reminders for appointments? Your lead magnet could cover a range of insights, including how to write catchy subject lines or how to automate email appointment reminders.
The idea is to get into the minds of your prospective clients and show them the benefits your agency offers. This will also help qualify the leads coming in. You want prospects to be serious about their marketing efforts and actually have the potential of becoming your client one day.
Agency Tip: Look at your current content across your website and social media channels. What has your audience already responded to the most? If they're asking questions on a specific topic, and showing engagement on certain videos or blog posts, this can be a great indicator of what content they'll want in your lead magnet.
Lead Magnet Formats
When it comes to lead generations for your agency, there are a few different formats you can test out, including:
Webinars, online events, and demos

Ebooks, whitepapers & guides

Bonus packs

Resource libraries 

Checklists, workbooks, cheatsheets, & templates

Email courses

Free trials & special offers

Private groups or communities

Behind-the-scenes & exclusive content

Contests, quizzes, & surveys

Live chats
Best Lead Magnet Ideas for Agencies (With Examples)
Lead magnets can take a lot of time and energy to produce. We've compiled a list of examples for each format to help determine which might work best for your agency. 
1. Webinars
Live or evergreen webinars (or podcasts if that's your cup of tea) can be a great option for a lead magnet. 
You can get other experts involved to talk about a specific topic relevant to your target client while promoting your agency's position on the subject at the same time. You'll want to provide useful tips while showcasing the benefit of working with your agency. Plus, webinars position your agency as one that has the expertise your potential client needs. 
Think about the type of content you want to promote in your webinar (it could be a different topic every time), like repurposing a topic from your blog or maybe highlighting a success story from one of your current clients. Either way, just remember that it needs to deliver value to your prospective clients. 
Why It Works: 
Includes all the proper elements (heading, subheading, relevant image, CTA button) 

It clearly tells you what you're going to get 

Countdown clock to create a sense of urgency
2. Templates
Templates are low-maintenance lead magnets to try. They're the most popular option out there and it's easy to see why: they can be created in a variety of ways, such as email templates, spreadsheet templates, social media templates, etc. 
Depending on your target market, create the template you think will save them the most amount of time from creating or designing something from scratch.
Why It Works: 
Clearly communicates the value with words like "professional" and "in minutes" 

Uses buzzwords like "sneak peak" and "sample" so the user knows exactly what they're getting in exchange for their email 

Direct CTA "send it to me"
3. Checklists
If you already have instructional blog posts on your website, checklists are easy lead magnets to create. Simply take the points listed in your post and put them into a list format that can be downloaded. 
Your prospective clients may need a resource like 'How to Followup With an Old Client,' and a list with items they can tick off could be extremely useful for them. Plus, they'll always be reminded of your agency when they use the checklist.
Why It Works:
The title includes a number and clearly states what the user will receive

Bullet points communicate value 

Arrows pointing towards a clear and direct CTA
4. Ebooks
Ebooks can be a great place to start if you don't have a lot of time to create multiple lead magnets. Especially if you already have a series of published blog posts relating to one topic. 
For example, if you have three or more blog posts dedicated to social media marketing, such as:
How to Grow Your Social Media Following

How to Turn Followers Into Dental Patients

Social Media Content Guide For Dental Practices
Instead of having your prospective clients go digging for each of these topics on your blog, you can group them into a convenient ebook titled 'Everything Dental Practices Need to Know About Social Media Management.' 
Why It Works:
Colors correspond with each other making it clear and easy to comprehend at a quick glance 

Uses buzzwords to entice and create value: 'free,' 'inspired,' and 'updates' 

Creates a sense of exclusivity by making users feel like they're joining a club that so many other professionals are a part of
5. Bonus Packs
Think of this lead magnet format as additional content, or the same content in a different format. You want to reward your readers with some bonus information on the topic. 
For example, if you wrote a blog post on 'How To Win More Realestate Clients Through Social Media Ads', you could offer a bonus pack in the form of a PDF document that walks them through content ideas to create engaging social media videos. 
Why It Works: 
Uses buzzwords like 'just scratching the surface' to imply there is even more valuable content available 

Tells the user why they should download the PDF (reference for later, keep a copy, more insights, etc.) 

Short and direct CTA 
6. Resource Libraries 
Technically, resource libraries are not lead magnets on their own, but are a way to bring all of your lead magnets together in one place. It's a great way to create a list of tools, documents, and information that your future client would find useful. Would your potential clients trust a digital marketing agency to give them the best list of email automation tools to try? Probably. 
Position your agency as the expert and present a list of resources that clients would find beneficial. This could be anything from 'Social Media Management Tools: 'The Complete List' to 'The Top 10 CRM Tools to Grow Your Practice.'
Why It Works: 
Looks like a digital library with different types of valuable content (visually appealing)

Searchable for users to find exactly what they need 

Promises value with language like "level-up" and convenience with "all in one place"
7. Guides
If your target client is in an industry that is already well-established and it feels like every topic has already been covered, creating a guide as a lead magnet could work for you. 
A guide tends to follow a less narrative structure than an eBook, for example, and has more concrete steps or best practices. Typically, guides also include links to other sources of information, such as relevant statistics. However, you don't want to create a list with just a bunch of links. You want to add as much value as possible and save your audience from having to do the research themselves. Provide a brief paragraph for each and explain why you've included it in your ultimate guide.  
This option is a great opportunity to build backlink relationships as well. 
Why It Works:
Tells the user they will learn something valuable from an expert 

Clear and direct with relevant imagery that looks like a physical guide 

Well-written CTA that stands out
8. Workbooks
Using a workbook as a lead magnet allows your agency to share information in a teaching format with your ICP. Think about a particular subject you could help your clients understand more. For example, 'The Ins and Outs of Google Advertising For Contractors.' 
Your audience will learn a great deal about Google Ads and may even attempt doing it themselves. So you'll want a strong call to action that shows them hiring your agency to manage the service is the beneficial route to choose.
Why It Works: 
Looks like a physical book with a link to a sample that shows fillable workbook pages 

Shows the number of downloads to create urgency, exclusivity, and value 

Clear, direct, minimal text, so users get the message quickly
9. Email Course
An email course is a series of emails sent to an address that covers a specific topic. This is a great lead magnet option compared to a "one-and-done" downloadable resource because it gives your agency the opportunity to nurture a lead. 
People are checking their emails constantly throughout the work day (and even outside of work sometimes), so it's a great opportunity to guide a prospect down the buyer's journey. Plus, not everyone has time to commit to an entire ebook or lengthy webinar. Short snippets of information through an email course might be the perfect option for some. 
Why It Works:
Getting expert tips delivered to the user's inbox 

Tells you exactly how many chapters and how many days of content you'll receive

Relevant CTA with direct language
10. Cheatsheets
A cheat sheet may be a great lead magnet to try if you're writing a blog post that covers a complicated topic. It should be created with a few key terms that your clients can quickly glance at without having to dig through your in-depth blog post for the information they need. 
An example would be a list of hashtags they can use when they're posting to social media in the moment.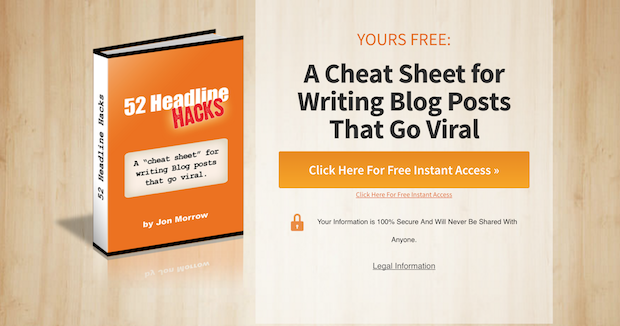 Why It Works: 
Different-sized headings to highlight important info 

Uses key buzzwords like 'free' and 'instant access' to create urgency

Clearly indicates value with relevant imagery that users can associate with your agency
11. Whitepapers
Position your agency as a credible source in the industry you're trying to reach with whitepaper lead magnets. If you've sent out a survey on a specific topic or have access to insider information, you should try leveraging your knowledge and turning it into a downloadable resource. 
Take your blog posts to the next level and re-shape the content into a report format. If you have important information that could inform their future strategies, it's highly beneficial to them, and their chances of converting could increase.
The other nice thing about white papers is that the more valuable information that is provided within the resource, the more information you can ask for in exchange.
Why It Works: 
Active language like "read how" gives the reader a sample of what they can expect 

Personalized language calls out a common problem of their target audience: "CMOs face a major dilemma" 

Tells the user what value they will receive with a clear CTA form to fill out
12. Free Trials & Special Offers
Let your services sell themselves. If your agency can afford to hand out a special offer or a free trial period, you have some time to woo your prospective clients. Offering a Free SEO Audit or Free Social Media Audit could be a great lead magnet and get the ball rolling with a new prospect. 
If you can't give out your services for free, maybe a free consultation is the way to go. Provide your leads with a marketing strategy if you think that will get your agency's foot through the door.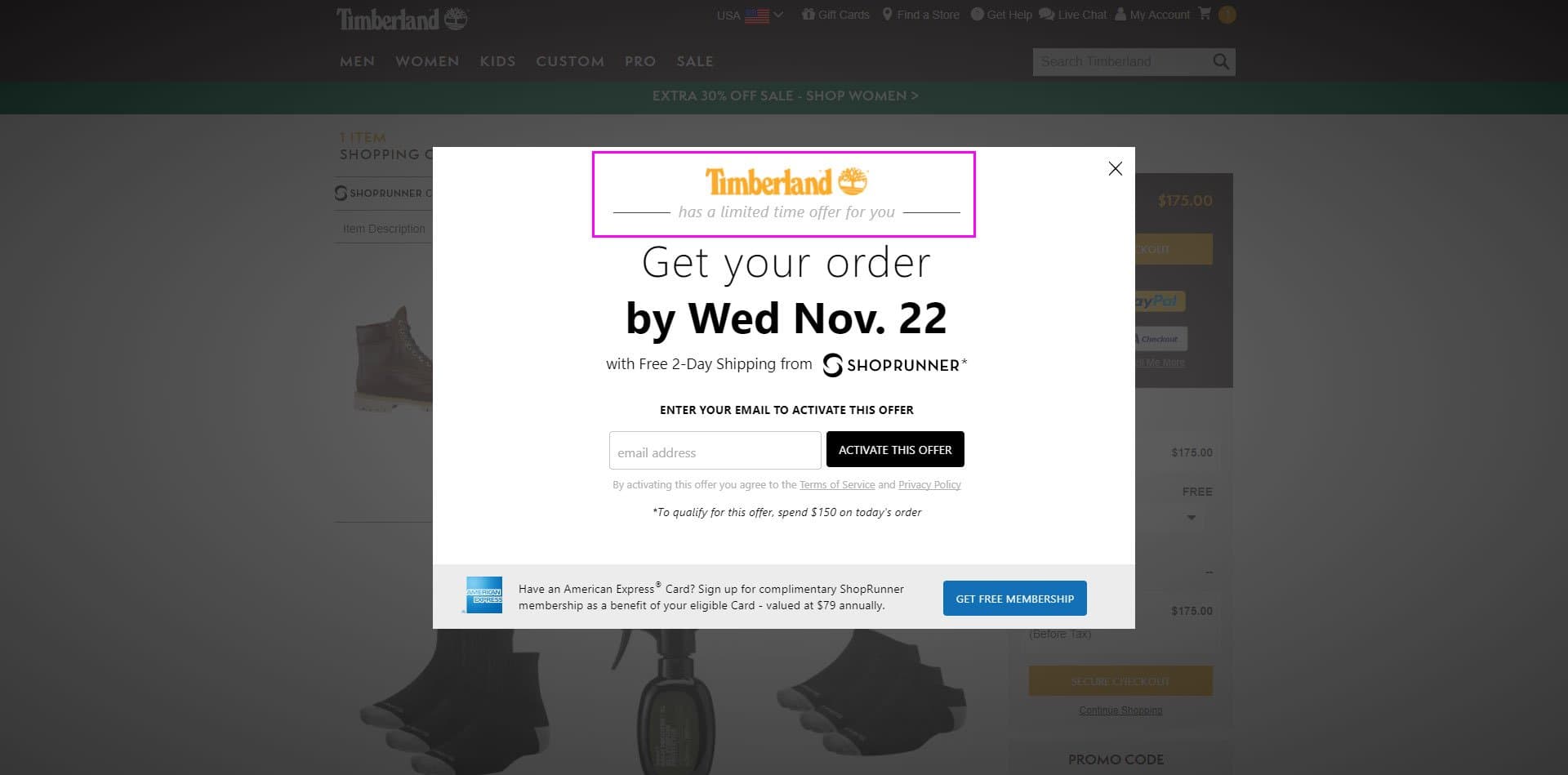 Why It Works: 
Creates a sense of urgency, with the date being the focus 

The brand is clear and evident 

Communicates what the user is going to get
13. Private Groups
Private group lead magnets (like Facebook groups/LinkedIn groups, Slack channels, and email subscribers) are the perfect way to keep in touch with your leads. Many business owners like to network and connect with like-minded people, so they would likely be interested in a space to discuss their needs and challenges. 
Plus, it's a great way to gain insight on related topics you could help them with down the road, use for content created, and more. Creating a group helps your agency generate leads and ultimately know your audience better.
Why It Works: 
Creates a sense of urgency with wording like "choose wisely" 

Makes use of exclusivity words like "community" 

Clearly states what value you'll get by entering your email "save 30% of your time"
14. Behind-the-Scenes & Exclusive Content
If your agency has any behind-the-scenes content or 'secret' insights that could be turned into a lead magnet, definitely give it a try. The aspect of a secret or exclusivity is enough to capture a lot of people's attention, and it could work very well for your audience. 
Why It Works: 
Positions their company as the expert by using "learn from the pros" as their title also creates exclusivity

Relevant image of a graph implying growth, i.e.: value the user will receive 

Direct with minimal text and a clear CTA
15. Online Demos 
Does your agency have the capacity to offer a demo of something beneficial for your leads? Perhaps you could walk them through how to use a particular software or how to create an organic social media post to show that you're there to help them save time and money.
Why It Works: 
Lists the value you'll get in easy-to-read, scannable bullet points

Verifies the value of the demo with crowd-funded statistics, i.e., "why leading organizations choose Udemy" 

Personalized CTA "get in touch" instead of something generic like "enter me," for example  
16. Contests
Contests can be great lead magnets as they give your prospects a chance to win something in return for their information. However, choosing the right prize will be the key to motivating them. Offering something or creating a contest that is not specific to your audience could lead to a bunch of irrelevant content submissions.
Your agency could give away a consultation package valued at a certain amount, which could help with business costs. You just want to get them excited about your giveaway, so it has the potential to take off and get other leads excited about it as well.
Why It Works:
The imagery clearly tells the user it's a contest 

Corresponding words like "win," "spree," "free," and "discount code" are used 

Enticing CTA that makes a user trade their email for a chance to win
17. Quizzes & Surveys
Quizzes or surveys are great lead magnet options as they provide valuable insights from your prospective customers as well as their contact information. Repurpose the insights you gather from your surveys and sprinkle them throughout blog posts, social media, etc.
Why It Works:
Intentionally asks a question in the headline to entice the user 

Positions themselves as the experts by offering advice: 'you must clearly define your ideal clients'

Simple, clean design with clear CTA that stands out
Agency Tip: Be sure to let everyone know that their opinions could be published on various platforms. It's the right thing to do from a permission-stand point as well as lets them know they will benefit from cross-promotion.
18. Online Events
Creating an online event gets everyone involved in one 'gathering' to discuss a topic they're interested in. Simply ask people to input their email addresses in exchange for an invite to the online event.
Similar to a webinar, this lead magnet is intended to highlight industry thought leaders and give your prospects the opportunity to learn and exchange knowledge. However, online events tend to be much more interactive and include different topics or tracks that can appeal to different users.
Why It Works: 
Includes a countdown to create urgency 

"Add to calendar" button for convenience 

Clearly laid out details ie: date, time, virtual location, price
19. Live Chats 
Because chatbots are so popular, why not try one for your own agency? Set it up on your website and rely on the chatbot to sort any potential leads with pre-set qualifiers. No need to set up popup forms or any additional work. It can be a great option that filters your leads right to your CRM tool.
Why It Works:
Sprout Social uses a chatbot that looks like it's part of their team (even if it was) that personalizes the experience: 'Team Sprout' 

The prompt is also personalized: 'You're becoming a regular around here'

Utilizes clickable buttons to get a conversation started to make it easy to send in a request
Make Your Agency's Lead Gen Tracking Scalable  
At the end of the day, any lead magnet ideas you use are only as good as the leads it's generating. After all, what agency wants a lead magnet that's bringing in unqualified leads? 
Just be sure to make it relevant to your target client, and create an unstoppable CTA while highlighting why this user should trust your agency. 
After you put in the effort to create your lead magnet, you'll want to track your success along the way to adjust your agency's lead generation strategy. Use AgencyAnalytics for your own campaigns to stay on top of all your lead acquisition metrics and streamline your marketing processes. 
Follow up with leads, create filters, and more without spending too much time.
AgencyAnalytics is the only reporting software made for digital marketing agencies. Win back more billable hours by streamlining your client reporting. Start your free 14-day trial today.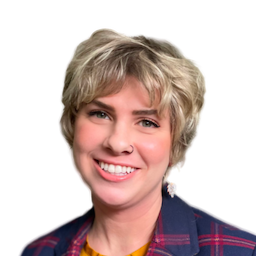 Richelle Peace is a joyful writer with a degree in Journalism. She loves writing web content, blogs, and social media posts. Whatever the topic, she's fascinated by learning and sharing.
Read more posts by Richelle Peace ›
Try AgencyAnalytics risk-free for 14 days. No credit card required.