Let's say you've been running a successful dental marketing agency for a few years. You've got a great list of happy clients and a talented team, but you're still growing and adding new clients to the roster.
At a certain point, you'll feel like you've reached a tipping point. Maybe you've already reached it–are you getting so busy that you don't have time to go after new clients? Or have you surpassed all of your old goals and you want to set new ones? 
Whatever the reason, you'll eventually start asking yourself one of our most frequently asked questions: 
"How do I grow my dental marketing agency?"
This article answers that question! First, we'll look into why scaling a marketing agency can be so challenging, before finding the best ways to make it happen. 
Why It Can Be Difficult to Grow a Dental Marketing Agency
Before we get into some of the specific tips for scaling your dental marketing agency, we should dig into why scaling a marketing agency can be so challenging to begin with.
First and foremost, it comes down to the nature of the business. Agencies are service-based (as opposed to product-based), which comes with a whole host of issues that make it difficult to achieve economies of scale. 
Things like:
One Size Does NOT Fit All
Much like a dental retainer, one size does NOT fit all and if you try that approach, your clients won't be happy. 
Dental marketing agencies provide a highly specialized and customized service, which means they must come up with marketing strategies and campaigns that are tailored to the particular needs and brand of each and every client.
This isn't like selling a product where every customer gets the exact same thing. For every new client your dental marketing agency acquires, it's back to the drawing board (in the creative sense, at the very least!).
What works for a general dentist, may not work for an orthodontist or an oral surgeon. And a pediatric dentist will need a different approach than one who focuses on an adult client base. But there is an advantage to having specialized in the dental realm.
"It is a lot easier to sell services when you pick a niche. You need to have really tailored content solutions for your clients because you need to know who you're speaking to. We realized we needed to make industry-specific content." - Lane Rizzardini, Co-Owner of Marion Relationship Marketing.
Of course, that doesn't mean you have to start from scratch with every single client, as the best dental marketing agencies have well-defined processes and procedures to ensure everything runs smoothly. Plus, your agency has some experience regarding what will and won't work in the space that can be repurposed. But more on that later. 
The Need For Clean Client Onboarding
During the client onboarding process, you have the opportunity to develop a close, one-to-one relationship with the client, which can help you create some truly outstanding work that really blows them away.
But think of your agency's onboarding process and what it's like. 
Do you have an initial discovery meeting before submitting a proposal? Do you send out a client onboarding questionnaire to gather any necessary intel on the client? And after the client approves the proposal, do you have a kick-off meeting where you hopefully find that your new client already has well-established brand guidelines? If they don't, is it up to your agency to create them?
Any of these steps can set off a whole other chain of events that can increase the scope and workload exponentially... see how fast things can get out of hand?
That's typical at many agencies, but how long does the whole process take? And more importantly, how do you make it scalable?
What it ultimately comes down to is building the relationship between your marketing efforts and client value, with a focus on results.
"The client doesn't care if you're spending $1,000 and they're making $3,000. As long as we add the right tactics and show them a return on investment, they're going to be happy." - Mark Jamieson, Managing Partner of WSI eStrategies.
By setting clear goals, processes, and checklists for client onboarding, client management becomes much easier. And when client management is easier, it gives your agency time to focus on scaling.
Attracting the Best Talent
A growing agency requires more people to power it, but it's even more challenging these days to find and retain top talent. In the wake of COVID, people want more flexibility and a better work-life balance, and the agencies that can adapt to this have a competitive edge.
What's more, as the job market slowly starts to improve, people are becoming choosier about where they work. They want to know that their company values them and is doing everything it can to create a great working environment.
So, how do you attract top talent in today's climate? Here are some tips:
Define what you need - be very clear about the skills and experience that are required for the role.

Write an enticing job ad - include information about your company culture, what makes you unique, and what the successful candidate can expect from the role.

Use social media - use LinkedIn, Twitter, and other platforms to share your job ad, as well as articles, blog posts, and other content that will give candidates a sense of what it's like to work for you.

Offer competitive pay and benefits - make sure you're offering a package that will attract the best talent.

Provide training and development opportunities - offer training, certification courses, and development opportunities to show that you're invested in your employees' careers.

Create a great working environment - develop a working environment that people will actually enjoy coming into each day.
"If you throw a toxic client into your account management team, then that creates negativity and stress," adds Oliver Wood, CEO of PWD. "And then they start not wanting to come to work or go looking for other jobs. So it can be really damaging for your agency,"
Size Matters, Too
But even if you have the best talent, the size of your team can be a big limiting factor in scaling your dental marketing agency. Account managers typically handle 4-8 clients, but that number can vary widely depending on capacity and workload.
You should also consider the workload of the other people on your team, such as your graphic designers, SEO specialists, copywriters, and social media managers. Will they be able to handle a sudden influx of new clients? Otherwise, these positions will need to be scaled up with your business as well.
You might think your team can handle the increased workload, but is it sustainable in the long run? 
We highly recommend against stretching your team too thin because that leads to burnout, low morale, and in the worst-case scenario, employees quitting. And being in a specialized niche like dental marketing makes it more difficult to find qualified people who know your industry.
Investing in the right tools that help your team do their jobs efficiently is also a great way to help your team do more with the time they have.
How to Grow Your Dental Marketing Agency
Hint: We're talking about a different kind of dental scaling! 
Now that we know some of the biggest challenges you'll face when scaling, let's take a look at some of the proven ways to grow your agency.
1. Network
Dentists can be a tight-knit group. Oftentimes, dentists know each other or at least know of each other from the numerous dental-related conferences they've attended over the years. Many dentists even spent four years together in dental school.
Just think of the huge network of contacts a dentist probably has–it's like a dental marketing agency's dream list. 
Encourage Referrals
That's why your existing dental clients can be one of your biggest promoters to help you get more clients. Word-of-mouth is just as important in the dental industry as it is elsewhere, and maybe even more so as dentistry literally involves putting your money where their mouth is!
That's why dental marketing agencies need to encourage referrals and even incentivize clients to do so. Everyone loves helping their friends out, and if dentists can help their friends and get something out of it too, then everybody wins!
"We still get the largest amount of our business from word of mouth referrals. We invest a lot of money researching before we take on a new client. We do this to make sure that we deliver and to make sure these clients will become ambassadors and refer our business." - Bodie Czeladka, Creative & Managing Director at Dilate Digital.
Because Dental marketing is very location-specific, your current clients can recommend you to other dentists in other locations without the concern of a conflict between clients.
You also want to encourage clients to give you reviews and testimonials as well. Whether written or video, these can be used on your agency's website and show off your results.
But Don't Be Too Pushy
Be careful not to come off as overly pushy because it can alienate your clients and may come off like you're trying to use them. 
Word of advice: make it as easy as possible for clients to refer you and leave reviews and most importantly, make it optional (and not a demand). 
2. It's All About the Process
Your processes are very important when it comes to scaling your agency. As the set of rules and guidelines you follow, your processes provide consistency in your approach while also standardizing things to optimize efficiency.
One of the best resources when it comes to improving your processes is your own team because they're the ones who deal with it day-to-day. So ask your employees what some of the biggest pains are and how to improve them, and be prepared to listen.
"Building trust with your prospective new clients and your existing clients generates referrals while focusing on your team helps to evolve systems, processes, and ultimately grows your agency." - Stena Lambert, Director of Vortala Digital
Whatever your processes, make sure they are:
Iterative: Your processes should be easy to repeat but also be able to adapt to changes in strategy and direction. 

Trackable: This will help you evaluate how well your processes perform over time and whether you're meeting your performance goals.

Scaleable: Processes need to grow as your agency and your clients do. If the process will break if you add one or two more clients to the mix, it is not a scaleable process.
Dental marketing agencies should find out the best practices for their industry and incorporate these findings into their own guidelines and processes.
3. Upsell Existing Dental Clients
One of the best ways to build new business is by expanding your efforts with current clients. As your dental marketing agency becomes more successful, you'll have the opportunity to upsell your services to existing clients.
Think about it–if a client is happy with the work you're doing to attract new patients, they'll be open to paying more for additional services that can help them grow their practice even further.
Here are a few ideas for services you can upsell to your existing dental clients:
Track data your agency doesn't manage - Your current focus may be on paid search, but that doesn't mean you can't provide their organic keyword rankings, social media stats, and other data points from the 75+ integrations in their reports. Even if your agency doesn't manage those programs, providing that data gives you a perfect opportunity to highlight areas of opportunity.

Create and send a professional proposal - Now that your agency is tracking that data, you can quickly and easily convert that into a professional SEO proposal or Social Media proposal. In minutes, you can have a complete and detailed outline of what is currently working and what could use some additional attention.

Step into bigger budgets - If your agency is paid on a percentage of spend, clearly proving the ROI of your digital marketing efforts is a great way to drive increased spend, which–in turn–creates increased agency revenue.
4. Turn Your Services Into Products
Earlier, we cautioned against taking the one-size-fits-all approach, but standardizing your service offerings can be a huge help in scaling your dental marketing agency.
For the sake of convenience, many agencies offer tiered packages to give potential clients an idea of what they'll get for different budgets. Not only does this help agencies look more trustworthy because it gives more transparency into your pricing and services, but it also helps potential clients quickly find the agencies that are right for them.
Vortala, an agency that primarily works with health care clients, has created different levels of packages to meet the needs of a variety of clients. 
"We recently launched the Ultimate Plan and this is for our clients that really want to invest in their practice growth," says Lambert. "Our teams make recommendations based on who the client's competitors are, how many there might be, etc., and provide the best package to meet their needs and budget." 
Having a package-based model also enables Vortala to upsell other packages in the future if their clients are performing well and exceeding the limitations of their current plan. 
"We have some clients that are on the Premium Plan and don't necessarily need to upgrade but they sign up for the Ultimate Plan anyway because they want that extra level of service," says Cherie Dickey, Team Leader, SEO at Vortala's Smile Marketing division. "And it's not always just about upselling. We're really focused on what the client's needs."
It may be tempting to look to your competition for inspiration but before you follow them too closely you should ask yourself if the services truly add value to your clients, or are you just keeping up with the trends and doing what everyone else is doing?
5. Remote-First Work Culture
As we touched on earlier, having a remote-first work culture is one of the best ways to address the challenge of finding and attracting the best talent. Not only does investing in a remote-first work culture help agencies cut back on operational expenses as you save money on rent and equipment, it makes it easier for agencies to rapidly scale. 
And there are plenty of ways to foster teamwork, even when the team is working remotely.
"We do something called 'meet and learns'," explains Heather Mikolajczak, Senior Digital Marketing Specialist at Vortala. "We're paired with an individual throughout the entire company every other week and we learn about them personally and about their role. In my role at Vortala, I'm always asking everybody to do things for me and my clients, so it's nice to get to know those people on a personal level and make that connection." 
A remote-first work culture also improves morale because it enables a better work-life balance for your team and studies have shown it even increases productivity. It also makes it possible to work with some of the best dental marketers in the world because you are no longer constrained by geographical location.
"You have to be investing in your people and your culture to grow your agency, which will then translate to your clients." - Stena Lambert, Director of Vortala Service.
A few things to keep in mind when adopting a remote-first culture are that it can be more challenging to create and maintain a sense of company culture and you need to be aware of working hours if everybody isn't in the same time zone.
6. Niche Down (or Niche Up)
To truly offer value, you should find what your dental marketing agency does best and niche down to differentiate your agency from the competition.
Don't be a jack of all trades and master of none. 
"No agency can specialize in everything. It's impossible because there are too many moving parts. And if you try to be a master of everything, you'll be a master of nothing." - Mark Jamieson, WSI eStrategies.
Although being focused on the dental field is a niche of its own, there are ways to niche up or down to maximize your agency's efficiency. For example, you could focus exclusively on building dental-focused websites, or you could offer a digital service that includes websites, paid search, SEO, and social media.
Finding the right balance of what services your agency excels at within the digital space may take time, but when you find that sweet spot, scaling becomes that much easier.
7. Keep the Right Tone of Voice
Typically, the dental industry expects a tone of voice that conveys a level of professionalism, much like the medical and healthcare industry as a whole.
As Cherie Dickey explains, a dental practice's web "needs to build trust with potential patients and position you as an authority in your field." The same applies to how your agency communicates with dental professionals.
As a dental marketing agency, you'll mostly be speaking to dentists and dental office managers, so it's important that you speak to them in the right way with a more conservative and traditional tone of voice.
For example, in emails to dentists, make sure to include "Dr." or their post-nominal letters (ie. DDS or DMD), and if you're talking to them in person, call them 'doctor' instead of their first name. At least until you know them well enough to use their first name.
In general, particularly in the early phase of your agency/client relationship, this is not the place to be using casual, conversational copy–unless that tone of voice is actually part of your client's brand.
Wow Your Dental Clients With Beautiful Reports
These days, there's so much data to keep track of and make sense of that when it comes to client reporting, you don't know where to start. Luckily, there are tools out there like a custom marketing dashboard that makes visualizing all of that complex data a breeze.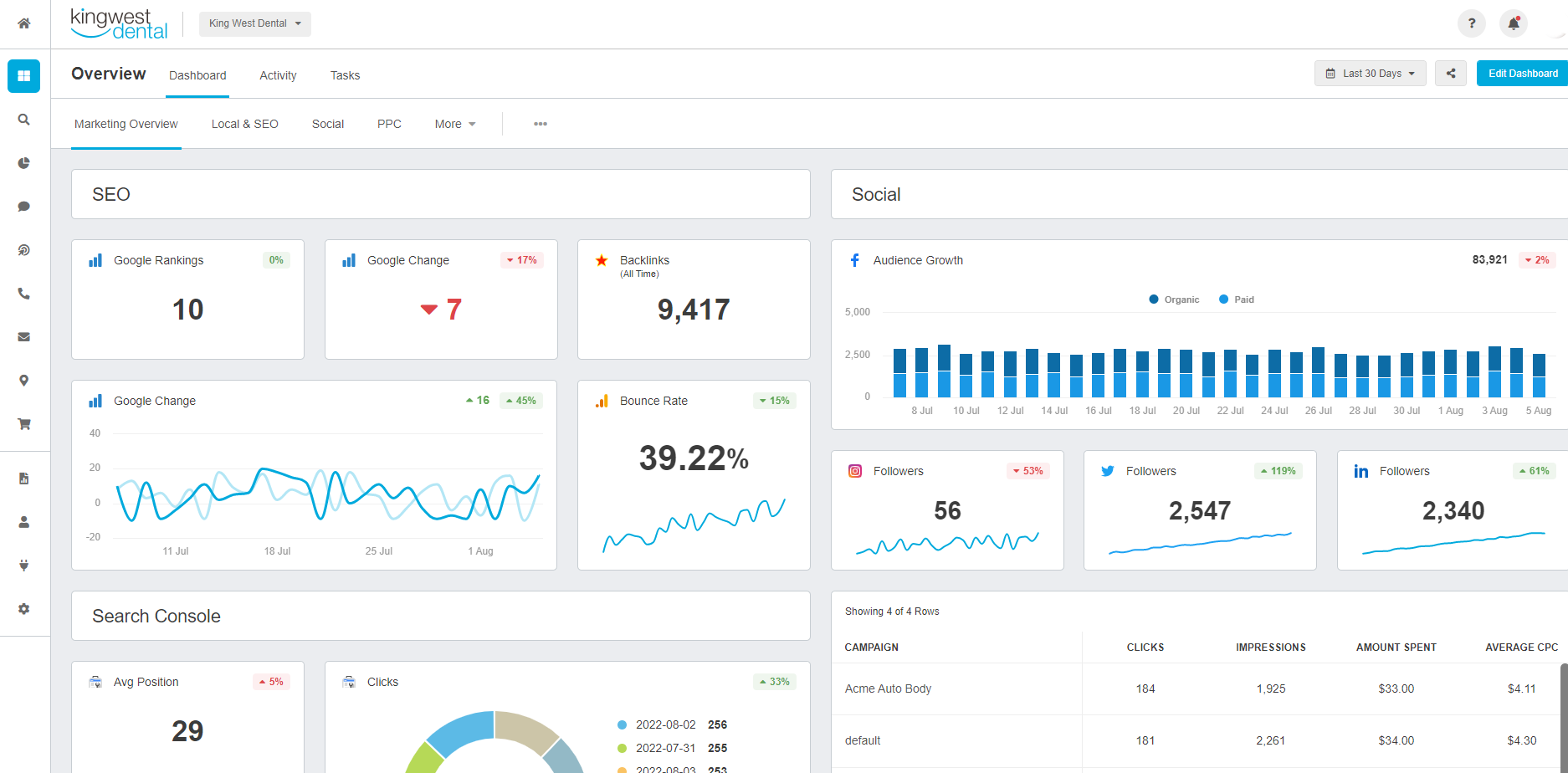 On top of that, white label reporting gives you full control over your agency's branding while bringing your data reporting capabilities to the next level. Streamline your client reporting and free up time to focus on growing your digital marketing agency. Try it free for 14 days. 
Michael is a Vancouver-based writer with over a decades' experience in digital marketing. He specializes in distilling complex topics into relatable and engaging content.
Read more posts by Michael Okada ›
Try AgencyAnalytics risk-free for 14 days. No credit card required.