Somewhere between prospecting and closing a new social media client, you're going to need to provide a strong social media proposal to seal the deal. And you're going to need automated client reporting to keep them coming back.
Every growing marketing agency feels its wheels grinding to a halt when one part of its client acquisition workflow isn't up to scale. Instead of stopping to onboard new clients, have them hop on your train and get that ROI in front of their eyes. 
This article will explore how to prepare a strong social media proposal and exactly what to include in your social media proposal template so that your marketing agency can confidently onboard new clients at scale. 
We will also show you how setting up a social media dashboard and an automated social media reporting template can highlight your ROI to new clients right off the bat.
This guide includes: 
Let's get started.
What is a Social Media Proposal?
After you've brought a prospect into your agency's sales funnel, a social media proposal is your chance to outline how your skills, past experience, and strategy will benefit their business.
Since a proposal will typically come after an initial consultation with the prospect, the document should highlight your understanding of their current situation and how social media marketing will help them achieve their goals.
Whereas an initial consultation with a client will often be a more informal conversation, a social media proposal formalizes your ideas, strategy, and milestones for the project. 
In the early stages of running a social media marketing agency, many marketers will opt for using a Google doc or similar free tool for creating the document. At a certain point, however, it makes sense to upgrade your proposals with software to streamline the creation process and white label it with your agency's branding.
Why Create a Social Media Proposal Template for Your Agency?
Growing agencies need scalable solutions. But to grow, you need to seek out new sources of business instead of waiting for customers to come flocking to your agency's door. A well-crafted social media proposal will help your agency stand out among the dozens (if not more) proposals that your potential client will be reviewing. 
Working from a pre-defined template will streamline your marketing team's client acquisition efforts and help drive a lead-generation mentality. Additionally, it will significantly reduce friction and increase your response time to incoming requests. 
A template–whether in a PDF, Powerpoint or other formats–is a scalable part of an agency's growth plans. Every social media proposal template should be built around helping your prospective agency clients know exactly what your agency can do for them, and why you're the best choice. They need to know that your agency is equipped to help them grow their brand using social media.
When Is the Best Time To Send a Social Media Proposal?  
This will depend on whether or not your agency received a proposal request or is doing the prospecting. If you're responding to a request, the rule of thumb is to respond within 24 business hours, and no later than 4 working days. Having a framework for your agency will help speed up your response time. 
Otherwise, your agency should send the proposal as soon as it knows what your prospective client wants–ideally having it ready for your first sales call to give you the chance to respond to any objections. If you're relying on email to send your proposal separately from a call, the best time to send emails is at 11 am (your prospect's local time) as it gets the most attention according to Hubspot. 
The Most Common Types of Proposals
If your agency hasn't yet ironed out its sales process, it's likely hurting your growth. An agency can whip out a social media proposal when a client has shown interest, or when that agency is prospecting a new client and is specifically trying to convince them to switch to their services. 
The following are the 4 most popular times that agencies use a social media proposal: 
1. Prospecting
Put your best foot forward when reaching out to potential clients by showing that you've put some thought into how your agency can help them. Although this could be very time-consuming to do for every potential client, and it's unlikely that you would put the effort into creating a comprehensive proposal for each prospect, a streamlined social media proposal could be an excellent way to start the conversation and differentiate your agency. 
At this stage, you may want to invest a little less time in each proposal, so you can easily adapt our Proposal Report Template to fit the needs of a social media marketing agency. This can significantly cut down on how much time it takes to create something of value for potential clients.  
2. Responding to an inquiry
Whether it's a formal RFP (Request for Proposal) or someone who has reached out to your agency to ask about your social media services, replying with a social media proposal instead of a standard sales letter can help your agency stand out amongst the competition. 
Whether you go with a full-blow proposal or a more streamlined version will depend on how much information you have available as well as the potential value of the client.   
3. Closing
If you've had some initial conversations with a potential client, a well-crafted social media proposal can help seal the deal. 
This is usually categorized as the 'conversion' stage, where you're actively convincing clients to choose your agency over a myriad of other agencies–or freelancers– who might be offering a similar deal. 
This is where you separate your agency from the competition, and thus each proposal needs to be personalized and well-researched. It pays to spend the time on a solid proposal that can land you a new multi-figure client, but nobody said you couldn't use a template. 
4. Upselling
Upselling clients is an essential part of any business strategy. With existing clients, you already know a great deal about their business and may not need to write up a full social media proposal. In this case, use your existing social media analytics as a tool to convince your clients of additional services that are necessary.
If you have been working with a client on other services, such as SEO or PPC, a well-crafted social media proposal can help you add those services to their portfolio.  
These are usually best if you have enough of a relationship with the client to integrate their current social media platforms into the AgencyAnalytics platform. That way, you can highlight their current performance and point out ways that you can improve their social media presence.
Having a template will allow your agency to scale, by clearly highlighting what needs to be done and when.
Read more: 6-Step Client Onboarding Checklist for Agencies 
Here are 6 steps your agency can streamline every time there's a new prospect on the horizon. 
6 Steps To Writing a Social Media Proposal
This is how to create a winning social media proposal.
Step 1. Understand your clients' business and their social media objectives.
This is the part that will take you the most time: research and discovery. It is also a very important part of the proposal because it will identify your prospective clients' pain points which you will later address. 
This type of R&D will be hard to find online, so you'll need to get it straight from the source. Set up a Zoom meeting to address the following questions with the agency.
What are your potential clients' business goals? 

What are their social media goals? *these last two will go hand in hand and help you highlight your ROI in a killer social media report once you land them 

What kind of timeline do they have to reach these goals? 

What challenges are they currently facing, and how long have they been facing them?

What was done in the past to address these challenges, if any? 

What have they done in the past that worked? 

What does their current social media use look like?

What's their budget?
Take notes.
If you're really scaling and don't have time for a call, consider sending out a standard intake form for your potential clients to fill out. Or, if your agency has received an RFP, absorb everything in the document and try to answer the questions above yourself. 
Is their goal to increase leads and conversions across the board? Are they specific to increasing sales directly on their Facebook Shop? Or perhaps just a general uptick in key Instagram metrics. Maybe they need more website visits from Twitter and LinkedIn. This will also help you understand the scope of the project and whether it is realistic within the budget. 
Step 2. Understand your clients' audience.
You can ask this to your prospective client in case their social media channels don't already address their audience. If they're a bigger company, they might have already done this research for you. It might also be good to see if there's a discrepancy between their goals and their current social media audience or messaging. It will also help you form your social media strategy and even select the right channels to focus on.  
Consider: 
Demographics: age, gender, occupation, whether they are single or have children

Geographic location data: what country, are they in the city or in a suburb, what language do they speak 

Psychographics: what do they believe in, what are their hobbies

Behavioral patterns: what are their consumer behaviors like, how often do they travel
Once you have all your data on their audience, create three different buyer personas for your agency– this will be the voice of your prospective clients' customers and inform how you speak to them in all your marketing collateral. Ensure that these personas match the business goals, and ensure that the connection is clear as a bell to your prospective clients. 
Step 3. Do a competitive analysis from a social media standpoint and SERP standpoint.
Your social media proposal will also prove to your potential clients that you know their competitors better than they do. They might already have touched upon their competition during initial discovery talks, but as an agency, you have research tools at hand that can look at deeper insights on their competitors from a SERP and social media standpoint. Choose around 5 of the stronger ones to benchmark against.
Who are your prospective clients' key competitors? Are they competing in the same niche, or for the same audience? 
From a social media standpoint, your agency has access to social listening tools like Twitter Advanced Search and Hootsuite to monitor competitors' activities across social media channels. Find out:
Who are their top 5 main competitors on social media?

Which social media platforms do their competitors use?

How well is their social media strategy working for them? 

What is their following?

How many times do they post?

What is their engagement rate?

Who are their top followers?

What hashtags do they use the most? How many?

Are there types of content their competitors create that your agency would like to replicate?
Let's look at how to get this intel.
From a SERP standpoint, your agency can use Google Adwords Keyword Planner to look at:
Step 3A: Competitive keywords that are attracting your prospective client's target audience.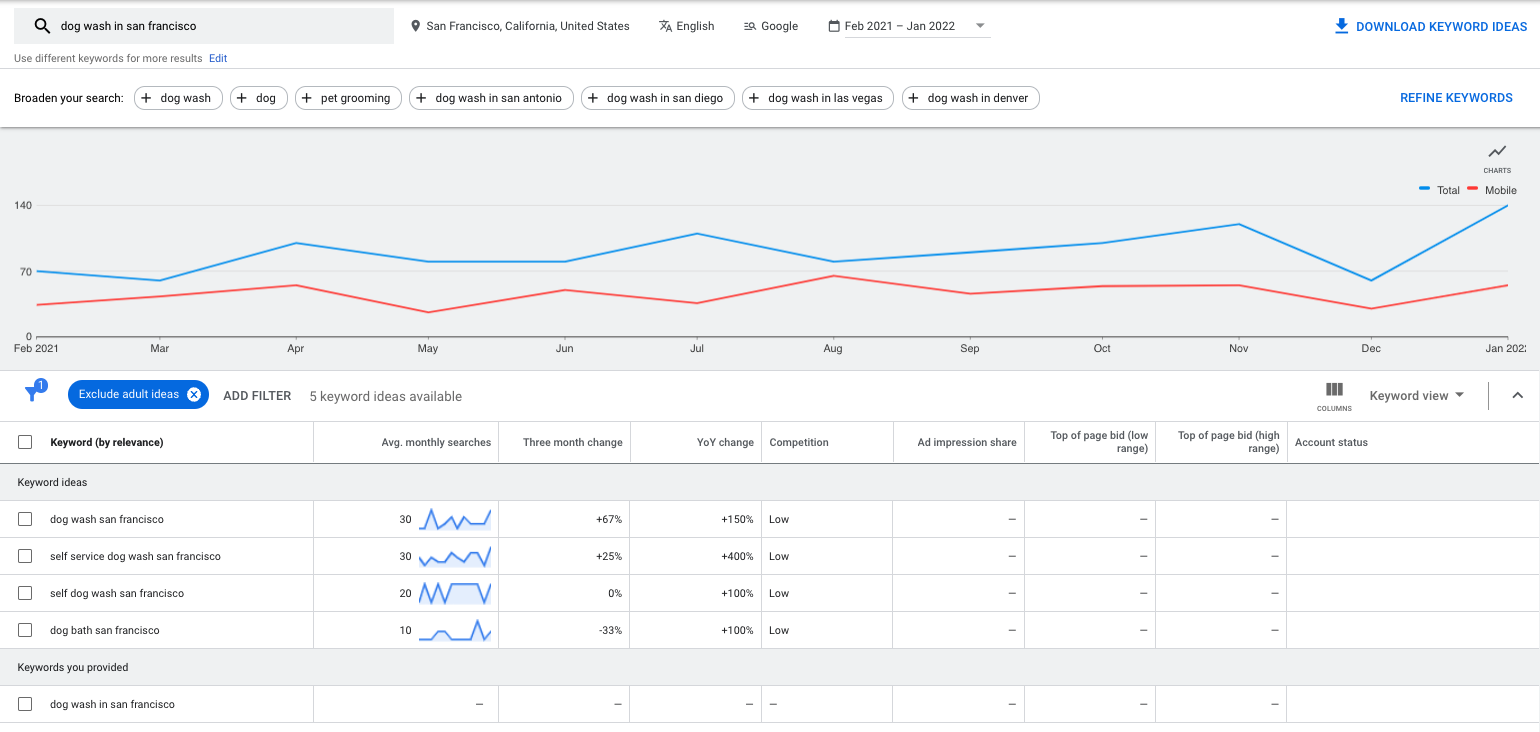 Start from your prospective client's website. Do they own a dog wash clinic in San Francisco? Get a list of relevant keywords and the average monthly search volume to get a sense of the competition. 
Step 3B: Who is ranking for those keywords with a simple Google search?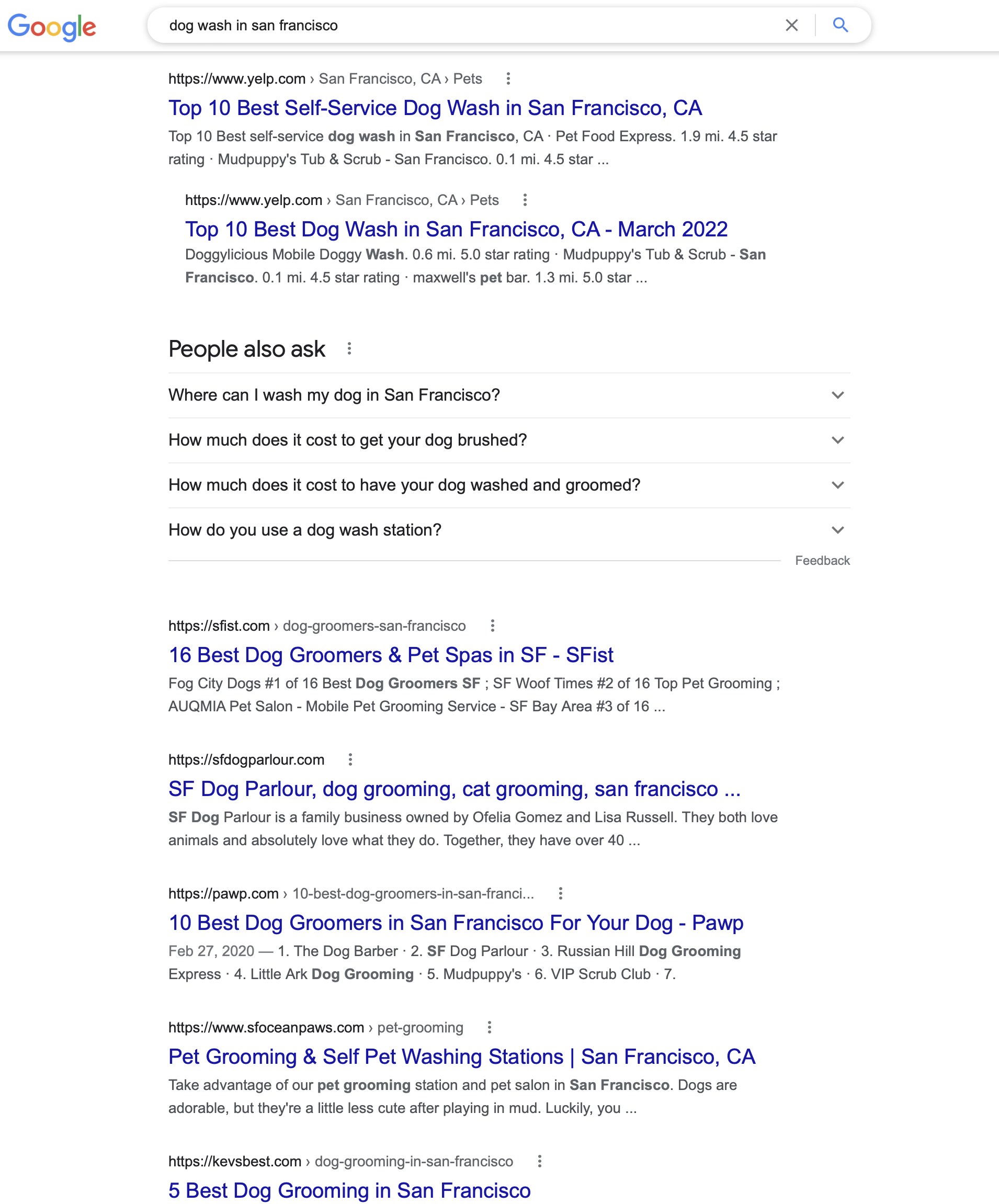 Choose from the top 10 keywords that are most relevant to your prospective client's business and type them into Google. See what ads pop up, as that's where the competitors are putting their ad dollars to rank above the rest. That'll also let you know which keywords are getting the money from which competitors. 
Step 3C: Use social media like Google: put in a search on the social networks themselves for those same keywords.
For Facebook, for instance, see which Facebook Business Pages pop up. 
Step 3D: Get competitive insights right from your target audience: who are they following? 
Two great tools to see who your prospective client's audience is following are Twitter and Facebook Audience Insights. Why? If the brands they follow are similar to your prospective client then they are also potential competitors. 
Here's how to see who your target audience is following on Twitter: 
Open your prospective client's Twitter page

Click on their Followers' profiles that interact with them the most and see who they're following
Here's how to see who your target audience is following on Facebook: 
Scroll down to Pages in the left-hand column and enter the name of your prospective client's Facebook page under People Connected to – or enter the demographics of your target audience in the left column directly

Click Page Likes from the top menu
If you find pages associated with your prospective client's industry (aka Dog washing), then they can be added to your growing competition list. Your list is likely very long by now, so it's important to narrow it down to the brands that are closest to your prospective client's target audience and niche. A rule of thumb is to benchmark against 3-5 brands. 
Then do your classic SWOT analysis on those brands if you'd like to set more specific benchmarks that you will later propose to meet or exceed in the next parts of your proposal.
Step 4. Do a social media audit.
Chances are your prospective client is already on social media to some extent. This part of the social media proposal will examine that presence in more detail:
What is working for them?

What's not?

How often do they post?

Have they run ads? 

How are their organic and paid posts performing? 
Do this for each of their social media platforms. 
Agency Tip: The Facebook Ad Library shows you all active ads that pages are running, and how many are running. 
Step 5. Write up a social media strategy.
Now is your agency's time to shine. Take all your learnings and commit it into writing. This will likely be the part your prospective client is looking forward to the most. Make sure you specifically answer:
What specific actions will your agency take to address all of the above 

How will your agency impact your client's bottom line – aka how will it relate to their business and social media goals 

How it will align with their proposed timeline

How much will it cost them
This is also where you can add any additional intel about your prospective client that you've gathered throughout your conversations. They can also be more superficial like their style guides, their mission statement, and what brands inspire them. You want to sell your services in the best light, so make your package looks good and shows the prospective client that you've been paying attention.
Agency tip: Avoid using marketing jargon, as you may not be dealing with an internal marketing pro. Communicate with visuals, simple terms, and be ready to clarify where need be. 
Step 6. Highlight your successful track record.
When your agency demonstrates that it has established a goal tracking method, it is telling clients that you are capable of delivering them proven results. A visual marketing report makes it easy to communicate past successes to land new clients.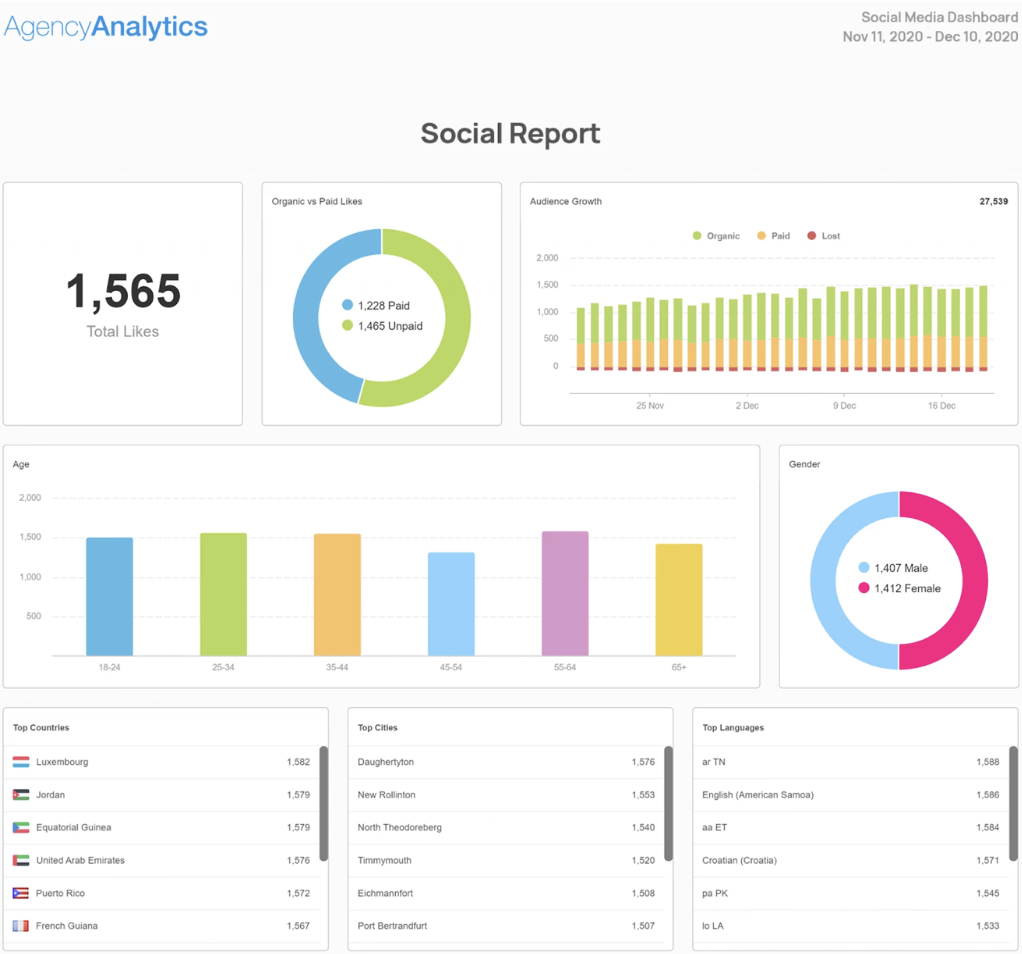 Want to use our Social Media Report Template? Create your own in minutes.  Try it free for 14 days.
Now that we've gone through how to go about finding all the information necessary to write a killer social media proposal, let's look at what to include in the document itself.
12 Things To Include in Your Agency's Social Media Proposal 
Now that we've discussed what a social media proposal is at a high-level, let's now look at 12 key components of a winning proposal.
1. Executive Summary – AKA the TL;DR 
While this is at the beginning of your social media proposal, you may want to complete it last to filter through your most important talking points once you have all the finer details written out. 
This needs to be your tightest piece of writing, as it'll condense your agency's value and expertise in under one page. Think of it like this: busy executives will look at this and understand the gist of your agency's value to their business, so make it all about their success and how you'll get them there. 
The purpose should be to:
Identify your prospective client's problem or need

Explain your expected results from your proposed project

Set a clear budget, time, and resources required to complete the project

Any additional information that is relevant
2. Introduction
This is where you will be talking about your agency, what it stands for, and why it's the right choice. Include:
A Brief Overview of Your Agency 
Company name

Your agency's core function

The industry/ies your agency serves
Your Agency's Breadth 
How many clients have you worked with in the past, and what type? Let them know about your top clients from the past – including big brands and little ones to show your breadth 
Relevant Experience
Highlight your agency's experience as it relates to your current clients so they know you've done this before. 
Vision
Let them know your agency's direction. 
Mission Statement
What is your organization about? 
People
Who are the team members that will be involved? Focus on the key team members or client-facing ones if your social media agency is large.
Photo

Brief description of their relevant experience within your agency and in general 
The Basics
Include your contact information, and what your availability is to answer their questions should any issues arise. 
3. Your Prospective Clients' Needs and Business Goals 
Show your prospective client that you get them by repeating their business' overall needs with the same language they used in their discovery session or RFP (request for proposal). 
This section should be as clear as possible and be heavily research-based. It will start by highlighting their pain points, to set the stage to later align your agency's proposed solutions back to their business and social media goals.
Make them S.M.A.R.T. – specific, measurable, attainable, realistic and time-bound
4. Social Media Goals
The next section is your opportunity to demonstrate that you understand how social media marketing relates to their overall business goals. Very often the client's objectives won't be to simply grow their online following, but rather to increase leads and sales. Here's what Hootsuite recommends in terms of setting social media goals:
State approximately three to five S.M.A.R.T social media goals. Each objective should specify the platform(s), the metric(s), and an end date. It needs to be clear when to measure the goal and what the metric is for success.
Remember that it's to keep the social media goals realistic in order to avoid client churn down the line by setting overly optimistic goals.
S.M.A.R.T. social media goal 1

S.M.A.R.T. social media 2

S.M.A.R.T. social media 3 

Etc… 
5. Social Media Audit
After defining the client's goals, the next step is to conduct a social media audit to have a clear understanding of their current performance on each platform. SproutSocial defines a social media audit as follows:
A social media audit is the process of reviewing your business' metrics to assess growth, opportunities and what can be done to improve your social presence.
The first step of a social media audit is to track down each of their profiles and make sure that each is complete and on-brand. Next, a social media audit will typically include the prospect's current metrics such as:
Followers on each platform

Posting frequency

Engagement per post

Audience demographics

Best performing posts

Impressions per post, and so on
If available, it's always useful to include the percentage change of each metric month over month in order to get an idea of their current social media growth rate.
6. Social Media Strategy
After auditing the prospect's current social media presence, the next step is to use your expertise to craft a brief social media strategy. During the business proposal process, the social media strategy doesn't need to be exhaustive as you'll likely need additional information after signing a contract. That said, the more specific and actionable you can make the strategy, the better.  
A few key pieces of information to include in the strategy section include:
The context mix you plan to post

How you plan to create the content

Recommended posting frequency

The audience persona you'll be targeting

Brand voice and tone
Check out these 9 examples from HootSuite for templates to create a social media strategy, social media audit, content calendar, and more.
7. Set a Schedule and Budget (Payment Schedule and Amount $) 
Creating a tentative schedule to break down the specifics of your social media deliverables will make your social media proposal more actionable and tangible. 
Example:
| | | |
| --- | --- | --- |
| | Instagram Campaigns | Deadline |
| Creative content  | Create images and videos for IG posts  | May 1  |
| Create copy | Write copy text for campaign | May 1 |
| Launch campaign | Deadline for campaign launch | May 9  |
| Monitor campaign | Monitor results of the campaign and report on them  | Custom - access to live dashboards. Reports are sent out bi-monthly or monthly.  |
| Revise campaign and test | Review results and test   | Ongoing  |
You can also create a separate table that highlights who will be responsible for the different activities. 
Example: 
| | | |
| --- | --- | --- |
| | When | Responsible |
| Instagram Campaign | Month 1 | Community manager |
| Content Creation | Month 2 | Content specialist |
| Social Media Monitoring | Month 3 | Social media specialist |
Next, you will need to break down your prospective client's budget. You may choose to go into more detail or keep it at milestones and payment deadlines. Ask your prospective client what sort of payment schedule they prefer, so that you can cover the T of your SMART goals: the timing for each milestone and payment date. 
If you'd like to learn more about pricing for social media marketing services, we recommend reading How Much Do Agencies Charge for Social Media Management in 2022?
8 How Will You Measure Success?
After outlining your social media strategy, it's important to define exactly how you'll measure success. One way to demonstrate how you'll be measuring the ROI of their social media marketing is to simply show them an example of a previous social media report you've sent to clients—of course, removing any sensitive information.
For example, in our article on 12 key metrics to track the ROI of social media marketing, we showed how you can assign an exact monetary value to social platforms with our Google Analytics integration:
Using our Facebook report template, Twitter report template, or simply combining all social media into one report template, easily convey the return on your client's investment for your agencies' services. The template allows you to provide clarity on all the important KPI's your prospective clients care about.
Showing that your creative work is backed and informed by data will further solidify your agency's candidature. Show your agency is dedicated to measuring success with our social media reporting tool.  
9. The Scope of Work and Your Deliverables
After providing clear metrics to measure success, the next section should provide the scope of work, timeline, and deliverables for the project. For example, a few of the sections included in SproutSocial's article on social media proposals include:
Posting schedule: Include the number of posts each week and which platforms you'll be using.

Content creation and curation: Include how and when content will be created and the timeline for editorial approval.

Analytics and reporting: Highlight how often you'll be sending social media analytics and reporting to clients. 
Being specific about the timeline and deliverables is a key component of managing client expectations and increasing client retention before starting the project. As highlighted in our guide to client retention:
Client retention actually starts during the sales process—the setting of expectations and timelines starts with the pitch, is cemented during onboarding and realized during client engagement.
10. The Humble Brags - Case Studies & Testimonials
At this point in the proposal, you've demonstrated that you understand the prospect's business and goals and have a strategy to achieve them. To close the deal, however, showcasing several past clients where you've done exactly what's outlined in the proposal is key.
Ideally, a case study should include metrics to back up the success of the project and quotes from the client. For example, in our case studies, we typically include exactly how much the client saved by automating their social media reporting both in terms of dollars and manual labor hours.
Terms of Agreement
The terms of agreement section is where you outline the specifics of the project. Typically, this will include the following details:
Fees: Highlight the pricing model you use, such as whether it's project-based, hourly, retainer, or a mix. Check out our guide to agency pricing to learn more about this subject.

Payment terms: Specify when you send invoices, the payment terms, and so on.

Termination: It's best practice to also include the details of how either party can terminate the agreement. 
11. Call-to-Action 
Finally, every business proposal should conclude by outlining the next steps for the prospect to take. In this section, you can reiterate how you'll address their business goals with social media marketing, the timeline of the project, and so on.
In order to increase the likelihood of closing the deal in a timely manner, you may also want to include an expiration date for the proposal.
Highlight next steps so that the prospect is crystal clear about what happens next. Likely they will be selecting the package before finalizing the terms of the agreement and signing the contract.
12. Appendix
This is where you can add references and supporting documentation that you alluded to but didn't fully include for the sake of keeping your proposal as short as possible. It can include:
Research sources and evidence

Detailed ROI and budget calculations

Experience with previous clients 

Company information
Not to put it all together...
How To Write an Email To Send Your Proposal
How do you pitch a social media strategy? This is usually done in an email where you send the social media proposal as an attachment. 
Agency Tip: Establish a personal relationship with your future client using their first name, as well as informal words like you and yours to grab their attention. Keep it short and sweet.
For instance: 
Hi Marc, 
We're delighted to show you how our agency will help you grow your business and social media presence to land more leads with our social media services. 
As you'll see, this proposal outlines exactly how we will deliver growth-driven results for your business with our proven social media strategies and expertise.
Once you've reviewed this document, let us know if you have any questions. The next steps after the review are to select your package and finalize the terms of the contract if you'd like to work with us.
Of course, make sure the "next step" you outline is relevant for where the client is in their decision-making journey.  In the example above, the next step is to select the appropriate package for their business, but another next step could be to book a call with a business development rep.
Your agency can use our proposal report template and streamline your social media proposal generation process with an easy-to-use drag-and-drop editor. This way, you can focus on more high-value tasks like filling your pipeline with more prospective clients. Once you onboard your new client, all their client reporting is automated with a social media dashboard or report under one roof. 
Key Takeaways
Highlight your client's KPIs as well as their areas of need. Then, propose the additional services that address which of their business and social media goals aren't being met under your current plan. Or scope out further opportunities to grow business – having a demonstrated ROI will give them the confidence to trust that your agency will responsibly deliver on its promise within a larger budget and bring in the bigger wins. 
Use AgencyAnalytics to manage all your social media reporting in one place and save time for your agency to focus on the marketing creative and scale. Create and schedule reports for over 60 marketing channels, track results in live dashboards, impress your clients with your skills, and more. Start your free trial to use this social media report template to help scale your agency today.
Written by
Melody Sinclair-Brooks
Melody is a marketing manager, writer, and startup consultant. She builds communication bridges thru multichannel storytelling, strategic partnerships, advertising, and go-to-market strategy.
Read more posts by Melody Sinclair-Brooks ›
Try AgencyAnalytics risk-free for 14 days. No credit card required.