In this guide, we'll discuss how to use lead generation report templates to land new clients for your marketing agency. We'll focus on why these marketing report templates are such a valuable asset in any agency's toolkit, how they can be optimized for attracting new clients, and review a few best practices we've learned from agency owners.
This guide is based on our recent Customer Success webinar on Lead Gen Templates and is organized as follows:
What is a Lead Generation Report?

What's Included in a Lead Generation Report?

Benefits of Lead Gen for Agencies

How to Use Proposal Templates in AgencyAnalytics

Lead Generation & Proposal Best Practices for Agencies
If you want to watch the full webinar, you can find the recording below:
What is a Lead Generation Report?
Also referred to as a proposal, a lead generation report is essentially a sales pitch to a prospective client. It's a chance to illustrate to a prospect that your agency is the right fit to help them solve their business challenges.
A well-designed lead generation report allows agencies to immediately demonstrate the value of their services. They also enable agencies to clearly communicate expectations for new clients, including what they can expect from your agency, when they should expect results, and what each marketing report will look like.
What's Included in a Proposal Template?
Now that we know what lead gen proposal templates are, let's review what to include in each report to have the highest chance of turning leads into clients. Below, we run through an example on how to create an SEO proposal that converts prospects into customers.
Introduction & Summary
First and foremost, your lead generation report should have an introduction and summary of your services. This is where you can present your team and establish credibility by sharing any recognition or awards your agency has won and relevant case studies. Introductions should be relatively brief as prospective clients ultimately just want to know how your agency can help them grow their business.
SEO Insights
If applicable to your agency, you may also want to consider adding a section for SEO insights. The insights section will contain the bulk of the personalization for your SEO report and is likely where you'll spend the most time. This section is your chance to show prospects that you've done your research by sharing the specific insights you've gathered about their current performance. Although this section will include some personalization, with SEO reporting software the process can be largely automated. It's a great way to build trust and credibility as it shows you've taken the time to understand and research their business. 
A few key SEO insights to share with prospects include:
Their current keyword rankings

A technical SEO site audit

An overview of their backlink profile
Solution & Deliverables 
After providing these initial SEO insights, this leads to the next section of the report, where you'll outline the exact tasks and deliverables that you'll be doing as part of their SEO campaign. Outlining your key services and deliverables sets the right expectations with the prospect as they'll know exactly what you will be doing for them. These services should be specific and quantifiable—for example, if you're creating content for the client, you can outline exactly how many pages or blog posts you'll deliver each month.
Goals & Timelines
After highlighting your key services and deliverables, the next step is to outline the kind of SEO reporting they'll receive from you, including any goals or timelines or the project. Also, make sure to clarify when the client can expect to see results. For example, if you're working with a brand new site, it's important to note that SEO results will take more time to achieve than a more established site with a strong backlink profile.
Investment & Next Steps
Finally, you'll want to outline the pricing of your services and the next steps. In terms of pricing, it's typically best practice to frame it as an investment, assuming your services will help them grow their business and generate more revenue. Also, be sure to end your lead generation report with a clear call-to-action (CTA) that tells the prospect exactly what to do to get started.
Benefits of Lead Gen Reports for Agencies
Now that we know what to include in a proposal, let's review a few of the key benefits of these templates for digital marketing agencies.
Communicate Expectations
As you can see, a lead generation report allows agencies to establish expectations as it outlines everything the client needs to know about working with your agency, including deliverables, timelines, and the investment.
Strengthen Your Sales Pitch
In contrast to simply writing this information out in an email, a lead gen report strengthens your sales approach as it provides a more professional impression of your agency.
Grow Your Agency
Finally, lead gen reports can help grow your clientele as they establish credibility, show that you've done your research on the client, and present your pitch in a way that helps you stand out from the competition.
How to Use Proposal Templates in AgencyAnalytics
Now that we've discussed what's included in a lead gen report and a few of the benefits, let's look at how you can quickly create one inside AgencyAnalytics.
Our report builder tool can be used to easily create lead generation templates by repurposing a client report into a proposal. If you want to get up and running right away, we've also created a proposal report template that can be used to start prospecting today.
To get started, after you create an account and create a campaign for the prospect, you'll head to the Templates section from the root campaign dashboard:
Next up, select Create Template in the top right of the dashboard:
After that, choose "Start From a Template" and select the "Lead Gen Template" from the list of options:
After choosing a name for your template, you'll be in the report builder where you can add sections and customize the proposal as you see fit.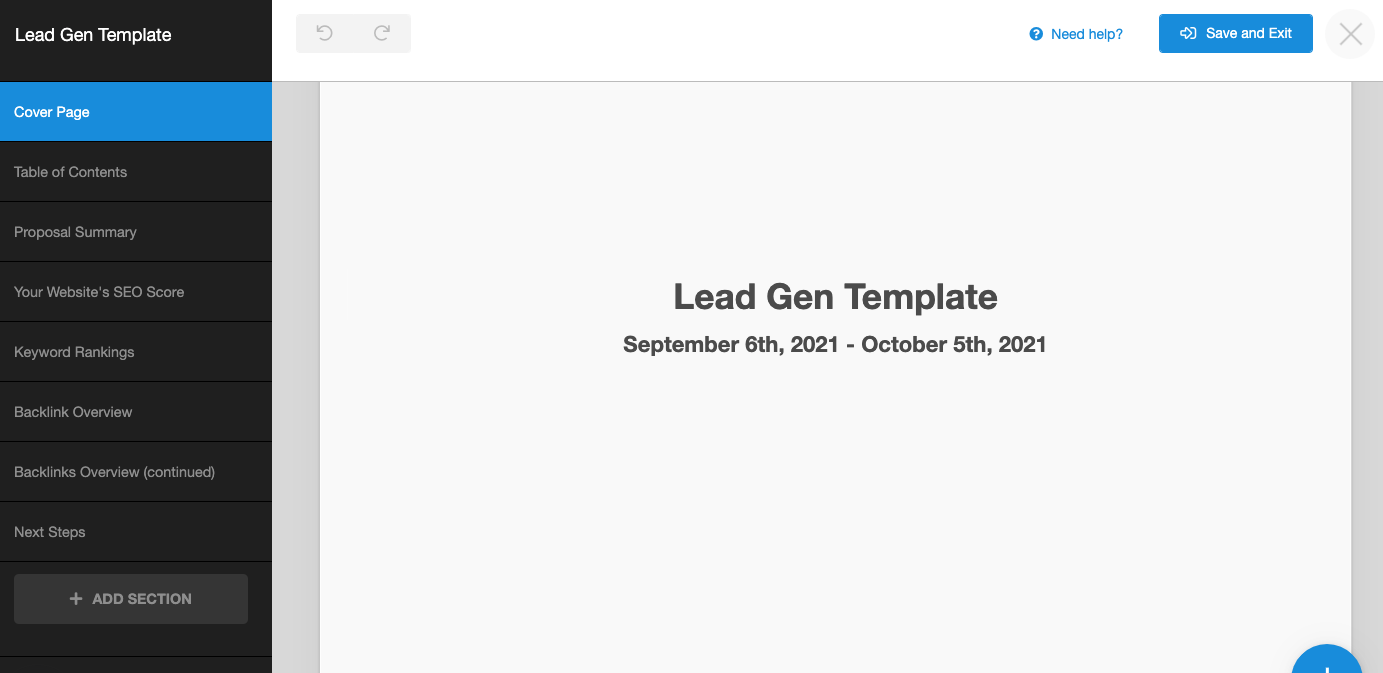 For example, to edit the proposal summary, simply click Edit and you'll see a standard text editor.
Next up, you can leverage AgencyAnalytics' SEO reporting tools to quickly analyze your prospect's current performance in organic search. In order to use all the SEO tools inside your lead gen report, simply navigate to Integrations and enable them in the campaign:
After enabling the SEO integrations, use the site audit tool to scan for over 40 technical on-site issues and give clients an overview of their site score and identify any errors, warnings, or critical issues: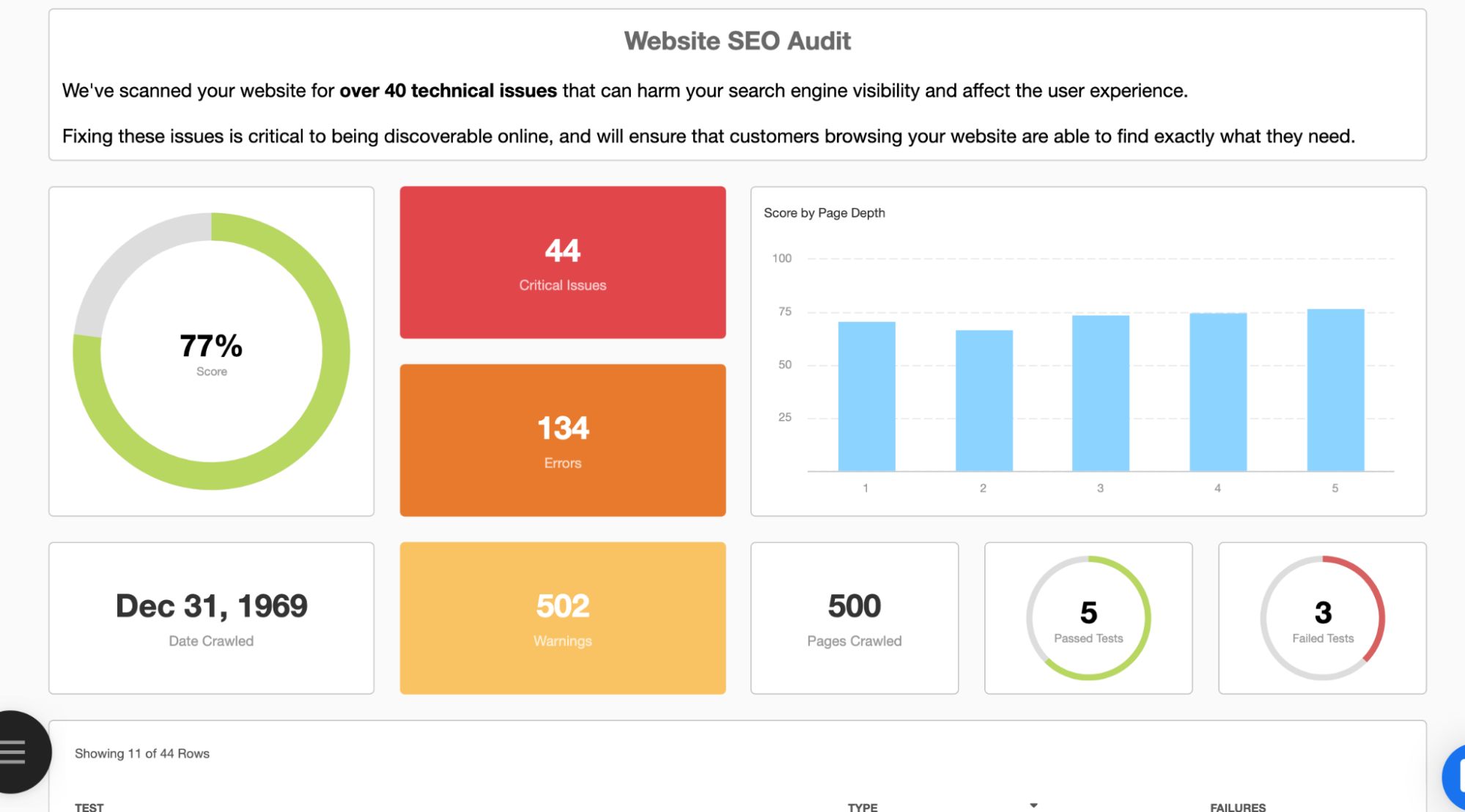 The next SEO insights provided in the template is the Keyword Rankings section, which tracks exactly where your prospect's site appears in search engines including Google, Google Maps, and Bing. This section is an excellent opportunity to show clients how your services could impact their site traffic and bottom line by optimizing their existing keyword rankings:
The next two pages are focused on the backlink profile of your prospect, which provides a backlink analysis from our Majestic integration, including new and lost list, domain anchors, and more advanced backlink metrics such as Trust Flow and Citation Flow:
Finally, we have a Next Steps section to conclude the proposal. This section could include an overview of the services you provide, the investment required from the lead, some highlights of the benefits clients can expect to see from a well-executed SEO campaign, and a CTA with your contact information: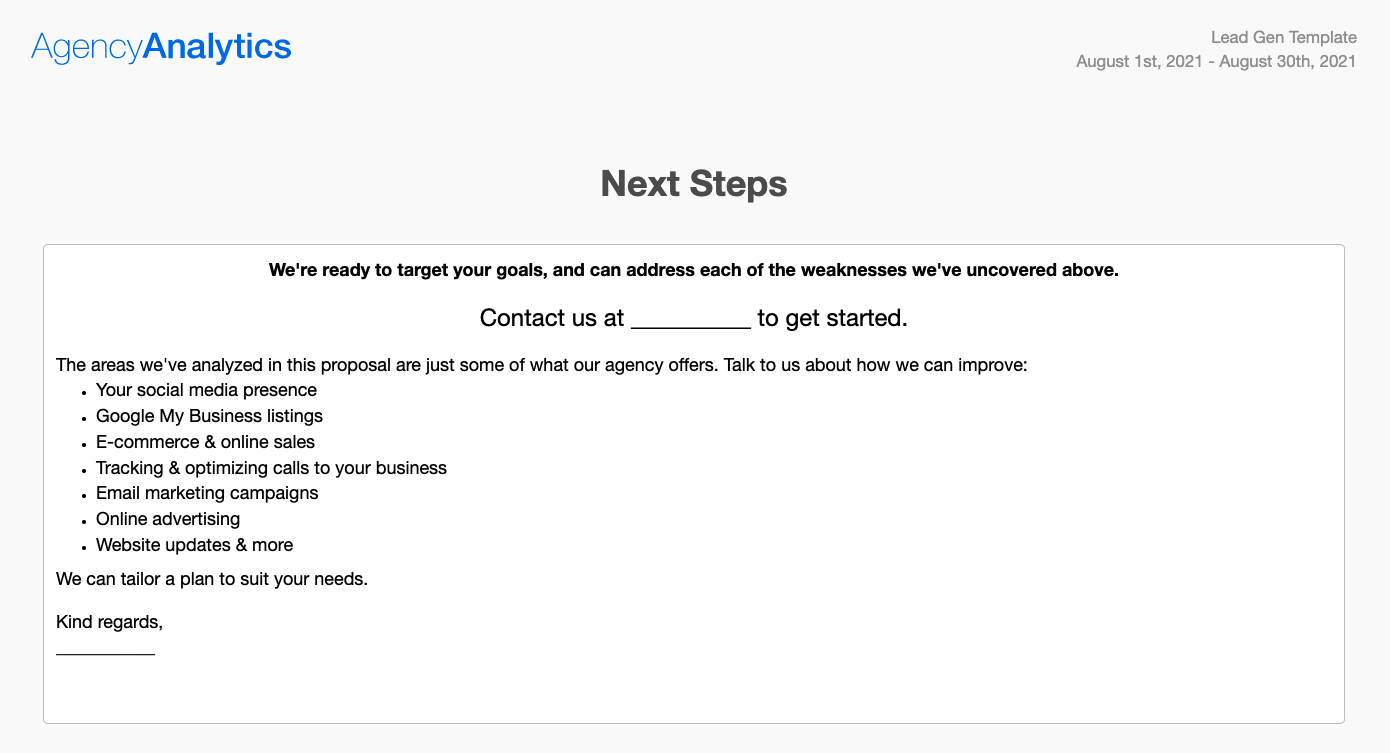 Once you've made all the necessary edits and personalized your proposal report, simply click the share button and choose to download it as a PDF, send an email right from AgencyAnalytics, or share a link with the prospect:
Lead Generation & Proposal Best Practices for Agencies
Now that we know how to use a proposal template for lead generation, let's discuss a few of the best practices that will help you turn the most amount of prospects into paying customers.
Start Strong 
First impressions matter, so the first tip is to start with a strong introduction and proposal summary. Below are a few specific ways to accomplish this:
Callout key insights: Find key insights that you can point out, such as critical SEO issues, keyword ranking opportunities, and so on.

Define the prospect's problems: Make sure to highlight the exact problem your agency will solve for the prospect. This will ensure the prospect knows you understand their business and can help them achieve their business goals.

Outline your solution: Be sure to clearly outline how you can help solve their problems and why they should keep reading the proposal.
Personalize Your Proposals
Personalization is another key aspect of an engaging proposal. Below are a few ways that you can quickly personalize your proposals:
Use their data: Highlight the prospect's data and insights as evidence for your assertions and to strengthen the reason why you're a good fit for their business.

People and places: Small personalizations like using the prospect's correct title, company name, decision makers, and so on can also go a long way in showing clients you're serious about working with them.

Repeat what you already know: If you've already spoken with the client and have some data, repeating what you've heard from them is another great way to show that you're actually listening to them.
Use Data to Tell Stories
If the prospect has given you access to their platforms already, or you do a simple SEO site audit, use this data to tell the story of where they used to be, where they are now, and where you can take them. For example, you can use data to show them where they currently sit in organic search engines, identify gaps in their current strategy, and how your services can improve their results.
Get Creative with Proposal Content
Another prospecting best practice is to get creative and do what you can to stand out from all the other proposals they receive. This could include leveraging short videos, making the proposal interactive by embedding their website or iFrames, or embedding offline data with Google Sheets. Whatever you choose to do, make sure to keep proposals short enough to keep their attention. 
Track Activity and Re-Engage Prospects
Finally, an essential part of lead generation is tracking your prospect's activity, including opens, clicks, or downloads. With AgencyAnalytics, you can send proposals as emails, PDFs, or shareable links and can easily track your prospect's activity so you can re-engage them at the right time.
Summary: How to Land More Clients with AgencyAnalytics
As every agency owner knows, lead generation and prospecting on a consistent basis is an essential part of scaling the business. A well-designed proposal allows agencies to immediately demonstrate credibility and show prospects they've done their homework and can solve their business challenges. Whether you choose to create a lead generation report from scratch or start with a proposal template, it's important to personalize your proposals, use the prospects' data to extract insights, and track their activity so you can follow up at the right time. 
If you're ready to improve your prospecting process and land more clients for your agency, get started with the Proposal Template below.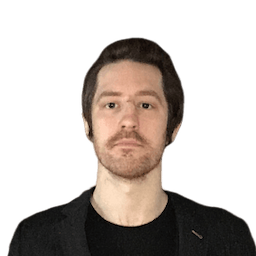 Peter Foy is a content marketer with a focus on SaaS companies. Based in Toronto, when he's not writing he's usually studying data science and machine learning.
Read more posts by Peter Foy ›
Try AgencyAnalytics risk-free for 14 days. No credit card required.