In the realm of search engine optimization (SEO) services, agencies recognize the significance of establishing website authority and credibility. Ensuring that clients' websites are trustworthy and attract increased traffic is a fundamental goal. 
Developed by Majestic, these "trust" metrics provide valuable insights into the link profile and overall authority of a site. 
In general, high Trust Flow and Citation Flow scores indicate a healthy, authoritative, and highly visible website.
In this article, we will delve into the concept of Trust Flow and Citation Flow metrics, their significance, and how agencies can leverage them to enhance their SEO strategies.
The Relationship Between Trust Flow and Citation Flow
Trust Flow and Citation Flow are interconnected metrics. While Citation Flow measures the number of backlinks, Trust Flow focuses on their quality. 
Both metrics work together to provide a comprehensive understanding of a website's authority. A site with a high Citation Flow but low Trust Flow may have numerous backlinks, but they might be from low-quality or spammy sources, which can negatively impact its credibility.
Let's take a look at the key differences between citation flow and trust flow metrics. 
What Is Citation Flow?
Citation Flow ratio is a score out of 100 that measures the quantity and quality of backlinks pointing to a specific webpage. It's not just about how many sites are linking, this link intelligence data also evaluates the link equity (or link juice) passed from other websites to the target page by measuring:
The quantity and quality of links pointing to a particular webpage. 

The link equity passed from other websites to the target page.
The more relevant and high quality backlinks a webpage has, the higher its Citation Flow score. However, it is important to note that a high Citation Flow metric alone does not take into account the trustworthiness of the linking domains.
Google rewards qualitative backlinks, taking the context, relevancy, and quality of the link into consideration. That's where the next metric comes in. 
What Is Trust Flow? 
Trust Flow is also measured on a scale from 0 to 100, with higher scores indicating greater credibility and trust. Websites with a diverse range of trustworthy backlinks tend to have higher Trust Flow scores.
Trust Flow complements Citation Flow by:
Assessing the quality and reliability of the backlinks.

Determining the trustworthiness of the linking domains based on their own link profiles and the quality of sites linking to them. 
High vs. Low Trust Scores:
| | Trust Flow | Citation Flow |
| --- | --- | --- |
| High Scores | Backlinks from trustworthy, high authority domains, quality content that earns natural backlinks, diverse backlink profiles from reputable websites, niche-related backlinks, and long-term, consistent link-building practices. | A good citation flow means a large number of backlinks (regardless of quality), frequent new backlinks, high site visibility, and exposure, or popular topics that generate many links. |
| Low Scores | Backlinks from low-quality, low domain authority, or spammy websites purchased or unnatural links, overoptimized anchor text, lots of irrelevant links, or a rapid, unnatural increase in backlinks. | Few or no backlinks, lack of fresh content, low site visibility and exposure, and niche or specialized website topics. |
4 Ways To Leverage Citation Flow and Trust Flow Metrics for SEO Strategies
By understanding and incorporating Citation Flow and Trust Flow into their SEO practices, agencies make informed decisions that contribute to improved search engine rankings and increased organic traffic for their clients.
1. Identify Influential Websites
Gauge the authority of websites you or your clients intend to collaborate with. It helps build a high-quality backlink network that positively impacts search engine rankings.
2. Analyze Competitors 
Gain insights into their link-building strategies. This information can guide agencies in devising effective strategies to outrank their competitors.
3. Do A Backlink Quality Assessment
Pinpoint trustworthy links and their corresponding target URLs and gain insights into the frequency of sites linking to your clients through both image and text links. This helps you identify low-quality links that may harm the site's reputation and take appropriate measures to disavow or remove them.
Effortlessly identify your most valuable links from high-authority websites by examining flow metrics and link types in detail. Try the Majestic dashboard in AgencyAnalytics with your free 14-day trial today!
4. Benchmark Your Progress
By regularly monitoring a website's Citation Flow and Trust Flow scores, you track the effectiveness of your link-building efforts for clients, whether you are providing high-quality backlinks or not. Showing how you're increasing both those metrics over time indicates that the SEO strategy is generating positive results–and improves your client retention.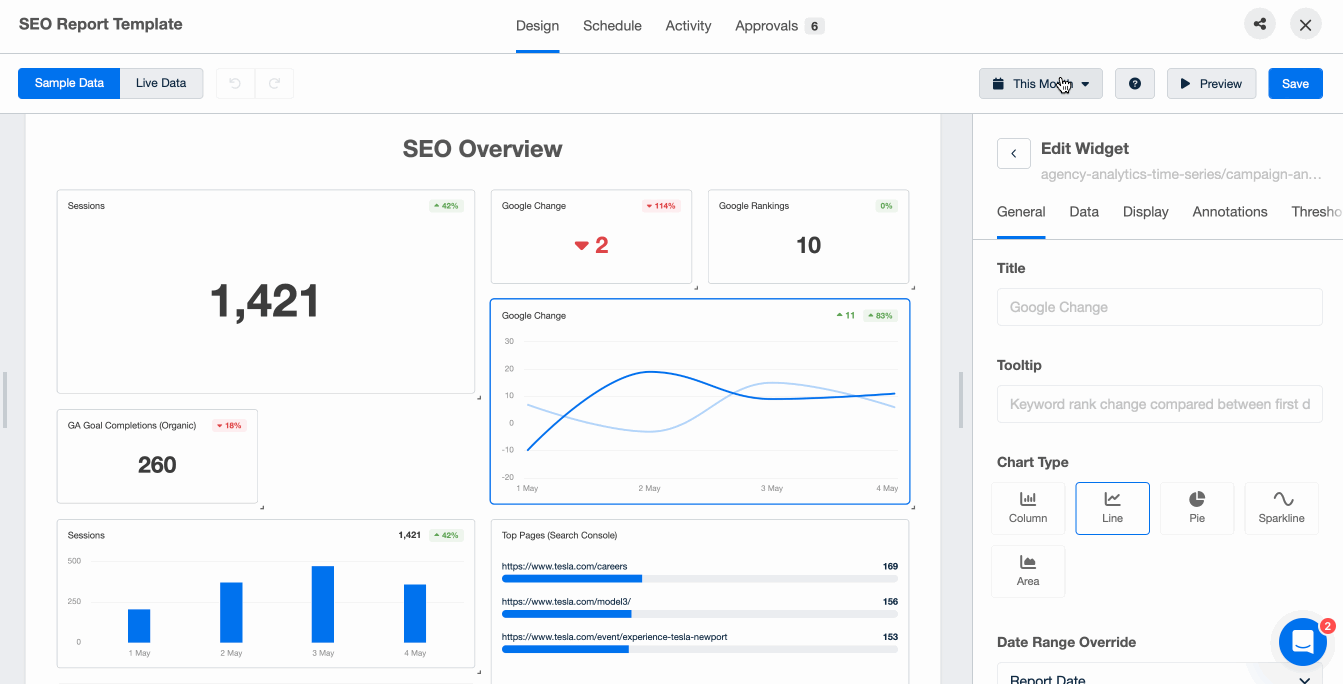 The Takeaway 
Trust Flow and Citation Flow metrics provide valuable insights into a website's authority, link profile, and overall credibility by:
Identifying influential websites, 

Analyzing competitors, 

Assessing the quality of backlinks, and 

Benchmarking progress over time. 
However, with such granular metrics, agencies need a scalable way to measure flow metrics and leverage them to enhance their clients' SEO strategies and rank higher on search engines. 
Live dashboards and comprehensive client reporting software play a crucial role in streamlining your data retrieval and reporting processes. With automation at its core, these tools enable your teams to effortlessly track progress over time and present visually compelling results to clients. 
With AgencyAnalytics, easily incorporate Majestic SEO backlink data into personalized client reports to provide your clients with a comprehensive view of your SEO efforts. 
Stay up-to-date with automated SEO reporting software specifically designed for agencies. Try AgencyAnalytics free for 14 days. No credit card required. 
Written by
Melody Sinclair-Brooks
Melody Sinclair-Brooks brings nearly a decade of experience in marketing in the tech industry. Specializing in B2B messaging for startups and SaaS, she crafts campaigns that cut through the noise, leveraging customer insights and multichannel strategies for tangible growth.
Read more posts by Melody Sinclair-Brooks ›
Try AgencyAnalytics risk-free for 14 days. No credit card required.