Here's a common dilemma digital marketing agencies face: should I specialize in a niche or be a generalist?
On the one hand, it seems like a wise business decision to cast the net widely and have a range of clients (and projects) on your roster. And specializing in a niche may seem like a shortcut to missing out on business opportunities and potential revenue.
But what about the dangers of not choosing a niche? Being too generalized could mean diluting your brand presence and scattering your resources. And as the old saying goes, a jack-of-all-trades is a master of none. Besides, how do you create targeted marketing that strikes a cord in the absence of a niche specialization? 
Positioning aside, you need a sustainable way to grow your agency and differentiate yourself from the competition. Niching means getting better and better at serving a specific type of client. Plus, it's a more straightforward way to become a renowned expert in the marketing arena. 
Find a niche or two and be great at it. It is far easier to repeat results for similar clients than to be an expert in every field imaginable.

–Joaby Parker, President of Cover3 Creative 
Still on the fence about the niche vs. generalist debate? Hear from 16 top agencies who have found success from niching down. Read on to learn about:
Why Do You Need To Pick a Niche for Your Agency?
It may seem daunting at first, but choosing a specialization may be one of the best things your agency does. Here are a few reasons to get on the niche train.
Positions Your Agency as a Top Expert in a Specific Field
As far as a niche goes, we have several that we have over 15+ clients in a particular vertical or industry: Medical offices (hospitals), Dentists, Lawyers/Attorneys, HVAC/Plumbing, and Ecommerce. We have found great success in focusing on just five areas. SEO, PPC, Social Media, Website Development, and Videography. If we were too much wider in services, we wouldn't have as much time to specialize in being really good as any specific service. 

–Nathan Hawkes, President of Arcane Marketing
When marketing challenges arise, your prospects want an expert that knows precisely what solution to provide. Who do you think they're more likely to remember? A marketing agency that does a little bit of everything under the sun or an agency with the exact solution to their problems?
Even if prospects aren't immediately looking to hire an agency, being top-of-mind is crucial. That way, you'll increase the likelihood of being their go-to provider when that time comes. 
Niche specialization also comes in handy for more sensitive industries. For example, becoming a reputable legal SEO service provider demonstrates that your agency knows the ins and outs of that industry (e.g., familiarity with advertising state-specific laws and other legal jargon). That means less hassle for prospects (and hopefully more business for your agency). 
Niching Means Easier Replication of Results
Digital marketing agencies have become a commodity. There are 500,000 agencies worldwide, and one of the best strategies for standing out is to focus on serving a single niche. When you specialize, you can charge higher prices, it allows you to scale, and most importantly, it allows you to replicate your results.

–Mauricio Cardenal, Founder of Roofing Marketing Pros
Entering the growth and establishment phase of the digital agency life cycle isn't a fly-by-night process. To scale sustainably and play in the big leagues, you'll need a proper strategy in place–that's where niching comes in. 
When your agency gets really good at serving a specific type of client, it means:
A more refined and contextualized ideal client profile (ICP)

A deeper understanding of your clients' needs, challenges, and pain points
We just saw a really strong need and knew we could help. So I thought, instead of helping all these other industries, what if we just became really good at this one? The cool part that helped our strategy was that we were already good at organic advertising. Our sweet spot was this industry's biggest pain point. So it was like a perfect connection.

–Trevor Shirk, Founder of Terrayn Marketing
Faster turnaround times and easier replication of results across multiple clients
Figure out your niche, serve those niche clients well, and repeat the process with that type of client.

–Linda Rooney, Founder + CEO of DandeLions Digital  
Getting to know the same type of clients also means making sound recommendations based on previous experience. It's also easier to put the proper measures in place to maximize billable time and meet your clients' goals. 
For example, let's say you've specialized in serving real estate clients and realized a pattern in reporting needs. To save time, your agency should:
Make a note of which marketing platforms real estate clients typically use

Create an easily replicable marketing dashboard to save time during client onboarding

Easily onboard new clients by cloning your campaign templates to start automatically tracking their marketing data

Continue to monitor any trends across real estate clients and make recommendations accordingly
Because all of the clients we serve are in the same niche (real estate investors), this allows us to really understand our clients and what successful marketing campaigns look like, and which metrics are most important to them. We report on the basic KPIs and take it one step further by reporting on qualified leads, offers made, and deals closed. 

–Jacob Hicks, Owner of Magnyfi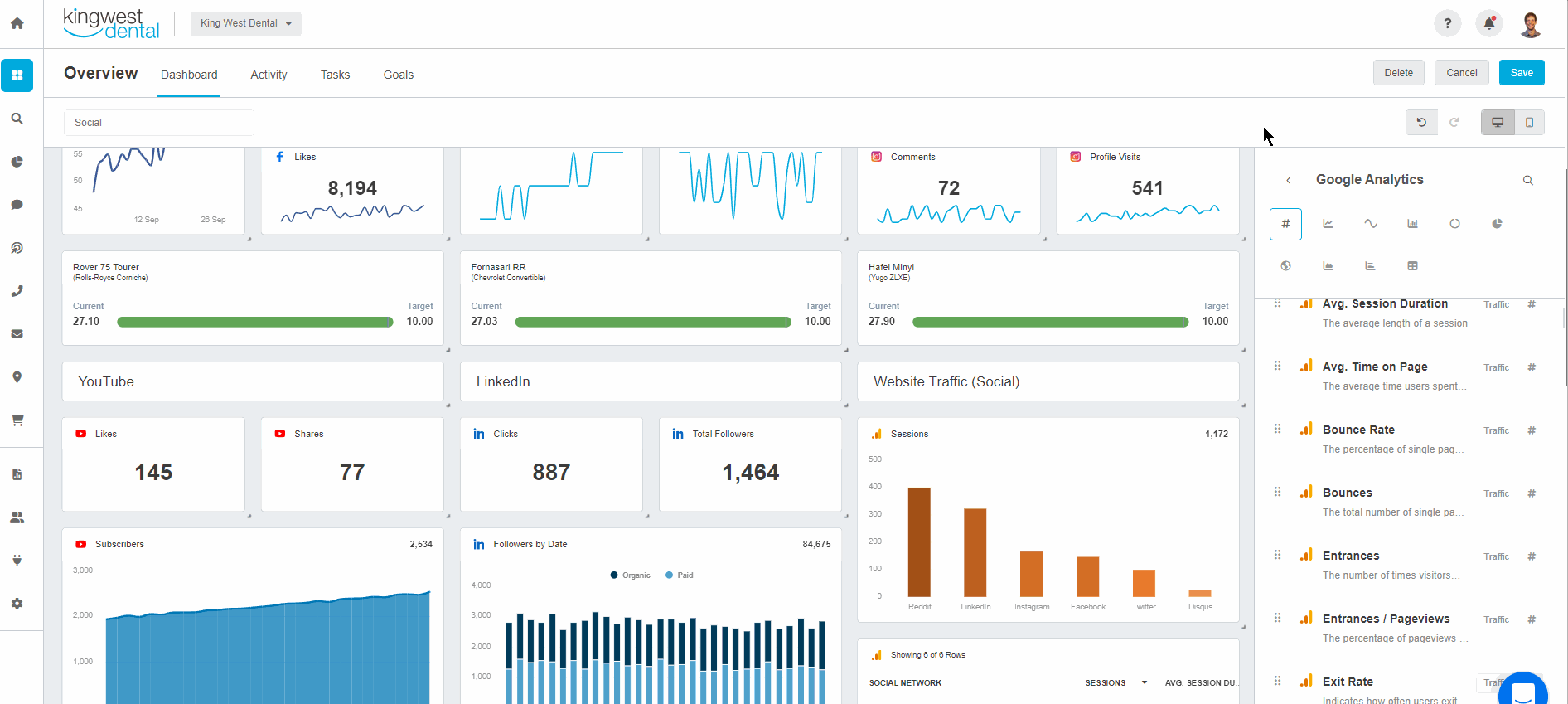 Create a customizable dashboard and easily replicate it whenever a new client comes along. Grow your agency in a scalable way–try AgencyAnalytics, free for 14 days. 
Understand the Different Types of Niches
If you're wondering how to find a specialization for your agency, let's explore what types of niches are out there. 
1. Specialization
This category of agency niches is based on the types of services your agency provides. It may be in any industry, but your team will be specializing in one (or more) select areas of marketing, such as:
SEO

Web Development

Video

Social Media

PPC 

Programmatic Advertising 
If you go with this niche type, position your agency around a specific service. For example, you may decide to become a full-service social media agency that provides paid advertising services and content creation. 
Adopting this approach means focusing on specific services but getting opportunities to work with different industries. Take Australia-based social media agency, OhMyDigital, for example. While they offer social media services, they've kept their verticals open.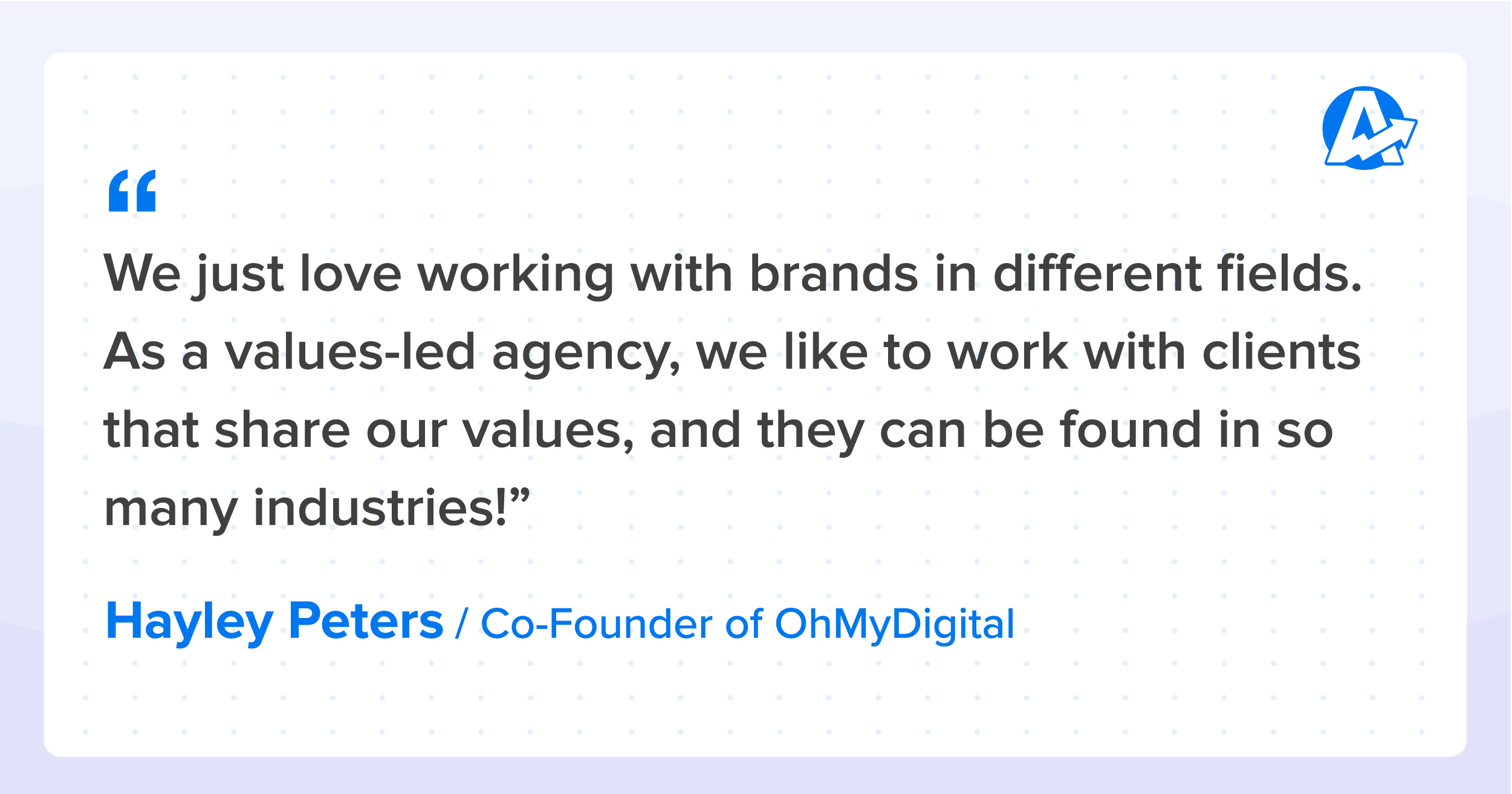 Read more about OhMy Digital's niche story: Growing by Embracing the Brand Uniqueness of Your Marketing Agency
2. Vertical
This niche type focuses heavily on a particular industry in the real world. Examples of verticals for marketing agencies include:
Fashion

Restaurants

Hospitality

Real Estate

Legal

Healthcare 
Cherie Dickey, SEO Team Lead at Smile Marketing–a marketing agency focusing on dental websites–explains how many different factors impact Google search results for their clients.
These factors include the practice location, nearby competitors, and the dentist's online reputation. "A dental practice's website needs to build trust with potential patients and position them as an authority in their field," she adds.
Becoming vertical-specific means having more time to focus on the intricacies of the industry and knowing it to a T. Take the legal sector, for example–there are different laws in every state and a lot of regulations to monitor.
"Lawyers appreciate the fact that we know the legal industry and have other attorneys writing their content that know the bar rules, ethics, practice areas, etc," explains Chris Gerspacher, Co-Founder of FirmFinder.
3. Geography
Lastly, niching down by geography means serving locally based businesses and offering services such as:
Here's a bonus–specializing in a geographic niche may be a differentiating factor between your agency and the competition. If you choose this approach, consider including your city of operation in your business name (which will boost search relevance).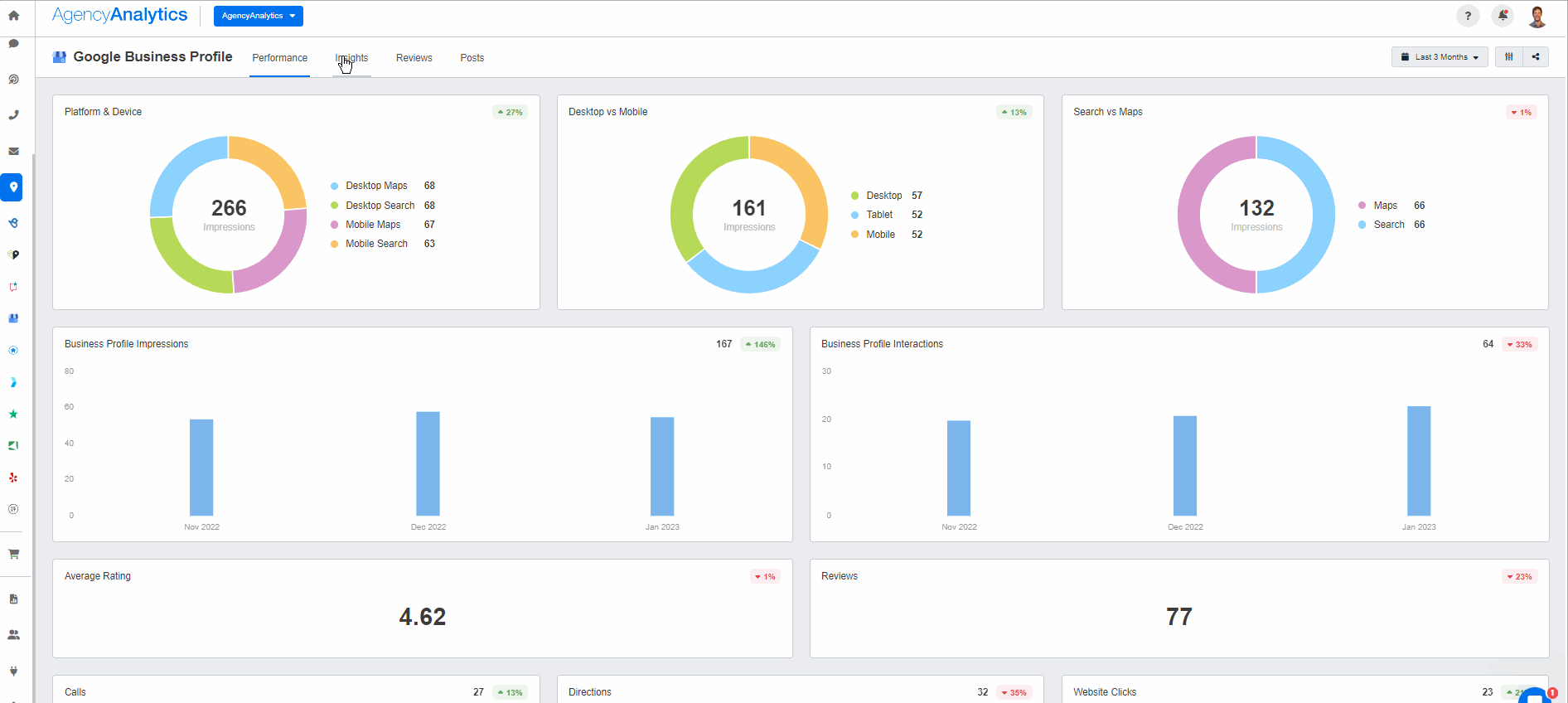 Wow your local SEO clients and show what's happening on the ground. Choose from a range of local marketing dashboards on AgencyAnalytics by signing up for a free 14-day trial. 
And there you have it! 
Remember that you don't have to stick to one niche type. A combination may do the trick, depending on market demands and what you're good at. For example, offering SEO for dentists (specialization+vertical) may be a viable option, or even social media management for auto shops. The more specific, the better. 
8 Ways To Choose the Best Digital Marketing Niche for Your Agency
Scratching your head and wondering, "How do I even decide on a niche?" Not to worry–we've outlined the steps to get you there. 
1. Conduct Initial Market Research
When it comes to understanding the needs and pain points of our preferred industries, it's important to focus on current clients in that niche. Use surveys, interviews, focus groups, and observation to gain valuable insights. We also use forums, meeting groups, and associations they are members of. With this information, we can build a better understanding of our target niche and better serve its needs.

–William Smith, Founder of Local Search Technologies LLC 
Before you hit the ground running, do some groundwork to figure out your potential niche's pain points, challenges, and needs.
Tools and Resources for Finding a Niche Market
To get started, source feedback from your potential niche or even existing clients. Choose a research methodology that makes the most sense for your agency (and budget), such as:
Online surveys

Focus groups

Reaching out to local business associations for more insights

Social media (e.g., polls, interactive questions)

1:1 conversations with current clients
 In addition to these methods, here are some additional tools to help you with your search. 
Google Keyword Planner: Use this tool to identify problems in your niche and see how the competition is performing

Google Trends: Track keyword trends and search volumes. See what the competition is doing, monitor industry trends, and identify any new opportunities

Google Marketplace: Use this resource to uncover tools that optimize your agency's website and grow your client base
Regardless of the research methodology, use these insights to decide which services are in demand and whether your agency is equipped to provide them. And if you've already had some experience in a specific niche, explore the opportunities and what makes sense realistically.
Take it from the Founder of Roofing Marketing Pros, Mauricio Cardenal. By evaluating the ROI on PPC services for roofing contractors, he uncovered a business opportunity and a way to provide much-needed value. 
I worked for a general contractor in college and already understood some of the challenges in construction. I looked at the average ticket item for a roof and found that PPC can be very profitable for a roofing company quickly. It made sense to start focusing on roofing since it's an in-demand service.

–Mauricio Cardenal, Founder of Roofing Marketing Pros
And like other niche-focused agencies, Cardenal attributes this specialization as one of the biggest factors in scaling his agency and making connections. "This approach has allowed me to build relationships with some of the top influencers in this space," he reflects.
Identify Your Ideal Customer and Their Needs
Part of this initial groundwork also involves defining your ideal customer profile (ICP) and using it as a reference point for all marketing efforts. 
Keep in mind that this ICP may evolve over time, especially when you work with more clients and get better at serving your chosen niche. And who knows–maybe you'll end up with enough context to create multiple ICPs. 
To get started, answer the following questions:
Who are the decision-makers for this chosen niche?

What are their demographics (i.e., job title, years of experience, education level)? 

What are their long-term goals and objectives?

What are the specific pain points for this niche? 

What makes these challenges different than other niches?
Be as specific as possible and keep contextualizing your ICP when new information comes up. That way, you'll know exactly how to direct your marketing and outreach efforts. 
Download our free client profile template
Use this template to build your ideal client profile
Choosing a Profitable Niche
If you're on edge about profitability, calculate whether your agency has the budget to get the ball rolling. Ask yourself these questions to get started: 
Will this niche give me enough new opportunities if it is in a particular industry? 

Is the niche a sustainable source of income for clients to require marketing services? 

Does my marketing team enjoy doing this type of work, and 

Do they want to excel in it?  

What is the risk that this particular niche could dry up in the near future?
Use this exercise to decide what makes sense for your agency margins and profitability.
Test and Review Your Niche Strategy
Even after you've decided on a niche, you'll need a way to test the demand for your agency's services in a more tangible way. After all, you don't want to end up in a situation where you've invested in a digital marketing niche that looked good on paper only to realize it wasn't actually lucrative. 
Aside from the research methodologies we've mentioned, consider testing the market by offering a useful incentive. That way, you'll see how much prospects show interest and are inclined to reach out. 
For example, offering a free SEO site audit will point out any relevant and pressing website issues to potential clients. And once they've seen what your agency is capable of doing, they'll possibly express interest in your paid services. 
Share key SEO insights and provide tremendous value to your prospects. Run a comprehensive site audit at the click of a button–it's free for 14 days on AgencyAnalytics.
2. Focus on Where You Already Have Experience 
Instead of doing a complete 180, why not leverage your past experiences? 
Think about what your agency is great at and your previous successes. Capitalizing on these strengths may launch your agency to success quicker than venturing into something completely new. 
Take MergerLabs, for example–an agency that provides digital marketing services for private equity firms, merger and acquisition firms, and business brokerages. 
Our founding team came from that space, so the issues the industry experienced were our own day-to-day issues. The agency ended up starting out of sheer demand rather than intent. Our clients saw what we accomplished as their contemporaries and started paying us!

–Gabriel Galvez, CMO at Merger Labs
By specializing in this niche, MergerLabs has a laser-focused approach to the digital marketing issues that bankers and investors face. It also means that they're experts in developing inbound marketing strategies that speak directly to their target audience. 
And according to Galvez, "Being able to make claims like that immediately differentiates us in a sea of industry-agnostic firms."
Here's another example–the founding team at FirmFinder had extensive experience working with a large-scale marketing company and a well-established legal research firm. After learning the intricacies of these two businesses, it all meshed together as their primary niche focus. 
We would rather specialize in the legal industry than be a jack of all trades. Every state has different advertising rules for attorneys. Lawyers appreciate the fact that we know the legal industry and have other attorneys writing their content that know the bar rules, ethics, practice areas, etc. –Chris Gerspacher, Co-Founder of FirmFinder
Evaluate your experience and build on your strengths–it may be one of your greatest assets in finding a niche. 
3. Choose a Niche You're Passionate About
While some niches are profitable, it won't make sense if the nature of the work puts you straight to sleep or if you're lackluster about serving that particular industry.
Simply put, if you're not passionate about it–don't do it! Energy doesn't lie, and your clients (or prospects) will pick up whether you absolutely abhor what you're doing. And revenue aside, fulfillment is also an important propelling factor in running your agency: don't overlook or bypass it.
Only get into business if you are passionate about the concept and really willing to work hard. I would say it's very alluring to see a glorified version of business ownership on social media, but it is quite different in reality. I found a passion in helping small brands create big moves and loved working with these businesses because I felt like an extension of their existing team and was able to scale with them as they grew. 

–Elke Critchley, Founder of Social & Staple
If you're stuck, start by brainstorming:
Your agency's strengths and weaknesses

What marketing services your agency enjoys providing the most, and which tend to bring on the most success (and vice-versa)

What niches your agency could enter, given your strengths 
4. Research Your Competition
Once you have an idea of the marketing agency niche you'd like to explore, it's time to learn from your competitors. To get started, consider the following questions:
How big are competing agencies?

How are they structured?

What are their rates?

Where are they located? 

How do they position themselves online? 

Is this business a direct competitor? 

Do they have excellent reviews? 
Answering these questions will help you position your agency against them by highlighting your agency's strengths in areas where the competition falls short. It's also a great point of reference to narrow your niche further and add laser focus to your services. 
How To Assess Your Competitors' Websites
To understand what you're up against, search for your competitors' websites and see what shows up. It'll likely uncover one of three things:
1. No other niche marketing agencies are ranking for those keywords. This might indicate an opportunity, but it could also mean that there's no market for this niche. 
2. Other smaller sites are ranking for these keywords, or they're mostly low quality. It is a good sign that the niche holds an opportunity worth pursuing because there is some market for it with low competition. 
3. There are loads of well-known sites already ranking for those keywords. The bar is already set very high in this scenario, and an oversaturated market is difficult and costly to penetrate. If this is the case, you may need to drill deeper into a sub-niche (e.g., a Vertical + Specialization, such as dental SEO). 
To speed up this process, use a Rank Tracker tool to get those keyword insights at the click of a button. 
See what the competition is doing and take advantage of any untapped opportunities. Track keywords at the click of a button on AgencyAnalytics–it's free for 14 days.
5. Find a Point of Differentiation 
Differentiation matters, especially when you're competing against other niche agencies. Your lines of business are so similar that it's easy for prospects to wonder what's the difference between them.
That's why your niche agency needs a unique selling proposition. To get started:
Evaluate the competition by doing a SWOT analysis

Look for any untapped marketing opportunities (e.g., using keywords that competitors haven't capitalized on)

Invest in the right people who'll make your agency more efficient and valuable

Provide adequate training for your staff to become subject matter experts
Wondering how it works in practice? Take Terrayn Marketing–an agency that's specialized in providing marketing services for the cannabis industry. By investing in a well-versed team that knows the intricacies of the cannabis industry, they've developed a competitive edge and increased brand trust. 
We were building a client base in an industry that we needed to learn about. So we made a conscious decision to hire industry insiders with high levels of expertise–it's a huge differentiator for us. Even some of our team members who may not have that operational experience learn from the folks who have. We've always looked for people with industry knowledge. 

–Trevor Shirk, Founder of Terrayn Marketing
Interested in their full story? Check out the video below or read more about how Terrayn Marketing navigates growth in the cannabis niche as a marketing agency.
6. Leverage Your Network To Get Referrals
We work almost 100% on referrals. While digital agencies often think that they should be utilizing digital, we have found that when your market most needs your services and you have developed a good reputation, you don't need to do a lot of marketing. This does not mean there isn't a place for it, but your number one lead source should be referrals in a niche after a time, or something is wrong.

–Nick Fitzgerald, President at AuDSEO
Word-of-mouth travels (and quickly). And while you may be researching the best outreach strategies, don't overlook the power of referrals and networking.
Niches are often close-knit, and your clients may have industry peers in need of your services. Once you've established healthy agency-client relationships, don't be afraid to ask for referrals. You never know who you'll come across!
Focus on nurturing those relationships and watch your niche agency prosper. As Fitzgerald describes, "We form new relationships (both referral and client) and grow constantly." 
"Ultimately, these new relationships continue to fuel our constant success in the field. Without the focus on this specific niche, it would have been much more difficult to earn the strong reputation we have that earns those relationships."
7. Plan Ahead To Buffer Against Economic Uncertainty
Say there's a recession that significantly impacts your niche. How will you protect your agency against this financial uncertainty? You don't want your agency to plummet just because there's a fork in the road or evolving market conditions. 
That's why it's essential to have a contingency plan, just in case. To ensure you're not caught off guard, remember to: 
Uncover additional market needs through market research and diversify your niche-related services 

Plan ahead for rainy days–have extra savings in place to cover your overhead costs in case of dents to cash flow

Communicate regularly with your clients and understand any challenges in their niche-related industries that could affect your bottom line

Reiterate your agency's value proposition and show that your services are indispensable 
During the lockdowns of 2020, we had a client who wanted to cut back on marketing because they were experiencing a slowdown. We were able to show them that the customers they were still acquiring were actually coming from the marketing we were doing, and if they cut that marketing they'd be cutting their only source of new customers at that time. So having real-time accurate marketing in place saved our client and us from making a costly mistake.

–Kurt Schell, President of Lithium Marketing 
8. Narrow Down Smart  
One pitfall of finding a niche is keeping it too broad. Another is narrowing it down too much. There's a fine line between niching down and closing yourself to new opportunities. When picking a niche, one rule of thumb is to monitor for recent trends and movements within a chosen niche. 
Take the Health and Wellness vertical, for instance. It has its traditional mainstay clients like doctors and dental offices seeking online marketing. But it also evolves around newer health and beauty trends, with new businesses like yoga studios and micro-blading offices seeking online marketing services from agencies.  
To avoid casting the net too widely, keep up with industry trends and decide whether budding niches are worth investing in. Be sure to conduct research at regular intervals, check in with any existing clients, and adjust your niche strategy accordingly. 
Want More Agency Leadership Tips, Delivered to Your Inbox?
Subscribe to the AgencyAnalytics Newsletter!
Niche Down to Level up Your Digital Marketing Agency
Running a marketing agency is a mix of meeting market needs, generating sustainable revenue, and doing something you're passionate about. And choosing the right niche is an integral part of that. Plus, it's a well-tested strategy to stand out from a sea of generalists.
But regardless of which niche your agency specializes in, you'll need to have the right systems in place to observe data-driven insights over time. It's the only way to monitor niche-focused trends over time and be more agile. 
That's where an automated reporting tool like AgencyAnalytics comes in: to track your clients' metrics, prove your agency's worth, and report on what matters most. 
Invest in a sustainable reporting system and get better at serving your niche clients. Cut down on manual reporting time with AgencyAnalytics–sign up for a free 14-day trial today!
Since our niche is legal marketing, through reporting on AgencyAnalytics, we've been able to place our customers in the driver's seat of their entire investment.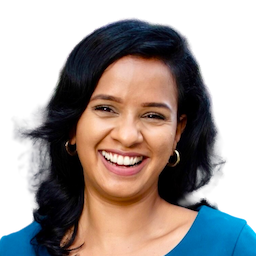 Faryal Khan is an experienced marketer and brand photographer with a passion for content creation. She creates value for brands through storytelling and captivating visuals.
Read more posts by Faryal Khan ›
Try AgencyAnalytics risk-free for 14 days. No credit card required.