If you're a marketing agency looking for SEO tips to jumpstart your real estate client's business, you've come to the right place. 
Here's a scenario–a renowned real estate agent you've heard about for years approaches your marketing agency (he even closed the sale for your family friend's first home a few years back).
You're ecstatic but also a tad surprised since he's pretty well known in the area and has a fabulous reputation from what you recall.
So, what's the problem?
Despite getting traction from word-of-mouth referrals; to his dismay, he's not getting much new business and has even lost qualified leads to less experienced real estate agents. 
As a result, he's missing out on opportunities to expand his network and earn more commission. Wondering why this happened?
Lack of an online brand presence and an inconsistent social media presence.
In fact, a few referrals mentioned that they searched his name on Google and nothing much showed up aside from an outdated website with no security certificate (yikes). 
On the bright side, he did the right thing by reaching out to your agency for a solution! 
In this article, we'll explore actionable real estate SEO tips to create brand visibility and increase the chances of favorable search rankings for real estate clients. 
Why Is SEO Critical for Real Estate Agents, Anyway?
The competition in the real estate industry is stiff, and many options exist. The choices are endless from a self-employed real estate agent to a large-scale realtor with a significant market share. 
Having a great reputation on the ground is one thing, but a visible online presence really solidifies an agent's credibility and authority. It's also much easier for an agent to have an influx of qualified leads compared to pounding the pavement incessantly looking for new business.
In fact, a whopping 97% of people looking for real estate use the internet for their search, and 51% of home buyers found their property online. 
There's no question that a solid real estate SEO strategy is an absolute necessity to succeed in such a competitive market. 
A Real Estate SEO Strategy Drives & Filters Leads 
An important part of any SEO strategy is adding value to your client's target audience and sharing educational insights related to their industry. Most importantly, you want that well-crafted content to bolster your client's search ranking and website traffic.
For real estate agents, there's an abundance of content ideas such as videos, live Q&As, or interactive polls. Sharing key insights and educational tips will answer questions from prospects who are in the awareness and consideration phases. Making that connection early can make all the difference.
This has a two-fold effect because it establishes brand authority while also increasing the likelihood of qualified leads reaching out with more serious inquiries, and filtering out people who are just casually browsing. 
Any real estate agent who's been around for some time can tell you how time-consuming it is to constantly answer calls or inquiries from prospects who aren't even close to purchasing a property. It takes time away from working warm leads, doing property tours with qualified leads, and even closing property sales.
Don't get us wrong– engaging with leads who aren't yet qualified is a part of working in the real estate industry. In fact, prospects who may not seem serious can make an entire 180-degree change in a matter of weeks or months. After all, investing in real estate is a highly-coveted goal for many people.
Wondering what a buffer for this is? You guessed it: a comprehensive real estate SEO strategy. 
Consider including content that helps filter out people who are not ready to buy, such as:
Should You Rent Or Buy Your Home? - This poses some questions that will help people decide if they're ready for the investment.

Why You MUST Get Pre-Qualified for a Mortgage - This type of content should prompt users to follow this crucial step before contacting a purchasing agent. 

7 Things To Do Before Contacting a Realtor - Get the pre-work done before your real estate client gets involved.
The list goes on, but this kind of pre-qualifying content reduces the tire-kickers and lookie-loos that could clog your client's lead pipeline. 
Local SEO Helps Prospects to Find Real Estate Agents
If you're looking for property in New York, would you choose a real estate agent based in Los Angeles? Probably not. 
When prospects are searching for a real estate agent, they want someone well-qualified, personable, and knowledgeable about property in a specific area. That's where a local SEO strategy influences a prospect's decision since it's a highly location-sensitive search. 
An important part of SEO for real estate is considering user intent so you understand what prospects are looking for. For real estate searches, in particular, prospective clients are likely to input a property type and location. That's why it's absolutely critical for real estate websites to implement local SEO strategies. 
A Google Business Profile comes in handy as it allows users to find your client's real estate business on demand, especially when looking for immediate options within a close radius.
In addition to a location map, it includes your client's business name, contact information, and user reviews. Not only does this increase website traffic (which directly feeds into their SEO strategy), but it also leads to more in-person visits and phone calls.
"Treat a Google Business profile just like you would social media. Regularly updating your client's profile with posts, news, information and more helps show the business is active and keeps the profile ranking highly." - Matthew Edwards, Mission Director at Mars Digital
According to Google, local businesses show up based on:
Relevance: How applicable a business is to a user's search keywords.

Distance: How far a business is from the user's location.

Prominence: How well known a business is. For this particular factor, Google scans webpages, directories, and other related content to get a clearer picture of a business's credibility. Online reviews also play an important part in establishing prominence.
While there's no way to request a favorable ranking of your client's Google My Business profile, you can ensure their details are filled in as much as possible. This will improve the chances of showing up higher in search results.
Real Estate SEO Increases Awareness and Brand Authority
Your client can be an expert in the real estate industry, but it won't matter if no one knows who they are. 
And don't take our word for it! According to the National Association of Realtors, 64% of people searching for property frequently reach out to a real estate agent. 
Increasing your client's search results ranking will ensure that prospective clients find them in the first place.
11 Real Estate SEO Strategies Your Agency Should Know  
Coming up with a solid real estate SEO strategy should be your first line of action to deliver quantifiable results. 
Here are 11 essential tactics we'll explore further:
1. Start With an SEO Audit
Before you hit the ground running with an SEO strategy, it's important to do a technical SEO audit, with your favorite SEO software tools to evaluate where your client's website is at. If search engines have a hard time crawling your site, it will be difficult to rank.
With an SEO audit, complete a thorough assessment of your client's website to find any broken links, outdated content, or slow-loading web pages. There's nothing more frustrating than a prospect visiting a real estate website, finding a property they're intrigued by, and seeing an error page.
Other elements of a website audit include evaluating:
Webpage loading times

Mobile-friendliness and user experience 

Whether content needs updating (e.g., to reflect changes in real estate regulations)
You'll also want to incorporate a local SEO checkup which should include an accurate NAP (name, address, and phone number) on your client's Google My Business profile. 
Agency Tip: If your client has property listings on their website, these should be pulled dynamically to make sure that updates to prices, availability, or features are mirrored on your client's site. This will ensure accuracy and up-to-date content. You may have to spend a bit more time tweaking your local SEO strategy for real estate agencies with multiple locations, but it's definitely worth the time.
Be sure to add your own client's spin on property listings. Simply posting the same content about a house that is available on multiple other websites won't help you win the SEO race.
2. Use Analytics to Assess Performance
Data-driven results will give you a clearer picture of what's happening with your real estate client. If you haven't already, set up a Google Analytics account for your real estate client's website to get a better understanding of what pages and content perform best. If you're using a call tracking software to track calls and metrics, you would want to track lead gen performances as well.
Whether it's a property listing page or educational blog posts on the ins and outs of the real estate industry, arming your clients with relevant knowledge will help them understand what resonates with their target market the most. 
Consider sending a monthly report to your real estate client and monitor any significant changes so you can adjust their SEO strategy accordingly.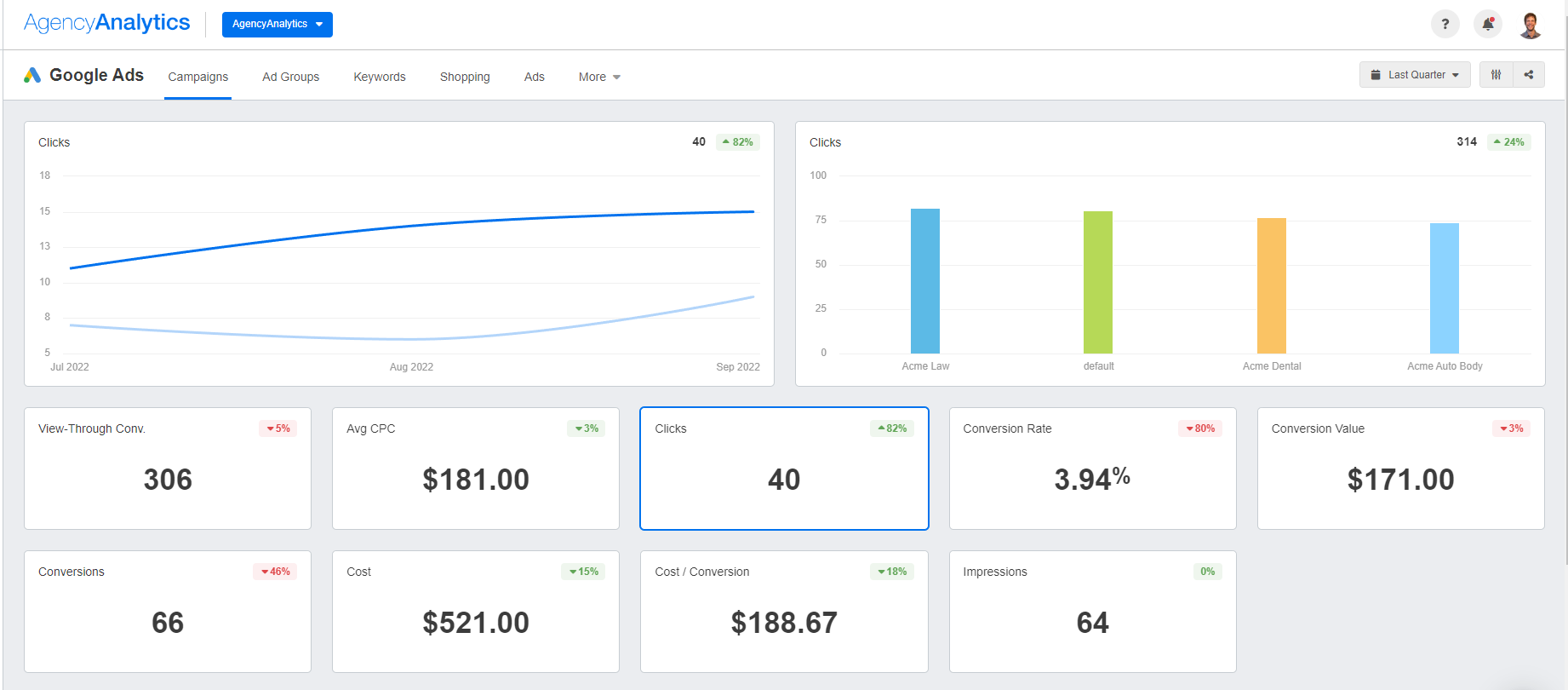 A client reporting tool such as AgencyAnalytics gives you a comprehensive overview of the client's SEO analytics and website performance in a sleek, consolidated format. Try it free for 14 days!
3. Provide Online Real Estate Tools 
While these tools aren't a substitute for human interaction, they provide users with a fairly practical assessment of what they can expect during their home buying journey. 
This helps to filter leads further while also providing valuable insights. It also helps users narrow down their property options and have a better-defined budget, saving time for them and your client. 
Here are 3 examples of online real estate tools that add value to a real estate website:
Mortgage Calculator
This tool allows a user to plug in a property price, then returns values for a down payment and interest rate. Keep in mind that this is solely an estimate, and rates will vary across lending institutions. This means you'll have to do an occasional sweep of lending rates for any significant changes or updates.
Agency Tip: If your client has a strong working relationship with a particular lending institution, a partnership can add tremendous value to developing an online real estate tool (not to mention leveraging an additional network for higher brand visibility). In this case, a collaborative effort for an online real estate tool can be a win-win situation as it can lead to higher website traffic and greater brand awareness for both parties.
This kind of tool can also help a potential homebuyer answer the much-asked "how much can I afford to spend" question without having to ask an agent.
Property Valuation Tool
This tool comes in handy for a real estate website wanting to provide value to clients selling their properties. Not only does it provide an on-demand estimate, but it also streams the prospective client closer to the conversion stage (in this case, it could be contacting the real estate agent to list their property).
Similar to a mortgage calculator, you'll want to do an occasional sweep for any changes to valuation estimates.
Virtual Neighborhood Tours
When people move, they don't always stay in the same city or even the same state. Providing a virtual tour of the area that your client services delivers a host of useful information on local shopping, attractions, schools, neighborhood features, and more. 
This can range from a simple written guide with images that provide information on the area or a more in-depth video or virtual guide to the town's amenities.
4. Optimize Your Client's Website for Mobile Use
Given the abundance of online real estate listings, it comes as no surprise that 76% of homebuyers used a mobile or tablet search device in their home search.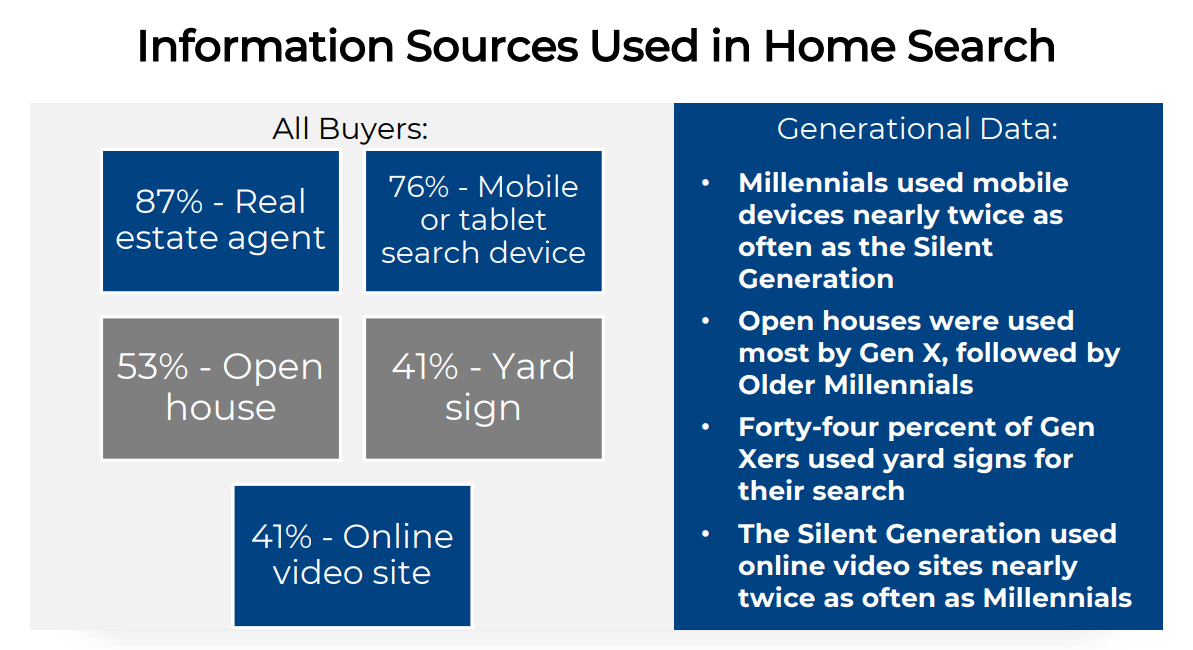 This means you should optimize your real estate client's website for mobile viewing since many prospective clients are on the go and want property details on demand. 
You should also ensure that loading times aren't too long when it comes to images and contact forms in particular, as this can be a make or break for an eager prospect. 
5. Ensure Website Accessibility
Web Access Initiative (WAI) defines accessibility as "websites, tools, and technologies [that] are designed and developed so that people with disabilities can use them. More specifically, people can perceive, understand, navigate, and interact with the web and contribute to the web."
Aside from disabilities, an all-around website accessibility plan also helps people who are temporarily hampered by conditions such as broken bones or sprained ligaments. Because real estate is such a high-end and in-demand product, you'll want to ensure your client's website is accessible to as many people as possible. 
It's also in your client's best interest to ensure accessibility from a legal standpoint. For example, consider the Robles v. Dominoes Pizza case, where a blind man sued the popular pizza franchise for lack of website accessibility. Long story short- he won the case, which was a huge step for inclusivity and simultaneously a blow to the brand's reputation. 
Following this best practice can position your client's real estate brand for success while also adopting a best practice for inclusivity. 
6. Local SEO is Key
As mentioned earlier, real estate marketing is local marketing.
Like other service-based industries such as law and dentistry, search engine results page (SERP) for real estate heavily depends on location. 
When it comes to a local SEO strategy, be sure to incorporate:
A comprehensive Google Business Profile

NAP (Name, Address, and Phone Number) on all web pages to ensure that prospective clients can reach out at any point 

Implement local schema markup. For real estate websites, this will involve coding microdata into the HTML specific to local factors such as business name, practice type, address, and postal code

Local business reviews from past clients 
Implementing these steps will improve search visibility and set them apart from competitors in the real estate industry.
7. Utilize Real Estate Directories
While social media is a great resource for brand visibility and lead generation, it's easy to get lost in the noise of other posts or even competing property listings. Part of your client's real estate SEO strategy should include directory listings. This is a more targeted form of marketing as users who visit these sites can be further along in the sales funnel and closer to conversion. As far as SEO is concerned, these additional listings can improve search engine rankings and brand visibility for your real estate client. Some great examples of real estate directories include Zillow, Realtor.com, and Trulia.  
8. Create Meaningful Content Related to Real Estate
As we often say in marketing, "content is king." The same principle especially applies to your client's real estate SEO strategy because consistent, valuable content increases the chances of a higher search ranking and also generates leads for your real estate content.
This can include a mix of content such as well-lit property photos, educational videos, and even informal tidbits and informative blog posts. 
Social signals help improve SEO for real estate, so utilize snippets of videos and photos to create dynamic reels or videos on social media that really capture attention and showcase all key selling points of a property. 
With 52% of real estate leads coming through social media, it's important to maintain consistency, so your client's messaging doesn't fall through the cracks.
Because of the importance of social signals to any SEO strategy, consider adding a social media audit to your agency's regular SEO reporting, even if you are not managing their social channels. This will identify which posts have the most engagement and where improvements are needed and could provide an excellent upsell opportunity.  
9. Build Backlinks
Backlinks are an important factor for search ranking. In a nutshell, backlinks are considered signals from other websites that your client's content is good enough to link to. The more this happens, the more favorable your content ranks on search engines as it advocates for your client's authority and credibility. It also drives traffic to your client's website and increases the chance of conversions. 
There are three main (white hat) ways to generate backlinks for a client:
Create link-worthy content - This is a more passive but effective approach where you create deep, rich, valuable content that others will want to reference and link to. The only challenge here is that people need to be able to find the content before they will link to it.

Link outreach - A more direct approach, this strategy invests time and energy in actively locating and engaging with other websites to encourage them to link to your client's website, often from content that is already published. 

Guest posting - Connecting with relevant but non-competing websites to provide expert content to their readers is a time-consuming but valuable way to generate incoming links to your client's website. 
10. Get Online Reviews To Enhance Brand Presence and Credibility
Don't miss out on rave reviews due to a lack of process. 
Decide when you want reviews to happen (e.g., at the close of a property sale). Once this is set, ensure your clients are aware of where they can give a rating or leave a written recommendation. This may be on social media, a review platform, or under a dedicated section on your client's website. 
Agency Tip: To get the most traction, consider repurposing online reviews across different placements such as on the website or within social media highlights and stories. When posting reviews on social media, utilize the recommended dimensions so any messaging or visuals aren't cut out in the process.
This can also feed into your client's SEO strategy as multiple online review placements can show up on organic search results.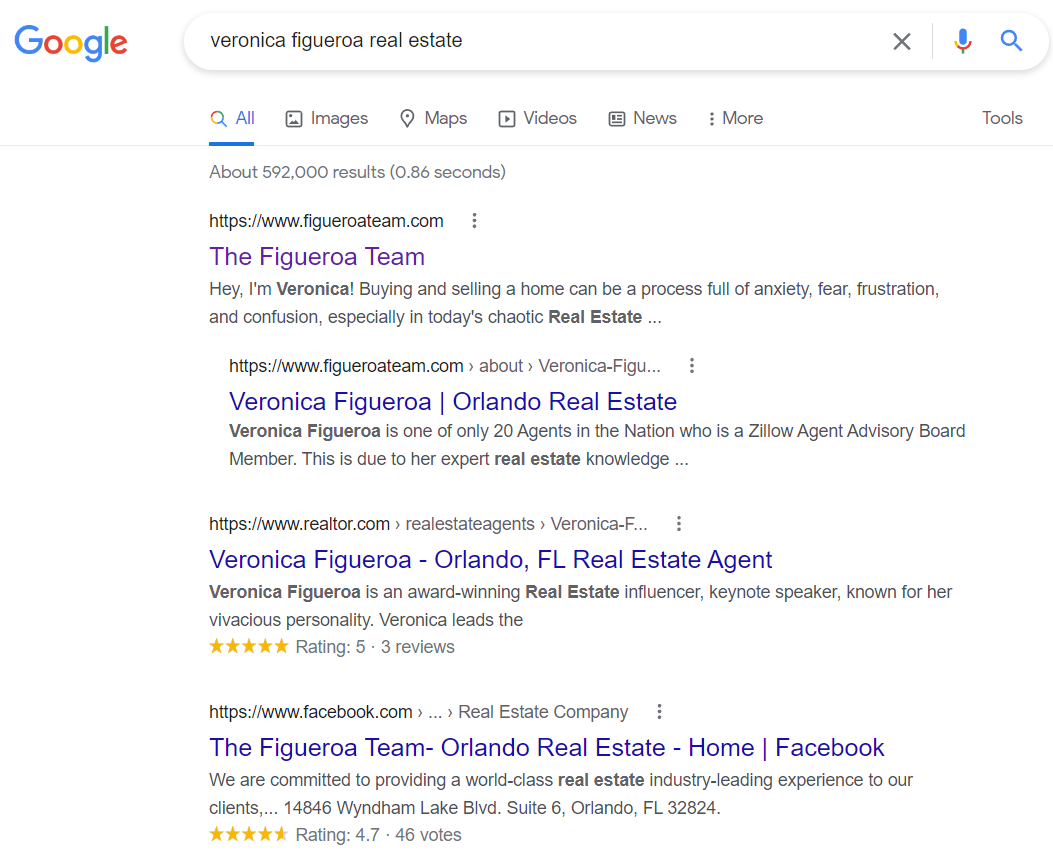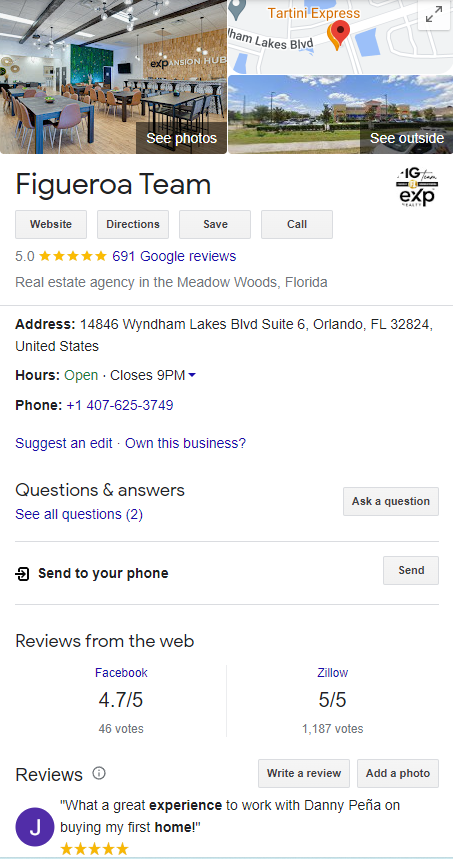 As part of your ongoing real estate SEO strategy, remember to monitor online reviews to track any changes to your client's brand reputation. 
11. Earn Featured Snippets for Real Estate Related Searches
After you've clicked 'Enter' on the Google search engine, that larger text that pops up to answer your inquiry is known as a featured snippet.
The tricky thing is that you can't mark your content as featured snippets- Google makes that decision. However, you can increase your client's likelihood of having a featured snippet by:
Using keywords with low competition but high relevance

Structuring your client's content by utilizing headers 

Clearly and concisely answering common questions

Consistently creating high-value and authoritative content
While there's no guarantee these steps will result in a featured snippet, these tips will strengthen your client's SEO strategy and help their brand to stay relevant.
 Agency Tip: Have a one-on-one with your real estate client and take note of frequently asked questions they receive from their clientele. Not only does this help to create an ongoing bank of content, but it also gives you key insight into search inquiries and possible keyword combinations.
Take Your Real Estate Clients' SEO to the Next Level
The real estate industry is dynamic and will definitely keep your agency on its toes. Following these comprehensive SEO tips will help your clients build brand authority and hit those property sale targets!
As you implement your client's real estate SEO strategy, be sure to do your due diligence through monthly SEO tracking and reporting to monitor your agency's search marketing efforts. This helps you make an informed decision about what should be tweaked and what works well.
SEO involves many moving parts, and it's way too tedious to manually pull all of that rich data. Don't waste your time with free keyword ranking tools or pulling data from dozens of different sources when you could be focusing on providing real estate SEO services for your clients.
With AgencyAnalytics, build a white-label report, track different types of keywords, check backlinks and perform an SEO audit-all with the click of a button!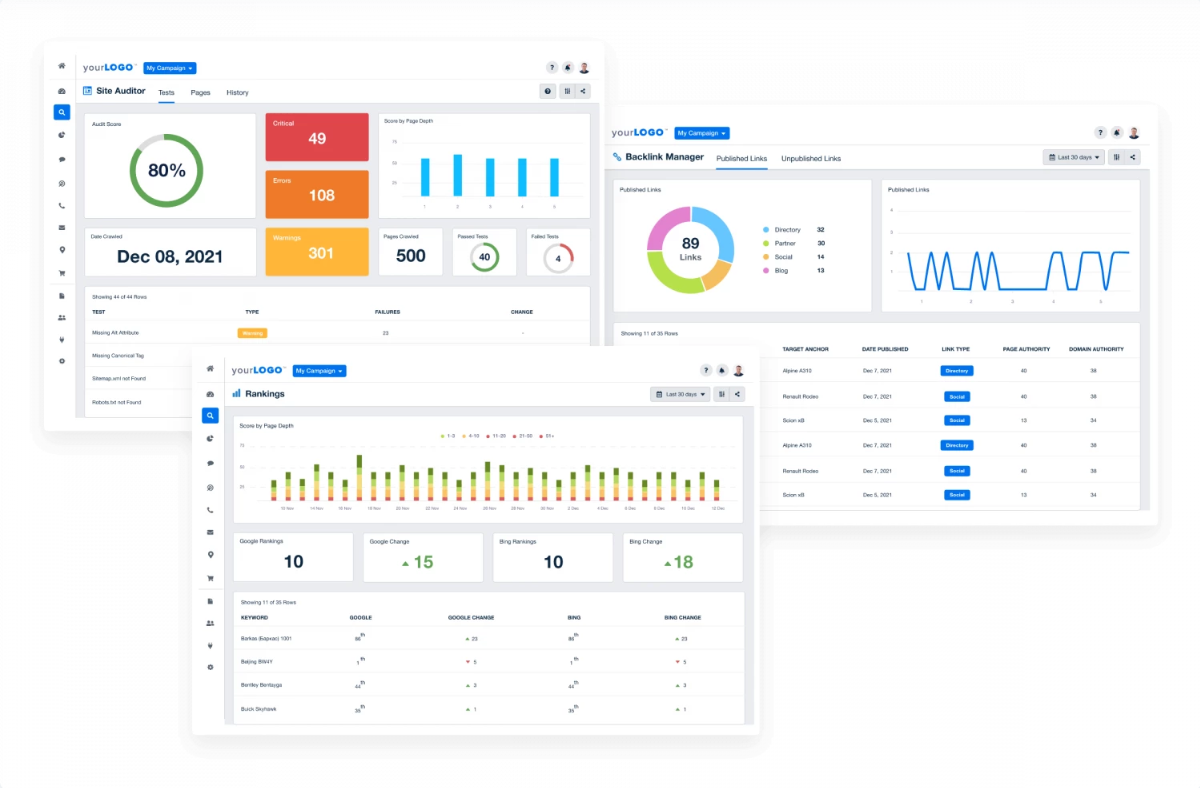 Create winning SEO proposals and automate your SEO reports so your real estate clients see how their marketing efforts are performing. Try AgencyAnalytics free for 14 days–no credit card required!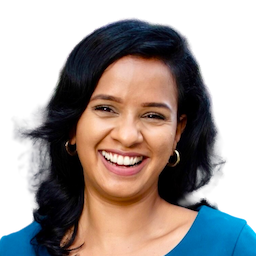 Faryal Khan is an experienced marketer and brand photographer with a passion for content creation. She creates value for brands through storytelling and captivating visuals.
Read more posts by Faryal Khan ›
Try AgencyAnalytics risk-free for 14 days. No credit card required.