It's a great time to provide SEO for lawyers, whether you are getting into a law niche or expanding to different areas, such as a criminal defense law firm, or homeowner's insurance claim. In a recent survey, 84% of law firms said they were planning on increasing their spending on digital marketing technology and programs. This high interest in digital marketing is a prime opportunity for agencies that offer services tailored to the specific needs of law firms.
There is no single best-fit approach for law firms, though. For one thing, paid advertising can be very expensive in the legal space.  
Google ads are really expensive. Depending on the terms, they can be in the hundreds of dollars per click. Doing something like that means that you've got to convert really well to be able to make money back. But, really, it just takes that one seven or eight-figure case to do it–so that's why the competition is so high.

— Brian Craig, Founder and CEO of LegalScapes a digital marketing agency for law firms that have been specializing in legal marketing since 2012.
And even with all that money floating around, an agency hoping to operate in this space will need highly adaptable strategies to help their clients reach their marketing goals and land more clients.
This is where organic search comes into play. By establishing long-term goals and creating powerful SEO strategies, an agency creates a substantial organic presence to support their clients' growth for years to come. But a comprehensive law firm SEO strategy involves various moving parts your marketing agency should develop to help clients meet their goals. 
It's really important to not put the cart before the horse and focus on one thing rather than the other. When you have the full picture in place, you're really able to look at the whole picture and make decisions from that standpoint, instead of pigeonholing tactics and seeing where it fits, you can make the whole picture fit.

— Gregory Eisenberg, CoFounder at LegalEase Marketing. LegalEase Marketing is a full-stack marketing agency that was created by lawyers – for lawyers.
Here's what you need to know. 
How and Why Potential Clients Search for Law Firms
Before we outline the best ways to optimize SEO for lawyers, let's get back to basics and consider why potential clients are Googling law firms in the first place. 
Online searches for law firms are exceedingly popular, with 57% of potential clients using search engines. Not surprisingly, a recent study shows that Google remains the most popular search engine for potential clients in search of a law firm.
In addition, local reviews can swing potential clients in a particular direction when researching which law firm to go with. This reiterates the need for a solid local SEO strategy for law firms which we'll delve into later on.
However, Brian Craig, Founder, and CEO of LegalScapes, warns that you have to treat reviews differently in the law firm SEO space. He explains how you can't showcase partial reviews on websites, saying that "if a client leaves a review, you can't take out the middle part and say 'Hey, this piece looks great, I'm going to show it on my website.' You have to show the review in its entirety."
Many law firms also rely on their website as a primary source of attracting potential clients, which gives marketing agencies a competitive edge in providing SEO-related services.
"Our responsiveness really helps us stand out. We do something called 'newsjacking.' So if a hot topic comes into the news, we'll quickly write about it for a client's website. It positions them as the ideal legal analyst that potential customers should reach out to when the time comes." - Melissa Diaz, Vice President at Premier Legal Marketing.
In a recent survey, over 60% of law firms see their website yielding ROI, which is no surprise given the high number of potential clients searching online for law firms.
Help your clients build their personal brands and infuse their voice throughout their website because they are what make up the firm. This humanizes their law firm and trickles down to SEO. 
Agency Tip: The voice of the law firm could be a fictional character, or it could be the attorney(s) at the firm that works directly with their clients. 
What Makes SEO for Lawyers Different From Other Industries?
You've probably developed multiple SEO strategies for a variety of clients. Like other businesses, law firms have sensitivities and nuances within their realm of work that must be considered before deep diving into strategic planning. And as laws and guidelines change, SEO must change.
"One of the challenges, but I enjoy it, is staying up to date on those guardrails and guidelines that are put out as they evolve," says Brian Craig. "There are always new opinions that are getting adopted. It's definitely an ongoing thing you have to stay up to date on."
It's self-explanatory and understood – a law firm is highly webbed into the dynamic world of legislation and state governance. And law firms are typically more risk-averse than your average client might be. But what does this mean for your marketing agency and law firm SEO?
There's a balancing act between doing things that convert for the firm and making sure to stay within the guidelines set by the State bar.

— Brian Craig
1. Agencies Should Know About SEO-related Regulations
SEO for lawyers must consider state-specific regulations to avoid any sticky situations. With bar-set guidelines for each state on what you can and cannot say, Craig explains that "you can't call yourself an expert unless you're specifically certified by the bar in that area." For example, the American Bar Association outlines that lawyers may not imply or state they're experts or specialists without formal accreditation from the area they operate in. 
This means that www.yourexpertlawyer.com isn't a great idea for a website URL, nor is sprinkling the word 'specialist' throughout a long-form blog post if it's directly attached to the law firm brand.
Law firms can even be penalized for misleading statements, such as referring to their practice as "the best" or "most competitively priced." It's imperative that your agency complies with legal regulations and adjusts law firm SEO tactics as necessary.
However, your agency can craft a comprehensive SEO-based content strategy to show the client's expertise in a particular area of the law. There is a distinct difference between "telling" and "showing," particularly in the law firm SEO space. 
For example, if your client is an estate lawyer, your team could create an article about tips for creating a will. For a divorce lawyer, write about what a common-law spouse is typically entitled to receive in the event of a separation. 
Understanding what people are asking and also what they are not is also important for context. You'll also want to think about what they'll be asking in the future, so monitoring changes to legislation, or new laws that are on the horizon, is a good exercise to conduct as there's the possibility of changes or amendments. Changes in laws often lead to higher searches regarding those changes, which your agency can capitalize upon. 
2. Potential Clients Are Doing Time-Sensitive, Life-Changing Searches
When a potential client is in search of a law firm, there's likely a pressing issue at stake–one that can even have life-changing implications.
Given the urgency of legal cases, it's no surprise that 66% of clients seek the convenience of online payments for legal services. Mobile responsiveness is also an important factor for law firm websites, especially when potential clients have to make time-sensitive decisions.
Each client will have unique cases or concerns that will reflect in the keywords that are inputted. For instance, the wrongly accused or someone on the verge of divorce takes different approaches when searching online. One potential client may need a lawyer immediately for an upcoming hearing, while an individual considering a divorce might need a long-term relationship to negotiate terms. 
"If it's family law, there can be very acute issues that people may have," explains Craig, adding "if it's business law, there could be a very long, drawn-out engagement process. It really varies with practice area." 
3. Legal Marketing is Local Marketing
If you've got a pending legal matter in New York, it's highly unlikely you'll search for a law firm based in Toronto despite the favorable currency exchange rates. However, if you're searching for a corporate lawyer, you may want to find one who is familiar with the laws in the state where your client is incorporated, which may not be the same as the head office. 
When it comes to sourcing a law firm, potential clients will more than likely include close proximity within their online search. A good local SEO strategy encompasses a Google Business Profile, which is very important for a location-driven business, such as a law firm. 
If your law firm client plans to run local service ads in addition to an SEO strategy, getting Google Screened enforces credibility and trustworthiness. In fact, local service ads can only be accessed once this step has been completed.
This vetting process includes background and license checks while also taking customer reviews into account. Once all details have been verified, a green check mark shows up alongside a law firm's local service ad to reassure potential clients that all due diligence has been conducted. 
How Do Search Engines Decide Where to Rank Law Firm Websites?
The answer isn't solely based on one factor. When it comes to SEO for lawyers, a comprehensive strategy encompasses both on-site and off-site factors. The outcome works to drive traffic to a law firm's website while simultaneously establishing the business as a reputable authority.
But how exactly can this be achieved?
Law Firms Must E.A.T Well to Perform Well on Google Searches
Google has coined a nifty E.A.T acronym that perfectly summarizes what you want a law firm SEO strategy to have: expertise, authoritativeness, and trustworthiness.
Much like a law firm and your marketing agency, Google wants to deliver the most credible results possible. This involves producing a continuous stream of educational, relevant content while ensuring the website performs optimally through regularly scheduled exercises such as SEO audits.
Here are some short pointers that will help law firms E-A-T well: 
Expertise - To showcase a law firm's expertise, create compelling content that answers simple questions about their legal specialty. Although there are cautions around providing "advice" online - particularly for a lawyer - there are ways to write about a subject that shows how well-versed your client is in that area of the law. 
Authoritativeness - Look at the content that other lawyers are providing on a particular subject. Your client's content needs to be as good, if not better.
Trustworthiness - This should go without saying when it comes to law firm SEO, but signals that Google uses for trustworthiness include links and citations in other articles. 
As mentioned earlier, the more you showcase your client as an expert in their area of practice, the better for the entire E-A-T algorithm. 
On-Page and Off-Page Rankings Go Hand in Hand for Law Firm SEO
Both on-page and off-page are needed to do SEO for lawyers. On-page SEO refers to the optimization of web content for both users and search engines, and should be a regular part of comprehensive website audits. This can be done in a number of ways, such as through content, meta descriptions, and internal links, to name a few.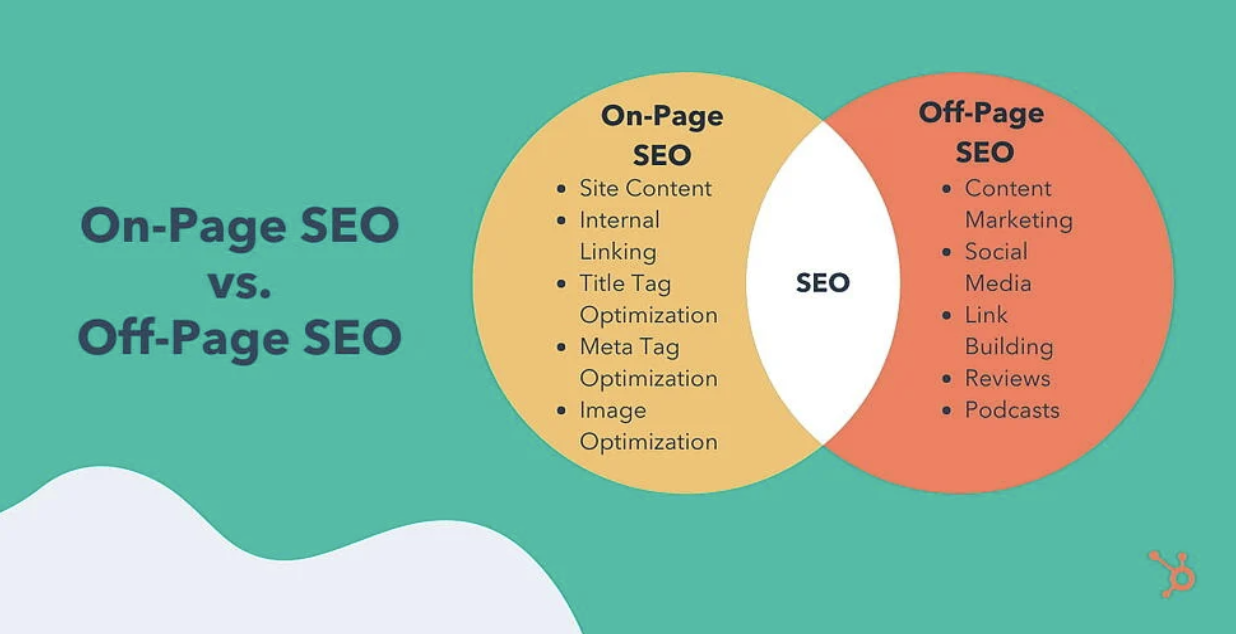 This can also include important tasks such as image optimization (compressing images for faster load times without compromising quality, for example) and internally linking to other parts of the website.
But it's not just about the SEO of it all. Having real people really reinforces the firm's branding, so the content must effectively represent the brand. This means removing stock images and showing real images of the people at your client's firm–even if it means getting a photographer to recreate those stock images. 
On the other hand, off-page SEO refers to the activities that create brand awareness through actions taken outside of a website that will affect search engine results pages (SERPs). Off-page SEO encompasses all external content marketing efforts (such as guest posts or contributing to legal publications), generating backlinks to your website from external sources, gaining brand mentions, and even online reviews.
For law firm SEO specifically, off-page SEO should be an ongoing exercise such as having an active social media presence with user-relevant content (e.g., educational videos on legal processes that are optimized to rank on YouTube) or even guest blogging in partnership with industry-related peers and publications. 
Local SEO Influences a Law Firm's Google Ranking
Having a solid local SEO strategy in place is a must for law firms. Google Business Profile continues to rank highly, which makes perfect sense for potential clients who need a law firm within close proximity.
Use Google Business Profile reporting to track and showcase local search KPIs from one single platform.  Try AgencyAnalytics free for 14 days. 
Local SEO KPIs like traffic growth are key to showing how well your agency is driving leads for your law firm client. At the same time, search by brand and service category shows how successful your SEO strategy is at reaching the right people, at the right place, at the right time. 
But in the end, it's all about driving results. Brian Craig explains that "cost per lead and cost per case are very important numbers as long as it makes sense with their average case value."  He elaborates that agencies should focus on the metrics that matter to their clients. Don't simply pick five random metrics to assess a campaign's performance, even if they look good, adding,  "those executive-level metrics–you can't fake those."
How to Optimize a Law Firm Website for SEO
The big-ticket question remains: how do I maximize a law firm's potential through SEO? It may seem intimidating, but it doesn't have to be.  Here are a few key takeaways:
Find buyer-intent keywords

Review competitor sites

Optimize a law firm's website for user experience

Maximize Local SEO tactics

Invest in generating relevant content
Understand the Sales Process to Find Buyer-Intent Keywords
As the term implies, buyer-intent keywords suggest that a potential client is most likely looking to procure law services in the immediate future. To better understand buyer intent, consider the sales cycle process when potential clients research law firms and how it matches your client's legal services.
For example, if your client specializes in a particular area of the law, such as Intellectual Property, optimizing their site for generic terms such as "Chicago lawyer" will yield less powerful results than focusing on the higher-intent keywords around IP law.
Before reaching the "buyer" stage (i.e. deciding to work with a particular law firm), a potential client may review previous case studies, testimonials, and other supporting content to make a firm decision (pun intended). 
Even at the preliminary stages of exploring law firms, potential clients may follow through on calls to action, such as filling out a contact form or calling to get more insights. Their user experience at this crucial stage will influence whether they move along the sales cycle to eventually convert. 
That's why it's so important–both for the firm and the agency–that a proper CRM is in place to handle the leads.
If you create a website for a law firm that doesn't have a good CRM and process in place, they won't be able to handle all that traffic your agency is driving to their business. It would be a risk to your agency, as they might complain that they're not getting any results simply because they don't have the follow-up calls in place to close a new client contract. 
To better reach these high-quality leads that are more likely to convert into paying clients, consider the different types of keywords, including:
| | |
| --- | --- |
| Informational keywords | Although they may not have an immediate need, this could be a potential future client who is looking for information on rental laws, traffic laws or divorce proceedings. Use these keywords to establish a connection between the searcher and the law firm's brand.  |
| Navigational keywords | This includes searches for the business name, office location, staff members, or practices within a particular vicinity. These are potential clients trying to find your legal client, make sure that they can.  |
| Transactional keywords | A potential client may search for "hire a criminal lawyer in Miami" or "free lawyer consultation divorce Rhode Island." They are looking for your client's legal services; don't let them find the competition instead.  |
A helpful exercise would be determining the types of questions and inquiries a potential client may use for each of these keyword types. Based on this, create an SEO plan that reaches clients at the initial information-seeking phase and increases the possibility of converting leads to the transactional stage. Then, add these keywords to your agency's rank tracker tools.
For example, spend some time with the lawyers within the firm. Ask them what basic questions clients usually ask during their initial intake meeting, and craft a content strategy around those questions. 
Not only will this help reach potential clients before they've hired a lawyer, but it will help eliminate some of these time-consuming Q&A sessions. 
It's also a nice idea to infuse your client's law firm's personality into the mix to stick out from the competition and stand out with their own interests. These are the things that help make a personal connection, which is especially important in the realm of legal marketing and can seem rigid without.
Review Competitor Sites
Understanding a law firm's unique selling proposition goes a long way in maximizing an SEO strategy. Doing a competitive landscape analysis helps you craft a unique market positioning and give your law firm clients an extra edge.
Here's how to do a competitive analysis:
Evaluate competitors' website content and social media presence. This will give you an idea of the demographics they're trying to target and what their content strategy may be.

Understand what keywords competitors utilize most. Google's Keyword Planner offers insight into the volume for certain keywords and insight into keywords that are user-relevant but less frequently used by competitors. Google Trends also gives you a head's up on changes in search habits related to keywords that are already being used.

Perform a backlink analysis. Regularly scheduling backlink monitoring will help you understand what influences competitors' rankings on search engines and how well their content is performing. 
Optimize a Law Firm's Website for User Experience
It may be tempting to offload as much information as possible but keep in mind that law firm websites must be easy to navigate and user-friendly. Your clients may want you to pull out all the bells and whistles with animated content or other high-bandwidth tools, but this risks reducing their site speed and usability. Especially when they are looking for information on a deadline. 
Here are some simple but effective ways to optimize a website and increase the likelihood of potential clients reaching out:
Don't be afraid of having white space

Optimize website speed by compressing images 

Ensure the website is mobile-friendly and responsive

Pay close attention to meta information (titles, descriptions, alt tags, etc.) 

Set up a FAQ's section to answer relevant questions and address potential objections
Clients come first at law firms and the user experience on their websites should reflect that.
Invest in Generating Relevant Content
When it comes to SEO for lawyers and any other business, content is king, as we often say. Law firms should leverage content marketing initiatives to add that extra umph to their websites. To create relevant content, law firms should understand potential clients on a deeper level, such as what types of law-related questions they're likely to ask and even insights on frequently overlooked legalities. 
According to Hubspot,
Blog posts less than 3000 words ranked 3rd in overall B2B content that yielded the most favorable results

87% of marketers who utilized videos have reported an increase in website traffic, with 80% claiming that this content has increased sales

80% of marketers who have created podcasts and audio content will invest the same budget or even more in 2022
Creating a solid bank of content for each stage in a legal client's buying journey will also ensure law firms consistently churn out high-level content and rank favorably in organic searches. Although you always have to keep a watchful eye to make sure that content does not breach any legal guidelines, don't be afraid to step outside the box to make law firm content a bit more personable. This means adding a bit of personality or showing empathy for potential clients, which helps establish credibility and trust.
When people are searching for a law firm, they're looking to build that comfort right away. People are looking for that inviting personality, so it's really important that the website appeases the search engines, but also focuses on the individual going to the site because they need more than just a loaded up keyword base.

— Gregory Eisenberg
Even the use of statistics can be a compelling content marketing tactic. This helps potential clients see a law firm's extensive experience without having to explicitly say 'expert'.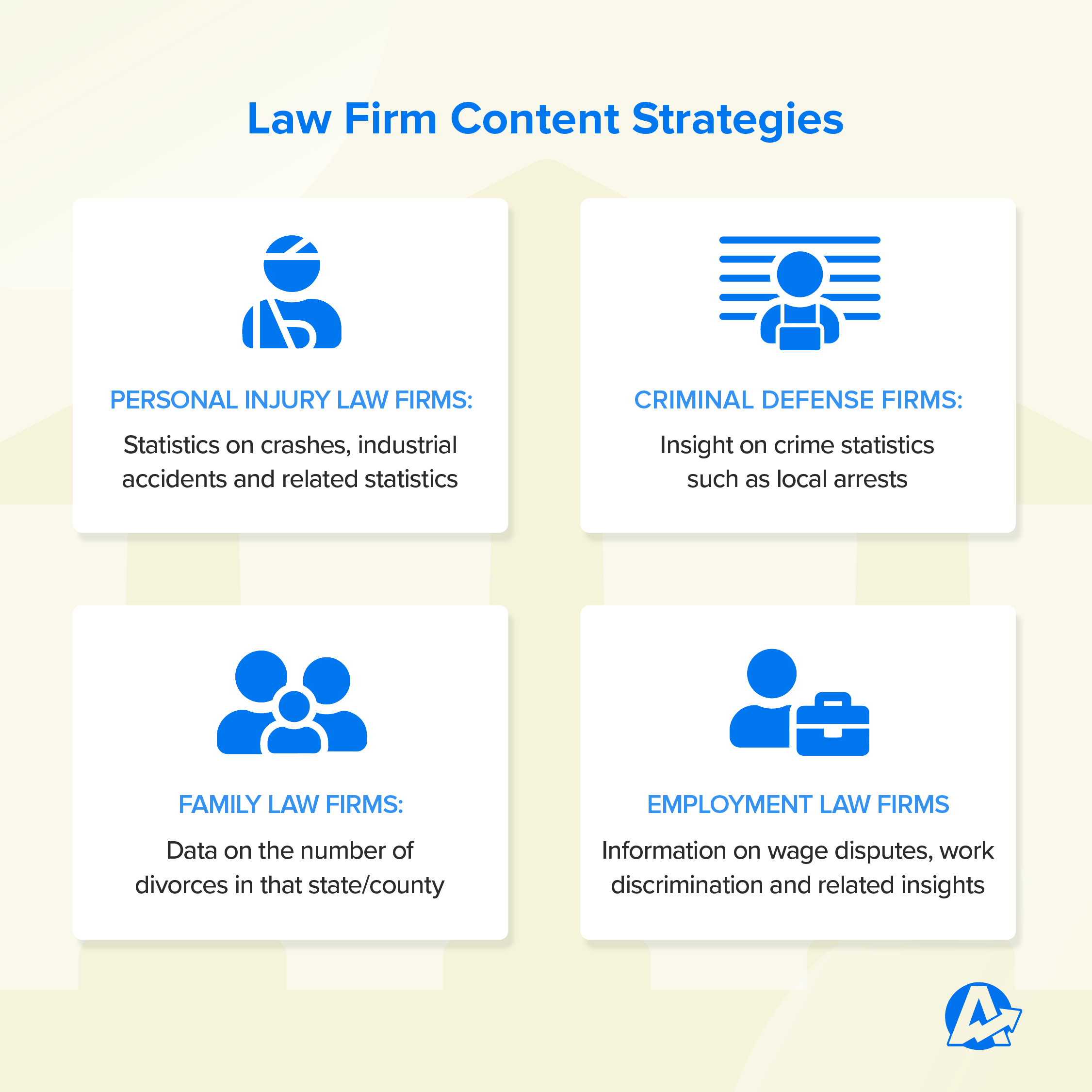 Maximize Local SEO Tactics to Improve Google Ranking
To get the most out of your local SEO strategy for a law firm,
Set up a Google My Business Profile. This is a relatively simple step but goes a long way in maximizing local SEO for lawyers.

Update NAP (Name, Address, and Phone Number) on each webpage. This increases the likelihood of a call to action from potential clients, regardless of where they choose to navigate on a law firm's website. 

Build local citations to improve the likelihood of law firms being found through other directories. Aside from Google My Business, listing law firms on other platforms such as Facebook or law-related directories (such as Avvo, FindLaw, and Super Lawyers) will increase the chances of a law firm showing up in organic searches.

Implement local schema markup. This involves inputting microdata into the HTML of a law firm's website specific to local factors such as business name, practice type, address, and postal code. Infusing this extra step into a law firm's SEO strategy boosts brand visibility and increases organic search ranking. 

Online reviews can influence a law firm's Google ranking. It may seem daunting to capture client reviews while juggling cases and other pressing matters, especially for law firms that operate in multiple locations. However, law firms can automate the process or establish a checkpoint system to decrease the chances of amazing reviews falling through the cracks.
The main thing around sourcing reviews is having a process in place where you can replicate it each time. And personalize the requests. We have seen better results and response rates when the review request comes from the attorney who worked the case versus a generic email request from the firm, a paralegal, or a legal assistant.

— Brian Craig
Remember to check in with law firms regularly to ensure location accuracy and up-to-date contact information. This will avoid any inaccuracies on organic searches or online listings. 
How Often Should Law Firm SEO Be Updated?
While there may be occasional changes to a law firm's practice, it's unlikely there'll be a complete overhaul of services each day. Of course, things will vary between your law firm clients, and assessing each of their needs is important. As a guide, keep track of how many website changes you may be executing for your law firm client. Based on this, determine how often SEO checkups should happen (in most cases, it tends to be weekly, but smaller firms may only require a monthly cadence). Integrate a similar schedule to regularly monitor website reviews and ratings, which will also go a long way in determining when and if law firm SEO should be updated or if the reviews process needs an overhaul.
Law Firm SEO Performance Doesn't Have to Be a Wild Guess
Monitoring the progress of your client's law firm SEO strategy not only lets you know if everything is working but also helps you to understand what areas might need a bit of extra help.
Whether it's shifting gears on a content marketing strategy or discovering high-value keywords that competitors haven't yet utilized, AgencyAnalytics' SEO reporting software helps you help your clients. 
Are we making money, and are we getting the right people in? Because if we're not - if they're not the ideal client or if they're low-value leads - it may not matter that you get 100 of those leads in the month. You still may not be making money.

— Brian Craig
With the click of a button, add tremendous value to law firms by sharing real-time updates on backlinks, keyword rankings, website data, SEO analytics, and many other key features to help law firms maximize their potential. From everything to keyword rankings and on-site performance, AgencyAnalytics gives your agency everything it needs to make important decisions with their clients.
Stay on top of your SEO game and help your law firm clients achieve their goals by signing up for AgencyAnalytics' free 14-day trial!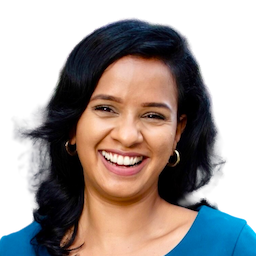 Faryal Khan is an experienced marketer and brand photographer with a passion for content creation. She creates value for brands through storytelling and captivating visuals.
Read more posts by Faryal Khan ›
Try AgencyAnalytics risk-free for 14 days. No credit card required.