"Another client canceled their contract."
"They're ghosting us. I'm reaching out but not hearing back."
Just reading these words is enough to spike the anxiety of most marketing agency leaders. Sure, the odd client dropping off here or there is a normal part of running a business. But if you find yourself forecasting cash flow, panicked by a trend of waning future revenue, it's time to address the elephant in the room:
Client retention.
There isn't a set-in-stone recipe for client loyalty, but The Modern Firm has created their own flavor and proven that they know a thing or two about retaining clients for the long term. In fact, this US-based niche agency has been in business since 2002, providing online services like website design, search engine optimization, and advertising to more than 1,500 small law firms. 
One of the key pillars of their success has been creating long-standing relationships with clients, relationships that, in many cases, stretch to a decade and beyond.
So, how exactly do they do it? In this article, we'll explore how The Modern Firm has kept their clients happy and motivated to continuously invest in their services for 20+ years and counting.
Why Client Loyalty Matters for Agencies
Client loyalty isn't just a nice-to-have for agencies–it's vital for long-term business success. 
Even if there's always an influx of business opportunities coming in, it's still better to intentionally focus on nurturing recurring revenue streams. Think about it–a revolving door of clients is more susceptible to economic volatility.
For a smaller agency, client acquisition is a growth driver. However, agencies that are in hypergrowth mode must focus on retention to achieve their growth targets. 
Long-term clients will naturally have well-established relationships with your agency. They know the value of your services and will be less likely to fly the coop with every market fluctuation.
Here's another perspective–there are more opportunities to upsell services and make relevant recommendations since you know their businesses more intricately.
Plus, acquiring new clients is undeniably more expensive than retaining existing ones. Agencies without strong client loyalty need to invest continual dollars into marketing and sales efforts at the cost of billable time and less profit for each completed project. 
In our 2023 Marketing Agency Benchmarks Survey on Top Growth Barriers, 30% of the agencies surveyed stated that the average client retention cycle is under 2 years.
However, research has shown that improving customer retention by just 5% can boost profits from 25% to 95%. And take a page from Monday.com's playbook–85 to 90% of their $700M+ in revenue comes from existing clients.
So if your agency hasn't yet invested in a customer loyalty strategy, now is the time to get started.
5 Steps to Keeping Clients Loyal for Years to Come
Every facet of The Modern Firm's operations is meticulously crafted with their clients' needs at the forefront.
"It all boils down to good, old-fashioned, solid customer service. We listen to our clients and grow with them," says Brendan Chard, founder of The Modern Firm.
Here's exactly how the Modern Firm mastered the art of client retention over the years.
1. Find a Unique Value Proposition
For The Modern Firm, it's all about anticipating needs and ensuring proper internal measures are in place to meet client expectations.
For example, take blog writing. The Modern Firm exclusively serves clients in the legal profession–an industry with intense regulatory guidelines and marketing restrictions.
Image: A snapshot of The Modern Firm's blog writing services.
Using the wrong jargon or not adhering to legal rules–even inadvertently–would have severe consequences for clients… not to mention the fact that it wouldn't be a good look for the agency
Law firms are busy. They shouldn't have to spend time scanning for legality issues in a blog post from their trusted agency. To avoid hiccups, The Modern Firm only hires copywriting professionals who are lawyers. 
This focus on legal industry experience persists throughout their team–from sales to design and online marketing, most team members at The Modern Firm arrived with industry experience. 
Image: The Modern Firm team at a fun, in-person event.
"With baseline legal knowledge, our level of service and efficiency can't be matched by more general marketing agencies," says Brendan.
Stacking their team with lawyers and legal industry experts is a unique value proposition that sets their agency apart from the competition. In turn, this demonstrates expertise and removes the hassle that many small law firms face when hiring marketing partners.
To follow The Modern Firm's suit, consider a few key questions like: 
What sets your agency apart from competitors (like other agencies or freelancers)?

How can you customize services for your chosen niche?

What are the characteristics and pain points of target clients within your niche? How could your agency address them?

Should your staff have niche-specific knowledge or other qualifications to excel at their jobs?
Instead of a cookie-cutter approach to recruitment, refine job descriptions and requirements beforehand. Revisit what your ideal candidate should bring to the table and whether niche-specific expertise is needed. 
Even if it requires an initial time investment, this approach helps you to find the best talent for your agency and successfully execute client projects in the long run. 
2. Determine if a Prospect Is the Right Fit Upfront
Making decisions that lead to short-term monetary gain (but long-term headaches) isn't something The Modern Firm does. In fact, they carefully consider whether a prospective client is the right fit for building a long-term partnership.
If a client isn't a good fit, it's just bad all around–demoralizing for the team and frustrating for the client. To avoid this, we try to be upfront and determine whether they're a good fit at the outset. This ensures a collaborative relationship, which increases the chances that they're happy with their services and can take advantage of everything we can do.

Brendan Chard, Founder of The Modern Firm
Sticking to their ideal client profile of small law firms has paid off for The Modern Firm, but it sometimes means saying no to some opportunities. For example, if The Modern Firm was approached by a sizeable enterprise-level law firm, though the dollar amount might be alluring, they wouldn't hesitate to turn away the job.
"We're completely built to serve small and growing law firms–larger firms aren't the best fit for our processes and culture. As difficult as it is to say no, we turn away work when the fit isn't there; it's the right thing to do," Brendan shares.
"Funny enough, potential clients are often relieved at the honesty that we aren't just trying to sell them no matter what. One guy recently left us a five-star Google review after we told him we weren't the right agency for his project. "
Download our free client profile template
Use this template to build your ideal client profile
No agency likes turning away money; your agency is probably no different. But this strategy places long-term gain ahead of short-term pain.
Saying 'yes' only to the right projects means nurturing the most promising agency-client relationships and creating a foundation with future client loyalty in mind. 
3. Ditch Lengthy, Drawn Out Contractual Agreements  
"It's like a marriage but without the contract," Brendan jokingly puts it. 
The Modern Firm has seen great success with client loyalty, and that's without the enforcement of long-term contracts. In other words, clients can walk away if their needs aren't met.
Strong client retention with no lengthy contractual obligations–seems counterintuitive, right?
While it may seem surprising, this approach gives clients more autonomy over the partnership and puts the ball in their court. Working together then becomes a deliberate choice, free from the constraints of rigid terms and conditions. 
This also keeps The Modern Firm on their toes and motivates them to deliver the same caliber of results each month. 
Nobody will stick around if things aren't working, and that's why there are no long-term contracts, which is something unique about us. In this industry, we earn our clients' business every month; we want them to feel free to go if something's not working out.

Brendan Chard, Founder of The Modern Firm
4. Remain Flexible To Evolving Client Needs
Here's another thing The Modern Firm does to get legacy clients on their roster–adjusting marketing packages if needs change.
It's a common scenario in the legal sphere: A specialized partner leaves a small firm, causing them to pivot their offering to a new area of specialization. When this happens, the marketing strategy needs to be adjusted accordingly.
Instead of locking clients into their chosen marketing packages, The Modern Firm pivots alongside the client and considers each circumstance on a case-by-case basis. This ensures that clients are heard, creating a real sense of teamwork instead of a mere business transaction. 
It really is a true partnership, not just, "You've picked this package, and this is the routine we follow forever and ever". We are constantly in touch, improving our processes and adapting to changes a client may have. It's a very fluid and in-depth relationship.

Brendan Chard, Founder of The Modern Firm
5. Keep Relationships at the Heart of Everything
Even as The Modern Firm's roster grew from 10 to 1500+ clients, one priority remained constant–putting relationships first. 
They didn't sacrifice interpersonal relations as business started booming. Instead, The Modern Firm kept this at the forefront and factored it into every subsequent decision. 
"Over time, we build close relationships with our clients and know what's happening with them. Eventually, we wondered, 'How do we scale that feeling?' We want our clients to know that the relationship is still there and functions at the same level, even as we have more people in the mix," says Brendan. 
For The Modern Firm, it's all about preserving those agency-client relationships so no one feels like a number. In fact, they've even invited locally based clients to internal team meetups just to express their appreciation and show that they genuinely care.
Further, as a rule, The Modern Firm makes recommendations that align with their client's goals, even if it results in less work or revenue for their agency. 
Sometimes, when we're making decisions or suggestions, they're not always beneficial to us, but they will help the client. In situations where we may suggest pausing or reallocating their marketing budget, clients are so happy to know we've analyzed the situation and have their best interests in mind.

Erin Ricchiazzi, Director of Online Marketing at The Modern Firm
While this sometimes puts their agency in an unfavorable position in the short term, the approach has a surprising ripple effect, with past clients choosing to return and stay for the long haul.
"Many times, those clients will turn their services back on or even add other services we offer into the mix. We've had clients say, 'Okay, I'm reenergized and ready to turn up the juice again,' or 'I want to revamp my website.' That's the beauty of putting the relationship before anything else," says Erin.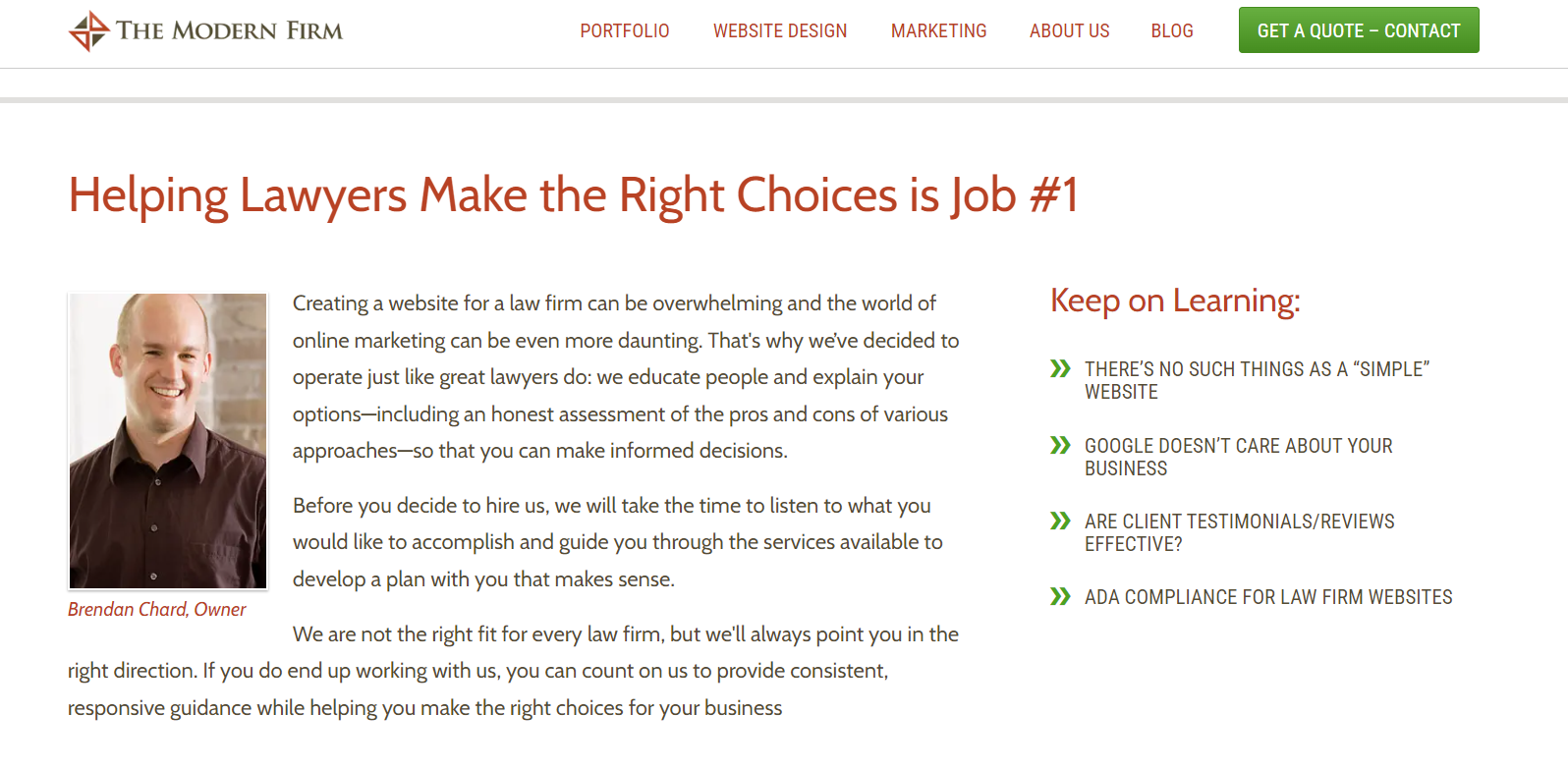 Image: The Modern Firm's website explains their commitment to achieving results and protecting clients' best interests.
Create a Solid Foundation to Build Client Loyalty Over Time
As we've seen from The Modern Firm's 20+ year journey, client loyalty is earned. It's a combination of active listening, maintaining flexibility, and building authentic agency-client relationships. 
Whether it's keeping flexible contractual agreements or making suggestions that don't necessarily benefit your agency (but DO show the client that you care), it all boils down to putting clients first. 
As your agency grows, it's easy to fall short on systems or deprioritize those interpersonal interactions. However–as The Modern Firm has demonstrated–it's a must-have for client loyalty and building a solid business presence. 
The result? Long-standing clients, growing industry expertise, and more years of success.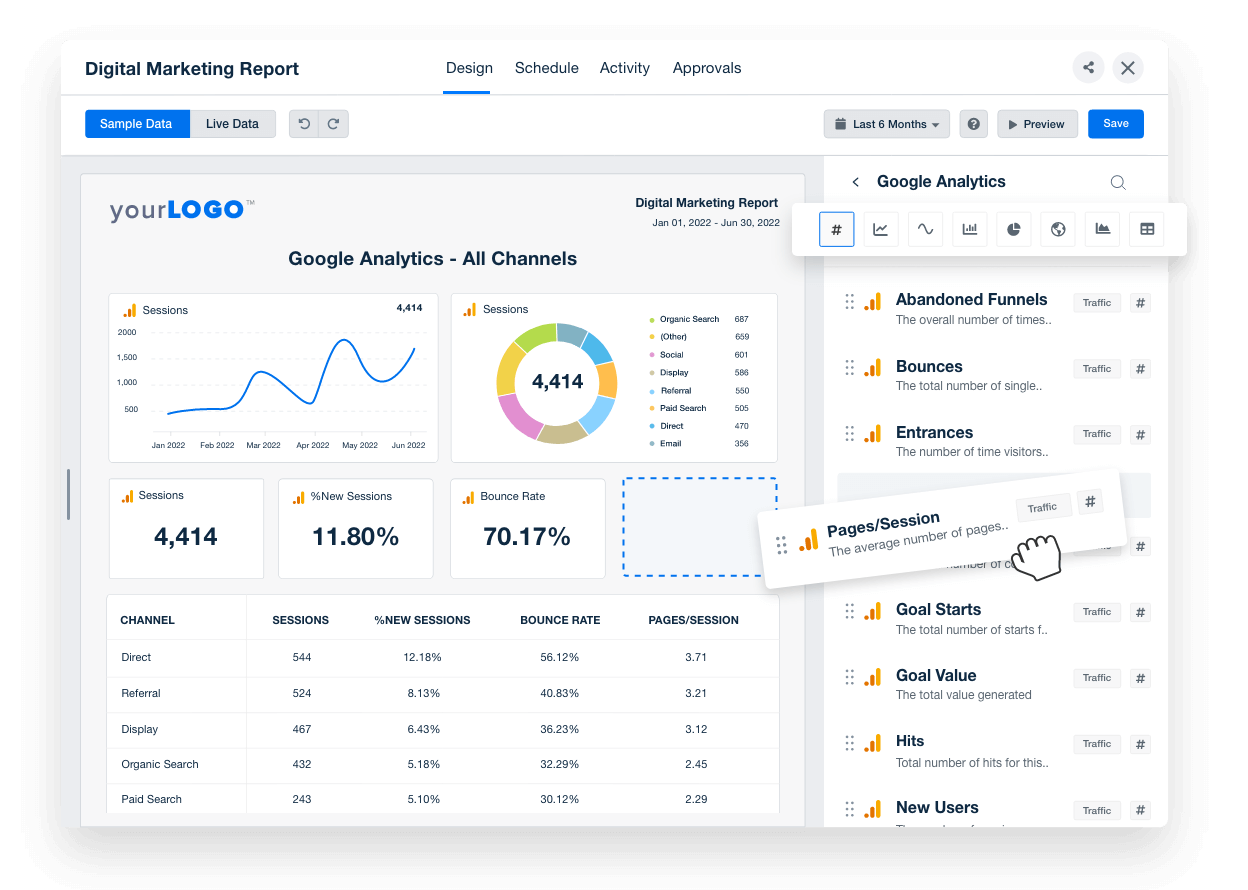 Looking for more ways to improve client retention? Up your reporting game with AgencyAnalytics. Find out why more than 6,500 agencies use our platform to deliver comprehensive, customizable, white-labeled client reports. Try it free for 14 days.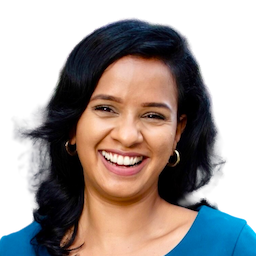 Faryal Khan is an experienced marketer and brand photographer with a passion for content creation. She creates value for brands through storytelling and captivating visuals.
Read more posts by Faryal Khan ›
Try AgencyAnalytics risk-free for 14 days. No credit card required.