Rocky Pedden, President of RevenueZen, says that agency leaders have an "aha moment" once a quarter–if they're lucky. Since their agency opened its doors in 2017, the four owners have had many of those moments.
Their eight full-time employees serve over 30 B2B clients across the U.S., so there's plenty to learn from their last six years in the marketing agency business. For example, their growth has stemmed from:
Showing clients value with marketing data that affects their bottom line, 

Enabling their employees to cultivate a business-first mindset,

Creating standard operating procedures for repeatable tasks and processes, 

And getting crystal clear on agency finances 
Read on to see how this agency achieved operational efficiency, created a matrix built for hiring new employees, and scaled over the past six years.
Pivoting From Outbound Sales to Agency Services 
Rocky Pedden and Alex Boyd, one of the co-founders of RevenueZen, first met when they were working together at a SaaS start-up in Portland. 
"He broke off to start RevenueZen in 2017, but we always stayed in touch," Pedden says. 
Boyd started by offering sales development representative (SDR) services, and things were taking off quickly. 
"He brought me on a few years later on the sales and customer success side of the business," Pedden explains. "But we realized pretty quickly that we didn't have any operations in place to scale, so I moved into a vice president of operations role." 
As they continued to focus on agency growth, Fitz Cyr, the other co-founder, advocated pushing more into content and SEO services.
"As owners, we talked about it and decided to pivot from SDR as a service," Pedden says. "We just felt that the market we were serving needed better marketing."
No one on the leadership team was particularly enjoying the aspect of outbound work and didn't necessarily want to continue offering that service. 
"We just thought there was a better way of doing things," Pedden explains. "So we started moving into SEO." 
Their team successfully moved into SEO marketing through acquisition. 
"We acquired a small agency in Portland, and the owner of that agency is still a partner here at  RevenueZen," he smiles. "That's what really pushed us into that part of marketing and is currently our bread and butter." 
Driving an Ethical Business, With Data 
RevenueZen has always wanted to take a different approach to digital marketing right from the start. 
"From an internal perspective, we wanted to run a really ethical business," Pedden shares.
He says they take great pride in adopting a revenue-sharing model for the agency. This strategy allowed them to recession-proof their agency, keeping them nimble in every state of the economy. 
"We provide a really strong salary for everybody involved in our team," he says. 
When their team is managing more revenue, they make more money. This structure has greatly contributed to the success of their agency in numerous ways. 
"Everybody benefits when things are really good. And when things slow down, like the last year has been a more difficult market, everybody feels that a little bit across the org," he shares.  "But it allows us to be nimbler without having to lay people off, which was really important to us." 
Pedden says the owners discussed this in their agency's beginning stages. 
We wanted to be really good stewards, not only for the business itself but also for the people who work for us in their careers and help them develop and grow.

Rocky Pedden, President of RevenueZen 
Another part of doing things differently meant not selling marketing "snake oil" to uninformed clients.  
"Other agencies were promising these types of returns that we knew weren't realistic," Pedden laughs. "So we just wanted to bring a company to the forefront that did things the right way, that did our best to educate our clients on the right way of doing things in marketing."
And the way RevenueZen achieved this was by advising clients not to fall for quick tactics that yield results but also burn their website in the long run. 
They created repeatable processes that were transparent, data-driven, and easy to understand for their clients. 
"I remember like clients saying, 'It's like this big black box of mystery for me.' And I kind of felt the same way at first, but once you get to know it, it's really formulaic. If you do X, Y, and Z, you're consistent, and you're doing a good job then, then you should see these marketing metrics start to improve, and that should lead to more revenue."

And Pedden stresses the importance of going beyond the metrics to communicate your agency's value to your clients. 
Marketing metrics, KPIs, and watching impressions go up is great, but ultimately, what business owners care about is, 'How is that impacting my bottom line?'

Rocky Pedden, President of RevenueZen
So, RevenueZen shifted its internal focus to start thinking of strategies influenced by a client's perspective. Pedden says it was a huge shift for their agency to gain access to their client's CRM software, like Hubspot or Salesforce, to connect the dots between sales and marketing efforts. 
"It helps us tell them things like, 'This activity that we've been doing for the last 3, 6, 9 months has led to X number of leads which has produced Y amount of revenue,'" He explains. 
When they get those results for clients, they send timely requests for testimonials that are social proof for future clients looking for a marketing partner. 
Enabling the Team To Cultivate a Business-First Mindset
Pedden says the team is currently working on educating them to think from a collective business standpoint. 
For example, understanding the agency's revenues, costs, expenses, and overall profit and loss (P&L). 
"It can be difficult for someone who is an SEO strategist to start picking up on some of those sales forecasts or closing rates," he says. "Because that's really not their wheelhouse or even historically of what a strategist would do." 
But Pedden and the leadership team at RevenueZen value sharing transparent financial information with their team so they can better understand where their clients may be coming from–especially because they're mostly talking to presidents and CEOs of the companies they serve. 
"It gives them insight into why the bottom line matters–because when you're looking at a balance sheet or the profit and loss statement, it's really easy to say, 'We can just cut this big one item because it's in expense.'" Pedden explains.
"If we haven't done a good job communicating the value of the line item that our agency is, then it's gonna be easy to say, 'See you later RevenueZen.'"  
So, the RevenueZen leadership team called an "all hands on deck meeting" about a year ago to discuss the macro environment and the mindset shift needed to succeed. 
We wanted to turn our team into not just SEO strategists but more like revenue strategists.

Rocky Pedden, President of RevenueZen
During the meeting, they discussed how money is scarce in the current economy and that startup businesses won't have as much venture funding, or at the very least, they'll be tightening their purse strings.
"We said that we're really going to have to show our value to clients," says Pedden. "So at the end of last year, we decided we need to change the way we're doing some of our reporting and hone in on other aspects of their businesses." 
They've been changing their internal processes to think from a financial standpoint–right down to their client onboarding processes. 
"When we onboard a client now, part of that journey is getting into their CRM and making sure they have reports showing them where their leads are coming from," he explains. 
From this strategic approach, RevenueZen created a dedicated service for "cleaning up" a client's CRM. 
"Salespeople aren't incentivized to keep Salesforce clean. They're incentivized to close deals. So it falls on someone's shoulders to wade through, reassess things, and ensure their data is accurate," says Pedden. "From that, we can all make good decisions and show the improvement we've helped them achieve." 
For example, RevenueZen shows how their marketing efforts have led to more lead form fills compared to previous strategies the client may have tried. 
"Our North Star is customer success," he shares. "We strongly believe that performance-based marketing is the route to go. And we should be able to make clear connections to client revenue. Even a service like SEO that takes time to build, the client should see some growth with respect to the revenue side of things." 
Building An Agency Structure For Efficiency
Another significant turning point in RevenueZen's agency success was building a structure that would support their US-based team as they scaled.
"We needed a team overseas that could do the technical work. Almost like an executive assistant for our strategists," Pedden says. 
RevenueZen actually scaled back its team members from 14 full-time employees to 8 in order to focus on what they do best. 
"When we had 14 employees, we were doing a lot of services," Pedden explains. "At one point, we were too top-heavy, and a combination of shifting our agency model plus the economic environment, we had to shrink–including our leadership team." 
Their current agency structure looks like this: 
4 Agency Owners 

President–Handles day-to-day operations and company strategy 

Founder–Currently involved in sales and demand generation 

Chief Growth Officer–Manages the Strategist team

Head of Content–Responsible for the Content team 

3 SEO Strategists 

1 Content Manager

1 Brand Strategist 

1 Account Executive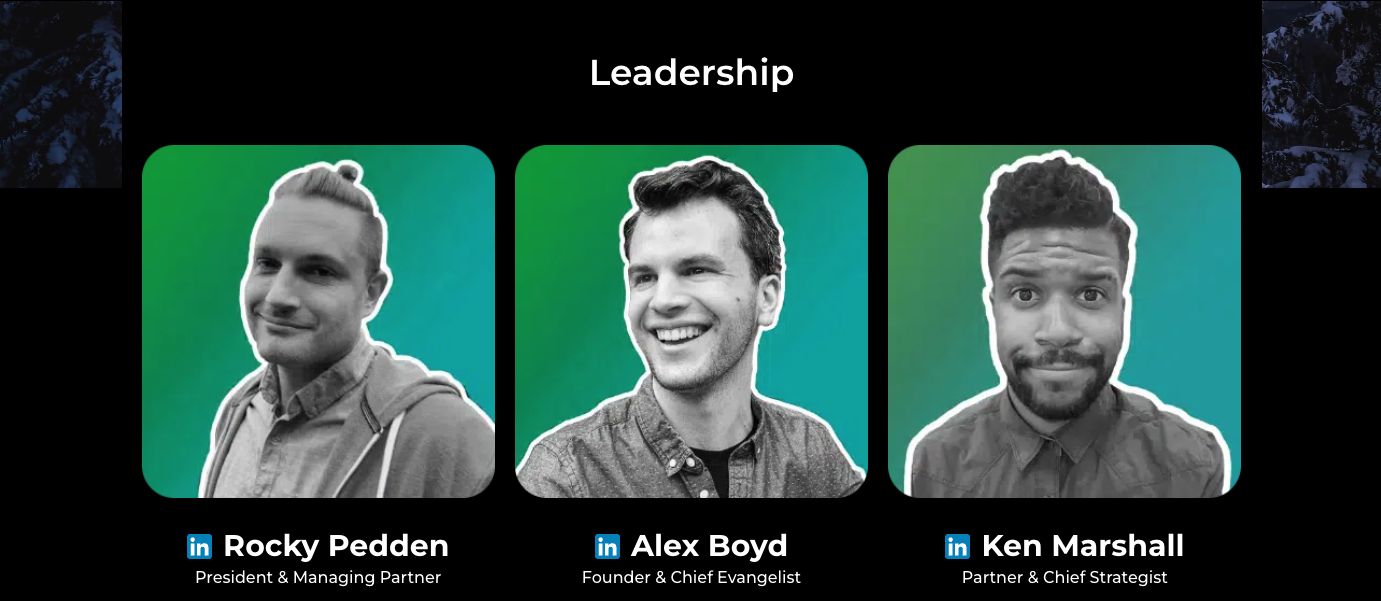 Image: The leadership team at RevenueZen
Once they made the necessary structure adjustments, RevenueZen also focussed on what mattered most when it came to building their team. 
"We made some not-so-great hires in the past, it hurt us, and that's something we've recognized that we had to change," Pedden admits. 
Learning from their mistakes, RevenueZen made three notable changes:
1. Creating a Matrix Built for Hiring New Employees
"It essentially quantifies every question we ask in the interview process before the candidate gets to the stage of meeting the team." 
When hiring a new employee, they look for a combination of skillsets needed to do the job and fit culturally with the current team. 
"We have a really open-minded team, and we're represented diversely through not only race and ethnicity but also orientation and things of that nature," Pedden shares. "So it's important to us that our new hires are also open-minded and are willing to learn and grow." 
2. Building Scorecards to Focus Team Accountability
"Everyone on our team has a scorecard that is essentially a job description that lists responsibilities on a daily, weekly, monthly, quarterly, and annual basis for their role."
They've built-in flexibility to make adjustments and update scorecards if necessary, but they've been a great tool to foster open communication on projects. 
"We're looking at those scorecards monthly, at a minimum, and asking, 'Hey, did we do these things?' And if the answer is no,  then we can look at why and have an honest conversation about that."
3. Implementing

RallyBright

Software
"Something we've always done a good job of is keeping our team in place. I want to continue providing a culture where people enjoy working here. And then also they get rewarded for their work."
RallyBright happens to be one of their clients with a great SaaS teamwork platform they put in place for their own team. It helps the leadership team collect employee feedback anonymously, grades the team on different dimensions related to agency culture, and includes employee scorecards and other tools that help build an exceptional agency team. 
Image: RallyBright, one of RevenueZen's clients and employee performance platform
"John, the CEO of RallyBright, has mentored the four owners of RevenueZen, and that's been invaluable," Pedden shares. "He's a good partner, has a cool tool, and has been a big part of our growth." 
Tracking Critical Agency Growth Metrics 
After making some internal changes to set the business up for long-term success, RevenueZen looked at specific agency metrics that would tell them they were on the right track. 
"It comes down to looking at our net profit as a percentage," Pedden shares. "Are we over 20%, or are we under 20%? That's the gold standard for us."
On a more granular level, they look at their churn rate by revenue. They used to serve smaller-scale companies–meaning churn could happen at any moment because their clients could run out of money or funds. 
"As we swam upstream and started working with larger companies, reasons for churn changes," Pedden explains. "So this is a metric that we try to have a strong handle on and understand why churn may be happening, and look into strategies to reduce churn." 
"The lifeblood of any business is sales," he says. "So we look at how many clients we're adding every month and if they're the right clients." 
Their agency has dedicated time for determining who their ideal clients are and improving how to communicate client expectations upfront. 
"If I go to ten people on my team and ask them the story of our ICP, are they going to tell me the same story, or will it be different? Because you want to have the internal calibration of your ICP, especially when generating content." 
Streamlining SOPs & Automation
Looking back on their agency's previous challenges, Pedden says he wishes they would have done a few things sooner. This included having standard operation procedures (SOPs) earlier and automating agency processes wherever possible.
"We made too many accommodations. And the problem you can run into when you do that is that once you make the accommodation for one person, you have to make it for everybody," Pedden admits. 
His advice for other agency owners would be to think about the long-term impact of the decisions they're making today. 
"Any time you do anything that you do more than once, write that thing down," he says. "Create an SOP and put it in your project management solution." 
RevenueZen strives to have clearly documented processes so anyone can step in at any time and become a Strategist within approximately three months. 
"It's really important. That's how you build efficiency. Through these types of systems," says Pedden. 
He also stresses the importance of being anal-retentive about your agency's finances.
"I'm part of a peer group, and advice was given to me from a gentleman who said, 'Always have your systems set up in a way where you could sell your business tomorrow if the right person came knocking.'" 
And that advice stuck with Pedden. In fact, they've received compliments like, "You guys really know you're numbers," and Pedden says it makes running the business way less stressful. 
"You know exactly what's happening. And when you see a big client who's going to churn, you can plug that in real quick and ask, 'What does this mean for us next month? Do we need to cut expenses? Do we need to be careful?' It helps you know the flip side of that coin."
Set-Up for Long-Term Success
As for growth strategies, RevenueZen is currently focussing on systemizing its referral system. They recently hired an account executive who used to own their own marketing agency. This role will focus on dedicated outbound efforts to fuel RevenueZen's long-term growth. 
"This last year has given us the opportunity to hone in on our deliverable process, and now we're definitely primed and set up for a lot of growth as soon as we start seeing the macro environment improve just a little bit," Pedden says. 
At the end of the day, RevenueZen is striving to achieve agency efficiency.
"Would it be great to be a 10 million dollar agency? Yeah, of course, it would be," says Pedden. "But do I want to be a 10 million dollar agency that's 60% efficient? Or would I rather be a 5 million dollar agency that's 90% efficient? The answer is the latter." 
To Pedden and the leadership team at RevenueZen, efficiency = a healthy business.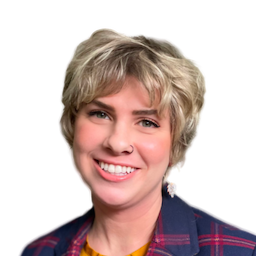 Richelle Peace is a joyful writer with a degree in Journalism. She loves writing web content, blogs, and social media posts. Whatever the topic, she's fascinated by learning and sharing.
Read more posts by Richelle Peace ›
Try AgencyAnalytics risk-free for 14 days. No credit card required.