If you thought that price and free shipping were the strongest incentives to making a purchase over the competition, think again. Online reviews and ratings are now the determining factors when it comes to making purchase decisions. 
For agencies and businesses, reviews are a low-hanging fruit that shouldn't be left hanging in front of your competitor's grasp. Especially when a 1-star increase in your rating can mean a 5-9% increase in revenue. 
This guide will show you how to get more people to leave online reviews and how to stay on top of them to drive more business for your clients in a scalable way. 
We'll cover: 
Why You Need Online Reviews 
Today, 99.9% of consumers read online reviews "at least sometimes" when shopping online–and half read product reviews while shopping in a brick-and-mortar store. 
Reviews steer more leads toward your clients. But while 53% of consumers expect a response to the reviews they leave, companies still aren't responding fast enough to them, if at all.
Online reputation matters. In fact, it's everything these days. And ignoring customer feedback will leave the competition leaving you out to dry.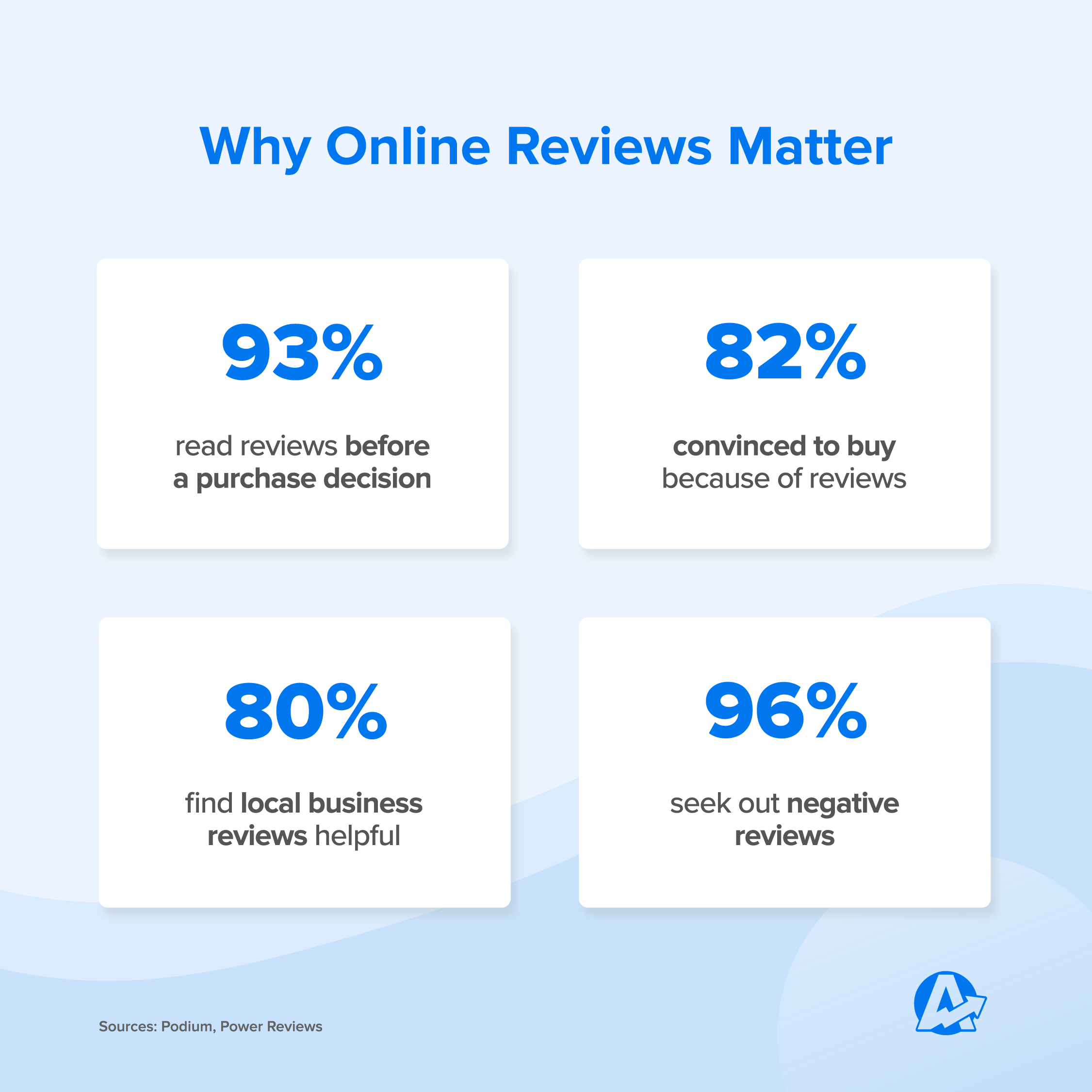 3 Advantages of Positive Online Reviews
1. Attracting New Customers
Social proof is one of the best kinds of proof. People look to others before making purchase decisions. If they are on the fence, some really positive reviews can help tip the scale in your favor. 
2. Higher NPS (Net Promoter Score) For Businesses
Identify top promoters from your NPS scores–they're your unofficial brand ambassadors, so amplify their voices and reward them. It's a great way to boost brand awareness, build a community, and gain trust in an authentic way.
3. Boost Credibility and Trust for First-time Buyers
A business or product with very few (or no) reviews can come across as new and unproven. You'll need to rely on online reputation to help drive more conversions and sales.
Your Agency's Role in Managing Online Reviews
Customers don't trust companies will lower than 4-star ratings–it's actually the most common filter that's applied. So while review management may or may not fall under your agency's umbrella, it certainly has an impact on the performance of your campaigns. 
All of your hard work could go out the door if you've nearly converted a lead who then reads a bad review and abandons the page–or if your client's page never even makes it to the search results in the first place. 
And it's not just about getting a handful of glowing reviews. Consumers are increasingly seeking out negative reviews to help make informed buying decisions.
Unsurprisingly, Millennials and Gen Z shoppers, are more likely to seek out negative reviews compared to Gen X and Boomers. So your clients need to pay attention to what their customers are saying about them–and respond.
So, how does review management fit into your agency-client relationship?
Agency & Client Goals & Responsibilities:
| Goals | Agency's Role | Brand's Role |
| --- | --- | --- |
| Boost Reach & Brand Recognition | Create the brand image, manage ad placements, and social media profiles. | Provide excellent quality products/services and personalize their customer services to encourage rave reviews. |
| Manage Reviews | Create profiles on review sites, collect data, and set up prompts within the online customer journey. | Respond/follow up with reviews, ask for reviews at the source (i.e. in-store or when a box is delivered). |
| Protect Reputation | Flag any negative reviews and bring them to the brand's attention, respond to social media comments, and create campaigns to capitalize on positive reviews. | Create a culture for positive feedback, and learn from reviews to improve the customer experience. |
What Your Agency Can Do To Promote Reviews
Even if your agency isn't necessarily in charge of customer service and follow-up of reviews, you can still set your clients up for success by doing these four things.
1. Create Accounts on Popular Review Platforms
Look where their customers are likely to look for reviews, such as their Google Business Profile and Trustpilot.
2. Integrate a Prompt To Leave a Review
Include leaving reviews as part of the customer journey–even putting it in the script after an interaction with a customer service rep or sending an automated email two weeks after an online purchase. 
3. Find Ways To Put These Testimonials to Work
Include customer reviews on landing pages and within your clients' remarketing campaigns.
4. Put All Your Client's Reviews Into One Report
Since faster response times are closely related to positive reputations your agency can help give clients greater control over their online reputation with a streamlined review management process. Sending out regular reports will give them clarity and help them manage their responses better. You can even use this as an upsell opportunity if you see an increased demand to respond to reviews in a timely manner. 
5 Tips To Get More Customers to Leave Reviews
1. Ask, And You Shall Receive
As covered in our article on how to get more reviews, the best thing you can do to encourage more people to be more proactive in providing their reviews. In fact, most people are willing to leave a review if asked and it's the best way to guarantee more reviews from new customers.
Tips for Requesting Reviews by Email
✅ Make It Feel Like a Personal Interaction
Sign the email with a real person's name and email, and use informal language as if it's an ongoing conversation.
✅ No Cherry-picking
Ask every customer for feedback. If someone had a terrible experience and wasn't asked about it, chances are they will leave a bad review for the same thing. Your clients need the opportunity to take feedback and make improvements. 
✅ Optimize Your Review Invitation Emails
Test out messaging, subject lines, channels, and placements. 
✅ Use Better Prompts
When crafting your customer survey, be sure to ask the right questions to get valuable feedback. Prompting them with the right motivators to leave a review can already get them thinking about how they can help others make better decisions and let the business know about their experience.
2. Choose the Right Time and Place
Reviews are an emotional process and should be done at the right moment. Pick the best time, and it'll be a rave review bringing in more customers. Pick the wrong one, and it can be a flop. 
If the business is performing a service, ask right away for a higher chance of completion. Your client's customer service rep can do this as soon as the service has been delivered. This also applies to the method of collection. 
Did you know?  Text messages generate an impressive 98% open rate (and 45% response rate) compared to just 20% from email marketing.
Make sure the process is as streamlined as possible and uses the device preference. This includes options such as in-app review requests, chat or SMS text requests, as well as in-person, on-the-phone, or email requests for a review.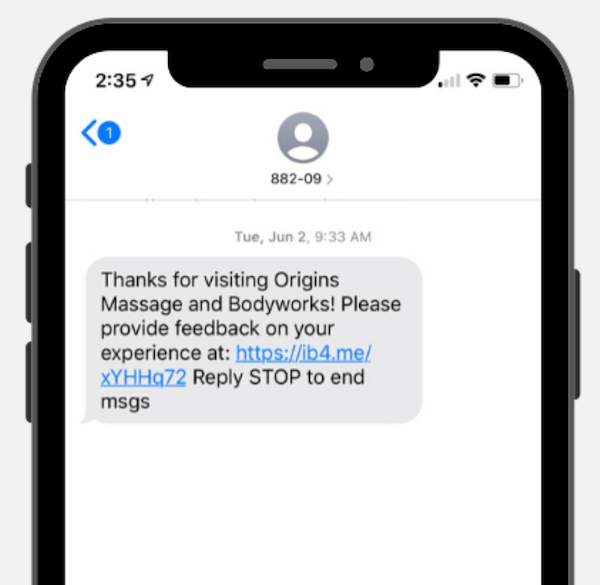 For example, if your clients have a storefront that generates foot traffic, ask for feedback in person or via tablet when their customers complete their in-store purchases. You can help clients personalize their experience by setting up the review questionnaire. Specifying what product the customer purchased and using their name will make them more likely to leave a review–and a positive one at that!
Other common practices include automatically adding a review request to the sales receipt. Having that called out by the person who assisted them makes that request much more personal, increasing the chance of a successful review. 
In contrast, eCommerce companies typically wait a set period of time–typically one or two weeks after the item has been delivered–so that the customer has had a chance to use it before sending out an email. But feel free to include a little sticker on the box or a package insert asking for feedback as a reminder. 
3. Send a Reminder
According to Trustpilot, businesses can expect response rates of up to 50% after sending a reminder to leave a review. And remember, those reviews need to keep coming in. Consumers expect fresh reviews that are no more than 3 months old. 
How many reviews do you need to be credible? 
A recent survey found that 57% felt more comfortable making a purchase with 11+ reviews while 41% of consumers polled were fine with 1-10 reviews. 
How recent do reviews need to be?
Half of the consumers surveyed above said they need reviews that are less than 1 year old to feel comfortable making a purchase. 
So always send a reminder to customers who didn't leave a review after your first try. Add a quick and simple explanation like, "We would love it if you could take a minute to share your experience with us." After all, reviews are shorter than ever–about the length of an expanded tweet like the one below:

If a customer doesn't respond after they receive your reminder, don't insist again. Wait until they make another purchase or consider making it part of an alternate marketing effort, like offering a coupon to encourage them to come back to their website for another experience. 
4. Put Your Reviews Front and Center
Once you've received a rave review, show it off! Amplify the voice of your greatest supporters by sharing them on social media and featuring reviews on the homepage of your client's website.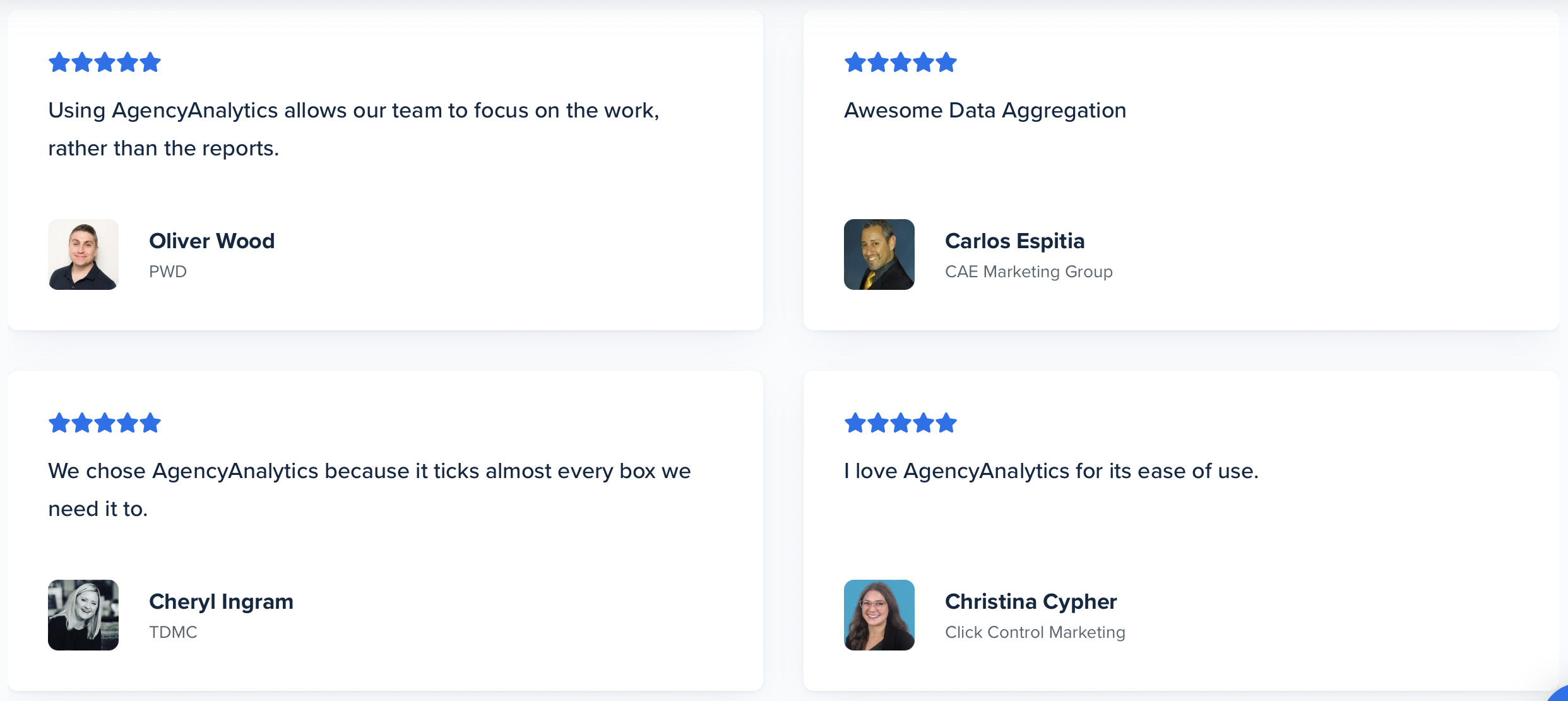 Social proof is a great way to convince people who are on the fence. Collect testimonials and put them around your client's site where they're relevant for top, middle, or bottom-of-funnel conversions. 
For instance, you can squeeze out more conversions with testimonials about a specific product at checkout.
5. Use Dashboards That Integrate With Third-party Review Platforms 
Staying on top of reviews can be a tasking job–and your clients don't want to be continually logging in and out of multiple review management platforms to see if they have positive or negative reviews to respond to. 
By automating your client's review management processes, you can easily: 
🚀 Track Ratings and Reviews Over Time
This helps your clients pinpoint areas of need in their products or services at any point in the customer journey. It's especially helpful to watch for sudden declines in a specific time period that can be attributed to an event.
🚀 Monitor New Reviews
Include all the reviews (stars and comments) right into your monthly reports so your clients are always up to date and have the opportunity to respond quickly and make amendments if necessary.  
🚀 Identify Review Sources
See which platforms drive the most reviews–is it Facebook, Instagram, or Google? This will help you prepare for your next review campaign and identify the best channels to seek out reviews.
🚀 Measure Sentiment
You don't need to read each review to get a grasp of your audience's sentiment. See it in visual graphs.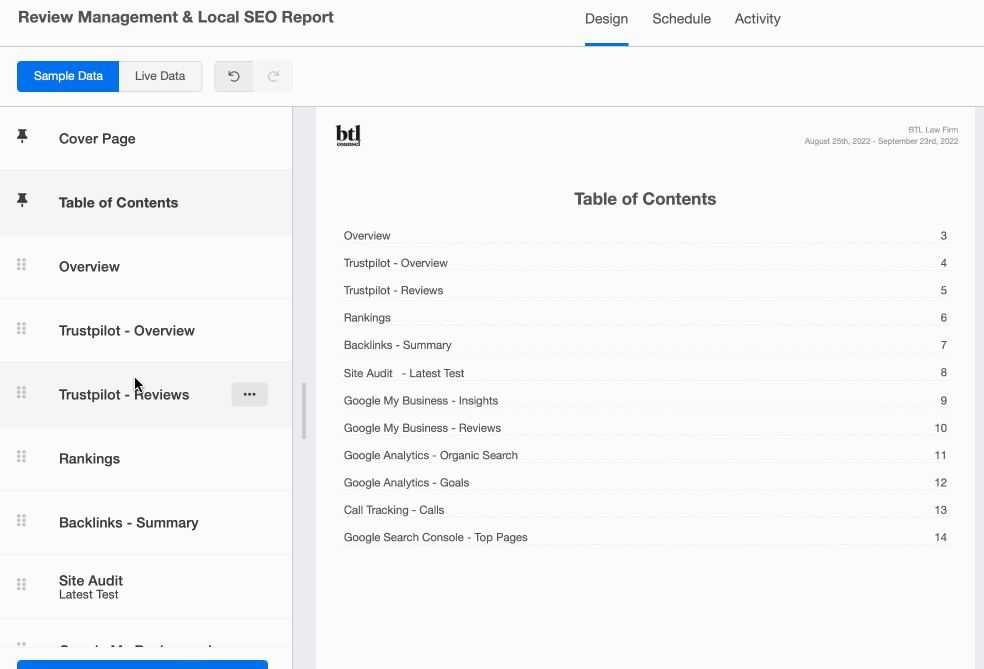 Save time and put all your clients' review metrics under one roof. Try AgencyAnalytics free for 14 days!
Impress clients with a clear snapshot of their online reputation and keep them coming back to you for more insights! Set up a reporting tool like AgencyAnalytics that integrates with your Google Business Profile, Trustpilot, and other review accounts.
How To Streamline Your Review Management
Work together with your clients to come up with the best plan to bring in more reviews and manage them in a scalable way.
Create an omnichannel review request campaign: be it by email, social media, in-person, or a combination of the above.

Identify top-performing channels that drive reviews and focus on those.

Send out a reminder with a short prompt and time it right. 

Automate your review reporting to stay on top of online sentiment and never miss out on business insights straight from the source.

Show how your clients' review request campaigns are performing in conjunction with your broader marketing efforts with custom marketing dashboards.
With reputation monitoring, your agency has the latest metrics in detailed review reports that are ready to go in seconds. New to AgencyAnalytics? Your first 14 days are on us. Start your free trial today.
Written by
Melody Sinclair-Brooks
Melody is a marketing manager, writer, and startup consultant with a background in behavioural neuroscience. Through a data-driven approach and a passion for product-led strategies, she helps businesses achieve growth in today's competitive digital landscape.
Read more posts by Melody Sinclair-Brooks ›
Try AgencyAnalytics risk-free for 14 days. No credit card required.