A positive and strong culture is the glue that sticks your agency together. It impacts your day-to-day activities, your team's motivation, your sense of well-being, and ultimately, your agency's productivity.
Let it slip, and it can be the elephant in the room that causes your growth trajectory to halt to a grinding stop.
This article will look into how to build and maintain a strong agency culture that will turn your agency from just good to great–one that will last into the future by retaining better talent over the long run.
What Is Agency Culture?
Agency culture is the set of beliefs and customs that guide your employees' actions. It includes ethics, values, goals, and attitudes that affect every touchpoint–from interpersonal relationships to the end-results your clients see. 
The culture you set for your agency will depend on your set of beliefs and values–as well as the types of people you want to work with. For example, you might have a market culture–one that values internal competition and rewards winners–or a more creative and relaxed clan culture that treats employees like family and strengthens interpersonal connections. 
Which one are you? You might be somewhere in between, but as we dig further into this topic, you'll see that there are eight foundational core values that will help you set the tone for your agency culture.  
Why Does Culture Matter So Much in an Agency?
How often do you ask yourself: what makes my employees happy to come to work every day? 
While your agency might have started out with clearly defined values in the early days, it's not something to set and forget. Or perhaps it is clearly defined, but you struggle to get your new team members on the same page as you scale. 
Not defining and restating your agency's culture–or not integrating it into your agency's DNA can result in a lack of clarity, low morale, and high turnover.
Agency culture is all about attitude–not aptitude. And it creates a workplace that prioritizes your team's well-being, creating an environment for empathy, trust, respect, and empowerment–and taking initiative.
Here's an example of Dilate Digital's work culture defined by six core values–they even have it plastered on their office walls so their employees see it every day they come to work.
How Your Agency Culture Impacts Your Business
It is a commonly held belief that healthy culture is integral to a company's success. Just as in any business or organization, agency culture impacts the way your employees feel about the work they do. 
Positive agency culture: 
In fact, over half of respondents in a Glassdoor study said that company culture influences job satisfaction more than a large salary. Your culture–aka your vision and values–ties into your agency's actions and ultimately, your output: 
Happy people are productive people. And happy people are going to perform better in all areas of their lives. It sounds simple, but a lot of agencies get it wrong. They just don't put enough time into their people. - Bodie Czeladka, Creative and Managing Director at Dilate Digital
Here are some interesting stats: 
How Does Agency Culture Impact Employees? 
An agency is only as good as the people behind it. Let's take a look at the trickle-down effect of company culture on employees' attitudes and their effects.
1. Employee Morale
When it comes to morale, think about what you need to do to engender a feeling of appreciation. Beware of low employee morale–it is contagious and can appear in the following forms: 
In a recent study on company culture, employees were asked what people they thought would improve their company's culture. It turns out, they wanted the following five things:
⭐ Better rewards and recognition
⭐ Better mental health and well-being initiatives
⭐ Improved communication from senior leaders
⭐ More opportunities to interact with other colleagues (remote agencies, we're talking to you!) 
⭐ Improved diversity, inclusion, and equality initiatives in the workplace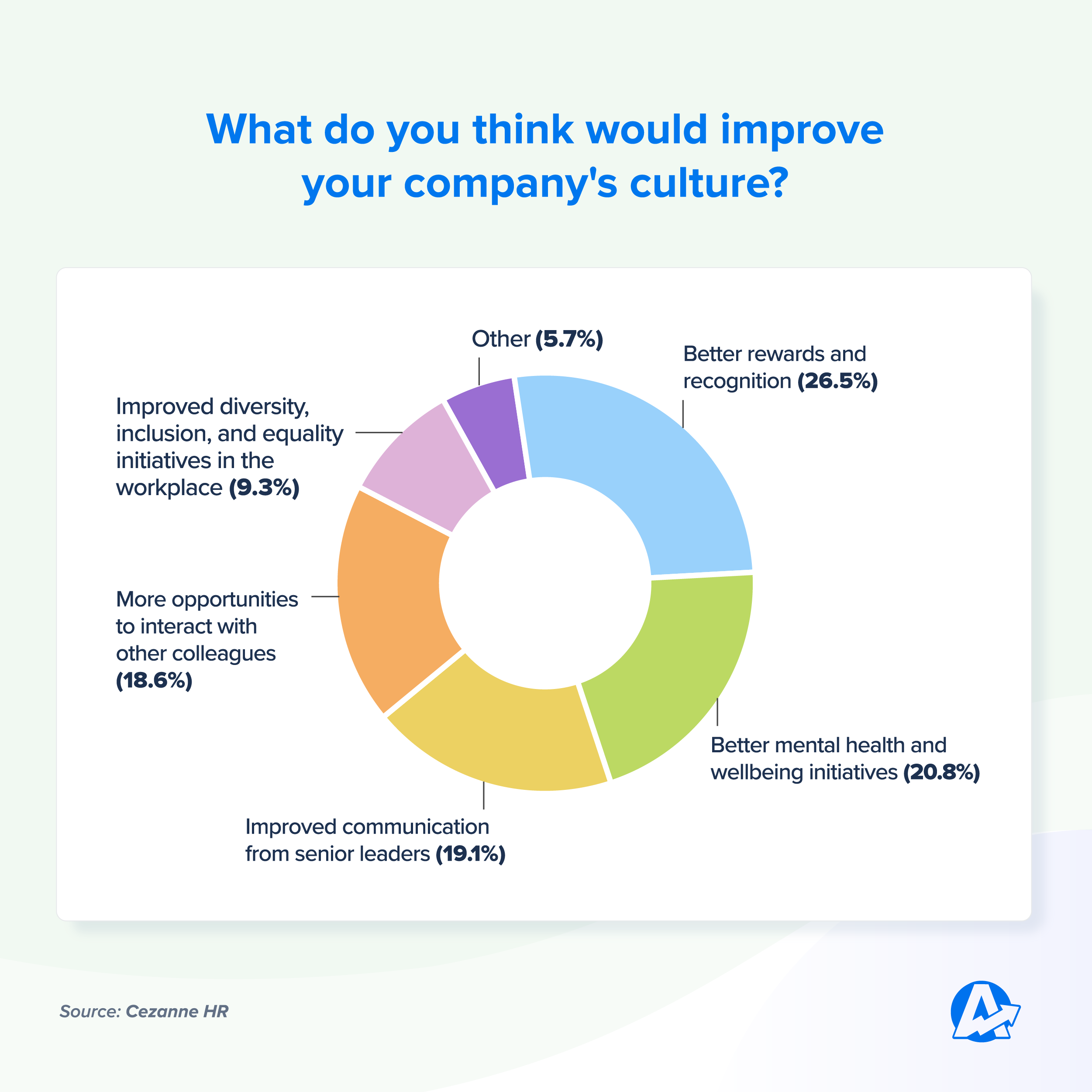 It's really about if you're happy at work every day. And what makes us happy at work every day is working around cool people and having an office with some nice little accommodations. We've got a nitro cold brew on tap with a kegerator at the office--it was a work efficiency move as well as a creature comfort.  - Michael Gasser, Co-Owner/Partner, Squeeze Marketing 
Do you recognize successes and take care of your employees? Do you continually work on your diversity and inclusion? How often do your employees communicate with their managers and senior leaders? Think about those when creating your recurring company meetings and see how you can promote a positive work culture at every company interaction–even in the office kitchen. 
2. Employee Churn
The four things that commonly cause employee churn: 
Lack of career growth and progression: If your company culture doesn't promote career development and growth opportunities, they might feel like their jobs–their daily bread–is turning stale. And they'll jump ship. Incorporate continuous learning into your agency workflows, give them control over what they do, and invest in your employees' career development. 
A big part of our brand values includes empowerment and that's a big part of what we do with our culture as well. We give our team a lot of wiggle room to come up with their own strategy, to look after their own schedules, and let them know that we have trust in them to do the right thing for their clients. - Hayley Peters, Co-owner at OhMyDigital
Lack of innovation: Marketing is a continuously changing and adapting career. Ensure your agency is staying on top of the trends and trying new things to continually improve workflows, get creative, and execute better campaigns. 
Ineffective management: At the end of the day, is your employee leaving the company, or is it leaving its management? Employees who aren't happy with their supervisors are four times more likely to quit. 
Hayley adds: 
We're really honest with each other. We're making sure that our team knows if they have too much on their plate that they can always reach out to us and ask for help.
Lack of compensation: If employees could get a 10-20% increase in salary for switching agencies as opposed to a mere 3% annual increase for staying with the same company, which do you think they'll choose? Your agency culture plays a large role in retaining talent, but you can't rely on culture alone. If your team is improving your agency's bottom line, they deserve the recognition. Hold regular compensation reviews to ensure their pay is on par with industry standards–as well as the competition. 
Agency Tip: There are more things than financial compensation alone. Offer bonuses, perks, and benefits like flexible working hours, childcare benefits, and various reimbursements to make up for any pay gaps. 
3. Employee Engagement
Regardless of your agency structure, social ties are important. Employee engagement is the relationship between a company and its employees. It relates to the feelings they have towards the work they do and their feelings about their fellow team members. 
If your team is enthusiastic about what they do, they will be more committed to their work. And if you're a remote agency, keeping your team engaged can be tricky. 
To avoid a feeling of disconnectedness, some agencies organize regular meet-ups and social activities. Virtual social activities like fun team-building games can help remote workers connect and feel part of the team. 
As you can see, culture building ultimately impacts a team's motivation–which in turn influences project management, productivity, and performance.
Defining Your Agency Culture
Define Your Cultural Beliefs Early
The first step to developing your culture is to start early and formalize it. And an agency's culture should be defined by the leadership team and promoted by its managers. In fact, management plays an essential role in culture building. 
Core Values That Set the Tone for Agency Culture
When you break down your company culture into foundational values, you create a common vocabulary that everybody can understand and use.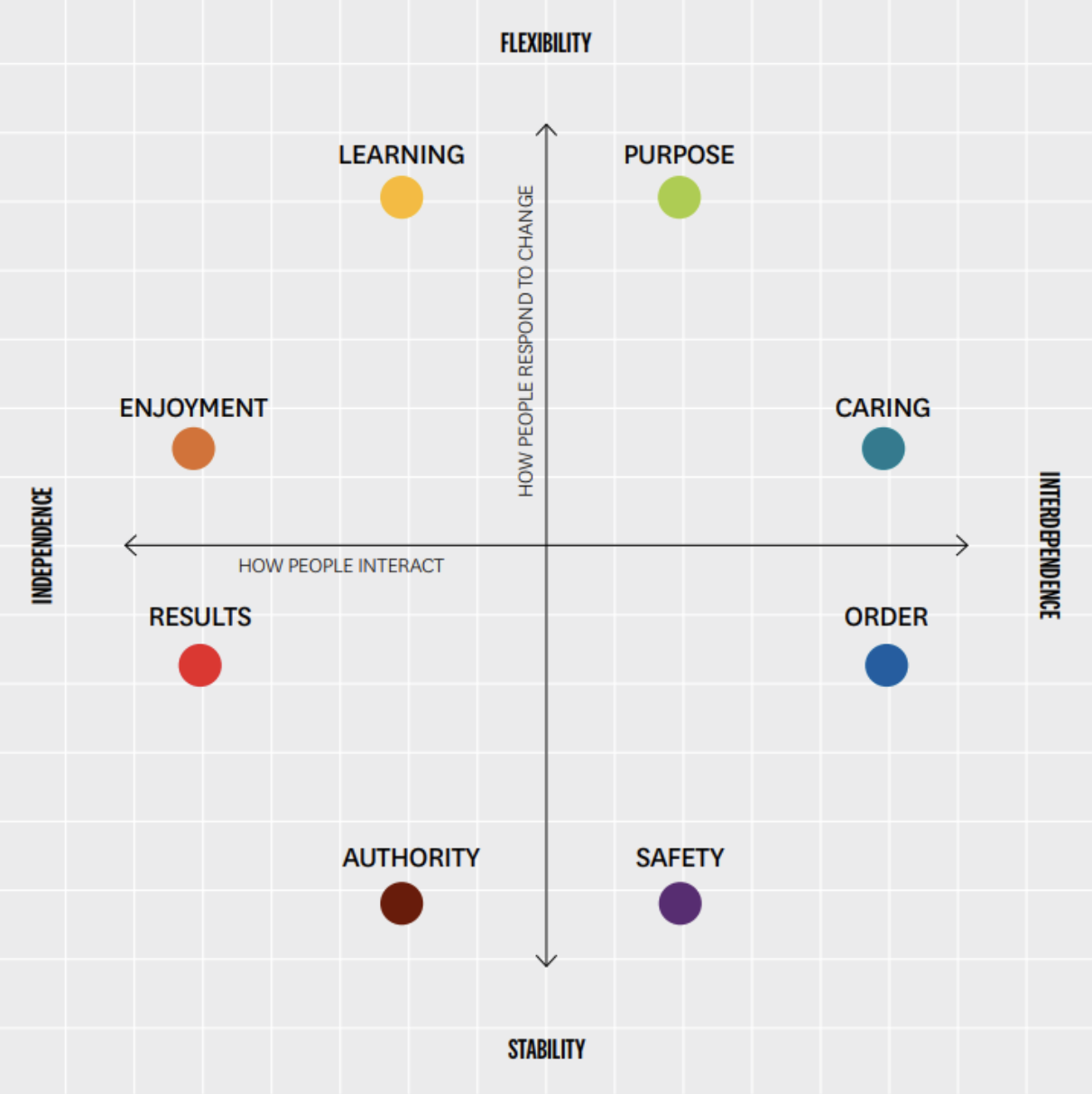 First, you'll need to pick and choose from different company culture styles. In "The Leader's Guide to Corporate Culture," they have boiled it down to 8 types:
Caring: focused on relationships and mutual trust

Purpose: exemplified by idealism and altruism

Learning: characterized by exploration, expansiveness, and creativity

Enjoyment: expressed through fun and excitement

Results: characterized by achievement and winning

Authority: defined by strength, decisiveness, and boldness

Safety: defined by planning, caution, and preparedness

Order: focused on respect, structure, and shared norms 
Think about what values your agency prioritizes, and select five or six of them in actionable terms. 
Though we aren't an agency, here's an example of the core values that shape AgencyAnalytics' company culture: 
The core beliefs mentioned above all promote personal and professional growth, engender respect, and hold employees accountable for their work. For instance:
⭐ Supporting colleagues and caring for their wellbeing
⭐ Learning from mistakes and iterating to do better
⭐ Emphasizing meaningful aspects of their work
⭐ Prioritizing values such as respect, integrity, trust, and gratitude
A lot of your agency's culture will depend on your goals, beliefs, and cultural attitudes. And since culture is such a human element of your organization, it impacts employee retention agency culture changes with the behaviors of the people working for you. 
As such, it needs to be continuously updated and reminded to keep everyone on the same page.
How to Scale Your Agency Culture
By having a clearly defined culture that translates into your agency processes and project management, new employees will be onboarded with the culture top-of-mind as you grow your operations. 
Culture Building with New and Existing Employees
It's important to keep existing and new employees on the same page–and management plays a key role in promoting a positive culture. 
Having a clearly defined culture not only helps you retain your employees but also helps you assess the kind of people you bring onto your team. At the end of the day, agency culture is the driving force behind your agency's success. 
Here are some tips to incorporate culture into your agency's structure:
🚀 Continue to state your agency's values at every opportunity–this includes your recurring meetings, company get-togethers, and marketing collateral like website and press releases. 
🚀 Include core values into your employees' performance reviews so they know how they're tracking not only on their tangible goals but also on their behavior.
🚀 Recognize and reward your employees' accomplishments–whether giving employee of the month awards, having a Slack channel that celebrates #wins, or mentioning how an employee exemplified an agency value. 
🚀 Incorporate it into your hiring and onboarding so that you're not just evaluating them on their skills, but on their attitudes and beliefs as well. Having a clearly defined culture not only helps you retain your employees but also helps you assess the kind of people you bring onto your team. 
🚀 Don't be afraid to let go of clients or employees that aren't a good fit for your culture. 
Some agencies decide to change their niche altogether in order to have clients they actually want to work with."Some of our medical clients would treat us like a nurse that worked for them in the hospital and say things like 'Why don't you just do that for me?'" recalls Trevor Shirk, CEO & Founder of Terrayn Dispensary Marketing.
Instead, he switched to the Cannabis niche. "We've always been helping the underdogs. The businesses that are local in their communities and have a dream and a vision for their business. We want to help them achieve it," he smiles. 
Continuous culture building boosts employee morale and engagement–and helps reduce turnover. Recognition and positive reinforcement go a long way.
Do's & Don'ts in Creating a Strong Agency Culture
It can be hard–at first–to establish a clear company culture because a lot of it is based on unspoken attitudes, mindsets, and social behaviors. But if it's managed properly, culture can be the defining factor for agencies to rise above the competition, create a happy workplace your employees want to come to every day, and become truly great. 
No matter which type of culture your agency has, here are some general guidelines to help your agency succeed. 🙌
DO
✅ Surround yourself with natural collaborators–these are positive people that strive to improve and aren't afraid to make mistakes they can learn from.
✅ Include some of your core values like "get ready to roll up your sleeves" into your job descriptions.
✅ Keep your employees' happiness above your clients' –if your team is happy the work they produce will make their clients happy too–without just giving them whatever they ask for.
DON'T
❌ Put all the emphasis on a profit-driven mindset–you won't get there if your team isn't intrinsically motivated too. 
 ❌ Let ego get ahead of the collective goals of the agency–it can let the best ideas pass by. 
 ❌ Onboard new clients that don't align with your agency's values.
Our goal is to build lasting relationships with carefully chosen partners–that extends to our dental partners as well as future team members. And that's supported by our four values, which are curiosity, being neighborly, being balanced, and being positive. And we ask a lot of questions that relate to those values before they join Delmain. Then it's a matter of making sure that they have the right support from us to thrive. - Dan Delmain, Founder of :Delmain 
Subscribe to the AgencyAnalytics Newsletter
Get actionable tips and expert advice delivered straight to your mailbox.
Sign Up Now!
Like this article? Share your thoughts and tag @agencyanalytics on LinkedIn, Instagram, Facebook, or Twitter. 
Written by
Melody Sinclair-Brooks
Melody is a marketing manager, writer, and startup consultant with a background in behavioural neuroscience. Through a data-driven approach and a passion for product-led strategies, she helps businesses achieve growth in today's competitive digital landscape.
Read more posts by Melody Sinclair-Brooks ›
Try AgencyAnalytics risk-free for 14 days. No credit card required.