Even with all the new marketing channels and platforms available to businesses, SEO is still a top priority. In fact, 64% of marketers say that they're actively investing in SEO as a marketing channel.
The fundamentals of SEO haven't changed that much in recent years and are still largely centered around providing searchers with the best user experience possible. That said, with advances in natural language processing and Google's implementation of the BERT algorithm, search engines are getting a lot better at analyzing and understanding which content will best answer a user's query and search intent.
Before you invest in creating content, however, you need to make sure your website has a solid technical SEO foundation, and the best way to do that is with a technical SEO site audit.
In this guide, we'll discuss the step-by-step process to perform a technical SEO site audit. Also, don't worry about your current level of SEO expertise or how long it will take, with the right SEO software tools a site audit can be done by anyone in under an hour. In particular, we'll discuss:
What is an SEO Site Audit?
No matter how in-depth or well-written your content is, if your site has onsite SEO issues, there's a good chance that it won't rank highly in search engines. 
A technical SEO site audit is performed in order to identify and resolve onsite issues that may be preventing a site from being indexed and ranking in search engines.
There are a number of errors that can negatively affect your site including missing meta descriptions, 404 errors, duplicate content, and a number of other ranking factors. As we'll discuss below, our white-labeled SEO audit tool can automatically crawl a website and find over 40 on-page SEO issues.
A site audit tool provides an overall SEO score that grades the website as a whole and also provides insight into specific issues that are affecting individual pages. Onsite issues identified in a site audit are also ranked in order of severity so that you know what to focus on to get immediate SEO wins.  
If you offer search engine optimization services to clients, a website audit is also a great way to demonstrate value and expertise to prospects right away, and ultimately land new clients to your agency. We'll discuss how you can use an SEO site audit as part of your business proposal below.
How Often Should I Perform an SEO Audit?
This is a common question that clients ask SEO agencies. At a minimum, we'd recommend performing an SEO health check on a quarterly basis, although ideally, you want to set up an automated workflow to monitor for onsite issues and opportunities on a weekly or monthly basis. 
Since content can become out-of-date quickly and technical errors can arise unexpectedly, scheduling a recurring site audit can help you resolve issues before they negatively impact search rankings.
With our SEO checker, for example, you can schedule weekly or monthly site audits to automatically detect website issues and identify optimization opportunities. As a busy marketer, this allows you to save time and only focus on the tasks that will improve your client's search engine rankings. 
Key Components of a Site Audit
A site audit can be broken into several key components, including:
Technical: A comprehensive site audit should first find and resolve on-page technical SEO issues. This includes issues such as 5XX server errors, 4XX client errors, robots.txt files not found, and more. 
Content: This involves scanning website pages and blog posts for issues like short title tags, missing H1 tags, missing meta tags, and more.

Usability: Detecting usability issues before site visitors see them is another key component of a site audit. This includes scanning for slow page load times, broken links, HTTPS issues, and more.
How to Perform a Site Audit in 12 Steps
Now that we've reviewed what an SEO site audit is, how often to perform one, and its key components, let's look at a 12 step process of performing an audit in under one hour.
Step 1: Create a Campaign
If you're just starting out with AgencyAnalytics, the first step after you start a free trial is to create a campaign, which refers to one website or URL that you're tracking metrics or running a site audit for.
Step 2: Enable the Site Auditor Integration
The next step is to navigate to "Integrations" and enable the "Site Auditor". In this step, you can also enable any of our 60+ other marketing integrations.
Step 3: Setup Site Auditor & Choose Crawl Settings
Next, we'll start the Site Auditor setup process by clicking "run audit". After that, you'll need to choose your crawl settings, including the URL and subdomains, the page crawl limit, and any excluded URLs or paths.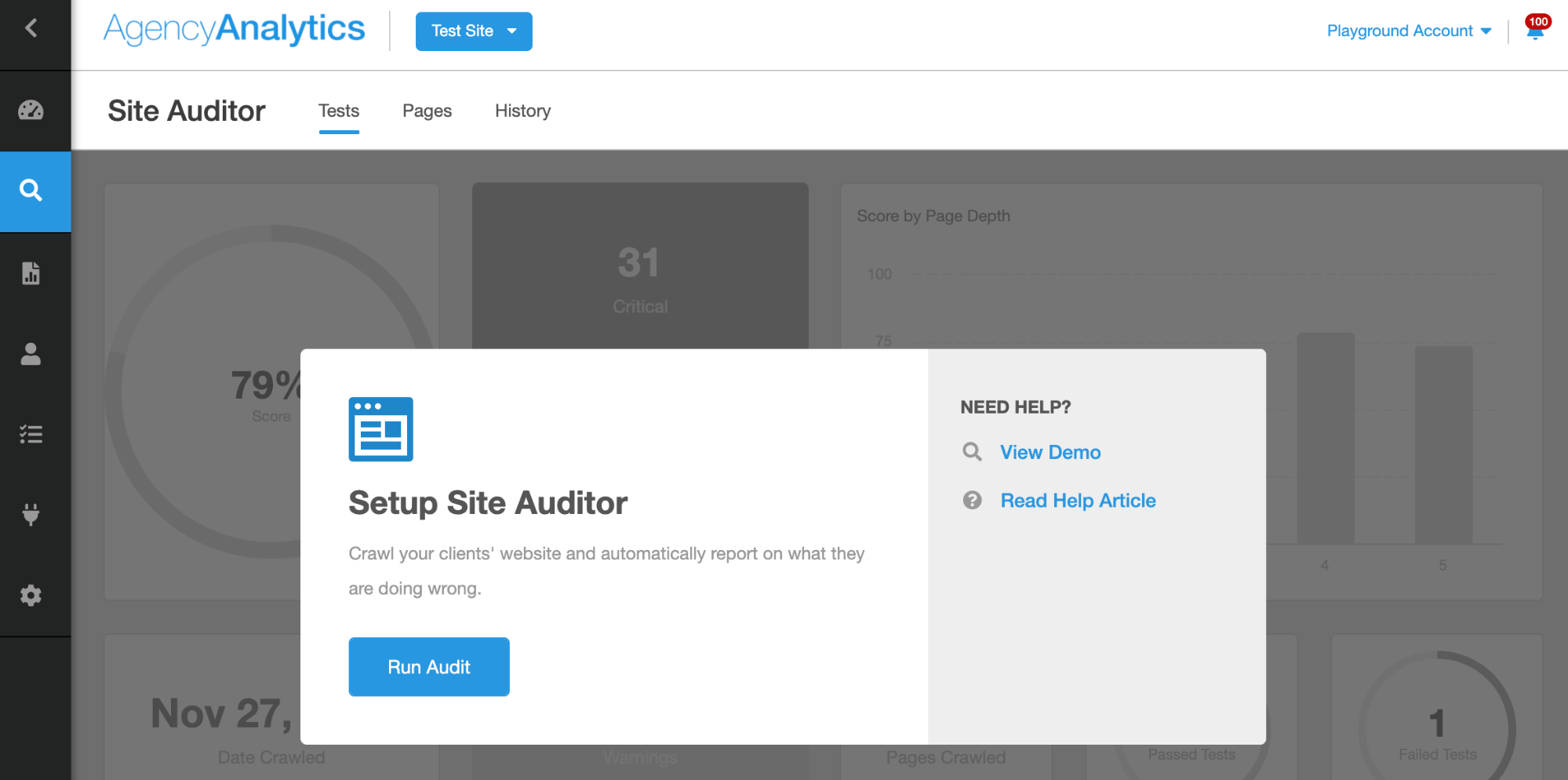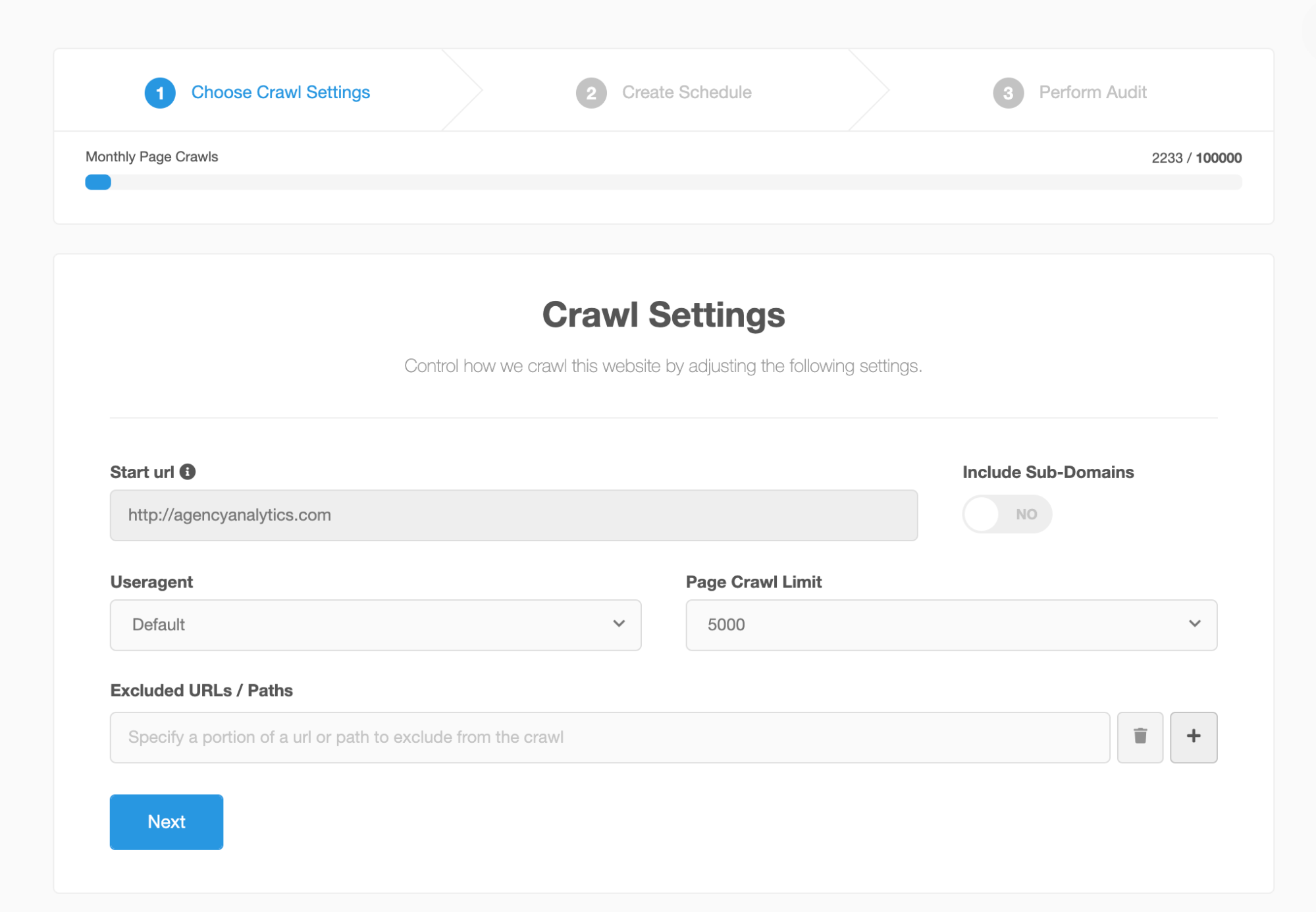 Step 4: Select Your Audit Schedule
The next step is to choose the frequency of your audits, which will automatically run a new crawl on an interval of your choosing, or you can choose to run a one-time audit.
Step 5: Start Crawl
Now that you've set your crawl settings and frequency, all you need to do is click "Start Crawl":
Step 6: Sort Onsite Issues in Order of Severity
After the site audit is complete, the next step is to sort onsite issues in order of severity so that you can resolve the most critical errors first. To do so, simply click on the "Type" button on the "Tests" page:
Step 7: Resolve Critical Issues
Critical issues should be fixed as soon as the audit is complete in order to give your clients an immediate SEO gain. In the test account, we can see the critical errors include 5XX Errors, 4XX Errors, and Overused Canonical Tags.
If you click on the error link, you'll then see exactly what it means and the pages affected. For example, 5XX Errors are "fatal errors that will prevent anyone, including search engines, from accessing your website. They are normally caused by a programming bug or a server misconfiguration."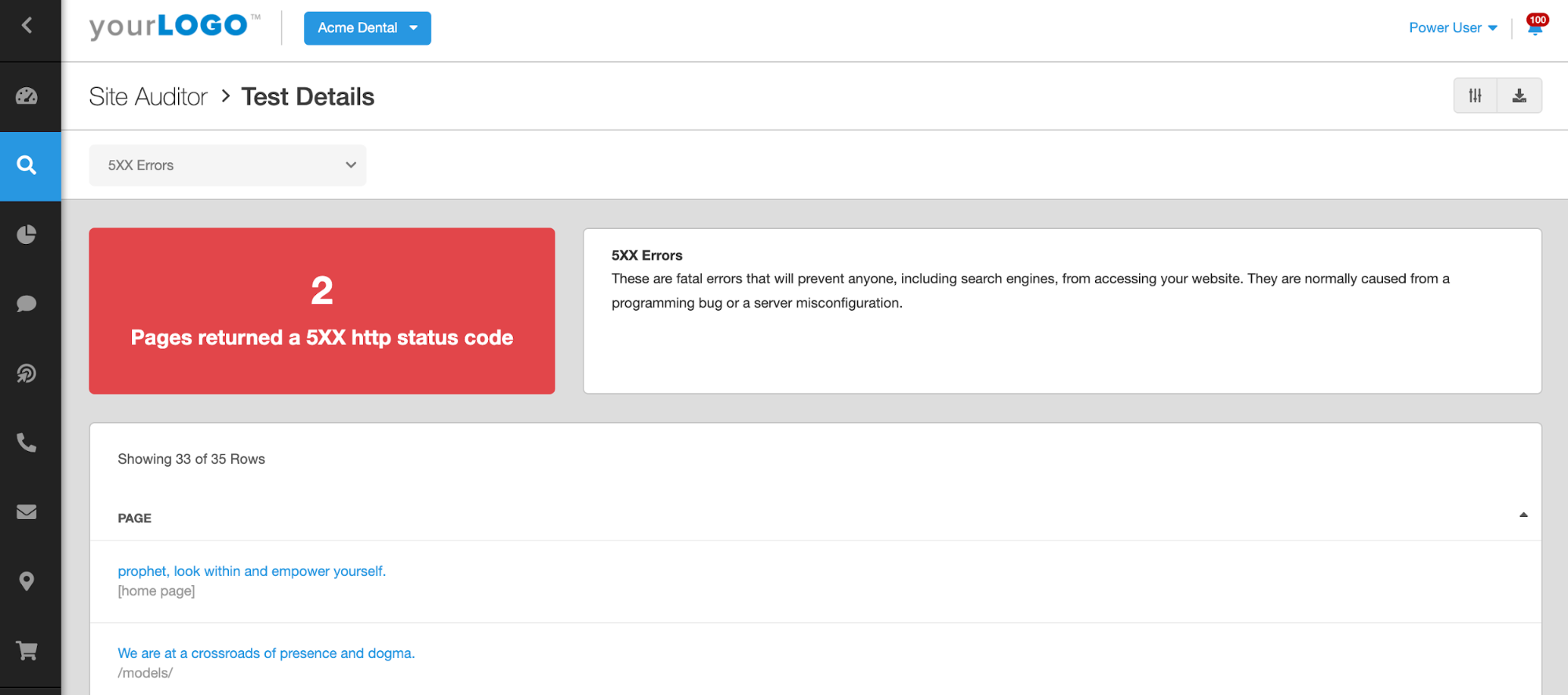 Step 8: Review and Resolve Errors & Warnings
After you've fixed all the critical errors, you'll also want to go through each error and warning and resolve them. Keep in mind there will usually be many more of these errors, so you'll want to create a plan to resolve them all over a certain period of time.
Step 9: Review Individual Page Performance
The next tab over in our site auditor allows you to review individual page performance. This includes SEO metrics such as:
Page score: The page percentage score is a "grade" based on overall issues the auditor discovers, weighted by page depth and the severity of each issue. You can learn more about how the page score is calculated in our Help Center.

Page Depth: A page's "depth" refers to how many clicks a visitor needs to make in order to reach the page using the shortest path from the homepage. For example, a page directly linked on the homepage would have a depth of 2.

Inlinks: Also referred to as "backlinks", this is the number of external websites that are linking to the page.

Status Code: When you visit a website, your browser sends a request to a server. A status code is the server's response to that browser request. These codes essentially communicate whether the page is working properly, or if there are issues in the server response. You can learn more about common status codes in this article by Moz.
There are several ways to approach resolving individual SEO page issues. If you know that certain pages drive most of your conversions, for example, you can target those first and work to improve the page score. Otherwise, you can simply order all pages by score and work through each page individually.
Step 10: Highlight Your Improvements with Historical Comparisons
The next tab over called "History" allows you to compare your current site audit results with previous audits. You can use page-level or site-level scores along with other data visualization in order to highlight your team's progress over time.
Step 11: Create an SEO Report or Dashboard
After you've performed the site audit, the next step is to use SEO reporting software to create a white-labeled SEO report or live SEO dashboard that can be shared with clients. In this example, we've been looking at a live dashboard that clients can access 24/7, although you can also add all of this information to an SEO report that is automatically scheduled to send to clients on a daily, weekly, or monthly basis. Both the SEO report or dashboard can be white-labeled with your agency's logo and branding.
A key part of this step is adding your own personal commentary to the report or dashboard. This allows you to highlight the progress you've made that month, including key changes and notable wins. 
Step 12: Share the Site Audit With Clients
Finally, it's time to share the site audit with clients, which can be done in a few ways. If you want to share an individual widget, for example, the historical site audit performance, you can click on the three-dot menu and you'll see an option to share the widget via email:
If you choose to go with a live dashboard, you can create a new user and give them their own login to access the dashboard. You can also customize each user's permission so they see only what they need.
If you're using an SEO report you can set the frequency for it to send using our report scheduling tool.
Landing New Clients with an SEO Site Audit Proposal Template
Aside from improving your existing clients' SEO results, a site audit is a key component of an effective client proposal. 
Creating a new proposal template for each new prospect, however, is time-consuming and inefficient. Instead, with our white label SEO tool with a pre-built proposal template, create your SEO proposal by quickly running site audits, analyzing keyword performance, and reviewing backlink and internal link profiles.
We've included the following 5 sections in our proposal template, although keep in mind these can be adapted to whatever type of marketing services you're pitching to clients. 
1. Proposal Summary
A proposal summary is one of the most important sections of the report as it's your first chance to impress prospects with your industry expertise and technical knowledge. An effective proposal summary should introduce your team, including any past experience that's relevant to the prospect, and highlight key insights that you've uncovered from the SEO analysis and site audit.
2. Website SEO Audit
The next section presents the site audit that we reviewed earlier and highlights that you've scanned their website for over 40 technical issues. This provides the prospect with immediate value as many business owners will be completely unaware of the issues that may be affecting their rankings. 
3. Keyword Rankings
After the site audit, we have a section for keyword rankings. This keyword analysis can be done quickly by entering several target keywords into our rank tracker, which gives the prospect an idea of their current standing in SERPs. You can also highlight any strategic plans to increase their rankings through new content or website changes in this section.
4. Backlink Analysis
Next, the Backlink Analysis section gives prospects an overview of their current backlinks, referring domains, and key metrics such as Trust Flow and Citation Flow.
5. Next Steps
Finally, every business proposal should conclude with a section about the next steps. This section can also include the areas of improvement that were identified in the SEO analysis, as well as the investment and timeline that's required for your services.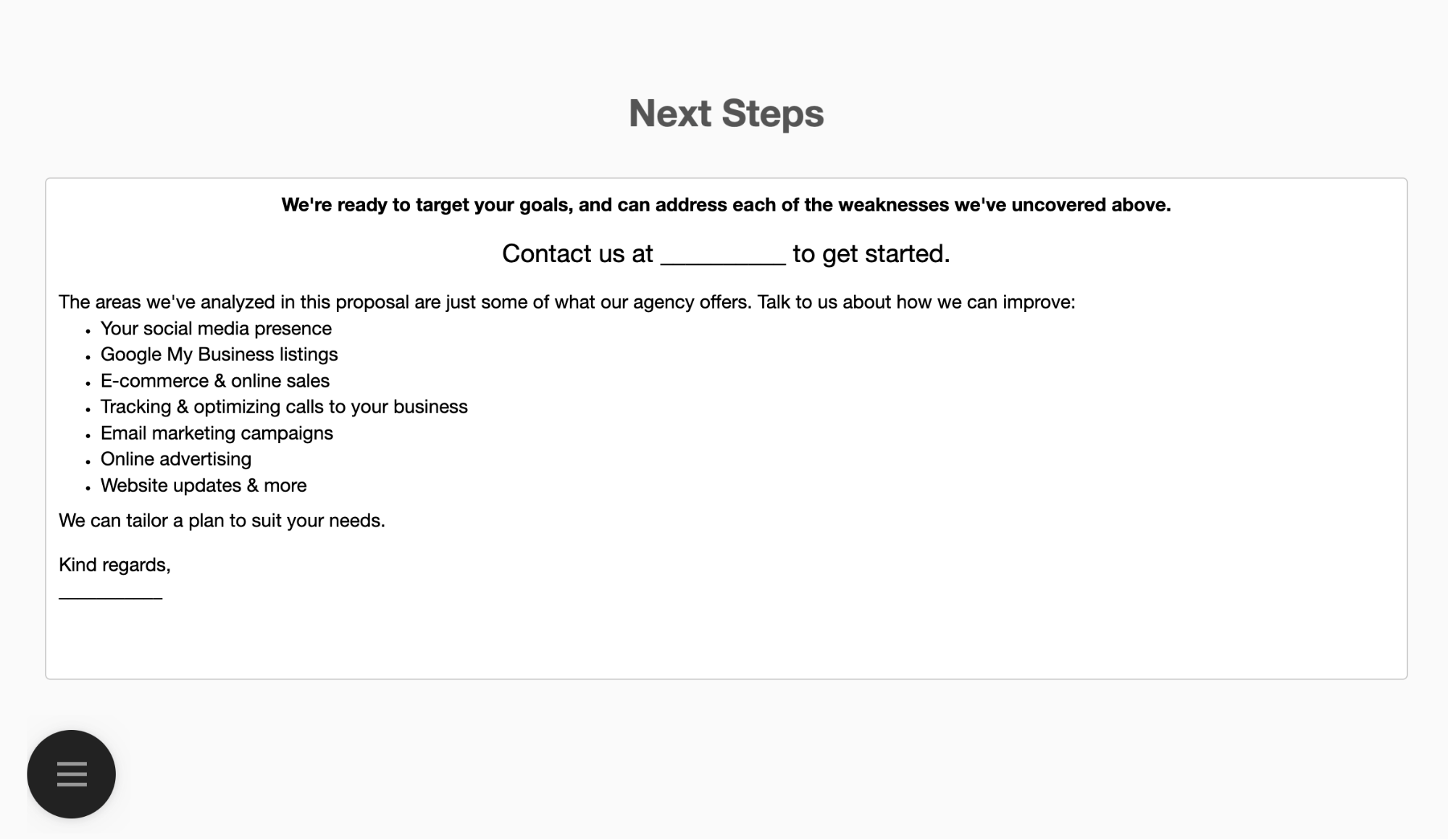 Summary: How to Perform an SEO Site Audit
Before you invest in creating content, it's important to make sure you have a strong technical SEO foundation.
A technical SEO audit allows you to quickly identify and resolve onsite issues that may prevent a website from ranking highly in organic search.
There are over 40 technical issues that can affect SEO performance, so a site audit should also rank issues in order of severity. By combining these rankings with automatic site audits on a weekly or monthly basis, this enables agencies and marketers to save time and only focus on the most critical tasks. Finally, if you offer SEO services to your clients, including a site audit in a client proposal is an effective way of both demonstrating your expertise and providing them with immediate value. 
If you're ready to improve your client's SEO rankings, start a 14-day trial today and perform a site audit in under an hour.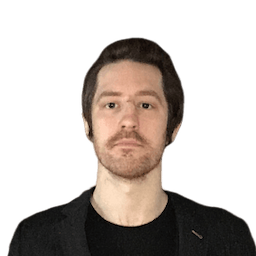 Peter Foy is a content marketer with a focus on SaaS companies. Based in Toronto, when he's not writing he's usually studying data science and machine learning.
Read more posts by Peter Foy ›
Try AgencyAnalytics risk-free for 14 days. No credit card required.