Nothing beats PPC campaigns when it comes to boosting brand visibility, racking up conversions, and landing leads quickly. It's often the reason why clients are interested in PPC advertising in the first place. 
An effective PPC campaign is much more than injecting ad spend and calling it a day, though. These PPC advertising efforts tie into your clients' business goals, and the numbers must make sense. After all, no client wants to run ads that aren't contributing to their profit margin.
PPC ads are a key part of our clients' digital marketing strategies as they drive measurable impact toward their goals. Whether it's driving brand awareness, increasing total sales value, or generating more leads, PPC ads allow for real-time control over advertising spend, targeting, and creative to get in front of our client's desired target audience.

Reed Emerson, Director of Strategy at Avenue Agency
Knowing this, how should your agency measure PPC ROI and demonstrate value in the long term? In this article, we'll outline exactly how to go beyond surface-level insights and help clients see the results of their paid advertising efforts.
What's the Difference Between PPC ROI and ROAS?
Even though ROI and ROAS are often used interchangeably, they're distinct terms and should be treated as such. 
To contextualize this further, consider these definitions from our agency guide on ROAS below. 
The Definition of PPC ROI
Generally speaking: 
ROI measures the profit generated from ads relative to the overall cost to implement them. In other words, it assesses the business profitability of pay-per-click campaigns and how they affect the bottom line. 
Calculating PPC ROI is easy–use the formula below.
PPC ROI = (( Total PPC Revenue - Total PPC Expenses) / Total PPC Expenses) x 100
In other words, calculate PPC ROI by dividing net profit by expenses (and express it as a percentage). 
You may need to calculate profit and expenses across multiple platforms based on the formula above (if your client has more than one PPC campaign). 
In case you were wondering, PPC-related costs don't only include ad spend. It may also include: 
A subscription fee for an all-in-one PPC reporting tool

Labor costs (e.g., factoring the amount of time and hours an employee takes to run a PPC campaign)

Outsourcing fees (e.g., the total cost to hire a freelancer)
The Definition of PPC ROAS
On the other hand:
ROAS focuses specifically on the revenue generated from advertising campaigns or associated components (like keywords or ad groups). In other words, this ad-centric metric measures how much money is made for every dollar spent on pay-per-click ads.  
As a reference, calculate ROAS using the formula below (also expressed as a percentage): 
ROAS = (Revenue Generated from Ads) / (Cost of Ads)
That means PPC ROAS doesn't focus on overall profitability to your client or expenses outside of ad spend. Calculating ROAS simply measures the effectiveness of specific advertising campaigns. 
Tracking PPC return on ad spend helps you:
Uncover any platform-specific insights (e.g., a client's catchy Snapchat Ads may give more bang for advertising buck than another PPC campaign)

Decide whether to re-allocate any PPC budget based on platform-specific campaign performance
Why Do Marketing Agencies Struggle to Track PPC ROI?
While PPC ROI is helpful to track, it isn't always the most straightforward exercise for agencies. There are many factors to consider–let's explore below. 
PPC ROI Isn't Always Revenue
While clients often expect paid campaigns to contribute to their bottom line directly, the fact is that return on investment may not solely mean money. Consider that: 
Your Clients May Have a Conversion Goal Other Than Online Sales
For example, your client may have a total conversion goal of 1,000 eBook downloads and 500 signups on a lead gen form. In this case, it may be challenging to allocate an exact dollar value to this type of conversion goal. It will usually involve additional analysis (like establishing some correlation between user actions and revenue). 
That's why monitoring real-time and historical results alongside other marketing metrics (if your client has other campaigns) is essential. Using a dashboard or report helps you to identify trends, piece together different parts of the marketing puzzle, and show clients the full ROI of their efforts. 
We work to use the data presented from all channels to pivot when needed. As we see specific platforms' performance shifting, we take an overhead look at other channels that might be outperforming. From there, we reallocate budgets and continue to optimize. Without clear data, we're unable to make calculated decisions.

Christopher Marrano, Founder & CEO of Blue Water Marketing
Use a custom dashboard to view your client's paid campaigns alongside other insights like SEO metrics from Google Analytics. Analyze PPC performance and show clients their return on investment–start your free 14-day trial of AgencyAnalytics today. 
Revenue Metrics May Not Reflect the Full Extent of Your Agency's Efforts
Here's a familiar scenario that PPC marketers know all too well. Imagine you developed a PPC campaign that's gaining momentum but isn't generating sales (just yet). On the other hand, your client's brand reach is strengthening, which may set the stage for future conversions.  
Simply saying, "This PPC ad got a thousand impressions," won't paint the full picture for your client. Justifying your approach and building trust in cases like this is crucial. 
You'll need to illustrate the ways in which your client's brand recognition is improving and exactly how you anticipate this will lead to conversions later. Consider sharing previous customer success stories or case studies that show similar situations and how you achieved desired results.
Further, keep in mind that revenue numbers alone won't demonstrate the up-front legwork your agency performed when formulating your strategy. For example, your agency may have spent significant time developing a competitor PPC analysis before ads ran. This time investment doesn't necessarily have a quantifiable metric to show how it contributes to overall ROI.
Explaining the return ROI can be challenging because it isn't as simple as equating ROI to ad spend or PPC budget—the agency's impact extends beyond direct advertising efforts to some unmeasurable factors, like our expertise in branding, market research, competitor analysis, and customer journey mapping.

Steph Busia, Account Manager at Moxie Tonic
Challenges With Accurately Attributing Credit to PPC Campaigns
Depending on your client's business, there may be complex sales cycles before an actual conversion happens. Even if a prospect discovered your client's brand from a PPC campaign, they may not convert immediately.
To top it off, prospects may also revisit your client's website from other marketing channels (like social media or even a direct website search). Attribution modeling (e.g., on Google's marketing ecosystem) certainly helps in these cases, as it automatically maps this customer journey for you.
Conversely, what happens if they convert offline by going to your client's in-person store? In this case, there's no digital footprint, which adds more complexity to the credit attribution picture.
You get it–multiple touchpoints and variables are involved, which sometimes makes things tricky on the agency side. You may not have details on every single conversion, but having consistent data-tracking shows that you're doing your part.

No need to get lost in a haystack of PPC metrics. Automate data retrieval and filter those numbers into visual dashboards–check it out on AgencyAnalytics, free for 14 days.
Little to No Control Over External Factors
Even if you've put the right parameters in place, you can't control everything. For example, there may be:
In these scenarios, it becomes challenging to justify PPC ROI if results falter or are variable. Again, it's another reminder to keep your clients in the loop through reporting and be transparent about any changes.
AgencyAnalytics does a great job of visualizing data and creating customized reports. However, unknown factors like seasonality, market conditions, and competitive landscape can make it challenging when isolating the impact from PPC.

Dustin DeTorres, Co-Founder of Badass Insurance Leads
3 Steps To Put in Place for PPC ROI Success
Before mashing the gas on a PPC campaign, here are a few things to implement.
1. Decide on Your Client's Conversion Goal
A key part of any marketing campaign is deciding on your goals beforehand. This sets the stage for realistic expectations, ensures everyone is on the same page, and helps define PPC ROI more clearly. 
PPC goals are created by determining what the client needs to grow and defining metrics within the PPC dashboard to match them. For example, we utilize close rate, website traffic, and conversion rate to find the whole picture and link it to overall lead and revenue growth.

Rebecca Pena, Marketing Director at Investigator Marketing
If you're looking for an alternative to the SMART analogy for goal setting (i.e., specific, measurable, attainable, realistic, and timely), here's a great option to consider.
While SMART is undoubtedly a great framework, the MASTER approach to goal-setting is more fluid and flexible. That means if something were to change (e.g., an algorithm update that affects ad visibility), you and your clients don't have to abide by set-in-stone SMART goals. 
In these instances, you'll have the ability to 'transform' and 'evolve' with the current landscape, adjusting targets if needed. This ensures that your client's goals are relevant and reflective of real-time developments. 
To get started, consider the following goals for paid ads: 
Sales: The total number of e-commerce transactions

Lead Generation: How many form submissions were received (e.g., signup forms, quote requests) 

Downloads: The total number of downloads (e.g., ebooks, software, apps, whitepapers) 

Phone Calls: The number of phone inquiries received

Event Registrations: How many prospects signed up or RSVP'd for an event, webinar, or seminar 
2. Set Up Conversion Tracking
Enabling conversion tracking lets you access first-hand insights into specific actions that result from your client's pay-per-click efforts.
This process will vary according to which platform you're using, so be sure to look into it beforehand (here are some handy Google Ads tutorials as a reference).
Generally speaking, though, this setup entails: 
Identifying your client's conversion goal (like the ones listed above)

Creating a conversion action on your chosen platform that aligns with this goal (e.g., a Microsoft Ads campaign may have a "phone calls" conversion action if this is what your client wants to achieve)

Generate and implement tracking codes (e.g., Google Tags) on your client's website

Monitoring conversion tracking and making any necessary improvements over time 
Optimizing Your Clients' PPC Campaigns for Conversions
To start things on the right note, be sure to: 
Create a separate landing page so paid traffic metrics don't get diluted with traffic from other sources 

Install UTM tracking parameters to understand which keywords led to ad clicks. This helps you to refine your client's pay-per-click strategy over time

Ensure that there are sufficient CTAs (e.g., "Download," "Buy Now," or "Sign Up" buttons) to increase metrics like form conversion rate

If your client wants to generate leads, link signup forms directly to their CRM. This will save you time from manually inputting leads or losing out on lead-capture opportunities

Use attribution modeling to understand how users interact with your client's content and assign conversion credit to pay-per-click ads (when warranted).
While Google Ads previously offered a range of attribution models, it's worth noting that their new default is now data-driven attribution modeling.
This approach relies on sophisticated machine learning technology and considers your client's unique account history. As a result, there is less guesswork in PPC attribution.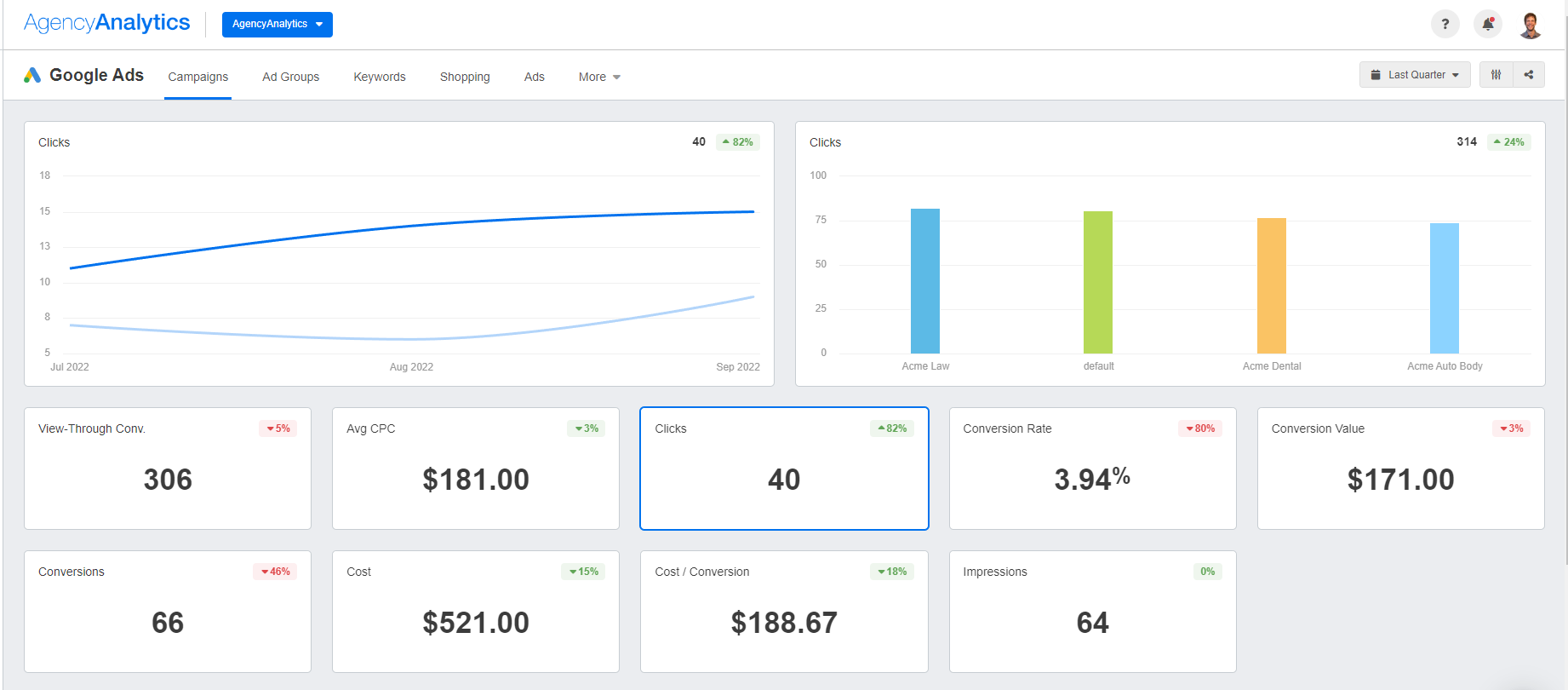 Monitor landing page performance and metrics like return on ad spend, cost per conversion, and more. Transform complex data into easy-to-understand insights–try this dashboard on AgencyAnalytics, free for 14 days.
3. Set Key Performance Indicators (KPIs)
Last but certainly not least, decide on what key performance indicators to measure and monitor. Setting a goal is one thing, but you'll need to get more granular and decide on the right PPC metrics to maximize ROI.
In addition to the goals we've outlined, some common conversion metrics include:
Click-through rate (CTR): how many users have clicked on your client's pay-per-click ads

Conversion rate: How often users fulfill desired conversions

Cost per acquisition (CPA): The amount paid for each desired conversion action from your client's pay-per-click campaign

Return on ad spend (ROAS): The money generated for every dollar that was spent on a specific campaign

Quality score: Google's overall score of your client's ads and keyword relevance, which also influences ad rankings

Revenue per click: The amount of income generated for each individual click on a pay-per-click ad
After you've decided on KPIs, there's one other thing–tracking results. 
Clients will likely have multiple campaigns in conjunction with their PPC efforts at any given time. It becomes nearly impossible to keep track of metrics without some system in place (unless you enjoy toggling between platforms or resorting to outdated manual reporting methods). 
Not only does it result in wasted billable hours and headaches, but it also increases the chances of errors. Plus, what happens when you want to view your clients' other marketing metrics alongside pay-per-click numbers? 
No need to fret. There's a solution–using AgencyAnalytics to streamline client reporting. 
How To Demonstrate PPC ROI With Client Reporting
Showing the value of your services is simple with the right PPC software–here's how to do it with AgencyAnalytics. 
1. Use Dashboards to Monitor Real-Time Updates
Keep on the pulse of your client's paid search efforts by:
Using pre-built dashboard templates and populating them with your client's metrics (take the Amazon Ads dashboard example below)

Building a PPC dashboard to monitor paid search ad metrics alongside other insights (like organic traffic)

Monitoring real-time insights and making campaign adjustments if needed
Filter your clients' metrics into marketing dashboards and deliver actionable insights to your clients. Access a range of pre-built dashboard templates on AgencyAnalytics, free for 14 days.
2. Grant Client Login Access for Greater Transparency
Want to keep clients in the loop about their pay-per-click initiatives? Consider granting client login access. This step will:
Give clients the autonomy to monitor their campaign progress whenever they choose

Cut down on follow-up emails or calls, which saves everyone's time

Build trust over time by showing that you're committed to client data transparency
Provide login access to dashboards and give clients real-time PPC performance insights. Create an unlimited number of staff and client login profiles on AgencyAnalytics, free for 14 days.
3. Deliver Regularly Scheduled Reports
While you can create custom user permissions when granting client login access, sometimes it's better to deliver results after they've had time to materialize. 
For example, newly developed pay-per-click ads often need time and continuous tweaks to perform optimally. Giving access to a real-time dashboard may mean sharing premature results, which could open the doors to unnecessary concerns. 
That's where client reports come in handy. Choosing a reasonable reporting cadence (e.g., monthly) is an effective way to be transparent with data while also giving your agency enough time to produce results. 
With AgencyAnalytics, it's easy to:
Convert your client's dashboard into a report with the click of a button

Filter your client's metrics into a pre-built report template to save time (or build your own, if you choose)

Add an executive summary that gives high-level updates on results, which is especially useful if your clients are (or report to) C-level executives

Create an automated schedule so clients get their top-notch PPC report like clockwork!
4. Add Annotations and Goals to Monitor Progress
Give your client reporting an extra edge with the annotations and goals feature. This is quite useful to: 
Add comments directly to your client's data visualizations, which gives more context where needed (e.g., how an increase in PPC spend led to more profit)

Dynamically track goal progress and whether you're on track to achieving your client's targets
Having the ability to see which marketing channels are performing or the ability to verify analytics from PPC campaigns gives customers the information they need when it comes to where they spend their marketing budget.

Ryon Gross, CEO of Local Leap Marketing
No more text-heavy, boring updates. Use dynamic goal progress bars and add custom annotations to elevate your client's reporting experience, free for 14 days on AgencyAnalytics.
Level up Your Agency's PPC Reporting Game
As we've seen, PPC reporting goes beyond surface insights like ad spend or the number of ad clicks. To create effective pay-per-click campaigns, your agency must put in the groundwork to create a strategy that moves the needle.
Once everything is in place, implement an efficient process to measure PPC ROI and optimize campaigns when needed. Using an all-in-one reporting tool like AgencyAnalytics helps you to:
Create white-labeled dashboards and reports that visually show results

Track real-time progress and quickly pivot or improve campaigns

Improve data transparency by granting 24/7 client login access

Automate the data retrieval of metrics across 75 marketing platforms
Don't waste another billable hour on excessive manual work. Invest in a tool that streamlines reporting and improves ROI for your clients–try AgencyAnalytics today, free for 14 days.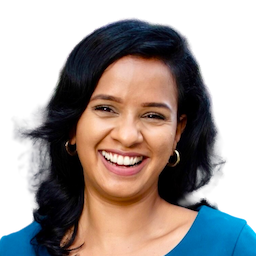 Faryal Khan is an experienced marketer and brand photographer with a passion for content creation. She creates value for brands through storytelling and captivating visuals.
Read more posts by Faryal Khan ›
Try AgencyAnalytics risk-free for 14 days. No credit card required.