With competition growing by the minute, brands are doing everything to vie for attention online. And without pay-per-click (PPC) advertising, your clients' businesses are perpetually on an uneven playing field. If you aren't already, your marketing agency should be proposing PPC advertising as an additional source of leads to ensure their clients maintain a fair share of the market.
Luckily, PPC is a natural complement to any marketing strategy and helps boost performance across all other marketing channels. PPC is like flicking a switch and getting more eyes on your clients' businesses. It accesses the right people, in the right place, at the right time. 
An upsell to PPC management services isn't that far of a reach. And when your agency puts your clients firmly on the digital map, you will retain them over the long run. The important thing is to showcase the value your agency brings to your clients' PPC campaigns. That's where PPC reporting comes in.
We will explore how to best use PPC reporting to demonstrate your agency's successes and consistently improve upon campaigns–without spending hours pulling reports from various PPC platforms. This article will look at:
What Makes a Great PPC Report

8 PPC Management Strategies (+ Agency Tip From Our In-house PPC Expert) 

How To Present Data in Your PPC Reports and Best Practices

How To Save Time on PPC Reporting To Scale Your Agency
Let's dive in. 
What Makes A Great PPC Report?
A great PPC report tells your clients a story about their marketing data by connecting the dots between metrics like cost per conversion and their campaign performance. It should also clearly state actionable progress towards your clients' short-term and long-term business goals. 
PPC reporting requires a lot more info & insights than simply copying & pasting their cost-per-click (CPC) data, and ad spend. What your clients want to see is that your agency is delivering an exponential return on ad spend and always has plans to improve. Your clients need you to show them the bigger picture. 
To keep track of all your clients' metrics under one roof, you'll need the right PPC reporting tool, which is key in your PPC strategy. Here are some strategies that will save you loads of time and make your PPC reporting fully scalable:
8 Strategies To Manage Your PPC Reporting With Minimal Effort
1. Connect All Your PPC Networks in One Place
Google may still dominate 90% of the PPC space, but there are a number of other paid advertising channels out there that you can use to target the right audience for each of your clients' unique businesses.
Many agencies ignore these other channels because of the time and effort it takes to manage and report on these programs. This means that smart agencies can tap into other PPC channels which may offer lower CPCs. 
Cross-channel PPC management software allows your agency to keep a close eye on all your clients' ad networks while giving you the ability to easily branch out and try newer channels where competition might be lower or to enhance your clients' presence where their customers are already hanging out. 
AgencyAnalytics has 16 different PPC integrations, such as Google Ads, Amazon Ads, Facebook Ads, and more to choose from, giving your agency the freedom to test into new channels without the headache of pulling data from multiple platforms:
2. Use Internal Dashboards To Keep Your Team up to Date
Forget the dozens of open tabs, spreadsheets and screenshots to constantly update your clients' PPC metrics. Marketing dashboards dedicated to PPC automatically pull in your clients' data from all your PPC efforts so you don't constantly have to gather that data yourself. 
PPC dashboards allow you to create graphs in a few seconds to better visualize campaign performance. Track and monitor important KPIs from the campaign level all the way to the details of the ads themselves like:
Cost

Clicks

Impressions

CTR

Conversion rates

Cost per Conversion
What's more, your entire marketing team will be kept in the loop on all your agency clients' PPC data in real-time, avoiding the back and forth messaging. Give your marketing team their own logins and use your meeting time for other things, like strategizing and improving ad content. 
3. Create a Separate Login for Your Clients to Their Live Dashboards
Some clients really like to be in the loop. This isn't very efficient if they are always in contact with you. If you'd like them to see how their campaigns are performing between reports, create a separate login for your clients where they can access a simplified PPC dashboard. 
Select what information you want them to see without overwhelming them with too much data until your next PPC report gets sent out. Your more hands-on clients will be happy to check on their campaigns' performances any time of day, and your agency will get bonus points for transparency! 
4. Use Custom Metrics To Give a Snapshot of Your Paid Efforts
There comes a time when your agency needs to provide a deeper level of analytics to truly understand your clients' marketing campaign performance–especially for your clients with larger businesses. Custom metrics make it easy to combine data from various marketing sources into one single metric. 
Want to combine data from several PPC platforms in order to understand the true return on ad spend (ROAS) of your cross-platform advertising campaigns? Done.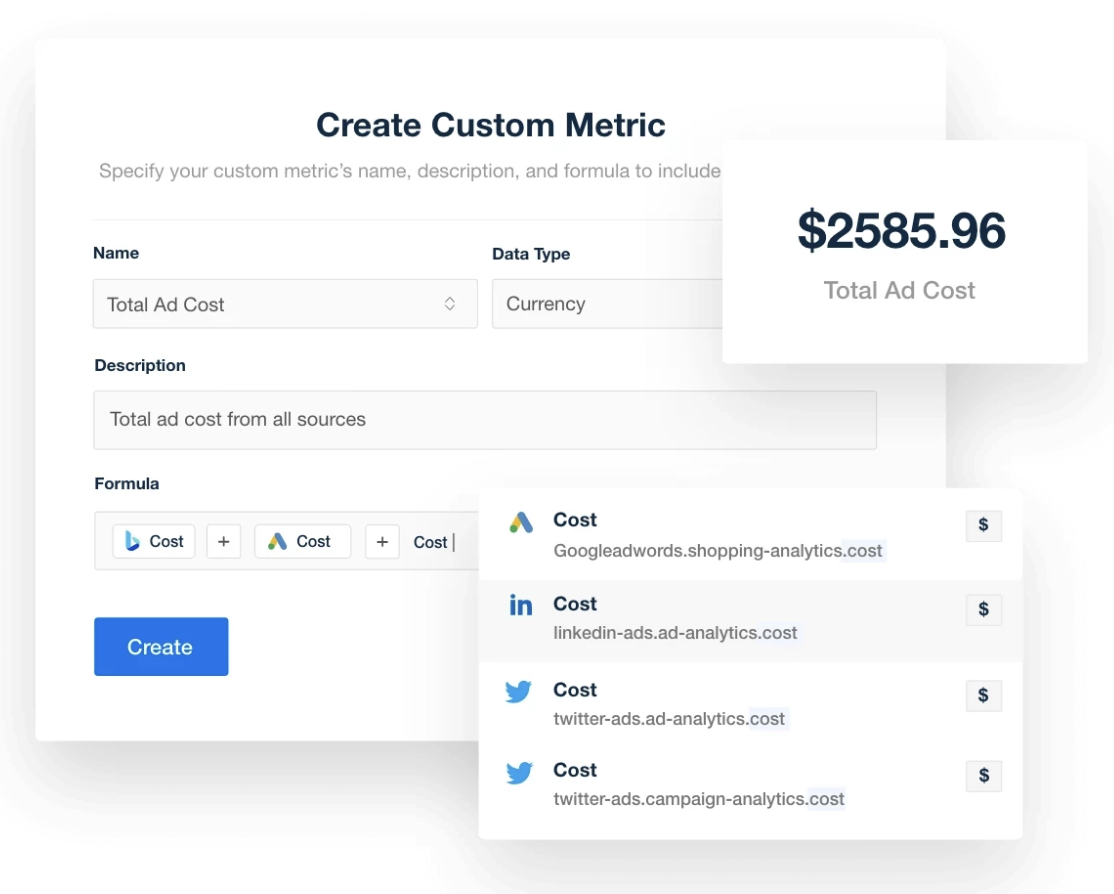 Boiling it down to a single metric not only gives deeper insight into the business performance but also makes it easy for your clients to understand, regardless of their level of technical marketing expertise.
5. Use Goals To Communicate Your Agency's Success at Every Stage
Create goals to track metrics that are specific to your clients' needs. For example, easily track Google CPCs, Conversions, and ROAS using goals. This helps align your marketing team's efforts, making you more likely to reach your clients' performance needs within the budget. When your agency clearly communicates your progress to clients–in one single image–it spells transparency. And we all know that clear communication is key to client satisfaction. 
Agencies can use the custom metrics and goals features to combine conversions from multiple platforms and give a singular view of how their PPC is performing–which is more attractive and useful to a lot of your small businesses clients than a granular look at each platform. This is SUPER helpful for lead gen agencies and I'm not sure that enough people know about it.

— Lindsay Casey, PPC Marketing Manager, AgencyAnalytics
Read more: Goal Tracking for Agencies: How To Communicate Your Success to Clients 
6. Tell a Story That Your Clients Will Understand
Avoid misunderstandings and back-and-forth calls and emails by giving your clients more insight using the Annotations feature. Explicitly highlighting when you hit targets will build trust and keep you on their payroll!
7. Include your agency's markup to avoid confusion
If your agency's business model for PPC management includes a percentage of total ad spend, there's no need to show your agency's gross PPC cost. Automatically include your markup in all client-facing dashboards and reports to avoid misunderstandings. 
Read more: How much should you charge for PPC management
8. Automate Your PPC Reporting To Free up Agency Time 
 While your agency is busy staying up to date with the latest trends in PPC advertising, you'll also need to be pushing out reports consistently to keep your clients up to date. 
Have your PPC reports get sent out with easy scheduling. Get started in no time with white label PPC report templates and feature your own logo, brand colors, and URL that give a personalized touch while remaining fully scalable. 
Plus, you can decide if you want to approve each PPC reports before it gets sent out so that you can review and address any issues. That way, you don't end up with any surprises in the report and you can showcase exactly how proactive your agency is.
Show Clients What They Want To See Most in Their PPC Reports
Your clients want to know their ad dollars are well-spent. Putting a prominent focus on conversion metrics will immediately show your agency's value. PPC reporting allows you to filter out information from your live dashboards and condense it to suit your clients' needs and interests. Ultimately, your clients want to see how you're spending their money.
Put ROI at the forefront of your PPC reports to demonstrate your agency's value to their business by displaying the conversion metrics like:
Number of conversions

Total cost

Impressions

Clicks

Cost per click (CPC) 

Cost per conversion
Our PPC report template has 8 sections that will help you immediately highlight what matters most to your clients. 
Show the bigger picture. PPC marketing is only a piece of the puzzle. If you wish to show your clients how their other marketing channels are performing, create reports that pull metrics from dashboards like website visits from Google Analytics and social media follower increases. PPC affects channels across the board. Show it in your reporting. 
Automate That PPC! Pull All Your PPC Metrics Under One Roof and Schedule Reports
No Pay'n No Gain. This is probably most true when it comes to PPC campaigns. PPC reporting is one of the most direct ways to generate new leads. Getting more clients or campaigns shouldn't exponentially increase the workload. 
With scalable tools and strategies in place, your agency can consistently prove its PPC ROI to improve client retention and reduce churn. 
Take advantage of AgencyAnalytics' PPC reporting tool to:
Gather all your clients' PPC data from 16+ PPC networks under one roof, in a fraction of the time it would take you to do it manually

Customize dashboards that visualize the stats in an intuitive way and include other stats that show the bigger picture

Personalize dashboards and reports with white label features that will show your agency's professionalism and authority

Hit Schedule and never worry about another report deadline again
What are you waiting for? Start your free 14-day trial today.
Written by
Melody Sinclair-Brooks
Melody Sinclair-Brooks brings nearly a decade of experience in marketing in the tech industry. Specializing in B2B messaging for startups and SaaS, she crafts campaigns that cut through the noise, leveraging customer insights and multichannel strategies for tangible growth.
Read more posts by Melody Sinclair-Brooks ›
Try AgencyAnalytics risk-free for 14 days. No credit card required.