If you're running paid ads for clients, you may have asked yourself: are Snapchat ads worth the investment?
Whether or not you've tried the social media platform for yourself, there's no question that it's incredibly popular within the 18 to 30 year old demographic. In fact, a study from Pew Research found that 46% of users visit the app several times a day.
In this guide, we'll discuss everything that marketers need to know to get started with Snapchat Ads, all the way from campaign set up to automated reporting, including:
Let's get started.
Key Snapchat statistics
Before we dive into setting up a Snapchat Ad campaign, let's first look at a few key statistics to make sure the platform is right for your audience. As mentioned, by far the most prominent Snapchat users are in the younger demographic. A few of their most impressive statistics include:
Looking at these statistics, if your target audience is under the age of 30, Snap ads are likely worth considering and investigating further.
6 Different Types of Snapchat Ads
Before we look at setting up a campaign, let's first review the different types of ads you can create. In the case of Snapchat advertising, there are six different types of ads you can create, these include:
1. Single Image or Video Ads
A Single Image or Video ad is a full-screen ad that can be used with nearly every ad objective. These ads allow you to add an attachment and enable users to swipe up and take your desired action. You can use images, videos, or a combination of both in your Single Image or Video ad. These ads are best used to drive awareness or conversions and can be up to 10 seconds long.
2. Collection Ads
A Collection Ad has four tappable tiles that enable you to showcase a series of products and give users a seamless way to browse and buy products. To create a Collection Ad, you'll need to use at least 4 images. You can use up to 20 seconds of video in your ad as well. Best used for driving traffic to your website or app, these ads are only available on the Snapchat mobile app.
3. Story Ads
Story Ads are a series of ads that are displayed in Snapchat's Discover section. This feature lets you show a series of 3-20 single image or video ads. You can use a variety of videos, images, and CTAs in your Story Ad to create a well-rounded ad campaign. Best used for driving brand awareness or engagement.
4. Lenses AR Experience
One of Snapchat's most unique advertising options is its augmented reality experiences. Using their Lens Studio, you can easily build AR experiences with a set of built-in features such as custom shaders and advanced tracking. There are two types of Lenses Ads, Face and World. Face Lenses use the front-facing camera and can be used to create an interactive experience for users. For example, you could create a Face Lens that turns users into a cartoon character. World Lenses use the rear-facing camera and can be used to place virtual objects in the real world. For example, you could use a World Lens to place a virtual car in your user's environment.
5. Commercials
Commercials are ads that appear within Snap's curated content and are non-skippable for six seconds but can last for a total of three minutes.
6. Filters
Finally, Filters are artistic overlays that are displayed after you take a Snap and swipe left or right. This option is best utilized if you're running a local marketing campaign as they can be displayed after users visit neighborhoods, parks, restaurants, or shops. Filters and Geofilters are a way to add creative flair to your Snap. Filters can be used on any image or video snap and include things like color filters, time, temperature, speed, and snap count. Geofilters are location-based and can only be used when you're snap was taken in the designated location.
Getting Started with Snapchat Ads
Now that you have an idea of the different ad formats available on Snapchat, let's review how to start creating a campaign.
1. Navigate to Snapchat Ads Manager
To get started, first navigate to the Snapchat Ads Manager and either sign in or create a new account. From there, you'll need to choose between "Instant Create" and "Advanced Create".  Instant Create is a much more simplified way to create a Single Image or Video Ad in five minutes or less, whereas Advanced Create gives you more control over your bidding, budget and optimization goals. In this example, we'll go with Advanced Create to see everything that Snapchat has to offer.
2. Choose Your Advertising Goal
Next, you'll be asked to choose your advertising goal. If you go with Instant Create, there are five options available:
Website visits: This will send Snapchatters to your website

Promote local place: This will send nearby Snapchatters to your local business

Calls & texts: This will drive Snapchatters to call or text your business

App installs: This will offer Snapchatters to download your app

App visits: This will drive Snapchatters to return to your app
Since we chose Advanced Create in this example there are a few more advertising objectives, including:
Awareness: There's only one option here that focuses on audience reach in order to increase awareness for your brand.

Consideration: This option includes app installs, driving traffic to website or app, engagement, video views, and lead generation.

Conversions: Conversions can include both website conversions or catalog sales.
For this example, we'll go with Website Conversion and set the daily or lifetime budget:
3. Define Ad Set Details
The next step is to build your ad set, which allows you to group ads by audience, budget, and goal. As mentioned, there are six different ad types, although for website traffic you can only choose between a Single Image or Video and a Collection Ad: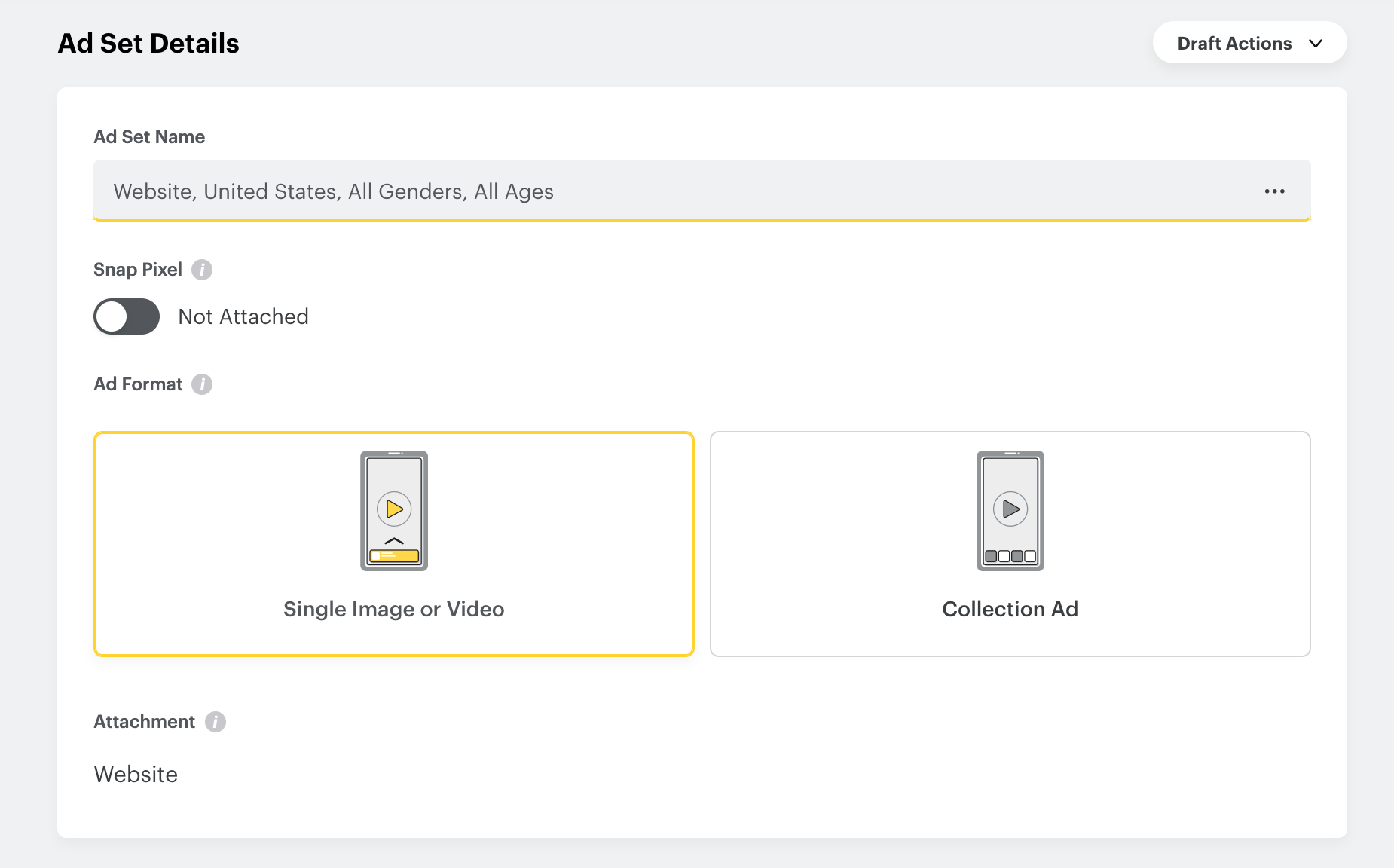 4. Define Placements, Location, and Demographics
Next up, we will define our placements that can either be automatically done for you or you can choose to place your ads Between Content" or "Within Content", which means ads are watched within professional and curated content.
5. Define Your Audience, Devices, and Delivery
Next we can define our audience. Here you can either use a custom audience or Snapchat's predefined audiences, which are:
Audiences that have been built and packaged using Snapchat and Third-Party Data, allowing you to reach people based on their online and real world interests and behaviors.
In terms of delivery, just like other ad platforms we can set our bidding based on Auto-bids, Target Cost, or Max bid:
6. Design Your Ad Creative
Finally, it's time to design our ad creative. Snapchat is a highly visual platform, but luckily they offer a number of templates to choose from where you just have to add your brand logo, ad copy, and call to action:
All that's left to do after you create ads is review our campaign setup, publish it, and start measuring the results.
Snapchat Ads Reporting
Now that we've reviewed the process of setting up an ad, let's look at the various metrics we can report on from our Snapchat Integration. In particular, the integration includes the following four tabs:
Campaigns

Ad Squads (Snapchats version of ad sets)

Ads 

Demographics
At the campaign, ad squad, and ad level, we've included a number of key metrics for your client reporting, including:
Impressions

Spend

Swipes

Screen time

View completions

Video views

Swipe up percent

eCPSU (effective cost per swipe up)
Finally, on the demographic tab, we've broken each of these metrics into their corresponding age group. As you can see below, each of these demographic charts include intuitive data visualization widgets that anyone can understand, regardless of technical expertise:
Summary: Snapchat Ads
As discussed, Snapchat offers a robust advertising platform that's often overlooked in favor of larger platforms like Facebook and Google. That said, if your audience is under 30, there's a good chance they're on Snapchat. With unique features such as their AR lenses, this platform can really make your client's brand stand out from the competition. And by using the Snapchat integration, you can showcase that success in minutes!
At the end of the day, if you're managing Snapchat Ads for clients you need to show them exactly what results you're getting them and what their ROAS is. With our new Snapchat integration, you can connect your ad account, build intuitive dashboards, and report on your results in minutes. If you want to see an example of a prebuilt dashboard, check out our PPC template here.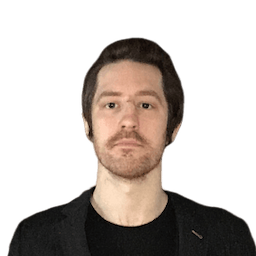 Peter Foy is a content marketer with a focus on SaaS companies. Based in Toronto, when he's not writing he's usually studying data science and machine learning.
Read more posts by Peter Foy ›
Try AgencyAnalytics risk-free for 14 days. No credit card required.