As an agency, is Snapchat even on your radar? The reason we're asking is that we often see agencies overlook Snapchat in favor of bigger platforms like Facebook, Instagram, and TikTok.
But if your clients have a younger demographic, you're potentially missing out on a HUGE opportunity by not advertising on Snapchat. This article will show you how Snapchat can be a powerful marketing channel for your clients and the critical Snapchat metrics to track to measure performance and success.
We'll cover:
Why Snapchat Is (Still) an Important Marketing Channel
Snapchat is the 12th biggest social media platform in the world and sees 556 million active users every month. While it's nowhere near the billions of users that Facebook, Instagram, and Tiktok get, Snapchat is still bigger than Pinterest, Twitter, and Reddit.
While audience size is important, if you look at Snapchat's age demographics, you'll see why ignoring Snapchat would be like like ignoring Gen Z, as a recent Pew Research Survey found that approximately 60% of American high schoolers use Snapchat, while only 32% admitted to using Facebook, finding that the number of teens using Snapchat has risen since 2014.
According to Hootsuite, 18 to 24 year-olds are Snapchat's largest audience at 39%, while they only make up 22.6% of Facebook's audience.
So if your clients are trying to reach a Gen Z audience, you should definitely consider adding Snapchat to your marketing strategy. 
Why Data Matters for Snapchat Optimization
As with any other campaign and platform, you should be gathering data from your campaigns and ads on Snapchat as well. Otherwise, how will you know what's working, what isn't, and why?
Tracking and monitoring data will help optimize your Snapchat marketing by revealing areas or processes that can be improved while showing you how people respond to your Snapchat Ads. 
Track your clients' Snapchat demographics directly from a live marketing dashboard. Save time and scale your agency with AgencyAnalytics. Try it free for 14 days!
When you analyze these engagement metrics, you'll get even deeper insights into your client's audiences, which you can then use to adjust your strategy, serve as the foundation of your next campaign, or further segment your audience for better ad targeting. Not only that, but Snapchat analytics can also help you come up with relevant content ideas that your client's audiences will love.
As marketers, we're always tinkering and adjusting. It's just part of the process when your goal is to always be getting better, and keeping track of your Snapchat data will help you determine your return on investment. If it's your first time using Snapchat, the data will even show you whether it's worth continuing to invest time and resources into it.
What Is Snapchat Insights?
Snapchat Insights is the analytics side of Snapchat. It's a tool that provides information on demographics, location, user behavior, and so much more. 
According to Snapchat: 
"Audience Insights help you learn more about your target audience on Snapchat so you can create relevant content and surface targetable segments to grow reach."
You can use Snapchat Insights in both the app and desktop versions, although agencies often prefer the desktop version because it allows you to run Snapchat ads through a Business and Ads Manager Account while also granting access to Audience Insights. 
Can't Access Snapchat Insights? This Might Be Why
If you're brand new to the world of Snapchat Marketing or building an account from scratch, please keep in mind that you need at least 1000 followers to view Snapchat Insights or a verified account (aka gold star') like Ariana Grande below:

Snapchat Insights: Getting Set-Up
If you're completely new to Snapchat, there are a few things you'll have to do first: 
(Check out our Snapchat Ads guide for a more detailed overview of advertising on Snapchat).
Click on the above links for step-by-step instructions from Snapchat's Help Center to set up your accounts.
If you've been invited to a pre-existing account, simply log in using the provided information. Once you're set-up, you can start running your own Snapchat campaigns, creating your own ads, and analyzing your Snapchat metrics with Snapchat Insights.
Where Can You Find Snapchat Insights?
Finding Insights depends on whether you're using the mobile app or the desktop version, and keep in mind there are differences between the two versions–such as the user interface and how you go about accessing Insights in the first place.
Snapchat Insights on Mobile
To find Insights on mobile: 
Open the Snapchat app and login

Tap your profile picture in the upper left corner

Tap the Insights tab 
Audience Insights on Desktop
For the desktop version, first, log into your Ads Manager Account and then go to the main menu, which looks something like this: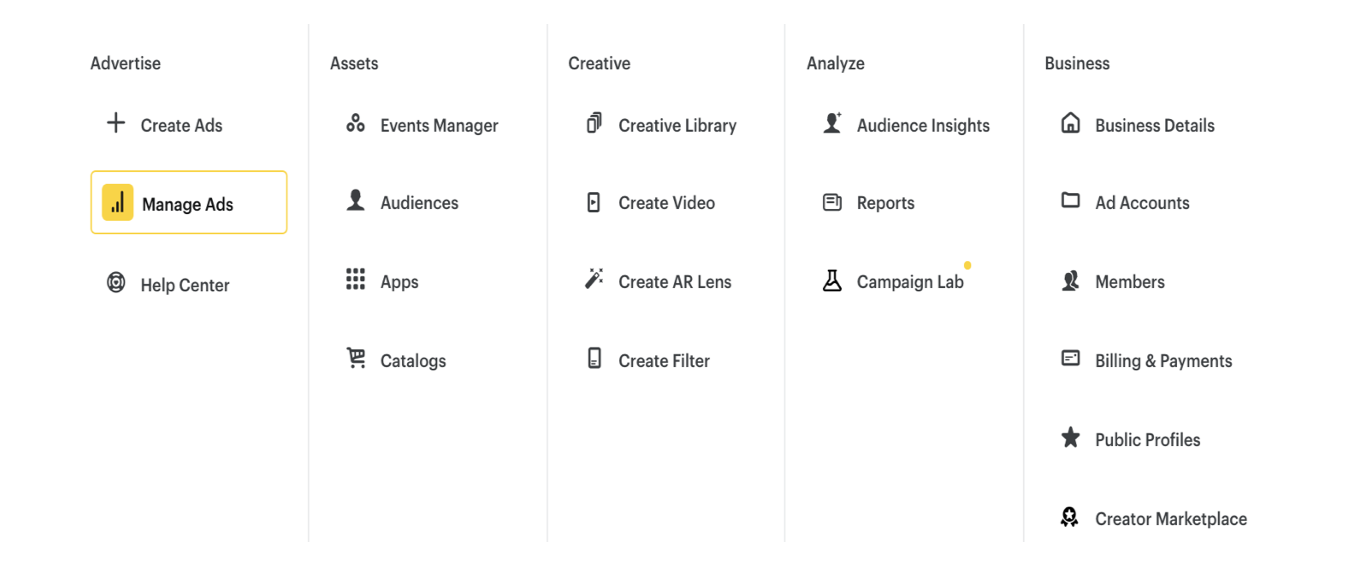 Find "Audience Insights" under the "Analyze" tab and click on it. With Audience Insights, you get access not only to your client's Snapchat data but also to external, third-party data sources such as Nielsen, Datalogic, and Experian as well. 
Audience Insights is comprised of four main categories: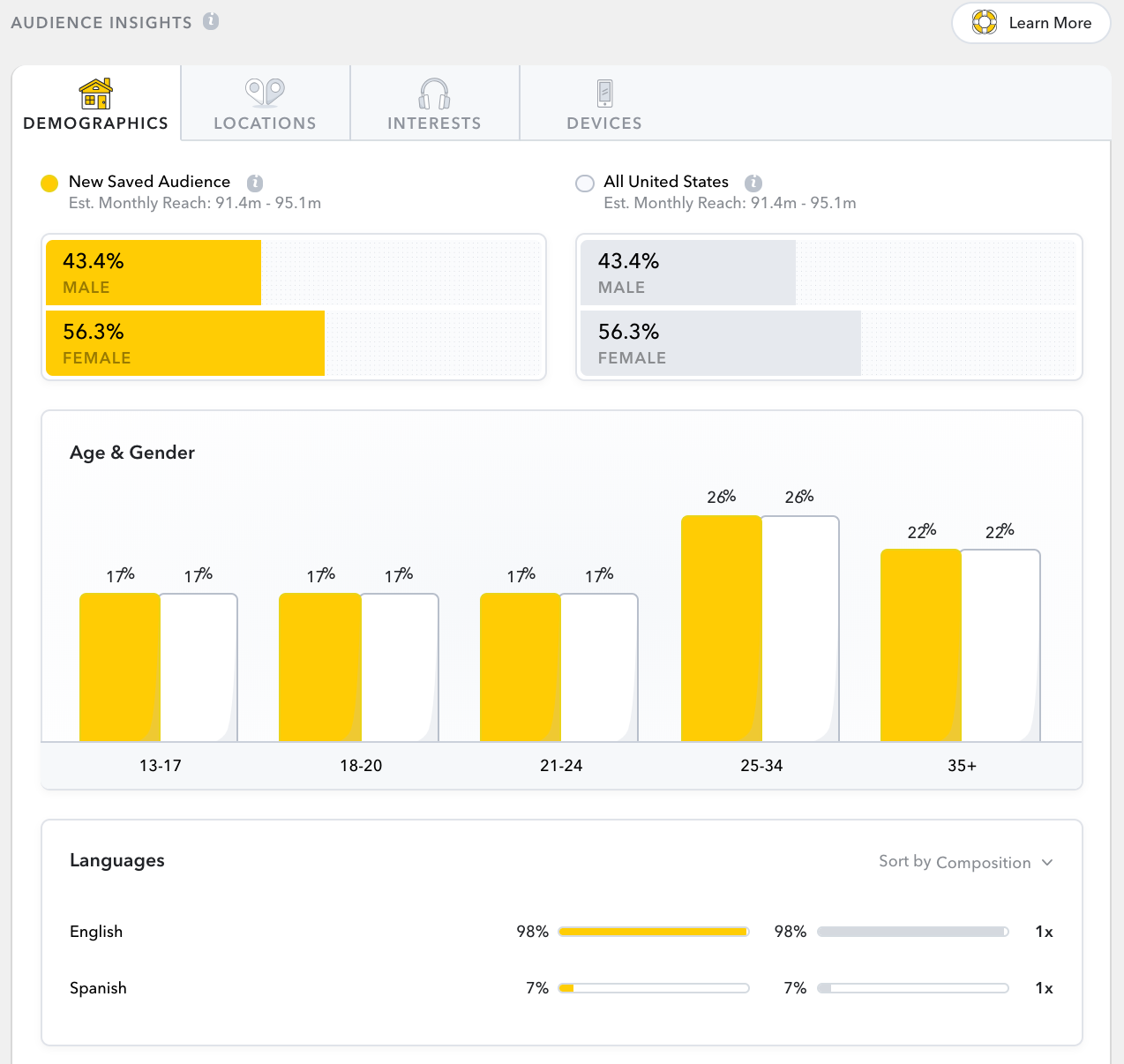 Demographics: You can do detailed breakdowns of the audience's age, gender, language, income, education, and more.

Locations: Allows you to filter by region (country, state, etc.) and designated market area (DMA).

Interests: Find out what your client's audience is into, whether it's sports, music, movies, or something more. You can also find out their lifestyles and buying habits (i.e. do they buy pet products, travel a lot, buy clothes, etc.).

Devices: Learn the operating system, devices, and carrier your client's audience uses. 
9 Snapchat Metrics You Should Track
Now that you know all the detailed ways that Audience Insights allows you to analyze your client's data, we're going to look at some of the most important Snapchat metrics for measuring the success of your Snaps so you can learn how people really feel about them. 
1. Reach
Reach is an important Snapchat metric because it shows you the number of followers who've seen your Snaps in the last week. Ideally, your content is reaching as many people as possible.
2. Unique Story Views
To be counted as a Unique Story View, someone has to open your Snapchat Story and watch for at least one second, and Insights allows you to break it down by week, month, or year.
This number does not count rewatches, but it's an easy way to check how many people have seen your content regardless.
3. Story View Time
Story View Time shows how long (in minutes) your audience watched your content, and you can see View Time broken down by week, month, or year.
You can go even deeper than that, as Snapchat will also show you View Time broken down by day of the week, so you can not only see which days get the most views but you can also see the average time your audience spends watching your content.
You can then use this information to find your best posting times and create content for your most popular days at the right length to encourage more people to watch until the end. 
This brings us to the next metric.
4. Story View Percentage (aka Completion Rate)
The Story View Percentage shows how many people watched your entire Story, from start to finish, as a percentage of the number of people that started viewing it but didn't make it all the way. 
For example, if 100 people opened your Story but only 50 stayed until the end, then your Story View percentage, or Completion Rate, would be 50% (In a perfect world, it would be 100%, but whatever it actually is, make sure to monitor, benchmark, and investigate if it dips).
This metric is great for giving you an idea of audience retention (since they're watching all the way to the end), and if this percentage is low, it signals that your content may not be relevant to the audience or it's not engaging enough.
5. Demographics
This includes the audience demographics previously discussed, including age, gender, region, and language. There are also advanced demographics that cover household income, marital status, buying habits, and more.
6. Screenshots
One of the coolest features of Snapchat Stories (and something it helped pioneer) is the disappearing messages, which vanish after 24 hours by default. This is also known as "ephemeral content," as 'ephemeral' means 'short-lived' or 'fleeting'.
But the ephemeral nature of Snapchat Stories makes Screenshots such an important metric. Because if people are taking lots of screenshots of your content, that means it must be meaningful to them, or else they wouldn't bother.
Screenshots are especially important since Snapchat doesn't have equivalents to likes, comments, or shares (which is one major way it stands out from other social media platforms), making Screenshots the closest thing to them in Snapchat.
Another thing to watch out for is who's doing the most screenshotting. They could end up being some of your client's biggest fans. Or maybe it's their competition. 
7. Snapchat Score
Finding your client's number of followers on Snapchat isn't as easy as on other platforms. Instead of showing the total number of followers like on Instagram, Snapchat has the Snapchat Score, which measures your activity on the app.
So if your Snapchat Score is 7582 as in the example below, that means you've had 7,582 total interactions on the app across every user added, Snap made, and Story shared. 
Hootsuite recommends the following rule of thumb for calculating your Snapchat followers: Take the highest number of views you've received on a Snapchat Story and multiply it by 1.5. 
8. Paid Impressions
Paid Impressions are the total number of times your client's ad was served.
9. Swipe Up Rate
The Swipe Up Rate is the average number of swipe-ups you get per Impression, and an impression is when your ad is served to a viewer. 
A Swipe Up is a good thing because it's when a Snapchatter follows your call to action and "swipes up" to click on the link in your Snap or Story.
Having a Swipe Up Rate of 80% means that for every ten people that see your ad, eight people follow your call to action.
How To Create Your Snapchat Ads Dashboard in AgencyAnalytics
AgencyAnalytics helps you track your client's Snapchat ads metrics and costs while combining detailed audience breakdowns with the convenience of automated reporting. Simply add the integration to your client campaign, and let the data populate itself! 
Snapchat Ads Metrics Available in AgencyAnalytics
AgencyAnalytics includes several key marketing metrics for Snapchat Ads reporting, including:
Impressions

Spend

Swipes

Screen time

View completions

Video views

Swipe up percent

eCPSU (effective cost per swipe up)
Use a social media dashboard template to compare how your Snapchat Ads campaigns are performing against your other social media campaigns. Flip it into client-ready reports in minutes using the social media report template. 
How To Use Snapchat Metrics to Drive Client Success
Tracking your client's Snapchat performance is easy with AgencyAnalytics' integrated Snapchat reporting tool that lets you create beautiful, white labeled reports in minutes. Automatically monitor ad costs by keeping track of how much you're spending vs. converting with Snapchat Ads.  
And if you're running other PPC campaigns, give your clients a regular ROI report on Snapchat alongside your other PPC metrics in a PPC report. New to AgencyAnalytics? Try it free for 14 days.
Michael is a Vancouver-based writer with over a decades' experience in digital marketing. He specializes in distilling complex topics into relatable and engaging content.
Read more posts by Michael Okada ›
Try AgencyAnalytics risk-free for 14 days. No credit card required.