As PPC budgets continue to grow, so too will the demand for experienced pay-per-click services.
It's no surprise then that PPC and SEM jobs are on the rise, and the need for quality PPC analysts and Google Ads (formerly Adwords) managers continues to increase.
Although brands allocate large portions of their marketing budget to Google Ads, learning effective pay-per-click strategies doesn't have to break the bank. Trying to learn this new skill can be overwhelming—with countless courses and guides, many would-be PPC consultants are scratching their heads and wondering, "where do I start?".
Let's get one thing straight: learning the fundamentals of Google Ads doesn't have to cost you a cent. If you're starting out, you don't need to buy into expensive training programs or monthly subscription services. There is plenty of free information out there that teaches you everything you need to know about the platform.
We sought out the best free tutorials on the web today, covering every facet of the Google Ads universe.
Let's get started.
You can't afford to waste any of your clients' Google Ads budgets, which is why it's important that every piece of the advertising puzzle has been checked.
Created by our own in-house experts, this Google Ads Optimization Checklist covers everything - from targeting options ( age range/gender) down to dayparting periods or time zones used by users.
Plus, there's a free downloadable PDF version that you can keep as a handy reference guide.
Download the Google Ads Optimization Checklist
Keep these useful tips, insights, and ideas handy whenever you need them.
Written by the search marketing software company Spyfu, this 7-step tutorial is the perfect place to start if you're new to Google Ads. The guide includes everything from choosing keywords, writing strong ad copy, adjusting your default settings, finding your ad data in Google Analytics, and much more. At the end of the guide, you'll also find Google Ads templates to fast-track your campaign setup.
The HubSpot blog is full of useful sales and marketing resources, and this Google Ads guide is no exception. The guide teaches you all the PPC terms you need to know, how to set up your Google ads account, and useful bidding strategies to optimize your campaigns.
Split into 11 in-depth chapters, this Google Ads guide from AdEspresso covers everything you need to start advertising on the platform.
The guide includes the basics, such as getting your Google Ads account set up properly, keyword research, and bidding optimization. What separates it is that from other guides is that they help you understand what to do after your search ads are up and running, including Google Ads reporting and account maintenance.
With so much detail in each chapter, this is a resource you can keep coming back to.
Many of the other guides in this list are extremely detailed, but if you're looking for a quick overview, check out this infographic from WordStream.
Of course, the infographic just gives you a high-level overview of getting started with Google Ads, but they also provide additional resources for each step of the journey.
Unbounce is the leading authority on conversion rate optimization. They consistently write content that explains complex ideas in simple terms, and their Noob Guide to PPC is no different. The guide covers the absolute essentials, from campaign setup to keyword targeting and Ad rank. This guide is for you if you're just getting started and looking for help setting up your first small campaign.
The Google Ads support center is another excellent resource for any and every PPC consultant, from beginner to expert. But it wasn't always this way—the support was outdated and sporadically updated for a long time. Times have changed, though, and Google regularly updates the tutorials as the platform evolves.
My favorite thing about the Google Ads support guides: many of the tutorials come in video format. If you're a visual learner, these videos are an excellent resource and explain detailed PPC concepts with simple, short cartoons. Given that Google is one of the major PPC platforms, it's worth visiting the support site to stay up-to-date on the latest goings-on with the platform.
The folks at WordStream are trusted experts when it comes to pay-per-click advertising. Yet despite their extensive expertise, they explain technical concepts in a way that is generally accessible and easy to absorb. Such is the case with their guide: 6 Steps to Building a Brilliant Paid Search Account Structure.
Laid out sequentially, each step covers a defense aspect of the campaign structure. Chief among these, as they point out, is doing your due diligence in the two phases before the campaign even starts: planning and keyword research. For many PPC consultants, including (and perhaps, specifically) the veterans, there is a temptation to rush through the planning and keyword research phases. The fact is, these do not scale well— every campaign is different and will be structured differently.
Website structure, products and services, and the location of customers all play a part in the PPC campaign structure and should be considered to help the campaign succeed over time.
If you've been anywhere near the pay-per-click advertising industry in the past 15 years, then you probably feel like the keyword search topic has been beaten to death by now. But the fact is, smart advertisers know that success comes from the fundamentals, and nothing is more essential to PPC than effective keyword selection.
In this keyword research PPC tutorial, veteran marketer Beth Morgan shows us how to truly identify the types of keywords that will convert Google searchers into buyers. The right keywords are those that match the interest and intent of a searcher when they are at a particular stage of the buying cycle.
Rather than putting keywords into ad groups based on their grammatical similarities (the 'traditional' way of doing keyword research), we should, according to Beth, group them according to the likelihood of converting. In doing so, we can allocate more daily budget to the keywords with the highest ROI.
I'll cut right to the chase: this keyword research tutorial drops a value bomb tip, and it's one that almost every PPC consultant I know completely overlooks. It's quite simple: put yourself into the customer's shoes.
So often, we set out to crest the perfect Google Ads campaign with the perfect keywords (as if such a campaign was even possible), without even asking the customer about their needs. "Me! Me! Me!" is the default way our minds work, so it's crucial that we take a step back and remember why we're doing PPC in the first place: to deliver an amazing experience to another human being through our advertised product or service.
As you can see from this list of tutorials, mastering Google Ads takes a lot of work. Luckily, many tools are available to help make your life easier. With these 7 free tools for Google Ads, you also don't need to break the bank to get the most out of your online advertising.
Google Keyword Planner (formerly Google Keyword Tool) is one free tool that you definitely want to check out. In this incredibly detailed guide from Backlinko, Brian Dean shows you exactly how to get started, as well as an interesting GKP "hack" you've probably never heard of.
Unbounce has created this brief, useful tutorial for writing PPC ad copy to improve click-through rates. The biggest takeaway here is, not surprisingly, to write like a human speaking to other humans. Focus on the end needs, wants, and outcomes of your target customers.
Speak their language. Don't be afraid to get personal, explaining what you can do for your customer in the ad copy.
Without a doubt, the most important part of PPC text ads copy is the headline. It's the largest part of the ad, the part we see first, and what triggers an emotional reaction. In this tutorial for writing PPC headlines that convert, PPC expert Andrew Lolk at White Shark Media takes a deep dive into the art and science of writing amazing ad copy.
The guide then lays out 8 common pitfalls to avoid for writing ad copy that converts, including tips for saving space and which words to use to build trust with customers.
But without a doubt, the biggest takeaway from this guide is that writing effective headlines is about much more than throwing your main keyword in the headline and hoping for the best. In fact, as Andrew points out, many of the best headlines today omit the keyword entirely. So next time you're writing headlines for ads, test a few sans-keywords.
Oli Gardner and the Unbounce team continue to unleash their PPC knowledge with this epic 50-page ebook for building the ultimate PPC landing pages. This is Unbounce's bread and butter—building better landing pages for PPC marketers—and it's definitely worth the read.
The ebook covers everything from user intent and attention ratio (the amount of the page dedicated to converting the visitor), to optimizing mobile landing pages.
For example, the guide explains the difference between responsive design and dedicated mobile landing pages, and when to use each. Once again, Unbounce takes complex concepts in the PPC marketing space and distills them into a clear, concise tutorial.
This "Entertaining" Guide to building and optimizing landing pages is written by none other than Oli Gardner, the founder of Unbounce and leading PPC expert.
This tutorial takes a more light-hearted approach, covering many of the same ideas as the PPC Landing Page ebook, sprinkling in various fun examples and light-hearted memes. I, for one, enjoy this writing style as it helps me learn and absorb material much more easily.
This incredible PPC tutorial truly covers every detail for building PPC landing pages. It's not surprising how detailed this article is, given that the author Graham Charlton is editor-in-chief of ClickZ, a long-time authority in digital advertising and the pay-per-click space.
The checklist overlaps with Unbounce guides in many areas but also stands out in others. Namely, it looks at a high-level view of the different types of landing pages, and when to use them. Graham also shares a few points for capturing visitors who don't convert, but may end up converting later on in some other way.
Overall, this sequential checklist is a nice summary of the essential steps to build PPC landing pages and is definitely worth a read!
PPC consultants spend a large part of their careers searching for the ideal keywords to target—those that lead to the most clicks and conversions. However, fewer devote as much time and energy to building a negative keyword list, despite the crucial role that negative keywords play in maximizing the ROI of an AdWords campaign. The fact is, negative keywords are equally important to the success of any PPC marketing campaign, and this tutorial on using negative keywords shows just how to identify and use negative keywords effectively.
Author Igor Belogolovsky points out that building a negative keyword list is about more than just omitting keywords like "free", "torrent", or adult-related search terms. While that aspect is important, it's also about identifying "blind-side" keywords that may drive up conversion costs—ie, keywords you would not expect to show up for search results unrelated to your brand.
This negative keyword tutorial is simple, straightforward, and a quick read for anyone looking to optimize their keyword lists.
Everything you could possibly want to know about Ad Extensions is in this ebook from Wordstream. Seriously, everything. That's why we chose at this the sole free PPC tutorial in the Ad Extensions category.
The ebook is broken down into 6 sections, one for each of the different extension types: Location Extensions, Product Extensions, Sitelinks, Call Extensions, Communication Extensions, and Offer Extensions.
Google is constantly releasing new extensions, which is a tool that most PPC marketers don't understand well or utilize. This guide clears the confusion, giving use cases and examples with visuals for each extension type. Save and bookmark this PPC Ad extension guide - it's a resource worth coming back to.
Remarketing, through both search and the Google Display Network, is perhaps the most powerful and effective marketing tool on the web today. And yet, there are many PPC marketers who don't know exactly what remarketing is or how to use it properly.
In Google's own words, "remarketing lets you show ads to people who have visited your website or used your mobile app before. When people leave your website without buying anything, remarketing helps you reconnect with them by showing relevant ads as they browse the web, use mobile apps, or search on Google."
This in-depth tutorial from PPC Hero explains Google Ads remarketing in its entirety, covering everything from list building, member duration windows, custom combinations, and the interaction of all three.
There's a lot of information here, so it's best to move through it at your own pace. Remarketing can take some time to set up, but once it's up and running, it's a powerful tool in any PPC marketer's arsenal.
Using scripts for your Google Ads is certainly more advanced and will take a bit of time to learn, but with the time you can save automating tasks, it's usually worth a try. In this guide on Google Ads scripts, the author explains why you should use them and exactly how to set them up with an 8-step process.
To conclude this article, we've got another resource from Google Ads on getting started with scripts. After you've checked out this Getting Started guide, be sure to check out their other articles on scripting concepts, and Google Ads features to become a true expert on the platform.
That's it for our 22 free Google Ads tutorials, but if you want to learn more, check out these resources from AgencyAnalytics: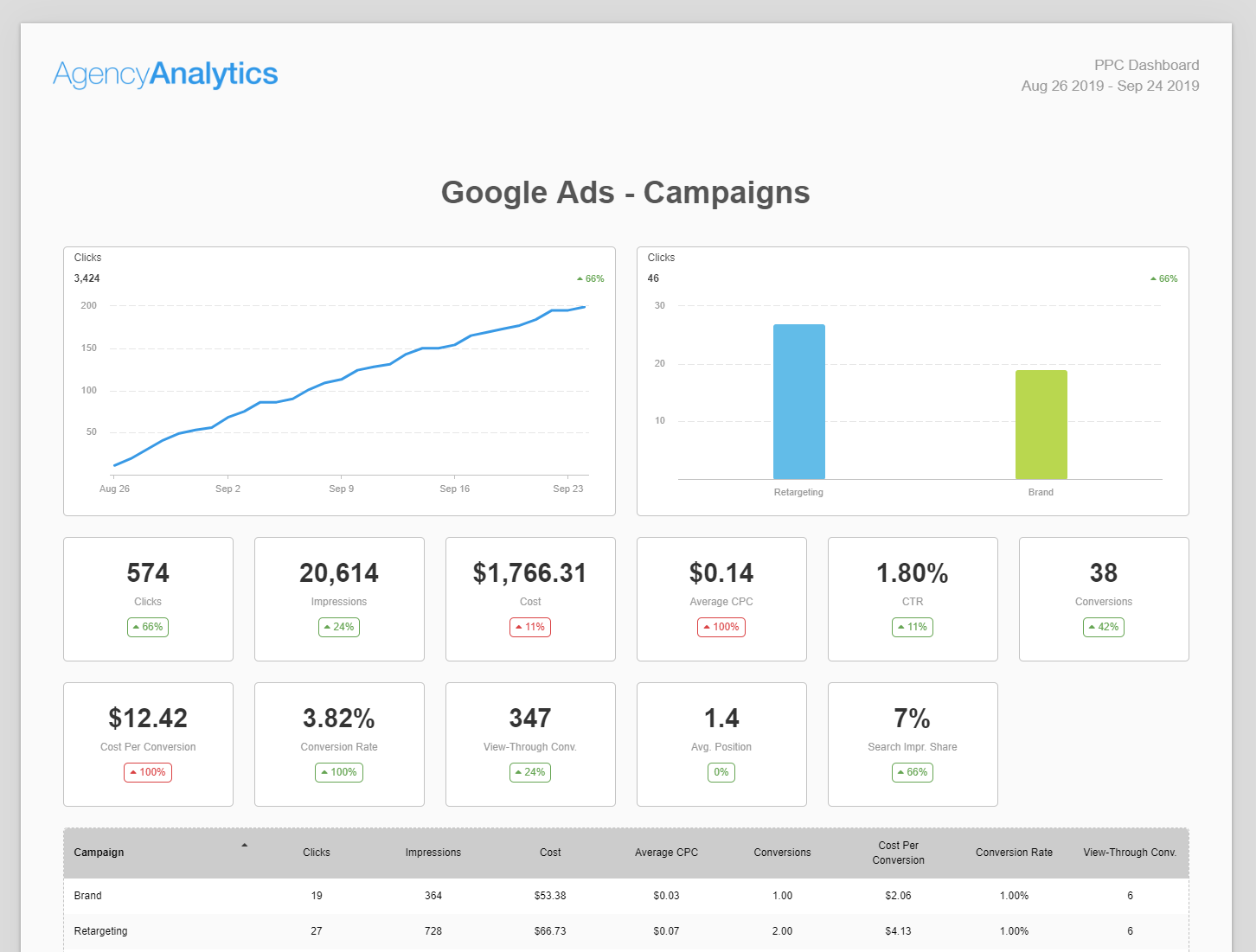 With the AgencyAnalytics' Google Ads integration, highlight your clients' campaign success alongside other Google Ads metrics to give clients the overall picture in a way they will understand.
Try AgencyAnalytics risk-free for 14 days. No credit card required.