As your agency is well aware, Google Ads (formerly known as AdWords) and Facebook Ads are the two gorillas of PPC advertising. Both can be significant drivers for your client's businesses, and many agencies use both in congruence to maximize their reach. 
Since time and money are limited, where do you start to get the most bang for your buck?
The two ad platforms have a lot of common ground, but a few significant differences will help your agency determine the best fit for your clients.
No matter if you're an expert or just getting started, in this guide, we'll discuss the key differences and important statistics between Google Ads and Facebook Ads. 
This article focuses primarily on the differences between paid search vs. paid social, to help you decide which option might be best suited for a specific client. Read on to learn about:
What Is Google Ads? 
Google Ads is a paid advertising platform developed by Google, where advertisers bid to display brief advertisements, service offerings, product listings, or videos to web users. It can place ads in the results of search engines (like Google Search) and non-search websites, mobile apps, and videos. 
To monitor your client's progress, data-tracking is an absolute must. View those metrics in Google Analytics directly or use a client reporting tool like AgencyAnalytics for a more streamlined, consolidated overview.
What Is Facebook Ads?
Facebook Ads is Facebook's targeted advertising platform. Ads can appear in Facebook's Feed, Facebook Messenger, and non-Facebook apps and websites within the Meta ecosystem. 
They come in a variety of formats including single images, videos, slideshows, and more, and can be targeted to extremely specific audiences. 
Facebook Ads vs. Google Ads: A Breakdown
You've certainly seen both types of ads when you scroll on Facebook or search on Google. But how do they actually work?
Both are advertising platforms that operate on a pay-per-click (PPC) basis. When you create an ad on either platform, you enter an auction in which you place a bid for how much you want to pay for ad space. Then you'll be charged a certain amount of money (more on that later) every time someone clicks one of your client's ads. Sounds simple, right?
Paid Search vs. Paid Social
This article focuses primarily on the differences between paid search vs. paid social, to help you decide which option might be best suited for a specific client.
Traditionally, Google Ads (AdWords) is paid search. Paid search means that you're paying to have your client's listing featured on a search engine result page (SERP). Here's an example of a paid Google search ad: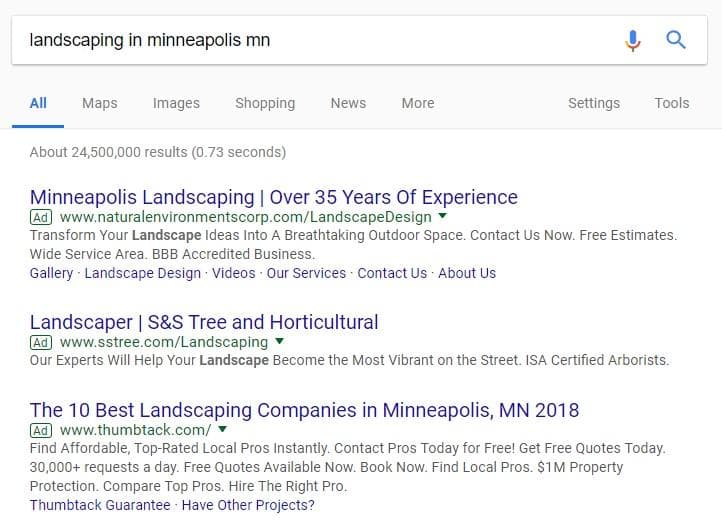 With paid search, your client's ad is placed based on target keywords instead of targeting a specific audience interest. That said, you can (and should) adjust the settings of paid search campaigns to target users based on location and other factors.
However, Google Ads offers more than paid search—you can advertise on:
Google Search

YouTube Ads

Google Display Network

Google Maps
Read more on how to optimize your Google Ads.
Agency Tip: Use our automatic PPC markup feature on client reports visually show Google Ads ad spend, your agency's margin, and how your client's goals are progressing.
In contrast to paid Google search, Facebook Ads offers paid social media advertising. With consistent Facebook algorithm changes, it has become increasingly difficult for agencies to get in front of their client's potential customers organically.
This is where paid social media ads come into play. With Facebook Ads, you are paying to get in front of new customers on social networks, instead of reaching them organically.
As you know, Facebook isn't limited to just your Facebook Feed. A few of the Facebook ad placements to advertise on include:
Facebook Feed

Instagram Feed

Facebook Marketplace

Facebook Video Feeds

Facebook Right Column

Audience Network

Facebook Messenger

Oculus mobile app Feed
Here is an example of a paid ad on Facebook's Feed: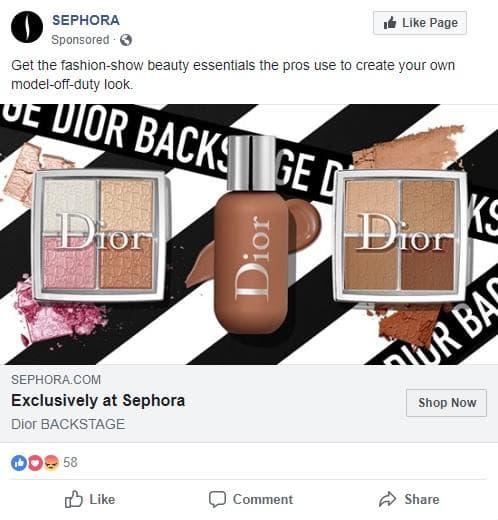 Read More: How Much To Charge for Social Media Management Services
5 Key Differences Between Facebook Ads and Google Ads
Now that we've covered the basics, let's jump into the main differences between Facebook Ads and Google Ads.
1: Audience Size
Both Google and Facebook have enormous reach—Google handles an estimated more than 5.8 billion searches every single day, while Facebook has an estimated 1.73 billion daily active users.
On Facebook, mobile advertising revenue makes up approximately 90%+ of advertising revenue.
That said, advertising on mobile certainly isn't an opportunity you should shy away from!
In all likelihood, your client's target audience is on both of these platforms, so you can't determine the right fit for their business on audience size alone.
Instead, ask yourself these questions:
Is their target audience active on these networks?

Is their product search-oriented or social?
Even if Google has 5.8 billion searches a day, it won't help them if no one is actually searching for their specific product. 
Are they releasing a new, innovative product? Have people heard of what your client's business offers? In the answer is "no" then a Facebook ad is often a better option to get the word out.
Agency Tip: Regardless of which type of advertising you choose to go with, keep track of any significant changes to audience growth. This may give you a better idea of how your ad campaigns are improving over time.

2: Cost & ROI
Cost is another important consideration. The average CPC on Google Ads is $2.69, but this varies wildly by industry.
How Does Google Advertising Work?
In paid search, eCommerce businesses can expect to pay about $1.16 per click, while businesses in the legal industry spend a whopping $6.75 on average per click.
Average Google Ads CPC by industry: Source
To put the wide variation into perspective, the most expensive keyword on Google Ads is "insurance" with a top CPC of $54.91!
How Does Facebook Advertising Work?
Facebook Ads tend to be slightly cheaper per click than Google Ads. A business in the apparel industry might pay as little as $0.45 per click on a Facebook ad. Finance and insurance is the most expensive type of business to advertise on Facebook too, but the average CPC is still only $3.77.
Average Facebook Ads CPC by industry: Source
The average CPC varies not only by industry but by placement, too. A study by Adespresso showed that Instagram ads were about double the cost of Facebook ad placements!
What's The Better Choice In Terms of Ad Spend?
Although the average CPC is typically more expensive on Google Ads, keep in mind that the people clicking your client's ads could be later in the buying cycle. A Facebook ad is great for building awareness, although Google Ads can often be better at reaching users at the time of their purchase decision.
CPC is only half of the equation. Another benchmark to consider is CPA (Cost Per Action) to determine if your clients will have a strong ROI on your campaigns.
Just like CPC, CPAs will vary by campaign. It's largely dependent on how well-targeted your ads are and if you are able to convert at a high rate. Don't let what may seem to be a high average CPA scare you off from PPC.
Wordstream has compiled average CPA by industry to provide a good benchmark for your client's ad performance.
The average cost per action (CPA) for Facebook Ads across all industries is $18.68.
Average CPA for Facebook Ads: Source
Once again, Google Ads come at a higher cost than Facebook. The average CPA in AdWords across all industries is $48.96 for search and $75.51 for display.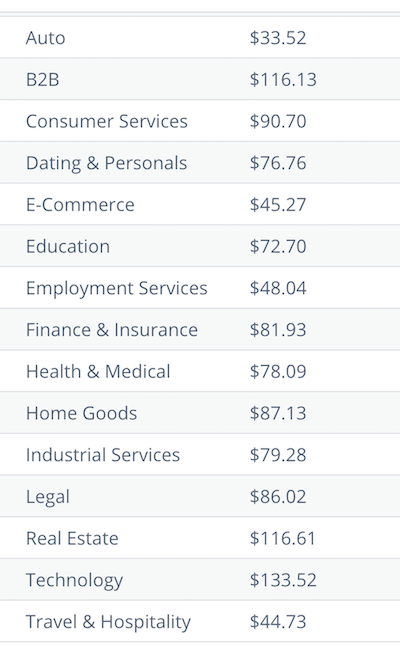 Average CPA for Google Search: Source
3: Buyer Intent
When it comes to buyer intent, Google Ads almost always beat out Facebook Ads. Consider what kind of business your clients have—do people tend to search for their products or services when they are ready to make a purchase?
For example, if a person's air conditioner breaks, they immediately start searching for an HVAC repair business. Search ads would place that business in front of potential customers at the exact time that they need their service.
On the other hand, that person isn't going to remember that HVAC business they saw on Facebook three months ago. In this scenario, Google Ads would be a clear winner.
Facebook Ads are also generally less effective at getting leads to convert quickly. People generally go to Facebook to relax and socialize, not to shop. However, this platform is still incredibly useful for building your client's audience. By creating a sense of community on social media, people will be much more likely to buy when they need a service or product.
That said, if the objective of your client's campaign is to build brand awareness, rather than immediate conversions, then Facebook may be the best choice for them.
Use the AgencyAnalytics Rank Tracker Tool to keep tabs on user searches and optimize your clients' marketing strategies– try it free for 14 days. 
4: Targeting Options
Both Google and Facebook Ads give you options for targeting (and retargeting) specific audiences. Both platforms allow you to target by age, gender, location, and income level, among other things.
However, Facebook is the hands-down winner for advanced targeting options.
In addition to the targeting options mentioned above, Facebook allows you to create audiences based on a large list of interests and behaviors, thanks to the wealth of information they collect from their 2.6 billion monthly active users.
Want to target parents? Check. Want to target parents with children ages 5-7? Check. Want to target vegetarian parents with children ages 5-7 and a household income between $75k-99k? Check.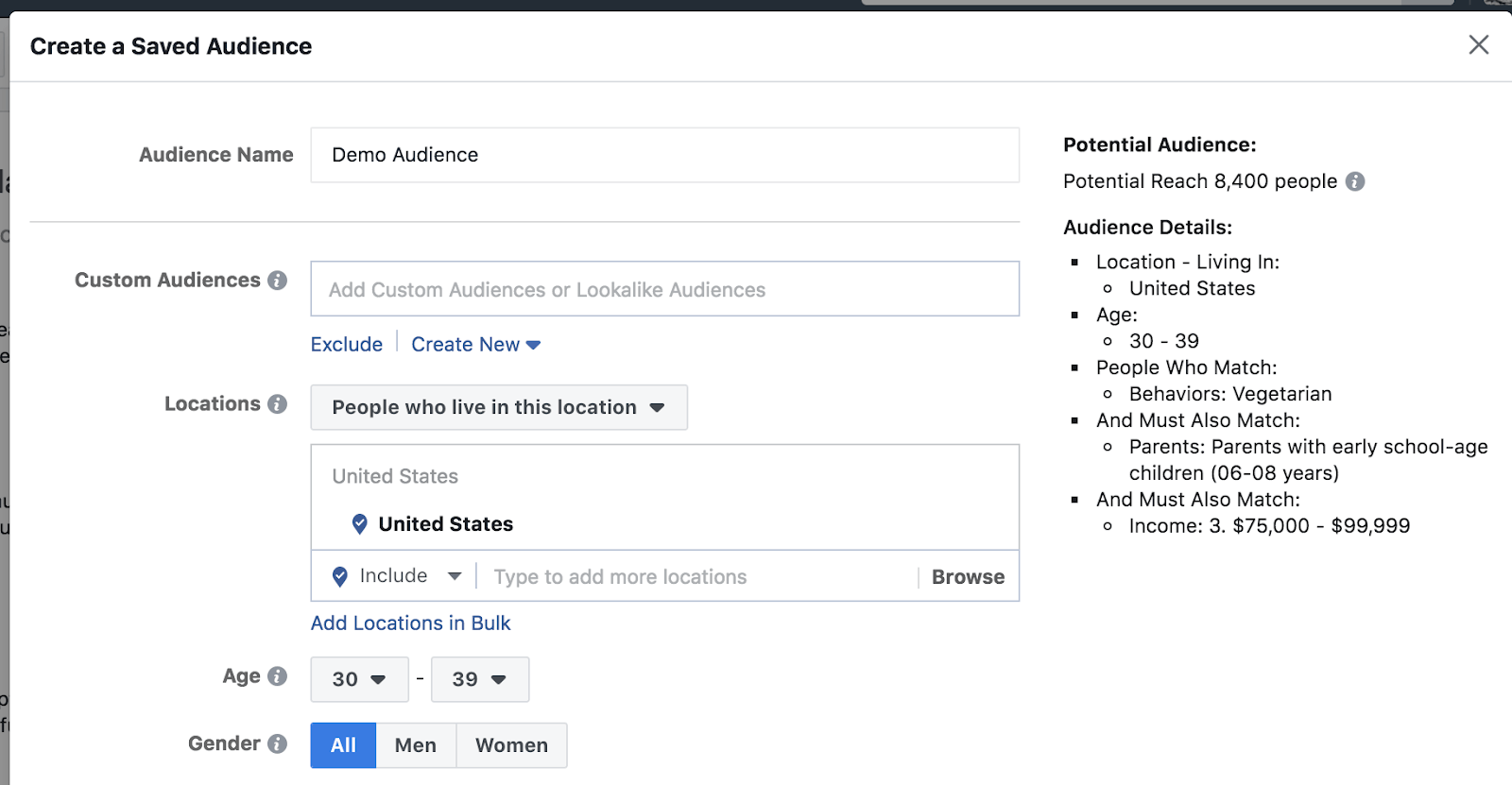 You get the idea. Facebook allows you to be very specific with your audience. If your client's target audience is very niche, then Facebook Ads will be a great option for their business.
Facebook also offers a useful tool called lookalike audiences that lets you advertise to people who are similar to your client's existing audience. Facebook uses its existing data to match their target customers to similar users, which can be a very powerful option for advertisers.
5: Ad Formats
What about ad formats? This goes back to the question: what's the objective of your client's campaign?
You've certainly got more creativity on Facebook, making it a better platform for building brand awareness and customer loyalty.
If you use Google Ads, you have a small block of text to catch potential customers' eyes on the SERPs. You can use ad extensions for additional text and information, but overall your format is going to be limited to text in search ads.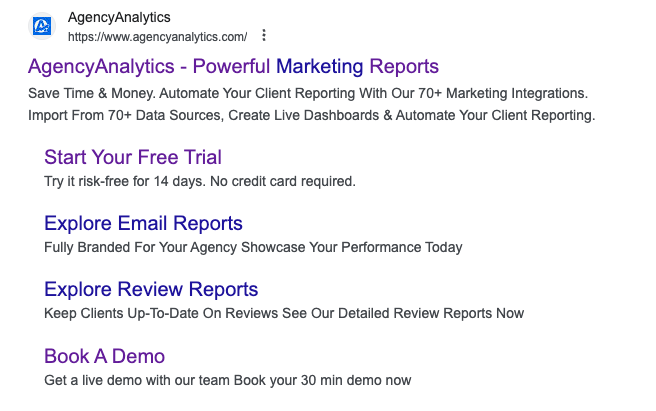 On Facebook, however, by using image-based ads, a visual impact is added to your client's message. Facebook also continues to roll out varying ad formats to avoid "ad fatigue". Choose to use videos, images, carousel ads, and more to capture your audience's attention. If your client has an eCommerce business, the visual component of Facebook should be a big consideration when choosing the platform right for them.
Which Platform Should You Choose?
So, which is better for your client's business - Google Ads or Facebook Ads?
1. What Are My Clients' Campaign Goals?
First, consider your client's specific campaign goals. Are they focused on making more sales as quickly as possible? If so, Google Ads may be the better choice.
If they're looking to expand brand recognition or reach a wider audience, on the other hand, Facebook Ads may be the better choice.
2. What Industry Is My Client In?
Next, take your client's industry into consideration. Both B2B and B2C businesses use Google Ads successfully. Facebook Ads often work better for B2C businesses, especially those selling less expensive items, since people are more likely to impulsively buy these products after being exposed to them a few times. However, even for B2B, there are going to be opportunities on Facebook Ads—especially for remarketing and lookalike audiences.
Your client's audience also affects which platform you should choose. Do people search for their business or service with the intent to buy? If so, Google will probably bring the best results. But if your client is trying to build their audience for a new product, Facebook will typically work better.
Consider which stage of the buyer's journey you're trying to target with PPC ads—AdWords is great for bottom-of-the-funnel prospects, while Facebook is usually best for attracting new top-of-the-funnel prospects.
3. What's My Client's Budget?
Finally, consider your client's advertising budget and your agency's level of technical skill. Do they have the money to invest in Google Ads, even if they're in a competitive industry?
Does your agency have the ability to create (or outsource) strong image or video-based ads for Facebook? Discussing questions like this can help you sketch out a strategy that's realistic and actionable.
Facebook Ads vs Google Ads: When To Use Each
When To Use Facebook Ads 
Facebook Ads can be used to target a particular audience that has shown an affinity for your client's products or services.  
They help your clients get more visibility to their Facebook content and boost traffic to their websites. Facebook Ads can be set up to increase site traffic, impressions, and even average click-through rate (CTR). 

Monitor Facebook Ads by using AgencyAnalytics' easy-to-use, visual dashboard. Sign up for your free 14-day trial to create client-ready reports in minutes
Facebook ad campaigns also give agencies a lot of flexibility, like how much you want to spend from your client's budget including: 
The overall amount spent

Their daily budget 

Their cost per result 
Plus, choose when you want Facebook to bill you–such as being charged by the number of views or clicks. 
After all, Facebook is the #2 digital ad seller in the US, after Google. Therefore, if you can use them to your client's advantage, definitely make that recommendation.
When To Use Google Ads
Google Search Ads get in front of people who are actively searching for a solution to a current need. 
They are an effective way to drive qualified traffic to your client's business who are already searching for their products or services–specifically by keyword. 
When users type in a keyword in their search query, the results appear on the SERP, including a paid ad that targeted that keyword. 
Put all your clients' Google Ads metrics under one roof. Try this exact Google Ads dashboard, free for 14 days!
Google doesn't share its search volume data, but it's estimated that Google processes approximately 5.6 billion searches per day with the average person conducting between three and four searches each day. 
So, if your client has a list of relevant keywords, and they know their audience could be searching for them, Google Ads is the way to go. 
The Google Display Network expands your client's reach by presenting image and text ads on sites that run Google advertising. These placements can be useful for both awareness (based on audience and interest-based targeting) as well as remarketing to previous website visitors. 
What To Consider When Creating A Google Ad
There's quite a lot to consider when creating a Google Ad, so let's break it down: 
1. AdRank and Quality Score
You should put the most attention towards your Quality Score when you first set up your Google campaign. The higher your QS, the lower your acquisition costs and the better placement you'll get for your clients.
2. Location
Be sure to set up a geographical location where your client's ad will be shown. Google's main objective is to display the most relevant results to searchers, even if it's a paid ad. 
Visualize every client's audience breakdown in intuitive graphs to get a better understanding of their audience. 
3. Keywords
These are just as important for paid advertising as it is for organic. Google matches ads with search queries based on keywords your agency selected. Do not skip this step. 
Remember to keep tabs on keyword trends, competitor activity, and any potential opportunities.
No more logging in and out of multiple client Google Ads accounts. Keep tabs on every client's keywords–all from a single platform with AgencyAnalytics. Try it free for 14 days.
4. Match Types
Match types tell Google whether you want to match a search query exactly or if your client's ad should be shown to a somewhat related search query. 
5. Headline and Description
As you know, writing good ad copy makes all the difference. Therefore, it's important that your ad copy matches the searcher's intent and is aligned with their target keywords. 
6. Ad Extensions
Ad extensions are free and they're a great way to give users additional information about your client's products or services. 
7. Google Ads Retargeting 
Retargeting in Google Ads is a way to advertise to people who have previously interacted with your client's ad, but have not yet converted. This is an effective way to advertise for your clients and many people need to see their marketing before they become paying customers.
How To Use Google Ads and Facebook Ads Together 
There are many ways that Google Ads and Facebook Ads can work hand-in-hand to drive awareness, engagement, and conversion. After all, it normally takes multiple touchpoints between when a customer is first introduced to your client's brand and when they purchase. 
For example, people who see your client's Facebook Ads may have some interest in the offer being presented, but they want to know more about your client's business and what products they sell or services they offer. 
This is a great opportunity to use their brand name as a keyword in their search campaigns and then match the messaging to their current Facebook Ads. This strategy leads their cold audience on Facebook to find exactly what they were looking for on Google. It not only strengthens the overall marketing message but also shows reliability. 
Keep tabs on all your advertising campaigns simultaneously with this exact PPC report template. Use it during your free 14-day trial and pump out all your clients' PPC reports in minutes.
Here are a few more examples of how they can work together seamlessly.
| Touchpoint 1 | Touchpoint 2 |
| --- | --- |
| Facebook Ad to a Cold Audience | Branded Search ad on Google |
| Non-Branded PPC Ad on Google Ads | Remarketing Ad on Facebook |
| Shopping Ad on Google | Testimonial Ad on Facebook  |
| Facebook Video Add to Launch a New Product | Google PPC Ad Around Product Keywords |
There are many more examples, but those should help illustrate how well these two massive ad platforms can dovetail with each other. 
What Is the Benefit of Using Both? 
Using the powerful combination of both Facebook Ads and Google Ads is a great strategy to try for your clients. Facebook Ads build brand awareness and Google Ads retarget for conversion–and vice versa. 
Consider this scenario: 
A Facebook user sees an ad that features your client's amazing, super-absorbent bathroom towels. They click on the ad but weren't ready to make the purchase yet. However, the next time they reached for their old, ratty bathroom towel, they decided it was time to upgrade.
So they head over to Google, type in 'bathroom towels' and they're hit with a retargeted Google ad featuring your client's brand again. 
The reverse scenario also works where a user might click on a Google search ad, add something to their cart, and then a Facebook Ad reminds them about what they previously showed interest in (just in case they got distracted). 
The benefits of using both Facebook Ads and Google Ads cannot be overlooked. If you haven't already, try implementing this strategy for your clients and see the results for yourself. 
Tracking Your PPC Results
The challenge on the agency side of running both is that you now have two large and complex platforms to report on. How do you easily consolidate the data to tell a comprehensive story about your campaign performance? 
No matter which PPC reporting tool you choose, tracking your client's ROI is critical. One way to automatically track your results is with the AgencyAnayltics PPC dashboard template, which includes the following sections:
Cost

Conversions

Cost per conversion

Conversion rate

Impressions

Clicks

CTR (click-through-rate)

View-through-conversions
Create your own custom dashboard as you see fit!
Measuring the success of PPC campaigns can be difficult, especially when the data is spread across several advertising platforms. Consolidate and automatically pull each Google Ads metric, Facebook Ads metric, and other PPC metrics into a single view with an intuitive dashboard that your clients will easily understand.
Plus, if you're managing PPC ads for clients, give them 24/7 access so they can track the effectiveness of their ad campaigns in real time.
For more granular insights, flip over to the Facebook Ads Reporting Tool, Google Ads Reporting Tool, or any of the 20+ other PPC integrations to see detailed data on specific platforms.
Plus, with pre-built report templates, quickly and easily create monthly summaries using the Facebook Ads report template or the comprehensive PPC report template. What could be simpler?
The Takeaway
Google Ads and Facebook Ads are two excellent options for PPC advertising, and in many cases, the two platforms work best if used together.
If your agency advertises on both, make sure you're accurately tracking campaign results so you know which channel is your client's top performer.

Easily track all your clients' PPC metrics under one roof and create clear client reports that showcase their ROI–in minutes! Start your free 14-day trial and put your PPC reporting on autopilot with AgencyAnalytics.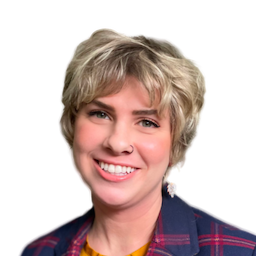 Richelle Peace is a joyful writer with a degree in Journalism. She loves writing web content, blogs, and social media posts. Whatever the topic, she's fascinated by learning and sharing.
Read more posts by Richelle Peace ›
Try AgencyAnalytics risk-free for 14 days. No credit card required.